General
Home Page
Add a web site
Jeff Bull Swap Meet
Send a News Item
Site Search by Hauser Racing
2021 FIA/FIM Championships schedule
News, Coverage, Features
Latest News
John Woolfe Racing Event Coverage
OCS Paint Points Standings
Features, Interviews, Tributes
Racer Blogs
LA Racing Parts Links
Racers' web sites
Associations, Clubs
Race calendars
Results, Reports, Info
Pictures, Video
Performance Parts, Merchandise
Sponsors
Tracks, Shows
Information
Timing Data
European and UK Bests
Champions' Champions
Editor's Diary archive


Morgan Wilson, 2020 VW Sportsman winner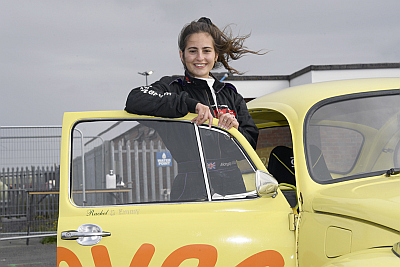 Morgan 'Emmy' Wilson, daughter of drag racing parents and sister of current (at the end of 2020) Junior Dragster racer Caitlin, has a solid racing pedigree. Her parents, Rachel and Duncan, raced through the 1990s. In Junior Dragsters, racing for nine years, her best championship results were fifth in 2014 and 2015 and she was winner at Hockenheim in 2017. This article, written by former Eurodragster.com photo editor Roger Gorringe, profiles the family's racing history and Morgan's 2020 introduction to VW Sportsman racing, in which she took the UK Covid Cup title less than two months after her class debut.
Click on any picture for a large image.
The Wilsons, probably one of the most popular, helpful and welcoming families within Britain's Drag Racing fraternity, specialise in VW and Junior Dragster racing. Dad, Duncan Wilson runs his own electrical business and raced a VW Beetle called 'Peril' in the Street and Super Street classes from 1991 with a 1300cc engine. Mum, Rachel, a project manager, was racing her own all steel VW Beetle with a 1641cc motor, later upgraded to a 1776cc power-plant, the engine size of choice for most VW Street race cars, the machine being named 'Havoc'. Her first enthusiastic runs up track were complete with all the weekend's camping equipment still on board!

The family – Duncan, Emmy, Caitlin and Rachel in 2015
during a Junior Dragster photo-shoot


Sisters Caitlin with her Junior Dragster and Emmy
with the VW Sportsman Beetle
Duncan and Rachel ran at all VWDRC events at Santa Pod Raceway, Avon Park and York Raceway (a 10 round a year championship). The duo got together in 1994 occasionally racing each other until Duncan's car and trailer were wrecked in an unfortunate accident in August 1995. All working parts including the 1914cc engine were later installed into 'Havoc' which Rachel ran in Super Street from 1996 until 1998. The couple married in October 1998 and had their first daughter, Morgan in September 1999. The engine and gearbox incidentally, were built by former drummer of the band The Buzzcocks, John Maher but in the end, the engine was sold a few years later in order to buy a washing machine.

Emmy at the 2020 Green Light Nationals


Emmy at the National Finals qualifying
to win the 2020 Championship
Jumping forward to 2010, Morgan, by then better known as Emmy, started racing Junior Dragsters. She had been at various tracks since she was six months old while her parents crewed for Ken Blomer's Automanics team.
The year was 2018 when Morgan became too old at eighteen to continue racing in Junior Dragster, her most prominent win was at the prestigious 2017 NitrOlympX event held at the Hockenheimring, Germany. For the next couple of years, to spare her just kicking her heels, she was persuaded to turn her hand to journalism. She successfully worked on providing information on the FIA European Top Methanol classes for publication in the Santa Pod Raceway event programmes. Racing was in her blood and competition was sorely missed however, the family had plans to resurrect Mum's old ride. 'Havoc' would hit the race track again, not the fabulous Fuel Altered of Nick Davies and Rob Loaring that retired a couple of years ago but the originally named VW Beetle, named by the Hull Area Volkswagen Owners Club, who kindly sponsored the car from 1996.
| | |
| --- | --- |
| Mum and daughter, Rachel with Emmy alongside HAVOC | Emmy with HAVOC |
Restoration work started during 2019 with younger sister Caitlin, the former 2018 Lucas Oil Junior Dragster Champion welding in a new floor panel. The tired 1600cc engine was pulled out of their bay window camper and refreshed with new pistons and barrels making it a 1641cc engine. The addition of two new 34 ICT Weber single carburettors gave this small engine 60hp at the wheels when taken to the local rolling road. A new OMP racing seat, 6 point harness and a hydraulic staging brake were all installed, a general tidy-up and all was ready to go. Then the Covid pandemic hit the world, bringing everyone's plans to an abrupt and frustrating halt. Santa Pod Raceway, working with local authorities managed to organise a restricted half-season of events starting mid-year. That immense hard work paid off giving race teams and race hungry fans a chance to attend organised events.
A twenty-year-old Emmy restarted her drag racing life at the VWDRC private test days (VW Drag days) in August 2020. Her first full quarter-mile in the car being a steady 23 seconds at 50mph, a world apart from her Junior Dragster eighth-mile times of 8.0 seconds at 80mph plus. Two days and 27 runs later her times had improved to high 17 seconds at 70mph. Emmy's first competitive event was Santa Pod Raceway's Green Light Nationals where she reached the final against Lee Cordery, but unfortunately, due to a torrential downpour, this had to be postponed until the next event.
| | |
| --- | --- |
| Emmy with HAVOC | Emmy showing the engine bay |
At Emmy's second event, the popular VW Breakout at Santa Pod, in the final round of qualifying, the Green Light Nationals final was run, Emmy taking her first win and £250 prize pot courtesy of the VWDRC sponsors, Morgan Wilson R/T 0.175 17.60/73.19 defeated Lee Cordery R/T 0.270 14.198/100.5. On the Sunday of this meeting Emmy made the finals again, this time meeting seasoned racer Rob Cresswell. Taking the win and a further £500 again from the VWDRC sponsors, Morgan Wilson R/T 0.185 17.737/73.2 defeated Rob Creswell's R/T 0.195 13.937/103.36. After taking the wins, some of the competitors jokingly said they'd club together to purchase a VW Pro car for her, just to get her out of the VW Sportsman class! There is definitely a certain amount of respect and almost fear of former Junior Dragster drivers renowned for their reaction times off the start line.
| | |
| --- | --- |
| At the wheel of HAVOC | Emmy, 2020 VW Sportsman winner |
The modest, recently turned twenty-one year old with a ready and radiant smile was astounded with the Sunday morning news at the National Finals that she had wrapped-up the VW Sportsman Championship and aptly named Covid Cup after only having to qualify for that event. Even with the tragically truncated season it was a stunning debut and end result for the driver and family. Personal best numbers are 17.470/73.07 which was unfortunately her undoing at the National Finals in September at Santa Pod when she broke out in round one.
Plans for the future include finalising her three year university course, studying to become a physiotherapist, continue as a Royal National Lifeboat Institution lifeguard in Scarborough and to get back on track, although now with a huge target on her back, try to defend her title. Duncan's damaged VW Beetle is starting to be resurrected, with Duncan and Caitlin again providing the numerous amounts of welding necessary, with plans to enter it into VW Pro and perhaps the Pro ET class within the next couple of years with possibly Caitlin running in one class and either Mum or Dad taking it in turns in the other.       
Feature ©Eurodragster.com

---
Features and Interviews index
Back to News page
---