Orah Mae and Robin Millar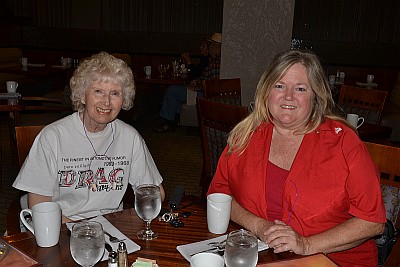 Pete Millar was an artist who produced automotive cartoons and drawings on a prolific basis from the 1950s to his untimely death in 2003. He trained as an engineer but had an opportunity to produce Cartoons in 1959. When that was taken in-house by Petersen Publishing, Pete set up his own journal Drag Cartoons from 1963. It was very successful and profitable giving Pete funds to buy a house in an upmarket area of Los Angeles for his wife Orah Mae and three daughters and to run a series of dragsters. However when Pete diversified, the profits dried up and Pete and his family decided to travel to Europe in 1968 with his car Chicken Coupe, which was eventually sold and exported for use in the UK. On return to the US, Pete made a career of automotive illustrations for court cases involving automobiles. In the 1990s his cartoon work achieved a new readership as part of the burgeoning nostalgia drag racing scene and through the efforts of Orah Mae and daughter Robin. These efforts continue to this day via numerous exhibitions and the web.
The following interview with Simon took place in March 2014 at the DoubleTree Hotel by Hilton in Bakersfield, California. Eurodragster.com thanks Dave Riswick of Eurodragster.com sponsor John Woolfe Racing for helping to arrange the interview and supplying prints of archive photos.
Click on any picture for a large image.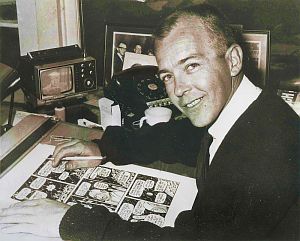 Pete Millar at work on Drag Cartoons in the mid-60s

Robin: My dad Pete Millar led an artist's life but also a racer's so an unusual combination of skills. I think that's why Drag Cartoons was so successful. I knew him by growing up with him so it was hard for me to realise that other kids' fathers had a job outside of drag racing or cartoon art. As long as I've been alive he was a cartoonist and that's what I remember him as. The other kids didn't even know what drag racing was or that my fad didn't have a nine to five job. He worked at home and all night and would then go to races on weekends, not every weekend but Dad would give mum a day off from my sisters April and Debi and I, and take us to the races.

Eurodragster.com: How did Pete get into racing? What sort of mechanical skills did he have and how did he build up his skills?

Robin: Like many boys he had always been interested in it. He did cartoons when he was in the Boy Scouts for their manual, in fact we just found those, and when he was in the army, we have a strip of that up in his studio. So he always did cartooning from when he was a child. We've got oil paintings from when he was a child, they show he liked the army and the Germans because they had neat uniforms.

Grandpa told Dad that Dad thought the world owed him a living and didn't really support Dad in his cartooning, but in the end was very proud of how successful he was.

Eurodragster.com: Did he develop his painting at school or did he go to art college?

Robin: No, he tried to go to UCLA to study but they told him what to paint and he didn't want that so he was pretty much a self-taught artist and was always interested in cars. They said "You've got to paint this, do it this way" but you don't do that to Dad.

Eurodragster.com: It can be restrictive...

Robin: That's why Dad branched out on his own, because he didn't want someone telling him what to do. He could do his own magazine which was exactly what he wanted. And for every company he worked for, he would always get a cartoon in the company paper.

Eurodragster.com: Was he employed for his drawing skills?

Orah Mae: He was employed all the time. He was a mechanical engineer, that's where I met him. When we worked at Convair Aerospace (now part of Lockheed Martin) I worked on the engine nascelle doing the electrical work and his office was at the same level as the nascelle of the aeroplane so they could overlook and see everybody working and that's when he told my boss "I saw this girl in tight jeans and I had to go to see her". My boss introduced us properly and we talked and Pete asked me out, we went to a movie. He borrowed a car, his car was being repaired so he used his room-mate's which was an MG sports car.

Eurodragster.com: Was he racing at that stage when he met you?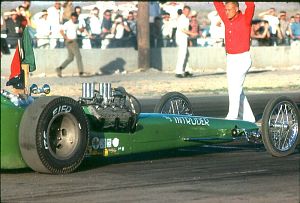 Pete's first dragster called Intruder had a flathead engine
Orah Mae: He wasn't then, he did before that but I didn't know he was that much into cars until we started going together and I had no interest in cars. In high school, he and a friend were able to get permission from who they needed to to use the airport outside of Brawley, California, down South, so they started a drag strip there.
Eurodragster.com: So he got into the racing more after he met you?
Orah Mae: That happened because he and Carl Koller started Cartoon magazine and after a few issues they sold it to Petersen Publishing Company for $2,000. When Petersen Publishing Company took it under their roof and didn't hire Pete as their editor he said I'm not going to work for you, that's when he started Drag Cartoons magazine and that's when he started drag racing. So he used it as advertising and he would get ideas at the strip and a lot of those ideas were true, exaggerated of course, but true.
Eurodragster.com: The personalities of those people involved in Drag Cartoons were the very people who were racing at the time – when would that have been?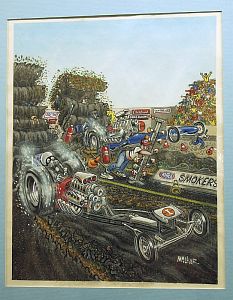 Examples of Pete's work are displayed at the NHRA Museum in Pomona
Orah Mae: In the 1960s, from 1963 to 1968. He published Drag Cartoons himself. He went to New York to get a distributor and had it printed in Kansas. The first issue was stored in a warehouse that another publisher who published girly books, not nice ones, were in the same warehouse. So he got a call saying "If you want your books, get them out of that warehouse because they're going to raid that place". So he got trucks and whatever he could get to get those magazines out. A lot of friends helped him. It was one thing after another when he first started.
Eurodragster.com: Was he involved in all the publishing and printing?
Robin: He had to take care of it all, the publishing and printing although he did have a contributing cartoonist.
Eurodragster.com: After PPC bought Cartoon magazine, was Drag Cartoons the same sort of cartoons that PPC bought but edgier?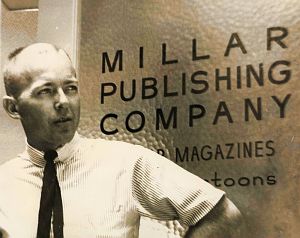 The Millar Publishing Co was established after Pete left Petersen Publishing
Orah Mae: Yes. Petersen Publishing bought the book for $2,000 and they published it from then on. So he thought "I can do it my way" which he did with Drag Cartoons and was very successful. He didn't like to take orders, hearing "You can't do that", and when he was on his own he didn't have to worry about that and he could do it. And he got a letter from a law firm, Gottlieb & Gottlieb, as NHRA had threatened to sue him over a story that Pete did about Wally Parks, calling him The Godfather and he didn't like that. But he poked fun at all of the guys and he wrote a letter back saying "This is just a cartoon, I do this to all the people in drag racing no matter who they are. It was nothing". It never came to anything, Wally Parks was very friendly and Pete would put a lot of flies in his cartoons and Wally and Barbara would sit out on their patio for a cup of coffee or breakfast and they would see a fly and say it was Pete Millar and they had a fly swatter.
Eurodragster.com: So he got back into racing after he started to produce Drag Cartoons?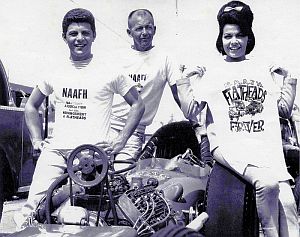 Pete with Frankie Avalon (left) and Annette Funicello at the filming of Bikini Beach Party at Pomona in 1964
Robin: He had the Intruder I and II first and then Gangreen. You can see the Intruder if you watch the movie Bikini Beach Party with Annette Funicello and Frankie Avalon. Intruder is the only green car in there when the guy played by Frankie Avalon and the English guy (who is also played by Frankie Avalon) are talking, you can see Dad's car right in between the two of them. Pete also drove Intruder in the movie.
This was at the same time that cartoon characters Temple McFlathead and his sidekick FOMOCO, Ollie Ollie Overhead and his sidekick Val Covers originated. Temple McFlathead was based on the true character Noel Temple and Mr Flathead was John Bradley (people often thought that it was John Bradley being Temple, we correct them). We were living in Torrance at that time.
Dad had the Chicken Coupe when we moved to Palos Verdes, a very upscale neighbourhood and then we moved in, the neighbours didn't know what to think. Eddie Potter got the Chicken Coupe body together, it was originally Eddie's car Sudden Death then Pete got it and named it Chicken Coupe. Pete did the grunt work. So there were four cars and Chicken Coupe was the last.
Eurodragster.com: When he raced in the US was it on a National event basis or more local?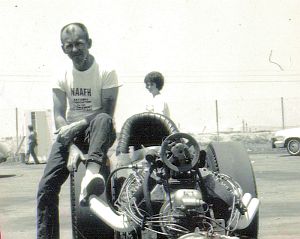 Pete and Intruder, when he was running NAAFH
Robin: It was mainly local races. He did organise a race in Albuquerque in New Mexico that was for Flatheads. He started the National Association for the Advancement of Flatheads, AA/FH, and kicked himself out because he got a Chrysler Hemi engine and he was no longer racing Flatheads.
Eurodragster.com: What was his local strip?
Robin: Lions – he would go to Lions and San Fernando Valley, mostly Lions because it was in our backyard near the coast. The picture in the paper of Chicken Coupe was taken at Pomona at the Winternationals in 1967. In growing up the Winternationals is in February. My sister's birthday is 3rd February and mine is 5th February, always around that weekend so Dad would race and Mom would bake a cake and hide it and we would have a birthday party each year at the Winternationals with the pit crew, other racers whoever came by and all the kids that were there. We would have a table of about fifteen. Those are my fond memories of Pomona, growing up at the Winternationals and coming back to the US, my son's birthday is 17th February and mine is 5th February so we went to the Winternationals again. But it wasn't the same. Mom and I now go every year to the Winternationals and World Finals to show Dad's art, and give out our comic papers. It is very well-received.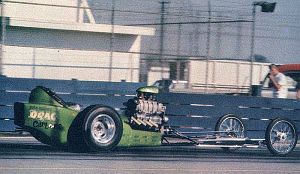 Intruder II had a supercharged Ford engine of 260 or 328 cu in
Eurodragster.com: So things were going well at that stage?
Robin: We lived in a very affluent neighbourhood because of Dad's talent and he was an artist through and through and that's how he made his living.
We originally lived in a little house in Torrance and Dad would work on the car in the garage and my sisters and I shared a room and he added on to the room so it was like a double bedroom and Mom and Dad had a room. It was a three bedroom house and Dad's studio was one of the bedrooms and he wallpapered the wall with rejection notices and that would keep him going. He would not let it bother him, it would motivate him to try harder. Dad went to Hot Rod Magazine to see Tom Medley who did Stroker McGurk and he told Dad not to quit his day job so Dad went down the street to Rod & Custom. He created the character Arincee who was the counterpart to Stroker McGurk, Tom Medley's character in Hot Rod, and it took off. He also did work for Surf Toons, Dig Magazine, Go Kart Magazine, Hot Rod Industry News and Drag News, including Ed Iskenderian's advertising for Drag News. In fact we sell the collection and Ed has autographed them, he's a good friend of ours.
Eurodragster.com: He was selling cartoons or syndicating them?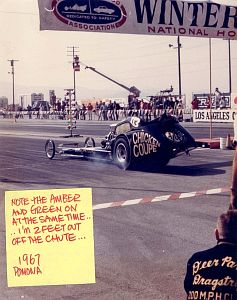 Chicken Coupe launches at the '67 Winternationals, caption written by Pete
Robin: He sold different cartoons to many magazines; he didn't do syndication because he would have to do what they wanted him to do and it would be a daily grind. So he would do work for whoever would buy it. And he kept everything, we have letters to publications that he wrote in the 1950s enclosing a sketch and then we would get a letter back saying thanks but no thanks. After he died, I went through those for about two weeks, it was so emotional and I had to stop because I thought "All these people saying no and aren't you sorry for saying no?". We have all of those and all of the sketches. We have put together Vintage Millar which is a bunch of sketches which he had done which have never been published and I just had them printed out, we have a set of five of those that we sell for colouring.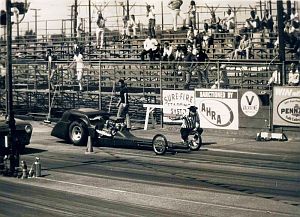 Initial runs for the '68 version of Chicken Coupe were made at Lions Drag Strip
Eurodragster.com: What made him think about living overseas going to Europe?
Robin: He wanted to see the world and he wanted us girls to see and experience more of the world. We just found that out recently. We met the guy that was in charge of shipping Chicken Coupe over to Europe and got reacquainted through a friend. He was the one who put the car on the plane to go to England and he asked Dad "Why are you doing this?" and he said "Because I want the girls to see more than this" which was very surprising, we never knew that, we just thought Dad was being adventurous.
Eurodragster.com: Did the offer to run the car in Europe or sell it come first before the decision to move?
Robin: No, the decision came after we got to Sweden. The reason that sparked it all off is Dad published Roth Toons and Wonder Wart-Hog as well. Drag Cartoons was very successful. Roth Toons and Wonder Wart-Hog kind of died in the Bible Belt and were eating up the profits of Drag Cartoons. There were only four issues of Big Daddy Roth and two of Wonder Wart-Hog. Now they're worth a lot of money, but in the sixties in the Bible Belt they weren't, they were too much of an underground cartoon, so Dad sold Drag Cartoons to pay everyone off, the printers and so forth. He then figured "I could live anywhere I wanted so let's go to Europe". This was 1968. He knew a Swedish car magazine that in fact used some of his cartoons, Start & Speed. Dad would do them and they would then translate it into Swedish.
Dad had planned for us to live in Germany, so before we went to Europe we would listen to German language records around the dinner table so we could learn to speak German. However, when we arrived in Holland Dad said "Why don't we go up to Sweden and visit our friend Bjorklund?" and when we were there he said "It's a lovely little town that has some new apartments and why don't we put the girls into school there". At the time it was a much better country to live in than Germany, and although Dad wanted to go to Germany he said "OK, why not".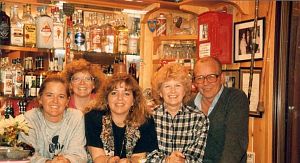 The Millar Family in Sweden
So in '68 we rented this apartment right on Kundsgarten the main street in town and Dad threw us in Swedish school and said "Sink or swim, learn the language", and they were really good with us in Sweden. They took us in and immersion of the language was great. We would be with the kids and pick up, say, a rock and tell them what it was in English and they would say what it is in Swedish. In three months my sisters and I were speaking fluent Swedish. It was quite an achievement.
They also gave us family lessons in Swedish at the schools. I think they respected us for that because we were so much into learning. Dad would say "Respect the country you live in and learn the language". Mum and Dad spoke the language so it was good. Our first Swedish word that we would enjoy saying was igelkotte which is Swedish for porcupine and sju for seven (pronounced "shoe") and getting Mom and Dad to say it properly. They had fun with us trying to say it.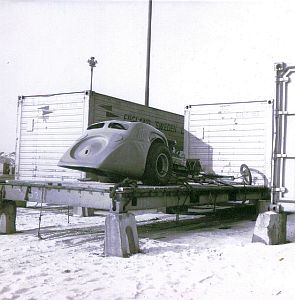 The damage in transit was apparent on arrival in Göteborg
Eurodragster.com: When you were based in Sweden, was that after the car had been sold?
Robin: No, Dad wanted to drag race in Europe so he had the car repainted, Crescent (a Swedish Boat Engine manufacturer, later taken over by Volvo Penta) sponsored it, we got a Sid Waterman engine so it was put on the plane and it arrived in England. However, it sat in the docks at Harwich before going to Sweden, it rained and it rained and it rained while it was still sitting on the docks. It was all in a pool of water, it got rusted and all the American tools were stolen. Finally they found the container it should have been in, rammed it into the container and smashed the front end. We have pictures of Dad standing when we arrived in Gothenberg with the front end smashed. We had been to Sweden and met a lot of people and some of them had a garage and they let Dad work on the car and straighten it out as much as he could. But he didn't have the right tools, he had to use metric tools. So he was never able to race in Sweden, and that was when he initially approached Dennis Priddle and Dave Riswick at Anderstorp in August '69. They were interested in the engine which was in the car, which was a shame because they didn't know the history of Chicken Coupe. If it had been now, they wouldn't have done anything to it but it was painted orange which is not a pretty colour although it was the colour of our sponsor Crescent. Daddy was able to take it to a lot of car shows around Sweden including Stockholm and Malmö, so at least they got some advertising out of it.
Eurodragster.com: Did Crescent help with the costs and the repairs?
Robin: No he did all of that himself.
Eurodragster.com: Sweden wasn't the only country you lived in when you lived in Europe?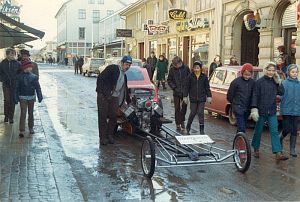 The repaired car created a stir on the streets in Sweden where it was pushed rather than driven
Robin: We lived in Sweden during the school year 1968-69. We liked Sweden and we were doing so well with the language. But during the summer of '69 we packed up and left Sweden and moved into the old VW van and travelled in a circle of Europe, via East Germany. We were unable to get into West Berlin through East Berlin, we had to go around the wall and then get into West Berlin where I was attacked by an East German swan, Czechoslovakia where we picked up some girl hitchhikers, Yugoslavia, Bulgaria, the former communist countries.
The second school year, winter 1969-70, we rented a farmhouse in the country which had no running water and a big wood burning stove. So we had heat and we had a two-burner stove, we had an outhouse which was by the barn. Dad would paint oil paintings and cartoons in the room upstairs in the farmhouse. We pumped the water and the pump only delivered cold water so we had to always heat it up. It was one of the coldest winters in a while, so when the water froze we had to go outside and get snow to melt to use. In the morning we had to walk two kilometres to our post box where the country school bus would pick us up and it was uphill both ways. We had to be there by 6:45 am. In the winter it was dark when we left for school and dark when we got home.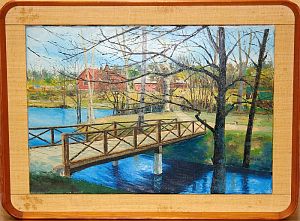 A painting by Pete of a Swedish scene
So we would leave in the dark with flashlights and walk to the bus which would take us to the main line and we would catch a city bus that would take us into school and then we would come back and walk home. It was so cold there were days Dad would have to light a fire under the engine of our '63 VW camper van to heat it up.
After eventually selling Chicken Coupe to Dennis Priddle and Dave Riswick in January 1970, Dad and my sister April went down to the VW factory in Germany and bought a new VW van with pop-up top, kitchen, and table. He had also got a tent to add on to make it even bigger because we were going to leave Sweden and weren't going back. It was a palace compared to the old van we had! In summer of 1970, we packed everything up and left Sweden, went to Stockholm first, spent three weeks travelling throughout the Soviet Union, which was amazing then went into Romania and Bulgaria, Hungary.
Eurodragster.com: Were there any incidents crossing borders?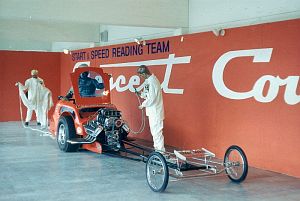 Crescent Coupe displayed at the Malmö Motor show in March '69
Orah Mae: We had lots of dollar bills because you can trade with dollar bills and had them all in my undergarments and I always carried the money as I am innocent looking. And we saw other people going in and they were basically tearing their cars apart and they had this shed when they would take people and I was sitting there thinking "They're going to find all this money that we didn't declare" and they looked at us and at the car and we just went right on in and they didn't stop us. They didn't even think we would hide money in our undergarments.
Then we were pulled over in Russia one night because you're not supposed to drive at night if you're a tourist. Well we couldn't get from one place to another in the daytime and they pulled us over. On our VW van we had three bikes at the back over the license plate, a box and all our belongings on top of the van, as we had left Sweden and weren't planning to go back. They asked for our passports and the man went into the station and Pete and I were sitting in the car and the kids were sleeping. So we said "Let's go in the office and see what it's like in there". We walked in and this big man just hung up the phone and he came over, handed us our passports, put his arm around us and said they wanted us to take the bikes off the back of the VW camper and put them on top of the van. We couldn't do this as we already had boxes on the roof and Pete said no. He said "I will take the license plate and put it on the outside" and that's when he went in to check with the captain and they fortunately didn't make us do it.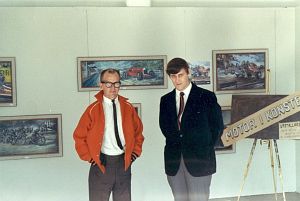 Pete, pictured with Start & Speed magazine editor Bengt Bjorklund, had a show of his paintings in Sweden
When we were leaving the Soviet Union, there were five of us in the van with all of our luggage fitted in tightly. They searched the van but no-one could be in it and only Pete could watch, we couldn't. They took all our albums and magazines into an office and Pete went with them and they made a mess of the van and when they came back I said "You can't come in, if you want to see anything I will show you", because April had a little dresser for dolls' clothes and they pulled it out and made a mess of it. They wanted to see what was up above, but we had some drawers put where there was some extra space and they wanted to see what was up there and I was angry. I pulled it really hard and everything fell out. They didn't ask any more.
We gave the border guards a few things like a large pencil and peanut butter sandwiches. They were friendly, the East Germans the friendliest. We stopped in one little town in East Germany because we had bought coffee beans but didn't have a grinder. We stopped in this little village and there was no restaurant or grocery store. So we stopped to ask where there was a grocery store and the family invited us into their house and they ground the coffee for us and Pete could see the coffee grinder was getting hot, so they did about half of it and we said "You keep the rest and this will be enough for us". And when we came out there was a whole town waiting to see us.
During his visit to Sweden Pete met Stirling Moss and Swedish racing driver Reine Wisell
In Romania at Baku we set up camp and the girls took their bikes into a small town and they were in town for quite a while, walking around and seeing the sights, the townspeople had never seen blond haired blue eyes. Pete and I were wondering what was happening so we got into the car to drive around to see where they were, we couldn't find them but saw all these people in this one area. So we went back to the campground and the girls came back and told us how They had backed them into an archway at a church and the whole crowd were touching their clothes, skin and hair, nothing inappropriate but interesting. We didn't speak Romanian and they didn't speak English the place was right on the border with the Soviet Union, very communist in 1970.
In the summer of '69 we met a professor in Yugoslavia and Pete corresponded with him, he was Egyptian. We were going to meet him in Istanbul and then he was going to take us to Cairo. So we planned to meet at a certain time in a Turkish campsite in Istanbul and we were there and it was really not westernised with the meat hanging with flies and all the Turkish people, who were these people with long hair and blue eyes. It wasn't something we were used to but we dealt with it. The guy didn't show up when he was supposed to so we ended up going to a camp site. We left Turkey because we didn't get a cheque and money was running out.
Then we went to Greece and were in Thessalonika on our way to Athens and we were in a free camping site because we had no money. Pete would do oil paintings and sell them, and that's how we made our money to live on. We were in Athens for a month waiting for money and then finally it came and we left. We worked up the coast and Pete wanted to go to Albania, but in those days, 1970, you couldn't so we followed the coast all the way to Spain. Dad said wherever we are when school starts, that's where we're going to live. So in September we ended up in Spain in Fuengirola, Costa del Sol and that's where we went to school. We were in Spain for six months. We could have gone to a Swedish school but Dad said "Respect the country you live in, learn the language" so we did. I speak English and Swedish and play around with Spanish, German and French but don't speak or use them. I use Swedish all the time and coming back here got a job because I speak Swedish and when I meet Swedes I speak Swedish with them.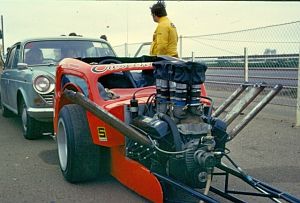 In first tests at SPR, Crescent Coupe had zoomie headers rather than the later collectors
We were in Greece for a month in a campground and would go into the American embassy to see if our cheques had arrived. One day we drove into Athens and we were sitting in the car for a long time. Pete was gone forever. We saw him coming and the cheque had arrived and we had got American Express cheques so he had to sign them in front of someone and it took him a long time to do it. He had sent cartoons back to Mike Doherty who had bought Drag Cartoons or was part of it and he sent us a cheque that bounced. Pete told his cousin "Do not give him any artwork unless he gives cash for it". Pete wrote to Petersen Publishing Company and said "I will sell you all of this artwork but you will have to take it all and pay for it all". And that's the cheque that we got that took us back to Spain. We were there until Dad left in April 1971.
During the Christmas vacation, three families including us all had campers and we drove down to Morocco. We visited Fez, Rabat, Casablanca and as far down as Marrakesh and then back to Spain. There was another episode where we didn't get a cheque so he was going to borrow money from one of our friends so we could have Christmas dinner. Dad went down to town and he came home and the car was full of groceries. I said "Pete, you shouldn't have got that much", but he had got a cheque. We were always expecting cheques but they weren't always there when we needed them. We invited all our friends over for Christmas Eve dinner then we had a New Year's Eve party and invited all the Americans that we had met.
We had wonderful times when we were in Spain and then one family was going back to the US so we borrowed $1000 from them so he could go back on the same boat as them and then drive up with them in their VW. They had five kids and three adults in a VW camper, then mum didn't feel comfortable with the girls in Spain, they were getting a little too "free", you might say. We lived outside of town, closer to Marbella than we did to Fuengirola so if we missed the bus we would hitchhike into town to go to school and then they would have siesta so we would go to the beach. School was out at 8:00 pm and we would get the 10:00 pm bus home. I was sixteen, my sisters were fourteen and the other one was twelve.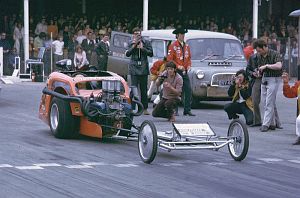 There was great media interest in Crescent Coupe at SPR
I didn't like that at all so we hopped in our VW camper and went back up to Sweden. Pete didn't know we had left, he didn't get our letter and didn't know we were in Sweden until he had got to the US. He found out we had returned to Sweden, then he worked and got enough money to buy tickets to come home. I drove in the VW camper without any stick shift driving experience. I drove through France coming up from Spain. I asked a Belgian couple which was the best road to take and they told me and the first turn from Malaga I had to go up a mountain and there was a narrow bridge on a hill with a truck coming down so I had to stop and let him go and I thought "If I make this I can make it the rest of the way" and I did.
Going through Paris we just looked for the Eiffel Tower. Then April went to ask "How do you get out of Paris?" because she could speak the best and we found our way out and drove up to Sweden. We stayed with our friends in Sweden, went home six months later in October 1971. Dad bought tickets on a charter flight to go home, so we packed the car up, went on a ferry to England and sent a lot of the things home to avoid them being stolen. They would get boxes for us at the terminal and we loaded everything we could and they would leave some things which were all stolen then we took a ferry over to England and camped one night right next to a police station on the street – we didn't know where to go or what to do but at least we could speak the language. We camped one night by the river and then we took the VW to the terminal that we had to take it to and then we had to find a room in town so we went to the YWCA and they were all full and they said "We have a place you could go to". It was on Soho Square and so we went there and Orah Mae said "Kids, if it's clean we're going to stay here". And it was clean, the beds and towels were clean, and we would go to the theatre and come back, the girls wondered why the ladies outside were dressed like that and what the smell was. Nobody bothered us – we stayed three or four days.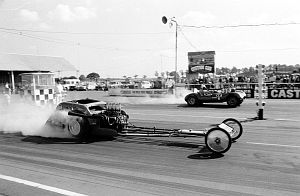 Crescent Coupe leaves the SPR starline in 1971
The night before we left we went to Kentucky Fried Chicken to have dinner and went in. We went to Wimpys too and it was horrible, I had a milkshake and it was like drinking milk. We sat down at the table and the waiter came over and said "What would you like?". Well we hadn't decided and he was so rude to us, not nice at all and I said "Come on girls let's get out of here, I'm not going to let us be treated like this". There was a lady waitress and she said "Are you leaving?". I said "That waiter was so rude, I'm not going to stay here". She told us to sit in her area, so we sat down and ordered and couldn't eat it all as we are small eaters. She said "You're American, aren't you? Would you like a doggy bag?". The next day was when we had our flight and got to Gatwick Airport and were supposed to leave at twelve o'clock and they didn't call us and we went up to the departure desk and they said "We will call you when we're ready". It got to quarter to twelve and they hadn't called us and we went up there and they said "You are not on the manifest so you aren't getting on the plane", and there were twelve of us together and twelve empty seats. I was furious, I threw the paper at them and cried and screamed and I never do that. They gave me my papers back and there were two men and a lady there that took care of us and the lady was getting a limo and said "We will take you to Heathrow".
First of all one man called and said "I have a lady with three children that were not on the plane either, can they get on a plane?". They said "Come to the airport ticket counter and we'll see what we can do". So they took us to their limo and all the luggage was in the trunk and on the trunk. We got to Heathrow and there was nobody at the ticket counter. We waited and waited and finally somebody was there and said "We will call your husband and if he can get the money together to pay for it you can get on the plane we think". So I got on the phone to Pete and I cried "They won't let us on the plane", I couldn't say any more, so the man there took over and explained, because Pete thought we'd been hijacked. They said "Well go on up and we will let you know if you can get on the plane or not."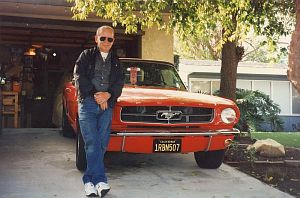 Pete at his home in Palos Verdes, California in 1996
So we waited and the girls slept and finally about 4:00 am or 5:00 am they called us down and the girls and I got on the plane because they were able to get the money together and one man got on but the other didn't. Richard Burton and his entourage walked through. The two men helping us took me into the bar and got me a double gin and tonic and said "You need it". Dad had planned a welcome home party for us but we weren't on the flight he had expected so he had to call everyone around to say "They're not on that flight, they're on this flight" so we ended up with a lot of people meeting us and I went through the door before customs and saw Dad and opened the door and then went through customs, and they never said anything.
Robin: We got back to life in the US, going to the school in the second semester of junior high school and I did not like it at all, it was a bunch of rich snobs and I had just spent three years in Europe, living a great life, doing what we wanted to do and had a lot of freedom. Mom and Dad were very strict but we were able to do what we wanted to do when we wanted to do it. We were living in Palos Verdes which is very affluent with rich people who weren't that friendly. There was a foreign exchange to that from Norway and I ran across, jumped over a bench and started talking to them in Swedish and he wrote in my senior yearbook that I was the friendliest person he had met.
All I wanted to do was graduate from high school, go back to Europe and be a hippy. I finished high school, tried to go to college but just didn't like it and worked at the airport, for insurance companies, LA Visitors and Convention Bureau. I worked with a lot of foreigners which is what I enjoyed doing. I got the jobs because I spoke Swedish. But then I got sick of LA and took off for England in 1987 because a friend over there had a nanny agency.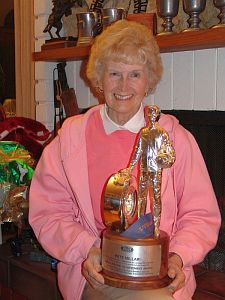 Orah Mae with Pete's NHRA Lifetime Achievement Award
Eurodragster.com: What was Pete doing at that stage?
Orah Mae: During that period up until 1987, Pete sold cartoons to magazines and got a call from an attorney friend saying that another attorney needed someone who knew about drag racing and was an artist. That was Pete. It was on the Kenny Logan v NHRA case, that's why they don't put him in the Hall of Fame. He got work in reconstructing accident cases and malpractice suits, he worked for the finest attorneys for twenty years and would see that Dad would do the art and they would settle out of court, doing a drawing and models to illustrate what was happening. They would end up settling out of court.
He did this murder case and the attorney called us to see if we wanted it back as it is too good to throw away, so we have it in storage. He said "I don't want to get rid of it but I have no room for it as I am going to a smaller office". But he had it up on show in his other office. He did a case where a couple were asphyxiated in their camper, he made a model and fumes coming in and detail like he does in the drawings. The judge said "That's too graphic, you'll have to take some of it out". And of course they won the case. Dad worked on the Erin Brockovich case which got made into a film but Dad's not in it.
After we got back from Europe he didn't race but when the California Hot Rod Reunion started, that's when he got back into again. We missed the first one because we didn't know about it but we haven't missed one since, more than twenty years. We went to the second one and people were asking Pete for his autograph and he couldn't understand it, then he found out that they were enjoying the nostalgia. Then he put together a comic book which they put in their goodie bags. He found out they were really interested so he did two more new stories and he loved it, he was enjoying himself. He scanned all the artwork he did over forty five years which he put on six CDs. He worked on a CD, The History of Hot Rod Comics and put that together before he passed away.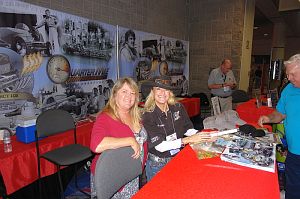 Robin with Traci Hrudka at Quarter Mile Foundation stand at SEMA show
Eurodragster.com: How does the Millarkey business that you both run work?
Robin: We're preserving his legacy physically, he wouldn't like what we're doing, and he would have liked it very low key. He designed T-shirts and a set of postcards. He wouldn't have liked it, too commercial, the posters and prints, it's just us doing it and people want it, so why not do what they want? We put a paper out every year for the Hot Rod Reunion, we started off with eigh pages we paid for ourselves and it went very well so we decided to sell advertising space so we don't have to pay for the printing. We're up to thirty six pages in colour now. We sell full page ads to Dad's friends who support us in what we're doing, Edelbrock, Justice Bros, Iskenderian, Banks Engineering, Firestone, and many others who support us. They're reasonably priced and we give them out for free or they can give us 35¢ for it if they want to. We also auction material from artists who worked for him.
Our season starts at the California Hot Rod Reunion in October. After that, the pattern is:
November – SEMA Show
November – NHRA Finals
December – Mooneyes show
January – Grand National Roadster Show
February – Winternationals
March – March Meet
March – Fontana
April - Long Beach Grand Prix
April - Seal Beach Classic Car Show
May - Rev'd up for Kids Edelbrock Show, Torrance
May - Mooneyes Mothers Day and Drag Show, Irwindale Speedway
May - 1320 Reunion
June – LA Roadster Show
May - Arizona Reunion
August – Gasser Show in Automotive Driving Museum in El Segundo
August – Speed Week Bonneville
September - Cruiser 4 A Cure
We pick up and or are asked to do other shows during the year.
Eurodragster.com: Thanks for your hospitality and best of luck in the future!

Feature ©Simon Groves and Eurodragster.com


---
| | | |
| --- | --- | --- |
| | | |
| Pete wrenching his blown Ford engine | In 1966 Pete raced Gangreen which, despite its appearance, was a fuel altered with a blown Chrysler | At Bonneville in 1967 Pete ran a Ford Ranchero powered by a 260cu in blown Ford |
| | | |
| The first Chicken Coupe ran at the 1967 Winternationals | Pete and Eddie Potter rebuilt the car between the '67 and '68 seasons with many innovative features and a 328cu in Ford engine | Slowing after a run at Pomona |
| | | |
| The car ran in Super Eliminator as an A/Competition Coupe however Pete painted BB/FD? on it | Cliff Jones and Mike Treutlin's first competitive meeting with Crescent Coupe was an on-tour BDR&HRA event at Elvington in August '70 with Cliff driving | The 302cu in engine installed by John Woolfe Racing replaced the 354cu in Hemi from Chicken Coupe which went into Dennis Priddle's Quartermaster dragster. The car's final reported appearance on a drag strip was in 1973 after Keith Dancey had bought it |
---
LAFFyerASHPHALT - web site devoted to Pete Millar's work
Features and Interviews index
Back to News page
---