Tributes to Pat Ginn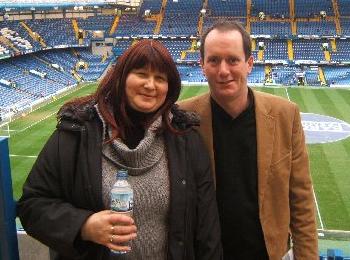 Pat Ginn died on the evening of Saturday 23rd June after a year-long illness. Pat developed a brain tumour in 2006 but stood up to it cheerfully, bravely and steadfastly for those thirteen months until it just became too much even for her strong character. Pat's partner TJ O'Brien told us that his princess died peacefully in his arms.
Pat was never happier than when she was at the track with TJ. She was deeply loved by the racing community especially on two wheels and loved them equally in return. "Have a good time all the time" could have been her life motto. As well as keeping TJ and his colleagues in check - which in itself was quite an achievement - Pat was always the first to offer help when anyone needed it. One example of this is after her collapse at the 2006 FIA Main Event when she was less concerned about herself than about Fred Furlong and Tog both of whom also ended up in hospital the same weekend. Even when the diagnosis turned out to be bad Pat remained remarkably upbeat and she managed to achieve a lot of ambitions in the time she had left.
We have received the following tributes to Pat. To send your own tribute, E-Mail eurodragster.com@btinternet.com.
The most recently-received tributes are at the top of the page.



---
Sad to hear of the loss of Pat Ginn and my heart goes out to those that she has left behind especially Stephen and Richard my thoughts are with you. Pat you will be very sadly missed by all that knew you. Goodbye sister in law love and kisses.

-- Dougie Binet


---
I have been drag racing for many years, people come and people go, but every now and then someone very special steps into your life. For me Pat was that person. How many people have only been in the sport for a few years and made such an impact on so many lives? Pat was the most caring, loving, warm person to know, just by the tributes alone you can see why. This was a woman who loved this sport and loved the people and she would do whatever she could to make it better for us. Pat was our track mother, she looked after so many, you were never alone with Pat around. So many memories from such a good person, we miss you Pat and know you will always be watching over us, you will always be in our hearts and our thoughts and although we may shed tears we are so thankful that you came into our lives .

-- Grumpy and Pixie


---
The first time I met Pat was at Avon Park about four (maybe five) years ago. Ian and I had gone there to help out Kev Charman. For some reason we found ourselves at TJ's pit. I think it was to see if he'd wrecked the bike yet! There was this lady standing there cooking sausages and bacon and her first words to me (after being introduced) were "Hello mate have some cake". This was typical of Pat. Her sheer determination and grit showed through even when she was desperately ill. The last time we saw Pat was at Santa Pod (weekend May 26th-28th) when she visited us there, with the help of TJ, in the pouring rain. TJ and the boys and the rest of the Ginn family our thoughts and condolences are with you. Pat you are very much loved and will be very much missed until we hear those immortal words again: "Hello mate, how're you doing - want some cake!".

-- Lou and Ian, Kev's crew


---
I first met Pat when we job shared for each other, she was always laughing when I spoke to her on the phone. Pat was someone who brought out the child in me, and I'm sure many others too, yet she was very good at getting on with what needed to be done. She sorted out our guards' SIA training and certificates which was a massive job in itself. I remember two special Christmas outings with Pat and 'Ronnie and Reggie' also known as Gary and Matt! Pat had a great time with my pom poms and when we were given the light up bracelets Pat put them down her top so she was glowing in the dark. She didn't stop dancing, it was such a lovely time. On our second Christmas outing in 2006, Pat wasn't able to dance but it was a privilege to just sit with her knowing what she had already been through and how she would so love to have got up on the floor. She looked so glamorous and was still laughing. The evening ended on a perfect note for her when Gary did a donut in his big truck for her. When Pat spoke about her illness she always semed to make it so easy for others to talk about it, I know if all the love that surrounded Pat could have been her medicine she would have made a miraculous recovery. Pat is missed by so many people because she touched their lives in some way and will be thought of so many times with great affection and happiness. I wish I'd known her longer. Peace and love to all Pat's people everywhere but especially to Pat herself.

-- Mary, Gleeson Wright Security


---
What can I say. The office at Gleeson Wright Security will not be the same without you. We had so many laughs getting Gary to do his wind up calls and crying with laughter which ended up being for about half an hour . One of my other fond memories was when you bribed a mobile phone salesman that he could only come and see us if he bought strawberries and cream with him which he did. TJ and the boys are lucky to have had such a wonderful mum and partner and I'm so glad I had the chance to know you. I hope you're still rocking to Bon Jovi in heaven. Love always.

-- Jenny


---
It is strange that when one gets older you don't expect to make dear friends with any one, only acquaintances, but when I first met Pat (and TJ) that's exactly what happened. From the very start I was welcomed in to their family, a place to stay, food nothing was any trouble. Pat you were and always will be a saint to me, putting up with our antics every night, looking after us when we needed it most, never asking for anything in return. You only meet someone like Pat once in a lifetime and I feel honoured that I did. My deepest sympathy to TJ and to the boys.

-- Wayne


---
Very sorry to hear that Pat has now passed on, she will be missed so very much. All our thoughts and prayers and love to TJ and your families. Remember that her love spirit will be with you always. Deepest love.

-- Wendy, Geoff, Karen, Andy, Callum and every member of Team Breakout new and old


---
Although I only met Pat a few times she struck me as a kind, caring and thoughtful lady. She will be sadly missed by us all. My kindness regards to TJ, family and friends.

-- John Everitt, family and crew, The Alien


---
Pat, they are all right and a common theme is that this racing community of ours will miss you enormously. I will miss you enormously. You were a good friend to me and many others. You sleep well my friend and thank you for your friendship. Thinking of your boys, TJ, and your family at this difficult time.

-- Red Ken Cooper


---
Pat you will always be missed in the pits by so many people, you was a person that never failed to put a smile on anyone's face no matter what they were going through. I am proud to be able to call you a friend. Rest in peace.

-- Ian, Angie, David and Stephen Warren, Manor Racing


---
We were lucky enough to work with Pat for the last four years and I can't think of a more generous, caring and giving person. We had lots of fun and Pat thoroughly enjoyed chasing down our difficult customers for payment, putting the buyer at Santa Pod into a headlock to get her to buy our banners and generally making our factory a brighter and better place to be. Some of our favourite memories include her regularly calling us downstairs to see what monster truck TJ had turned up in that week (we always heard him before we saw him!), telling us what crazy antics she'd got up to at the latest drag racing events with her mates and giving us gyp for supporting Spurs instead of Chelsea. Pat was a lovely lady, an amazing person and we all miss her.

-- Jamie, Dave, Martin and all Pat's friends at Martin Dannell's


---
What can I say mate X. Bon Jovi, Malibu and pink furry cowboy hats. Our thoughts with you as always X. TJ, you know where we are. Our thoughts and wishes to the boys and the rest of Pat's family.

-- The Wicked Lady Team (Riot Racing)


---
The Les Harris Drag Racing Team will sorely miss Pat, her smiling face will always be remembered. Les particularly remembers one evening when he was hungry and upon visiting TJ and Pat's caravan got fed roast chicken and roast potatoes! Always there when somebody needed help or feeding. Our thoughts are with TJ and the rest of the family at this very sad time.

-- Les and Lyn Harris and the team


---
Our sincere condolences to TJ, Pat's sons and family. We will alway remember the good times at Avon Park and when you all came over to race at Drachten. Godspeed Pat.

-- Bart Salentijn


---
From the time when TJ started in 10.90 Bike Pat has always been a constant source of support to the Hyenas. You were always guaranteed a lively party at TJ and Pat's tent and a hearty home cooked breakfast in the caravan the following morning. Nothing was ever too much trouble for Pat. We have shared many good times with you Pat and your warmth and strength have now been seen by all. We will all miss you. Our thoughts are with TJ, your boys and your family.

-- All at Hyena Motorcycle Drag Racing Team (past and present)


---
Really sad news of the loss of a wonderful happy person, our hearts and wishes go to you TJ and Pat's family. Warmest wishes.

-- Mark and Karen, Pony Express (Riot Racing)


---
To TJ and to all the family, our thoughts and hearts are with you at this sad time.We know there's a new angel sleeping on a bed of roses looking down on us. I'm so glad she got to meet my new son Jamie a little while back at Shakey, as I can't think of a braver, nicer lady that I could ever want him to be cuddled by. RIP Pat.

-- Angie, Dave, Josh, Jamie; Janet, John and family


---
Pat you will be missed so much by everyone, who will look after us all now? I don't know anybody who has met you and not taken an instant liking to you, never has anyone ever had a bad word to say about you. You're one of the most amazing women I have ever met, and I feel so privileged to have known you. I'll never forget all the weekends with you at the track and giving all the lads silly hairdos and making them wear lip gloss. It's not the same with out you there. I've got some many happy memories of you. See you again one day, my racing mummy x. Lots of love to TJ, Steve, Rich and family.

-- Jemma Cooper, Team Cooperized


---
We did not really know Pat terribly well, occasional visits to TJ and the odd cup of tea, but it was so easy to see what a gentle, lively, warm person she was and how much TJ adored her, and vice versa. Her strength throughout her illness will, we are sure, be an inspiration to all of us. It says a lot about Pat that she never gave up and maintained her dignity and positive attitude until the end. Our thoughts are with TJ and with Pat's sons and hope that their memories of Pat will guide them from darkness and that their dreams will take them forward to a brighter place.

-- Charles and Michelle Partos, 51st State Autos


---
A terrible illness borne with great courage and bravery. One extremely remarkable lady, an inspiration to everyone. Our thoughts are with you TJ, God bless.

-- Richard and Rachael Warburton


---
It's always a sad time when our world loses such a nice person. It puts life into perspective when you take time to look back at how brave Pat and TJ have both been over the last year, and what they have achieved in such a short, and valuable space of time. Our thoughts are with TJ and the families at this sad time. RIP Pat Ginn.

-- Steve Carey and the Purple Princess 2 team


---
Although we did not know Pat, we would like to send TJ and Pats family our deepest sympathy. Our thoughts are with you at this sad time.

-- Barbara, Barry and Nick Holland, Team Flyingdutchman


---
Dearest Pat, I have taken some time to think about what exactly to say and I have thought about many things even back as far as Avon Park when you used to pester me to go in the red Lightning pick-up. You did make me laugh with your smile and persistence and how you put up with that nutter TJ. As time progressed because of who you are I think the drag racing community got to know you well, then when TJ retired you both came on board with the team, little did we know what an asset you would both become, with TJ staying out all night coming in bleary eyed asking what was to be done, you giving him a good crack to keep him in line. Life at the track was so much easier with you there, as you know Neil don't eat much but myself and Mike and TJ were never looked after so well and even when we said to you to chill out you just kept on going and you were also looking after half the other teams too. It is over these times that I realised what a help and inspiration that you were as you never asked for anything from anyone and as you know you were the inspiration behind my last car the Porsche 997 turbo in which I blew even more money. But the situation you were in made me look at my life too Pat and for that I thank you most sincerely. It was a pleasure to have known you and even at the last meeting it just wasn't the same without you. I know that myself, Neil and Mike all feel the same on that score. RIP Pat I hope you are in a better place.

-- Cannon


---
Our thoughts and deepest sympathy are with TJ and the rest of Pat's family. Pat was a lovely woman, always smiling, although we only met her a couple of times a nicer person you couldn't wish to meet. RIP Pat.

-- Dave and Suzanne Peters


---
Having never met Pat or TJ personally I feel I know them both well because of our shared love of drag racing and the people involved in drag racing. Rest in peace Pat. And TJ there will always be a cold beer in my pit for you.

-- Nick Curtis, Team Lawbreakers


---
We are all so sorry to hear of the loss of Pat. Our sincere condolences go to TJ and his family on the loss of such a brave and special lady. Our thoughts and prayers are with you.

-- The Kirk family and the Ratfink crew


---
Racers young and old, bike or car, can pursue their goals large or small safe in the knowledge we have a new angel guiding our safe path down that sacred track we love so much. Our angel's name Patricia Ginn. Rest in piece our dearest friend we will miss you so very much .Our deepest sympathy to our friend TJ and Pat's boys Steven, Richard, family and friends.

-- Matt Wright and Sue Smith


---
The world is a lesser place now Pat has departed. Drag racing and TJ have lost an angel (enough said).

-- Ash, Harri and family and the crew members of Super Pro 474


---
I had the privilege of working briefly with Pat a number of years ago. I'll remember her as a kind, generous soul with a smile for everyone. My deepest sympathy to TJ, Stephen and Richard. I'm so sorry for your loss.

-- Kerina Davies


---
What can I say. Our thoughts are with TJ, Stephen, Richard, Pat's parents, family and friends. What a great lady - so strong and determined - an example to us all. Some of us knew Pat personally, some of us didn't but we all knew what a fantastic lady she was, always thinking of others and not herself. The dinner and dance this year will last in my memory for ever - you were brave enough yourself and instilled confidence in our good friend to do the unthinkable (both you and Lizz know what I mean) - you, Pat, are a true star in my eyes and I admire you so much. Pat - you will always be my Badger!

-- Sam, Paul and all drivers and crew at Paul Marston Racing


---
We were sorry to here of Pat's passing and would like to send our condolences to TJ and of course to Pat's family. Pat was one of the kindest people in drag racing, always asking after everyone's health even though she was gravely ill herself. The best memories we have of Pat are joking around while waiting at the start line mainly taking the mickey out of TJ. Pat will be sadlly missed but never forgotten, you will always be in our thoughts.

-- Steve, Jackie and all the crew at Woollatt Racing


---
To TJ , Richard, Stephen, our thoughts are with you all at this time. Pat was a very dear friend who had time for everyone. So courageous through your battle. May you rest in peace. Until we meet again my friend.

-- Annette Holly Mitchell


---
Our deepest sympathy goes out to TJ at this time. It was a privilege to class Pat as a friend, the queen of the pit lane bacon butty. Always in our hearts.

-- Dave, Luke and Jo, ex-Wordweaver Racing


---
I am proud to say Pat was a friend. She was the most thoughtful, unselfish person I have ever met. Her bravery has been an inspiration to me, heaven has another angel, RIP Pat.

-- Gary Gleeson


---
Whilst I never met Pat and I only ever met TJ once when I was track announcing at Shakey a couple years back, it feels like I know them both well, because they're racing folk. Our deepest sympathies to all your families and friends at, what must seem like the darkest of times. God speed Pat and wishing TJ strength. With deepest sympathy.

-- Barry and Alison Bohannon


---
To my friend TJ, Pat's sons Stephen and Richard, Pat's parents and all her family my very sincere condolences. The last time I saw Pat was at a fundraising indoor football event back in November. I had a long conversation with her then about her illness and was so impressed with her bravery. She was slightly embarrassed by all the fuss but was so touched by everyone's kind wishes and the amazing support and love she was receiving from her adoring family, friends and even strangers. She has been in my thoughts often and I am so sorry she has lost this battle. I first met Pat about 6½ when she was helping out in Shirin Guild where TJ worked. She always struck me as a very strong character with the biggest kindest heart and was full of fun and always laughing. This is how I will remember her. She will be missed. Bye Bye Lovely lady! All My Love.

-- Nessa


---
I am so sad to hear of Pat's passing away. My thoughts go out to her family and TJ, she was such a fun loving girl and the race scene will miss her so much. My fondest memories were when we all went to Hockenheim to the Nitrolympix with Matt Wright, she was just blown away with the whole experience and took on the role of mum to all us, she had such a good time. In fact she seemed to always have a good time at the track, and always put others before herself, one of the bravest people I've ever met, you will always be in our hearts and minds.

-- Andy Thetford


---
TJ and Family - your loss is shared by many friends who care, you're in our thoughts and hearts and in our every prayer. Pat a lovely, brave lady lives on in the hearts of others.

-- Sharon and Jon Hogarth


---
Such an incredibly brave lady who always had a smile for everyone, we will always remember you Pat.

-- Jones and Friend Racing


---
Although I never knew Pat, I can only wish TJ and all the family nothing but smiles and happiness for the future. I also want to give a pat on the back to all those racers and crews alike who helped Pat . These are very special people who we cannot afford to lose. Rest in peace Pat.

-- Anonymous


---
Our deepest sympathy goes to TJ and to Pat's family. She always had a happy smiling face and will be surely missed, she was one of the best

-- Scary and Dave


---
What can I say. Pat was amazing, when I was ill she called me each week to see how I was, jollied me up when I was having chemo myself, and was so happy when I got better. The warm kindness and consideration that she had for everyone, not just myself was incredible. Pat I will miss you very much. God Bless You.

-- Lizz McCarthy


---
To our darlin' Pat, just a little bye bye for now, 'cos we'll be seeing you again, sometime, somewhere. People like you only bless people like us seldom in a lifetime,and a privilege it has been. God bless sweetheart, all our love.

-- Mark and Sharon, and the Hooligan Crew


---
The good ones always go first and surely she was a good one. We are sorry we won't see her smile at the track anymore. Our kindest thoughts to Pat's family and friends.

-- Viep Bloemen and Annemieke Hartmans


---
We are all very sorry to hear about the loss of Pat the hat, and we remember the laughs we had at the track upsetting the security because of the parties, rest in peace Pat.

-- All at Fat Pack Racing


---
All of us at Predator Racing were deeply saddened at the passing of Pat. We would like to offer our sincerest condolences to TJ and Pat's family. We shared many enjoyable times with Pat and TJ both at the Track and away from it. Godspeed Pat - we will always remember you.

-- Shaun and Alison, Stewart and Lisa and Dave


---
Everyone at Shakespeare County Raceway and APIRA is deeply saddened to hear of the loss of Pat. She was a bright, happy and caring person who will be sorely missed by everyone within the drag racing community. All our thoughts and love go out to TJ and all of Pat's family. RIP Pat.

-- All the staff at Shakespeare County Raceway/APIRA


---
We are sorry to hear the sad news of the loss of Pat. Having only meet her briefly we can only say how wonderful and supportive she was. Our thoughts are with you at this sad time.

-- Bob and Carole Hancox


---
Our deepest sympathy for the loss of Pat and we wish you all the strength in these hard times. We will always remember her as the strong woman with a big smile on her face and her sense of humor. May she rest in peace.

-- Herman Van Driel and Anita van Woerden


---
We will really miss you Pat. 9.90/9.50 Bike will never be the same again.

-- Sandra and Fred Furlong


---
Heaven & Hell Racing would like to express their most deeply felt condolences to TJ for his sad loss. As a couple who is much united by drag racing together we deeply identify with the tragedy of losing your companion. Some comfort must come from the drag racing community's action to help Pat through the course of the illness which she so bravely endured. Everyone wanted to make it better for this very popular lady. We feel for you. A big hug.

-- Rick McCann and Carla Pittau


---
Pat will always be remembered for her willingness to help anybody, anytime. I will remember her for the smile she greeted me and every body else with. She was one of the angels. I hope we meet again.

-- Paul Wing


---
To my second mum, I miss you and will never forget you. You put a smile on my face everytime I saw you. I'll always be your Brittany Spears.

-- Phil Pratt


---
I just want to let my good friend TJ who I kept bothering to talk to on AOL all of the time that I send him, Pat's parents, Stephen, Richard, the rest of their families and friends my very deepest sympathy. I only got to talk to Pat once, and it was online - she was very kind to me even though she didn't know who I was! I will miss you Pat, we all will, but we will always remember you.

-- Sean Bowe


---
Features and Interviews index
Back to News page
---