Exclusive interview with Peter Crane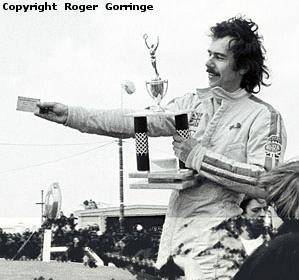 Click on any picture below for a large version


Easter 2006 is the thirtieth anniversary of the 1976 Spring Nationals. The meeting was SPR's biggest attendance up to that point, with a reported 50,000 during the weekend. The highlight of the meeting was the eight-car Top Fuel Dragster elimination, during which Peter Crane beat the reigning NHRA Top Fuel champion Don Garlits and in the process ran the first five-second time outside the USA.

To mark the anniversary, Eurodragster.com spoke to Peter Crane at his home in East Sussex.

Eurodragster.com: What did you do for speed in the early days?

Peter Crane: I was involved with bikes initially. I had a street Triumph 500 that I ran in sprint events and teamed up with Bill Bragg who ran sprint bikes named Yellow Peril and Silver Peril. We raced these machines at Duxford and Ramsgate in the early 1960s. Yellow Peril actually turned up in 2005 in Slough and it has now been restored. Bill helped me install Dell'Orto carbs on my Triumph, but as the manifold he came up with fouled the distributor, I had to rework the distributor. This knowledge came in useful later. Bill used to run his bikes on nitro, which I think was banned, and once had a fearsome blow-up with Bill aboard. He wore extra protection after that. There is a photo of it on the Acceleration Archive (Readers Gallery 14).

Eurodragster.com: What was your first experience of drag racing?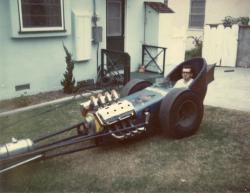 Peter Crane: I emigrated in 1965 to work for Carroll Shelby, who was developing the Shelby Cobra at the time. I went to Lions Drag Strip, which was local to Shelby's workshop in California. I was really impressed by the cars I saw there, particularly the Stone Woods & Cook Willys, Pure Hell, and most of all Flaming Frank Pedregon. Whilst most cars smoked their tyres right through to the finish, after he launched the smoke turned into flames, which I believe was his speed secret.

Eurodragster.com: When did you return to England and first get involved at Santa Pod?

Peter Crane: I returned at the end of 1965 for family reasons. I ran at Santa Pod in 1966 in a supercharged Ford Cortina. At this stage I was working for Alan Allard in Putney and was looking to open my own business along similar lines. However when I saw my solicitor he said he was winding up a Lucas wholesaling business in Bromley, which I ended up buying and working in for some considerable time. Coincidentally, this was just around the corner from Fibreglass Repairs.

Eurodragster.com: How did you acquire the constituents of what became Devon Cream?

Peter Crane: The donor car was a Pontiac Firebird that I acquired through Ronnie Picardo whom I have kept in touch with over the years. I also acquired the 1948 Austin A40 two-door, which was the body and chassis and then sold the project to Cliff Jones. I ran out of time to finish the project off as I got involved with wholesaling AA Touring Kits, which were for hire for overseas touring holidays.

Only last week I visited a Len Beech who bought my Austin A40 from Cliff Jones over thirty years ago. I traced the car via the Rod clubs on the net. Len has owned it all that time, has put many miles on it and has won loads of trophies with it. He is shortly going to restore it back to show condition. I cannot tell you how weird this is - first Yellow Peril and now the A40!

Eurodragster.com: ...And Eazy Ridin'?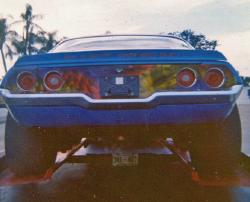 Peter Crane: I happened to be living in West Wickham near to Tony Dickson who originated the Pro Stock class and Ray Edmonson, my long-time mate, and I through Peter Billinton made contact with Don Garlits, who sourced the car for us from the US. We bought it in original NHRA-legal form but later uprated it with a roller cam and Crower fuel injection. With these parts the noise it produced was absolutely evil! The paint job on it was fantastic, very original with a whole host of colours and application of oxyacetylene smoke to create a very striking effect.

It broke almost everything in it. We ran it in 1973 and early 1974 to a best of 10.6. However, the advent of the Boston and Brooklyn Heavy cars with their state-of-the-art specs and Lenco transmission made all the other cars in the class uncompetitive and we wanted to be competitive so I sold it.

Eurodragster.com: What happened to it?

Peter Crane: I sold Eazy Ridin' to a racer called Mustapha Errol. He still owes me the money for it! It became more of a show car than a race car. I don't know what's become of him or the car.

Eurodragster.com: How did you get involved with Fuel cars?

Peter Crane: I had an offer from Bob and Roy Phelps to move up to Top Fuel. The deal was that I bought the car and they supplied the motor. They sourced a car through Ed Pink from Cannon & Soares, which was repainted and renamed Stormbringer for its début after it was imported, with an Ed Pink motor on board and direct drive.

After buying the car, I drove Firefly to obtain a competition licence. It was a nightmare to drive, just didn't want to go straight and was always pulling to the left. Worse still, I couldn't see where I was going because of the height of the injector hat. How could Bootsie drive the car with confidence when he was shorter than me?

I got my license despite the experience with Firefly. It's just as well we bought Stormbringer before Firefly, otherwise I might not have gone ahead with it. In the event, Firefly and Stormbringer were like chalk and cheese - Stormbringer was like driving a Rolls Royce.

I'm still in touch with Brent Cannon and he still runs a Methanol Dragster in the US.

Eurodragster.com: How did Stormbringer do on its début?

Peter Crane: The car's best in the US had been a 6.21. On its début at Santa Pod in late 1974, I ran a 6.20 off the trailer, although I must admit this was after rolling through the lights, and so the time was not representative. Roy Phelps then decided to adjust the clutch, which unfortunately resulted in the car running slower during much of 1975, although we did improve to a 6.18 at the Whitsun Big Go meeting.

After we imported Stormbringer, Roy Phelps built a number of other cars based on its design over the next few years. These were Asphalt Alleygator (Allan Herridge), Highway Patrol (Ronnie Picardo), Maneater (Roz Prior) and the Blonde Bombshell. Bob and Roy Phelps put a lot of money into the cars and teams to develop the top echelons of the sport.

Eurodragster.com: What of the safety of the car?

Peter Crane: I believe safety is paramount and careful preparation vital. I always packed my chute, fitted the wheels to the car and installed the shut-off mechanism. It's also important to get the right signals from the crew, say if anything goes wrong with the chute mounting during the burnout. Even when I had the car over on two wheels once, I never lost control.

Eurodragster.com: Did you feel destined to run the first five?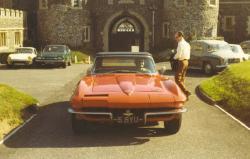 Peter Crane: Absolutely. After all, I had bought a Corvette Stingray well before the Easter 1976 meeting and its number plate happened to be 5 BYU! I understand from searching the DVLA register that the car is still running, and it would be cool to buy back the plate. Also, my birthday is on 5th May. The Five was definitely mine, no question!

Eurodragster.com: How proud are you of the five-second pass?

Peter Crane: Easter 1976 was a really big meeting, and there were eight Top Fuel Dragsters qualified. That didn't happen again for a long, long time (Twenty years - Ed). We qualified on the pole with a 6.21 reverting to the original clutch setting and then relied on minor tuning for the remainder of the event.

The big thing about the run was that it was made in beating the world's number one Top Fuel driver and I was the first person anywhere outside of North America to have run a five. Add to this the fact that we backed it up on the following run with a 6.03, and you have history made. On the back of that performance, I was invited to the US in 1977 to run the Winston NHRA championship, but decided it was a step too far - I would have had to buy my own motor as the one in the car was the property of the Phelps family and they needed it for the UK. In addition I had business commitments over in the UK and didn't want to neglect those. Clive Skilton went over and made a success of it...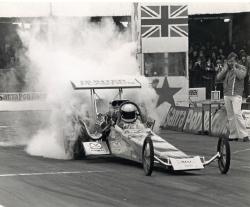 Don Garlits had major mechanical problems at the event. We were told he had damp in the magneto - if this was true, why didn't he just borrow one from another team? We never really found out what was wrong. Anyway, I ran as hard as I could in the first round of eliminations, not knowing during the run that Garlits had problems. The actual ET was 5.966 recurring which was rounded up to 5.97 for the record. Antony Billinton used to have a photo of the clocks.

Whilst I backed up the five in the semi final, Clive Skilton beat me with a holeshot. What most people don't know is that I had tremendous tyre shake on that run and broke the windshield and mirrors on the car but also cracked the chassis near the front engine mountings. If we had won, we would have had to withdraw from the final round as we didn't have time to weld the chassis. Clive was really up for it though, he even had to borrow Revolution III back from Trevor Young to enter the event.

Eurodragster.com: The stories about the gate takings being stolen...

Peter Crane: I had a call from Roy a few days after the meeting asking whether I had been visited by the police. He told me they had been round to his home and taken it apart! I eventually heard that the police tracked the gang responsible down to the Channel Islands but the victims were unwilling to enter into a deal with them to reimburse a portion of the funds in return for not pressing charges, and none of the money was seen again. It's such a dramatic story, they really should make a film of it - it's got all the right ingredients!

Eurodragster.com: What happened to you when Garlits returned the following year?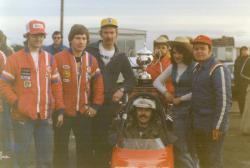 Peter Crane: After Easter 1976, I came under pressure to let others use some of the trick parts on the Ed Pink motor. I first lost the Stage 2 ally heads to another team and later lost other parts culminating in having an uncompetitive motor. This was part of using a borrowed motor, but it got pretty frustrating.

In 1977, Garlits came back. Stormbringer was not so competitive now, and I ended up breaking the diff in eliminations. Roz Prior in the Maneater car substituted for me and raced Garlits. He didn't run a five at the meeting, running low sixes but not knocking on the door (6.17/232 - Ed). In the final he defeated Roz, who didn't have the power.

Eurodragster.com: What happened to Stormbringer after that?

Peter Crane: I ran it during the rest of 1977 and brought it out again in 1978. However, by then I was headed towards running other nitro cars. Stormbringer was rebuilt as a Pro Comp rail called Krypton and débuted at Easter 1980. However, Dave Wilson crashed and wrote it off early in its new class and when the Krypton car reappeared, it had a new chassis, one that was run for over twenty five years.

Eurodragster.com: What other nitro cars did you run?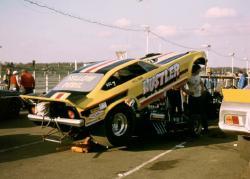 Peter Crane: The next deal I made was to support Dave Lee Travis in The Needle in 1980 as crew and mentor. In the end he ran pretty well, netting low sevens at 220+. The car was specially built for him and was bigger than it needed to be, even for DLT. When I drove it in August 1979, I needed cushions to be comfortable enough to drive it.

The other part of this deal was the Hustler Funny Car. We ran this between 1979 and 1980 with essentially the same team as Stormbringer. The body on this was the old Gladiator Vega, which had first been imported by SPR in 1975 from Leroy Chadderton. By 1979, it had become quite battle-scarred, including having been rolled by Bootsie. The body repair work undergone made it so heavy that whereas most Funny Car bodies could be picked up by one person, the Hustler could only be lifted by two people. It was painted in bright yellow and Frank, the signwriter from FGR, wrote Yellow Peril as a reference to the old motorcycle days with Bill Bragg.


The motor for the Hustler was cobbled together from parts that were going and as a result did not have the power needed to be competitive. It was also unreliable from the start. I had a small fire resulting from cracked heads and set the fire extinguishers off, but was castigated for doing so. When I did receive more power, the reverser broke. The crunch point came at the 1980 World Finals when I asked for an improvement in power but received none and consequently failed to qualify. After that meeting I had become so disillusioned I quit there and then, because I felt we had taken a step back to Eazy Ridin'.

A lot of the problems I faced in my time racing were down to money. If there was a small crowd, we were discouraged from running too hard and hurting parts. I also disagreed with putting investment into the 'show' aspect of the sport with demonstration cars, jets and the like, which I believe conflicted with the development of the racing.

Eurodragster.com: How often have you returned to the races since you stopped being a racer?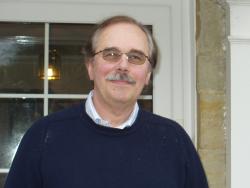 Peter Crane: I appeared at the 20th and 25th anniversaries of the 1976 meeting and plan to attend the 40th Birthday celebrations at Easter. Other than this I have crept back every five years or so to see how things are developing. The quality of entries is far better now than all those years ago, and many of them deserve better sponsorship. The venue is much nicer too and driver safety is now much higher on the priority list - the original barriers were there to protect the crowd rather than the racers.

Eurodragster.com: Have you ever wanted to run a car again?

Peter Crane: I had a desire to be the first into the fours in Europe. It would have been incredibly expensive though. All Top Fuel teams now run Artics and the equipment is much more sophisticated. At the end of the day I am proud of my achievement thirty years ago.

Eurodragster.com: We wish you all the very best for the future and thanks for your time and some great memories.


Feature ©Eurodragster.com


---
Features index
Back to News page
---