Rob Smallworth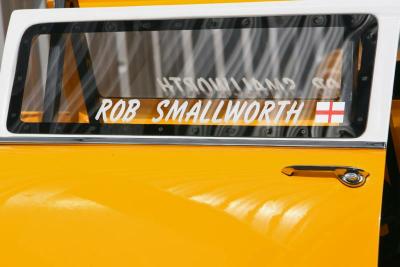 UK Super Modified racer Rob Smallworth is one of a small but select number of racers who have built their own car, in Rob's case a beautiful 1955 Chevy which took him six years during which time he crewed with a number of other racers. The Chevy made a brief appearance in Super Pro ET before quickly becoming a contender in the then-new Super Modified class.
We spoke to Rob in March 2007, the week before the Auto Trader Easter Thunderball at Santa Pod Raceway and the day before he was due to take Eurodragster.com News Editor Tog for a passenger ride for the 2007 Super Modified DVD.
Click on any picture below for large version. Pictures courtesy and ©Peter Donaldson
Eurodragster.com: How did you discover drag racing?
Rob Smallworth: When I was in my last year at school, my mate Steve and I used to stay at his nan's for weekends. One weekend we went to Blackbushe and saw racers and I saw drag racing for the first time. A few years later, my cousin Barry turned up in a Chevy Impala and we used to go to Hot Rod Runs and Chelsea Cruise...the seed was sown!
Eurodragster.com: What was your first experience of driving down the strip?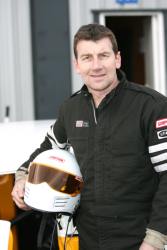 Rob Smallworth: My second American car was a 1976 Corvette which I drove down the strip on a rainy day to dry the track out...those were the days, and I've still got it on video somewhere.
Eurodragster.com: We understand that you crewed on a number of teams before you started to race, which teams were they and what did you do?
Rob Smallworth: I started helping my mate Jim McGhee and his Nitemare Super Gas Cavalier. At the time, Barry was building his beautiful 1941 Willys which we also took to the track. I then hitched a ride with Nick Davies to the very first Hockenheim which Terry Gibbs arranged. There I became good friends with Adrian who became crew chief for Gordon Appleton and I then started helping them.
Eurodragster.com: When did you decide that you had to race yourself? Did you build the car then find a class or did you have a target class?
Rob Smallworth: When Barry had finished building his Willys, I started building the '55 Chevy. There was no particular class I was interested in at that point, but in the last years of the build I was approached by Rob Loaring about the idea of Super Modified.
Eurodragster.com: You built the Chevy yourself; how long did it take you and who helped with what?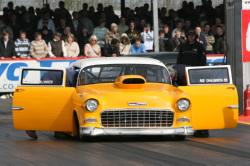 Rob Smallworth: The car took six years to build and although lots of people helped me, the main person I want to pass my thanks on to is my cousin Barry.
Eurodragster.com: Who supplied the body?
Rob Smallworth: The body was made by Harwood and shipped from Texas.
Eurodragster.com: Who built the engine, who looks after it now, and what is its current spec?
Rob Smallworth: The engine was built by ICE Automotive. It is currently 481 ci and I still use all the original cylinder heads and intake manifold which Rob Loaring built for my old 588 back in 2000.
Eurodragster.com: Have you made any changes to the car or motor for the 2007 season?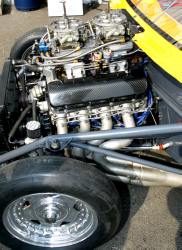 Rob Smallworth: No, the motor is still sealed from last year and my main change to the car is a new clutch.
Eurodragster.com: What are the tuning calls which need to be made round to round in Super Modified?
Rob Smallworth: Due to the limitations, nothing major but we can alter fuel pressures to suit the weather and mainly clutch alterations. We are still very busy in between rounds downloading computer traces, packing the parachute, tyre pressures, etc.
Eurodragster.com: Name your crew and what they do on the car.
Rob Smallworth: Nobody has specific jobs...we all just muck in but I would like to thank the guys who are with me, namely:

Barry Grimes (Transportation, Crew Chief and an all-round supporter)
Jim McGhee (Head Chef, Accomodation Supervisor and all-round comedian)
Bryan Wilby
John Roberts
Adrian Spencer
Eurodragster.com: What is your day job, and how do you balance work and home life with drag racing?
Rob Smallworth: I am a service engineer on hospital sterilising equipment. My hours are long and my journeys too sometimes but I have a great boss and an even greater wife...she told me to say that! In all fairness, I am lucky enough to be able to work on my car whenever I get a spare minute and as far as home life goes, luckily it's just my wife and I and she is fully aware of the drag racing calendar, i.e. 365 days a year!
Eurodragster.com: Do you have an ambition within drag racing?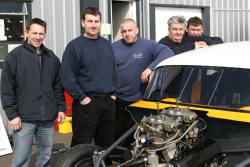 Rob Smallworth: I would love to race Pro Modified but at the moment that is a long long way out of my reach.
Eurodragster.com: Do you have any sponsors?
Rob Smallworth: I have no direct sponsors but I am over the moon at the sponsors who are supporting Super Modified this year. All of them can be found on the Super Modified website and we proudly display all their decals on our cars. If any more parties are interested in supporting my '55 Chevy and the Super Modified class, please feel free to contact us. Thanks again to:

Andy Robinson Race Cars
Centerline Wheels
Heliarc Technology Ltd
ICE Automotive
Motorshack
Oak Industrial Supplies
Obsession Motorsports
Power Race Graphics
Stroud
Turboville
Webster Race Engineering
www.quartermilehigh.com
Toyo Tires (whom I have recently started advertising on my car)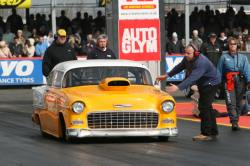 Eurodragster.com: Anyone else you would like to thank?
Rob Smallworth: I would like to thank my wife Aby and all my family - mum and sisters Angela and Annette. Although my dad passed away a couple of years ago, I know he would be proud of what I've achieved, although he wouldn't thank me for clogging up his 20 x 10 garage over the six years it took me to build the Chevy.
Eurodragster.com: If we asked you to sum up the appeal of Super Modified in one sentence, what would that sentence be?
Rob Smallworth: Heads-up to the max...drag racing at its best!
Eurodragster.com: What gave you the idea to offer our News Editor a ride-along? Do you think you would let him or anyone else drive the Chevy, or is it your baby?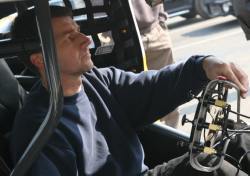 Rob Smallworth: The idea behind the passenger ride was to give some coverage to our sponsors and try to help raise the profile of my Chevy and Super Modified. I'm hoping to have a fun day with Tog which will be covered by Eurodragster.com and the Super Modified DVD, produced by Quarter Mile High. I would let Barry and Jim drive the car if they wanted but, ultimately, yes it is my baby!
Eurodragster.com: Thank you very much for your time Rob. Good luck for the season and we'll see you at Santa Pod tomorrow.
Rob Smallworth: To all our supporters, please feel free to come and chat to us at the track...your support is always very important to us.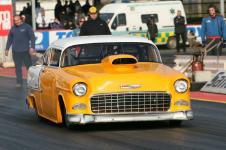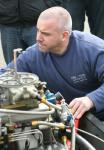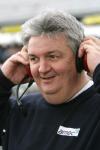 Feature ©Eurodragster.com.



---
Official Super Modified web site
Features and Interviews index
Back to News page
---