Exclusive interview with Robert Joosten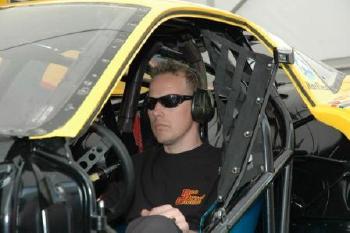 Holland's Robert Joosten is running a Pro Mod in competition for the first time at this weekend's FIA Main Event. His new car is the Pro Dutch team '01 Corvette C-5, acquired during the close season from Jim Oddy. It is a car with a standout reputation as a front runner in NHRA competition, winning the 2003 Championship and running as quick as 6.07. We spoke to Robert via E-Mail about his racing history, his programme for 2006 and how he has managed to attract sponsors through his day job, which is quite a contrast from the racing world.

Eurodragster.com: How did you start in drag racing?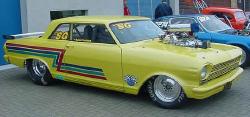 Robert Joosten: Well, my mother told me that I wanted to be the fastest on the street in my pedal car, then when I had my moped it was the block and so on. When I had my first fast American car, I put a NOS system in it and thought I was really fast. Then on one day a guy named Jan Scheppers took me to my first drag race at Harlingen. Tjee! I was the slowest! I met some really nice people and they helped me to get a '62 Chevy Nova from Sweden. Piet Kaptein then built a engine for the car, and showed me how to build a drag race car (later known as the blown Bad Nova) and he get me really addicted to the sport. That was in 1998. Now in 2006 I'm going to thank him for that, and try to beat him in Pro Mod! Sorry Piet.

Eurodragster.com: Tell us about your racing history.

Robert Joosten: Some time in 1996, I started in the street class, then moved up to Super Gas in 1999, won my first Dutch Championship in 2000 and then started to build a race operation which included a good sponsor program. In 2004 we raced with the Pro Truck (formerly Bob Panella's Pro Stock Truck) in Super Gas and Super Comp. 2006 is going to be my first year in Pro Modified.

Eurodragster.com: What is your most successful season so far?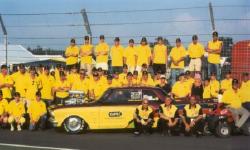 Robert Joosten: Hopefully that one will come once! I think we have done pretty well through the years. The best moments are my first win at Drachten, and a win at the Nitrolympx at Hockenheim in front of sixty VIP guests.

Eurodragster.com: How did you come to move up to Pro Modified?

Robert Joosten: We always wanted to move on, only everything has to be ready for it. Buying a racecar is one thing. Everything around it has to be up to the task also. When the moment was there, we looked around and found that Pro Modified is one of the most challenging classes around. And of course, we love to go back to racing with a blower again!

Eurodragster.com: How did you get the opportunity to buy Jim Oddy's Corvette?

Robert Joosten: I heard that the car was for sale and talked with Jim several times before we bought it from him. He really liked the idea that the car would get a race life outside the states, and somehow we just "clicked" well. It was just very nice to talk with him. He held the car for some weeks in early 2005, because I had some sponsorship things to arrange. When this all took too long, and the races were starting in a few weeks, we became just too short of time. And we needed to go out and race. So we decided to go for the next year. Jim then sold the car to Fil in Greece. I still kept contact with Jim, and when it looked that Fil wanted to sell the car again we jumped in. We worked very closely with Jim, and even went to his shop to talk more about it. You know, this guy has been racing with blowers for forty years, this guy is a legend. And I can still not believe that this car is in my garage, and that he is our racing friend.

Eurodragster.com: How did the licensing passes at the Easter Thunderball feel?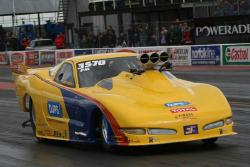 Robert Joosten: It felt just right. You know, it was hard work, as I wanted to get a handle on driving a Pro Mod car as soon as possible. I felt "The car and crew can do it, the only weak thing is me!" So I worked very hard to get up to the standard of driving needed. I got really good advice from Lex Joon, especially about the driving. For me he is one of the best drivers out there. And to talk with him is so helpful. It is also a lot of fun; these cars are so powerful so it felt awesome to launch the car. It is just not of this world!

Eurodragster.com: What are your racing goals for 2006?

Robert Joosten: To learn and get the car to the finish line, and most of all to have fun with the crew and friends at the races.

Eurodragster.com: What are your objectives for the Main Event?

Robert Joosten: Get qualified, maybe go a round, but most of all to try to stay out of trouble; not easy with a Pro Mod!

Eurodragster.com: Who is on the team and what are their roles?

Robert Joosten: My partners in crime are Jaap Oonincx, he has been in the team from the start; he is the guy that makes things GO. Marcel Roodhart is the PR man, and he is just the best, unbelievable how he get the sponsors warmed up. These two guys are also the heart and soul of Pro Dutch racing. Jan Selles is new for this year, but fits in the team like a glove - he just loves racing and works mostly on the engine. Dennis Freed has sold his racecar, and joined us to get the clutch just right. Patricia Joosten does the catering, and there is always enough for us. As advisors, we can rely on Jim Oddy and Lex Joon. These is a special group of people that have one goal; to win races!

Eurodragster.com: You are a captain on an inland barge tanker away from the track. What does that involve?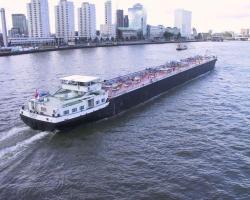 Robert Joosten: A little strange combination maybe, but it gives me spare time. I work for two weeks and have two weeks off. When there are races, I can go off the ship and race. So it is an ideal combination for me. These days we have internet and everything on board, so I can still work on board of the barge. We say; racing is life, the rest is just details.

Eurodragster.com: Some of your main sponsors are connected with your day job. How did you manage to persuade them to sponsor you in drag racing?

Robert Joosten: I started racing out of my own pocket and knew that I needed help if I wanted to go higher in the ranks. My boss and good friend Marcel (these days PR manager of the team) asked why I worked so many hours; when I told him it was all for a race car he laughed and told me that I was crazy. He stopped laughing when he came to a race, as he got hooked right away. We then started to work to get a sponsor programme. Marcel owns the ship I work on, but beside this, he builds them, so he knows lots of people in the shipping industry. The first thing we did is to put the old car (Bad Nova) on a trailer and drive to some companies he know, unload it and fire it up just in front of the office. That worked! They all came out to see what was happening. We started small, and it still amazes me that they all hooked up with the racing. They just loved it. From then on, things got bigger and bigger.

Eurodragster.com: Who are your major sponsors?

Robert Joosten: DJPS, Rullens, Total, Tilro, O.S.O., Pon Cat Power, Fiwado, den Breejen en Verveer. Then I have around twenty five support sponsors that you can see at www.produtch.com. Beside that there are also many other people that give help to the team. We are very fortunate to have all those people helping us.

Eurodragster.com: Thank you for your time Robert and we look forward to seeing you at the Main Event!


Feature ©Eurodragster.com


---
Robert Joostenm's web site
Features index
Back to News page
---