Workshop visit: Steve Woollatt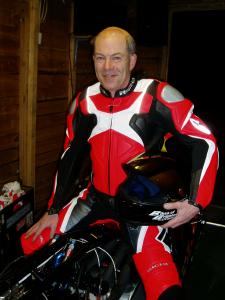 2002 ACU UK Top Fuel Bike Champion Steve Woollatt started racing in Street Bike in 1978, running a best of 10.76, before building the first blown fuel bike in England, a Kawasaki. Steve has raced on a Fuel bike ever since, winning seven Championships in the last eleven years and taking runner-up spot some half a dozen times in his career.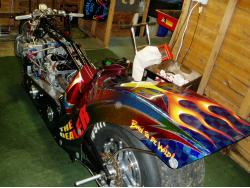 Eurodragster visited Steve and the Dealer team at his home in Hertfordshire a few days before the 2003 Easter Thunderball to see how their preparations were going.

Steve and his team of Chris Powell, Phil Baimbridge, Pete Janko, Phil Reynolds, Jackie Jones and Steve Conway spent the off-season repairing damage suffered at North Weald just before last year's FIA European Finals when the top came off a piston. "We had a good season last year", said Steve, "so we decided to put it away and work on it over the winter."

"We have new rods, pistons, liners, skulls, we have shoehorned in a B & J Top Fuel Shorty gearbox, and made an access port for it", said Chris. "Each skull takes twenty hours' hand machining to smooth out", added Steve. "You literally sit there for two days with a drill taking off all the sharp edges".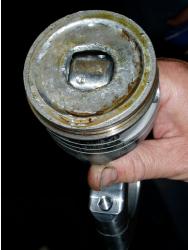 There was quite story behind the arrival of the replacement pistons. "Phil Baimbridge designed the pistons", said Steve. "Then we sent the design to a company in California. The pistons took an age to arrive. They were sent to Phil's place so I had to go up there to get them and the UPS guy didn't arrive for ages - it's been a real waiting game this winter! When I got the pistons I took them to Fearnley Engineering in Cheltenham to check the measurements, and they were spot on. We have bought three sets so we have spares, but if we need any more the company in the USA have the design so we just phone up for more."

Unlike their four-wheeled equivalents, parts for Top Fuel Bikes mainly originate this side of the Atlantic. "The only things we get from the USA are pistons, wrist pins and cam chains", said Steve. "Everything else is made over here. Phil Baimbridge makes the cylinder heads and blocks from billet, the crank cases and crankshafts are made by Pete Davies of Puma Engineering."

Steve said that running a Top Fuel Bike is not as expensive as you might think. "Everything is reasonably priced" he said. I asked Steve if it was similar to what I had heard about Top Methanol and Pro Mod being potentially more expensive than Top Fuel Dragster, that maybe some of the Funny Bikes had more invested in them. "Yes, I would agree", he said.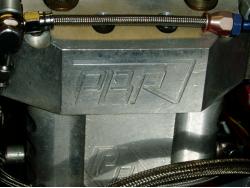 The Dealer weighs in at about nine hundred pounds and apart from the Baimbridge heads and block and Puma crank cases and shafts has an Opcon blower which was new last year, inlet manifold again designed by Phil Baimbridge, the B & J gearbox and a Trett clutch delivering the power through a Hoosier-shod Performance Machine side-drive wheel. "We've had no problems at all with the Hoosier slick", said Steve.

Tuning at the track is done by the team in association with Phil Baimbridge. "Phil is the team guru, certainly on the fuel system", said Steve. "Ask him a question and he'll go away and work it out in his head, which is something not a lot of people can do". The Bike also carries a Revstore datalogger. "In the old days we would just read the spark plugs", said Steve. "It shows the exhaust temperature, wheelspin and so on - it tells us the things you won't notice just by looking". Steve told us an amusing story about the installation of the datalogger. "After the first run with the computer on, the guy who installed it pulled up the graph, the four exhaust temperatures were overlayed on one another and they were exactly the same. He looked at me and said 'You jammy git'!"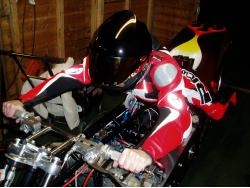 Just before I left the 'Bespoke shed' which serves as Steve's workshop, Steve tried out his new set of leathers from sponsor Richa Leathers. The leathers have titanium shoulder and knee caps, air vents to keep Steve cool, and a 'hump' on the back to aid aerodynamics and protect Steve's spine should he come off the bike. "They're a bit stiff at the moment", said Steve. "I was meant to wear them about the house for a weekend to break them in but you know how it is trying to find the time!"

Steve is looking forward to defending his ACU Championship, and to racing the Europeans when they come to Santa Pod in May and September. I asked Steve if there was anyone he particularly looked up to or even feared on the track. "Not really, not now", he said. "But back when I ran a Street Bike I looked up to Henk Vink. I saw his Kawasaki with all that stuff on and thought I've got to have one of them!"

It was already late by the time I left Steve's workshop, but the team showed no sign of stopping work as they put the finishing touches to the bike, including the application of the number 1 to the wheelie bar side panels ready for the weekend's race at Santa Pod.

Steve would like to thank his sponsors:

Bikes Of Brighton
Born To Be Wild
Polygram Engineering (PEST)
Fearnley Engineering
G-Max Racing Fuels
Motorcycles Unlimited of London (new for 2003)
NGK Europe Limited (new for 2003)
Richa Leathers (new for 2003)
Uvex Helmets
Support from Phil Baimbridge

And Steve's special thanks to:

Rod Ambler
Barry Eastman
Bert "The Rod"

I would like to thank Steve Woollatt and his team for their time on what was obviously a very busy evening, for answering so many questions, for their patience when I got in the way, and for the very welcome cups of tea.

There are several more pictures from our workshop visit, which you can view by clicking here.


Feature ©Eurodragster.com


---
Features index
Back to News page
---
Eurodragster.com aims to bring you links to all the best European Drag Racing web sites. To add your site to Eurodragster's listings, simply email links@eurodragster.com with your URL and a little information about your site and we'll do the rest. When you update your site, drop us a line at news@eurodragster.com and we'll feature your site in our "What's New" section.
Eurodragster.com is a non-profit-making organisation run by a small group of Drag Racing enthusiasts for the sole purpose of promoting European Drag Racing. If you can help us to meet the modest cost of hosting this web site by advertising here, please email webmaster@eurodragster.com. We're sure you'll find our rates extremely competitive.