Stu Bradbury on Dragstalgia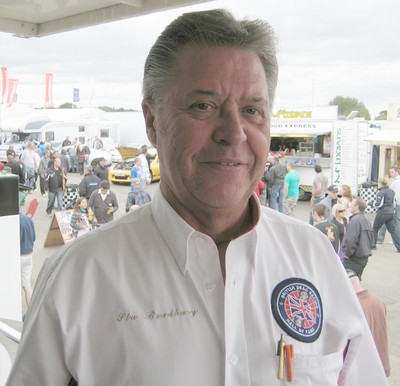 Stu Bradbury's name will be familiar to anyone who knows anything about drag racing in the UK. Stu was for many years Chief Starter at Santa Pod Raceway and has worked within the performance parts industry for even longer, most recently with US Automotive.
Stu was a major player in the creation of the British Drag Racing Hall of Fame and has been BDRHoF Chair since its inception. He is also an active member of the Allard Chrysler Action Group.
Santa Pod Raceway interviewed Stu shortly before the inaugural Dragstalgia in July 2011 and kindly passed the interview to Eurodragster.com to publish.

Santa Pod Raceway: How did you first get into Drag Racing and When?
Stu Bradbury: I became involved in 1964 after a visit to Woburn Sands. At the time I was a member of a rock group and we were playing at Woburn at an evening do. In the afternoon I ambled around the grounds and came upon Allan Herridge, John Bennett and I think Brian Sparrow manning a Drag Racing and Hot Rod stand. To cut a long story short, as I lived in Northamptonshire, John Bennett asked if I could organize a place to stay for him and his wife Ann as there was an intention to build a drag strip on the old Podington Airfield. He and Ann ended up staying at my family home for around a year. I made my first trip to Santa Pod with John to meet up with Ernie Braddick and Bob Phelps at what is the Santa Pod offices. SPR was then just an old airfield, with still many of its wartime relics left over from 1946 still in place.
Santa Pod Raceway: What was it about the sport that appealed to you?
Stu Bradbury: The American lifestyle, the cars, the dress style, the music. All around where I lived there were loads of American service personnel from the bases billeted in rented houses and flats. I was only around five or six years old, playing and visiting with American children and their families riding in fabulous big American cars, eating a lots of American food, listening to the music - Elvis, Buddy Holly, etc. etc. So you can see I was inducted at a very early age.
Santa Pod Raceway: What was your highlight as Chief Starter at Santa Pod?
Stu Bradbury: I think the Garlits/Crane race was one of the high points. To be honest, there have been many over the years - very difficult to put a finger on one. The whole thing has been a privilege to be part of. Drag racing has given me employment for nearly forty years, and is still doing so. I have met and become friends with so many famous people over the years - been involved in major feature films, TV, and promotions all due to drag racing. I would do it all over again, just as it was.
Santa Pod Raceway: Do you think that Dragstalgia is going to be successful?
Stu Bradbury: Yes, I personally think it will become one of SPR's major meetings of the year. The amount of interest Dragstalgia has generated for its first inaugural meeting has been more than encouraging. Many of the old racers are beginning to appear out of the woodwork, some looking for their old rides to restore or reproduce for future Dragstalgia events.
Santa Pod Raceway: Which parts of the event are you looking forward to the most?
Stu Bradbury: Meeting new and old friends and new and old fans, which is always a pleasure. I cannot believe that some of the youngsters know who I am, it still blows me away when I get asked for my autograph. I have managed to find a pair of white jeans so the intention is to be resplendent in the original 1966 Chief Starter's regalia, complete with flags.
Santa Pod Raceway: Are there any racers in particular that you are looking forward to seeing back on track?
Stu Bradbury: All of them. Over the years we have all grown up and grown old together. Unfortunately some who should be there are no longer with us for one reason or another. Nevertheless, they will never be forgotten and forever remembered in our British Drag Racing Hall Of Fame.


---
Dragstalgia web site
Santa Pod Raceway web site
British Drag Racing Hall of Fame web site
Features and Interviews index
Back to News page
---