Tributes to Stuart Bradbury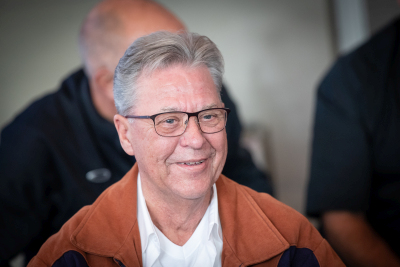 It is with profound sadness that the Directors of the British Drag Racing Hall of Fame must announce the death of our Founder and Honorary Chairman, Stuart D. Bradbury, after a long illness. A lifelong resident of Wellingborough, Stuart was able to spend his final days at home in the care of his wife, Bev, and daughter, Genna, and celebrated his recent 75th birthday with them.
Stuart had been associated with Santa Pod Raceway from its earliest days, having helped the crew labouring to prepare the track before the venue's opening in 1966. He served as Deputy Starter in 1967 then took over as Chief Starter the following year, a role he held through the 1980s. He was also involved in racing projects at Long Marston Raceway, near Stratford-upon-Avon, and Rockingham Motor Speedway near Corby, and assisted Top Fuel Dragster star Andy Carter.
Stuart spent most of his working life in the specialist motor trade, first with John Woolfe Racing, then with USAutomotive.
In 2005 Stuart convened the meeting of fellow enthusiasts that would result in the founding of the British Drag Racing Hall of Fame. He remained Honorary Chairman, and the fulcrum of its activities, for the rest of his life. In 2017, he was dumbfounded to find himself elected by general acclaim to membership in his own right, having always maintained an iron rule that no associate of the Hall of Fame's management or selection panel should be eligible. Members and supporters, however, decided secretly that it was appropriate to make a signal exception to that rule to recognise the extent of his contribution to the cause, a decision Stuart accepted with rueful good grace.
We have received the following tributes to Stuart. To send your own tribute, please E-Mail tributes@eurodragster.com.
The most recently-received tributes are at the top of the page.



---
We were so sad to hear of Stu's passing. He was such a wonderful and lovely man who has done so much for the sport of Drag Racing in the UK and beyond for well over 50 years, and most especially in recent years with the founding of the British Drag Racing Hall of Fame, of which he was such a worthy inductee himself. (Even if he was somewhat reluctant and humbled, it was so very well deserved!). Stu was always such a gentleman and so well respected and admired and loved by so many. His passion for the sport and constant support to so many racers and teams and people associated with the sport for many decades, as well as his promotion of the sport and celebration of those who made its history are such a tribute to this amazing man and will be his lasting legacy. He will be very much missed by so many! It was a real honour to know him and a privilege to be friends with him. We will always remember him fondly and treasure his friendship and support over the years, especially for our C&C Nostalgia Racing team and Backdraft, and for the whole of the Wild Bunch who were so very honoured to join him as inductees in the BDRHoF last year. We send our warmest thoughts and Love to his lovely wife Bev and daughter Genna and family, and so many friends from around the world. Rest in Peace Stu. Hope you're flagging off some amazing races in the heavens. With Love, Chris & Claire and family xx

-- Chris Hartnell and Claire Meaddows


---
My honour at induction into the British Drag Racing Hall of Fame this year was tinged with great sadness at the passing on the very same day of a true icon of our sport, Stu Bradbury. Stu was the rock behind our sport, from his contributions in helping to build Santa Pod in the beginning, through his time as Chief Starter and latterly as the founding Chairman of the BDRHoF. His work for our sport was tireless and despite his health problems over the last years his enthusiasm did not wane. When he originally approached me in 2017 with an invitation to become an inductee I was hugely embarrassed to ask to defer as I was racing in the USA that year, and due to the fact that the USA Dragbike finals always takes place on the same weekend as the BDRHoF awards evening, Stu and the selectors kindly and patiently agreed to further defer for subsequent years whilst I continued to participate. However, with the current pandemic crisis it was decided that racing in the US was not possible this year, and so Stu with his normal grace agreed to make the necessary arrangements despite his ill health. I am so glad that he was able to see that I was, at last, to join those honoured by the world famous association he co-founded, but devastated that I will no longer be able to celebrate it with him at the ceremony. Whenever I think of racing I always think of Stu on the startline, he simply was Santa Pod to me.

My deepest condolences go out to his wife Bev and daughter Genna at this incredibly sad time for them and our collective drag race family. Godspeed Stu.

-- Ian King


---
Stu's service to drag racing since its birth in the UK is well-documented and the early part of his career is in itself enough of a legacy. But, as it turned out, Stu was not done with serving the sport when he stepped down as Chief Starter.

For a long time a lot of people said what a great idea it would be to have a Hall of Fame in the UK. For years the talk was repetitious and then Stu and a very small number of people stepped forward and set up the British Drag Racing Hall of Fame from nothing. Neither Stu or any of the others involved had ever done such a thing before, and you would have a long search to find a book on how to set up a Hall of Fame, but nevertheless Stu and his colleagues did it and made a huge success of it. There could have been no better figurehead for the British Drag Racing Hall of Fame than Stu, whose long years of dealing with the racing community had made him both mentally tough and skilled in both types of diplomacy – the treading-carefully version and the standing-one's-ground version. That Stu achieved all of this whilst unwell should be an eternal source of shame to those social media experts whose arses even now remain firmly in their seats and whose fingers remain unlifted to this day.

There is no better tribute to Stu than to witness the reaction of inductees when they receive the phone call or letter inviting them to join the British Drag Racing Hall of Fame. Stu's own response when the rest of the Hall of Fame selectors and management stitched him up and forcibly inducted him will live with us all for a long time.

Having dedicated your life to our sport it's time for a well-deserved rest, Stu. Your place in the history of drag racing is assured.

-- Andy 'Tog' Rogers


---
So sad to hear of the passing of dear old Brad.Wendy and I have had the pleasure to have known him since the early 70's when I was crew chief for Dennis Priddle and then the 32 years I ran Specialist Autoparts.

He has battled for many years of illness with strength and dignity.Our thoughts are with his family at this sad time. Let's now remember him as the new chief starter in the sky!!

-- Barry & Wendy Dufty


---
I first saw Stu Bradbury in the sixties when I was a teenager, spectating at Santa Pod. He was the cool dude working the start line, and I watched him with admiration from the bank.

The first time I actually spoke to him was in 1972 when I started racing and found him to be a thoroughly nice man, always polite and helpful.

Fast forward to 2006 and I was honoured with membership of the British Drag Racing Hall of Fame. Subsequently I have had the pleasure of working with Stu and Bev, in connection with the Hall of Fame, for these last 14 years and have always been impressed with his vision and drive, especially as he wasn't a well man for a good deal of the time.

Stu was a wonderful ambassador for our sport and if you were at the Hall of Fame Gala last November you would have a witnessed a great event that was testament to his vision and fortitude.

He took an idea and turned it into a highly successful reality.

RIP Stu, you will be greatly missed by us all.

-- Philip Evans


---
Words are often easy said, but no words can express the loss to us all in the drag racing family.

Stu dedicated his life to Santa Pod doing what he loved most, supporting many people's dreams and aspirations, and encouraged us all, including myself in difficult times, to stick with it and make it all worthwhile.

Stu was a showman of the first degree and I'm sure many will have special memories of his startline antics! Not afraid to tell it like it was, even to some of our American racers putting them in their place when necessary! But always the consummate gentleman.

Stu over many years was not a person that only knew the seat in the office, he led by example, not by standing at the rear saying what should or shouldn't be done.

If anyone deserves recognition for all he has done for the sport Stu does, and I hope that he will be honoured in some way. So goodbye Stu, you will always be with us in spirit and talked about for many years to come, I for one will hold him in my memories, he is certainly a hard act to follow.

It goes without saying we send our love and best wishes to Bev, Genna and family; be proud that he brought a lot of people a lot of happiness over the years.

-- Roy and Ros Phelps


---
Thank you Stu!

What an inspirational man and a true gentleman, always having the time to stop and chat no matter how busy. Dragstalgia and BDRHoF dinner dances will not be the same without you but one thing's for sure, you will always be there with us. Our heartfelt condolences to Bev, Genna and family.

Keep on draggin' Stu!

-- Nev & Libby Mottershead


---
Hi to Stu's family and friends,

I got to know Stu through racing at Shaky and at the Pod, but mainly through the endless times he would go searching through the boxes with me for a part that could help me out upstairs at USAuto, always with a wit and a kind smile.

Thinking of you all at this difficult time.

Much love and respect.

-- Kit Dawson


---
Stuart's death is a very sad loss to the world of European drag racing, and comes at an embattled time for the sport. Special thoughts must be felt for Bev and Genna in their grief.

Having served as part of the Santa Pod start crew under Stu's leadership for a couple of years in the late sixties, and like him having had my 75th birthday in recently, I feel a special affinity.

Stu was always the star of the startline.

-- Mike Lintern


---
It is hard to believe that I will no longer hear that distinctive voice. Stu refused to give in to his major health problems in recent years, and did what he has always done, which was to devote his time to the sport he loved.

He was the constant figure at the centre of the action for so long - and for the past 15 years he fought to establish and promote the British Drag Racing Hall of Fame, as it was so important to him to recognise those who had really made their mark on his beloved sport. There is no doubting the lasting mark that Stu himself made over his lifetime. He was always ready to encourage others, and to spread the word. His loss to Bev and Genna - and his wider drag racing family - will be so keenly felt.

RIP my friend.

-- Keith Lee


---
On behalf of the Garlits Family, I would like to send our love and support to Bev and Genna. We had the pleasure of meeting Stu in 2014, when Dad (Don Garlits) was asked to travel to England to be honored with the induction into the BDRHoF and receive the Global Achievement Award in memory of my mom Pat. Stu and Bev were such wonderful people to our entire family then and became dear friends to us all. Dad and I honored Stu and all he had done for the sport of Drag Racing, as well as his years as a starter at Santa Pod in England, with a framed photo piece of art. Brian Taylor wrote the Biography and Robin Jackson helped with the photos.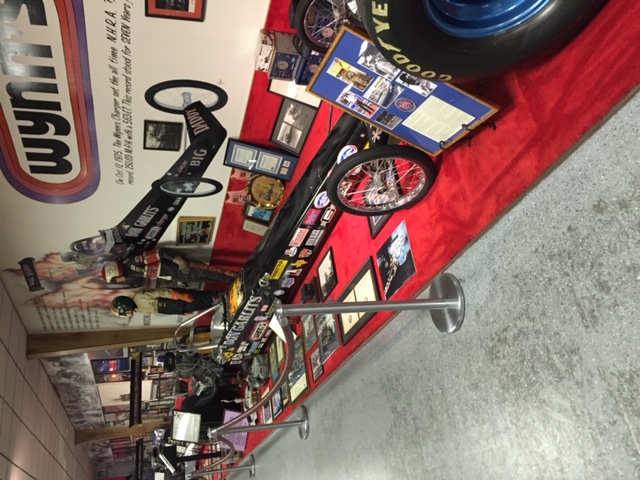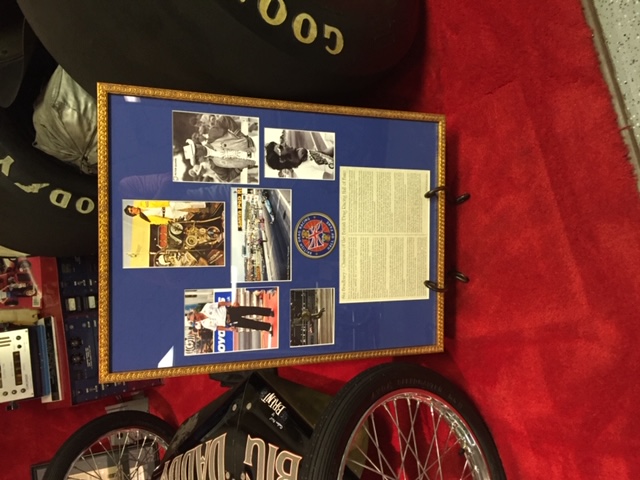 This piece is on display in the Don Garlits Museum of Drag Racing alongside the dragster Dad took to England in the 70s. A photo in this piece is of Stu starting the race while Dad is driving this dragster. I also traveled to England in June of 2016 to present an exact replica of this piece to Stu in person. Stu will be forever memorialized in our museum as one of the finest gentleman our family has known. I myself love this family dearly and will miss Stu very much. My heart breaks for Bev and Genna and our entire family is keeping them in our prayers. We pray God gives them strength and comfort and surrounds them both with family, friends and an abundance of love. RIP Stu...we will see you again on the other side.

-- Donna, Rodney and Sarah, Don and Lisa, GayLyn and Family


---
Uncle Stuart

I have known you all my life through our family and you were one of the two reasons i started working at santa pod. you were loved by all and will be missed by all.

Godspeed

-- Martin Wallis


---
His enthusiasm on the start line will never be forgotten.

A great, great loss to British drag racing.

Our condolences go to Stuart's family.

-- Roger & Simon Cooper. (S/C Outlaws)


---
Sorry to see the news about Stuart. I'm not a racer, but a race fan. He was a legend, helping set up Santa Pod and being the starter. I can remember him from the 80's, and standing in the left lane when Sammy Miller ran his rocket cars.

R.I.P. Stuart, now go and get a strip set up, for all the drag racers who have gone to heaven.

-- Stephen Billings


---
was very sad to hear the news of Stu's passing. He appeared to be invincible! - and 75 is still far too young as I'm sure he still had a lot of living to do!

My heartfelt condolences to Bev and Genna at this sad time.

Although I had the honour to know Stu later in the Dragstalgia years, it was back in the 70's when he was a great presence in my life; he was always there, in his Cowboy boots and Shades, guiding me round onto the startline as I prepared for a run.

Rest in Peace Stu.

-- Liz (Burn)


---
Not only have we lost a dear friend in the passing of Stuart Bradbury, British Drag Racing has lost one of its finest ambassadors, the world will also be missing a genuinely nice guy. Forever in our thoughts.

-- Ian & Pauline Messenger


---
So sad to hear this news of Stu, gone to a better place & now pain free, Rest in peace my friend, Thinking of you Bev & Genna.

-- Rod & Anne Pallant


---
Very sad news about the passing of Stu Bradbury.

I was honoured to be involved with the British Drag Racing Hall of Fame from the start and without Stu's vision and determination it would not be what it is today.

He was a good friend, he loved his family and his Sport and will be greatly missed.

RIP my friend.

-- Phil Cottingham


---
Everyone knew Stu, he didn't get to know everyone, as that would be impossible, he was someone we all trusted, on the day that Liv was waiting to run after a rain break he told her the track was good, she trusted him in what he told her the rest in in the history books !!!

-- Dave Mann


---
It has taken a while for this to sink in.

My dearest friend is gone. He was an amazing man and friend. I suspect he is up there and boss of "The Hot Rod Angels".

Rest my friend but be warned you will be with me in the 7707 Lucas Oil Landspeed Car every-time we run. So hang on to your wings!!! Going to miss you so much.

-- Geoff Stilwell


---
So very, very sorry to hear of Stu's passing. I knew Stu from 1967 and saw quite a bit of him over the years. A lovely man who always had a good word. Miss you, my friend...

-- John Davison


---
Anyone that went to Santa Pod at any time would have known of Stu. He wasn't just part of Santa Pod, he was Santa Pod.

I must say that there no doubt will have been a few girls in the 70s that thought that seeing Stu on the startling each meeting made the prospect of the sunburn, rain, mud and the ringing ears, extra worthwhile. He will be sadly missed.

-- Jane Wood


---
So sad to hear last night that our friend Stu Bradbury has lost his fight, after kicking the ass of his illness for several years. He will be joining some of the best of our drag racing family, and no doubt they will all be sitting around somewhere drinking bourbon and telling tales. His stories about things that have happened both on and off the track have had me in tears of laughter at times. Stu was one of the best and I'm proud to have been able to call him a friend for over 45 years. Condolences go to his wife Bev and daughter Genna.

-- Annie Lee


---
Stuart was Mr Dragracing UK. I first met Stuart in the early 1970's when we started drag racing at Santa Pod. He was accommodating and kind to us as novices and I'm sure it was the same for all new competitors. He was very helpful both at John Wolfe Racing and at USA. I have very fond memories of Stuart and send warn condolences to all of his family. I will always remember Stuart with a kind heart and smile.

RIP Stuart

-- Mike Kason - Kerbdozer Racing


---
Some very sad news this morning, the Drag racing community has lost one of its most loyal and proactive supporters. Stu Bradbury has been around the sport since the early days and knew everyone, charismatic and enthusiastic, people listened to Stu! He liked people and they liked him. A visit from Stu at the racetrack (or wherever) was always a pleasure, he was knowledgeable and always supportive, it didn't matter who you were or what you raced, he knew how much effort it takes to get a car or bike to the track.

We will miss you Stu.

-- Robin Read


---
I'm lost for words waking up this morning; that I have lost a dear friend and an icon of British Drag Racing. Dad knew him more than I did in our early years racing his dragster at Santa Pod but it wasn't until Stuart asked me to join the board of selectors for the British Drag Racing Hall of Fame. Both Ali and myself send our condolences to Bev and family. We're going to miss him dearly. RIP my friend. I'm sure that along with his American pal Buster they will be raising a glass to us all.

-- Jerry Cookson


---
Admired him for years from the bank. Met him and worked with him on the Allard Chrysler project. Great guy, enthusiast to his very core.

-- Bob Roberts


---
Really sorry to hear the news of the loss of Stu Bradbury. Another icon gone. For me he was a major personality in British drag racing.

I've been going to "The Pod" since about 1966 and until we came back into he sport in '97 he was always on the start line.

A true legend and a thoroughly all round good guy, I'll miss you mate. RIP

-- Dick Sharp - Dorset Horn


---
Such a sad loss for British Drag Racing, a truly nice guy and always a pleasure to speak to.

It felt comforting to pull round for a run and see Stu standing there.

He will be sorely missed, but he's up there bench racing with other legends.

Condolences and lots of love to Bev and Genna and family and friends.

-- Lesley Prior


---
We are so saddened to learn of Stu's passing. Chris and I send our heart felt condolences to Bev and Genna.

I've known Stu since the beginning, he was always there on the start line, he made it run like clockwork. We couldn't have had a better starter.

When he started the Hall of Fame, he applied his knowledge and drive and made a resounding success of it. When he introduced the annual Gala event he and Bev put so much effort into it and made it the huge success it has become.

For me, what I remember most was when I had my bowel cancer diagnosis, and he got in touch and gave me support and advice, which I will always be grateful for. He had his own situation to deal with but he was optimistic and a strong character.

We will all miss you.

I hope that when Dragstalgia resumes, SPR could organise a one minute silence in appreciation for all he has contributed to the sport.

-- Pete Crane


---
So sad to hear this, a greater ambassador to the sport will be hard to find, always cheerful despite his illness, we had some good laughs, especially when he burnt his prized nylon trousers on the Allard headers, a true gent, he will be greatly missed.

RIP Stu, my condolences to Bev & Genna, thinking of you.

-- Martin Dunks - Allard crew


---
My thoughts are with Stu's family and friends at this sad time. Stu was always welcoming and always made time to talk to you regardless if you were a racer or just a fan like me. God's speed Stu you will be sadly missed.

-- Russ Hill


---
When Geoff got in touch last night to tell me of Stu's passing, I was at a loss on what to say.

Stu put up such a collosal battle. He was such a lovely man. I'm going to miss his passion for racing, his relentless determination, the tireless hard work with the BDRHoF, his encouragement and his wit.

A true charismatic Gentleman, and genuine people person. There was nothing not to like about him.

It was a privilege to know him, and will be greatly missed.

Bev and Genna, I'm thinking of you.

-- Lizz Charman


---
In 2017 I wanted to attend the BDRHOF in Surrey as a long standing fan. I have never raced or even been down the track, but after 40 years of attending I didn't want to miss the chance to be in the presence of so many drag racing greats.

I contacted Stu by email and he kindly made space for me at the gala dinner, where I had the pleasure of sitting at the same table as Rob Loaring, Nick Davies and Tom Hoover, amongst others.

What a lovely men, and what a great friend to British drag racing.

My condolences to his wife and family.

-- Neil Marks


---
We are so sad to hear about Stewart and we send our condolences to his family. He was a legend and a good friend. Will be so missed.

-- Barbara Purple-weber


---
Really sad news of Stuart passing yesterday, one of those people you just looked up to.

His commitment to our sport never ceased to amaze me and without him it would not be where it is today.

You will be Sadly missed, RIP Stuart

-- Paul & Donna Brooks


---
Sincere condolences to Stuart's family and friends, I have memories of a great conversation with him at the PDRC dinner, RIP

-- Peter Youhill


---
My thoughts go out to your family at this sad time.

Stu, you was a true gentleman and a drag racing legend. It was a pleasure knowing you and working you at our time with Carter Motorsport.

You would make us laugh with stories of the antics and things that went on at Santa Pod during the early years.

You will be deeply missed, Rest in my peace my old friend.

-- Gareth Robinson


---
Such sad news, I have known Stu since the 1960's and although I have been on the receiving end of the slap on the wrist for various cases of liberty taking over the years we always greeted each other warmly. He was a lovely guy and in his role in the BDRHOF he worked tirelessly to honour the pioneers of the sport.

I have a fond memory from a recent Dragstalgia, he was with Roland Leong and spotted me in my funny car Hawaiian shirt and pointed it out to Roland who admired the shirt and Stu produced a sharpie for the man to autograph it! Thanks for that and so many things Stu, I shall miss you and I know the whole sport of drag racing will miss you as well my friend.

-- Steve Young


---
It is with great sadness that we have learned of Stuart's passing. We only met him this past year at the Hall of Fame Gala, but we were immediately accepted as if we were long term friends.

Our thoughts and prayers are with his family.

-- Bob Beck & Peggy Beck


---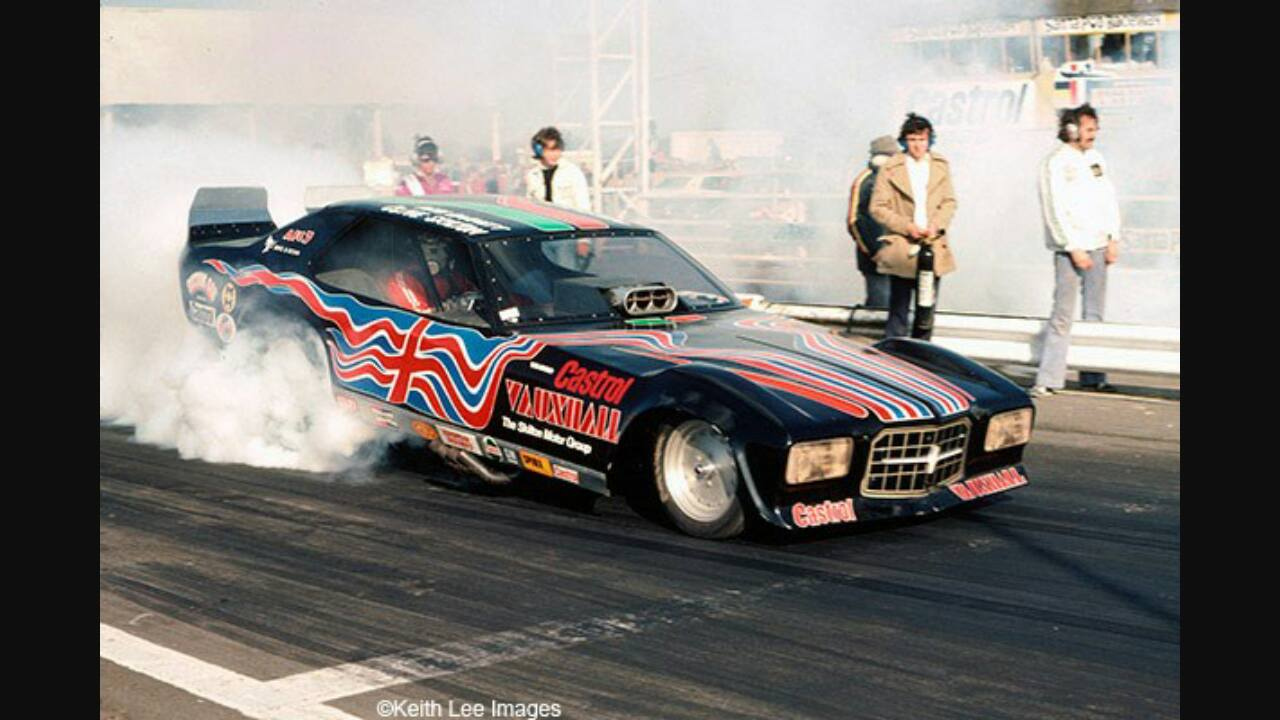 Stuart Bradbury, an icon of British drag racing, will be forever missed. We were close from our first meeting at The Pod in 1968 until I relocated to California in 1976. I will now be digging into all the fantastic old start line photos of those glory years and drift into those days. Stuart has definitely gone to where the good guys go.....thanks for the memories Stu....... Clive

-- Clive Skilton


---
Features and Interviews index
Back to News page
---