Remembering the first Four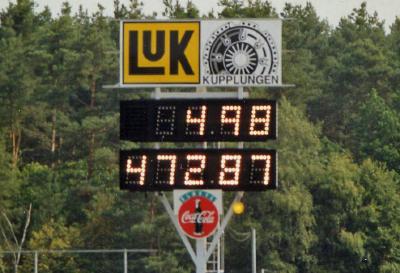 Europe's first four-second Top Fuel Dragster pass took place at the NitrolympX at Hockenheim in Germany on 16th August 1997. Kent Persson clocked 4.987 seconds in Peter Lantz's Top Fueller which was tuned by Peter and Morgan Svensson and which was equipped with the revolutionary Sharkfin injector.
We spoke to Peter Lantz, Kent Persson and Eddie Corr in August 2007, the tenth anniversary of the historic run, about their memories of the Four as well as Peter's thoughts about Top Fuel Dragster then and now. Morgan Svensson also contributed to the interview.
The above picture and the first two pictures below are ©Remco Scheelings and are used with his kind permission. Click on any picture below for large version.
Eurodragster.com: Set the scene for the four-second run. How had your season gone up to that point?
Peter Lantz: The game plan for the 1997 season was to have a low profile. I almost went bankrupt the year before so I had a big weight on my shoulders. Therefore I felt that I would like to help Kent Persson with his "illness" of not driving a car! It would give me a more relaxed time outside of the car tuning it with Morgan. Our plan was to run at Pite Dragway and Mantorp Park and perhaps at Santa Pod Raceway.

We also had a "trainee" that year, none other than Eddie Corr. Eddie was with us from the start at Piteå including the work before the event and the "bus trip" to Piteå. Eddie still is a great friend in the pits, and a genius tuner.
Eddie Corr: I was there training I guess. I had become Crew Chief for Andy Carter and because we ran a Lantz injector on our car Peter kindly offered to try and bring me on in the tuning department by exposing me to how his team worked. So in exchange for some "Tuning for Dummies" classes, for three races that season I did one of the heads and tried to keep up with the Swedish drinking and hospitality!
Peter Lantz: We won the Piteå event, and we made the finals at Mantorp Park but a ring gear stopped us winning the final when we had more than a car length over Rico Anthes. As usual we ran in all the qualifying sessions regardless of how well we had done, and we put on a great show.

Two major things happened at Mantorp Park. Rico asked us to join him at the Hockenheim race because of our performances both at that point and the year before. And a lady driver gave Morgan a fighting face which I never seen on him before or since. Morgan was "told" by the driver that we had only been successful because we had a huge lack of horsepower, and they had too much and therefore they never got their act together. This made Morgan mad. He went over his data curves again and again. Optima helped us a lot as usual, Magnus Andersson stood behind us, as well as Jacob Ekman. Without them and their team we have never made it to Hockenheim.

Krister "G" and Gary supplied all the parts, and Rico supplied us with a used pair of rear slicks as Goodyear had huge problem delivering new tyres. Rico also told me during the race that he was afraid that his old tyres would beat his new ones that weekend.
Eddie Corr: An early indication to me that this team, more than any other, would run the first four was Peter and Morgan's use of the Pi System 5 logger. At the time Viveca and Rico, among others, were running US tune-ups in pursuit of the four, and had come very close with Viveca running 5.0s off the throttle etc. Peter's car was famed for running bracket 5.20s; that was still two tenths away from the four, but the team's knowledge of what the car was doing and their understanding of it impressed me. After my first visit to Sweden that year I told Andy Carter "Forget the 5.0 cars, Peter's car will run the first four".

The signs were there in the preceding races actually, because even though we were still running 5.20s we were trying some new things in the second eighth and the terminal speeds were coming up.
Eurodragster.com: Did you go to Hockenheim expecting to run a four?
Peter Lantz: No question, that was our main goal. But many teams had been trying to do it for a long time, with all kind of different resources. But in my heart I knew that our knowledge gave us an edge over the others.
Eddie Corr: Morgan seemed confident that this would be the weekend to "try something". He had identified a new more aggressive target for the clutch gradient, and in combination with our second eighth ideas we thought that if it all worked then Kent would be in for the ride of his life, knocking on the door of the four-second barrier!
Eurodragster.com: What runs did you make at Hockenheim before the four?
Peter Lantz: The plan was to run a half pass to see if we got the answers we wanted, and we got those answers. For us the conditions were right, we knew we could make it on the next run.
Eddie Corr: It was very fortunate that the first pass was only to half-track. Peter had made some nice new headers for the car, real works of art, nicer than any Dynomax pieces. Well we obliterated them on that half pass! They were hanging off the car like bits of tin foil. The tie bars had been made solid, and so the exhaust gas pressure gave us a demonstration of tube bending on that run, followed by a demonstration in tube bursting! We were very lucky to get away with that! So we fitted some headers with sliding joints on the stay bars! Most of the nice new thermocouples I had supplied had been destroyed too, so no more exhaust temperature data, but we did have the clutch and fuel data.

The important thing was that the data showed the incremental time and speed at half-track was very good, a significant step on from the 5.20s we had been churning out. We knew it was possible, and the next run didn't disappoint.
Peter Lantz: I showed Kent four fingers before he staged, and it was all in place.
Eurodragster.com: And then 4.98 seconds later...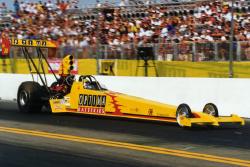 Peter Lantz: To see the scoreboard light up with those numbers, and to see the reaction of the people around us as well as my team's reaction was one of the better feelings in my life. It had not even been close to that sitting in the car. Of course all the happy faces soon arrived to pick up the car and they were a part of it, but still!

Of course I have to thank the team who had been working together all that year. Kent driving the car, Morgan, Vidar Engh, Christian Merlid, Manne Mäkinen and Eddie Corr. The Optima people were Magnus Andersson (Ling), and Jacob Ekman. And of course all the sponsors and friends who had supported and helped us for years. I would also like to thank Remco Scheelings for the framed pictures, they are the biggest reminder I have of that moment and they take up the wall alongside the TV.
Eddie Corr: All runs with a Top Fuel car are hard, you're always at the start line basically exhausted from all the effort to service the thing and whatever number comes up on the board, as long as it's a clean full pass, you take some positives from it. In the second qualifying session, we were in the left lane and Kent made a nice smooth full pass. It was a real cartoon double-take when we saw those scoreboards. With the speed in kilometres per hour it looked even better!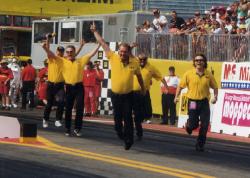 Eurodragster.com: Did Kent know it had been a four before anyone told him?
Peter Lantz: I know that Kent knew the run was good, but not that it was a four. He was off the throttle slowly after 4.5 seconds because the finish line was hard to see. But he soon realised when he saw our faces. Even my heavy body left the ground for a moment!
Kent Persson: As I crossed the finish line I knew we had run fast. The top end acceleration was crazy - although I loved it! - and it was a big difference to previous runs so I thought it was a good speed. No-one had talked about a four, it surprised everyone. When the crew came to pick me up they were screaming and shouting!
Eurodragster.com: What were the incrementals on the timing slip?
Peter Lantz: The full numbers were:


| | |
| --- | --- |
| 60 feet | 0.892 seconds |
| Eighth ET | 3.350 seconds |
| Eighth speed | 366 kmh / 227 mph |
| Elapsed time | 4.987 seconds |
| Terminal speed | 472 kmh / 294 mph |
Eddie Corr: Kent said that the headrest in the car needed to be padded further forwards again because the pull from the car in the second eighth was so strong that his head was still going backwards and affecting his vision. His foot was actually lifting from one hundred per cent throttle back to ninety three per cent after 3.5 seconds too!

After the run, people just surrounded our pit. Even if you just walked out to the truck to get a cable tie people were taking photos, it was as if everyone wanted to capture on film a little piece of the four-second magic or a piece of the four-second car! The team was on such a high that we didn't stop for lunch; we just serviced the car while eating. We were all very chilled.
Kent Persson: It was a terrific weekend. I didn't realise that it was such a big thing until I started to hear from people all over the world - America, Australia, Japan. It was a good feeling.
Eurodragster.com: What did you change on the car to make a low-five car a 4.9 car?
Peter Lantz: After Mantorp we had updated the mags, to 7.2 amps if I remember rightly, I know that each mag cost me $1500. Compare 7.2 to the 44 amp mags today! Then we made changes to the set-up, in this case timing on the clutch and fuel. We also had a different blower and a repaired fuel pump.

We didn't make any huge changes on the engine. In fact that engine had more than 157 runs, and I hear that the block is still running today in a Pro Mod. The pistons were the same all the time, and the crank, but that crank is now resting at my home.

After the run everything looked like new. As ever the only bad thing was the lower chassis tube under the engine, which was bent and needed repair.
Eddie Corr: Technically, the car was running that well that the plugs looked like they could have made another run! The Lantz way of tuning a Top Fuel car differs slightly from the classic NHRA/big-hitting type of tuning. It is very easy on the motor, and it's a method which has influenced more than one of the tuners in the pits today.
Eurodragster.com: There was a huge pick-up in speed between the eighth mile and the finish line. Was that the effect of the Sharkfin injector?
Peter Lantz: That injector had the advantage over the old style that it added lots of PSI at the top end, so of course that was a part of it. But it was in combination with other changes we made on the car as well.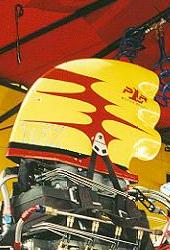 Eurodragster.com: Can you explain the theory behind the Sharkfin and how it worked in practice? Was that where the four came from or were there other factors too?
Peter Lantz: There were a lot of reasons it was more efficient than a "birdcatcher", which was the only injector available at the time. And as Morgan works with airflow as his profession, he made some drawings and explained to me how he believed it should look. There were four major reasons it looked like it did:
To feed the blower vertically over the rotors;


To have nice bends in the tubing in the scoop down to injector house;


To have the scoop high up in open air to catch as much air as possible from the velocity of the car;


To keep the inlet away from the turbulent air from the blower pulley.
In practice we were running our engine pretty low on boost - 26-28 psi from the start line - and gained as much as 12-14 psi to the finish line, and the result of that you can see in the performance in the second half of the track.

I think the four came partly out of the performance of the injector, and partly out of a lot of anger as explained above.

Eurodragster.com: Looking at the injectors used by some US teams it is plain to see the ancestry of the Sharkfin. Did you work with anyone in the USA or did they just take your ideas and build upon them?

Peter Lantz: No, we did not work with any US racer or manufacturer. They are very suspicious of anything which isn't made in the USA. But as I mentioned earlier the birdcatcher was the only thing available to put on top of a blower at the time. So I guess the Sharkfin opened up some eyes over there, because now there is a whole bunch of different injectors to choose from. And some of them are pretty much Sharkfin lookalikes.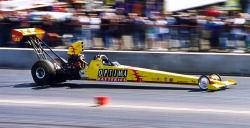 Eurodragster.com: It was late 1998 before there was another four-second pass, and it was 2002 before anyone went 300 mph. Does it surprise you that it took so long for another European racer to run a four, and also so long for a European racer to go 300 mph?
Peter Lantz: Yes, it was surprising. We were hoping to repeat soon after we ran the first four, and also to be first over 300 mph. But it was hard to do. The tracks were really tricky to tune for at that time. But if I remember rightly Rico was really close to breaking into the fours with a 5.01 one or two years before us. And no one can accuse Rico of not trying hard enough.
Eddie Corr: It took another five years of competition to go the next six miles per hour and break 300 mph! Even now not every run is a four: we turn up and qualify with a five first, and then pull out the four-second tune-up for the second qualifier onwards. You could count on the fingers of one hand the number of European teams who have run all fours in a race weekend.

All of the contemporary barriers in Top Fuel - the first four-second runs in America and Europe and similarly the first 300 mph runs in America and Europe - were all difficult. You might remember that not one of those runs was followed by a host of repeats. It took time not only for the rest to catch up, but also for the originals to back it up.
Eurodragster.com: A Fuel tuner once told me that there was a big difference between tuning a 5.0 and a 4.9, and also that there was a huge difference between making a car go 299 mph and making it go 300 mph. Would you agree?
Peter Lantz: No, I would not say that. The problem for European racers is more difference between track conditions and a lack of testing opportunities. So a different track could mean a completely different tune-up.

Some people may wonder how Top Fuellers can go that quickly today. Well, in fifteen years the fuel pumps have grown from 35 gallons per minute to more than 100 gpm, and ignition from 3.5 amps to 44 amps. There is also the adventage of ignition delay boxes, fuel pressure valves (BDK valves), and other things. If you know how to use them!
Eurodragster.com: You're now working with Jöran Persåker. Has the tune-up changed drastically since you tuned the four, or are Morgan and yourself still using the same basic set-up?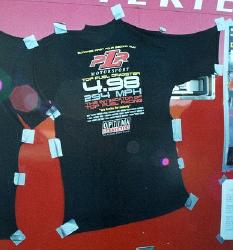 Peter Lantz: This is a tricky one to answer. First of all, our main philosophy has always been to run the car strongly but still not break parts. There is no reason to do it. And what helped us to think that way is budget. You could see teams at that time with huge budgets, and they should still been huge today, having breakage and fires on almost every run. And we couldn't run like that: we needed to try to figure things out and then control what we were doing. It is the same today.

When we ran the four there was no ninety per cent nitro limit so that is the biggest change since then. We used approximately 55 gpm fuel pumps instead of over 90 gpm today. But we still run slide valves etc, MSD instead of Mallory and so on. Otherwise it is pretty similar, there are just the changes to run on ninety per cent.
Eurodragster.com: What do you think of Top Fuel as it is in Europe right now?
Peter Lantz: Last year and this year there has been a big improvement. Lex, Urs, and Karsten and Per and others have brought it to another level. It's nice to see there is teams owning their own cars joining Top Fuel because that is very important. Rent-a-cars need to be there but there cannot be too many if they don't perform, and we have seen enough of that. I was in the grandstand at last year's European Finals at the Pod, and Top Fuel was not popular on Friday and Saturday. The oildowns were too much and the fans went crazy. But when Pro Mod entered the bleach box they where screaming. I think it has improved a lot this year and still needs to do so.

This year's Finals will be historic again. If the weather is with us, it will be a sub five-second eight-car field for the first time. We have a lot of improvements to make ourselves and hopefully we will come closer with every run we make down the track.
Eurodragster.com: Would you get back in a Top Fuel Dragster yourself?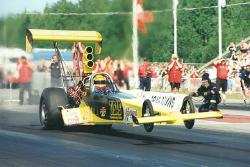 Peter Lantz: Well, my usual answer to that is if I had a $500,000 balance on my bank account, and if I lost twenty five kilogrammes, then it will happen again. But still the bank balance is the biggest issue!

It would be great to run a car again, and it might happen, who knows? Who's not curious to feel how it would be to run an 4.50 for example, or 4.80 in a Funny Car. That would be a dream, but it will not happen.
Kent Persson: When Peter spoke to me the other day and said it was ten years ago I didn't believe him! I am really missing it today. I was never very good at promoting myself to sponsors so in the end I didn't have the money to race. When you have been involved for thirty years it's a serious change to stop, you really have to change your lifestyle. I talk to people about this feeling and they don't believe me, but when they quit they will understand.
Eddie Corr: The four-second run was one of many experiences with the PLR team which got me into the game of running Fuel cars. Peter and Morgan are still at the track and two nicer guys you will not meet. Christian works on Charley Karling's Supertwin; I never see Manne or Vidar now, although I have bumped into Kent once or twice. I'm glad I got the chance to be a part of it all, and what a weekend it was! And thanks once again to Christian, Kent, Manne, Magnus, Morgan, Peter, Stefan and Vidar for making it all happen.
Eurodragster.com: Thank you very much for your time, guys, and good luck to Peter, Morgan and Eddie tuning your respective cars at the European Finals.


Editor's note: Thanks to Andy Marrs of TSI Timers Europe for additional research.

Feature ©Eurodragster.com.


---
Features and Interviews index
Back to News page
---