Turner Motorsport prepare a Top Fueller for 2006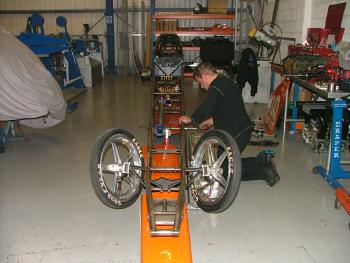 At the 2006 Autosport International Show, UK Top Fuel Dragster racer Andy Carter and Turner Motorsport Crew Chief Steve Turner announced that multiple MSA British Drag Racing Champion Rob Turner would be driving Andy's spare Top Fuel Dragster at three events in 2006. Andy's spare car was last raced in 2003 and since being rebuilt following a crash at Gardermoen has been used as a show car, most recently appearing at shows and at branches of Andy's main sponsor B & Q.
Immediately after Autosport International the dragster was taken to the premises of Danny Bates and Dave Bryant's Adrenaline Race and Performance where Steve Turner brought the car up to 2006 spec. We spoke to Steve Turner in January 2006 about the work involved in turning a show car into a current-spec Top Fuel Dragster.
Many thanks to Andy Carter for his help in arranging this feature.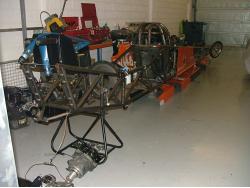 Eurodragster.com: Take us through the upgrade work you are doing on the car.

Steve Turner: The first job before we could do anything was to strip the dragster down to a bare chassis. The car has been standing around at shows for the last two years, so we need to go through everything very carefully.

There are three upgrades which need doing to get the chassis legal for 2006. Firstly we need to fit the titanium shielding around the cockpit. We are actually fitting more than the FIA regs are asking for, and wrapping pieces right alongside the drivers head to the front of the roll cage, as well as going further over the head than required. Secondly we need to fit the support brace which runs behind the axle and between the bottoms of the rear wing stand. The final upgrade has just come in this year and requires extra chassis diagonals between the bottom chassis rails in front of the cockpit.

Eurodragster.com: Where do you go to find out what it is you need to bring a Top Fuel Dragster up to spec?

Steve Turner: Adrenaline has all the latest specs for the Top Fuel class in-house, so not far to go for that at all.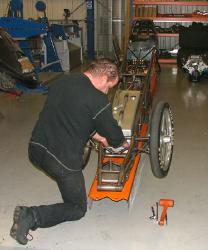 Eurodragster.com: How long will this work take?

Steve Turner: Completion is still a long way off. We hope to be ready at least two weeks before Easter. There will be a weekend break in the work as Andy needs to have the car at the Xtreme Wheels Show on 25th-26th Febryary, although if it looks like things are getting tight we could do a bit while the car is at the show as Andy will have the trailer inside as well. After that it's back to Adrenaline to get everything finished. All in all, the work is going to take about three months.

Eurodragster.com: What happens when you have finished the upgrades?

Steve Turner: Once all the upgrades are finished and we are sure there are no more brackets to be taken off or welded on, we will contact Geoff Martin at MSA Tech and get him along to Adrenaline to inspect the chassis and OK it for 2006.

Eurodragster.com: Will the car go to your shop or Andy's after it has been tecched?

Steve Turner: Andy has been really good and said that we are welcome to keep the car with us or take it back to his shop, it's our choice. Of course the car also has a lot of commitments for B & Q through the season, so I'm sure it will spend a lot of its time with Andy anyway. I do know that we're hoping to fire it up at at least one B & Q store this year.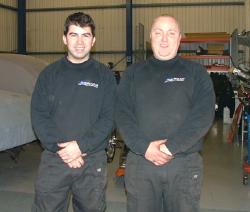 Eurodragster.com: How have you found Adrenaline?

Steve Turner: The facilities are first-class, and owners Dave Bryant and Danny Bates have been really helpful giving advice and extra hands if we need them.

Andy Carter: I would like to say thanks to Dave Bryant and Danny Bates for giving us the use of their workshop and facilities to complete this project. As Steve said, the facilities are first-class and with many years experience between Dave and Danny it's great to have them giving so much support.

Eurodragster.com: Two cars is a lot of work, what will you be doing for crew?

Steve Turner: I will be Crew Chief for both the Methanol Dragster and the Top Fuel Dragster. Cliff Gould will oversee the Top Fuel Car with Darren Gould, Pete Rivers, Jim Tucker and Marcus Humphriss. Steve Billing, Simon Bishop, Martin Wrigley, John Foster and Sarah Foster will work on the Top Methanol Dragster. Carmel Turner is Team Manager and Rob will drive both cars!

Eurodragster.com: The very best of luck to you all, Steve, thanks for your time and we'll see you at Santa Pod in April.


Feature ©Eurodragster.com


---
Turner Motorsport web site
Adrenaline Race and Performance web site
Carter Motorsports web site
Features and interviews index
Back to News page
---
Eurodragster.com aims to bring you links to all the best European Drag Racing web sites. To add your site to Eurodragster's listings, simply email links@eurodragster.com with your URL and a little information about your site and we'll do the rest. When you update your site, drop us a line at news@eurodragster.com and we'll feature your site in our "What's New" section.
Eurodragster.com is a non-profit-making organisation run by a small group of Drag Racing enthusiasts for the sole purpose of promoting European Drag Racing. If you can help us to meet the modest cost of hosting this web site by advertising here, please email webmaster@eurodragster.com. We're sure you'll find our rates extremely competitive.