Vroom with a view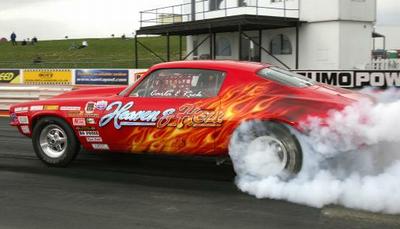 Colin Roaf is a longtime drag racing fan who with daughter Grace is an enthusiastic supporter of Eurodragster.com. In September 2007 Colin took up an offer from UK Pro ET racers Carla Pittau and Rick McCann of a passenger ride in their Small Block-powered Heaven and Hell Camaro at the FIA European Finals Press Day at Santa Pod Raceway. This is Colin's account of a dream fulfilled for a fan on the Bank.


Some history

I first started going drag racing during the late 1970s. My second job after leaving school was as a Trainee Auto Electrician for Volvo Trucks and Buses. One of the technicians found out that I was a member of a West London Custom Car Club I couldn't even drive, I used to get the bus to the club meetings! He mentioned that a couple of his friends campaigned a Plymouth Roadrunner in the Production class and asked if I would like to go down for the weekend and help out.

A Friday evening after work saw me with a tent, a change of clothes, a toiletry bag and a case of beer heading out to Maidenhead to rendezvous with the guys. The tent etc was thrown in the back of the Roadrunner along with tools, a jack and some slicked-up rear wheels and we were off to Santa Pod. It was just like Two Lane Hardtop. There was no rear seat and I was holding on for dear life as we took the back roads to the Pod.

At the Pod, the exhausts were taken off and the rear wheels replaced with the slicked-up wheels from the boot, and Richard went on to to compete against Ron Pudney, Sylvia Hauser and Dave Mingay etc. After a walk around the pits, I was hooked. The diversity of the cars and bikes was amazing and is one of the reasons for my continued interest.

The Custom Car Club started to make regular trips to the Pod and also to Blackbushe Airport. A regular long weekend for us was to attend Wheels Day at Slyfield in Guildford on Good Friday, followed by spending the rest of the Easter Holiday at the Pod. Some members of the Club became unofficial crewmembers when a local chap brought the 440-powered Ford Pop Liquidator. Pete Goddard competed in Liquidator in the Competition Eliminator class and was involved in the infamous Swedish Hemi Jeep incident during a World Finals event in the early 1980s. See the Snippets section of Chris Dossett's excellent Trakbytes site for a description of the incident. The essence of the above is correct but the facts are thirty years old!

I continued attending the Pod through the 1980s and into the early 1990s, encouraging new people to come along as I could. Changes in circumstances meant that I was unable to keep up my attendance until I returned with my then nine-year-old daughter Grace in 2005.

And so to the track

Fast forward to 2007, and during the quiet midsummer break, Grace and I together with my brother and his son attended the London Drag Racing Show in Ruislip organised by Paul Knight. And what a great job he and his associates did. The show was a very laid-back affair. The racers displaying their cars and bikes were able to bench race with each other and to chat to interested fans like ourselves. The absence of barriers meant that it was possible to get good close-up photos without feeling that you were getting in the way, as it can feel during race meetings.

I was already very aware of the Heaven and Hell car after seeing it leaping skywards at the majority of the race meetings which Grace and I had attended. The visual impact of the paintwork also marked the car out. A mention on Eurodragster.com about Tog being allowed a drive prompted me to ask Carla when that might happen again. An invitation to sit and chat was gladly taken up and Carla offered me a passenger ride. An introduction to Grace and the signing of her autograph book by Carla and Rick was greatly appreciated and with promo pictures in hand we set off with an offer which I never thought would be made.

A little personal background here. I am Mister Conservative. I don't usually get out of my comfort zone very often. Although my mates in the Custom Car club all had quick Yanks and Rods and I got to experience some very fast road trips, and I also got thrown around a rally stage by a rally driving mate, I've never had a quick road car of my own. As I've got older, I have got less adventurous and here I was contemplating the ultimate thrill ride.

Would I go through with it? Especially as I spoke to other racers that we have got to know who expressed the opinion that they probably wouldn't, although they were quite happy to strap themselves into all sorts of outrageously quick machines and drive themselves.

As the designated day approached I was still undecided, but finally told myself to stop being a wimp and just do it , as I might never get the opportunity again. I made the necessary arrangements to get the day off in the middle of the week and duly started out to get to the Pod. I had to stop a number of times to check Grace hadn't stowed away! As I got nearer the track, I started to catch up with various European drag racing team trucks and transporters as they completed their journies.

Organising the FIA European Finals must be a logistical nightmare, but when I arrived the pits were relatively empty and I located Mike Lacey of Metamorphosis fame. He had been in contact with Rick and Carla who had got held up in some traffic. I took up his offer to dump my rucksack and strolled over to watch as some of the other cars running passenger rides or demo runs came through the timing lights. Rick and Carla arrived and I followed them back to their pit area next to Mike's where Heaven and Hell was unloaded from the trailer and pre-flight checks commenced.

Rick and Carla had kindly supplied the necessary safety equipment and after I had performed a very dodgy striptease I was suited and booted in Nomex. Looking in the wing mirror of the tow truck, I realised I looked the part and also that due to Rick and Carla's influence I was quite calm. The well oiled machine that is Heaven and Hell Racing finished the preparation and it was time to make our way down to the signing-on office. After signing on I settled myself into the Camaro's passenger bucket seat and into the present tense.

On the run

Looking around, I familiarise myself with the layout. Carla's office to my left, dominated by the big tachometer. The sturdy roll cage gives me confidence. I am told to watch my feet with the MSD wiring in the passenger footwell. Carla settles herself behind the wheel and, handing me her crash helmet, fires the engine.

Heaven and Hell comes alive. A few revs of the engine and the car torques over with the power. When you are outside a race car the noise seems deafening, but inside the engine note is muted. I have two crash helmets and neckbraces in my lap, and Carla backs up and manoeuvres through the rapidly-filling pits. We enter the fire-up road behind the grandstands and Carla is able to throttle up and bang some gears. The acceleration is instant and dramatic. I have started to grin! As I soak up the sensation, Carla mentions that she is feeling a misfire. We take our place in line and wait for Rick to walk down and catch us up. When he arrives, the hood is removed and some basic checks carried out. I help refit the hood and Carla fires the engine again. Everything seems OK.

Quick re-check, still calm. We move down into the main collection area. Some promo stuff is going on at the startline. Andy Carter's Lucas Oil trailer/transporter is our backdrop. A flying creature decides to help itself to Carla's arm. It starts to swell up and we consider trying to see if the Medical Centre has any cream. But before that decision is made, officials tell us that the demo/passenger ride session is now open.

Suddenly the adrenaline starts to kick in. It's actually going to happen. The harness is fitted and tightened. I try to get my neck brace on and get it back to front, and then realise I can't get the helmet on and fasten the chin strap. Rick sorts me out and I take some deep breaths. The cars and bikes in front move forward, pair off and disappear round the corner under the control tower. I see Rick watching the progress and then...he motions us forward.

Carla fires the motor again and we start to move. Round to the left we go, Rick escorting us. I look to my right and see the Barn. The people in the Barn are watching the sight of race cars lining up to make their passes down the quarter mile, the same as I have done countless times over the years, but now they are watching me.

Rick guides us into the left lane and we pull into the water. Engine revs rise, gears are shifted and we are in burn out mode. The back of the car vibrates as we complete the ritual. I've lost sight of Rick, but can see the Chief Starter carefully scrutinising our progress. Suddenly a bearded gentleman pops into view and offers an enthusiastic thumbs up and shows the Christmas Tree start button in his hand. Thanks Tog. Time seems to have stopped. I look forward. A sight I've seen a number of times via in-car cameras is being viewed through my own eyes. The lane seems wider than I expected, but I can still see how it would be relatively easy to run out of lane to the left or right at speed. The finish line gantry is shimmering in the heat, and the flags down the pit lane are fluttering gently. I remember Top Fuel driver Anita Mäkelä being interviewed for an old video, and she mentioned how still and quiet everything gets in that time after the burnout but before the car is staged. I'm feeling that now. I tighten my harness straps and flip the helmet visor down. The engine is idling away out the front, but with the visor down I hardly notice it.

Carla selects a gear and we move forward into pre stage. Any moment now all hell is going to break loose. I tense my body. I think I now vaguely understand the reluctance of other racers to be taken for passenger rides. They are used to being in charge of their own destiny, but in a very short while I will be totally in Carla's hands. Now everything speeds up. I am aware of the car moving into full stage. The two yellow bulbs are lit. Here we go!

Now the engine revs rise higher than I have heard previously. It's screaming like a banshee and bang, we are in motion. And what motion. The car seems to pounce down the lane. Sometime in that nano-second, my door has opened and an elephant has been let in to sit on my chest. Gear shift. I grab to pull on the roll cage. Gear shift. The gantry is approaching at a rapid amount of knots. We fly under the gantry and I'm aware of Carla doing some vaguely important stuff, like braking and checking the gauges. The pressure on my chest decreases and I realise that it might be a good thing to breathe now. I feel a rictus in my cheeks. It can't be G-Force, surely we weren't going that fast. No...it's a grin from ear to ear.

The car slows and we pull off to the left and back up the return road. I can't believe I actually went through with it, but I'm so glad I did. Back in the pits and the run is analysed. The timing slip reads 10.22/132.75.

Carla went on to give two other passenger rides that day, but one of my most treasured possessions is that timing slip and the opportunity to experience what it's like to actually like to make a quarter mile pass. I want to thank Carla and Rick for that experience and for the way they they made me feel so comfortable about the whole event. Now maybe I could blag a ride in Heaven and Hell As Well!


Feature ©Colin Roaf and Eurodragster.com.


---
Back to Features page
---