Tributes to Veli "Jappe" Malin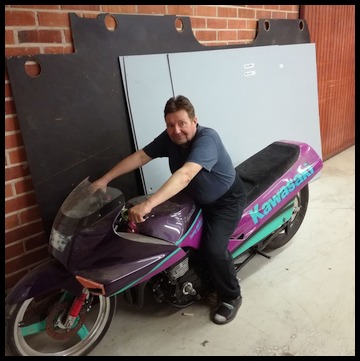 Finnish Pro Stock Bike racer Veli "Jappe" Malin passed away unexpectedly on 1st February 2022.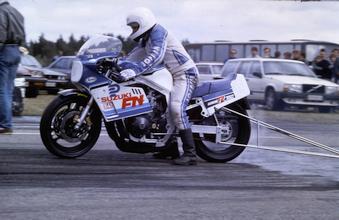 Jappe started drag racing with a Suzuki in Street Bike class in 1985. A quiet, quite unknown guy came into the pits at the Rayskala Airfield temporary race track near Helsinki, and right away beat everybody and won his first championship. Next summer Jappe attended the Mantorp race and ended up winning the 64-bike field. He wasn't a big or heavy guy, but just to maximize everything, he mostly ate just salads to keep his weight down.
Besides still running in an 'amateur' class there was soon a group of racers that he belonged to, including PSB racers Keijo "Keke" Ruuskanen, Timo "Busse" Lahtinen, Jukka "Juge" Aalto, Risto "Paha Paavali" Poutiainen, Erkki Ryttyläinen and Ilkka "Ilu" Salovaara. This group made many trips across different tracks in Europe, helping each other.
Pro Stock Bike would be the thing for Jappe. In addition to his bike riding skills, he was an extremely tech oriented guy.
For '87 and '88 he started experimenting with his homebuilt Suzuki GSX-R pro stocker. This concept turned out being a constant issue generator, especially with an all-aluminium chassis and not much less with the GSX-R engine.
After blowing up the motor another time in qualifications at the '88 Finals, Keke Ruuskanen offered him a chance to race this event on his second Suzuki, the bike he had raced and won the national title with the previous year. He qualified third in the ladder, finished as runner up - winning bike owner Ruuskanen in semis.
After this race Jappe purchased from Keke that very same chassis as a roller, with intentions to run it with his experimental GSX-R motor.
However, the engine was totally destroyed on the dyno just before the summer, and so to secure his race calendar, a complete Vance & Hines Racing-equipped engine was added to the deal from Keke Ruuskanen.
In the '89 season Jappe ended up winning the Finnish national PSB champonship. Jappe's daytime work was with Sumeko, the company importing Kawasakis to Finland. He was the service manager. They wanted him to start running a Kawasaki. Nobody could beat the Suzukis in Europe with Kawasakis, so his sights were set to the U.S. With the help of Jarmo Pulkkinen, who had great contacts in drag racing world, Jappe ended up buying a Kawasaki PSB with 2 engines (1327 & 1428 cc) from the legendary Dave Schultz. Dave was a very professional racer, with top of the line equipment, and a regular sight in NHRA PSB winners' circles.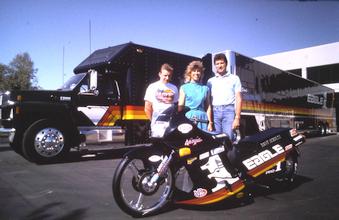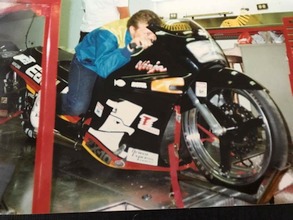 Jappe tested his new Kawasaki at the '89 Pomona World Finals, running a few hundreds quicker than Dave. The bike was then flown over to Finland for repainting and promotional appearances. After some minor technical changes the bike was flown back to U.S., ready for the '90 season start at Houston, TX. Jappe qualified the bike #2 @ 7.82 , which was about a tenth quicker what Dave had run the bike. Longtime mechanic Juge Aalto remembers National Dragster's Melvyn Record interviewing him before the race about the potential performance of the combination, and Juge told him that it'll run in the 7.82-7.83 range… On 1st round Jappe ran 7.78 which was the 2nd quickest E.T. after John Myers. The race for Jappe ended on 2nd round after he unexpectedly cut a poor light against Keith Gray.
The next race for Jappe was in Gainesville, FL. On Sunday morning warm-up they dropped a valve in the warm-up, and had to rush in a brand-new spare engine. Unfortunately the drive chain broke at the hit so that was it. After the race Juge took some pics of Jappe sitting on the brand new bike Schultz had just built up, and it wasn't just about one year until Jappe had bought a second bike from Dave. Jappe ran also in the '90 NHRA World Finals. Jarmo Pulkkinen, a legendary character and connection between U.S. and European racers was instrumental on helping out on all deals between Jappe and Dave. I believe Dave wouldn't have sold his best stuff just to anybody, but with the help of Jarmo, and with the determination and will to win Dave saw in Jappe opened up the connection.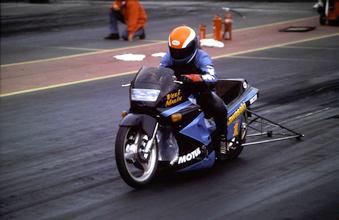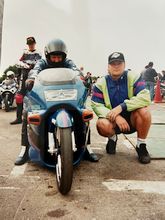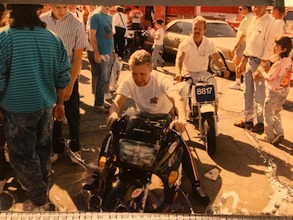 In '91 Jappe ran at the Houston Supernationals, going all the way to the semifinals. His opponent was Dave Schultz, and with problems with clutch Jappe cut a real bad light and lost.
On this side of the pond, Jappe ran a few meetings at Avon Park in '92 & '94, winning them both. He was 2nd in the European Championship in '92. In '93 he ran a new European record at 7.70 in Austria, and at that time had already won 5 out of 7 races, securing the European Championship already before the final 8th event.
One interesting note regarding Jappe & Dave; Jappe had already bought the 2nd Kawasaki bike from Dave, and Jarmo Pulkkinen had painted it in Kawasaki colors with 'Motul' logos (his longtime oil sponsor) when Dave asked Jappe to borrow him the bike. Dave was at that time already working with Byron Hines, but they couldn't get the new Suzuki working the way they wanted. So they agreed that Dave can run one race with Jappes Kawasaki to help Dave out.
Jappe quit drag racing in the late nineties and moved on to preparing rally cars for Honda Finland. He had a company with a rolling road dyno which was much in use until 2007 when Jappe closed the company. One of his customers was Rami Räikkönen, brother of F1 legend Kimi Räikkönen.
After closing the company Jappe spent almost 10 years up in Lappland, working with sleds. He got back to southern Finland and opened up a small shop, working with various projects, mostly with flowing heads and doing cylinderhead work, which he was very good at. Jappe had sold his first PS Kawasaki bike to Tapio Nevalainen in Finland who is restoring it to its original shape now.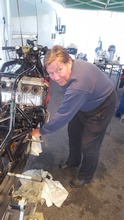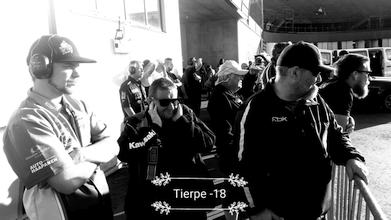 When the latest PSB rule changes allowed to run a 16-valve engine within a reasonable weight break Jappe came out with the idea to produce a billet cylinder head for his Kawasaki engine. It took him a lot of time to design and test to get it finally done. He got it to dyno, but unfortunately a problem with valve spring pressures avoided full testing. Besides these problems, Jussi Surakka, a long time mechanic for Jappe passed away in early 2021 after a serious illness, which ceased the project.
Jappe attended several races as spectator in his last years, and with his vast experience in drag bikes he gave help to everybody in need, mostly including the Torniainen family and then several other racers, including latest PSB champion Fredrik Fredlund.
All his mechanics over the years sure miss him very much.
Jappe might have been a bit short in height but with a great determination and desire to win; big heart, always willing to help if somebody was in need of it. A man of extreminities; all or nothing, black or white, all in. Rest in peace Jappe.


Contributed by Juge Aalto, Busse Lahtinen, Simo Patoharju, Jarmo Markkanen (photos)


---
Features and Interviews index
Back to News page
---