Webster Race Engineering workshop visit

Jon Webster started building race cars in 1988 and established Webster Race Engineering in 2003 in Rushden. In 2014 he moved premises to Airfield Road, Podington, next to the entrance to Santa Pod Raceway. He works as a two man team with Jake Mechaell, and both have huge experience in building and racing drag racing machinery. We visited Jon to discuss current projects, the areas of work he does the most and his future racing plans.
Click on any picture for a large image.
Eurodragster.com: How did the opportunity to move to Airfield Road?
Jon Webster: The lease had expired on our Rushden premises and I was looking at other options and this seemed a great opportunity. I did have six people in the business at Rushden but wanted to do the work myself rather than training managing and controlling a team, so the level of staff has reduced to two.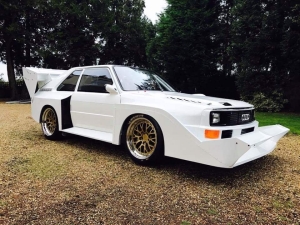 Eurodragster.com: How has the business progressed in the new premises?
Jon Webster: In these three years the sport has changed, the number of new cars has dropped and the economic climate has become more difficult. I still mainly work on drag cars but have added hill climb, hot rods and drift cars to my workload. We have worked recently on projects as diverse as an Audi built for the Pikes Peak hill climb course in the US to classic American trucks from the 1950s and 1960s.
Eurodragster.com: What specialisms do you have?
Jon Webster: Our main business is bespoke builds of cars and bikes to arrive at our customers' dream vehicle. When a customer brings us a project we have to assess it, adapt it and execute it to the customer's wishes. You are only as good as your last job.
We have a particular specialism in Street Eliminator where we have built around 90% of the cars that have run in the class. I have recently started work on a Mustang Pro Mod and plan to make that class a specialism in future as several racers are looking to move up.
Eurodragster.com: Do you have any areas you often rely on others for?
Jon Webster: WRE can do most work but I avoid engine building at the workshop because of the dust in the atmosphere! We can do rear axles and automatic transmissions but depending on capacity will refer customers to Geof Hauser on axles and Andy Frost for auto gearboxes.
Eurodragster.com: How do you advertise for new business?
Jon Webster: Our main advertising is for the Eurodragster.com webcam, and we have a Facebook page that generates interest. Most of our business comes from people who know us at the track, or recommendations.
Eurodragster.com: What projects do you have in hand at the moment?
Jon Webster: There is one vehicle covered up that is secret and at a fairly early stage of build so you'll have to wait to find out about that! But there are seven other projects all at different stages of development.
The newest is a Ford Falcon which is stock at the moment but we will be doing a build for it to debut at Dragstalgia.
Then there is the Austin Devon. It will be a street rod with some strip use. As is common with street rods, we use the outer shell and cut away internal panels and replace with a new roll cage. The suspension and rear axle are GM products and there is a crate engine. It will be a 'turnkey' project, it is 80% complete and it came in eight weeks ago.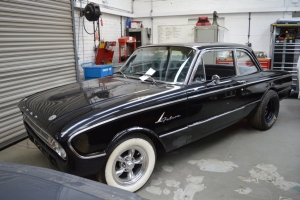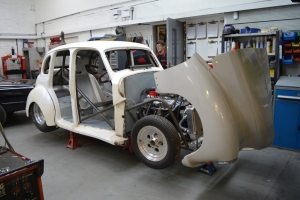 The Escort Mark 2 (not pictured) is a drift car. We had to make the wings for the wheel arches in fabricated steel and we fabricated a cage out of steel as well. The engine is a Toyota 2JZ with a Garrett GT46 turbo, Toyota gearbox, and 9" Ford aftermarket rear axle, with custom made casing. That's the way most 9" Ford axles are done now, it's cheaper and stronger.
The '86 Transam is being made into a Kinghtrider replica. The owner works for Force India F1 team and was a follower of the TV series in the '80s. Although there will be plenty of cosmetic stuff to make the car appear like the TV version, we are doing the underpinnings. There will be a LS3 525hp engine, six speed manual gearbox, independent rear suspension, wider wheels and six pot brake calipers. The car has a 'T tops' roof like the original.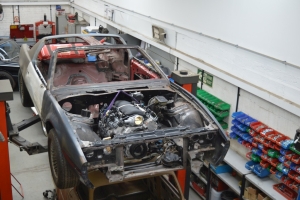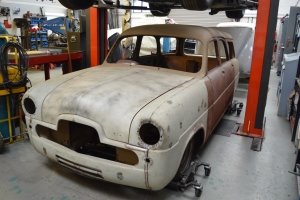 The Ford Zephyr Farnham Estate Mark I is very rare, as E D Abbott Limited of Farnham only made nine of this model, before expanding production for the Mark II and III. The customer looked around for one and eventually found this example at the right money. It's in pretty good condition. We are assessing it for dynamic potential and think it may be suitable for Street Eliminator. The class is getting more demanding on aerodynamics at the speeds they are capable of running at, and if a customer asks about body modifications for Street Eliminator, we do express a preference for keeping it looking stock. You can build a Pro Mod car and make it road legal, but it's not really in the spirit of the class, and many class racers sympathise with this view.
Eurodragster.com: What machines do you have on site?
Jon Webster: We have sheet metal forming machines that fold and cut metal and a couple of lathes. They are all we need to help the fabrication process.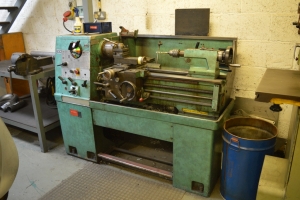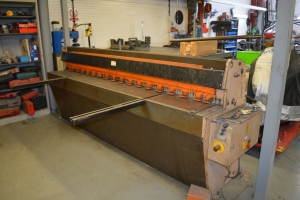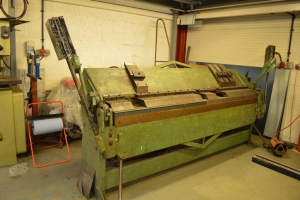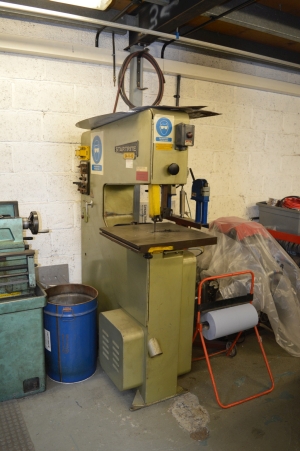 Eurodragster.com: Do you have any bikes you are working on?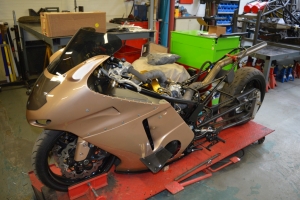 Jon Webster: We are developing a four link bike, which was my idea and Super Street Bike racer Jamie Sneddon has taken up. I got involved with Jamie over electronics and have built a good relationship with him over the years. He agreed the concept of a four link rear could work well on a Super Street Bike. It enables the front suspension forks to go back to stock geometry. On most bikes, the rake on the front is reduced so the fork is almost vertical in order to allow for a longer swing arm to keep to the 68" wheelbase. The swing arm helps enable the safer geometry. The bike has Jamie's Honda Blackbird setup and we have also done work on the turbo and frame. It will be out for testing this year.
Eurodragster.com: Your new Pro Mod car, that's a new direction for you?
Jon Webster: Well actually, I started off in Pro Mod as I was involved with Tim Cook between 1987 and 1990 and then worked with Dave Mingay, Alan Packman and Neil Taylor. I shared a workshop with Rob Loaring in Southend. I wanted to drive Pro Mod, but it wasn't the right time or place. But having been in Street Eliminator for a number of years now, I have realised that Pro Modified is the logical next step for racers in that class. It's doorslammer, heads up racing but on a different level. So I decided to build a car to show how it can be done.
It's a '67 Mustang body from Tim McAmis which was designed for Pro Modified. The engine is a TFX billet hemi, which is the best choice for a turbo application as it is easy to maintain and parts are easy to obtain. The turbos are Precision 88mm. The transmission is from M&M in Missouri. I found that for a 4000hp engine this is the strongest you can buy. It is based on a TH400 two speed automatic, I found the Powerglide ratios are not right for the application, and M&M also supply a billet torque convertor.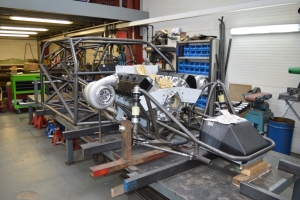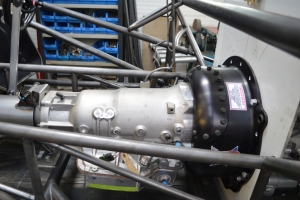 The chassis is based around the turbo setup. Turbos are quite a heavy weight and so the height they are mounted at becomes an issue for the centre of gravity. Based on my experience in Street Eliminator, I came up with an outline of what we want to achieve and so it is possible to mount the turbos at different heights to adjust the centre of gravity. Any race car build is a research and development project and greater flexibility in the setup is always a benefit. Additionally, I have been weight conscious in designing it as it is easy to go over the minimum weight of 2650lbs for turbo cars and rule changes usually result in extra weight. So the car has been planned to come in a around 200lb under weight to allow for additions.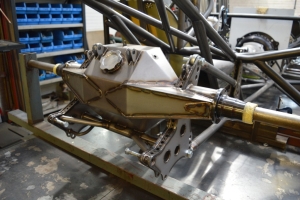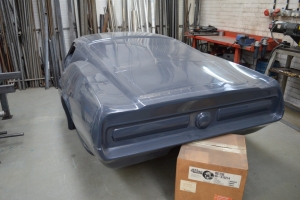 The rear axle is a casing from McAmis, we have made these ourselves in the past but his are built in mass numbers and a cheaper and no less tough.
The car is around 35% complete. I am committed to working on it from 5:30am until 8am every morning and also from 6pm to 8pm in the evening, and on Saturdays. The objective is to have it ready for the Main Event. It's all fully planned, it's my design so I am comfortable building it. I have control over all areas apart from the paint which I have given to Nic Williams at OCS.
Eurodragster.com: Will we be seeing your other cars on the track this year?
Jon Webster: I've sold both the slingshot dragster and the Mercury Comet now. The Comet was bought by Keith Bartlett, he said he was interested when it made its debut in 2012.
Eurodragster.com: Thanks for your time and support Jon, and good luck on the track in 2017!


Feature ©Simon Groves and Eurodragster.com

Webster Race Engineering web site
Features and Interviews index
Back to News page


---