Williams Bros Racing opens its doors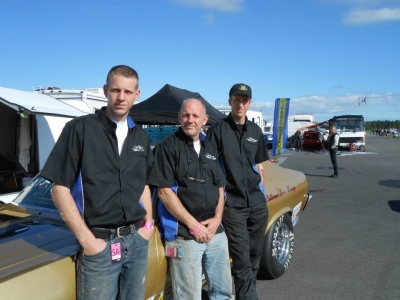 Nic and Dan Williams have been part of the UK National Championship drag racing scene since 2009, racing in Pro ET. Nic runs Eurodragster.com sponsor OCS Paint which does paintwork for a wide variety of vehicles, and Dan does engine and other mechanical work as Williams Bros Racing. Their roots are firmly in the hot rodding scene as dad Keith Williams has been a builder of rods for many years. Eurodragster.com visited their new workshop in Flore, Northants to view current work and listen to future plans.
Click on any picture for a large image.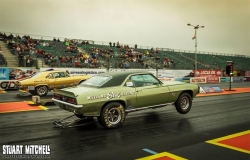 Wheels-up from Nic (near lane) and Dan (far lane)
Eurodragster.com: How long have you been based in Flore?
Nic Williams: We have lived here for fifteen years but built a new larger workshop facilities including a spray booth for OCS Paint in summer 2014. Dan and I both work here and, although we are separate businesses, customers can have the benefits of having work done at the same location. There is less time wasted from separate paint and mechanical work and we do all the preparation work on site.
Eurodragster.com: What type of cars do you work on and what is the philosophy behind what you do?
Nic Williams: We specialise in US muscle cars, hot rods and classic American vehicles. We want to do things the right way. Our labour rates are competitive at £35/hour allowing us to spend more time on the finer details. We also use the best quality parts, original where possible, which ensures work is more durable and our reputation will be protected in the future. Genuine parts come at a price and this ensures good quality and longer lasting work.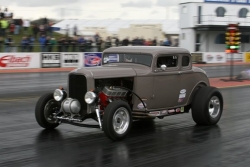 Dan's first hot rod at SPR in 2010
Eurodragster.com: What mechanical work do you do?
Dan Williams: We can do all mechanical work on all American cars and hot rods. We can build engines in-house, fit transmissions and suspension components and do complete rewiring and assembly. For race car applications we can offer certified roll cage packages fabricated by Webster Race Engineering.
Our specialty with race cars is stock body leaf spring applications.
Eurodragster.com: How are you fixed for parts supply?
Dan Williams: We keep a full range of Chevy engine applications. We stock a wide range of gaskets, fasteners, hardware and parts for small and big block Chevy. We also keep rebuilt TH350 transmissions in stock. We are dealers for and stock Joe Gibbs Oil and Earls Performance Hoses, and can make to order brake and fuel line kits. We source parts from NPD (National Parts Depot) and performance parts from Jegs and aim to air freight every two weeks. However we can have deliveries from the US within 72 hours.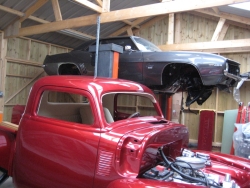 Colin Theobald's Bruce and '51 Chevy Stepside
Eurodragster.com: What are you working on currently?
Dan Williams: We are giving SPR announcer Colin Theobald's Camaro, Bruce, an upgrade in the suspension department and a full service to freshen it for the season.
Nic Williams: We have just finished a paint job on a Chevy '51 Stepside truck that we hope will be featured in Custom Car when it is finished. It has had a roof chop and chassis work including locating new rear shocks. We made a stainless steel exhaust system and fuel tank in-house, this has been a complete build despite it arriving to us as an unfinished project. Both Williams Bros Racing and OCS Paints have worked on this, an example of both businesses work together and we have an in-house trimmer.
Eurodragster.com: The paint job looks awesome, how much work has gone into it?
Nic Williams: A lot! The colour we used is candy apple red from House of Color. We put some basic primer on to start with and then block it, then use House of Color's own primer, sealer, House of Color base coat red, a coat of candy concentrate, laquer, which is flattened and relaquered, flattened again and polished. The chassis has been powder coated.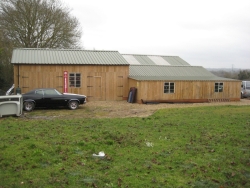 New workshop facilities
Eurodragster.com: Who made your spray booth?
Nic Williams: We bought it in kit form from a UK company called Tod Engineering and assembled it ourselves. Tod Engineering then visited us to certify it and will recertify it annually in the future. The heating system runs on gas and is fully digitally temperature controlled to give us the best conditions for the work we do. As 95% of our work involves a full repaint it is good to have the best facilities.
Eurodragster.com: When you install new suspension, whose components do you use?
Nic Williams: We use Avo coil-over shocks for hot rod applications. They are made locally by Avo UK in Northampton.
Eurodragster.com: What future work do you have planned?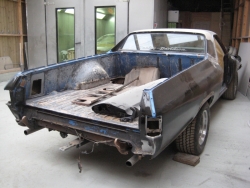 El Camino in front of spray booth
Nic Williams: We have a Chevelle that is waiting to be worked on, which was bought by a lady for her husband as an anniversary present. The work will include engine and gearbox rebuild, new axle and suspension bushes as well as attention to the chassis and full paint and interior restoration. It is a full restoration down to every nut and bolt. We will be using GM retro parts from NPD throughout. These are quality items and well worth the extra money you pay over cheap parts.
We have started a full restoration of a 1970 El Camino which is from California and had been in the UK for only two months when we bought it. It is a SS396 with Muncie four speed manual gearbox, which is rare and is matching numbers for chassis and gearbox, and year matching engine which is rarer still. It will be a frame off restoration and we will acid dip the body and chassis before paint and powder coating. One very rare feature is that we have the original build sheet. These were typically stuck on to the fuel tank and obviously didn't last very long as a result.
The El Camino will be a six month project and we aim to display it at Billing and the NEC Classic Motor Show in November. This restoration project is for sale now.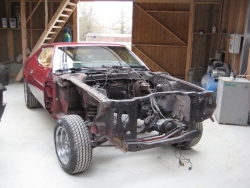 Mustang for bare metal restoration
We also have a '73 Mustang in for restoration. It was passed to us by Mike Lacey for restoration pf the body. We will take off all the bolted body panels and have them acid dipped and take the rest of the body back to bare metal. There will be new inner and outer wheel arch housings and quarter panel repairs. When we stripped it we found a quantity of expanding foam from a previous restoration which we had to strip out after advising the customer. It just shows if you do half the work you will eventually get found out.
There is another Chevelle in the spray booth, a 1970 model. This will be for Super Pro ET racer Simon Gough's street use and will have a 572cu in crate motor, new transmission, twelve bolt rear end, twenty inch wheels and new interior. As you might expect, it's larger than life!
There is also another Chevelle on which we are doing an engine and transmission rebuild, work on the body and a new paint job.
Finally we will be featured in a car restoration magazine series on restoring a Rolls Royce Silver Shadow.
Eurodragster.com: What do you try to improve on compared with other restoration jobs?
Nic Williams: We try to get the gaps between panels better than when the car came out of the factory. On a recent job we spent two days just aligning the doors, bonnet and boot panels to get the gaps just right. It's the finer details that make the job.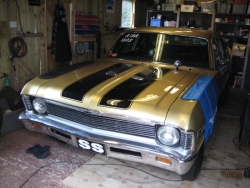 Dan's Nova awaiting trip to Tierp.
Eurodragster.com: Where can people see your work?
Nic Williams: As well as seeing our race cars at Santa Pod and Shakey, we will be attending Classic American shows in the UK such as some of the American Auto Club's shows at Billing. We have also had cover cars for three recent mags – Feb 2015 Custom Car, Bruce on the cover of American Car Magazine and a Vauxhall Cavalier on the front of Total Vauxhall.
Eurodragster.com: What is your proudest achievement in car shows?
Nic Williams: Our Model A for John Wilcox who is based in Wales was runner up at the NEC Classic Car Show in November 2014. That has spurred us to do more shows this year and win best paint!
Eurodragster.com: What other projects have you been involved with?
Nic Williams: We did a nice project for the Mercedes F1 Racing team in January. We resprayed their garage equipment and telemetry pods. Also we have been involved in Art Works Projects in London on materials which will be touring America during 2015.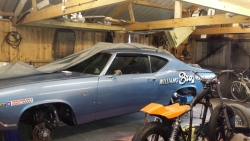 Keith's Chevelle, driven by Dan
Eurodragster.com: How did you acquire your mechanical and painting skills and get into racing?
Dan Williams: All of Nic's and my mechanical knowledge has been picked up from our dad Keith. My engine building knowledge was gained when I worked for Peter Knight at Knight Racing Services.
Nic Williams: With regard to OCS Paint, I have gained my knowledge by being fortunate enough to work with some very talented individuals who taught me.
Of our team of four, Ashley Hickle, partner in OCS Paint has been to college to do a course in painting and has all his qualifications and is now our primary painter.
Eurodragster.com: What are your racing plans for 2015?
Dan Williams: We will be running the UK championship with the Camaro and also hopefully racing both cars in Stock/Super Stock at Tierp and Sundsvall. We will store the Nova in Sweden thanks to our racing friend from Sweden 'George' and we are getting a freshened engine for it from US Stock/Super Stock engine guru Brian Tilburg.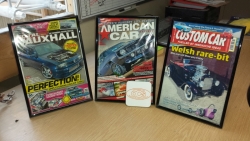 Magazine cover cars by OCS Paint and Williams Bros Racing
After the end of the UK season we are looking at running the Nova in Stock Eliminator at an NHRA race, depending on doing a deal for airfreighting the car over. We are in the process of obtaining NHRA licenses but doing the trip will depend on getting adequate sponsorship.
Eurodragster.com: Do you run any rods or muscle cars yourselves?
Dan Williams: I have recently built a '32 three window coupe from scratch. It has a modified Pro Laminates body and reproduction original chassis rails and cross member mounts. The axle is a Halibrand quick change type and generally I have gone for a 60s period correct look. We have just started another project for ourselves, a '32 five window coupe. This car will be for sale when completed unless sold during the build to have the customer built to their requirements. Check out the Williams Bros Facebook page for updates.
Three window retro-look.
Eurodragster.com: Who helps and supports you in the business and in your racing activities?
Nic Williams: There are three of us in the OCS Paint shop each specialising in our own areas, myself, Ashley and Simon. I'm really grateful for their constant hard work and all the late nights to ensure we meet deadlines. Mechanical work is primarily undertaken by Dan along with Bob Doignie who works for us part time. We also welcome Lorne Denny who will be our crew member at the racing tracks – Lorne has had experience crewing for Bob Doignie.
Dan and Nic Williams: We would like to thank our Mum and Dad Adele and Keith Williams, our wives Alix (Nic) and Elaine (Dan) for all their support in our activities and of course new crew member Lorne Denny and long standing friend and crew member Bob Doignie.
---
OCS Paint contact details: Telephone 07572 096920 or email nwilliams@ocspaint.com
OCS Paint Facebook page
Features and Interviews index
Back to News page


---