Worsham Racing workshop visit
Report and pictures by US Correspondent Ed O'Connell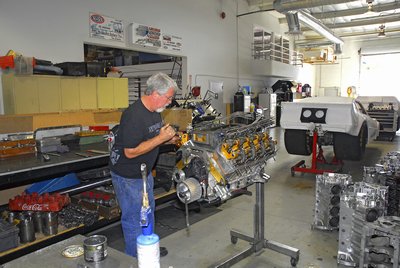 Click on any picture for large version, and scroll down for additional photographs
On Monday following the Winternationals, I was invited by Per and Karsten Andersen to visit the Worsham Racing shop where they were preparing their Top Fuel Dragster for the return trip to Europe.
Since Del Worsham is driving for Alan Johnson's Al-Anabi Race Team, Worsham Racing does not have a car on the NHRA circuit, leaving adequate shop space to loan to Andersen Racing for their US Dream Tour.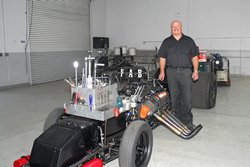 The shop also houses New Zealand native Grand Downing's chassis building and Nitro Funny Car operation. Grant was kind enough to give me a tour of his section of the shop and some excellent insight into the intricacies of chassis building and engine block repair.
In the short time I was there, Grant had put the finishing touches on a great looking chassis for Del Worsham and loaded it on to a trailer for delivery to the next race in Phoenix, repaired an engine block for Jeff Diehl's nitro FC, slightly damaged at Pomona, and started work on a new chassis for Gary Densham.
Grant showed me an Alcohol Funny Car funny car chassis which he had recently completed for a buyer who had backed out, and he explained the difference from a nitro chassis: mainly the tubing thickness in the back half.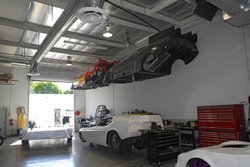 Two fibreglass-bodied Nostalgia Funny Cars were nearing completion, sitting near the Nitro Funny Car which Grant drives on a limited schedule. Grant's first trip ever down a drag strip was in a Nitro Funny Car and he feels his driving experience is a plus in chassis building, as he builds every chassis as if he would be driving it himself.
After lunch at a very interesting (probably best to leave it at that) local watering hole, I was given a tour of the shop's legendary upstairs game room which houses two regulation bowling alleys and numerous other pool and table games. The alleys are lined with Del's many Wallys and a certificate of Chuck's presented after he bowled three perfect games. Windows into the shop below reveal carbon fibre Funny Car bodies hung from the ceiling which appear to be floating by.
Upon returning downstairs, I met Chuck Worsham who was hard at work on one of the more important projects of the day: the team's fabled fuel-injected, supercharged, hemi-powered, 100% nitro-fuelled margarita mixer which had thrown a rod. Chuck was reassembling the repaired block.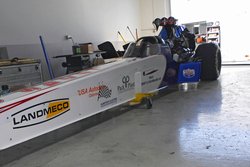 In the next bay I checked in with the Andersen crew, who after some very successful passes at Pomona were sadly packing up the Top Fuel Dragster for its return trip through the Panama Canal and back to Denmark for the 2010 FIA European Championship season.
Thanks to the Andersens, Worsham Racing and Grant Downing for an enjoyable and informative tour.


---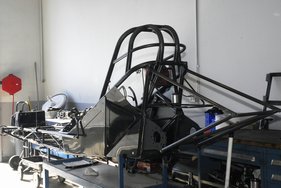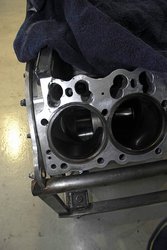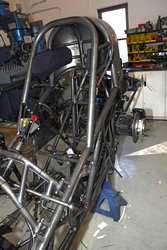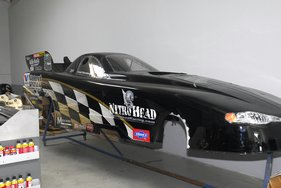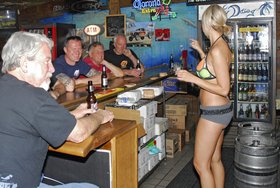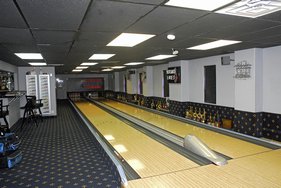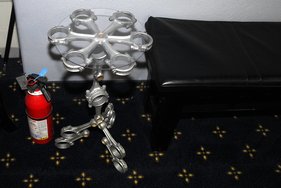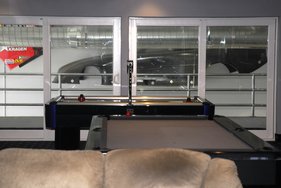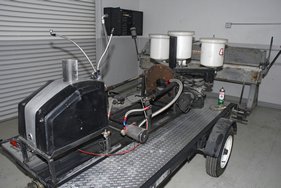 Text and photographs are ©Ed O'Connell, Eurodragster.com and must not be taken, copied or used in any way without written permission. Unauthorised use may result in legal action. To enquire about purchasing photographs please see the Eurodragster.com FAQ or E-Mail photography@eurodragster.com.


---
Features and Interviews index
Back to News page
---