The Wratten Brothers go NFAA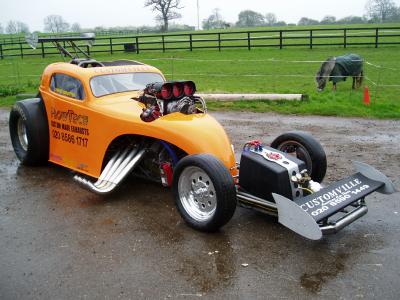 Click here
for Photo Gallery.
In April 2006, the Wratten Brothers Top Methanol Funny Car team announced that they had put a Topolino body on their FC chassis and were to race with the Nostalgia Fuel Altered Association. We visited Terry and Paul Wratten and the team at their Havering workshop to find out about their new direction.
Eurodragster.com: Tell us about your racing history.
Paul Wratten: We first got interested in drag racing after seeing a picture of Opus One. It turned out our dad had been partners with Dave Collis and had helped rebuild the car after a crash. We went to the first Bug Jam and thought we would have a go. We had a 2.8i Capri with a Cleveland which ran fourteens, then we had a Victor with a Rover engine which ran thirteens with gas.
Our first proper race car was a slingshot. We put a Small Block Chevy in it with gas and got that to run 9.6/138. That was the first Dirty Harry car, so called because there was a picture of an old boy flashing on the body - we had to put tape over his tackle to go through scrutineering!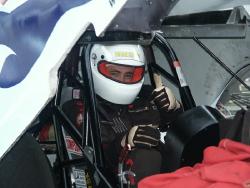 We then met Charlie Draper through Russ at Customville. We bought the old Break The Habit car from him as well as the Southern Rebel Topolino body and a Ford Torino for the engine. All we had to do was put it all together and run it, sounds easy doesn't it? This was another nine-second car but as it wasn't tecched we dialled in 10.0s in Pro ET. It would be fair to say that we didn't do too well with bracket racing as we always wanted to go faster but we always enjoyed the racing.
Up to this point Terry and I took it in turns to drive (sometimes at the same meeting under the same name). Whilst running the Topo we bought the Funny Car chassis, we planned on fitting a 468 BBC which was going in an AMX Javelin we were building, but Charlie got his claws into us the rest is just a blur! As we had always liked Funny Cars and Charlie had all the parts it was just a matter time before we built one, the rest you probably know.
Eurodragster.com: So this is the Funny Car chassis, did you have it from new?
Terry Wratten: Bill Felstead built the Funny Car chassis but it was unused when we bought it from him. It's a 125-inch wheelbase chromoly chassis and has an SFI tag.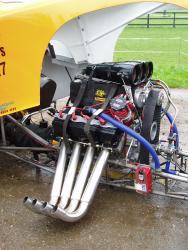 Eurodragster.com: What are the engine and transmission?
Terry Wratten: The engine is a 526 Keith Black burning alcohol. The blower is a Mooneyham 14-71, the pistons are Venolia and the rods Brooks. The mag is MSD. The headers are stainless steel and we built those at our company Flowtech. We have a three-speed Lenco and the rear end is Ford nine-inch with 4.11 gears.
Eurodragster.com: Is the body new?
Terry Wratten: Yes, the body came from Paul Bland at Avondale Composites. Paul gave us a very good body for the price. The body was painted by Vince at Car Body Repairs (0208 599 3640) and the colour is the new Ford Focus Electric Orange.
Eurodragster.com: I understand that you've done a lot of the fabrication work yourselves.
Terry Wratten: We got the front wing from Bert Englefield but we made the spill plates on the front and rear wings, we fabricated the wing mounts and the front and rear weight bars. We have made the wheelie bar, the dash, the levers, the chute mounts and all of the brackets. We also installed strengthening bars in the body and made all of the Lexan screens.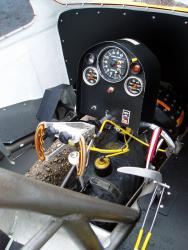 Eurodragster.com: Will you have to make any changes to the engine or chassis set-ups from the car as a Top Methanol Funny Car?
Paul Wratten: We will be running the car pretty much as before. We know that with the tune-up that's in it we can run 7.2s all day long but there is a record out there not too far from that so who knows? The car itself would probably run 6.3s with the Funny Car body, but with the Topo body I think it might be bit more of a handful. I can't wait to find out though!
Eurodragster.com: Have you still got the Funny Car body?
Paul Wratten: Yes, we've kept the body so that we can run it as a Funny Car again in the future if we want to. We have a TFX block and a Whipple blower which we could put in it. We will probably build up the TFX at the end of the year anyway.
Eurodragster.com: Give us a run-down on the team.
Terry Wratten: My brother Paul drives. I am Crew Chief, Charlie Draper is tuner, and the crew is Russ, Scott, Pete, Mark, Kev and Ant.
Eurodragster.com: The headers were fabricated by your company Flowtech - tell us a little more about that.
Terry Wratten: Flowtech is Paul's and my company. We produce stainless steel and customised exhaust systems, headers and manifolds, and we can do ally welding. Our main customer base is the Modified, Hot Hatch and American car scenes - we do a lot of work for American cars. We can also do headers and other work for racers. You can find us at Unit F of the Chadwell Heath Industrial Park on Kemp Road in Dagenham, or call 0208 586 1717.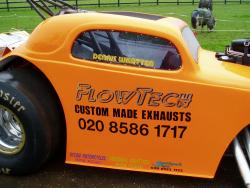 Eurodragster.com: Who are your other sponsors?
Terry Wratten: Russ and Trevor at Customville (0208 590 1449) provide us with oil and other consumables. Tidds at Arboreal Print (01708 733031) does our printing. Ronny and Thorpey at Hyside Motorcycles (01708 763360) sponsored our safety equipment. Darren at Southpark Signs (0208 553 1123) provided our decals and vinyls.
Paul Wratten: As well as our sponsors we must say a big Thank You to the crew Russ, Scott, Pete, Mark, Kev and Ant for all their hard work, and to Charlie Draper for all his help and advice.
Eurodragster.com: I'm standing here calling you Paul, but the name on the car is Dennis Wratten. What's the story with that?
Paul Wratten: My dad's name is Dennis and my first name is Dennis. When I was young it used to get confusing with two Dennises in the house so everyone started to use my middle name, which is Paul. It was a good laugh when we sent out wedding invitations and they said "Dennis" and no-one knew who that was! I have to put my full name on my licence and paperwork, and in the past we've had officials think that our car's had the wrong name on it, so it says Dennis on the car to avoid confusion.
Eurodragster.com: How close are you to getting out on the track?
Terry Wratten: We are pretty much there. We are planning to test at the Peak Performance Day at Santa Pod in a few weeks. But we have to MoT the lorry first!
Eurodragster.com: And you're headed for the NFAA?
Terry Wratten: That's right. We fancy getting back into enjoying our racing and the NFAA have been putting on a good show so we thought we would join them. We want to test and then we want to get out there.
Eurodragster.com: We look forward to seeing you enjoying yourselves! Good luck with the Altered and we will see you at Santa Pod at the end of May.
We took several other pictures during our workshop visit which you can view by clicking here.
Thanks to Charlie Draper for his help in arranging the workshop visit.


Feature ©Eurodragster.com


---
Features and Interviews index
Back to News page
---