World Street Race contenders leave the UK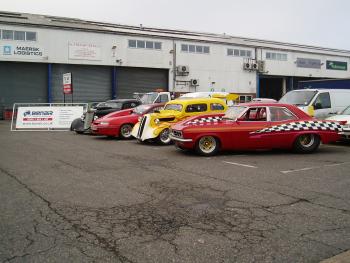 Photo Gallery

After a year's planning, the four UK contenders in the World Street Race, which takes place at No Problem Raceway in Belle Rose, Louisiana, in March 2005, were put into their containers on 7th February. Andy Frost, Ian Hook, Steve Pateman and Jeff Meads took their cars to Colnbrook premises of Benair Freight Forwarding, who had given the UK contingent a good deal on transport and who are also a sponsor of the WSR. Eurodragster went along to watch the loading process and to talk to the racers.

Benair had supplied two containers for the trip, each large enough to house two cars plus all of their tools and support equipment. The tools and equipment - it was amazing just how much was needed - were firstly packed into the far end of each container with the expert assistance of the Benair staff, and then each car was rolled in and chocked before being lashed down to eyes inside the container.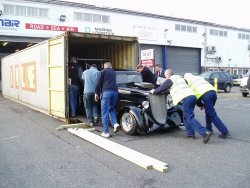 The first car into its container was Ian Hook's FB Racing '34 Ford Coupe, which has had an engine transplant as well as other work.

"I've got a new 545 Ford engine with steel crank, TFS heads, aluminium rods, custom pistons, and two fogger systems", said Fatty. "It made 830 brake on Kenny Coleman's dyno at EDA. The cage now meets SFI spec, and the doors and back half have been resprayed. The car has radials on it right now but we're also taking Mickey Thompsons with us and he have two sets of rear fenders. Other than that it's the same as it was at the end of last season!"

The FBs had to put in a lot of hard work to be ready in time, not least in the last week. "I was bed-ridden with 'flu last week, what a disaster!", said Fatty. "But the team were all downstairs working on the car, even Whale who broke his arm sledging used his good arm waxing and polishing. It was a lot of work but in the end we finished it with two hours to spare!"

Fatty said that it had only sunk in the night before that the trip was really going to happen. "I've never even been to the USA before and now I've got a once-in-a-lifetime chance to race in the USA", he said. "That's why I was prepared to work so hard. Running for the UK means a lot to me and I will be proud to carry the flag. It will be great to drive the car on the street over there, we will have an escort from the local Sheriff's Department. If we can kick their butts on the track it will be even better! I think the whole event will put British street racing firmly on the map. And it's going to be so much fun!"

Fatty has had a lot of support from his own sponsors as well as those who are backing the World Street Race. "Thanks to A and E Fire Equipment who have paid for my plane ticket, Messier-Dowty and Hot Rod Tees who helped the Fighting Fund, and to the FB Associates for their contributions", he said.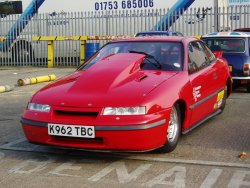 Steve Pateman, whose Calibra was next into the container, had to sit out a sizeable part of 2004 after suffering engine damage. "I've repaired the engine and put an extension on my house!", he said. "It's got a new liner and new pistons and I repaired the damaged head. It's all up and running, it's back as it was, and should run as it did previously."

Steve said that in one way it was nice to have a break last year. "I would have been racing for six and a half years non-stop", he said. "This morning was the first time the car has been out of the garage since last year!"

Steve sees the trip to the USA as a challenge. "We have been used to racing here for so long", he said. "It should be especially good towards the end of the day when the track and air cool down". I asked Steve if he would race in the UK when he gets back. "We'll see how we get on in the USA before we make that decision", he said.

Steve asked us to thank his sponsors Hauser Race Cars, Nitrous Solutions, TSR Racing, Pace Radiators, Dave Eady's American Parts Center and John Woolfe Racing.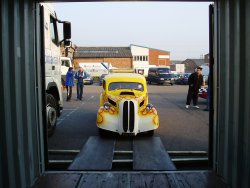 The first car into the second container was the Ford Pop of Jeff Meads, who is also returning to the track after some time out. "I came in late, so I've had nowhere near as much time as the others to get everything ready", said Jeff. "I made some changes to the car, but I ended up sitting out last season because some parts didn't arrive in time and it wasn't worth coming out to race. We've got a new nitrous cam, new nitrous system and a new fuel system. I re-did the shocks and the steering, and I've also moved the oil cooler out of the way of the radiator which will help with the Cruise."

Jeff said that he would like to do well in the USA, but that he is also looking to have fun. "I've got the smallest engine of the lot, but the old girl can run with the best of them and she goes straight", he said. "Pateman's going to have his arse kicked in the States, though!". "Jeff's looking forward to going out in the first round!", countered Steve.

Paul Webster and Paul Root have given Jeff a lot of help to get the car ready. "We had to put a Funny Car roll cage in the car and Paul Webster was in my garage until 1:00 in the morning every night doing that", said Jeff. "Thanks also to Gordon Stimpson who brought the car down, and of course to my wife Ruth."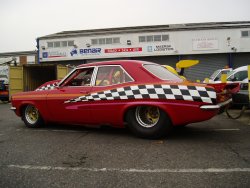 As organiser of the event, Andy Frost has a lot more on his shoulders than just the worry of shipping his own race car. I spoke to him last as he was very busy all afternoon not just with his car but keeping an eye on his colleagues' progress and liaising with Benair's UK Oceanfreight Manager Keith Matson. Andy was visibly nervous as the containers were lifted onto their trailers, but I started out by asking him what he had done to the Red Victor over the winter.

"The car has a new 600 ci block, a new crank, ally heads and a new inlet manifold", said Andy. "Everything else has been freshened including the trans and the axle, and there is a new scoop on the front. Martin Curbishley has freshened the paintjob". Had Andy taken the car out for a drive, as is his wont? "I have started the car in the workshop, but I didn't have time to take it out on the road", he said. "But I have no doubts about its driveability."

Andy said that the World Street Race will be a fantastic experience. "It's the chance of a lifetime to race in the USA", he said. "I am really looking forward to it. Hopefully it will be worth the year's work!"

The day's work done, Andy said that he had a feeling of nervous anticipation. "When the container started to lift, I thought what have we done?", he said. "I suppose if it goes wrong then I'll get the blame!"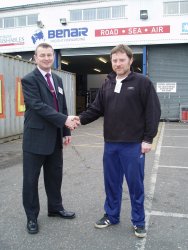 Benair's UK Oceanfreight Manager Keith Matson explained how the company became involved. "Andy was looking for quotes to transport the race cars over to the USA", said Keith. "I went to see Andy and gave him a quote which he accepted - it was half the price of those he had previously been given. We have also given the World Street Race some sponsorship."

Benair will be shipping the cars out, handling customs clearance, and transporting them to the track in Louisiana. "We will do the same in reverse after the race", said Keith. "The containers will be leaving Thamesport on 12th February and will arrive in New Orleans on 2nd March."

Keith told us a little about the company. "Benair has been operating for thirty four years", he said. "We are a multi-modal freight forwarder with three UK offices, able to transport freight worldwide by air, sea and road. We have experience of transporting cars to various destinations - one customer is Prodrive, for example. But this is the first time that we have transported cars like these!"

"Keith has been no end of help since I first met him", said Andy Frost. "He gave us a great deal and we are all very grateul to him and to Benair for their support."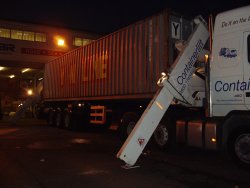 With cars and supplies loaded, the containers were closed and then formally sealed with a small bolt which will require a boltcutter to remove. It was getting dark by the time that the two containers were settles onto their trailers for the trip to Thames Port on the Isle of Grain, from where they will depart for New Orleans. All four racers looked very thoughtful as the containers were in mid-air, likely realising what was at stake, and all said that it was finally sinking in that the World Street Race was really happening.

As Andy Frost said, it has taken a year's hard work to get to this point, but some of the biggest obstacles have now been overcome. The rest of the job, including showing the gentlemen of the US and Canadian teams the way home at No Problem Raceway, will hopefully be a lot easier.

We took a large number of other pictures at Benair, which you can view by clicking here.

The World Street Race takes place at No Problem Raceway in Belle Rose, Louisiana, on 12th-13th March. You can read all about it on the official WSR web site at www.worldstreetrace.tk.

For their help with this feature we must thank Andy Frost for the invitation, Keith Matson of Benair for assistance and hospitality, Darren 'Leadfoot' Hussey, Ian Hook, Steve Pateman, Jeff Meads, the racers' crew, and the staff of Benair.

Benair Freight Forwarding web site


Feature ©Eurodragster.com


---
Features index
Back to News page
---
Eurodragster.com aims to bring you links to all the best European Drag Racing web sites. To add your site to Eurodragster's listings, simply email links@eurodragster.com with your URL and a little information about your site and we'll do the rest. When you update your site, drop us a line at news@eurodragster.com and we'll feature your site in our "What's New" section.
Eurodragster.com is a non-profit-making organisation run by a small group of Drag Racing enthusiasts for the sole purpose of promoting European Drag Racing. If you can help us to meet the modest cost of hosting this web site by advertising here, please email webmaster@eurodragster.com. We're sure you'll find our rates extremely competitive.