Yenko Nova Drag Racing Team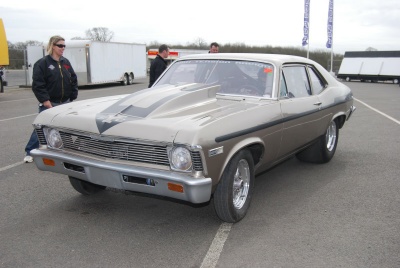 One of many new names on the entry lists at the start of the 2010 UK National Drag Racing Championship season was that of Amanda Cox. No stranger to the track, Amanda has driven at Run What You Brungs and also crewed on a Pro ET team but has now decided to enter competition. Eurodragster.com caught up with Amanda in the week leading up to the 2010 Auto Trader Easter Thunderball to ask about her racing history, about her plans for this season, and about her beautiful Nova.
Click on any picture for large version
Eurodragster.com: What is your racing experience up to this point?
Amanda Cox: I bought my first American car nearly six years ago. I started off just driving around the roads with it until I met Phil Caswell (Hightension) who encouraged me to do a Run What You Brung with him and the Hightension Club. I expect the same happened to me as it does with all racers, one pass and I was hooked and after consistent high fifteens I wanted more speed. A bigger engine was bought and I dropped my times to thirteens. After a very kind man wrote off my '68 Javelin for me just before the season started last year, I bought this '68 Chevy Nova.
My best time so far is 10.55, and I am happy with that...for now!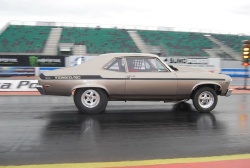 Eurodragster.com: What made you decide to race?
Amanda Cox: Severe bullying from fellow racers! If I am completely honest it never crossed my mind until last year when I crewed for Phil Toppin. I'd only ever done RWYBs and the big boy racers. as I call them, were in my eyes the hard core racers. They had years of experience and a lifetime of mechanical experience. I had five years of RWYB experience and a very select and confused knowledge of mechanics! So when someone said to me that the times I was now running I was now eligible to go into competition, apart from falling over I sat back and thought "Really?". So after a long hard think about it during the winter months, and a lot of grovelling to my partner Mick who looks after my engine, I decided to go for it! Why not?
Eurodragster.com: Where did you get the Nova from?
Amanda Cox: Ahh, a very talented woman in my eyes: Vicky Higham, part of Coco Connection. The Nova was her baby but I think she was ready to change direction so she agreed to sell it to me. Vicky crewed for me on my first outing and she gave me all the confidence I needed and encouraged me to do my first transbrake launch. If I'm allowed to say it she said "It's better than sex!"...and, well, she was pretty damn right even though it wasn't the best first launch for me! Big respect for Vicky and the Coco Connection team, they had their hands full teaching me.
Eurodragster.com: What have you got under the hood of the Nova?
Amanda Cox: It's a 468 ci Big Block Chevy which makes 1050 bhp with the nitrous. Vicky ran a 9.8 and I've run a 10.55. If the nitrous was used it would be capable of high eights but I've no intention of using it this year.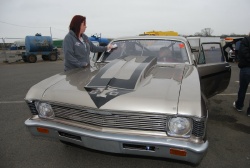 Eurodragster.com: Introduce us to your crew.
Amanda Cox: My crew is three women. Jem Harrison - Crew Chief, Jo Adams - crew, and Georgie Smith - crew. Whilst we are predominantly an all-girl crew my partner Mick will be in the background helping me out with any mechanical issues which may arise.
Eurodragster.com: Have you any sponsors?
Amanda Cox: Sickboyz Customs who build custom bikes, and Topspeed Automotive who also currently sponsor Street Eliminator. Bill Macdermid has been a great help to us supplying all the parts needed for our cars.
Eurodragster.com: Easter is your first competitive event, what are your racing plans this year?
Amanda Cox: Being a rookie, I'm playing the season by ear. I'd love to do all the meetings but it's all down to the car and the team and I feel we are progressing.
Eurodragster.com: Why "Yenkonova"?
Amanda Cox: After buying the Nova Mick decided we needed to change it slightly, but as the colour was so nice what to do? He's a lover of Yenkos so the Yenko stripes came into it. The commentator at the Mopar EuroNats at Santa Pod last year called it the "Yenkonova" and the name stuck.
Eurodragster.com: Anyone else you would like to thank?
Amanda Cox: Bill Macdermid at Topspeed Automotive for his time and patience; Patrick Macgahon of PJM Photographic for his photographic expertise; Paul of Paul's Place for his expert engine knowledge; and Wade Poulson of Sickboyz Customs for the kind donation of fuel money for the season. My crew, without whom I would not be able to race this year, and finally my partner Mick who has worked many hours and who will work even more helping me prepare for this season.
We are all very excited about Easter and I've already met a lot of the Pro ET racers. They are a very nice bunch of people I wish them all good luck for the season.
Eurodragster.com: We are sure that they would wish you good luck as well, and we'll add our own best wishes to that. Thank you for your time Amanda and we'll see you at Santa Pod at Easter.


Text and photographs are ©Eurodragster.com and must not be taken, copied or used in any way without written permission. Unauthorised use may result in legal action. To enquire about purchasing photographs please see the Eurodragster.com FAQ or E-Mail photography@eurodragster.com.


---
Yenko Nova Drag Racing Team web site
Features and Interviews index
Back to News page
---