Teboul for Euro Finals.
31st August: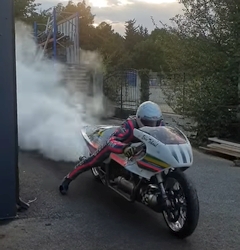 After seeing pictures of rocket bike racer Eric Teboul on social media testing a new engine on his rocket bike, we waited with bated breath for an announcement from Santa Pod Raceway and are delighted to see that Eric will indeed be attending the Euro Finals Shootout to ride his bike.

Eric commented "The first test was with low pressure and less peroxide density. The temperature was correct, so it looks ok for more pressure and stronger fuel". It was cool to see that Eric was able to run his test in his yard". In September 2020 he wrote "During the covid period I have started to make modifications on the catalyser to make a new world record in 2021. I started with the rocket bike in 2001 so in 2021 I will have been riding it for 20 years. After the 2021 season I will stop competing with my rocket bike and spend time to assist David Pertué to come back with his rocket car". So this could be the last opportunity to see Eric go up the track at Santa Pod Raceway, although Il ne faut jamais dire jamais (never say never).

Eric will be making three passes, timetabled for 18:30 on Friday 10th September, 15:00 on Saturday 11th and 13:00 on Sunday 12th. Other exhibition vehicles lined up for the event are Martin Hill in the FireForce 3 Jet Funny Car, FireForce 5 Jet Dragster and Roger Goring in Firestorm Jet FC who will be running alongside FireForce 3 and FireForce 5 during the event. A full timetable can be seen at this link.

Lindahls winners at Malmö.
31st August: Mikael Lindahl won the Pro Xtreme class (known also as Top Doorslammer) in the Winter Nats at the eighth mile Malmö Raceway on Sunday. Friday was rain affected but qualifying was able to take place between showers. On Saturday the weather worsened and all on-track activities were cancelled, however conditions improved on Sunday to allow eliminations to be run to their conclusion. Qualifying in Pro Xtreme was as follows:
Rimbert Vahlström (supercharged '53 Corvette) 4.0786/299.50 kph
Mike Reymond (nitrous '07 Mustang) 4.4996/220.45
Roger Johansson (nitrous Mustang) 4.6767/214.03
Mats Stefansson (Mustang) 5.3326/145.04
Mikael Lindahl (supercharged '09 Mustang) 5.7448/139.35
Hans Falkenberg (turbo Firebird) 7.0151/105.48
In round one, Rimbert Wahlström was a no show against Hans Falkenberg (pictured right) who ran 7.015/115kph; Mikael Lindahl (pictured left) defeated Mike Reymond 4.240/278.80 to 4.749/190.50; and Roger Johansson went through to the semi finals with a 6.664/109.1 when Mats Stefansson didn't show.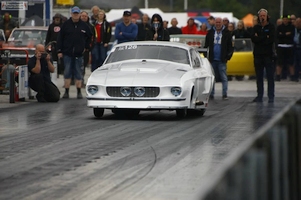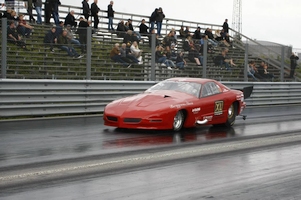 Semi finals were Hans Falkenberg with a bye of 4.321/258.2 and Mikael Lindahl defeated Roger Johansson 4.274/270.7 to 5.721/135.60. The final was another consistent run by Mikael 4.278/272 to take the winner's trophy against Hans Falkenberg's 11.231/71.80.

In other classes, Pro Street was won by Sven Holst with a 4.948/214.1 run, after Mats Jeppe had qualified #1. The largest fields were in Junior Dragster won by Felicia Rudnert and Street 5.5 which Martin Hagström won. Full results can be seen at this link by clicking on Winter Nats 2021.

A couple of racers were testing, Jens Zimmerman from Germany has a new 69 Camaro doorslammer and he ran a 4.6582/225.21, also Rene van den Berg took his Fuel Bike to Malmo for testing prior to the Mosten Race n' Rock (replacing RaceDay) this weekend.

Facebook Photo albums from the event can be seen at Jonas Ek's Cruzing.Just.Nu Facebook page.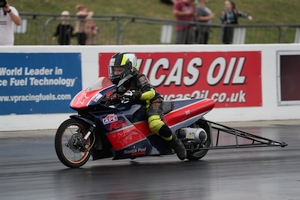 The generation game.
31st August: One of the moments of the season was the joy of seeing third generation drag racer Samuel Hope win Junior Drag Bike in his race debut at the Greenlight Nationals. Knowing that dad Alex and grandad Chris have both been winners in Pro Stock Bike, we were prompted by Lynn Hope to research whether this is the first time in British Drag Racing history that all three generations have been event winners.

After some head scratching by statistical guru Andy Marrs, former Eurodragster.com editor Tog and pub quiz contestant extraordinaire and Stock / Super Stock racer Spencer Tramm, we are in a position to state that, unless anyone can prove otherwise, we think that the Hope family are the first to have three generations of event winners.

We should state in fairness that the three generations of Pete, Allan and Louis Davies are all deeply involved in the motorcycle side of the sport, although Pete as an award winning engineer restricted his racing activities to grass tracks, and three generations of the Coulsell and Fulton families have competed in the car classes although we could not find records of the eldest generation winning an event. We look forward to correspondence...

VP Racing Fuels named official fuel of Doorslammers.
30th August:

VP Racing Fuels, Inc., sponsor of Eurodragster.com and regarded worldwide as the leader in racing and performance fuel products, has been named the Official Fuel of Doorslammers, happening on 3rd-5th September at Santa Pod Raceway in the UK.

"With a successful partnership already in place at Santa Pod, we felt that Doorslammers was a perfect opportunity to showcase our relationship and support of drag racing in the U.K.," said Tom Davis, VP's U.K. & European Business Development Manager. "With the raceway's history and an outstanding reputation for racing, we're delighted to being closely involved as headline sponsor."

The Official Fuel arrangement will result in VP's wide array of products being available to pre-order in time for the large amount of testing and race day events held. Race teams can pre-order at santapodshop.com/vp. VP fuels will also be available at the Raceway on the day of the event.

"We are delighted that VP is partnered with us for Doorslammers," added Caroline Holden Santa Pod's Commercial Manager, "and together, we will be able to offer a first-class race fuel solution to all of our competitors and visitors."

In addition to a prize fund of £40,000, Santa Pod will be running several competitions for tickets, VP goody bags, and some autographs from VP-supported drag racers over from the US. The Raceway will also be featuring a range of special show offers on VP Motorsports Containers®, Madditives® fuel additives, and other consumer products over the weekend.

For more information about VP and its products for racers, enthusiasts, and general consumers, visit vpracingfuels.com.

Firestorm's new PB at Ford Show.
30th August: Santa Pod Raceway held its Ford Show yesterday. Attended by 18 Ford clubs from around the country, the Ford Show coupled a car display and swap meet with on track run what ya brung and drag demonstrations. You can see a gallery of photos from the event taken by Kieran by going to this link or going via the Event Coverage list in the menu on any Eurodragster.com page.

The highlight of the drag demonstrations was the Firestorm Mustang Jet Funny Car of Roger Goring which recorded a new PB ET for runs at Santa Pod Raceway of 5.9862 coupled with a speed of 265.11 (Firestorm recorded a 5.92/245 at Shakespeare County in September 2016 - editor). Roger had previously run a five on 5th September 2020 (5.9919/263.69) and yesterday's pass was quicker with a 60ft time of 1.1038 and eighth mile incrementals of 4.1040/198.71. Roger's quickest recorded speed was 266.83 on 27th June. Crew Chief Helen Rusling commented "A fab day, met some great people, now drag racing fans, and put in a good strong run - all very happy. Roll on the The Euro Finals in two weeks!"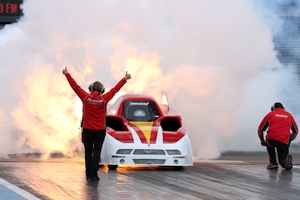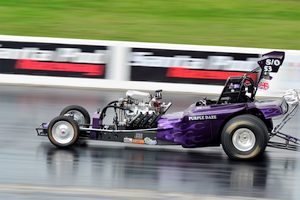 Other drag demonstrations included Gary Parkes' Model T altered from the Supercharged Outlaws, which ran a strong 7.8122/175.69. Darren Peart's Cortina Mk3 was making test runs prior to competing in the Pro Doorslammer class in The Doorslammers next weekend and achieved a new PB of 7.8709/169.80 using nitrous in his 489ci engine. Darren said "We have been struggling with tyre shake for a few events now and this event was no different, but after a few small adjustments and with the track glued, we finally had a run with no tyre shake and a massive wheelstand. We are finally happy enough with the chassis setup we can start to gradually bring in more power!"

Two members of the Taz Racing stable were running solidly in the nines, Brian Nixon's 105e naturally aspirated big block Anglia back in the eights with 8.9922/148.58 and Lee Denham's 400ci nitrous Capri running 9.4405/146.72. There were three members of the Modified 100e group which we hope to see in force at the Hot Rod Drags, co-ordinator Scott Collin running a new PB of 10.1987/132.07 after a loose radiator hose caused the car to spin on track on Saturday, and Stuart Flitton on 10.4771/130.16, close to his PB of 10.30. The third 100e of Paul Lorne unfortunately suffered engine breakage with a bent pushrod and chunks of aluminium ending up in the sump. Also scoring a PB was the imaginatively signwritten FWD Escort Van of Terry Newton who ran 10.0228/150.13, his first 150mph and surely with a nine on the cards for Doorslammers.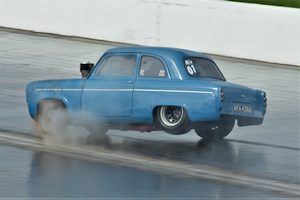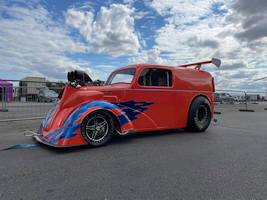 The Orange Pop team of Simon Barlow was in attendance and although no headline numbers were run, the guys and gals were in testing mode with new parts. Crew Chief Karl Harrison said "It moved two feet then spun the tyres as the wheelie bar was too low and the engine made a sh*t load of horsepower; all ok though and all the bits are working as they should. We had more ups and downs, but more progress made and lots learnt; we know now we have way more power with the new engine/blower/CDI ignition system and fuel system than we had before". As the previous best was 7.08/192 we think we know where that is heading...

Photo credits: Roger Goring by Kieran, Gary Parkes and Scott Collin by Sarah White, Simon Barlow by Jason Yates.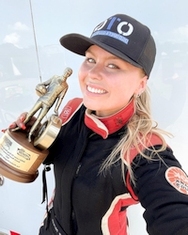 Julie's Bowling Green win.
30th August: Congratulations to expat Norwegian NHRA Top Alcohol Dragster racer Julie Nataas for a win at the NHRA Lucas Oil Drag Racing Series, North Central Division, Battle at the Beech yesterday.

In a field of six, Julie started with a disadvantage qualifying in bottom place with a 26.040/22.48 run. In round one she met Rich McPhillips Jr. and scored an identical ET to Rich, 5.259 with 276.92 speed, Julie's 0.064 RT making the difference. In the semi final, Julie's 5.313/275.06 defeated Mick Steele's 5.512/259.11 and in the final, Julie had a holeshot win over Jasmine Salinas, a 5.294/272.01 coupled with a 0.053 light defeating Jasmine's 5.283/278.06 with a 0.077 RT.

You can see onboard footage of Julie's round one win at this link. The win consolidates Julie's lead in the North Central Region TAD points standings, and she is currently fourth in the national points out of 55 racers.

Swift snippets.
30th August: Can you help Netherlands Pro Mod racer Marck Harteveld get back on track? He says "I'm looking for a Lenco CS1 part, a gear set 1:28 fine spline". If you have some for sale or you know somebody who has one they want to sell, contact Marck at VooDoo Hemi racing, on 0031 6534 00718 or at his e-mail address.

We've several birthdays to celebrate today. Happy Birthday to Top Methanol racer, British Drag Racing Hall of Fame member and team owner Krister Johansson, drag racing artist Paul Whitehouse who reaches 60 today, also to Finnish Pro Modified and Top Doorslammer racer Tero Laukkanen, race car builder and former nitro slingshot racer Johnny Hall, and last but not least former Pro ET racer Heide Stanley. Have a great day all.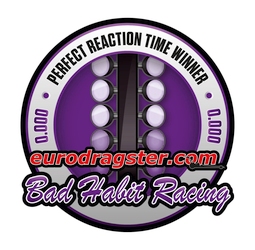 Further prize for Perfect Light Award winners.
28th August: Tig and Cath Napier of Pro ET racing team Bad Habit Racing have been generous supporters of the sport for many years and sponsors of the Eurodragster.com/Bad Habit Racing Perfect Light Award since 2013.

So keen are the Napiers to raise awareness of the award winners that they have generously come up with a special decal which will be handed out in future to any racer winning by scoring the first 0.000 RT at championship events where the award is given. The decal, designed by Eurodragster.com sponsor Peter Walters Race Designs to whom Cath and Tig give grateful thanks, will also be given out to past award winners, who Cath has been diligently listing.

Cath says "I'll be giving them out at the Euros and National Finals to everyone who has won the PL since we started sponsoring it in 2013 and Simon has kindly agreed to hand them out to future winners". We thank Cath and Tig for their kind contribution and, make no mistake, they will be sought out as a sign that the racer carrying one can cut killer lights. A pdf list of those who have won the Perfect Light Award since Bad Habit Racing sponsored it can be downloaded from this link.

As with all Eurodragster.com awards, display of these decals on your race vehicle is not mandatory but would be appreciated.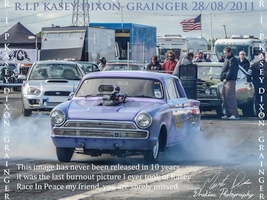 Kasey remembered.
28th August: Many thanks to Martin Drake of Drakie's Photography who has sent a photo never before published and tribute to Kasey Dixon-Grainger who we lost ten years ago today:

"Today is 10 years that Kasey Dixon-Grainger lost his life in a top end accident at York Raceway, I have only just released my last burnout shot I took of him on that last run; it's been sitting on my hard drive all that time as I didn't feel I could let it out to the world yet.

"He was one of the greatest men alive, a great man to his family, loved by everyone, he was always around whenever you needed anything if you broke at the track, just an all round fantastic human being.

"On his last run he would get his best time, a 10.1 second pass, and was billed to be the best racer with so much potential, sadly that run on 28th August 2011 would be his last one, grieved by his Mum & Dad Tanya and Paul, and his brother Scott Dixon-Grainger and his many friends and associates in the UK racing family".

JT repairs.
28th August: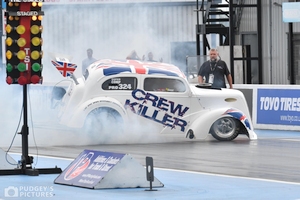 Thanks to regular contributor Pro Modified and burnout-across-the-line Pro ET racer John Tebenham for another update on his activities in the lead up to The Doorslammers 3rd-5th September:

We have managed to get another half shaft, as that's why the burnout went wrong in the Crew Killer. Paul Marston has diff spares, so we will be back out at The Doorslammers. Also, thanks to Luke Robinson and my new crew chief Ricky Packham, we are ready with my mad Pro Mod, come on, 191 mph in 3.91 seconds.

We have had a massive change around of crew as less is more, so less crew but I am determined to win something with two cars at two meetings. At least somebody put a burnout trophy up, as I can assure you I will win that. This could be the best two weekends of my life (or maybe the bloody worst).

Come and buy a poster off us which Callum Pudge took, £2.50 or £5.00 and sit in the Crew Killer.

Ford Show preview.
27th August: The Ford Show takes place this Sunday, 29th August at Santa Pod Raceway. Fords of all ages and from both the US and UK will be seen at the event, either on track or in the Show & Shine.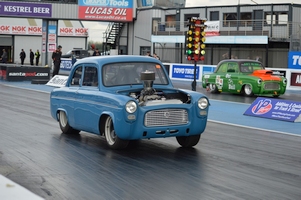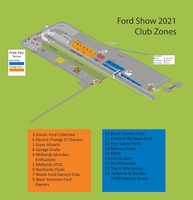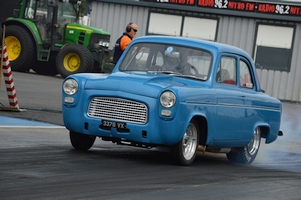 Santa Pod will be running an invitational sub 12 second class which will include Scott Collin, Paul Lorne and Stuart Flitton in their Modified 100e cars and others. For those who want to go in the Ford-only Run What You Brung, you can make unlimited runs for £35 by going to this link. RWYB entrants will need to buy an admission ticket online as well as a RWYB ticket.

Off track, there will be areas for clubs to display and you can see the list of the 18 clubs that have registered, and where they will be displaying, by clicking on the image. If you wish to take part in the Show & Shine, you just book a ticket online at this link when you arrive, park in the Show & Shine area after 8am and fill in the form. Spectators should book in advance at the same link.

We will be attending as Kieran will be taking photos and video for his Mk1Kieran Youtube channel.

Pictured Scott Collin (left) alongside Paul Lorne, and Stuart Flitton (right).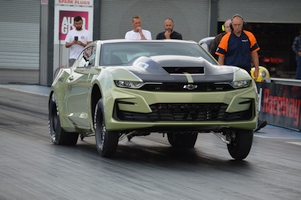 Williams Bros Speed Shop to sponsor Doorslammers Big Bracket.
27th August: Santa Pod are delighted to announce that the Williams Bros Speed Shop are back to sponsor the Big Bracket Class at the forthcoming VP Racing Fuels Doorslammers event on 3rd-5th September. Said Nic Williams of the OCS Group "This is the perfect event for us to showcase our products and services so it makes perfect sense for Williams's Bro's Speed Shop (part of the OCS Group) to be the title sponsor of the Big Bracket, especially as so many of our customers that have used our mechanical, paint or engine (WBR Race Engines) services will be competing in the class.

Our Northamptonshire based premises offers a one stop facility for all of your needs from minor paint repairs to full bare metal restorations with OCS Paint, then next door Williams Bros Speed Shop offers everything from routine American car servicing and parts to full builds, specialising in hot rods and NHRA stock legal race cars.

We will be fielding at least three cars under the Williams Bros Racing banner ourselves and look forward to pairing up with cars from other classes that we do not normally race against. The whole Williams Bros racing team will be on hand to answer any questions you may have, we look forward to seeing you there. Check out our facilities online at - www.williamsbrosspeedshop.co.uk, www.ocspaint.com, and www.wbrraceengines.co.uk.

EDRS update.
27th August: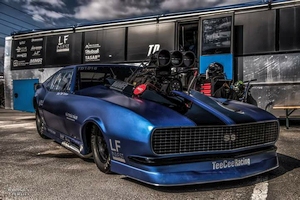 The Mid Sweden Nationals Finals will be taking place this weekend at Sundsvall Raceway, Sweden, the event having been shortened by one day to Saturday and Sunday 28th-29th August only. It's the final EDRS race in Sweden this year.

Spectator numbers are restricted to 600 per day including children (these Swedish restrictions will only provisionally be lifted in September), and the race entry is down from what it would have been. However all sportsman classes are represented with a sprinkling of quicker machines on-site. You can see the entry list at this link and results will be published at this link (click on Mid Sweden Nationals).

The current points positions for the Summit European Drag Racing Series run by Speedgroup can be seen at this link. The final two rounds of the championship will be at Kauhava in Finland on 11th-12th September and Gardermoen, Norway on 10th-12th September. These will be preceded by Super Comp Bike and Super Gas Bike running at Mosten, Denmark on 3rd-4th September and Super Gas Bike, Super Comp, Super Gas, Super Street Junior Dragster and Pro ET racing at Haapsalu, Estonia on 4th-5th September.

Pictured: Top Doorslammer racer Stefan Carlsson, who will be making demo runs at the Mid Sweden Nationals Finals.

Malmö Winter Nats this weekend.
27th August: The Malmö Winter Nats will be taking place from today to Sunday at the eigth mile Malmö Raceway. Details and the entry list are at this link, and you can catch up with results at this link (select Malmo Winter Nats).

The race will be highlighted by eight Pro X-Treme cars (aka Top Doorslammer), and although there is no live stream of this event, we will bring results early next week.

Swift snippets.
27th August: We have a birthday on the team today, Many Happy Returns to photographer Julian, have a great day from Diana, Kirstie, Kieran and Simon.

Mustang Owners Club GB private track day.
26th August: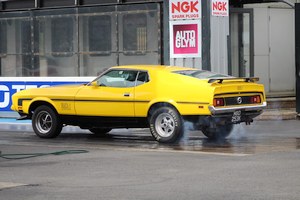 On Friday 13th August the Mustang Owners Club of GB held a private track day at Santa Pod Raceway. Starting on Thursday evening, members stayed at The Sharnbrook Hotel & VesuviO Restaurant ready for the club's exclusive track day at Santa Pod.

On Friday, over 110 cars including many generations of Mustang, Dodge Challengers, Hellcats, Chevrolet Camaro and Trucks attended the MOCGB Race Day, many members taking to the track, some spectating and soaking in the atmosphere. During the evening around 40 members went back to the hotel for a Pizza and Pasta Buffett. Over 800 runs were made over the course of the day and as well as Sharnbrook Hotel, Mustang Maniac Ltd and A-Plan Insurance supported the event.

Our regular photographic correspondent The Mad Welshman attended the event and have uploaded two large albums from the track day to their Flickr account which you can see by going to this link. Mad says "We were lucky enough to get some trackside shots and there were also some additional non-Mustang guests on track too."

The MOCGB was founded in 1979 to help ensure the preservation and enjoyment of the Ford Mustang. It welcomes owners and enthusiasts of all models, years and styles of Mustang. A full membership of £25.00 per annum provides a printed copy of the magazine together with being able to access the magazine online, or there is a digital subscription offer available for £15.00 per annum.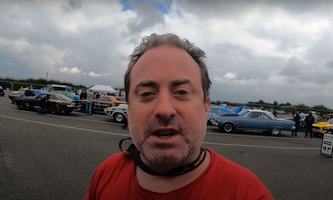 Hippo-Drones at SPR.
26th August: Santa Pod Raceway was the subject for Youtube vlogger (not social media influencer - editor) Peter O'Connor who runs the Hippo-Drones Youtube channel who visited the track last Sunday for the Greenlight Nationals. Peter writes:

"I was very kindly invited up to Santa Pod Raceway to see what it was all about by a friend and subscriber, Dave Grundy. I have never been before and had no idea what to expect as the racing is so very different than the circuit racing I am more familiar with.

Dave Grundy is racing in the Greenlight Nationals in the ET Bike class on his lovely Triumph Street Triple 765, and when I arrived he introduced me to Jon Crawford who is racing in the VWDRC Sportsman class, and is the current champion. Jon then introduced me to many of the other 4 wheeled racers in the paddock and Dave also introduced me to many of the two wheeled competitors. Every single person I met up at Santa Pod was incredible, so very friendly and welcoming. It truly was a pleasure to meet and chat and hang out with every single one.

"I thought drag racing was going to be so different, but the reality is that it is one big family. My eyes have been opened, just need to book myself on a RWYB (Run What You Brung)".

Peter's video gets off with a bang with the Top Fuel engine explosion of Mona from Sweden in the first few minutes, however the interviews, interspersed with the runs of the interviewees, are the main element of the production. These are conducted in a friendly and concise way with great camerawork. All-in-all, the video provides a brilliant insight to racers as individuals and personalities, something that is missing from many other video productions that focus solely on the track. We hope that Peter will be able to return to the track in the near future to report on more SPR races.

Crew required for Comp Eliminator AMX.
26th August: Former Outlaw Flat Four racer David Swift whose last (and rather fiery) ride was the John Maher tube chassised Beetle, has made a change of direction and bought this AMC AMX in which he will be competing in the OCS Group Big Bracket at The Doorslammers 3rd-5th September and in Track WorX Comp Eliminator at the following week's European Finals 10th-12th September.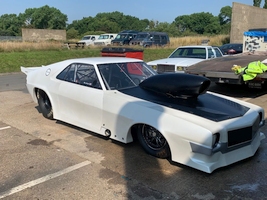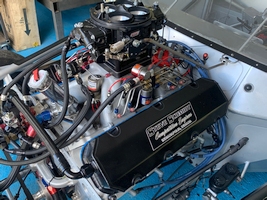 Dave says "The car was built by Autofab Race Cars with a new 632ci Steve Schmidt engine with 3 stages of gas and an Abruzzi Powerglide gearbox. It's going to be a steep learning curve from the Beetle. I am looking for an experienced crew member to assist with general race prep/maintenance whist at the European Finals and future events at Santa Pod. If you're interested, call me on 07595 366306 or e-mail on this address. You can also see Dave's request in our Jeff Bull Race Engines-sponsored Swap Meet and if you have similar needs for crew, do let us know at mailto:editor@eurodragster.com.

Top Doorslammer at Motopark.
26th August: Yesterday we reviewed the Fueltech Nitrobike Shootout at Motopark Raceway, Finland at the weekend, and also noted from the entry list and results there was a good field of Finnish Top Doorslammers. Although eliminations were rained off, some good times were run during the two qualifying sessions. Here are the qualifying results from the event: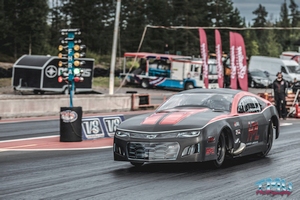 Tero Laukkanen (turbo 2016 Camaro) 4.072/300.08
Hannu Flink (nitrous Willys Coupe) 4.169/288.56
Lasse Niskavaara (supercharged 2009 Chevrolet Cobalt) 4.202/282.56
Jari Sokura (supercharged 1957 Chevrolet Belair) 4.583/277.43
Marko Leivo (supercharged 1967 Chevrolet Camaro) 4.677/233.84
Ville Haga (turbo 1969 Chevrolet Camaro SS)4.737/259.07
Mikko Siironen (supercharged 1971 Plymouth Barracuda) 4.764/266.02
Jaakko Lauhasmaa (supercharged 1971 Plymouth Barracuda) 5.082/240.78
Henri Hälikkä (supercharged 1970 Plymouth Duster) 6.473/119.97
Jarmo Nyberg (supercharged 1969 Dodge Dart)7.861/84.17
In the FHRA Top Doorslammer points, Tero Laukkanen leads from Hannu Flink by two points with Lasse Niskavaara and Jari Sokura only three more points further back, and Mikko Siironen and Jaakko Lauhasmaa four and six points behind them. Both events in 2021 only had qualifying points awarded, so the 11th-12th September race at Kauhava should be highly competitive.

You can see the cars and other vehicles from the event in action, with fantastic on-board shots, at Teemu Multisilta's Youtube channel at this link and other media links are in yesterday's report on the Nitrobike Shootout. Tero Laukkanen photo © Teemu Multisita

Doorslammers entry deadline this Friday.
25th August: We remind racers that entries for the Doorslammers to be held on 3rd-5th September are due to close this Friday 27th August. The link to go to for Doorslammers racer entry is racers.santapodtickets.com, and you can see the current entry list at this link.

Colin's Outlaw Anglia update.
25th August: Many thanks to Renegade Outlaw Anglia co-ordinator Colin Millar for bringing us up to date about his racing operation and plans for the class at their next event, the NSRA Hot Rod Drags on 17th-19th September.

After attending a family wedding which also clashed with Dragstalgia and caused me to drop down the ladder by 1000 points (I'm not bitter, honest, well maybe a weee bit!), I was more than ready, in fact I would compare myself to a coiled spring looking forward to the Greenlight Nationals.

We intended to leave on Friday morning and as the event drew near, it changed to midnight and by the time we had left it was 5.30 on Thursday afternoon. We had a great run down and even stopped for dinner just over the border; the journey was so smooth that we rocked up at Santa Pod at 3 o'clock in the morning.

Even using my sweet nature we never even had a minute chance of getting into the pit, so off to the parking field I said to Lynn (I could see she may have been a tad upset by now). The new rig is fantastic but to sleep in it, the car needs to go outside; I said it's ok, its only a few hours. The fact we have that much gear in the Discovery means the seats don't go back and sitting up for four hours didn't seem to agree with my Lynn after flies, daddy long legs and various other beasties had come in as I left the light on and opened the door. Obviously, and way too often, the strain of the coiled spring was showing signs.

Entry to the event was had at 07.45 and after pitting and a weeee sleep we were back on track.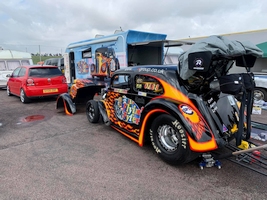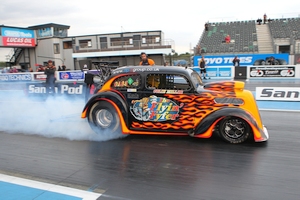 A very wet affair was experienced by all, but eventually we managed only one qualifier and it was the race of our lives, creating history by running the fastest ever speed and ET in a side by side run in Outlaw Anglia in the class's 29 year history, well chuffed for me and for Jedd. On to Sunday and again the heavens opened but we again managed the 1st round of eliminations. I had Rob Stone, Mick Tayler had Jon Webster and Ben Kennedy had Jedd Guy.

Into the semi-finals with Jedd having a bye into the final, and for the first time ever I had an elimination race with Jon Webster, to be honest both of us were really looking forward to this race, mentally ready and pumped up. However it was not to be, my Holley fuel pump shaft seal popped and leaked race fuel on to the race track. Eagle eyed Dave Warren spotted this and immediately shut me down, the first time in 11 years. Two new pumps are on order from Topspeed !

Although the weekend was slow and wet we still had an absolute ball, thanks to everyone who raced with us supported us and to all the track crew and marshals who do an incredible job.

Onwards and upwards as the Outlaw Anglia class look forward to the NSRA Hot Rod Drags with an entry field at present showing 15 cars but with my calculations this will increase beyond 30 plus cars, and everyone is ready to race and have a fantastic time. We have 1st 2nd and 3rd trophies, most consistent ET and best 1st round elimination reaction time trophies and OA Bracket class 1st and 2nd trophies, so plenty of opportunity for all involved.

As always we are looking to put on the very best show with a few more familiar faces coming back out to play but just as many new faces coming out to face the challenges of what is (in my opinion) the very best class out there.

Look forward to seeing everyone real soon, see you at the track!

Wild Bunch news update.
25th August:Claire Meaddows has updated the Wild Bunch web site with news from last weekend's Greenlight Nationals.

Claire commented: We had a small but excellent field of 5 cars participating in the event. New PBs for speed were recorded by Mark Coulsell in 'Ballbreaker' at 161.92 mph and Andy Clifford in 'Snake Eyes' at 154.21 mph (his first time over 150mph). By winning the event Mark has taken the lead in the Springbridge MSUK Challenge and the SPRC Championship for Wild Bunch

The next Wild Bunch round is at the NSRA Hot Rod Drags on 17th-19th September, with the final MSUK round at the National Finals on 25th-26th September.

A very Happy Birthday to Claire's other half 'Crazy' Chris Hartnell, have a great day from all of us at Eurodragster.com.

Fueltech Nitrobike Showdown back in Finland.
25th August: After the round at Mantorp Park in Sweden it was back to Motopark in Finland for the Fueltech Nitrobike Showdown's penultimate round of its inaugural champsionship.

With rain the main feature of the weather, cancelling the third round of qualifying and the whole of the Sunday eliminations, the results we can share are the qualifying positions after session 2:
Vesa Lipponen 6.588/238.30kph
Samu Kemppainen (Skull Racing) 6.649/335.07
Roman Sixta 6.830/326.90
Jaska Salakari 7.142/213.25
Mikko Rajaniemi (Sirpa TFB) 7.195/277.61
Lasse Leponiemi (Team ST60) 7.382/304.03
Marko Lantto (Reckless Racing) 7.742/217.47
Torsti Kettula (Gruff drag racing team) 7.772/203.96
Alternate: Harri Piensalmi 22.921/46.04
There were a couple of non-qualifiers too, Juha "Sushi" Hintukainen (near lane, below right, Veskun Kuvatukset photo) and Kalle Myllyä. Roman Sixta (far lane, below right) suffered an accident where the front end of the bike washed out after the finish line the bike going across the grass area into a tyre wall at high speed. Roman was kept in the local hospital overnight for observation and released on the following day, unhurt apart from a sprained wrist, but in shock. He's now resting at home and we send our best wishes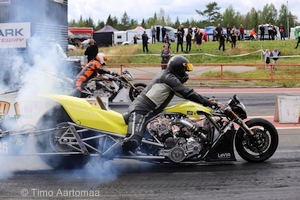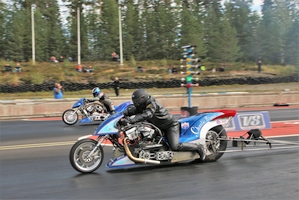 Vesa Lipponen (near lane, above left, Timo Aartomaa photo) came out of the race #1 in points with the next and final race of the season at Kauhava 11th-12th September.

You can see photos of the event at the following links: . RIP Crew Killer burnouts.
23rd August: Many thanks to Pro ET and Pro Modified racer John Tebenham for sharing his plans for The Doorslammers and European Finals and reflecting on a burnout too far, literally, at the Greenlight Nationals:

The mad Crew Killer pop did a great burnout (for video click on this link from Patrick O'Connor) this Sunday, but after a chat with Dave Warren who was absolutely right to disqualify me as I went over the start line (love you Dave), the start crew have said no more mad burnouts. So the Crew Killer Pop is up for sale, people don't come to watch that sort of thing.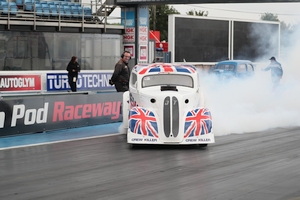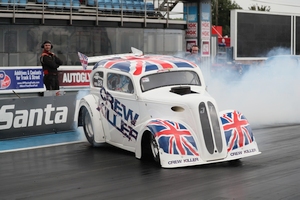 We can now concentrate on my Pro Mod. A massive thanks to Keith for the car park (say no more). Come to the Doorslammers and be entertained (obviously with boring burnouts).

September - how could you not be excited about it. First The Doorslammers and as we are the poster car we had better come and play, but I am only 50% sure we are 90% going as my crankshaft is still in the USA. Luke Robinson, the man who runs my team, has assured me we will be ready.

I am going to enter the Doorslammers and the Euro finals with both cars, I just hope we have enough spares, but I'm not too worried as my driving instructor is coming up to race (about bloody time). Yeah, my hero Andy (rev it) Robinson is back. A shout out to Andy who was unbelievable when I got the Pro Mod, teaching me how to drive one of these beasts. We would get back to the pits, I'd say 'Andy it was swaying left, right, left, right at about 200 mph' He said 'Yeah keep your foot down, sit it on the rev limiter at 10,400 revs, it will calm down, then change gear', yeah, we went 6.02. A massive respect to Andy for his wins , his bad runs (what we don't talk about), and how many times he keeps bouncing back, the man must be a ball. Good luck Andy and remember, we are pitted together so we share all spares as Andy has engines and we have spark plugs. Bring it on.

Greenlight Nationals racer comments.
23rd August: We've gathered up a selection of social media comments from some racers following the weekend's race (apologies for not including every word or acknowledgement). But first, let's have a roll call of those finals (or in a couple of cases, semi finals) that didn't happen due to the final rain shower which occurred close to the 8pm curfew:

Competition Eliminator: Robin Orthodoxou or Jordan Payne vs Steve Lloyd or Spencer Tramm
Peter Nee Super Pro ET: Billy Gane vs Barry Giles
Dave Grady Super Gas: Andy Dibley vs Mark White
Modurstang Pro ET: Ronnie Mercer vs Tom Watkins
Hutchinson & Dibley Sportsman ET: Gill Medley vs Holley Walters
Lucas Oil Junior Dragster: Katie Ellis vs Harry Redshaw
Nostalgia Superstock: Dave Billadeau vs Spencer Tramm
Renegade Outlaw Anglia: Jedd Guy vs Jon Webster
VW Pro: James Hodson vs Luke Stevenson
VW Sportsman: Jack Gooding vs Daniel Boucher or Rob Creswell

Taylors Trophy Super Street Bike: Stephen Mead vs Alan Morrison Jnr
JKE Race Works 8.50 Bike: Brad Head vs Brett Cordelle
Atlantic Fluid Tech 9.50 Bike: Brad Head vs Brett Cordelle
Blood Cancer UK ET Bike: Bill Marsh vs Phil Pratt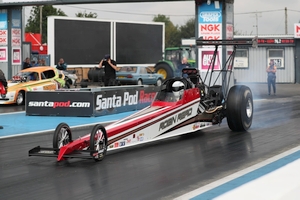 Daimler nitro dragster racer Robin Read had a frustrating Saturday followed by a great run on Sunday. He said "In the end after many delays caused by rain, we were shut off after the burnout for a fuel leak from a loose fitting on the main fuel line into the metering valve, repairs were carried out, but it was the rain that finally curtailed our activities. We only managed to get one run in on Sunday and were very pleased with a 6.9018/196.40. After all the work that has taken place on Spirit of Le Patron since the Hot Rod Drags last year, we needed a good solid pass. The run was faultless, Spirit arriving at the other end undamaged and clean and tidy, a good starting place to expand on the tune up; we got some good data too. You can see regular updates and a list of those Robin thanks on his Facebook group.

In Competition Eliminator, Jordan Payne beat a red-lighting Nic Williams (for video click here). He said "Due to circumstances out of our control, our second round of eliminations was delayed and was unable to take place before the rain arrived and caused the event to be called for the weekend. Many thanks to the Santa Pod track crew for all of their efforts today to get the track cleared and dry for us to race. It's very much appreciated by the Sticky Situation Racing team!"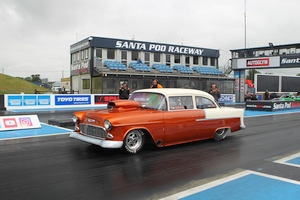 The debut of Tim Moore's 'Tim's Toy' '55 Chevy in Super Gas got the attention of everybody, what a beautiful new build. Wife Tina said "Well what a weekend, on Friday I thought that's it, we're going home with all the problems we had, but with our extended drag racing family the problems got ironed out. I have so many people to thank, Rob Chilton for all the fabrication work, Richard Walters for a great paint scheme, John Atkinson for all the electrics on the car, to Paul Watson and John for setting the grid up, Steve Hitchcock for sponsoring us this weekend and his help, Simon Fulton for use of the trailer and Dave Fulton for helping getting the brakes sorted and putting the engine in. 'Don't panic Mr Mainwaring' Jon Giles for his encouragement all weekend and to all the Super Gas guys. If I have forgotten anyone I apologise. Bring on the Euros!"

Hutchinson & Dibley Sportsman ET racer Holley Walters said "What a brilliant weekend racing. After spending what felt like most of the weekend waiting in the pairing lanes for the precipitation to pass, I managed to reach the final for the first time since 2017 at Shakey! I had some great races against Chris Winn , Rob Creswell and Georgina Smith, but I have to give special mention to my semi finals race against my better half Dan Holloway. I'd have been made up for either of us to take the win, but luck was on my side for once and I was almost bang on my dial in. Thank you to Cath Dodge and Tig Napier for the bounty prize, awarded for taking out Dan as the reigning winner from Bug Jam. I was gutted Gill and I couldn't run the final as the rain eventually set in for good, but I'm sure we'll get another chance some day". Holley thanks her mum and dad Richard Walters and Julie Walters for their hard work in getting her to the track and looking after her and brother Peter all weekend.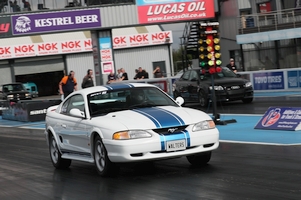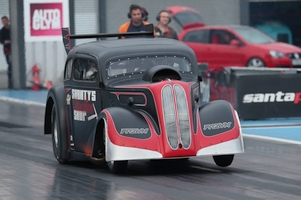 In Outlaw Anglia, Jemma Guy, for husband and Eurodragster.com sponsor Jedd Guy, wrote "The weather was 100% not on our side on Saturday however thanks to the awesome track crew we were able to get a qualifying run (for video click here) which put us straight in at number 1 with a 7.099 @ 192 off the trailer! A new PB speed with the engine bogging after the launch (and the quickest side by side Outlaw Anglia run ever with Colin running 7.175 @ 192.24 – editor). On Sunday, again the weather couldn't make up its mind, we had Ben Kennedy in the 1st round and then a bye in the Semi Final. The final was then to be against Jon Webster and both our teams were rushing round to get ready but the skies opened up and ended the day! Big thank you to Santa Pod Track crew for all there hard work this weekend!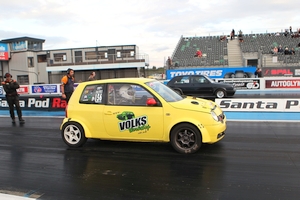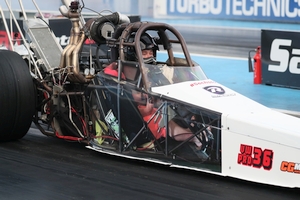 VW Pro saw a new PB for Paul Jackson at the Green Light Nationals in the il Pirätä 20vt Lupo, at 10.34@134mph, Paul crediting engine work by Pro-Race Engineering mapping by Volks Workshop. The final included the dragster of Luke Stevenson who pointed out his record to date in the new car: Summer Nationals - Round 2 exit, Bug Jam - Semi Finals exit, Green Light Nationals - uncontested final, National Finals ??? But first roll on European Finals in a few weeks for Comp Eliminator and time to turn it up a little.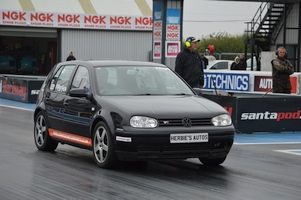 VW Sportsman racer Jon Crawford gave a full account of his weekend on the Crawford Motorsports Facebook page. "We went into this year's event with some confidence after an awesome day's testing on the preceding Monday at the VWDRC Drag Day. We went into the event 350 points behind Rob Creswell, and we knew that it was important to leave the event with the points lead. We put Monday's testing pb on the car, knowing full well that we wouldn't get close, a calculated decision which paid off. Over half the field went quicker than their dialled in time, and we qualified number five in the list of 17. It then rained, and the fields were set.

We were up against Ethan Lisle, a feared competitor who had been superb in Friday testing. However of his four 0.0x reaction times on Friday, two of them were on the wrong side, and so Jon knew as long as he stayed safe, there was a good chance the Rollin Pea Racing Lupo might lean on the tree too hard. And so it turned out. Round two pitched us again against Morgan Wilson for the commentators to compare my skills so favourably to hers is such a compliment. On this occasion Jon was able to get a better reaction time, caught and passed the yellow Beetle around 1000' and lifted to make sure he took the win. In The third round Jon raced the points leader Rob Creswell, left first but lifted too early and Rob sneaked past and took the win". Jon thanks Jim Broome, Damian Burke and Dave Grundy for their help over the weekend. (photo from VW Drag Day by Kirstie)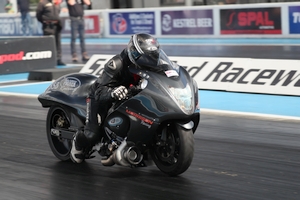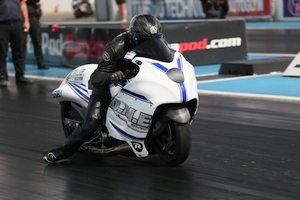 Taylors Trophy Super Street Bike had some great performances, Alan Morrison Jnr going to the top of the qualifying standings with his first six, 6.9421/211.81. It's difficult to realise that Alan is in his first year in the class after previously competing in 9.50 Bike, so confident is he in riding his new and much quicker bike. Whilst the rest of the qualified field struggled in the difficult conditions, Sunday saw some good runs, with Steve Venables stepping up in round one to 6.9736/217.94 (just short of his 218mph speed record) and then running 6.9116/217.88 but pulling a cherry against Steve Mead in the semi final. Meanwhile Alan improved his PBs further to 6.9132/211.91, so we were robbed of a potentially great final.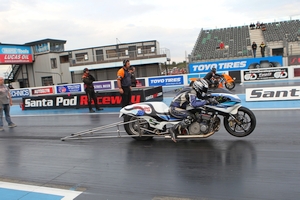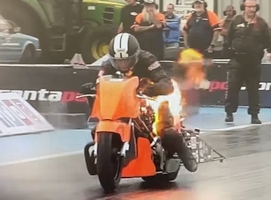 The Funny Bike final had Tony Clark, riding Phil Crossley's bike, getting another great pass of 7.2375/192.97 (new PB speed) in the final against Jiri Lukes in his first final. Jiri suffered an engine fire on the launch which got his attention but nevertheless he kept the machine straight down the track. He remarked "Put more Nitrous in, they said, it will be ok, they said!" Jiri was fine, looking down to check momentarily before he continued down track, and posted Ian Blackett's slo-mo video with the Jerry Lee Lewis classic 'Great Balls of Fire' playing in the background…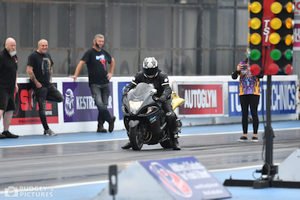 In Atlantic Fluid Tech 9.50 Bike, Brad Head had his best racing weekend ever up to the point the rains came for the final time on Sunday evening. He said: The weekend started off well with posting a pb with the bike 9.69 qualifying us 4th, unfortunately no more running happened on Saturday due to the rain so that ended leaving us 4th and having to face our pit mate Craig Wright which was a shame but that's racing - the winner would take a bye to the final! Craig got the jump on me at the start but my light was still one of best I'd had for a long while, Craig had trouble in the other lane and luckily me and the bike finally showed up to post a 9.54 to Craig's 9.74, a win and a bye to my first final!

We were inches away to facing off against Brett Cordelle in the final when the rain decided it would give us one more blow! I was bsolutely gutted as I know this would have been a great race with Brett getting a good handle on his new clutch, hopefully a re run at euros ? If not I'm sure we will meet again!" Brad wanted to say thank you to all the people that helped him get to this point, Andy Head, Jake Mechaell, Charlotte Cook-Abbott, Billy Everitt, Andy Fadster and Hayley Hadfield. (Photo by Callum Pudge)

You can see photo galleries from the event by Callum Pudge on Facebook at this link and Patrick O'Connor at this link.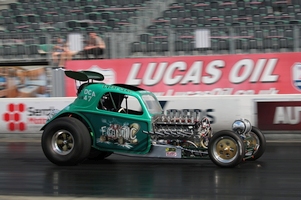 Frantic for sale.
23rd August: Regular readers and followers of the Wild Bunch will recall the incident at Dragstalgia where Andy Stones suffered a stuck throttle as he was coming round to the start line, and his 'Frantic' altered crashed into the the steel pillar of the barn.

After some thought Andy has decided to sell the car, originally built in 1978 and reworked over the last few years with a fresh chassis (see picture before the accident). He says "The car comes complete with everything - TH400 turbo with trans brake, Jaguar V12 engine with steel crank, Cosworth pistons and rods, ported and flowed heads, Ford 9 inch axle with 4:11 gears and much more besides.

The car chassis will need to be front halved, with a new drop beam and front wheels needed and a few other bits. If car doesn't sell, Andy will break her up for parts, but is hoping someone will rebuild this classic drag car. If you're interested in acquiring a piece of UK drag racing history, contact Andy on 07970 274573 or at his email here.

European Finals update.
23rd August:

Thanks to Santa Pod Raceway CEO Keith Bartlett who has provided an update on this year's European Finals:

As we near the end of the summer season, we are delighted to be able to hold an International Drag Racing event at the European Finals weekend on 10th-12th September. For the past 25 years, this has traditionally always been the FIA Championship Finals event, the last big international event of the season. However, because of the Covid-19 crisis and the subsequent restrictions it has placed on most events, the FIA/FIM European Drag Racing Championship was cancelled in both 2020 and again this year. In 2020 we held a replacement event called "Not the European Finals" which at least kept the event and the traditional date alive for all our dedicated drag racing fans and supporters, albeit on a much-reduced level.

Once again in 2021, we will be holding a major Drag Racing event on the same date, with nearly all the normal European Finals classes. However, whilst there will be European teams appearing, it will be reduced from the normal levels of the FIA European Drag Racing Championships. Fortunately, we will still have Top Fuel Dragsters, Nitro Funny Cars, Nostalgia Funny Cars, Jet Cars, the wild Pro Modified plus all the regular national classes. Furthermore, the event will host an exclusive 'Nitro Shoot-Out" to headline the event. Check the Santa Pod website or the SPR Facebook page for more updates.

The event will also change from a 4-day event to a 3-day event (10th-12th September) with Thursday 9th Sept being a full-blown test day, but Friday 10th Sept will be the first day of actual racing (Qualifying).

The first round of the FIA European Drag Racing Championship is normally held each year over the May Spring Bank Holiday preceded by the 'Doorslammers' event the weekend before, when again, a full field of European drivers and teams provide the competition. The Doorslammers couldn't be held in 2020 or in May this year due to Covid-19 restrictions. However, the event is now scheduled for the week before the European Finals Shootout on the 3rd/5th September but again at a reduced level to previous years.

All these reductions are as a result of the ongoing Covid-19 restrictions in place for travel for our foreign teams and drivers. With that said, both events will still produce fast and exciting drag racing whether you're a regular die-hard fan or a first timer to our incredible sport!

It has been a very difficult 18 months for Santa Pod with the restrictions and closure of events etc. but I would like to take this opportunity to thank all our spectators, teams, sponsors and suppliers for the huge support we have received all of which has helped contribute to us surviving this hugely challenging time.

Remember, if you want to see Nitro cars – Shootout style and 300mph, 3-sec Top Fuel Dragsters and then Santa Pod on 10th-12th Sept is the place to be.

See you at the track!

SPRC European Finals refund.
23rd August: Thanks to Santa Pod Racers Club Secretary Ian Marshall for a notice about refunded entry fees for the event:

Following the shortening of the European Finals event by a day, Santa Pod Racers Club have taken the decision to refund the difference between the four day event as entered, and the now three day event to all race teams entered.

The refund will be as follows, for all sportsman classes the refund value will be £40 and all pro entries it will be £50. This will be reimbursed to you dependant upon how you paid for the event, card payments will be refunded back to the card used for the entry payment, whereas bank transfers will have the money returned to you.

Any racer who has yet to pay their entry fee, please now only pay the lesser amount of £215 for a Sportsman Entry and £235 for a Pro Entry.

STP Greenlight Nationals results.
23rd August: Congratulations to the winners at this weekend's STP Greenlight Nationals at Santa Pod Raceway:

Be Fast R Super Comp: Steve Hudson 8.9176/143.43 def. Leah Kellett 8.9189/164.87 DQ red (Leah went red by 0.0009)
Springbridge Direct Wild Bunch: Mark Coulsell 8.4772/130.57 (8.25) Andy Clifford 15.4263/63.38 (9.00)
Outlaw Flat Four:Paul Bate staged, bye

Leeks Landscapes Funny Bike: Tony Clark 7.2375/192.97 def. Jiri Lukes 14.3542/113.79
Suzukiperformancespares.co.uk Comp Bike: Louis Davies 7.0669/188.92 def. Sean Mills no-show
Eurodragster.com Junior Drag Bike: Samuel Hope 13.3811/46.17 (13.25) def. Casey Holgate 10.2055/63.53 (9.90)

The event was marked by rain during both days which the Santa Pod Raceway track crew worked tirelessly to clear and return the track to racing condition. A single qualifying session for each class was completed on Sunday morning after a downpour on Saturday afternoon brought proceedings to a halt. Eliminations on Sunday were also interrupted, however were able to be run through to semi finals, and for almost all classes it was only the finals that couldn't be run, a great achievement in the damp conditions.

Congratulations to Topspeed Automotive Street Eliminator racer Nick Hale who was the winner of the Eurodragster.com/Bad Habit Racing Perfect Light Award supported by Cath and Tig Napier, receiving £50 (Nick also won a cash award from Street Eliminator sponsors Edge Performance Gearbox Specialists so a profitable weekend for him). The award will be reset to £50 and is next available at the European Finals.

The Eurodragster.com/Team Twister Perfect ET Award supported by Andy 'Fadster' Hadfield of £50, went unclaimed and rises to £75 for the European Finals.

Bob's Photo Finish Award of £50 each goes to the competitors in the closest race by distance, thanks to sponsor Bob Roberts for posting the award. Congratulations go to Peter Nee Super Pro racers Billy Gane and Eurodragster.com sponsor Peter Walters who had a margin of 0.87 inches in the final (margin of victory 0.0003). We will be in touch with the winners in due course.

There were thankfully few incidents during the event. Topspeed Automotive Street Eliminator racer Al Williamson on a suffered an issue at the rear of his Howlin' Hauler pickup truck which sent him over the track at full throttle which he speedily corrected before glancing off the left hand wall. You can read Al's account of the aftermath of his accident below.

Thanks to David Anniwell of the Santa Pod Timing Crew for sending us detailed timing data which we have posted to our timing data area which you can see by clicking on Data, then Timing Data at the top of any Eurodragster.com page. Official results can be seen at Santa Pod's Official Results Site.

You can check out our John Woolfe Racing-sponsored Festival of Power reports, results and galleries by clicking here or by clicking on the Event Coverage link at the top of any Eurodragster.com page. Please join Simon in thanking Julian and Diana for their hard work over the race weekend, and many thanks to those who gave feedback on our coverage.

Billadeau NSS lifestyle champion.
23rd August: Many thanks to Chris Goodale of Nostalgia Superstock for sending details of the class's 2021 Lifestyle Events championship, which was competed for at VW Breakout, Dragstalgia and the Mopar Euro Nationals:

The class held a trophy presentation for the Lifestyle Events champion and congratulations to Dave Billadeau as championship winner with 2310 points, with Stuart 'Kiwi' Thompson coming second on 2270 points me, Chris Goodale, coming third on 2020 points.

Dave is extremely pleased with his new Challenger which was fresh out this year. Kiwi is running a Billadeau-built engine and transmission along with Chris whose car Dave has extensively worked on.

So it's been a very good result for everyone, Dave and Kiwi were extremely close in the points at the end, and Dave would like to congratulate Kiwi as he's a very good friend and racer.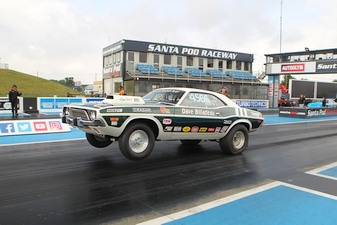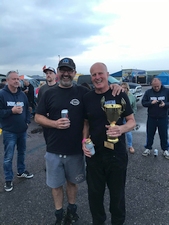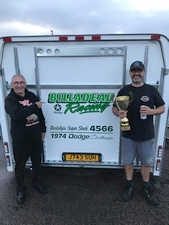 Big thanks as always to the tireless efforts of the crew at Santa Pod - it's much appreciated, and to the committee members & everyone that races in Nostalgia Super Stock for making it such a competitive class and also a massive laugh at the same time.

We're looking forward to the National Finals this year and a full season of racing next year.

Howlin Hauler on the mend.
23rd August: Many thanks to Topspeed Automotive Street Eliminator racer Al Williamson for sending us an account of his on-track incident on Saturday at the Greenlight Nationals:

The Howlin Hauler team was looking forward to the GLN having had a good season to date and lying second place in the points for street eliminator With a couple more improvements we were keen to get things started and maybe achieve the elusive 7 sec run. With the day delayed due to rain, we finally got the call for the 1st qualifier.

On the burnout the truck did move to the left which in itself was unusual, but my thoughts were, due to the weather this could end up being a one-shot qualifier, so I was conscious of getting a good time on the board. The launch seemed to be ok but within no time at all the truck did a sharp turn left, crossing into the left lane and unfortunately ended up making contact with the wall. The main damage was to the front suspension, strut, steering rack, wheel, and the radiator which took most of the impact.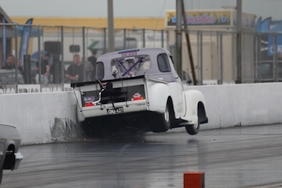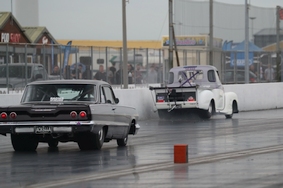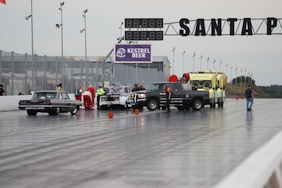 The chassis has a few bent tubes but looks repairable, and there is some bodywork, after having a good look at the truck we definitely think it could have been a lot worse.

I have a lot of people who deserve special thanks, the amazing Santa Pod track crew and medical staff, who seemed to be there within seconds of me rolling to a stop; my wife June who was watching on the live feed, this being the first meeting ever I think she has missed; my fantastic crew of Iain, especially Kay who came and found me in the medic centre and kept the family up to date on what was going on, and Dave who looked after the aftermath while I was being checked over. A big thanks to all the SE drivers and crews who helped and offered to help, especially Damian who was in the other lane (sorry Damian, I didn't have time to indicate I was turning left) and all the many hundreds of messages I've received from family and friends.

Unfortunately the incident has resulted in us being out for the remainder of the season, with the plan to repair and be ready for next season, maybe with a few improvements.

Jesus's Second Coming.
23rd August: If you saw our photos of the Performance Run What Ya Brung held by Santa Pod Raceway on Friday, you will have noticed a cool-looking VW Bay Window pickup. That vehicle belonged to Alex 'Jesus' Leverich who has written in to give us some more details about its build over the last three years by Eurodragster.com sponsors Robinson Race Cars:

It's been difficult keeping it off the internet for five years during the build, but I now have a Facebook page 'Second Coming Single Cab' and an Instagram account @secondcomingsinglecab both of which have lots of pictures and details about the build. I would really appreciate anyone who wants to give both pages a follow.

It all started September 2016. I took a trip to Das Drag Day in Bitburg, and my friend Trevor Sharpe spent most of the trip persuading me to live my dreams, apart from financial ruin, whats the worst that can happen? We heard about a very early 1968 VW Single Cab which came from an olive grove in Italy via Monaco. I was ready to fly to Monaco to view it, rang Kieran the owner and he explained that there was a little issue, it was soon to be in Essex.

The Robinsons requested I didn't cut anything out till I got it to their workshop, as none of us where really sure what we were going to keep or not. So in March of 2018 the time finally came, and I was handed a plasma torch and set to it in their yard. It's the closest to a Jedi I have ever felt.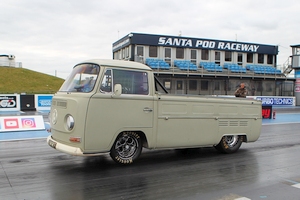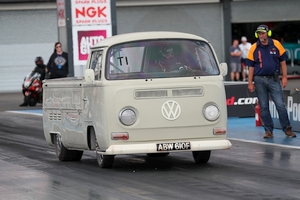 It's an 8.50 tagged chassis with double wishbone suspension front and rear, with the rear being rocker to spread the load longitudinally down the chassis rather than across it. It's powered by a 2931cc Pauter aircooled flat four engine, with a small 6466 Precision turbo, running on methanol. Behind the engine is a four speed sequential Mendeola IRS gearbox. A Fueltech FT550 is handling all the control and logging.

It's a brand new vehicle and as you can imagine a lot to set up and tune before it starts to get anywhere near its full potential. Thanks to Richie at RJ Volks Performance for all the assistance in the past month getting it running and tuned.

NGK Anger Management 2.0 breaks cover.
22nd August: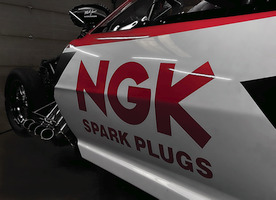 NGK-sponsored seven-times UK pro mod champion and Eurodragster.com sponsor Andy Robinson is set to return to the drag racing scene next month with a completely new look for his '69 Camaro race car three years after it was written off in a 200mph accident.

Andy is set to debut the NGK-liveried 'Anger Management 2.0' at The Doorslammers meeting on September 3-5 at Northamptonshire's Santa Pod Raceway, the scene of his spectacular crash.

Ignition and sensor specialist NGK Spark Plugs (UK) Ltd and Andy's company, Robinson Race Cars, have a long-established relationship spanning more than ten years and the arrival of Andy's new Pro Mod will mark an even closer bond between the two.

Andy said: "It's been a long journey getting Anger Management 2.0 ready for racing. It looks great and I can't wait to debut it in front of our fans at Santa Pod."

The building of this new race car followed Andy's 200mph accident in the 2018 National Finals at the Santa Pod Raceway. So bad was the damage inflicted by the high speed crash that the team were left with no choice but to write off the original race car, known as 'Anger Management'. Fortunately Andy, driver and owner of the race team, walked away shaken but otherwise unhurt, testament to the team's acknowledged excellence in chassis and roll cage design and fabrication.

The accident came at the end of a season that had seen the team continually raise the performance bar, culminating in a record breaking run of 5.867 seconds and a top speed of 246.37mph for the quarter mile.

Andy later reflected: "It was such a shame because the car was getting faster and faster. Earlier in the year we had set our best time ever, setting a track record in the process. We were looking forward to going faster still in 2019 with two goals in sight, breaking the 250mph barrier and setting a 5.7 seconds time, and the way we were developing the car I think we could have done it."

However within days of the accident, the team promised a comeback and started to plan the build of Anger Management 2.0, a car that they vowed would be even faster than its predecessor, but in saying so they knew that no small task faced them and it was a project that couldn't be rushed.

Mark Hallam, Marketing Manager, NGK Spark Plugs (UK) Ltd, said: "With a relationship that spans more than ten years we told Andy we would stand by the team for as long as it takes to build the new car. When Andy came to us with his new design proposals we were thrilled to see how he'd integrated NGK into the overall design. Now we can't wait to see if it's as quick as it looks."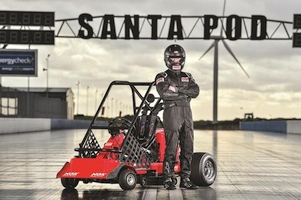 While Andy's car was out of action NGK set him another challenge in the shape of its MO70 Dragmower project (pictured left).

The original ride-on mower, on which MO70 was based, was transformed by Andy and was piloted by NGK Sales Representative John Catterson at Santa Pod in October 2019 when it reached 115.53mph in just 9.49 seconds, believed to be a record for a ride-on mower over the quarter-mile distance.

Andy values his long-term relationship with NGK. He said: "We've always felt very privileged to have a name like NGK behind us and it seems absolutely right that ten years on we celebrate that relationship by having NGK featured so prominently on our new car. Now it's down to us to deliver. No pressure then."

For more details go to NGK's UK Facebook page at and also the Robinson Racing Facebook page.

Event entry update.
20th August: Thanks to Santa Pod Racers Club Secretary Ian Marshall for reminding us that today is the closing date for the European Finals at normal rates. Racers may enter for the European Finals by going to this link on santapodracersclub.com. The entry list can be seen at this link.

Also entries for the Doorslammers to be held on 3rd-5th September are due to close on Friday 27th August and SPR would prefer racers to enter ASAP if possible. The link to go to for Doorslammers racer entry is racers.santapodtickets.com, and you can see the current entry list at this link.

Motor Psycho returns.
20th August: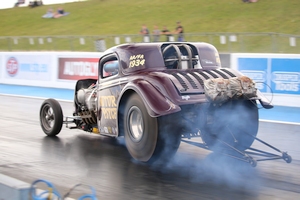 Many thanks to fuel altered racer Adam Gleadow for sending in an account of his first hit with his rebuilt Motor Psycho altered.

After a lot of waiting, and cancelled testing opportunities over the last 18 months we finally got to make our first appearance with the latest iteration of Motor Psycho.

There's a lot of people who have helped us get to this position, but I want to say a huge thank you to two people who it would have been impossible without, and who are sadly no longer with us. Lawrie Gatehouse and Ollie Burn, we just wish you could have been there with us. Fuel Altereds Forever. We started the day with a few niggles, those overcome we headed to the lanes mid afternoon, apprehensive but excited to finally run a fully fledged fuel altered.

It had been 6 years since I last ran down the quarter mile, so a gentle burnout to get a feel for it, which brought everything back instantly, the car felt fantastic. On reaching for the reverser lever I hit the killswitch, rookie error. Pushed back and re-fired, pulled into stage and a soft 150ft checkout launch. Everything went to plan, and the car did exactly what was asked if it.

Back to the workshop for a full check over and a few tweaks, looking to get out again soon to start progressing with testing.

Thanks to the always brilliant Santa Pod track crew and marshalls, Joe Bond and Chris Eyre for coming on board to help out for the day and always, Dad, Darren, Martin & Chris for helping make all of this happen. It felt great to get back to the track running the car.

Your can follow us on social media to keep up-to-date with our progress at www.facebook.com/motorpsychouk and @motorpsycho_aafa on Instagram.

Finally, get well soon to our fellow blown altered racer and friend, Dave Grabham.

Photo © Blackett Photography.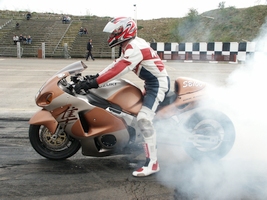 1000 and (still) counting runs!
20th August: Happy Birthday for tomorrow, 21st August to 9.50 Bike racer and eight time class champion Richard Sawatzki. Richard's wife Debbie reminded us that Richard was approaching a landmark number of runs in competition and we've updated our records from when we last looked.

We reported on 21st August last year had a running total at the end of 2019 was 972 runs since he started competing on his Suzuki Hayabusa in 2003 (thanks to our statistical guru Andy Marrs for arriving at this figure). Richard did 14 runs in the short 2020 season making 986. In 2021 so far, he has made 17 (two at the Springspeed Nationals, nine at Festival of Power and six at the Summer Nationals). So Richard actually passed his milestone of 1000 runs at the Summer Nationals, a fantastic achievement and congratulations to Richard!

All the best for tomorrow Richard, and we look forward to many more runs.

Photo of Richard at Shakespeare County Raceway test & tune in 2003 © Tog.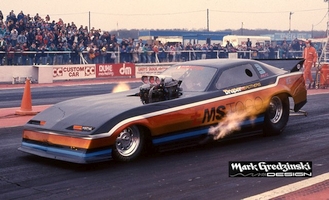 Gredzinski '80s book progresses.
20th August: Photojournalist Mark Gredzinski of Accurate Dragster Publishing has been in touch to tell us of his book picturing UK drag racing in the 1980s, which we first reported about on 2nd June.

"I need about 250 pics for the book. Scanning is ongoing and over 2000 images have been done as raw scans from which to make a selection and edit. I honestly don't know how many pics I have from the eighties but will know by the end of the month! Writing starts soon as I have a rough plan in my head. Among the inevitable duff pictures are some gems, so I'm looking forward to putting things in place. More later..."

The image of Charlie Draper's Funny Car debut in the late eighties in the EMS-Togo Firebird demonstrates it's well worth all that scanner whirring.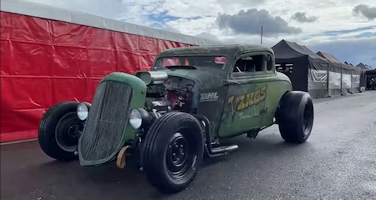 This weekend in Europe.
20th August: With the STP Greenlight Nationals at Santa Pod Raceway this weekend the largest event in terms of competitor numbers, several other events are taking place across the continent.

In Finland the FHRA Street Mayhem & Test n´Tune today at Motopark Raceway is followed by Salon Peltituote Nationals at the same track on Saturday and Sunday (pictured: Miami Vice Racing's Vamos Low Brow Plymouth). This is a round of the FuelTech Nitrobike Showdown 2021 and also a round of the FHRA Top Doorslammer championship. 11 Nitro Bikes are registered and no less than 14 Top Doorslammers, all from Finland. We'll report on the results of this event as soon as we hear them.

A piece of good news from Finland is that the season-ending FHRA eSend Winternationals at LSK Business Park, Kauhava on 10th-11th September (the final round of the FuelTech Nitrobike Showdown) looks to be taking place, as the club announced yesterday that the venue has requested permission from the City of Kauhava Environmental Agency to hold the event under the existing permit despite the appeal made in Spring which resulted in two earlier events being cancelled.

There is action this weekend in Hungary, too, as Kunmadaras hosts the KNMDR Extreme Horsepower weekend. This features qualifying today and eliminations tomorrow and Sunday with other festival-style activities as well. You can find out more on kunmadarasmotorsport.hu.

At Trenčín Airport, Slovakia there is racing tomorrow, 21st August in the Drag Wars Slovakia vs Czechia series, with quarter mile racing and US car show & shine. More details are at the Power Fest web site.

The next championship events in Sweden are the Mid Sweden Finals at Sundsvall Raceway and the Malmö Winter Nationals taking place next weekend 27th-28th August, the Tallhed Dragway Autumn Open 2021 planned for this weekend, and Vårgårda Nationals for next weekend sadly having been cancelled.

STP Greenlight Nationals racer update.
19th August: Many thanks to to Santa Pod Racers Club Secretary Ian Marshall for sending us details of track opening and signing on at this weekend's STP Greenlight Nationals, 21st-22nd August.

Road closure: Note that if you usually approach from Bozeat using Harrold Road, this road is closed at the junction of Airfield Road, and racers are advised to use alternative routes via Wollaston and Hinwick Road.

Junior Dragster will have to sign on and scrutineer for this event, but that is the only car class that is required to scrutineer.

The main gates to the track will open at 08.00 on Friday, 20th August 2021.

Friday 20th August:
10.00-18.00 Signing on office opens.
15.00-19.00 Scrutineering for Junior Dragster at the scrutineering building.
16.00-20.00 Scrutineering for bikes at the scrutineering building.

Saturday 21st August:
07.30-19.00 Signing on office opens.
08:00 Scrutineering for bikes at the scrutineering building.
09.30 Track open for qualifying.

Sunday 22nd August:
08.00 Signing on office opens.
09.30 Track open for qualifying/eliminations.

The detailed running orders and printable entry list can be seen in our event coverage page. Ian says "Please note there has been a small change to the running order for Nostalgia Super Stock, they will now run two classes later after Junior Drag Bike".

Duck-All Prep at Melbourne.
19th August: Since we announced the upcoming cash prize no prep race at Melbourne Raceway Round 5 on 18th-19th September, it has been rebranded Duck-All Prep by organisers Straightliners and Eurodragster.com sponsor Lee Child of LA Racing Parts, and an additional category has been added.

The cash prize no prep race can now be booked at the new web address www.duck-allprep.co.uk. No-prep weekend race entry is £200 (£115 per day) before the earlybird discount expires on 3rd September when racer entry will rise to £225 or £125 for each day.

Rules are at our update on 17th August. A seventh category has been added, Pro Small Tyre Rear Wheel Drive. Details are: modified, competition tyres maximum height 30 inches maximum tread width 11 inches, interior removed. Lee adds: "Many thanks to everyone that contributed their views to this decision".

There are two days with separate eliminations, one on Saturday and another on Sunday, giving a driver a chance of winning £800 over the weekend if they choose to run the whole weekend. Based on a 16 car field the winner gets £400 in each of six categories.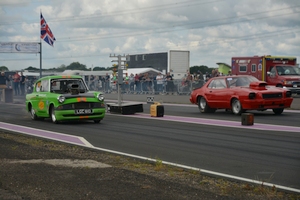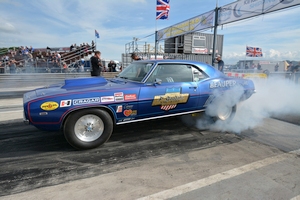 The Duck-All Prep race will be running along side the Big Bike Bonanza, 2-stroke Bike Bonanza, Straightliners Championship and Run What You Brung for everyone, any of which can be entered for at this link. Weekend race entry is £120 (£70 per day) before the earlybird discount expires on 3rd September.

Weekend spectator tickets are £25, or £12.50 per day until the earlybird discount expires on 3rd September when ticket prices will rise to £15 for each day.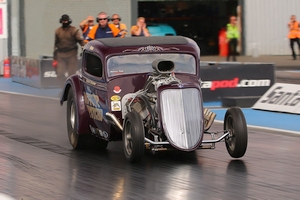 Swift snippets.
19th August: A big Happy Birthday today to fuel altered racer Adam Gleadow from all of us at Eurodragster.com. Adam celebrated early by taking his 'Motor Psycho' (pictured right) to Santa Pod Raceway for the first time on track for the rebuilt car last Saturday. Adam made a soft 150ft launch to check everything over and you can see a Facebook video of Adam at the track at this link (photo © Blackett Photography).

Drag racing historian Nick Pettitt has uploaded to his Youtube channel the cine film of Steve Clifton. The first upload is the 1978 September International, marked by the debut of Sammy Miller and the crash of Mickey Naylor which totalled his 'Medicine Man' fuel slingshot (the former Mr Revell of Dennis Priddle). The second upload covers the 1978 Fireworks Meet, the 1979 Easter Internationals and the 1979 May Day Meet at Santa Pod Raceway.

Spitfire Raceway drag and drift coming up.
19th August: Eurodragster.com sponsor Lee Child of LA Racing Parts has announced the next event at Spitfire Raceway, Perranporth, Cornwall.

"It's the best speeding ticket you will ever get, no points, no fine, no prosecution. Spitfire Raceway, Saturday 11th September, just open up that throttle. For track competitors, camping is £10 per night per head and kids go free. Pre enter the drag racing or drifting on line first at spitfireraceway.com/events then to book your camping by calling 01872 552856. If you have any roll over credits from the cancelled event back in April, please email Kevin@perranporthairfield.com.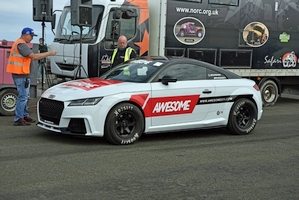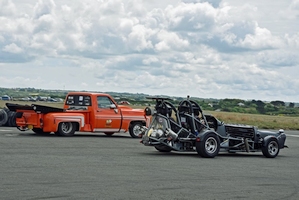 You can take part at Spitfire Raceway on the drag strip with Run What You Brung drag racing with all vehicles welcome, or drifting with all welcome to the Drift What You Brung. There is also a Show & Shine competition with no additional charge after admission.

Spectators are welcome and entry is £10 per person, under 16s go free. You can even drag race from £10 after admission (crash helmet and full driving licence required).

Gates are open at 8am with track action 11am to 3pm. All vehicles have a safety check for drag racing and drifting and there is a drag strip riders and drivers meeting at race control 10.45am. Spitfire Raceway is at Perranporth Airfield, Perranporth, Cornwall TR5 0XS.

Media from the 26th June meeting, at which Dan Jacobs in his Audi TT (pictured above left) stole the show with the quickest elapsed time of the day, 9.68/144 mph, can be seen by clicking on these links: Greenlight Nationals preview.
18th August: The Greenlight Nationals this coming weekend at Santa Pod Raceway contains 22 classes of racing plus exhibition runs from Tony Betts and Robin Read. It's good to see new racers entering the sport and there are several making their competition debuts or with new cars.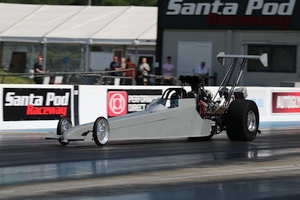 In Track WorX Competition Eliminator, Steve Lloyd will be racing in the ex-Williams Bros Chevrolet Impala, utilising a 327ci small block engine, with which he licensed at the Mopar Euro Nationals. We will also see the amazing and brand new COPO Camaro of Williams Bros Racing in the hands of Nic Williams, which has already run mid eights.

Dave Grady Super Gas sees the return of Tim Moore with his new Tim's Toy '55 Chevy, a show quality car which has been seen on social media. Peter Nee Super Pro ET sees the competitive senior class debut of former Junior Dragster racer Saskia Fensome Jell (above right) following a great 7.0415/196.23 licensing pass at the Summer Nationals, also the return of Doomsday Impala racer Dave Evans for the first time this year after engine damage at the 2020 Not The Euro Finals. We hope Andy Thetford has resolved the ignition issues in the Black Pearl Camaro's engine which prevented an earlier debut this year, and the class welcomes Pro Modified racer-in-waiting Matt Peters in the Norbert Kuno owned Dodge Avenger.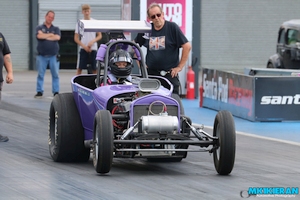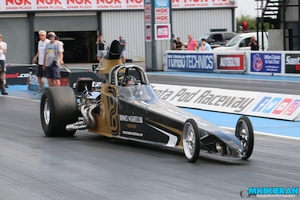 In Modurstang Pro ET two new female racers, Marie Mills (above left) will race the 23T altered she licensed in at the Retro Show, and Baylee Ashdown (above right) will be in the Paul Marston Racing-owned Banks Night Club sponsored dragster which she licensed in during July. Another licensee from that test day in July Pete Dodd (below left) will be in the ex-Mike Lacey Metamorphosis Camaro (double classing with NSS in his debut event), and Andrew Garnett in a Tesla Model S.

Hutchinson & Dibley Sportsman ET has a long time returnee, Dave Ward who last raced in Super Pro ET in 2014 returns in a Formula Vauxhall Lotus, no less, and is doubtless covering up his Camel signage as we type. Kate Warner-Simcoe will be trying out the sport in a Nissan 350Z named The Warrior, AC Bell will be in a Chevrolet S10 under the gaze of dad Ashley.

In Topspeed Automotive Street Eliminator, we the Plymouth Cuda of Mark Sheridan is on the entry list, and we have fingers crossed for the appearance of the much reworked car. Sadly one racer in the class, 6 Appeal's Mark Todd, has had to withdraw due to unavailability of an intake rocker which was found to be broken, and Mark's other car, the Freight Train GTO, has had cylinder liners on order since December, these things being a sign of the times.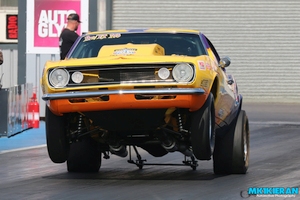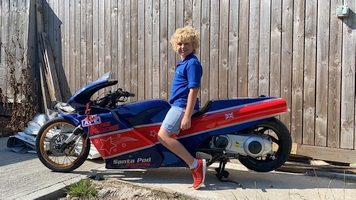 In VW Sportsman Emma Sadler makes her debut in a Golf Mk3. Last but definitely not least, we have the debut of Samuel Hope (above right), Alex Hope's son, in Eurodragster Junior Drag Bike. Samuel will be licensing on Friday on Meg Talbot's bike which Alex tells us has been kindly lent to the CBD Asylum team.

Back to the exhibition cars, Tony Betts will be running his Nostalgia Funny Car after a successful Dragstalgia running 6.4001/220.05, and Robin Read will be running his Spirit of Le Patron which ran a best of 6.7873/200.67 at last year's Hot Rod Drags; you can read all about this engineering marvel at Robin Read Drag Racing Facebook Group.

Good luck and stay safe to all competitors and a warm welcome to those making their debut. Spectator tickets are available at santapodtickets.com.

STP Greenlight Nationals Perfect awards.
18th August: £200 is up for grabs at this weekend's STP Greenlight Nationals courtesy of Eurodragster.com and our sponsors.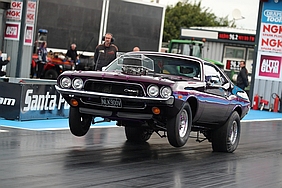 This weekend's Eurodragster.com/Bad Habit Racing Perfect Light Award has been reset to £50 after it was won by Nostalgia Superstock racer Stewart Arthur at the 27th Mopar Euro Nationals. The money will be paid to the first racer at the event to record a Reaction Time of 0.000 seconds. The Perfect Light Award is available in all classes during both qualifying and eliminations, but will only be awarded for the first Perfect Light of the event. The Perfect Light Award is presented in association with Cath and Tig Napier of Modurstang Pro ET team Bad Habit Racing (racing this weekend in Hutchinson & Dibley Sportsman ET).

Decals are not mandatory for the Perfect Light Award but we would appreciate it if Eurodragster.com decals are carried. Eurodragster.com decals are available in Signing On or from Eurodragster.com staff.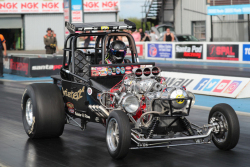 The Eurodragster.com Perfect ET Award supported by Andy Hadfield and the Twister Race Team has reset to £50 after it was won by Nostalgia Superstock racer Jake Cawthorne at the 27th Mopar Euro Nationals. The money will be paid to the first racer at the event to run +0.000 on index or dial-in. The Perfect ET Award is available in Peter Nee Super Pro ET, Modurstang Pro ET, Hutchinson & Dibley Sportsman ET, B Fast R Super Comp, Dave Grady Super Gas Shootout, Lucas Oil Junior Dragster (eliminations only), VW Pro, VW Sportsman, Wild Bunch, JKE Race Works 8.50 Bike, Atlantic Fluid Tech 9.50 Bike, Blood Cancer UK ET Bike, and Eurodragster Junior Drag Bike. but will only be awarded for the first Perfect ET of the weekend. The Perfect ET Award is presented in association with Andy 'Fadster' Hadfield of the Twister Race Team.

Decals are not mandatory for the Perfect ET Award but we would appreciate it if Eurodragster.com decals are carried. Eurodragster.com decals are available in Signing On or from Eurodragster.com staff.

Bob's Photo Finish Award, which is presented in association with Eurodragster.com sponsor Bob Roberts, will award £50 each to the racers involved in the closest race of eliminations at this weekend's event.

The closest race will be decided upon distance rather than time since, for example, 0.001 seconds at 230 mph is further than 0.002 seconds at 110 mph. For this reason the official timing data will need to be consulted so the winners will be announced here on Eurodragster.com as soon as possible after the event and the winners will then be contacted for their preferred method of payment.

Bob's Photo Finish Award is open to all classes during eliminations only and although Eurodragster.com decals are not mandatory we would appreciate if it they are carried. Eurodragster.com decals are available in Signing On.

Julie on list of NHRA Future Stars.
18th August: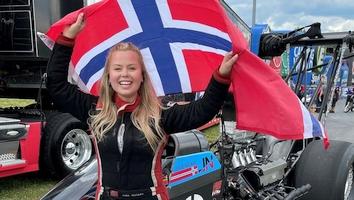 Thanks to Santa Pod Raceway PR Robin Jackson for forwarding to us an article from Autoweek.com which lists the racers on the cusp of making their mark in the NHRA. Included in it is expat Norwegian Top Alcohol Dragster racer Julie Nataas.

The article, penned by Susan Wade, says that Julie started in Karting and then into Formula Basic. But her heart was in drag racing - after all, dad Thomas was a noted Top Fuel racer in the FIA Championship, winning the crown in 2013 - and she made the decision to move to Santa Barbara, California, where she earned a degree in business and marketing from Antioch University.

Susan continued: She said she came "here for school, but in the back of my mind, I was like, 'Well, if I'm over here, there's a bigger chance of me getting to go racing here.'" Her plan worked. Swedish Funny Car racer Jonnie Lindberg helped her, introducing her to decorated sportsman team owner Randy Meyer. She finished ninth in her first season, steadily improved to fourth, then third, and in mid-August was second in this year's standings behind teammate Rachel Meyer.

"My dad, when I told him, 'I want to be a race-car driver, and I'm going to try to do it,' he was like, 'No, you're not going to be a race-car driver'—like 'just realize it's too hard. You're not going to get there,'" she said. "I was like, 'Well, I'm going to get my marketing and business degree, and I'll go do it.' I think I've had him realize I want this by now. So now he's like, 'Okay. If you can get sponsors, you'll make it. You'll be fine.'"

You can read the article in full to find out who the other 11 future NHRA stars are by going to Autoweek.com.

SPR event entry update.
17th August: Two urgent reminders today about entry for Santa Pod Raceway's forthcoming events.

Thanks to Santa Pod Racers Club Secretary Ian Marshall for reminding us that the closing date for the European Finals is this Friday 20th August. As well as Top Fuel Dragster, Nitro Funny Car, Nostalgia Funny Car, Top Doorslammer and Pro Exhibition, the European Finals is a National or Club Championship round for the following classes: Pro Modified, Comp Eliminator, Super Comp, Super Gas, Super Pro ET, Pro ET, Street Eliminator, Junior Dragster, Top Fuel Bike, Pro Stock Bike, Funny Bike, Comp Bike, Super Street Bike, 8.50 Bike, 9.50 Bike, Super Twin Top Gas, ET Bike and Junior Drag Bike.

Racers may enter for the European Finals by going to this link on santapodracersclub.com. The entry list can be seen at this link.

Thanks also to Santa Pod Raceway Events Manager James Forster who reminds racers that entries for the Doorslammers to be held on 3rd-5th September are due to close on Friday 27th August and SPR would prefer racers to enter ASAP if possible. The link to go to for Doorslammers racer entry is here.

Drag Day debuts.
17th August: Thanks to Swap Meet sponsors Jeff and Belinda Bull for getting in touch about the return of the Brogie roadster built by the late Kevin Cerasale in the hands of his stepson and his granddaughter at the VWDRC Drag Day yesterday:

"We had a great day. Kevin would've been so proud of his stepson Richard Tunstall, and his granddaughter Jazmine who also did a pass in the car. They certainly fulfilled Kevin's wish that they should both have some fun in the car. Neither of them had ever driven anything over the 1/4 mile before! So what they achieved yesterday was incredible.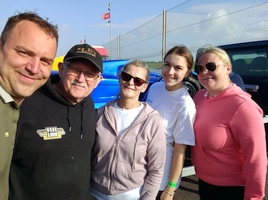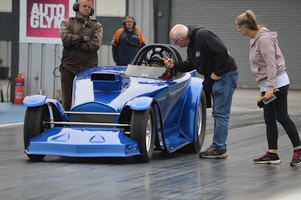 "Jeff and I were so happy we could be there to support them just as Kev had asked us to. (pictured: Richard Tunstall, his wife Becky and their daughter Jazmine with Jeff and Belinda). "Richard and Jazmine thank Jay for help with transporting the car to the track and also Paul Letchford and Paula and Stan Atkin for their help. Richard hopes there will be another opportunity to test some more this year but will definitely be back next year".

As well as Richard and Jasmine, other racers enjoyed plenty of track time thanks to the VWDRC and Luke Stevenson. The quickest time of the day was an outstanding 8.340/163.05 by Outlaw Street racer Sally Woolner, which sets a new record for the group. James Willday made progress with his Mazda RX8, going as fast as 181.29mph in 8.8311 seconds. Pro Modified racer Paula Atkin made some test hits with her new Fueltech system, Pro ET racer Gino Bernadine ran 9.020/149.57 his fastest so far in 2021, and other VWDRC and Outlaw Street racers made runs.

Thanks to Kirstie for supplying a gallery of the action which you can see at this link or via the Event Coverage menu link on any Eurodragster.com page.

Northern No Prep.
17th August: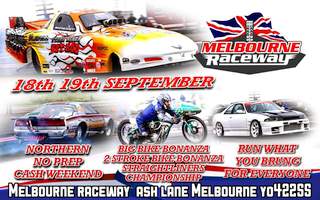 Thanks to sponsor Lee Child of LA Racing for letting us know that on the weekend of 18th and 19th September at Melbourne Raceway, there will be a new format with six categories and titled Northern No Prep cash weekend:

"There will be two days with separate eliminations, one on Saturday and another on Sunday, giving a driver a chance of winning £800 over the weekend if they choose to run the whole weekend. Based on a 16 car field the winner gets £400 in each category as follows:

Pro AWD: Modified, competition tyres , interior removed
Street AWD: Factory appearance, full interior
Pro Rear Wheel Drive: Modified, competition tyres, interior removed
Street Rear Wheel Drive: Factory appearance, full interior
Pro Front Wheel Drive: Modified, competition tyres, interior removed
Street Front Wheel Drive: Factory appearance, full interior

All pairings are pulled out of the hat for eliminations until the finals in each category. In the event if numbers in each category are not filled, there will be a reduced prize fund, for example:

4 car category: £150
8 car category: £200
In event the category exceeds 16 cars the prize will go up from £400.

Entry fees include driver entry and two crew tickets:

Saturday 18th only
Early bird entry £115
After early bird deal £125

Sunday 19th Only
Early bird entry £115
After early bird deal £125

Weekend entry Saturday 18th and Sunday 19th:
Early bird £200
After early bird weekend deal £220

Online bookings will be live soon for the Northern No Prep Cash Weekend feature race.

Eurodragster.com will once again be at Melbourne Raceway for the Northern No Prep Cash Weekend with former editor Tog taking photographs on our behalf.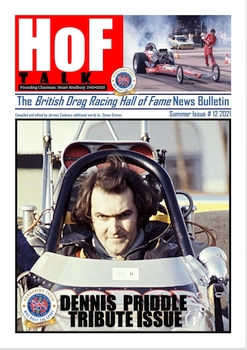 HOFtalk #12, gala decision.
17th August: The Summer 2021 edition of HOFTalk, the magazine of the British Drag Racing Hall of Fame, has been published by compiler, UK Nostalgia enthusiast, and BDRHoF director Jerry Cookson with additional words by Eurodragster.com editor Simon Groves.

This latest issue is a tribute to the late Dennis Priddle, dedicated to his tremendous contribution to British Drag Racing from racing Top Fuel Dragsters and Funny Cars and his engineering skills, with many photos of him, on track and off-track, coupled with pages of tributes.

You can also read about the activities of BDRHoF members, tributes to members who have passed away, and a retrospective look at the 2010 BDRHoF inductee presentations.

2021 news includes details of the auction held at the 10th Anniversary Dragstalgia at Santa Pod Raceway by BDRHoF chair and director Lesley Wright, news about our great supporter Geoff Stilwell and his land speed racing plans, plus Pro Modified and Fuel Altered news from 2020 inductee Nick Davies.

Nick will be joined by other 2020 inductees Jeff Byne, Ian King, John Price, Dave Wilson, Pelle Lindelöw and Gunnar Elmqvist at this year's Gala to be held on 20th November. Save this date in your diaries and the BDRHoF will be announcing all the details very shortly.

To read the latest packed 35-page edition of HOFtalk (in PDF format, file size 50MB) you may download it direct from this link, or click on the Lucas Oils-sponsored Features link in the main menu at the top of any Eurodragster.com page.

Tierp snippets.
17th August: Some race teams and media have posted remarks on the weekend's Summit Racing Scandinavian Nationals at Tierp Arena in Sweden:

Sometime pit note supplier Mike Kraaij remarked that Marcus Christiansen (Stefan Boman photo below left) after his new PB 6.1456/366.85kph run on Sunday on his 175ci engined bike is "now the 3rd quickest Super Twin on European soil, by far the quickest nitro injected Super Twin in Europe, and third quickest nitro injected in the world (behind Bob Malloy and Joey Sternotti with 196ci engines)". Marcus now uses a carbon fibre wheelie bar and this came into full use as his front wheel rose high into the air on the 6.14 pass and Marcus kept on full throttle, clearly with complete confidence in the machine. Marcus's team remarked that it was the second full run with this setup and were delighted with the result.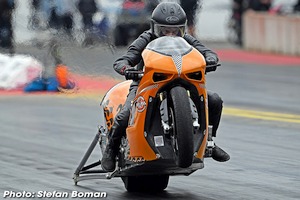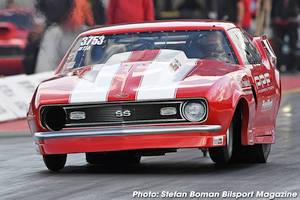 Another run highlighted by Mike was the Super Street Bike run from Mathias Bohlin. He said the "great PB run of 6.930@342.64 moved Mathias up to the #5 spot for quickest runs in SSB in Europe with the third highest speed".

Andreas Arthursson, #2 qualifier in Pro Modified at 5.8015 with fastest PM speed of the meet at 409.09 (253mph), was upset in the first round of eliminations and gave an insight into his problems: "A boring to end a great weekend with losing first round. Both Roger Johansson and Andreas had problems with shake in first gear over the first 60 foot. The track was so cold and tight and we hadn't the car set up right for it. We shook so badly that we lost the power so it wasn't possible to just pedal and get through. Andreas tried to re-start but the power switch was just off. It was a fun weekend overall and you always learn something hopefully.

Robert Arthursson (Stefan Boman photo above right) was #1 in Competition Eliminator in his incredible Toyota 2JZ engined Camaro, running 6.2125/368.10 in qualifying on a 7.05 index. Tuner Andreas Arthursson of PPF said the engine was running 96 psi (6.6 bar) of boost after a Fueltech FTSPARK upgrade.

Also in Competition Eliminator Michael Westberg who won the Street Week Sweden in July ran a quickest of 6.6032/331.29 in his pickup in his first round win. He said "The car worked most of the time insanely well and I was running times I didn't think I'd be able to get down to this season thanks to my master tuner. Who would have thought that my home built chassis I built myself on the garage floor a few years ago could perform 1.02 feet and respectable times for even clean race cars after I drove almost 160 miles with it this summer".

The photographic media have been posting galleries of the action from the Scandinavian Nationals: Diamonds for sale.
17th August:
Dave Gibbons has announced he is changing direction in his racing life, and two race cars are for sale as a result:

Forty years ago I ran the Rough Diamond Tee for the first time, and I only ran it for three full seasons before selling it to Tony Morris. Finding it thirteen years ago dragged (no pun intended) me back into drag racing, and ten years ago I began racing the reconstructed car once again. Unfortunately all good things come to an end, so it's time for me to move the car on. I'm not quitting racing - I just want to go in a different direction, one that suits my life at this time, and to do so means that the faithful steed must go - along with Scott's junior dragster.

I'm looking to continue with something a little more sedate, something that I can manage and run on my own if necessary, and more importantly, share with friends and family who want to drive something reasonably quick. I also want to be able to spend more time at the track supporting my Tony Morris Carburetors clients, and creating new business in that area. So I guess whatever I end up with will have a carb on it!

The car's been great fun, given me fame (but not fortune) thanks to flame burnouts, and on more than one occasion, made me clench my buttocks.

Adverts for both cars are on the Jeff Bull Race Engines-sponsored http://www.eurodragster.com/classifieds/showads.asp?category=1">swap meet, and I'm open to negotiation. I can be contacted at dave@roughdiamondracing.com.

Scandinavian Nationals rained off.
16th August: Many thanks to photojournalist Remco Scheelings for sending his summary of the eliminations that took place on day three of the Summit Racing Scandinavian Nationals at Tierp Arena yesterday, the race disappointingly rained off:

The weather was not with the Pro Modified racers at Tierp Arena on Sunday. With the quarter finals of the EDRS Bilsport Pro Mod Series completed, it started to rain. With more rain to come in the next couple of hours, the race director was left no other choice than to cancel the remainder of the Summit Racing Scandinavian Nationals.

Eliminations of the EDRS Bilsport Pro Mod Series started with two major upsets. Number two qualifier Andreas Arthursson had problems and was defeated by Roger Johansson while number five qualifier Mats Eriksson pulled a red light and was defeated by Marcus Perman (pictured below left). There were less problems for Jan Ericsson (winner over Micke Johansson), Fredrik Fagerström and Michael Gullqvist (both with a bye run), Åke Persson (winner over Jan Bränvall), Marck Harteveld (winner over Bruno Bader) who ran a great 5.95 seconds and David Vegter (pictured below right) (winner over Jean Dulamon) who was quickest in round one of eliminations with 5.92 seconds.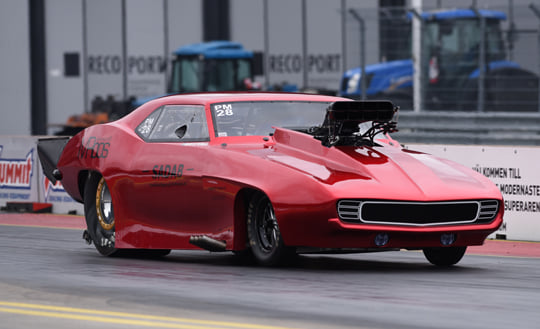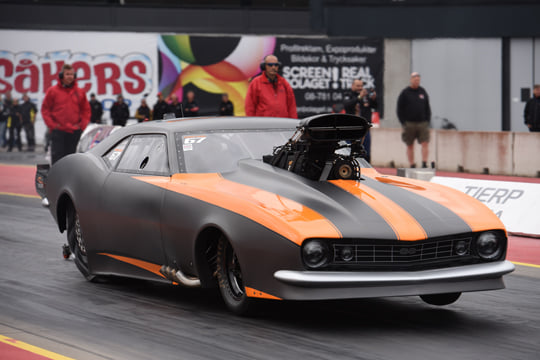 In the quarter finals of Pro Modified eliminations Ericsson improved to a great 5.81 seconds to defeat Persson, while Perman had no problems to beat Fagerström. Harteveld advanced to the semi-finals with an easy win over Johansson as the Swede ran into problems and crossed the center line. There was drama for Vegter at the start line as the Dutchman had to shut off his engine due to oil pressure problems, handing the win to Gullqvist who stormed to a great 5.83 seconds.

In the semi-finals Gullqvist should have faced Harteveld and Ericsson Perman. But the weather had other plans, bringing eliminations to an early end.

In the final round of the EDRS Pro Nordic Motorcycle Championship, only one round of eliminations in Super Twin Motorcycle and Super Street Bike were completed, and with Pro Stock Motorcycle in the line-up, it started to rain.

It was a strange first round of eliminations in Super Twin Motorcycle. In all three runs the riders in the left lane (Julia Wagner, Roman Sixta and Juha Hintukainen) ran into problems even before the start, handing the win to the riders in the right lane. These winners were number one qualifier Marcus Christiansen, who stormed to a stunning 6.14 seconds, Samu Kemppainen (pictured below left) (6.57 seconds) and Greger Johansson. In the semi-finals Christiansen should have had a bye run while Johansson should have faced Kemppainen. But the weather had others plans, bringing eliminations to an early end.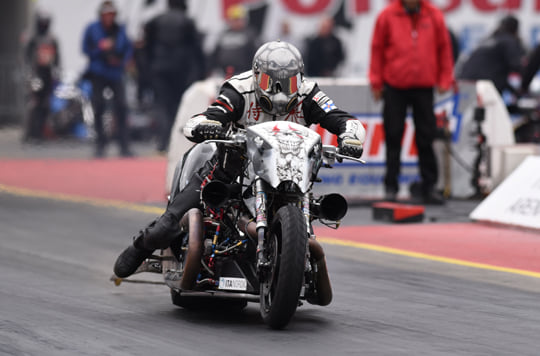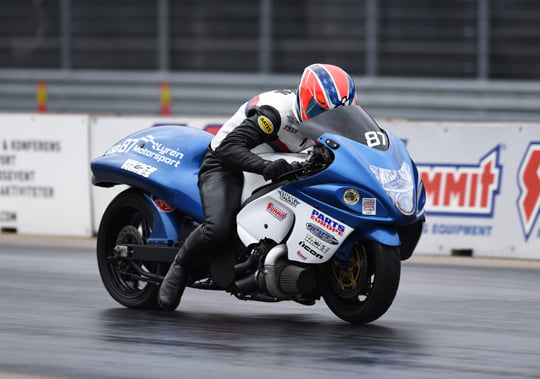 In Super Street Bike Kalle Lyrén (pictured above right) surprised with a win over number two qualifier Anders Blanck while Peter Rundström defeated Roberth Häggblom to advance to the semi-finals. Number one qualifier Mathias Bohlin recorded another 6-second run with a great 6.97 seconds to defeat Jens Karlsson. In the semi-finals Lyrén should have faced Rundström while Bohlin had the advantage of a bye run.

When the rain started, Pro Stock Motorcycle and Top Fuel Motorcycle still had to run their first round of eliminations.

For all qualifying results go to www.dragracing.eu.

VWDRC Heads Up at Das Auto Show.
16th August: Congratulations to Jacob Bailey (pictured below right) for winning the VWDRC Heads Up eliminations held yesterday at Das Auto Show at Santa Pod Raceway. Twelve cars were entered for the competition, however only eight were able to better the 11.99 cut-off: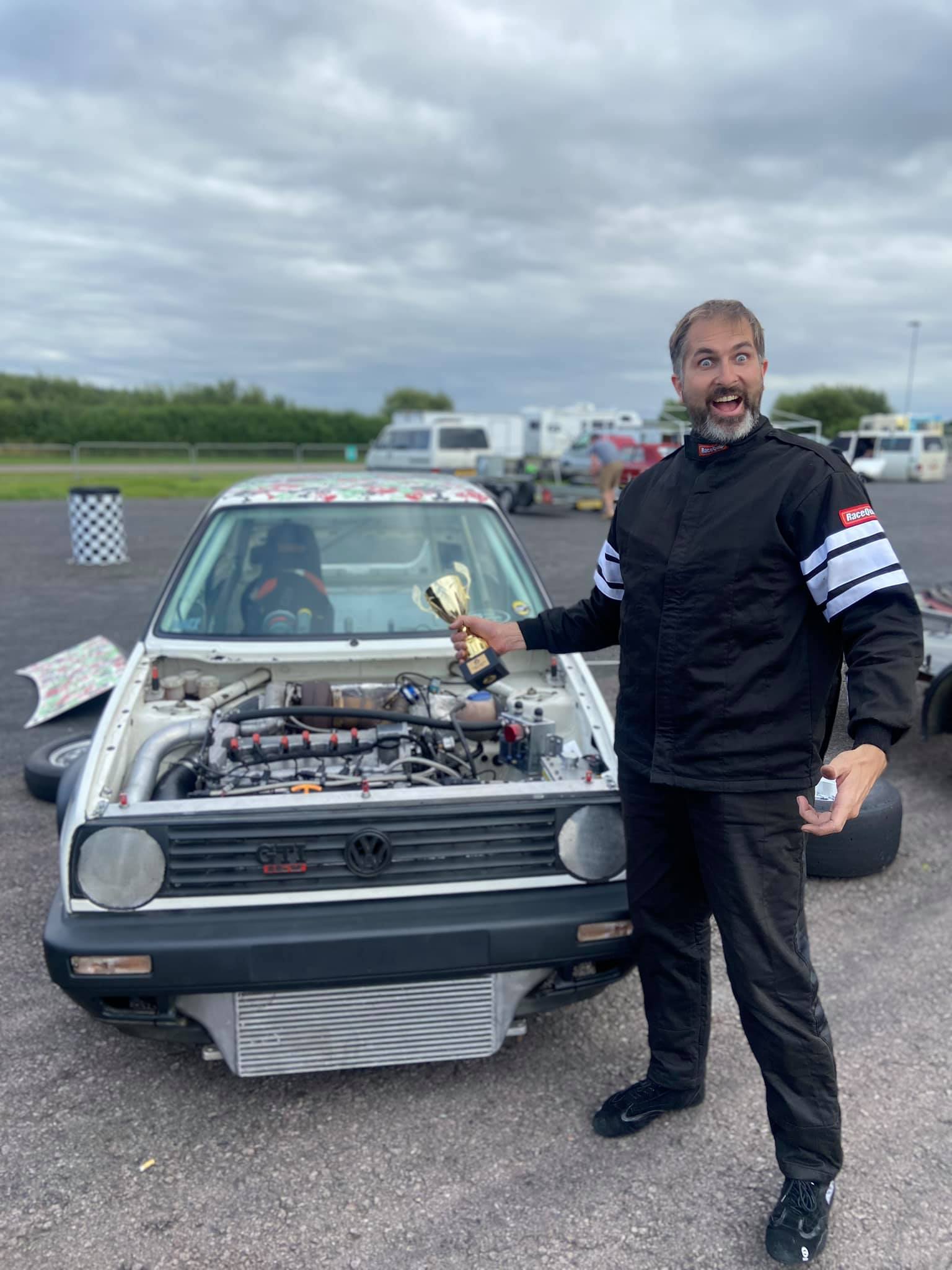 Qualifying:
Jose Leite 10.4066/131.68
Paul Jordan (VW Polo) 10.4605/146.16
Jacob Bailey (VW Jetta) 10.5338/139.51
Ant Mincher (VW Golf) 10.9465/125.84
Chris Waterhouse (Audi S3) 11.2218/124.07
Helde Pereira (Seat Ibiza) 11.4715/117.45
Bruce Kopasz (Porsche 924) 11.8468/120.91
Dave Lea (VW Golf) 11.8620/116.72
Eliminations round 1:
Jacob Bailey 10.4612/139.49 def. Helde Pereira 17.7237/49.58
Ant Mincher 11.9076/117.15 def. Chris Waterhouse no-show
Paul Jordan 11.9363/132.99 def. Bruce Kopasz 13.0797/106.26
Dave Lea 11.8670/115.63 def. Jose Leite 26.4462/22.77

Semi finals:
Jacob Bailey 10.1931/139.49 def. Paul Jordan 17.0816/56.95
Dave Lea 12.1236/112.78 def. Ant Mincher 19.1440/49.25 DQ red

Final:
Jacob Bailey 10.1223/133.72 def. Dave Lea 11.9599/105.79

Jacob improved his personal best ET in the last two rounds with only Paul Jordan having a quicker terminal speed in qualifying. Jacob said after his win "I thought the last run was a nine, but I stripped 4th gear not long before the line so was just coasting." Many thanks to David Anniwell of the SPRC timing crew who has posted the results of the VWDRC Heads Up at Santa Pod Raceway's official results site.

The VWDRC remain at Santa Pod Raceway today for their VW Drag Day 2021. Eurodragster.com is represented by Kirstie trackside and we will publish a post-event gallery of racers on track and in the pits.

Eliminations at Tierp.
15th August: Thanks to www.dragracing.eu for publishing results of the eliminations that occured, which we reproduce below:

Pro Modified eliminations: Round 1
Jan Ericsson 6.149/376.3kph def. Micke Johansson 6.350/356.4
Åke Persson 8.645/201.5 def. Jan Bränvall 8.213/220.4 (Jan alternate for Michel Tooren)
Fredrik Fagerström 6.438/353.6 def. Andres Arnover, no show
Marcus Perman 6.255/347.7 def, Mats Eriksson 6.390/381.4
Roger Johansson 8.968/253.3 def. Andreas Arthursson 13.345/99.7
Marck Harteveld 5.956/381.6 def. Bruno Bader 6.103/365.9
Michael Gullqvist 6.081/379kph def. Olof Andersson, no-show
David Vegter 5.925/378.2 def. Jean Dulamon 7.966/214.1
Round 2
Jan Ericsson 5.810/396.20 def. Åke Persson 9.559/148.4
Marcus Perman 6.268/368.35 def. Fredrik Fagerström 7.294/292.52
Marck Harteveld 6.242/370.4 def. Roger Johansson N/T, crossed centre line
Michael Gullqvist 5.832/396.48 def. David Vegter shut off

Pro Stock Eliminations: Round 1
Jimmy Ålund 6.566/341.1 bye
Richard Sundblom 6.718/334.4 def. Lasse Britsmar 7.019/315.2
Stefan Ernryd 6.654/329.5 def. Michael Malmgren 14.159/93.3 red

Top Methanol Eliminations: Round 1
Jonny Lagg 11.359/122.3 bye
Daniel Jedborn 5.530/404.2 def. Tony Bryntesson 5.679/392.2

Super Twin Motorcycle Eliminations: Round 1
Marcus Christiansen 6.146/359.52 def. Julia Wagner broke
Samu Kemppainen 6.573/345.21 def. Juha Hintukainen shut-off
Greger Johansson 9.060/158.92 def. Roman Sixta shut-off
New PB for Marcus Christiansen, well done Marcus, Speedy and team!

Super Street Bike Eliminations: Round 1
Kalle Lyrén 7.500 def. Anders Blanck 14.234/81.0
Peter Rundström 7.714/258.37 def. Roberth Häggblom 8.574/196
Mathias Bohlin 6.977/340.91 def. Jens Karlsson 16.786/58.6

Well done to Stock Super Stock racer Carla Pittau for getting through to round 3.

At 15:15 CET, after heavy rain, the decision was taken to cancel the remainder of eliminations as there would be insufficient time to dry the track. We'll report more tomorrow with links to video and photo galleries.

Summit Racing Scandinavian Nationals Saturday report.
15th August: Many thanks to photojournalist Remco Scheelings for sending his summary of events in day two of the Summit Racing Scandinavian Nationals held yesterday:

After another great day of qualifying Jan Ericsson (Pro Modified), Jonny Lagg (Top Methanol) and Jimmy Ålund (Pro Stock) claimed the number one qualifying positions at the Summit Racing Scandinavian Nationals at Tierp Arena and will lead their respective categories into Sunday's eliminations. Although not a race for the FIA European Drag Racing Championship, the 25 teams from the three FIA classes will do everything they can in tomorrow's eliminations to take the trophy back home with them.

Perfect track conditions and cooler temperatures made the second day of qualifying of the Summit Racing Scandinavian Nationals very interesting. There were numerous improvements in all three categories.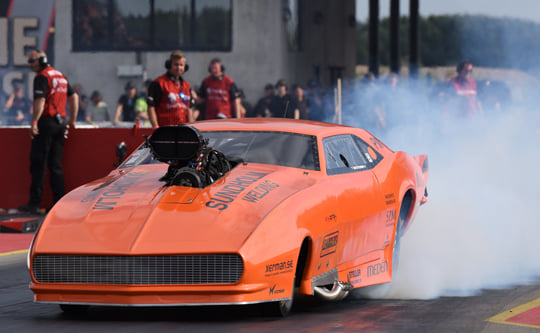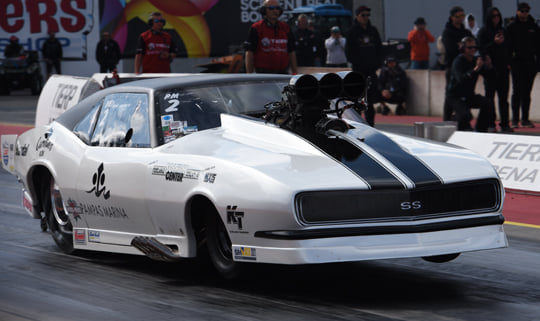 In Pro Modified Jan Ericsson (above left) stormed to a great 5.79 seconds to take over the number one qualifying position from Friday leader Andreas Arthursson. The FIA European record holder himself improved to 5.80 seconds but even that was not enough to remain the number one qualifier after five runs. Michael Gullqvist (above right) was also one of the many improvements. The Swede recorded 5.83 seconds to take over the number three position from Andres Arnover. Mats Eriksson and David Vegter remained in fifth and sixth position. Marck Harteveld (below left) was the seventh driver to record a 5-second run with 5.97 seconds. Michel Tooren (below right), like Vegter and Harteveld also from The Netherlands, is the number eight qualifier with 6.10 seconds.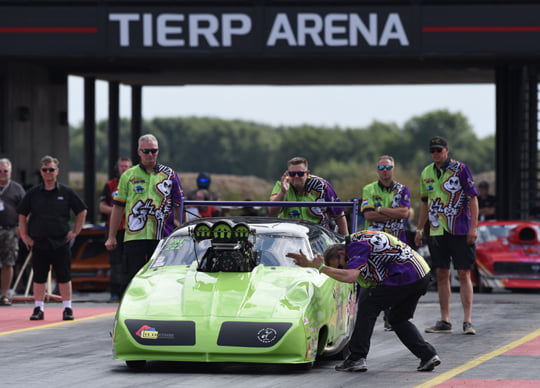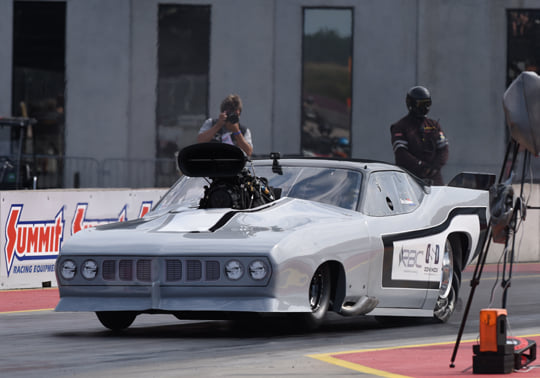 In Pro Stock Jimmy Ålund was in a class of his own. The multiple FIA European Pro Stock champion improved to 6.53 seconds to claim the number one position. Stefan Ernryd is second (6.63 seconds) and Richard Sundblom, who improved to 6.66 seconds, third.

In Top Methanol Jonny Lagg couldn't improve on his Friday performance but the 5.41 seconds from Friday qualifying was enough to remain the number one qualifier. Daniel Jedborn is second and Tony Bryntesson third.

In the 2021 EDRS Pro Nordic Motorcycle Championship, Rikard Gustafsson (Top Fuel Motorcycle), Marcus Christiansen (Super Twin Motorcycle), Bertrand Maurice (Pro Stock Motorcycle) and Mathias Bohlin (Super Street Bike) claimed the number one qualifying positions at the Summit Racing Scandinavian Nationals at Tierp Arena and will lead their respective categories into Sunday's eliminations. There were numerous improvements and in three categories there was a new leader compared to Friday's qualifying results.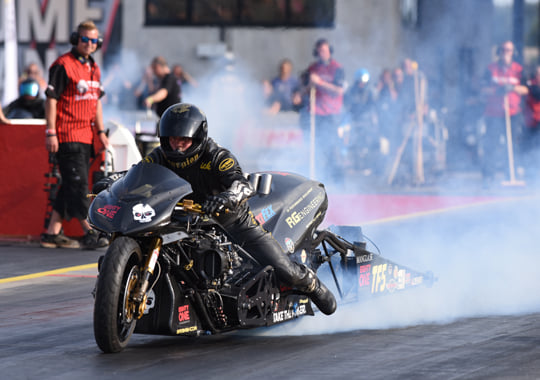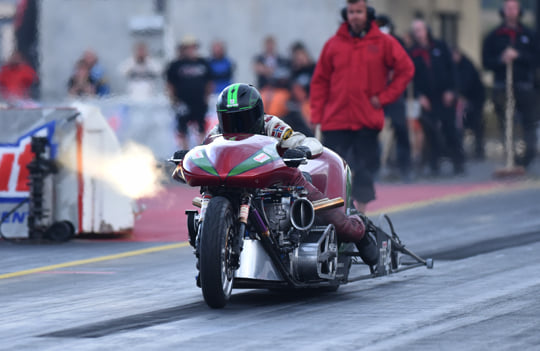 In Top Fuel Motorcycle Rikard Gustafsson (above left) stormed to a great 5.87 seconds to take over the number one position from Friday leader Jan Sturla Hegre (above right), who improved to 6.35 seconds. Peter Andersson-Ström remained in third position.

In Super Twin Motorcycle there were so many improvements that Friday leader Juha Hintukainen finished qualifying in fifth position. Marcus Christiansen (below left)improved to 6,31 seconds to take over the number one position, with Samu Kemppainen (6.41 seconds) second and Greger Johansson (6.69 seconds) third. Roman Sixta improved his elapsed time to 7.13 seconds but still dropped from second into fourth position.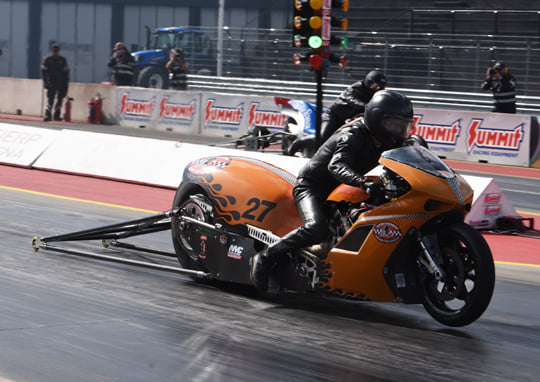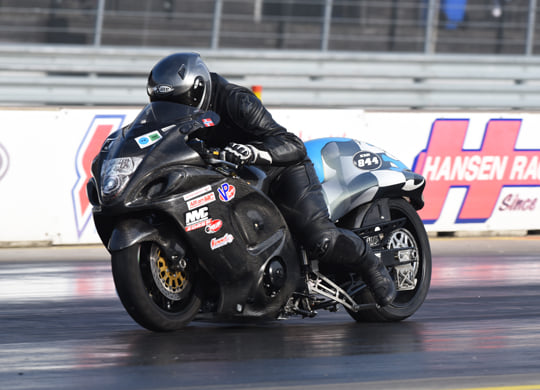 In Super Street Bike Mathias Bohlin (above right) saved the best for the last. In his fifth and final run Bohlin stormed to a great 6.93 seconds to take over the number one qualifying position from Friday leader Anders Blanck (7.26 seconds). Peter Rundström remained third.

Bertrand Maurice from France improved to 7.17 seconds and is in a class of his own in Pro Stock Motorcycle.

Eliminations for the Summit Racing Scandinavian Nationals will start on Sunday morning. You can see the run order at this link.

For all qualifying results go to www.dragracing.eu. The race is available to stream live at this link.

Text and pictures courtesy and © Remco Scheelings.

New cars and PBs at Tierp.
15th August: Some new cars were competing at the Summit Racing Scandinavian Nationals over the weekend and here we highlight a few of them:

Andres Arnover (Pro Modified) who raced in the UK in 2019 in Top Doorslammer has a new FIA-legal turbo '67 Mustang (see Friday review for photo). The car looked great and performed fantastically, Andres getting into the 5.8s with a fantastic 5.886/399.11. Sadly an explosion and subsequent fire have likely sidelined the car for the remainder of the event and our best wishes go to Andres for a speedy recovery and return. Andres said "At about 150m the oil was forced out of the gearbox turbine and because it was very hot oil, it caught fire and the underside of the car was on fire. Fortunately, the damage is not big, but still a little plastic work and a new color".

Micke Johansson (Pro Modified, below left) replaced his Dodge Challenger with a 1969 Dodge Daytona with a more modern chassis (he had raced the Challenger since 2011). His new car with the iconic rear wing was first constructed in 2014 by Paige Racecars in the US and has supercharged Brad Anderson Engineering power.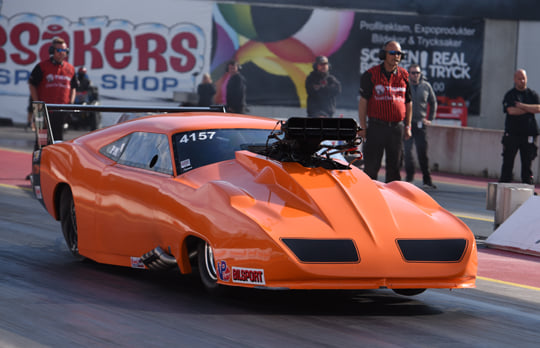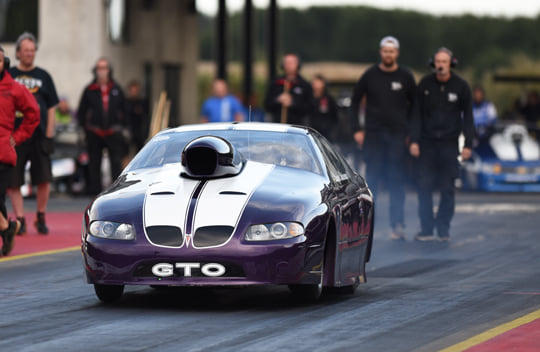 Lasse Britsmar (Pro Stock, above right) aged 62 has made his way into the class after starting racing in 1988 and spending a number of years in Competition Eliminator. He runs a Pontiac GTO and made his first six second pass today 6.9872/318,77 in conditions which must have had most Pro Stock drivers scratching their heads about chassis setup.

Stefan Jansson (Top Doorslammer) (below left, Patrik Jacobsson photo) has run his '57 Chevy for the last couple of years, previously driving a Volvo 340 that ran low eights. The Chevy Bel Air built in 2000 by Stroupe Race Cars, first being run in Sweden by Micke Lindahl, and has a KB Hemi 451ci blown alky setup with Powerglide, running a best of 4.419/270,68He was co-driver to Mikael Modin in Street Week Sweden this year, an event we have on our list of features for future publication.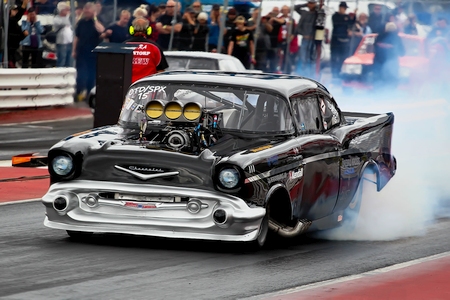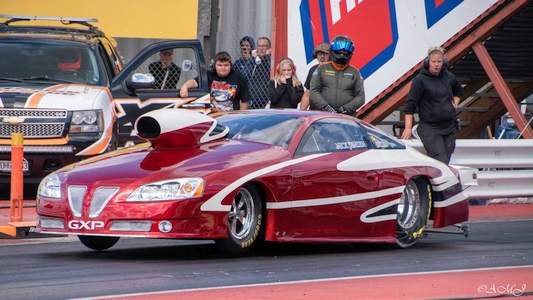 Nick Jensen (above right) from Denmark started in Comp Eliminator this year with a C/Altered Pontiac GXP, the car running a naturally aspirated 498ci engine. Crew chief is former Pro Stock racer Jackie Hansen. Best ET so far is 7,1275/311.42 on a 7.90 index (Photo by Anne Mandahl).

Michael Westberg (below left, Cenneth Schiller photo) in Competition Eliminator has a rapid Chevrolet S10 running in AT/Altered on E85 into its Chevrolet LS 6ltr engine. He ran a new PB 6.697/329,87 in qualifying.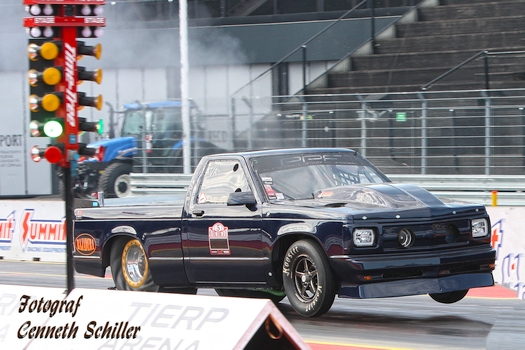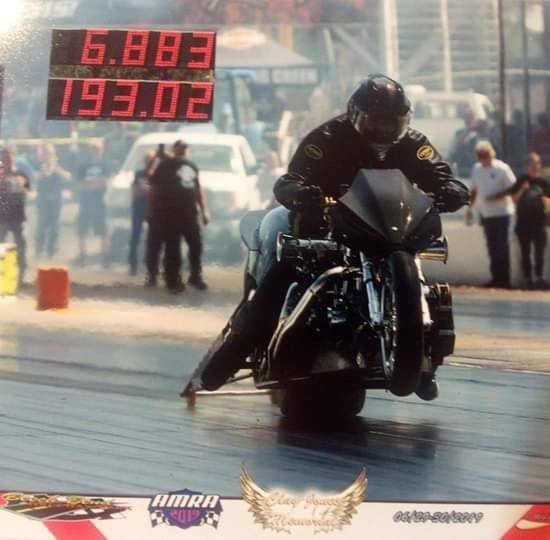 Juha Hintukainen (Super Twin, above right) ran a best of 7.391/221.86. Juha, who hails from Sundsvall in Sweden, rides a Jay Turner-built bike from 2010, with OCR chassis and unblown PRP engine. It's his first year in Super Twin competition and he plans to race the Fueltech series as well as EDRS Pro, both series shortened from their original plan. Juha said that clutch issues had slowed the bike from its 6.2s potential.

Former Pro Stock Bike racer Kalle Lyrén has made a transition to Super Street Bike with a Suzuki Hayabusa, however still has his Pro Stock Suzuki for when full competition returns.

Others running new PBs were Pro Mod racers Marcus Perman (Camaro) with 6.292/368,60, Olof Andersson with 6.357/364,13, Pro Stock Motorcycle rider and 2018 FIM Champion Bertrand Maurice with 7.176/297,36 utilising a Vance & Hines 1755cc engine.

Pictures courtesy and © Remco Scheelings or stated photographer.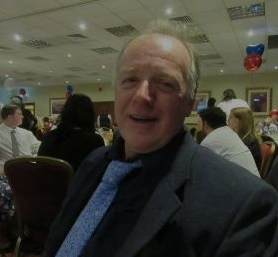 Swift snippets.
15th August: We all wish a Big Happy Birthday to our good friend photojournalist Steve Moxley. Lizz Charman of NitroJunkie reminded us and sent in the photo of Steve for which thanks.

Steve has been in touch to say that his report on the ACU bike classes at the STP Summer Nationals at Santa Pod Raceway has been published on the ACU web site, as has a preview for the Greenlight Nationals, the next round of the ACU Championship this coming weekend.

Summit Racing Scandinavian Nationals Friday report.
14th August: Many thanks to photojournalist Remco Scheelings for sending his summary of events in day one of the Summit Racing Scandinavian Nationals held yesterday:

Andreas Arthursson raced to the provisional number one qualifying position in Pro Modified at the first day of qualifying for the Summit Racing Scandinavian Nationals at Tierp Arena. In Pro Stock Jimmy Ålund claimed the provisional number one qualifying position while in Top Methanol Jonny Lagg is the leader after day one. Although not a race for the FIA European Drag Racing Championship, 25 teams from three FIA classes take the opportunity this weekend to test and race in championship conditions.

Sunshine, not too high temperatures and a great track made the first day of qualifying for the Summit Racing Scandinavian Nationals at Tierp Arena a perfect day for racing.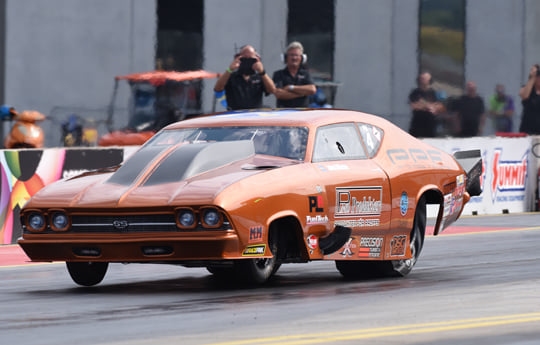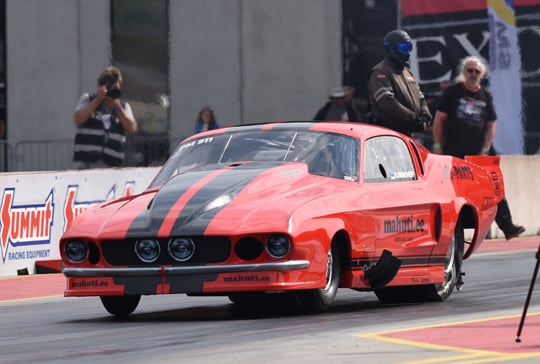 Although many teams hardly made any runs in race conditions the last two years, the competition in Pro Modified was intense from the very first run of the day. No fewer than six drivers recorded a 5-second run!. Leader after day one is Andreas Arthursson (above left) who recorded a great 5.843 seconds in his second run of the day. Jan Ericsson claimed the provisional number two position with 5.884 seconds and Andres Arnover from Estonia (above right) surprised with a great 5.886 seconds and is third. Michael Gullqvist, Mats Eriksson and David Vegter were the three drivers with a 5.9-second run.

In Pro Stock Jimmy Ålund (below left) is once again the leader after day one. The multiple FIA European Pro Stock champion stormed to a great 6.56 seconds to claim the number one position. Stefan Ernryd is second (6.63 seconds) and Richard Sundblom third with 6.74 seconds.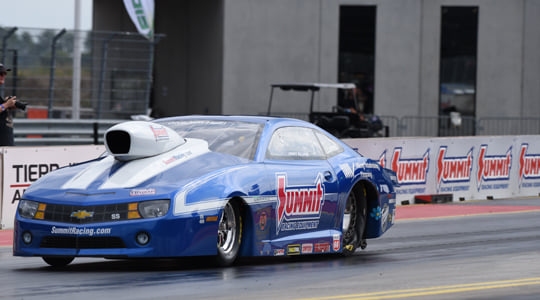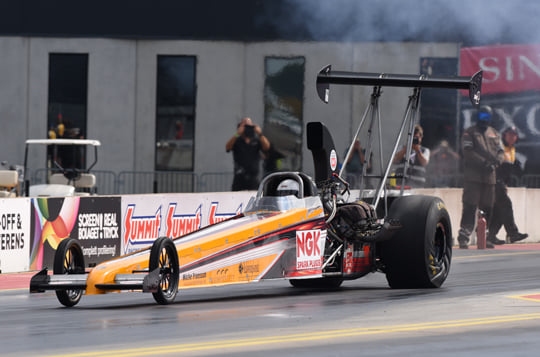 In Top Methanol Jonny Lagg (above right) claimed the number one spot with 5.41 seconds with Daniel Jedborn second and Tony Bryntesson third.

In bike classes, Jan Sturla Hegre, Juha Hintukainen, Anders Blanck and Bertrand Maurice were the Friday leaders at Tierp Arena, the race being the final round of the 2021 EDRS Pro Nordic Motorcycle Championship.

In Top Fuel Motorcycle Jan Sturla Hegre was the man to beat with a great 6.44 seconds to claim the provisional number one position, with Peter Andersson-Ström in second (6.69 seconds) and Rikard Gustafsson third.

In Super Twin Motorcycle Juha Hintukainen surprised with a 7.39 seconds to claim the provisional number one qualifying position with Roman Sixta from the Czech Republic second and Greger Johansson third.

In Super Street Bike Anders Blanck recorded a great 7.26 seconds and that made him the number one qualifier after Friday, with Mathias Bohlin second and Peter Rundström third.

All the way from France is was Bertrand Maurice who claimed the number one spot in Pro Stock Motorcycle.

Qualifying for the Summit Racing Scandinavian Nationals continues today (Saturday) with two sessions for the quicker classes. You can see the running order for today by clicking here. For up to date qualifying results click on this link. The race is available to stream live at this link.

There is still a limited number of tickets available for Saturday qualifying and Sunday's eliminations. You can buy your tickets by clicking on this link.

Text and pictures courtesy and © Remco Scheelings.


Get well soon Dave Grabham!
14th August: We send our best wishes for a speedy recovery to Freddy's Revenge blown alky altered racer Dave Grabham who was hospitalised with a stroke on Thursday night.

As recently as Dragstalgia Dave was as usual giving us all thrills and running Freddy's Revenge as hard as he knows how. We hope your recovery is fast and complete. To quote Jerry Cookson, "You know where your rightful place is Dave, out on that drag strip with Freddy's Revenge".



Summit Racing Scandinavian Nationals preview and prize draw.
12th August: The Summit Racing Scandiavian Nationals will be taking place this Friday to Sunday 13th-15th August at Tierp Arena, and will be available to stream live at this link, Svensk Bilsport's own channel.

The race has survived what many might consider as overwhelming obstacles: first, Tierp Arena came up for sale following financial difficulties of its parent company, then the 2021 FIA Championship, which the race originally was part of, was sadly cancelled. But organisers NDRS Motorclubb headed by Kjell Petterson have persisted, and won, against the odds and put on the race with the club and its sponsors helping to provide finance for it.

The entry list which as at this morning consists of 194 competitors, includes 17 Pro Modified cars, 5 Pro Stock, 3 Top Methanol, 4 Top Fuel Bike, 6 Super Twin Motorcycle, and 7 Top Doorslammers. There are several teams amongst them that haven't raced since 2019.

International competition is evident in Pro Modified, with three teams from Holland (Marck Harteveld, Michel Tooren and David Vegter) entered, Bruno Bader from Swtzerland, Jean Dulamon from France and Andres Arnover from Estonia. In Super Twin Motorcycle Roman Sixta from the Czech Republic joins the Nordic riders. Four of the 16 Comp Eliminator cars are from outside the Nordic countries, whilst our good friends Carla Pittau and Rick McCann are competing in Stock/Super Stock.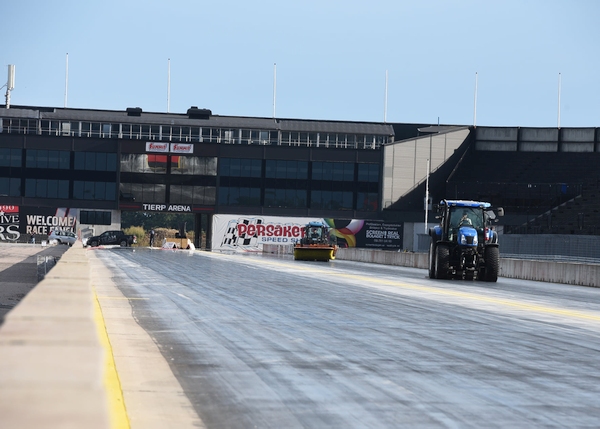 To watch all three days you should opt for All Access for 219 SEK (about £19) which will give you access to all streams, replays and videos from SBFplay.se, valid until 19th August 2021. Or alternatively you can enter a draw to win access to sbfplay.se during Summit Racing Scandinavian Nationals 2021.

To those of you who can´t visit Summit Racing Scandinavian Nationals on 13-15 August at Tierp Arena, in collaboration with Svensk Bilsport, Speedgroup are handing out access to watch Summit Racing Scandinavian Nationals from Tierp Arena on SBFplay.se.

Speedgroup along with race organiser NDRS Motorclubb, have set up the criteria to win an access pass to follow the event on sbfplay.se. Meet one of the criteria below and you can participate in the draw for access to sbfplay.se to watch Summit Racing Scandinavian Nationals on 13-15 August at Tierp Arena. Publish your competition entry no later than Thursday evening at 19.00 on the Summit Racing EDRS Series Facebook page. The jury consists of officials from Speedgroup and NDRS Motorclubb.

The criteria to enter the prize draw are as follows:
Do you have your own photo taken on a drag racing car or motorcycle with the main sponsor's Summit Racing logo
Do you have a Photo of happy junior dragsters or junior Dragbike riders
A picture you have taken of a drag racing car or motorcycle with the magazine Bilsport logga
What is the name of the winner in the class Top Methanol Funny Car at the first FIA European Drag Racing Championship competition at Tierp Arena on June 12, 2011
Did you work as an official at the first sanctioned Dragracing competition in Sweden 10-11 August 1968 at Anderstorp Raceway or at the first FIA European Drag Racing Championship competition at Tierp Arena on 9-12 June 2011. Describe your function during the event.
If you're looking in from near Tierp, there are still a limited number of tickets available which you can buy by going to this link.

We will bring you the results of the event at the start of next week and can only hope that the taste of competition will encourage many teams to head for Santa Pod Raceway for the first fortnight in September.

Julie wins at Indy.
12th August: Congratulations to expat Norwegian Top Alcohol Dragster racer Julie Nataas for winning the class at the NHRA Division 3 Lucas Oil Divisional Series last weekend.

Julie's team with her and Rachel Meyer both racing under the Randy Meyer banner were at two tracks, Julie at Lucas Oil Raceway in Indianapolis and Rachel in Western Kansas at SRCA Dragstrip. Randy was with his daughter and tuned Julie's car remotely over the phone. Julie said before the race "It might be the first time we're splitting the team up at two different race tracks," said Julie, "but it's going to be the second time I have Randy tuning over the phone. Last time we went to the finals so I'm confident that we can win at two different races this weekend!"

Julie made one qualifying pass on Friday at which she went to no.1 running a 5.22/275, In the first round of eliminations Julie defeated Brad McBride 5.337/274.11 to 9.854/88.75, and Duane Shields on a holeshot in round 2, 5.270/275.45 (0.020 RT) to Duane's 5.256 274.16 (0.048 RT). In the final Julie was up against Rich McPhillips Jr. and scored a winning 5.218/277.20 to Rich's 5.277/271.68.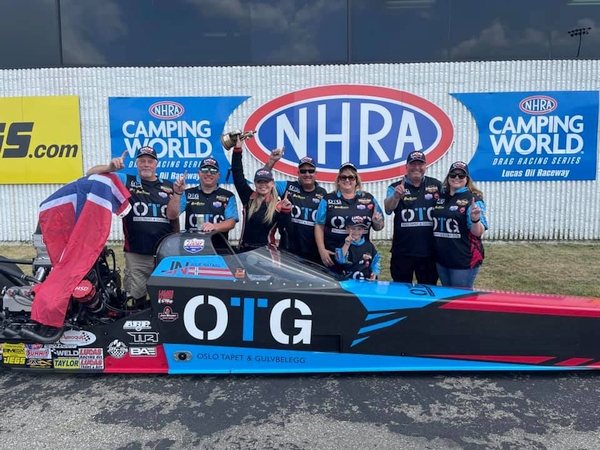 Julie continues to lead the points for the North Central Region of the Lucas Oil Drag Racing Series with three event wins so far this year, and is second to teammate Rachel in the National LODRS points.

Julie videoed a cockpit tour of her A/Fuel car which you can see at this link, also see more images and follow her progress at her Facebook page.

Trakbytes update.
12th August: Thanks to webmaster Chris Dossett for letting us know that the latest update to his excellent Trakbytes website has been uploaded.

Chris says: "The new material added spans 35 years, from September 1963 to August 1998, from Sydney Allard to Barry Sheavills. Among the racers featured or included this time are Alf Hagon, Allan Herridge, Tony Densham, The Stones, The Pages, John Hobbs, Sammy Miller, Brian Johnson, Tim Cook and plenty more.

"The upload of programme covers continues with 84 new scans and a few new entry lists, there's also a request for help finding pictures of Mick Collingham and any of the cars he raced, and there is an unoffical, and probably incomplete, list of all the outright strip records at Santa Pod from 1966 to 2002. "A reminder that I am always happy to receive any new contributions that racers or fans feel should be included in the archive, from a single personal best to a complete meeting report, all are welcome. There are still many meetings for which I have no details. Corrections to any misinformation on the site are also welcome."

One feature of the site that Chris has developed is the Dos Palmos Diaries and Jerry Cookson has provided an expanded post on the Facebook page UK Drag & Sprint Strips That Time Forgot! where you can read about how drag racing, in the form of Dos Palmos, first came to RAF Dishforth in 1964 and to Croft Motor Racing Circuit in 1965 as part of a drag demo.

Swift snippets.
12th August: Happy Birthday and Get Well Soon wishes go to Super Gas racer and class supporter Jon Morton who was hospitalised last weekend for two slipped discs (he never does anything by halves). Jon reports "I will do what ever is needed to get the No Hair Camaro back on track. It does look like I picked the wrong week to have my Birthday." Take it easy Jon, rest up and we'll see you back at the track when you're pain-free.


Mark Firmin, Director of Autism In Motorsports (AIM) has been in touch with a reminder that he will be delighted if any racer was able to display a car to be displayed at a charity karting event on 14th August, taking place at the Wild Tracks Activity Park near Newmarket in Suffolk. The event is open from 0900 to 1600. The event hosts will be delighted to ensure that anyone bringing their car or bike will be suitably fed and watered on the day. Please do contact Mark Firmin direct on 07968 525733 if you can help.

The Mad Welshman has updated his Flickr site with two large albums from Saturday and Sunday of the Mopar Euro Nationals from Santa Pod Raceway covering a total of 386 images, any of which can be downloaded as hi-def copies. You can check out Mad's pictures at this link.

Drag racing historian Nick Pettitt has uploaded video of the 1989 Mantorp Park Drag Festival to Youtube at this link. The broadcast production for Swedish TV, presented by an impossibly young-looking Björn Sundkvist and Ronnie Krabberød, includes the first rounds of Stock/Super Stock, Modified/Street Altered, Econo Gas, Competition, Street Bike, Super Street Bike, Super Twin Bike, Pro Stock Bike, Pro Stock, Pro Comp, Top Fuel and Competition Bike.

Thanks to photographer Pat Weidman for letting us know he has posted pictures from 15e European Dragster at Clastres Dragway to the Dragmag.de Facebook page and at the Dragmag.de web site.

Gardermoen Drag Challenge report.
11th August: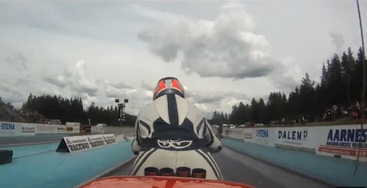 The entry list of 111 for last weekend's Gardermoen Drag Challenge may have been down on previous years due to Covid (it was 182 in 2019), but the event signalled the recommencement of international competition in the Nordic countries with Clement, Fabian and Patrick Dubois of Custom Gang Racing team competing for France, Super Pro ET racer Michael Maderer from Germany and a sprinkling of Swedish and Danish competitors.

The quickest times were essentially in demonstration classes with less than three competitors. In Top Fuel Bike Sverre Dahl of the Sunshine Express Topfuel Bike team, assisted by mechanic Morten Dekko, ran a 6.0210/357.32 (221mph) on Saturday (for onboard video click on the image) and in a field of four Super Twin bikes, Hans Olav Olstad ran 6.9466/321.00 (199mph) on Friday to qualify first.

In the four bike Super Twin ladder, Hans Olav defeated Trond Jostein Høiberget in round 1 7,142 295.3 (183mph) to 8,969/181.1 (112mph). In the other pair, Jan Erik N. Klausen defeated Julia Wagner 8.325/232.8 (144mph) to 16.618/68.3 (42mph). The final was another Hans Olav Olstad triumph as he ran 6.973 318.7 (197mph) to defeat Jan Erik who ran 8.124/245.8 (152mph).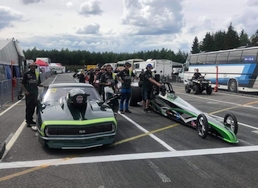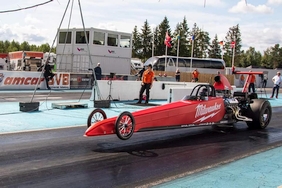 In Pro Modified cars, there were two entrants and whilst both ran in the sevens on Saturday, Odd Erik Fossum of FMV Racing was the winner over Terje Håkonsen two out of three in their match race over the weekend, running a best of 6,41/352,1 (218mph). The team said "It was a hard working weekend with much struggle from spinning and shaking the tires, but we managed to get it to work".

The Fossum family indeed had a good event as Odd Erik's daughter Trine was the winner over a field of 18 cars, her 7.610/282.1 (175mph) run in her dragster defeating Steinar Løvold's 9.260/259.60. The Custom Gang Racing trio all entered Super Pro ET with Patrick qualifying 3rd and red-lighting against son Fabien in round 2, 7.670/299.80 to Fabien's 7.248/290.1. Fabien then faced Trine Fossum in round 3, and broke out 7.215/293.0 to Trine's 7.589/275.4 on a perfect 0.0008 light. Clement qualified seventh and red-lit away a 8.671/232.6 in the first round.

You can see full results of the event at the Norsk Drag Racing Gardermoen web site. The next and final 2021 race at Gardermoen is on 10th-12th September.

Photos and video courtesy Sunshine Express Topfuel Bike team, FMV Racing and Custom Gang Racing

Sunny Drag Challenge for youngster Tian.
11th August: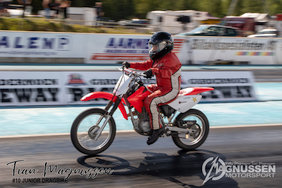 Many thanks to Polly Magnussen for sending the story of his and son Tian Magnusson's Gardermoen Drag Challenge.

At Norway's only drag race track Gardermoen Raceway this weekend, a young boy named Tian Magnussen, age 8 year, raced at his first drag bike competition. Tian took his license at the Spring race but this was his first real race, with over 100 teams ready to burn some rubber.

Tian is racing in the Junior Recruit class and this means that its not a full competition class, only for show and training. But this dident stop the young racer from pushing his Honda 80ccm to the limit and with a top speed personal best at 46,3 mph on the 201 meter he said to his dad that he felt like riding a lightning:)

This years version of Drag Challenge went down with 3 perfect days with sunny weather all day and run after run after run. Tian managed to race 12 runs this weekend, with some fun and play with his other friends in between rounds, so when it was time to pack up and head for home it was a tired but really happy boy falling asleep in the car.

Tian is part of Magnussen Motorsport, a team he and his dad Polly Magnussen runs in Norway.

Mälardalen Open results, media.
11th August: Swedish photo journalist Henrik Lindberg has written a report with several photos on last weekend's Mälardalen Open race at Kjula Dragway for motorsportmagasinet.se which you can read in English if you have a Chrome browser with automatic translation.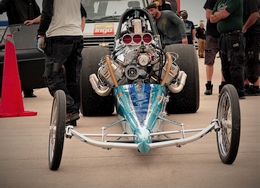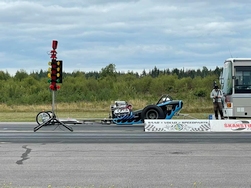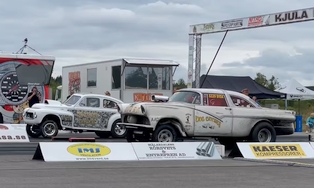 Henrik said "the race was rain-affected with only one qualifying session run on Saturday, then, after a second qualifying session on Sunday, eliminations were unable to be completed". You can see results at Dragracing.eu by clicking on Mälardalen Open 7 in the left hand column. Video of the event can be seen at this link, costing SEK150 (approximately £12.50).

Pictured: Caj Carlsson's historic slingshot which ran 7.262/308kph (Mikael Pflügler photo), Mikael Blomberg who ran 7.7118/292kph and video of the gasser of Stefan Flodell (Sten Lundgren photo and video)

First contact memories restored?
11th August: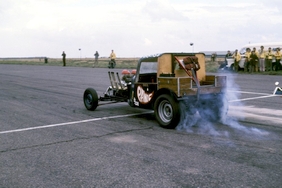 In yesterday's update, Eurodragster.com viewer Clive Lewis recalled how he was at Lascelles Secondary Modern School in Harrow NW London in around 1971 and a dragster appeared in the playground one day looking like a fuel altered and was fired up, starting Clive's interest in drag racing which has remained after 50 years.

Out of speculation we posted two pictures of contemporary altered from the nearby area (your Editor remembering seeing Pete Atkins' Slo-Mo-Shun in a park close to his home in 1970 and getting very excited), however thanks to two readers both giving us a lead, we were able to contact Gary Page who lived with his family close to Harrow at the time.

Gary said "I do vaguely remember taking the car to a school in Harrow, it could very well be Lascelles". Thanks to Gary, and the picture is of the first edition of Panic which the Page family ran in 1971.

Photo credit: Peter Quinn (aka Powerful Pierre), from Acceleration Archive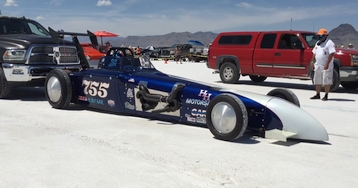 Bonneville snippets.
11th August: Congratulations to Ron Hope of Rat Trap Racing, visitor to the UK and the British Drag Racing Hall of Fame on many occasions, who broke the existing B/BFMR record at Bonneville with a run of 262.029 mph. However, we understand from Geoff Stilwell that, due to mechanical issues that couldn't be fixed at the track, Ron was unable to back it up for a new record. To see more details and video of the start of the record run, click on the image.

US automobile journalist Elana Scherr, who co-wrote Don 'Snake' Prudhomme's autobiography and visited Santa Pod Raceway with Funny Car legend Roland Leong in 2019, has published a timely article for Car & Driver on this year's Bonneville Speed Week. Great writing, and some fantastic images too.


SPR Marshal positions vacant.
10th August: Many thanks to Santa Pod Raceway track manager Darren Prentice for letting us know that Santa Pod Raceway and Santa Pod Racers club are currently seeking to strengthen their Marshalling and Fire Crew team:

"We are currently seeking help for all types of events from Run What a you Brung to full International events, you don't need to commit to every weekend, just if and when you can, full training will be given and uniform will be provided following a period of attendance and training, so if you're spectating, racing or crewing and fancy seeing our sport from a different angle, then drop Darren Prentice or Ian Marshall an email at darren@santapod.com or ir.marshall@btconnect.com for more details.

"Please note that applicants must be 16 and over only, and if under 18, must have parental consent".

Euro Finals Shootout biggest UK drag race for two years.
10th August: Santa Pod Raceway will present The Euro Finals Shootout over the 9th-12th September. In normal times, the weekend hosts Europe's most prestigious drag racing event, the FIA/FIM European Finals, but Covid-19 has forced cancellation of the championships these past two years and has robbed Santa Pod of the vivid presence of teams from 16 or 17 nations who usually attend.

Now, loosening travel restrictions promise a welcome return of some of the colourful Continental entries so missed since the pandemic struck. The outline programme features Pro Shootouts for Top Fuel Dragsters, Nitro Funny Cars and Nostalgia Funny Cars. Pro Exhibition classes are also planned for Top Methanol Dragsters, Pro Stocks and Scandinavia's outrageous, outlaw Top Doorslammers.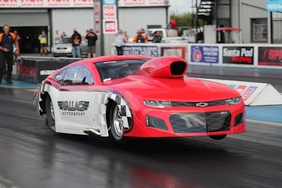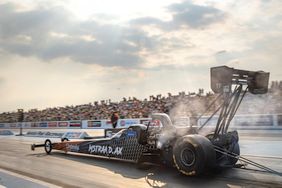 Round 5 of the Motorsport UK British Drag Racing Championship – the fast, furious Pro Modifieds – will headline the event's UK national championship programme, heralding the first competitive appearance of Bobby Wallace's latest entry. Imported from the USA last year, the 14-litre, V8-powered, nitrous-boosted Chevrolet Camaro dipped into the 5-second zone, at almost 240mph, on only its seventh test pass. The event's expected influx of European Pro Mod heavyweights will pose an exciting challenge for the Wallace team and their UK counterparts.

A potential new star appears on the horizon among the 10,000-horsepower, 300mph Top Fuel Dragsters. After rising through the Junior Dragster ranks, Finland's Ida Zetterström switched to two wheels, winning Scandinavia's ferocious Super Street Bike championship – ultra-hairy, 6.8sec/215mph, turbocharged motorcycles running on street-legal tyres without the benefit of wheelie bars. Back on four wheels and duly quarantined, Zetterström began her Top Fuel licensing process guesting at Santa Pod's recent VW festival, Bug Jam, and is expected to complete the procedure with a single remaining full pass at The Euro Finals Shootout, allowing her to compete for the first time with the world's fastest, loudest racing cars.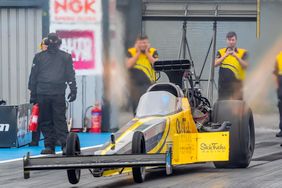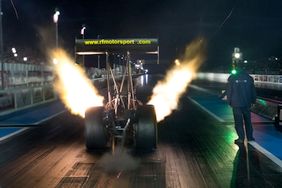 Among opponents facing Zetterström will be Santa Pod's own Top Fuel speed queen, Susanne Callin. Guesting at the same Bug Jam event, Callin set new career-best elapsed times with three consecutive 3-second passes, to add to the 300mph terminal speed she had clocked while still a teenager in 2005.

In normal times, Santa Pod's annual calendar of 75 or more events is settled by September of the previous year. Covid has made planning on the hoof an entirely new experience for the venue's management, and fresh details of The Euro Finals Shootout will be unveiled as they develop. The programme will include all Santa Pod's regular attractions, such as Jet Cars, Monster Trucks and stunt driving and riding displays. As the sun goes down, the Friday Evening Nitro Show will showcase Top Fuel Dragsters, Funny Cars and Jets at their most spectacular.

The Euro Finals Shootout takes place at Santa Pod Raceway, near Wellingborough (NN29 7XA) from Thursday 9th to Sunday 12th September, 2021. Advance adult ticket prices begin at £20, with children aged 5 to 15 at £5 per day. All tickets must be booked in advance – there will be no admission on the gate. Overnight camping is included with multi-day tickets and parking and paddock access are free.

Event information is available at this link and tickets may be booked online at www.santapodtickets.com or by telephoning the Box Office at 01234 782828.

Racers must enter through the Santa Pod Racers Club web site at this link and you will be able to see the entry list at this link.

Wildcat at large.
10th August: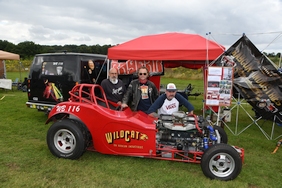 Many thanks to photojournalist Andy Willsheer for letting us know about a historic altered which was on display at the UK's premier hot rod show at the weekend:

Standing out among the NSRA's Hot Rod Supernationals serried ranks of rods and customs on hand this past weekend at Old Warden near Biggleswade, Bedfordshire was the bright red Wildcat Comp Altered. A member of the Wild Bunch Nostalgia Drag Racing Club, the Jaguar XJ6 4.2-litre-motivated blast from the past has been around the straight-line scene since the Seventies and is currently campaigned by Raygun-Industries, a group of individuals who quirkily describe themselves on their website as being not right in the head! A slight exaggeration, I feel, but as publishers of The Raydar Magazine, a perfect bound publication portraying a unique slant on the alternative motoring scene which, incidentally, is produced - and I quote - when we can be bothered, it's fair to say that the gentlemen in question seemingly take pride in being, er, unconventional. Be that as it may, Wildcat was among the bumper entry of some 35 class competitors at July's Dragstalgia event, where it completed the Pod's memorable meeting in a commendable 4th spot. Pictured left to right in front of their trade stand are driver Ian Wild, Paul Haywood and Tim Odell, all of whom happily dare to be different. And why not?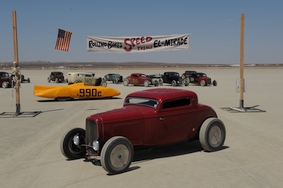 Goodwood Revival celebrates NHRA.
10th August: This year, Goodwood Revival (17th– 19th September) will mark 70 years since two momentous events which took place in 1951, one in the UK and the other across the Pond. Each was emblematic of the nation in which it took place; the Festival of Britain and the founding of the National Hot Rod Association. The summer of 1951 saw millions of visitors flock to the Festival of Britain on London's South Bank, a national showcase of British manufacturing and design,promoting British science, technology, industrial design, architecture and the arts. The Festival proved immensely popular as a "beacon for change" that helped reshape British arts, crafts, designs and sports for a generation.

To celebrate the occasion, Goodwood will be recreating a slice of that festival atmosphere at Gate 2 of the Motor Circuit with nods to the vibrant colours of the Festival of Britain with colourful 'lollipops' throughout the trees and geometric patterns on the buildings. Goodwood will also be reviving the Festival of Britain Trophy.

2021 also marks 70 years since Wally Parks founded the National Hot Rod Association in America and Goodwood is hoping to host one of the largest ever gatherings of the mean machines in Europe with the aim of there being one car for every year of the NHRA's age. This iconic slice of Americana will be celebrated at a relocated Gasoline Alley which will feature bleachers, a mock drag strip , performance stage and dancing.

In addition, 16 of the infamous Rolling Bones cars are confirmed to attend. The Rolling Bones Hot Rod Shop in Greenfield Centre, New York is a renowned hub of automotive craftsmanship run by Ken Schmidt and Keith Cornell for over 20 years. The Rolling Bones will be joined at Revival's colourful display by a number of their UK cousins, with representatives from key Hot Rod groups such as the Low Fliers, the Detonators (of which American F1 legend Dan Gurney was a member), the Originals and the Vultures.

There will also be the UK's biggest gathering of 1932 Fords; the 'Deuce Coupe' of hot rod legend made famous by the Beach Boys. Over 60 of these iconic cars are planned to attend.

New racer and sponsor for 100e Challenge.
10th August: Many thanks to regular contributor Nigel Taylor who has given us an update on the Modified 100e Challenge including the competition debut of his son Kenzie Taylor, who is also a talented photographer:

"More and more 100es are being built all the time and entering into the Modified 100e Challenge with 22-24 cars looking like the potential for next season . "Kenzie Taylor will become the youngest at 16 years old, making licensing passes at this years Hot Rod Drags in our 2.9i V6 100e, and after that no doubt more power may be required for next season.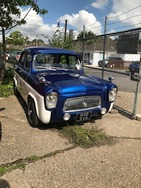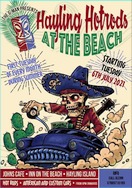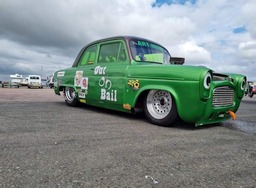 "Glenn Blake, who runs the Hayling Hotrods at the Beach Meeting on the first Tuesday of every month on Hayling Island, has become the first sponsor for the 2022 Modified 100e Challenge and will put up £100 for the winner of each round in the new season.

"Glenn has been into the hot rod scene, Yank cars, customs and the rockabilly scene for years, regularly puts music gigs on and feels that now is his opportunity to put something back into the scene he enjoys so much.

"On behalf of the Modified 100e Group we would like to thank Glenn for choosing the class and look forward to what the 2022 season will bring. Massive thankyou to Ian Marshall and the Santa Pod Raceway team for looking into the MSA licience for Kenzie Taylor, your efforts are greatly appreciated.

First contact memories.
10th August: Thanks to regular Eurodragster.com viewer Clive Lewis for getting in touch about his initial contact with the sport with an appeal to anyone who knows the car involved in the demonstration he describes:

Back in (now a year either way possibly) 1971 I was at Lascelles Secondary Modern School in Harrow NW London and how it came about I do not know however a dragster appeared in the play ground one day from memory it looked like a fuel altered. It was possible a friend of a teacher or a teacher who had a hobby outside school.

The playground was surrounded by the school buildings. When the dragster was fired up many of the school kids hit the deck including myself. We thought the bomb had hit. We could not believe that a vehicle could make such a noise.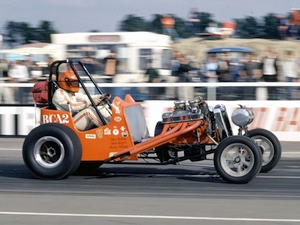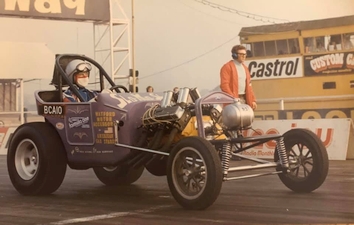 I know this is a vain hope question but it has been at the back of my mind for 50 years.This incident (and it was indeed and incident with many deafened and confused school boys) started my interest in drag racing. Like many things it will possibly be lost in the mists of time.

Editor's note: here are our two guesses as to possible cars at Clive's school demo, Kevin Pilling's Pure Seven (Roger Phillips photo) and Pete Atkins' Slo-Mo-Shun (Neil Baskerville photo); please write to editor@eurodragster.com if you have any other candidates from the London/Hertfordshire area.

Melbourne Raceway round 4 results.
9th August: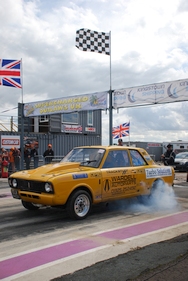 Congratulations to Ian Walley, the winner at the weekend's Melbourne Raceway round 4, Straightliners round 6 and NSCC shootout held at the Melbourne eighth mile track at the weekend:

NSCC Eliminations (Sunday): Ian Walley 7.10/116 def. Douglas Hague 9.29/84
NSCC Eliminations (Saturday): Ian Walley 6.65/117 def. Pete Smith 7.06/101

Racing commenced around 10:50am on Saturday and was able to continue for the whole day until an oildown resulted in the track crew springing into action, applying detergent to the unprepped surface to return it to racing condition. Then heavy rain on Saturday night dumped a large amount of standing water on the track and the crew worked hard with their sweeper to remove the water and get the surface dry; racing commenced late Sunday morning and with one break for another downpour continued to 4pm on Sunday. The weekend was yet another reason to ignore the weather forecast, and a living example of Yorkshire grit. Due to rain disruption, eliminations were cancelled although all racers present were able to continue to make runs.

Congratulations also to Methanol Funny Car racer Mark Flavell who re-set the track record on Saturday by running a 5.53/143. After this, Mark and son Andy held an auction of memorabilia to raise money towards the restoration of Melbourne Raceway, the pairing lanes area and the shut down run-off area being up for further work.

Among the racers visiting the track were Keith Freeman and Des Taylor from the Supercharged Outlaws, newcomer to Melbourne and Super Pro ET/Super Comp racer Allan Schofield, who was quickest in the Run What Ya Brung, and Old School Stocker riders Kevin Melling, Tyne Blight, Rod Spry and Chris Spry.

You can check out our John Woolfe Racing-sponsored Melboune Raceway round 4 reports, results and former editor Tog's galleries by clicking here or by clicking on the Event Coverage link at the top of any Eurodragster.com page.

Full official results from the event and previous Melbourne rounds in 2021 can be found at the Straightliners Melbourne Raceway 2021 results repository, courtesy Martyn Greathead. All Straightliners results and championship points from 1997 onwards can be found at this link.

New Rebellious RED driver Dave Glover posted images and video from the weekend, including the 'Cackle for Casey' to Facebook, and you can see more footage on Melbourne Raceway's Youtube page.

Melbourne Raceway's round 5 will be on 18th-19th September. In the words of Melbourne Raceway Community moderator Kelli Barrett, "Put it in your diaries, book it off work, ignore the weather forecast!

USC FWD Shootout results.
9th August: Congratulations to Craig Evans for winning the FWD Shootout at Ultimate Street Car held at Santa Pod Raceway from 6th-8th August. Seven cars were entered into the FWD Shootout, the qualifying cutoff being an ET of 12.99s. The results (with thanks to David Anniwell from the SPRC timing crew) were: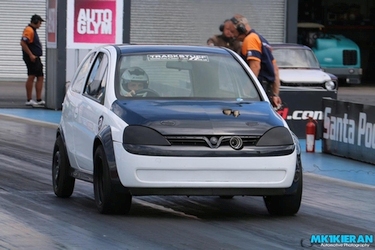 Qualifying:
Craig Evans (Corsa 2000cc) 9.9521/146.18
Ahmed Jamshaid (Honda Civic 1999cc) 10.1839/133.63
Terry Newton (Escort Van 2100cc) 10.3211/149.11
Matt Davison (Civic 1600cc) 10.5390/135.23
Darren Dewhurst (Corsa 2000cc) 10.5729/134.06
Pete Cole (Renault 5 2000cc) 12.1126/116.84
Ant Mincher (VW Golf 1800cc) 12.3032/95.83
Eliminations round 1

Craig Evans 10.9602/140.81 bye
Ahmed Jamshaid 11.9022/83.64 def. Ant Mincher 13.7923/66.47
Darren Dewhurst 10.6647 /133.23 def. Matt Davison 12.8397/103.06
Terry Newton 15.2876/81.26 def. Pete Cole no-show

Semi finals

Terry Newton 15.2478/112.22 def. Ahmed Jamshaid no-show
Craig Evans 10.0472/143.49 def. Darren Dewhurst 16.0683/64.99

Final

Craig Evans 9.9145/144.30 def. Terry Newton 12.3593/127.37.

For streaming video of the event go to Santa Pod Raceway's Youtube page, and SPR has posted a gallery of photos of the event on its Facebook page.

Picture courtesy and © Mk1Kieran.



Swift snippets.
9th August: More details about the generous prize money for Doorslammers are now included with our news item posted on 5th August. To enter now, head over to the Santa Pod ticket portal at racers.santapodtickets.com. Entries close 5pm UK time on Friday, 27 August.

Happy Birthday today to British Drag Racing Hall of Fame member, Top Fuel Dragster and Funny Car driver and crew member Gary Page, have a great day Gary!

We also gather from Ant Hill Mob Dragracing Team that it's former FIA Top Fuel Champion Smax Smith's birthday today, Happy Birthday and have a great day Smax! Son Aidan Heatley-Smith said "We fired the car up yesterday for our birthdays," so a belated Happy Birthday to Aidan too.

Gardermoen and Bonneville streaming.
8th August: Thanks to French team Custom Gang Racing, aka the Dubois family, who have posted a link to a stream at the Gardermoen Drag Challenge where they are competing this weekend, and can be seen by clicking this link. You can keep up to date with race results from Gardermoen by going to the news page of the Norse Drag Racing Gardermoen web site.

Thanks also to Nitro Revival sponsor and currently dormant Land Speed Racer Geoff Stillwell, with whom we will later in August be announcing an exciting prize award, for bringing to our attention a live video stream of Bonneville Speed Week which you can follow by going to Facebook and following the Gearhead Hobbies page. The video consists of a high quality view of the startline area which is the prime spot for seeing cars before they commence their run on the long course, well worth a view as it captures the atmosphere well.

Dishforth debut.
6th August: RAF Dishforth in Yorkshire is the site of the new Armstrong Raceway to which Straightliners organisation travelled up the A1 last weekend to run the first race there. The July 31st/August 1st weekend featured the fifth round of the Straightliners Championship and a RWYB.

Mark Flavell who in his alcohol funny car was the quickest car there, commented "Dishforth is a brilliant venue, the track, the pits, the return road & the location. A big thank you and a big well done to everyone involved in get us this exciting new venue!" Mark did a nice straight tyre smoking crowd pleasing run but low oil pressure curtailed any further runs.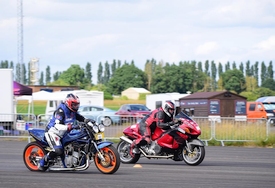 NSCC cars were running well with the Presland brothers Ford and Toyota pickup plus Derek Beck and Ian Walley, Ian having to nip home for a spare cam follower on Saturday evening to replace a faulty one, thankfully managing to run again on Sunday.

Jason King, who helped to secure the venue, was first to crack 200mph at the 1/2mile later bettered by Phil Wood on Dave Jones's Busa at 206mph. Riding in 12.10 class Rob Brittain, riding his Harley Sportster 1200, took his first ever class win beating Rob Kneeshaw. 11.10 class saw a 6 bike field whittled down to Oliver Tindall and Daniel "Helfor" Leather Daniel taking the win.

In the 10.10 class, after Saturday's runs the top 3 were all on 10.22 secs split only by the speeds, Pete Field at 147mph, Ashley Hodgson 142mph and Philip Tomblinson 140mph. Sunday saw Pete post a 10.17sec. Pete uncharacteristically red lit in his semi so it was Ashley and Phil in the final, Ashley posting a near perfect 10.13sec to take the win.

In the 9.10 class, Ian Wicks held top spot all weekend making it through to the final against David Storrie, Ian just edging the win. Sprint Legends saw a red light in the semis for Mark Taylor so Mickey Blackburn lined up against Chris Urwin, Mickey taking the win. Scooters were putting in some impressive speeds Adrian Horrocks flying on the 150cc small frame Vespa 102mph at the 1/4 and Eric Cope on a 12.86secs and 103mph.

Photos of the new venue, which is hoped will be long-standing, are at a Flickr album, taken by Becci Ellis, which you can see by clicking here. You can find the detailed results for the event on Sunday by clicking on the following links to quarter mile times, eliminations, and half mile speeds. Saturday results are at the Straightliners news channel.

The current Straightliners championship points by clicking on the following links to car points, bike points, and scooter points.

The next round of the Straightliners championship is at Melbourne Raceway this weekend and Eurodragster.com as sponsors of Melbourne look forward to a weekend of action.

Malta night event.
6th August: The Malta Drag Racing Association held its first night event of 2021 on 29th-31st July. The entry list and running order are available via this link. A total of 55 cars took part in various classes. Results can be seen in the online edition of the Malta Times Sports Desk.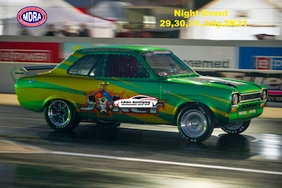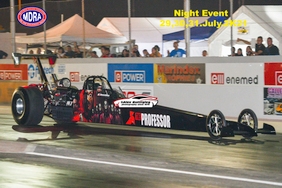 Juan Wolf of MDRA thanks all the competitors who participated and their crews who helped us to have a wonderful quarter mile competition again The committee of the MDRA has also confimed that there will be a members' presentation night on 25th August, and the next full night event will be on 1st-3rd October. You can see media coverage of the event by clicking on the following links: Swift snippets.
6th August: We wish a big Happy Birthday to SPRC pit marshal Caroline 'Oscar' Boncey, have a great day Oscar!

Ford Show demo drag cars callout.
5th August: Thanks to Santa Pod Events Coordinator Dan Melrose for passing on an appeal for race cars to run at the Ford Show on Sunday 29th August:

This August Bank Holiday weekend is our annual Ford Show, and we're looking for some of the baddest Ford drag cars in the country to put on a show! We're looking for about 16-20 Ford-bodied and/or Ford-engined cars that can run 11.99 or quicker for the day. For anyone interested, please send applications to Dan in the Santa Pod office at dan.melrose@santapod.com before the close of business on Monday, August 16th including your personal best ET and a blurb about the car.

Doorslammers entries now open.
5th August: The Doorslammers, Europe's biggest doorslammer race weekend is back at Santa Pod, and entries are now open for the event! Running from the 3rd-5th September and with £40,000 in prize money on offer, it promises to be three days of non-stop action. We have seven brackets on-track across the weekend as follows:
Pro Doorslammer: sponsored by VP Racing Fuels - Entry Fee £500 - Prize Pot £10,000, Winner £5,000
Street: Entry Fee £250 - Prize Pot £5,000, Winner £2,500
FWD: Entry Fee £200 - Prize Pot £5,500, Winner £2,500
4 Cylinder Entry Fee £200 - Prize Pot £5,500, Winner £2,500
6 Cylinder Entry Fee £200 - Prize Pot £3,000, Winner £1,750; and
Saturday/Sunday Big Bracket Entry Fee £200 per day - Prize Pot £5,500 Per Day, Winners £2,500
Outline rules and details of prize money are shown at santapod.co.uk/doorslammers.php.

To enter now, head over to the Santa Pod ticket portal at racers.santapodtickets.com. Entries close 5pm UK time on Friday, 27 August.

Note: The Doorslammers race will take place alongside the VW Action show; VAG owners can sign up here to take part in the Friday 3rd September Run What Ya Brung.

ACU points posted.
5th August: ACU Drag Race Series co-ordinator Ian King has updated the ACU points tables which can be seen at this link or via our points standings page.

Many congratulations to the new ACU British record holders following ratification:

Stuart Crane - Funnybike ET, 6.4702 secs
Stuart Crane - Funnybike MPH, 207.99 mph
Steven Venables - Superstreet Bike MPH, 218.24 mph

Clastres report.
5th August: The 15th European Dragster event organised by Association Trophée Dragster took place at Clastres last weekend. The results have now been posted to the ATD web site and there was a good entry of 21 in Super Pro ET, 22 in Pro ET 11 in Street Run and 9 in Junior Dragster in addition to Run What Ya Brung, making a total of 110 in all.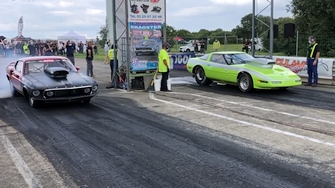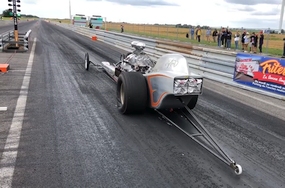 ATF president Eric Angeloni said "health constraints have not spared our organization, but our motivation is stronger than that - our motto is: the race must go on! The ATD has created a 200mph club to encourage a rise in performance. Despite the capricious weather on Saturday the track was restored in very short notice thanks to the hard work of the Yellow People (track crew). Thanks to everyone who, near or far, contributes to this track preparation. Also there was a marriage proposal on the start line, we wish all possible happiness to this beautiful couple Kelly and Jean (click for video) of team French Burn Impact".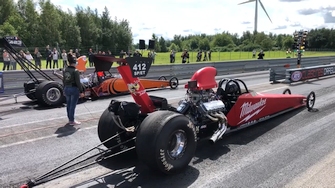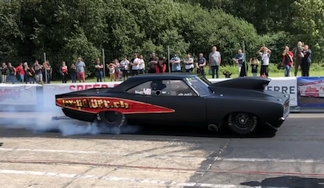 In Super Pro ET, Michael Mikuscheit from Essen, Germany was the #1 qualifier in his Chevrolet El Camino with a perfect 0.00074 on his 8.60 dial-in. The top 11 were less than 0.1s off their dial. In eliminations, Laurent Arnaud was the winner after defeating Eric Angeloni (RED), Olivier Coulon (gen 2 Camaro), Alex Halter (Plymouth Road Runner), Fabien Dubois (RED) and Thierry Senges (Mustang) in the final (pictured at top).

Pro ET had a field where the top 13 were less than 0.1s off their dial. Top qualifier was Sophie Zaninetti (Plymouth Belvedere) who was 0,01947 over her 11.20 dial. Eliminations saw Laurent Levi in his Gasser style Comet Cyclone take the win, defeating Franck Besset (Chevy Nova), Peter Soursas ('70 Cuda), Dirk Kunold (Beetle) and, after a bye in the semi finals, Jean Luc Arnaud (Mustang) in the final.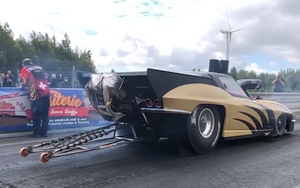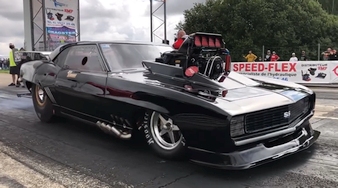 In the Street Run class, Laurent Arnould was the winner,and in Junior Dragster Chantal Wagner triumphed over the field of nine, the top eight having RTs of less than 0.1s. RWYB had a mixture of cars, with two notable runners being the Pro Modified Corvette of Marcus Hilt (click for video), aided by a masked-up but still recognisable Camp Stanley and the blown Camaro doorslammer of Walle Strobel (both pictured above).

Several photographers and videographers were at the event and you can see their work by clicking on these links: The final round of the 2021 ATD season at Clastres is on 4th-5th September.

Images above courtesy and © Stéphane Cousin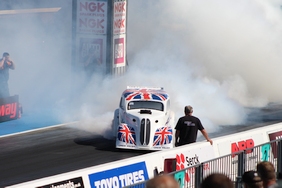 Swift snippets.
5th August: A very Happy Birthday to our good friend Libby Mottershead. Have a good day Libby and see you at the track soon.

Photojournalist Steve Moxley has had his report on the drag bike classes at Santa Pod's Festival of Power published on the web site Eat My Ink. In it you can read many snippets of the teams' weekend mechanical issues and how they were mostly overcome.

Pro Modified and Super Pro ET racer John Tebenham wanted to acknowledge the contribution of his team member Mr Greed (pictured left, photo © Mad Welshman). JT said "He is possibly the bravest man in the world and my new Tracy Island. I will always win the burnout competition - if you look at the windscreen I couldn't see out at this time. Greenlights - bring it on.

Thanks to Motorsport UK Pro Modified PR Robin Jackson for letting us know that this week's Autocar magazine has an article on Annie Wallace and her STP Summer Nationals win which you can read by clicking here.

VWDRC Drag Days entry open.
4th August: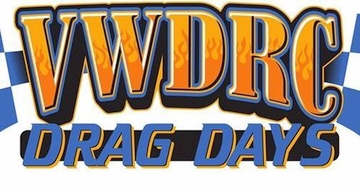 Entry is now open to VWDRC Drag Days, a special test and tune session to be held by the VW Drag Racing Club on 16th August at Santa Pod Raceway.

VWDRC chair Luke Stevenson said "After the Success of the 2020 event, the VWDRC are proud to present Drag Days 2.0, Could it be any Hotter! We are taking any make or model bikes or cars for testing. Entry is to open non members, this is perfect test and tune opportunity whether you're a seasoned racer making final tweaks on a setup or just fancy a go down the strip, you won't find a better value or more chilled out exclusive couple of RWYB days." Car entry is limited to 100 to ensure generous track time is available.

Racer entry ticket costing £150 includes unlimited runs over the two days and overnight camping on Sunday 15th August. Crew entry tickets are being offered separately at £10 each. Media support will include our Kirstie trackside and resident Santa Pod photographer Ian Blackett. You can sign up to VWDRC Drag Days 2.0 by clicking here.

Gasser Circus at the Mopars.
4th August: Many thanks to Gasser Circus co-ordinator Nick Brooke Langham for sending us an exclusive report about the class's latest outing at the 27th Mopar Euro Nationals:

The final weekend of July played host to the Mopar Nationals at Santa Pod, and as well as a fine gathering of Dodge cars spanning many years, the Gasser Circus were also in town. With 14 Gassers on site, it looked like being a good weekend of racing, and with the forecasts saying Sunday would be the better day, all the drivers knew they would have to make the most of the qualifying when it arrived.

When Round 1 began, not all Gassers made it down the track. Lee Pike with Honky Tonkin 2 didn't make a run and neither did Nogbad the Bad, the latter being down to not arriving at the Pod until after the first round had been completed! The cause, ending Covid isolation at midnight Friday. Speaking of which, the Circus welcomed a new driver this weekend, with Drew Mason taking the wheel of Ain't Misbehavin and on his first run stopping the clocks at 10.17. The reason for his debut was also Covid isolation, with normal hot shoe Sean Milsom, not completing his until midnight Saturday.

The second round of qualifying arrived just before 2pm, and this time all 14 Gasser entered the fire up road, unfortunately, not all of them made it out of it and down the strip, Lee Pike suffering fuelling problems with his 'Honky Tonkin 2' Nova. The problem was later traced to there being a distinct lack of fuel in the tank! The qualifying also bore witness to a selection of breakouts, Mark Dibley in the 'Ansen' Pop just missing qualification by 2 thousandths and Jason Pickett in his 'Cherry Bomb' 55 Chevy (pictured right) running 11.60 on an 11.60 dial in. With two more rounds of qualifying scheduled Lee and Mark would have more opportunities to qualify, but for now number 1 qualifier was Billy Jones in his 'Grumpy Grizz' Willys (pictured left).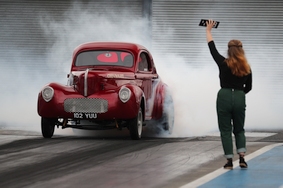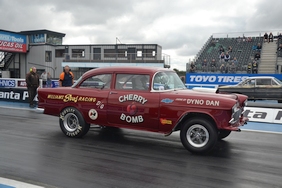 Shortly before 6pm the Circus were called to the lanes, and a race was on, that being could we get another round of qualifying before some ominous looking rain clouds arrived at the Pod. The answer to that question was forthcoming moments after we entered the lanes. The foretellers of this were the rain drops on our screens, which were rapidly like a cake topping being hundreds then thousands. The fire road soon emptied as the gathered classes headed for shelter and the day drew to a close, as did Mark and Lee's chance to qualify their Gassers.

Peering out through the caravan curtains, was a disappointing experience at 7am Sunday, as the sky was full of grey clouds and there was a hint of drizzle. During the morning the sound of the track drier in the distance gave all racers optimism but, despite the highly valued efforts of all the track officials their work was soon being literally rained on. As midday approached and the rain showed no signs of abating, the sound of cars going onto trailers punctuated the air, and the space in the pits steadily grew. After several sessions of berating the inaccuracies of the multitude of weather apps, and reports that had said Sunday would be a good day, a small cry went up when someone spotted a bit of blue sky. Admittedly it was a very small gap between still looming grey clouds, but it was a glimmer of things to come. Just after 3 in the afternoon, the track was dry, the racers were slightly damp, but cars were ready to race once again. Racers are nothing if not a determined bunch of people, and sitting out the weather was about to pay off.

Gasser Circus Eliminations got underway just after 3:30pm and first pair up was Number 1 Qualifier Billy Jones against Tony Pearson in his 56 Chevy 'Guzzler' (pictured below left). Billy dialling in 10.65 and Tony 10.85, this could be a close one. The cars left and we had a green light race, the cars were evenly matched and they stayed side by side down the track, as they went under the gantry the boards showed that both drivers had broken out with Billy running 10.63 and Tony 10.72, Billy taking the win as he broke out by 0.0196 to Tony's 0.1204!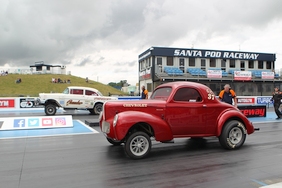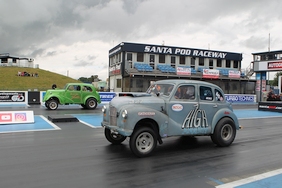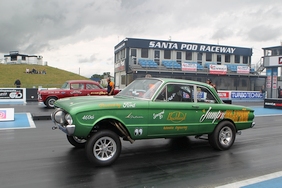 Next pairing had Tom Margesson in 'The Tinsel Town Hustler' Pop 11.38 taking on Graham Barton in his 'High Anxiety' Austin Devon dialling 10.71 (pictured above centre). As the tree dropped, Tom left fractionally earlier than Graham but both with green lights, and again the cars were side by side as they powered down the strip, but at the lights it was to be a breakout loss for Graham with a 10.68, Tom safely through with a 11.49.

Next pairing had the Jason's racing each other with Jason Pickett and Jason Hollamby lining up against each other. Simultaneous burnouts from the 'Cherry Bomb' Chevy and the 'Jumpin Jalapeno' Ford (pictured above right). This was destined to be another side by side race, with neither driver backing off, as underlined by both drivers breaking out, the win going to Jason Hollamby as he broke out by less. This was good news for Jason as he had started the weekend second in the points, sandwiched between Billy Jones in third and Nick Barnett in first.

The next Gassers up had Nick taking on an ex Bristol car , with the 57 Chevy 'Honky Tonkin' of Steve Matthews, who had been plagued by the Chevy pulling hard left each time it left the line. Steve did not suffer these issues on this run, but did unfortunately leave a cherry on the tree, the Championship leader Nick advancing to the next round. Also trying to join him there was Sean Milsom, who having concluded his Covid isolation was back in the driver's seat of his 'Ain't Misbehavin' Gasser. He was lining up against the Austin 'Nogbad the Bad', I had dialled in 11.72 and Sean 10.14. At mid track I was wondering where he was the answer wasn't long in coming as he shot past taking the win.

Final pairing had Paul Dominey in his '640' Austin Dorset, lining up against Brian Gibson in his 'Identity Crisis' Dodge following one of Brian's customary rolling burnouts. Paul was looking for 11.46 and Brian 11.24, so Paul would be leaving first, as it turned out Brian left the line first, but not with a cherry, as Paul's reaction time told the story of his run 0.514. Brian pulled another pleasing wheelie off the line and took the win with 11.32. Just before 5 the Gassers were at the end of the fire up lane, ready for the quarterfinals, first pair was Nick Barnett who whilst sat in the fire up road, had changed his dial in from 11.72 to 11.70, he was up against the Pop of Tom Margessson and John Gumble, 'The Tinsel Town Hustler' with their car dialling 11.38. Tom was in chase mode and when the clocks stopped Nick had run 11.73 and taken the win as Tim had chased a bit too hard with a breakout 11.30 which equates to getting there 4 inches ahead of his dial in.

Brian Gibson and Jason Hollamby came to the line and Brian left with another big wheelie, he and Jason had another very close race, but with Jason in full chase mode having dialled 10.72 to Brian's 11.24, he had overcooked it by breaking out by running a 10.70, Brian advancing.

The winner of the next pairing had a 'bye' waiting for them that would whisk them to the final. Sean Milsom (pictured below left) and Billy Jones prepared to do battle with Billy dialling 10.60 to Sean's 10.09, when they left we had a green light race and they were neck a neck down the strip and both crossed the line at 124 mph with Sean taking the win with a 10.10.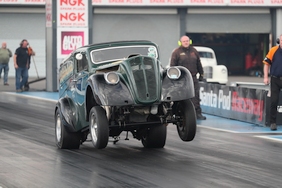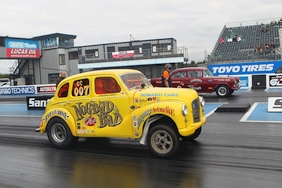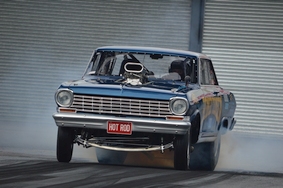 Some of the eliminated Gassers were running on the back of the winning cars, one of these was just about to post a stunning reaction time, with Graham Barton recording a 0.000!

Semi-final time and Nick Barnett in the B&G Racing Falcon (current points leader) came to the line against Brian Gibson, with Nick on an 11.70 against a 11.24. Brian again pulled a wheelie and with his front wheels back on the strip the race was on, another close fought battle followed but with Nick running 11.76 and Brian stopping the clocks with a 11.57, it was Nick that advanced to face Sean who made sure on his bye run that his wheelie bars worked properly with a wheels up launch before powering through his bye run.

Ten to six arrived and so did the Gasser Circus final, with Nick and Sean performing stout burnouts, then edging to the line. Nick had 11.68 on his back screen and Sean had 10.07 on the rear door of his van. The scene was set as the cars edged into Pre stage, then Stage, the tree activated and Nick left rapidly followed by Sean, but unfortunately too rapid as he planted a cherry on the tree. Nick (pictured below) took the win but with both still on it down the track, Nick went onto break out, but that didn't matter as first or worst applied. This win puts Nick neatly in the money seats for the Championship which will be decided at the Hot Rod Drags in September.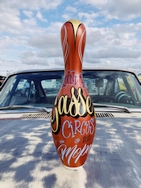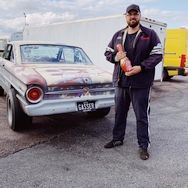 His win also meant he was able to pick up another superb winners pin from the talented Melliard's who sponsor the Gasser Circus. Looking back a day after the event, it showed what determination and dedication to drag racing means to not just all the racers that stayed and never gave up hope of being able to race, but just as much to the superb team at Santa Pod, who ensured that we could race safely to a conclusion. I am sure we came close to the event being called, but instead of that the hard work by the Santa Pod crew, saved the event and made our weekend. Long may that determination and dedication prevail. The Gasser Circus wish to thank Neil Melliard for his sponsorship and trophies, Simon Prest who sponsors the Best Reaction Time and Closest to Dial in awards, the National Street Rod Association, Renegade Fuels and all the team at Santa Pod especially the track and timing crew. See you in September.

Gasser Circus – Racing the Dream.

Wild Bunch news update.
4th August:Claire Meaddows has updated the comprehensive and long running Wild Bunch web site with news from last weekend's 'Summer Showdown' at the Mopar Euro Nationals, 30th July - 1st August.

Claire concurs with our views, "A really good event! Well done to all those Wild Bunchers who took part and huge thanks to the track crew and all at Santa Pod for getting racing in despite the weather! Much appreciated!

The next Wild Bunch round is at the Greenlight Nationals.

Mantorp Drag Revival.
4th August: Last weekend's Mantorp Park Drag Revival was the largest race meeting held in the Nordic countries so far this season. The Mantorp atmosphere is unique and attracted over 190 racers in 18 classes. We covered the Nitro Bike Showdown in our Monday update. Below we highlight some of the other outstanding performances and teams running in the quicker classes. Full results can be seen by clicking on Drag Revival 2021 at this link. The event was rain-affected but got completed with the track crew getting the track back in shape for eliminations on Sunday.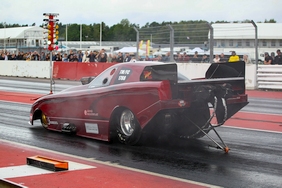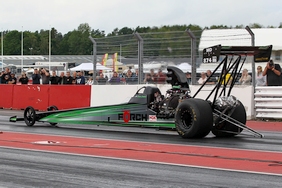 Four Top Methanol cars were entered for the race and whilst the returning former Top Fuel pilot, Tony Bryntesson got his license upgrade (from 1995) with a 5.93 run in his A-fueler, the problems from dropping cylinders in his licensing pass led to him making only a test pass on Sunday. Jonny Lagg (above centre) qualified top with 5.4390/421.30, followed by fellow A-fuel runner Daniel Jedborn (above right) with 5.8022/378.15 and the sole TMFC of Magnus Larsson (above left) completed the qualified trio at 6.2022/368.10. In eliminations, Jonny went through to the final on a 5.481/426.00kph bye and Magnus ran a 6.147/377.80 single when Daniel couldn't make the call. The final saw Jonny running his best of the weekend at 5.433/428.60 but a red light gave the win to Magnus on 6.500/336.00, Magnus getting the 0.22 handicap advantage on the tree.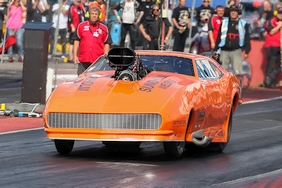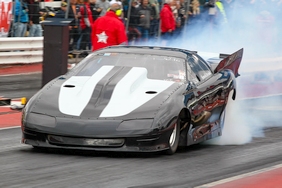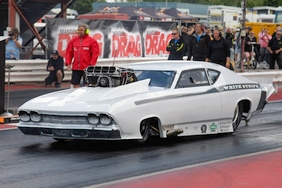 The entry in the eighth mile Pro Xtreme (otherwise known as Top Doorslammer) was a relatively healthy thirteen qualified cars, and it was former FIA Pro Modified champion Jan Ericsson (above left) who pretty much swept the board. Jan qualified #1 in his Camaro with 3.9352/305.99kph and after a first round 3.893/310.00 bye, got another single go in round two when #7 qualified Roger Johansson was a no-show, Jan nevertheless going 3.899/307.80. The semi final was the first pairing and Jan got by Henrik Brink (above centre) with a 3.860/310.20 to Henrik's 4.048/299.80. The final was Jan's third single of eliminations when #3 qualifier Mats Stefansson who had run 4.010/305.60 to defeat Adam Anderson in round one, 3.934/306.30 to overcome Mike Reymond's 4.441/247.00 in round two and 3.877/309.30 to get ahead of Fredrik Lundh's (above right) close 3.975/303.50 in the semi final, in which Fredrik suffered damage and was unable to make the call against Jan.

Other highlights were Peter Larsen running a 7.954/238.30 in 4to6 with his Toyota Supra to go #1 (although eliminations in this class fell victim to rain), a characteristically tight field in Pro Street (7.60 index) with Svend Holst qualifying #1 at 7.6070/279.18kph and Pär Norgren winning the eliminations, and the eighth mile Super Pro Street (4.40 index) where Tommy Abrahamsson qualified #1 and went on to win the final.

In exhibition runs, Hans-henrik Thomsen improved his electric bike quarter mile world record to 6.7407/311.42, runs were also made by Nostalgia Funny Car racer Torbjörn Jansson in Nitrocalypse, his best being 6.8083/312.50.

Many thanks to Patrik Jacobsson for giving permission to use his photos above. A full gallery of Patrik's photos is on Facebook and you can also see photos on Facebook by Cenneth Schiller and Nico Bremnes, and watch video of the event for SEK100 (£8.35) by clicking here.

Davies wins PM, 20 years on.
3rd August: The last Pro Modified win taken by the double championship winning team of Nick Davies and Rob Loaring was in 2000, their second Championship winning year in the UK. The PM duck was broken at the Mopar Euro Nationals last weekend with their turbo Pontiac Firebird taking the victory. The field was reduced to four cars when lack of parts sidelined returnee Mick Payne and licensee Matt Peters, Jon Webster also signalling a pause in his Pro Mod campaign due to a broken gearbox and converter.

Nick and Rob's chance to race three other quick cars at the Mopars paid off for the team. Nick said "We are carrying on picking away at it; although we have done less than 12 runs on our new Rossler transmission and Neal Chance converter combination, I am getting more comfortable with it."

As can be seen from the videos of Nick's runs or indeed any turbo car in the class, the staging process is different for a turbo boosted Pro Mod. "You have to get a handle on the spooling of the turbo, we go into pre-stage before spooling and then I check the fuel and oil pressure and build the boost to a level I'm happy with before bumping it into stage. Our car has enough base power to spool rapidly, however nitrous and blower cars will always reach launch rpm more quickly than we can. In a race situation spooling quickly does give you more confidence as the other racer is less tempted to force the turbo car to stage first.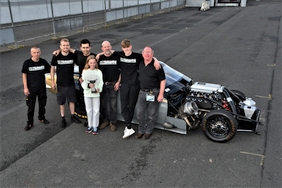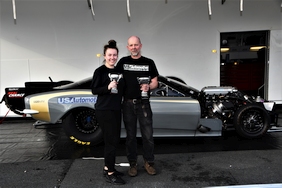 Photos of Nick, Rob and team and Nick with Annie Wallace © and courtesy Andy Willsheer.

"The conditions have been different at each of the events we have run at this year, the Springspeed Nationals being a shakedown of the new combination. The best conditions were at the Festival of Power, then at the hot Summer Nationals the air was poor. The conditions at the Mopars were quite tricky; with a high proportion of street-tyred cars it was difficult for the track team to get a consistently high quality racing surface. We were however able to get down the track every time we did a full pass.

"Our first run was to bed in new rings on the engine, which we had replaced after the Summer Nationals along with the rods and just ran it to half track. In the second session, Kev (Slyfield) had run a 6.12 in the previous pair and I was going for the bonus points for low ET of the event. I was able to drive through manageable shake and ended with a 6.14 but at a good speed of 236mph. I was confident that the time would improve if we had a third qualifier but, with the rain, that was not to be. Back in the pits we noticed from the data the engine was down on boost from 36psi to 32psi and on inspection found that one of the main pipes from the turbo to the inlet manifold had a crack in it which we were able to fix before Sunday's elimination.

"In the first round we had lane choice, chose the right lane – and the car shook hard in first gear. I was able to get most out of the run though, running 6.40/239. I couldn't see Wayne (Nicholson) in the other lane and guessed he had a problem, so got back on the throttle anyway. In the shut down area I heard a clattering from behind me and realised the wheelie bars were broken. It wasn't a problem as although Scott Bares was able to weld it, we had a spare pair we could use anyway and Scott welded the parachute bracket back which had come loose.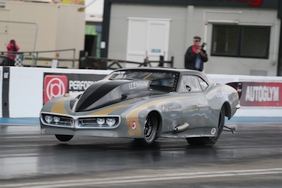 "In the second round which was the final we were up against Annie Wallace, it's great to have the Wallace family back in the sport and they have some exceptional talent. Annie had lane choice and we left together, I saw her in front at 60ft which was expected as a nitrous car would leave quicker than ours. If a turbo car gets level with a nitrous car by half track though, there is only one winner and we ran 6.057/241. Before that we both had to pedal, hers was just slightly longer than ours but there was not a lot in it.

"So, our first win since 2000 although, as Rob said, we have been doing other things since.

"We drove to the weighing station and got through the tech inspection, and then I was able to drive it back to the pit bay. It's very tractable at low revs, we might even think of running Street Eliminator some time…

"A huge thanks to the Santa Pod Raceway guys for never giving up with all the rain the racers really appreciate what they do for the sport, and we had a very good surface to race on despite the nature of the event.

"Thanks to our team as well, The crew understands each other, work well together and have confidence." Dave Read helps Nick on the engine, Rob is focused on chassis setup and Scott Barnes, James Hurley and my son Callum Davies all help in servicing the car, checking it and looking at data from which Nick and Rob make tuning decisions.

"A thank you also to our generous sponsors USAutomotive, BUA Motorsports, Roberts Motor Bodies, also to our eminent suppliers Rossler Transmissions, Neal Chance Racing Converters, Fuel Tech USA, Precision Turbos and Vanishing Point Race Cars.

"We'll be back at the Euro Finals, see you then."

Keith Lee sells scooter - again.
3rd August: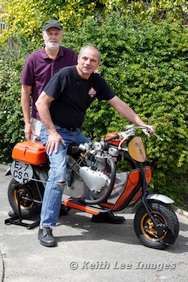 Thanks to drag racing author and biographer Keith Lee for sending us an update on his recent activities:

Over the past months, I have been busying myself working on my new book - John Hobbs and the Age of the Twins.

During the course of this process, I have been considering what to do with my own tiny piece of oddball drag racing history, which I first raced in 1971. I did actually run alongside John a couple of times during that period - way behind him being the correct description of those qualifying encounters!

Having raced my Triumph powered Lambretta only sporadically during 1973, as I was spending much more time writing about and photographing the sport, I ended up selling it to a young Robin Read at the end of that year. It provided Robin with his first entry into competition. Now Robin would progress onto much greater achievements on four wheels over the years that have followed. For myself, track side and commentating seemed a more sensible option.

It was my belief that the machine was cannibalised and scrapped over 40 years ago, but although in poor condition, and missing many parts, it had still survived, thanks to Alan Richardson. I was offered it back a few years ago, and rebuilt it up to a point that ensured it's immediate future. Not having the facilities to complete it, and not being daft enough to ride it again anyway; I did not want it to end up with someone who would just want it for parts. It seemed to me that Robin might like to once again own and run it after completing the build. Who knows, maybe I can persuade him to run it at Dragstalgia, once he has achieved that 200mph goal in his amazing blown Daimler dragster.

Thanks to Annie for taking the shot of myself and Robin when he collected the bike on Sunday. It must be some sort of record, for the time gap between selling one machine to the same person twice!

For more information on John Hobbs and the Age of the Twins, updates will be available at: www.keithleeimages.co.uk and on the John Hobbs Book facebook page.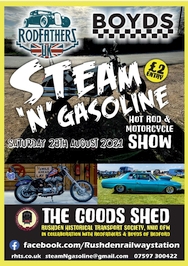 Rodfathers car show appeal.
3rd August: Thanks to drag racing historian Jerry Cookson for passing on a request for car at a show in Rushden, Northants.

"The organisers Rushden Historical Transport Society in collaboration with Rodfathers and Boyds of Bedford want Hot Rods, Dragster and Yanks for display at the all new one day show on Saturday 28th August. It's the Steam N' Gasoline Hot Rod and Custom Bike Show, being held at the Rushden Historic Transport Museum, Rushden, NN10 0FW.

There's free entry to all show cars including driver and passenger. Inside space is available with power if needed. Food Court, Bar, Music and Trophies all within this great new venue after it has undergone a remarkable refurbishment.

Anyone wishing to display please email steamngasoline@gmail.com or call 07597 300422 for more details.



Swift snippets.
3rd August: The Mad Welshman has updated his Flickr site with large albums from the STP Summer Nationals covering a total of 200 images, and another from the July Yam Yam Racing Private Test Day of 175 photos, any of which can be downloaded as hi-def copies. You can check out Mad's pictures at this link.

Photographer Patrick O'Connor has uploaded to Facebook an album of photos from the Mopar Euro Nationals from last weekend.

27th Mopar Euro Nationals results.
2nd August: Congratulations to the winners at the weekend's 27th Mopar Euro Nationals held at Santa Pod Raceway:

Motorsports UK Pro Modified: Nick Davies 6.0575/241.58 def. Annie Wallace 6.5237/225.52
Nostalgia Superstock:Chris Goodale 10.4796/125.44 (10.45) def. Don Scott 9.8278/140.45 (9.70)
Gasser Circus: Nick Barnett 11.6352/115.52 (11.68) def. Sean Milsom 10.1255/132.50 (10.07)

It is a tribute to the hard-working Santa Pod Raceway track crew led by Ian Marshall that eliminations were completed, as following the loss of the whole of Friday to persistent drizzle and disruption to the end of Saturday's qualifying and first round of NSS eliminations with another downpour, we were faced with drizzle for the whole of Sunday morning and racing was only able to be started by 3:30pm. So a big vote of thanks to the SPR track crew, they lierally saved the day.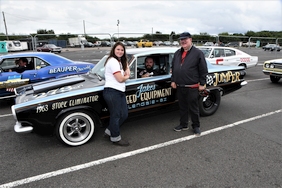 Congratulations to Nostalgia Superstock racer Jake Cawthorne (Andy Willsheer photo of Jake with Nïamh Frances Smith and your editor) who won the Eurodragster.com/Team Twister Perfect ET Award supported by Andy 'Fadster' Hadfield of £50; the award has been reset to £50, and is next available at the STP Greenlight Nationals on 21st-22nd August.

Congratulations also to Nostalgia Superstock racer Stewart Arthur for winning the Eurodragster.com/Bad Habit Racing Perfect Light Award supported by Cath and Tig Napier, of £50; in only his second competitive event. The award has also been reset to £50, and is next available at the STP Greenlight Nationals.

Thanks to David Anniwell of the Santa Pod Timing Crew for sending us detailed timing data which we have posted to our timing data area which you can see by clicking on Data, then Timing Data at the top of any Eurodragster.com page. Official results can be seen at Santa Pod's Official Results Site.

You can check out our John Woolfe Racing-sponsored 27th Mopar Euro Nationals reports, results and galleries by clicking here or by clicking on the Event Coverage link at the top of any Eurodragster.com page.

Please join Simon in thanking Diana, a returning Kirstie and Julian for their hard work over the race weekend in sometimes difficult conditions, and many thanks to those who gave feedback on our coverage.

Goodale triumphs after six rounds.
2nd August: Congratulations to Chris Goodale who ran six rounds of eliminations on Sunday afternoon to win the huge field of Nostalgia Superstock at the Mopar Euro Nationals.

Chris had a single in round one when Perfect Light Award winner Stewart Arthur was a no-show, then defeated Perfect ET Award winner Jake Cawthorne in round two. Simon Rickwood was Chris's victim in round three and points leader Stuart 'Kiwi' Thompson in round four. The semis saw Chris take out Ty Strevett who had had his best race ever up to that point, and in the final Chris defeated class organiser Don Scott.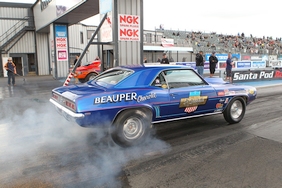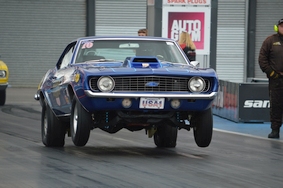 Chris said "I'm really pleased with my first ever event win this weekend - what a surprise! I'd like to give a special mention to Dave Billadeau for all the help and advice with the Camaro and making such a fantastic job of the car over the last couple of years (even though it's a Chevy lol), also to James Ellis who is also now racing in Nostalgia Superstock with an NHRA Stock Eliminator '67 Camaro and has been helping me with my various car endeavours for the last 25 years!

Thanks also to Santa Pod for providing a fantastic facility to race at, and carrying on with drying and prepping the track yesterday as we thought the whole day was finished in the morning due to the continual rain. Thanks to everyone in NSS for being a great bunch of people and especially the committee members for getting everything sorted out for us at every meeting and providing us with the best Drag Racing Class in the UK".

Chris has owned his immaculate '69 Camaro for over 20 years and despite its original 307ci engine being upgraded to a 540ci ten years ago, it is still registered for the street and has covered over 4000 miles with the latest engine.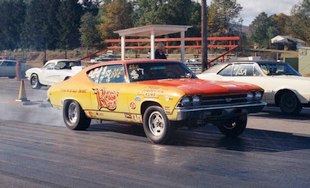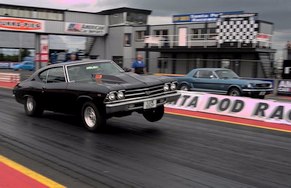 The Camaro is not the only race car that Chris is focused on, his other car being a fondly-remembered Top Street car from the early 1970s UK scene which Chris is having restored. He said "I've had the Russo's Rat Super Stock '69 Chevelle for most of the last 20 years. It's well on the way to being restored, Dave Billadeau has already restored the rolling chassis, Dave McCallan has put a roll cage in (as he did on my blue Camaro), Ash Rawson has completed all the body work which looks fantastic and then the car is going to Andy Pryzbl for paint and then back to Dave Billadeau for final assembly.

"It is being restored to almost exactly as it was around 1970, I have spoken with Frank Russo and even the guy that painted the car 50 years ago! So it's going to get a proper period style restoration with a slightly larger motor than it originally had which will be built by EDA; we are hoping the car the will run well into the 9's."

Pictured: Russo's Rat at its original home track of Dover Drag Strip, NY and at Santa Pod in 2003, raced by Chris.

Fueltech Nitro Bike Showdown reaches potential.
2nd August: After a rain-affected first event and then cancellation of the next two events at Kauhava, Finland following a complaint by an environmental protester, the much heralded Fueltech Nitro Bike Showdown was able to be held over the eighth mile at the Mantorp Park Drag Revival over the weekend.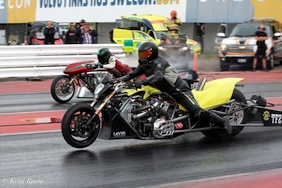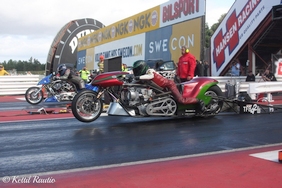 Photos © and courtesy Kettil Rautio.

Photographer Kettil Rautio said "A great race day is behind us, hard racing and in great weather, so the Nitrobike Showdown really gave its best". There were fourteen bikes qualified at Mantorp Park after two sessions with Vesa Lipponen (pictured above left) #1 qualifier at 3.9603/306.25kph, TFB racer Rikard Gustafsson second on 4.2251/275.97, Aku Lantto third on 4.3067/270.98, TFB racer Jan Sturla Hegre (above right) on 4.5063/212.14 in fourth and Roman Sixta fifth on a fuel-spraying 4.5780/271.60, following mechanical problems in Q1.

The organisers made the decision to run two ladders. In ladder A, Vesa defeated #8 qualifier Greger Johansson who crossed the centre line, #7 qualifier Harri Piensalmi went through when Rikard was a no-show due to oil pressure issues, Aku defeated brother and former Pro Mod racer Marko Lantto 4.5464 to 6.4766 and Roman defeated Jan Sturla in a close race, 4.6783 to 5.0144. In the semi finals, Harri defeated Aku and Vesa defeated Roman, and Vesa on his supercharged twin took the winner's trophy with a 3.9148/310 after fellow Finn Harri couldn't make the call.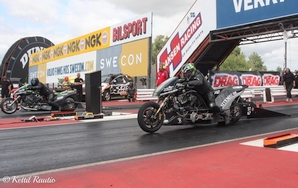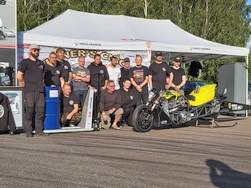 In the meantime, the B ladder consisting of six bikes had Peter Ström run a solo 4.4446 when Juha Hintukainen didn't show in round one, whilst Teemu Kettula defeated Mats Larsson 6.2355 to 6.4755 and Torsti Kettula ( above left) defeated Julia Wagner 5.3763 to 8.6506. In the semi final Peter Ström had another single and Torsti defeated his son Teemu, leaving the final to be a Tosti victory over Peter.

The next round of the Fueltech Nitro Bike Showdown will be held at Motopark Raceway, Finland on 20th-22nd August.


Earlier news