General
Home Page
Add a web site
Jeff Bull Swap Meet
Send a News Item
Site Search by Hauser Racing
2020 FIA/FIM Championships schedule
News, Coverage, Features
Latest News
John Woolfe Racing Event Coverage
OCS Paint Points Standings
Features, Interviews, Tributes
Racer Blogs
LA Racing Parts Links
Racers' web sites
Associations, Clubs
Race calendars
Results, Reports, Info
Pictures, Video
Performance Parts, Merchandise
Sponsors
Tracks, Shows
Information
Timing Data
European and UK Bests
Champions' Champions
Editor's Diary archive






















Wild Bunch honour 2018 winners.
30th November: Claire Meaddows writes that the UK's Wild Bunch racers held their 23rd Anniversary Prize Presentation at Drayton Manor Park last Saturday and that a brilliant night was enjoyed by all:

Many thanks to our long-standing MC Barry Bohannon who did a fantastic job as always, calling the winners and great ad-libs adding to the occasion. All the various Series winners were presented with their awards, with the 2018 Wild Bunch Series win going to Phil James with the Rampage Funny Car, his first ever win of this Series. Many Congratulations to Phil and the team! The Spirit of Nostalgia Challenge Series winner this year was also Phil with Rampage. He also won the Springbridge MSA Challenge Series Cup, held over the three MSA events at which the Wild Bunch compete. This was Phil's third victory in this Series, which is sponsored by Springbridge Direct Ltd to whom many thanks for the Series sponsorship and also the sponsorship of some of this season's event prize funds and trophies. Phil also won the Roy Wilding Nostalgia Race Cars Series, and thanks very much to Roy for putting up prize money for the top four winners of this Series. Many congratulations to Phil on the clean sweep, and to all those who finished in the top four and top ten the Wild Bunch.

The Wild Bunch would like to thank Bob Hawkins of Springbridge and Roy Wilding for their longstanding and ongoing support, and our host of other event trophy and prize money sponsors this season: MJC Property Solutions, Fieldcraft Fabrication, Wiz Training, Sutton Soda Blasting, Team Paranoia, DASH Racing, Team East, Team Ratcatcher Resurrection, and Didier and Francoise Canicave.

Various presentations made during the evening including to Secretary Lynne Coulsell, Website author Ed Yates, and Race Co-ordinator, Treasurer and GM Claire Meaddows and for all their hard work. Presents were given to all the lovely ladies attending. Flowers were given to Claire, kindly donated by Mark Coulsell of Team Limited Funz. Other special presentations included Chris Schreier to thank him for all his hard work, Team Daddy Cool, for Family Achievement during a fantastic Dragstalgia, plus an award for Superstar Début for their fabulous driver Dr Faye Hern, all running in tribute to the dearly-loved and missed Sag Southworth.   There were also commemorative awards for the Coulsell and Cassisi families of Team Limited Funz Racing to celebrate their best-ever season ever with the Ballbreaker slingshot, and a special Wild Bunch Pioneer award given to Bob Hawkins for his début on nitro.

In addition, the winners of the Wild Bunch Special Merit awards were announced:

Big Bang Trophy - Steve and Lesley Field with Black Pig Too
Quickest time by a British-engined dragster (sponsored by Martin Holgate) – Pete Huckle and The Jagster, 10.287
Fastest speed - Bob Hawkins with Time Traveller II, a Wild Bunch Speed Record of 211.01 mph
Quickest ET - Bob Hawkins   in Time Traveller II, 6.929 (backed up by a much quicker 6.624)
Best Newcomer - Pete Huckle with The Jagster
Best Dragster/Radical - James Auld inLittle Fauss
Best Altered -  Mick Hillier in Texas Ranger
Best Slingshot - Paul Bambrick in American Pie
Best Turned Out - Team Dragster Inc with The Villain
Best Achiever - Phil James and Rampage
Perseverance Award - Mark and Philippa Turton with Bitchcraft
Derek and Brenda Annable Trophy - Mike Lacey and Karen Stevens
C & C Sportsperson  - Keith Crampton in Soul Town Shaker
Crew of the Year - Mark Turton for Bitchcraft
Scottie Durrant Above and Beyond Award  – Bob Hawkins with Time Traveller II
Personal Achievement (Daddy Cool Sag Award) - Team Limited Funz with Ballbreaker
Crazy Chris Showmanship Award – Chris Manning and Dragster Inc with The Villain

The greatest accolade of the evening was as always, the Don Garlits Spirit of Drag Racing shield, the most prestigious award in the Wild Bunch, which represents sportsmanship, achievement, perseverance, commitment, presentation and a host of other attributes.  This was awarded to Phil James and the whole of Team Rampage.  The whole team are enthusiastic, committed and dedicated to drag racing and the Wild Bunch. They all demonstrate the true spirit of this award and the family spirit of the club. Big congratulations to the whole team, a very well-deserved win The shield was presented by last year's winners, Team Daddy Cool with Elaine Southworth pictured here with Phil and Rampage crewman Matt Lisley.  Many congratulations also to Phil's brother Mike and sister Alison, who unfortunately couldn't be at the presentation evening but who are very much part of the team's success. Well done also to son Carl, who often gives tuning advice and support from Malaysia, and to Phil's lovely wife Anna, who is a constant source of support. It was a very popular win, and Phil gave a lovely speech afterwards thanking his team, and the whole of the Wild Bunch for their support and encouragement.

Many thanks to Helen and David of Zeon TV for providing the fantastic Season Review DVD which was showing in the background, capturing so many highlights and special moments of the season. We also held a raffle to raise funds for the Club, so many thanks to all who donated prizes. The night was rounded out with champagne for some, dancing, and many hugs and cheers all round.

Many congratulations to all our winners. We can't wait until 2019 to be back out at the drags for the twenty fourth year of the Wild Bunch!

Full info will be posted in due course on the Wild Bunch web site at www.the-wild-bunch.co.uk.

Best wishes for a Merry Christmas and a Happy, dry, safe and quick New Year to all racers and teams, marshals and officials, track and safety crews, photographers, media, promoters, managers and of course the Eurodragster.com staff, who work so hard at Santa Pod Raceway and behind the scenes for this sport of drag racing which we all love so much. Thanks everyone for everything you do!  See you all at the drags next season!

Swift snippets.
30th November: As thoughts continue to turn towards Christmas and gifts for the race fan in your life, artist Paul Whitehouse has been in touch to offer prints and of course commissions. For details and prices of prints or paintings please contact Paul via www.paulwhitehouseart.com or call 07432 564110.



Our good buddy Remco Scheelings is continuing his series of Features on the 2018 European and EDRS Champions on the Drag Racing Europe Blog. Remco's latest victim is EDRS Pro Nordic MC Super Street Bike Champion Mathias Bohlin and you can check out Remco's Feature by clicking here.

Also on the Drag Racing Europe Blog, our good friend Lena Perés has posted Features about the EDRS Prizegiving and about Swedish Comp Eliminator racer Stig Olsson's recent US racing venture.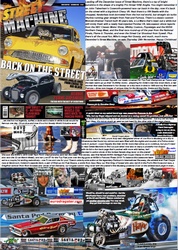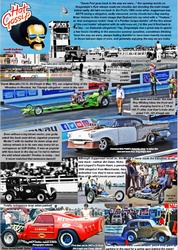 Thanks to Mike Collins for sending us the usual preview of his column in the latest issue of Street Machine magazine, plus bonus material exclusively for Eurodragster.com readers. Click on the images above for the PDF downloads.

Santa Pod confirm Autosport date.
28th November: Santa Pod Raceway are pleased to confirm their annual attendance at Autosport International at the NEC, Birmingham on 10th–13th January 2019.

Santa Pod will be joined on stand once again by Lucas Oil Products UK who will have representatives on hand to explain the company's extensive range of automotive lubricants, treatments, additives and ancillary products, with a selection of products on sale. Representing Lucas Oil on the stand will be the Ford Capri-bodied Nostalgia Funny Car of veteran racer Bob Glassup.



Centrepiece of the stand will be the Santa Pod-branded FireForce 3, the world's fastest Jet Funny Car. Owner-driver Martin Hill and his crew will be on hand to explain the intricacies of the Pratt and Whitney J60 jet engine. And as an appropriate coincidence, Martin Hill will be celebrating thirty years of the FireForce brand with FireForce 1 first débuting in 1989.

You will be able to find the Santa Pod Raceway stand in Hall 2, stand 2680 which is the show's new location for 2019 and which is on the Piazza side of the NEC. Santa Pod Raceway and Lucas Oil UK will particularly welcome media visitors interested to learn more about Santa Pod's special brand of motorsport. Thursday and Friday are trade-only days and Saturday and Sunday are open to the public.

Swift snippets.
28th November: We were sorry to hear from Dave Jones of the death of Lorna Barter after a long illness. "Not many will know Lorna's name but will remember her whizzing around the pits on her electric trike", says Dave. A memorial Facebook page Raise a Glass for Lorna is now on-line. Our deepest sympathies to Lorna's family and friends.

The UK's Venom Nostalgia Funny Car team are looking for an additional team member for 2019. Ideally the skilled mechanic would live around the Benfleet or Basildon areas and be available on Saturdays throughout the year with additional sessions prior to race events. No specific drag racing experience is necessary but a good working knowledge of engines, transmissions and vehicle components is essential. If you are interested then please check out Drivers/Crew required on our Jeff Bull Race Engines-sponsored Swap Meet.

Mister Six book review.

27th November: If you have a short attention span then take our word for it and go straight to mistersix.co.uk to order your copy of Mister Six: The Story of Drag Racing Legend Dennis Priddle, because it's brilliant. If not, then read on.

If you attended, or if you read our report of, the recent British Drag Racing Hall of Fame Bench Race then you will know that UK legend Dennis Priddle was reluctant to become the subject of a book. Not only has he always come across as modest, but throughout his career Dennis preferred to remain a private person. Never unapproachable - legions of fans can attest to that - just private, and that's not an easy thing to do when you consider that driving a Fuel car makes you public property to some degree. Your News Editor long ago reached the conclusion that when they were handing out egos Dennis must have left the queue and nipped off for a pee or something just at the right/wrong moment, because to at least one fan of long standing he simply does not appear to have an ego. It is not within my purview to suggest who might have taken the double helping of ego on that day. Ultimately Dennis was swayed towards approval by the wishes of his wife and daughter, and by proxy his grandchildren, and by the chance to pay tribute to those who helped him. That eventual acceptance must have been as much music to Keith Lee's ears as the book's announcement and the identity of its author were to all of ours.

Dennis has at least received due credit, with induction into both the International and British Drag Racing Halls of Fame and indelible entries in UK and European history books, but Keith is one of a small but select group who have served the sport in various capacities for as long as one can remember but who have not received as much acclaim as they deserve, regardless of whether they seek it (which Keith certainly does not). You cannot be a fan of racing in the UK or Europe without having read something written by Keith or seen his photographs. If you like your nostalgia then open one of your old magazines and some of Keith's work will likely be looking back at you. If you are sufficiently advanced in years then you will have attended races at which Keith could be heard commentating, and of course at Dragstalgia every year he is a welcome visiting expert commenting upon and simultaneously photographing a contingent of bike legends in whose organisation he is involved. Having been around the sport since the Drag Fests, having known Dennis forever, having been there during the classic Skilton, Herridge and other rivalries, and having such a high reputation for his photo-journalism, there was no-one more qualified than Keith to write this biography.

Everything, but everything is in this book from Dennis' childhood through his racing career - every car and bike, every crew member, associate and sponsor, every race, every country and of course Tomorrow's World - and what he has been up to since. The effort which Keith put into his research, and the effort which his wife Annie put into fact-checking and proof-reading, are evident on every page. Bear in mind, too, that when Dennis was racing there was no internet for instant reports and results, and that some of what is available on the web now about that period was written retrospectively and/or with post-event wisdom and has to be read as such. So you either had to be there or wait for magazines or journals which eventually arrived some time after an event. This makes Keith's race-by-race account of Dennis' career even more impressive. There is so much more besides, though, including workshop, war and travel stories, kitchen detail and opinions from Dennis' crew, contemporaries and friends. That the book often reads like a print version of a Hall of Fame Bench Race is no bad thing and is, I think, exactly what a lot of nostalgia fans wanted.

In his opening comments Keith makes it clear that the intention was not hagiography but warts and all, and it is equally clear that Dennis agreed, but upon reading the book it quickly struck Your News Editor that there is little reason to believe that Dennis kissed very many toads anyway. Laugh-out-loud and what most of us would consider merely typically-riotous racing stories abound, but even where there is controversy Keith has gone to great lengths to establish the facts.

With so much information in the book, a fair bit of it necessarily technical, one could be forgiven for fearing that the text might be heavy-going but in fact Keith's writing style is conversational, informative, interesting and so easy to read that the reader runs a serious risk of suddenly noticing that it is getting light again outside.

As things stand the book is only on sale for delivery to the UK but it has to be said that it has huge hit potential with racing fans elsewhere on the planet (at time of writing a copy is destined for Finland via Rogerham Mansions) since even if you don't happen to be able to read English then you would still feel that you had had more than your money's worth courtesy of the sheer number and quality of on- and off-track and behind-the-scenes pictures, both colour and black and white, featured on every page. What also helps is the beauty of the vehicles which Dennis campaigned and the photographs stand as a tribute both to Dennis and his team who built them, and to those who painted them: be prepared, for example, to catch your breath at the double-page spread of cars painted by Jeff Glasser. Some pictures, such as the definitive shot of Mr Revell on the front cover which still makes Your News Editor gasp in admiration, are instantly recognisable from use in years gone by but Keith has gone deep into the archives to bring us previously-unseen photographs which are a revelation (Your News Editor didn't know about the Avenger Funny Car in yellow), Dennis himself took some of the pictures and supplied others, and other photographers have allowed the use of their work, Roger Phillips' works of art being a notable example. As if the photographs are not enough there are also line drawings, chassis blueprints and other technical illustrations.

With Dennis' life covered in such detail and in so many chapters it is not easy to pick a personal highlight, but one of several chapters vying for favourite is that tracing the history, current location or fate of Dennis' own race cars and those which he built for others. We are all aware of, and grateful for, the continued use of a Monza body of Dennis' on Phil James' Championship-winning Wild Bunch car but it is fascinating, and in a few cases heart-breaking, to read an authoritative account of the continued life, or not, of the rest of Dennis' kit. This includes the location – by Eurodragster.com's own Simon – and restoration of Mister Six but the book is sufficiently up-to-date to include details and a rendering of the recloaking of Paul Harris' Nostalgia Funny Car with a Monza body sporting a Darren West-designed paint scheme inspired by the colours of the car which Dennis built for Olavi Knuutinen (see our news update of 17th November for more).

With Christmas approaching, Mister Six: The Story of Drag Racing Legend Dennis Priddle would be the obvious present for the race fan in your life, if not for the fact that making someone wait another few weeks for this excellent book would constitute mental cruelty. Christmas or not, £30 including UK delivery is a gift for several thousand words and hundreds of pictures and a thoroughly enjoyable read which does not just Dennis, but UK and European drag racing, proud. You can order your copy at mistersix.co.uk. Orders are currently only accepted for delivery in the UK but there is nothing to stop you ordering a copy to send overseas yourself.

How proud can a dad be?
26th November: The answer is "Very", says Team Dark Horse patriarch and no mean racer himself Brian Huxley:


An awesome first race at the Festival of Power where my son Marc entered my 1964 Mercury Comet in Hutchinson & Dibley Sportsman ET. I bought this car from Pennsylvania in 2016, already set up for Super Stock but it had never been down the quarter mile since being built some years ago. So we went into competition with this unknown vehicle and the story went like this: in qualifying dialled in 15.70 and ran 14.08. Marc was not used to a stick shift on the wrong side, also the LSD was only working now and again plus we were on a new track. Marc won the meeting and took the trophy and money, how pleased could we be? I went into Modurstang Pro ET qualifying in the Dark Horse Mustang with a dial-in of 9.45 and ran a 9.63 on the new track so we were pleased with that. But Pro ET was cancelled so that was that.

Next time out it was Lee's turn at Rockingham for the No Prep race. No lights just a torch start and we got to the final against Ian Brown's son Harrison in the Thatadoo Camaro and Lee won that one.


The next meeting was the new Doorslammers on 19th-20th May and what a brilliant meeting that was with lots of wicked door slammer cars entered. Lee did his job again and ploughed through in the Mustang to take the £5000 win in OCS Group Big Bracket 2. We were ecstatic and I must say at this point that the photo which Kirstie took of the team celebrating on the start line was absolutely brilliant, thanks Kirstie. We all celebrated on the way home with a slap up meal at McDonalds.

Our next meeting was the FIA Main Event with Lee in the Terry Gibbs Super Gas Shootout and myself in Pro ET. I got through two rounds and went out in the third round, Lee not so good but we tried. At the SPRC Summernationals I got through two rounds in Pro ET before being taken out by Bob Molden, who got me by a few inches. Next up was Hockenheim in very warm weather. Lee qualified seventh and did very well but got taken out by the eventual winner Will Clark. We got a third place trophy though then we were runner-up at the last No Prep race at Rockingham.

At the FIA European Finals in September I qualified number one in Super Gas with a 9.903, which made my day, but it didn't last long and I finished up number three. I got through two rounds before the Morrice boys turned up in the other lane and that was my day over. Lee on the other hand was on fire in Pro ET, cutting good lights when he needed to. Lee got through to the final against the Browns' Camaro and it was a good close race against a well-established racing family, but Lee took the win.

The last race was the UK National Finals where alas Lee went out in the third round but he won us enough points to get the runners-up in the UK National Pro ET Championship.

So what can I say, all in all a great season with a great team. All thanks to Andy Walker and Tim Hines and to Lee for some awesome driving. Thanks also to our sponsors ETB Tyres Worcester, Sneddons Roofing Worcs, Bradfords Building Supplies Worcs, CARS Car Sales Worcs, Aldley Builders Worcs and Forbes and Andrews.

Cam Auto Stick with Jordan.
24th November: UK former Junior Dragster racer Jordan Payne has announced that CAM Auto Developments Ltd, who have supported the Sticky Situation Racing Team for ten years, will be continuing their support in 2019 as Jordan makes his début in the Sticky Situation Racing Corvette:

Thanks to Cam Auto Developments Ltd, the Corvette's Lifeline fire extinguisher has been serviced and we have now fitted the Goodridge hoses and fittings needed to complete the motor in its new single carb configuration. We hope to be testing the engine on the ICE Automotive dyno within the next few weeks.



I had a lovely meal with Ian and Anita of CAMs, discussing the future of my racing and their future support, and discovered that 2019 will be CAM Auto's thirtieth year of trading. Congratulations to the entire CAM Auto Developments team!

If you are looking for new extinguishers for next season, need your existing extinguishers serviced, or want to plumb your car with the latest Goodridge Hoses visit www.camauto.com. To read more about Jordan and his progress with the Corvette visit the Sticky Situation Racing Facebook page.

Swift snippets.

24th November: Further to Thursday's news item, a gallery of Julian's pictures from the British Drag Racing Hall of Fame Gala is now available in association with Lucas Oil Products. You can check it out by clicking here or by clicking on the Features, Interviews, Tributes link on the left-hand side of any Eurodragster.com page.

It's getting towards that time when one's thoughts turn to Christmas presents for race fans and John Arnold has been in touch offering T-Shirts and Hoodies featuring the Top Fuel design at right. The screen-printed design comes on black Gildan heavyweight shirts available in sizes S-2XL. T-Shirts are £13 and Hoodies £25, both post-free, and you can order at outlawdragclothing@gmail.com.

Santa Pod Raceway are offering 50% discount on 2019 Festival of Power tickets until midnight on Monday. You can get your discounted FoP tickets at www.eticketing.co.uk/santapodraceway.

We would like to say a big Happy 70th Birthday to FIA Drag Racing Commission and UK Tech Committee member and incoming Motorsports UK Speed Event Committee Chair Phil Evans. Have a great day Phil.

Also on the subject of the FIA Drag Racing Commission, best wishes for a long and happy retirement to NHRA's Graham Light who oversaw his last event at Pomona a couple of weeks back. You can read more on Competition Plus by clicking here.

BDRHoF do the honours.
22nd November: The thirteenth annual British Drag Racing Hall of Fame Gala Awards Dinner, sponsored by Lucas Oil Products, was held last Saturday at the Oatlands Park Hotel, Weybridge, Surrey, and enjoyed by more than two hundred attendees. New inductees to the Hall of Fame from the sport in the UK were joined by a group of ten UK and Swedish drag racing legends in an entertaining Bench Racing session. The Gala is one of the leading motorsport presentation events in the world and the BDRHoF would like to thank everyone who made it possible.

The evening, compered by writer and former NHRA Motorsports Museum Director Tony Thacker, included the induction of five new members of the Hall of Fame, presentation of the Lucas Oil Global Achievement Award and two Lucas Oil media awards for lifetime achievement in drag racing photo-journalism, and special surprise presentation for a drag racing legend who created and has run the legendary Pure Hell Fuel Altered for over fifty years.

The Lucas Oil Global Achievement Award, presented for global impact in the world of drag racing, was awarded to the SFI Foundation in recognition for raising safety standards in drag racing and motorsports in general. The SFI standards applied to drag racing and other forms of motorsport have undoubtedly saved lives. Accepting the award on behalf of the SFI Foundation from Motorsport UK's Cheryl Lynch was SFI Foundation vice-president Jennifer Faye.



A BDRHoF/Lucas Oil Products special trophy went to Rich Guasco who debuted the first Pure Hell fuel altered in 1964 driven by the late Dale Emery who was a special guest at last year's gala. Rich's award joins his Roadster Show Hall of Fame, San Francisco Roadster and Custom Motorcycle Hall of Fame and membership of the International Drag Racing Hall of Fame from 2011.

The two BDRHoF/Lucas Oil Products media awards for lifetime achievement in drag racing photo-journalism were presented by BDRHoF sponsor Geoff Stilwell to Roger Gorringe and Andy Willsheer, who between them have more than ninety years combined of reporting on the sport and have been visiting the US for over forty years apiece.



The 2018 inductees to the British Drag Racing Hall of Fame were:

Pioneer UK dragster racer Gerry Cookson, wife Joan with son, former drag racing magazine editor and Shakespeare County Raceway promoter, Jeremy Cookson'

Santa Pod and Motorsports UK International Speed timekeeper and former Jet Dragster racer Steve Horn, presented by Santa Pod Racing Operations Manager Darren Prentice;



European Top Fuel Dragster tuner and racer, and 1994 European Top Fuel Association Champion Peter Lantz, presented by SPRC director Ian Marshall with SPR CEO Keith Bartlett.

Pioneering visitors to the US Nationals in 1970, innovative motorcycle drag racers Team Pegasus, presented by fellow legendary bike racer John Hobbs;



Nine-time UK Pro Modified Champion and car constructor for over twenty five years Andy Robinson, presented by UK Top Fuel and Funny Car legend Dennis Priddle.

Trophies were sponsored by the Santa Pod Racers Club.

The Gala day also included the fourth Bench Racing Session, sponsored by US Automotive/Custom Car Magazine with British Top Fuel and Funny Car racers entertaining a packed audience with tales of their on and off-track exploits back in the day. The session, which marked the publication of Keith Lee's book Mister Six: The Story of Drag Racing Legend Dennis Priddle was introduced by Graham Beckwith, former Santa Pod Raceway and York Raceway announcer. Racers present were Gary Page, Barry Sheavills, Pelle Lindelöw, Andy Craddock, Steve Read, Brian Savidge, Stu Bradbury, Dennis Priddle, Roy Phelps and Geof Hauser.

The event would not have been possible without practical help and support from title sponsor Lucas Oil Products, major sponsors US Automotive and Santa Pod Racers Club, and event sponsors Beech Underwriting Agencies, BUA Motorsport, Kelsey Publishing, DialAFlight, National Street Rod Association, Rat Trap Racing, Straightliners, Atlantic Fluid Tech, Chair Office, Santa Pod Raceway and Prop Portfolio. Thanks also to Shakespeare County Relics and Eurodragster.com for their support.

Pictures by Julian Hunt, Eurodragster.com

Swift snippets.
22nd November: We would like to wish all of our friends in the United States of America a very Happy Thanksgiving.

Swift snippets.
20th November: Thanks to Keith Furness for letting us know that Andy Willsheer's pictures of the British Drag Racing Hall of Fame Bench Race and Presentation are now available for viewing and ordering on Photobox by clicking here.

Our good buddy Remco Scheelings is continuing his series of Features on the 2018 European and EDRS Champions on the Drag Racing Europe Blog. Remco's latest victims are FIA European Top Fuel Dragster Champion Anita Mäkelä, EDRS Pro Nordic MC Super Comp Bike Champion Peter Östlund, and FIA European Top Methanol Champion Dennis Habermann.

The news about the appalling theft of the Stardust Funny Car chassis has made it on to the BBC News site local to Santa Pod Raceway. Unusually for the BBC they have somehow managed to restrain themselves from blaming President Trump or Brexit. You can check it out by clicking here and for more about the theft, including what to do if you know anything, check out last Wednesday's news update.

Hall of Fame Bench Race report.
19th November: The Bench Race at yesterday's British Drag Racing Hall of Fame Gala served as the official launch of Keith Lee's excellent new book Mister Six: The Story of Drag Racing Legend Dennis Priddle and as well as Dennis himself the Bench Race panel comprised those who were there at the time and so had an association with him either on- or off-track: Gary Page, Barry Sheavills, Pelle Lindelöw, Andy Craddock, Steve Read, Brian Savidge, Stu Bradbury, Roy Phelps and Eurodragster.com sponsor Geof Hauser.



MC Graham Beckwith opened proceedings by asking Dennis on his thoughts about being the subject of a book. "I'm immensely proud", said Dennis. "I didn't want to do it but I was put under pressure by my wife and my daughter. My daughter put me seriously under pressure - she said I owe it to my grandchildren. It has been a long road; I can't believe the effort which Keith and Annie have put in. Annie put in so much time checking that the facts were right. Keith made a list of all the things he wanted to ask me and over two years he asked me each question half a dozen times to check that I gave the right answers.

"I have tried to be honest and thank those I should thank. I have always tried to be a private person, if I was a miserable bastard people would steer clear of me and it worked!

"It's a chance to remember the people who helped me along the way who are no longer with us and we remember them today."



Geof Hauser, who worked with Clive Skilton, said that Dennis and Clive were the best of friends off the track but had a good rivalry on it. "It was fifty per cent circus and fifty per cent racing", said Dennis. "We were in the entertainment business. Clive and I had an unwritten rule not to overdo it, to set limits to our nitro loads so that it didn't spiral".

"It cost us way more to race than it did in the US", said Geof. "Every box which came from the US was like Christmas, parts to carry on the battle."

Roy Phelps mentioned old suspicions that races were fixed. "I can assure everybody that when they get side-by-side it's competition", he said. "We seem to have drifted away from the core of racing - the best thing we could do is to get rid of timing equipment. It's first to the line! The tension has been lost. The commentator used to control the crowd but now it's the anticipation of the ETs. It's who crossed the line first!"



Andy Craddock said that there weren't many Fuel cars when he and the Frontline team started. "Dennis' cars were always immaculate and he was always there with good advice", he said. "I watched Dennis and Clive race and them in my twenties I had the opportunity to race against them and it was mind-blowing."

Graham asked Brian if Dennis had been a hard taskmaster. "No", he said, "but I look back on it and it seems it was every other weekend. I had a marriage break down over it but I look back on it with great fondness."



Graham then asked the panel how Dennis had inspired them. "When you first go up to Santa Pod you aspire to racing a Fuel car", said Gary Page. We bought cars off Dennis and we were in awe of him. Rune has learnt from Dennis, he's a miserable bugger! Dennis and Clive and Bootsie were the leading lights. You can only aspire to be anywhere near Dennis."

"When I first started Dennis and Clive were there and that's who you wanted to be!", said Barry Sheavills. "His cars were beautiful with their workmanship and engineering. Dennis was my inspiration. I was able to buy one of his chassis and the engineering was superb. This book launch could not be better for someone in European drag racing..."

"Tor Line have a lot to answer for!" interjected Dennis.

"...I always aspired to be a Junior Dennis Priddle. If you started in the Junior ranks then you looked at who you wanted to be and that was Dennis."



"I don't want to go on without mentioning Bootsie", said Dennis. "Some of our races were phenomenal. We ran at a Firework meeting ans the instruction was "Put a show on". Go hard off the line and then click it off. That wasn't going to happen! I got sideways and got off it then Bootsie was back on the throttle. When we got to the other end we were in hysterics. Bob Phelps told us "If you do that again you're not coming back here again!"

"I rest my case!", said Roy. "There's a lot goes on behind the scenes which nobody knows about."

Steve Read said that Dennis' and Clive's duels inspired so many people when he started going racing. "I got introduced to Prid when Dad bought the Quartermaster", he said. "I have raced on my own dollar and that is mentored by Dennis - he proved you don't have to have a lot of money. We had a lot of laughs, Dennis taught me what you could and couldn't do and the most important thing was never give up. I'm proud to be his friend and to have crewed for him."



Pelle Lindelöw said that he was Dennis' favourite Scandinavian driver. "I liked the way you prepared the car and your ethos", said Dennis. "Dennis had a different way of qualifying", said Pelle. "That was when you qualified first and I screwed up!", said Dennis. "It was going to be Harlan Thompson or I who ran the first five and we qualified together. We had a new clutch pack in the car. I did the burnout, came back and I screwed up - I didn't put it in low gear. It didn't do the new clutch a lot of good. I ran 6.8 and Pelle ran 6.0 and I had him in the first round. We looked at the clutch and we would have given up but the deal with the promoter was that if I didn't do what I said I wouldn't get paid. So we put it back together and ran a five! Pelle's little daughter who must have been about seven went and picked a posy of flowers and after the race she gave them to me and said "I picked these to give to you because I thought you'd lose!". "She is now forty one", said Pelle.

"It was good fun", Pelle added. "We considered Santa Pod our home track because we had been there so often. It was as close to America as you could come. When we were talking about marking fifty years of racing in Sweden at Tierp I wrote to Dennis and said we'd like to celebrate it. The next day he replied that he had booked the flights and booked the hotel! People really enjoyed it, and now they want to know about next year for the fifty one-year celebration!"

"On occasion I wondered why I was standing between the cars on the start line", said Stu Bradbury. "You'd get bits flying and some of them hit you, but I wouldn't have been anywhere else. Most of my memories are what went on after a race. I remember run-ins with Tony Nancy and Jack Bynum who had a cracked block and blamed me for it! So many things went on". Graham asked Stu if he had ever had a go on the track. "I had a go a couple of times", he said. I had a go in the John Woolfe Racing Scout. Dave Riswick lent me his helmet and it was round the side of my head at half track and all the way round at the finish. I couldn't see but I didn't want to go into the corn field because Ernie Braddick would charge us for it. There are a lot of characters, some with us and some not, and they just made the sport."



Dennis was asked from the floor what the "Boat story" was. "The first time we went to Sweden in 1968 it took two nights on the boat", he said. "The next year we went from Hamburg. They had problems in Sweden with moonshine and it got a but raucous at Anderstorp and they banned spectators at drag races for a number of years. The next time we went with Tor Line and we had assisted passage. This boat was much quicker, carried about eighteen hundred people like a mini cruise liner. A trip to Sweden was an adventure, the majority of us got off the boat out of our brains!

"My boys were volunteers but I wouldn't have them sleeping in tents or eating in greasy spoons. On the boat they were introduced to smorgasbord. You would not believe how much marinated salmon one person could eat. We'd go in when the smorgasbord opened and stay until they threw us out!

Graham asked Roy to describe his behind-the-scenes work. "I was there from day one", said Roy. "In 1982 Santa Pod went bust and I was challenged to bring it back to viability. At that time I had to deal with governing bodies and I had to learn to be a politician. You had people telling you what you could do. The RAC were a hindrance, backed by the FIA who were a hindrance, the NHRA were not interested and it was a long time before they came over here. It was a constant battle, the number of times I was on the phone and I was told we would lose our track licence."

Andy was asked from the floor about mismatching wheels on his Pro Fuel Dragster. "We were using a unit on an industrial estate", he said. "It was empty on Sundays. One day we started the car up on the ground, Steve Clark told me to blip it. The road was concrete so it had good grip so off I went down the road. At the end of the road there was a T-junction, I hit the kerb which knocked my foot on the the throttle and I went through the fence."


Geof explained how he ended up working with Clive Skilton. "I first got interested when I was working as a paper boy delivering Hot Rod and Car Craft and seeing the cars", he said. "When I was fifteen I went to stay with relatives in Canada. I hitched a hundred and twenty miles to my first drag race. I knew about Santa Pod but I was fifteen and had no way of getting there, but in 1969 I went on a Lambretta. I was also into making models and I would customise Airfix kits with big wheels. I wanted to get involved and I started to help Alan Wigmore. We would race at different airfields. Alan took me for a ride in Itzaviva, I was sitting on the floor hanging on to the roll cage whilst he drove down the road.

"Phil Cornish and I grew up together, he knew the Beadle brothers and Don was crewing with Clive. I got involved with working on the car."

Roy said to Geof that magazines did it for him too. "My dad used to go to London and come back with armfuls of magazines", he said. "They inspired me to build my Plymouth pick-up."

Graham asked each panel member whom they would take for a ride in a Two Seat Dragster. "Someone from Formula 1", said Barry, "because they think that's the ultimate. I'd want them to experience what we experience."

"I don't think they look down on us", said Dennis. "We put on a show in Luxembourg for Goodyear and I met Denny Hulme and John Watson. Denny would only get in my car if he had the rotor arm out of the mag. He said "You're not starting that thing with me in it!". I'd like to put Prince Charles in a car to prove to him that you can live without being married to someone who looks like a horse."

"We had a match race between a Formula 2 racer and Lee Anders Hasselström", said Pelle. "We had a press conference then at Mantorp the Formula 2 car started eight hundred metres back in the pits, a flag man flagged Lee Anders as he came past and Lee Anders caught the Formula 2 car in ten metres."

"I would take my son Tom to show him what his old man used to do", said Andy. "I wouldn't mind being taken for a ride myself in a modern Top Fuel car."

"Anyone who sits in a Top Fueller as a passenger must have less brains than anyone who wants to drive one!", said Dennis.

Steve said that he would take his wife Heather, aka The Banker. "You can't describe it and I would like her to know what it is like", he said.

"It would be me!" said Brian. "I have a 1932 Roadster which I run in Run What You Brung and I would love to take my grandson."


Stu agreed that he would take the passenger seat himself. "I would love to have a go just one time", he said. "Having seen what these guys do it's something I'd love to do. But I've had my fun and those days are gone. There is no place on Earth like being between two Fuel cars. You have to experience that if you can."

"I have driven the things and I have worked on the things but it's still a buzz every time I go on the start line", said Gary. "There are lots of people who have been disrespectful who I'd put in a car, or Mark Hawkins who owns the Funny Car so that he knew what it was like."

"I remember sitting in a Fuel car looking at the two bearings on the back of the blower", said Dennis. "You look either side. The most phenomenal buzz you can have is to do a proper burnout in a Funny Car with handfuls of lock. The sheer joy of doing a burnout, the motor going through absolute torture and it's under your right foot."

"We were asked to do a race at Surfer's Paradise", said Steve. "Everyone was trying to make their cars hook up, we left out set-up on ninety per cent nitro. I did a 150-metre burnout, backed up and did it again. I trashed a set of tyres down to the canvas but people realised the power of the cars". "Sod the racing, just do burnouts!", said Dennis.

Dennis was asked about the first Six and in the course of his reply got on to one of the subjects about whom we all wanted to hear. "I wouldn't have said I knew it was a six", he said. "Sometimes you can tell you've done a good run or the car's working.

"People ask how difficult the car was to drive. I felt that in my day you could put anyone in the car and that if they did what you told them then they would run close to you in a few runs. Well, I put Maggie Philbin in the car and I proved categorically that you couldn't do it. I told her that the car had 2000 horsepower and she said "I've got an 1800 Escort". I was convinced that you had to get in it, stomp it, count to six and pull the chute but I proved that wrong. We must have screws loose, what makes you want to get in one of these things?

"I have had some trouble in my time with boy racers. They say to me "How fast have you been then?" and I tell them two hundred and fifty miles an hour - but a hundred miles an hour in a second and they just can't compute it. Someone said "If you understand then no explanation is necessary. If you don't understand then no explanation is possible"."

Graham asked the panel members for a favourite story. "Vic Hammond, you had to walk away from him because your sides were hurting from laughing", said Gary. "He worked in film and told us that he was on a set and two people came running past. "What's the matter?", he asked and the reply was that two lions had escaped from a set. "Which direction?" he said and the reply was "Well they ain't f*****g chasing it!". Tony Boden would never take cigars off us because we always set him up with exploding cigars. We were in a restaurant and loaded one up and persuaded the governor to give it to him. The powder was a long way down and it took a time but it went off and went all over his face and we were all rolling on the floor."

"Going to Sweden was non-stop laughter", said Barry, "but one story from here was that we used to stay in the Nag's Head. We stayed there a lot and I got to know the landlord and landlady and they used to let me use their room. The crew were all in one room and I was in a double which was nice but there was no toilet. One night the crew put a wardrobe in front of my bedroom door, I got up to go to the toilet, waled out of my bedroom and walked straight into the wardrobe. The door shut behind me!"

"I was strapped in behind the start line waiting to run and I was watching Liv Berstad in front of me", said Pelle. "She went through the finish line and I pulled my chute! That's how deep you concentrated."

"I was in the car and I could hear a rattle behind me", said Andy. "I tried to communicate it to Steve Clark but in the end I had to shut it down. There's no sign language for "There's a rattle behind me"!"

"We raced at Le Mans and we travelled with the Stones", said Steve. "We had CB radios. Dennis Stone radio'd "Do you want tea?". "I said yes and twenty tea bags came out of his window and flew back towards us. On another occasion we got back to the hotel after a race and Prid decided to have a party, in my room. There was no music but Dennis' C30 had good speakers. We couldn't hear the music so we drove it through the box hedges to get it closer. I told them "I'm a tree surgeon, I'll fix them". In the morning we were fast asleep and there was banging on the door. The carpet, which had been white, was black because people had bits of track on the bottom of their shoes, the walls and celing were red from wine. We tried to do a bunk but Prid got caught and had to pay out of his prize money. We chipped in for him and he ended up with more!"

"Dennis' 6.04 was a major highlight", said Brian, "and Roy gave us Garlits' car to run Dennis' motor, that was a privilege. Dennis was on the show circuit in Germany and Barry and I would take turns to go out there. Dennis broke a blower belt and did some damage so I had to take some parts, I got to customs and had to explain. Where we did the burnout was unauthorised". "They cut off a padlock to get in!", said Dennis. "They just didn't understand. They wanted us to to a burnout in one street and there was a drainage ditch across it."

"I drove Liam Churchill's Funny Car when he had a back problem", said Geof. "I qualified with a 7.3 and I was racing against Dennis in the first round. I was on the start line beside Dennis and suddenly I couldn't hear my engine. I thought my engine had stopped, I could only hear Dennis' engine because his exhausts were pointing straight at me. I beat Dennis but I touched the centre line. I thought "I hope no-one saw that!" but unfortunately they did so Dennis won the race and went on to win the event."


Roy told of an invitation to take eight cars to Bologna in Italy. "We stopped for a comfort break in the Alps", he said. "Daddy Stone had everything to make a cup of tea in his van. He said "This tea doesn't taste right". We had to tell him "We're on top of a mountain, water boils at a different temperature"."

"Bob and Roy Phelps built the toilets at Santa Pod", said Stu. "When one filled up they would dig another. One night we had a drink and music and then our guitarist disappeared. We went looking for him and we could hear his voice: "Help, help". We went into the men's toilets, he wasn't in there but we could still hear him. We went in the ladies' and we found him in the pit. He went in there to be sick, his false teeth fell out and went into the pit, he leaned in to get them and he went in with them. I don't know if he found his teeth and if he did I don't know if he put them back in."

"We raced at Le Mans, the most phenomenal place I ever raced", said Dennis in closing. "Sixth thousand people, hanging off every lamp post. We were staying in a hotel and asked the manager for a proper French restaurant. He organised cabs, we drove for miles and pulled up outside a galvanised metal shed. One end was partitioned off with formica tables. But we had a superb meal and with racers there it was getting a bit raucous. There was a wedding there and the bride came in and said "You are having so much fun, can we spend some time with you?". That's one of the more savoury stories I can tell."

For more Priddle-isms you can order your copy of Mister Six: The Story of Drag Racing Legend Dennis Priddle at www.mistersix.co.uk. A review will appear here on Eurodragster.com shortly but believe us Keith Lee has done a great job so it's not really necessary to wait.

Editor's note: A big Thank You to Andy Thetford for cashing in his pension then selling his wife to buy Your Reporter two pots of tea.

A return for Mister Six.
17th November: Today's British Drag Racing Hall of Fame Bench Racing session was kicked off in fine style, as it provided a fitting venue for the official announcement by Keith Lee regarding the return of a legendary name to the Nostalgia Funny Car class. We are pleased to release the details here on Eurodragster.com simultaneously for those not attending the event.


When Paul Harris imported the Chi-Town Hustler, which appeared at Dragstalgia, it was only a part of his plan to go racing in this exciting class. Paul's real intentions can at last be revealed.

Since the appearance of the car at Dragstalgia, what has been going on in the background will both surprise and delight Nostalgia fans, as it will result in a return of the Mister Six name on the front of a sleek black Monza, which will act as a fitting tribute to legendary racer Dennis Priddle and evoke memories of him competing in the Olavi Knuutinen Funny Car. The bulk of the major conversion work to mount the new body has been painstakingly carried out by Dennis and long-term crewman Brian Savidge. Paul himself is very much looking forward to familiarising himself with driving the machine in 2019.

The reason that Keith's biography on Mister Six has been kept under wraps until the launch date is that it had been timed to coincide with the revelation of the super renderings of the new car, produced by Darren West of Power Race Graphics. The final chapter of the book contains more details of the new entry, which embodies the very best aspects of this much-loved iconic race car from the golden age of the Seventies.

King back in the hot seat.

16th November: Following their success in securing an outstanding eleventh FIM European Top Fuel Bike Championship with new rider Filippos Papafilippou from Greece, the Gulf Oil Dragracing team round off their season with a return to the US with former rider Ian King in the hot seat for this weekend's MFC World Finals.

Once again, longtime team backers John and Dea Morgan Racing from Palm Desert California have joined Gulf Oil to activate the trip to South Georgia Motorsports Park in South Georgia with additional support from Joe Koenig of Trim Tex.

Following the decision to ship his operation to the US, Ian said "Our team have enjoyed a great year with Filippos 'Fast Fil' Papafilippou exceeding all expectations to run deep in the five-second zone in his very first races and securing his first and my team's eleventh FIM European Championship. But it is strange for me as Team Principal to watch another rider on the bike I conceived and raced so successfully for the last few years and so I am blessed to have the chance to ride it in anger again this year. I am very much looking forward to this race, we have such good friends in our class, fans across the world and awesome sponsors and we hope that we can perform well at the event. We would like to thank Fast Fil, Gulf Oil, John and Deanna Morgan, Joe Koenig, Scott and Michelle Perri Roethemeier, Andrew 'H' Smith and Jay Regan of MFC alongside our fantastic technical partners who have stepped up again to make it happen."

For more information on the Gulf Oil Dragracing team please visit their web site at www.gulfoildragracing.com, their Facebook page, and their YouTube Channel at www.youtube.com/kingracingpuma. For more information about Gulf Oil International please visit their web site at www.gulfoilltd.com.

The Gulf Oil Dragracing team uses and endorses exclusively Gulf Oil greases and lubricants in their history making machine. The team is extremely proud to be supported by many leaders in their chosen markets in their participation in the 2018 FIM European Championship:

APE - The world's most innovative manufacturer of aftermarket parts for drag bikes
Barnsdale Leisure - The UK's Premier Knaus Caravan dealer
Cometic Gaskets - The premier manufacturer of racing gaskets
Gates - The world's most trusted name in drive belts, hoses and hydraulics
Goodridge - The original and the best in fluid transfer systems
Grand Prix Originals - The brand for drive and lifestyle, past and present
Graphite Additive Manufacturing - A leader in 3D printed technologies and rapid prototyping
Gulf Oil International - The world's most iconic brand in automotive fuels and lubricants
H Craft Customs - Race car preparation, roll cages, fabrication and custom projects
Hotrod Hangar- Home of the world renowned custom artist Knud Tiroch
Hyperpro - The leading producer of progressive suspension products for motor bikes
JE Pistons - The world's premier manufacturer of high performance forged pistons
John and Dea Morgan Racing - The creators of the world's most advanced New Age Funny Bike
Kibblewhite Precision Machining, Inc -The highest quality valve train components on the market
Mickey Thompson Tyres - Simply the best drag race tyres in the world
MRE - Leaders in trackside support for drag race components and air shifting systems
MTC Engineering - Manufacturer of clutches for the fastest motorcycles in the world
NitroShutter - Europe's leading drag racing photo-journalists
NCT Engineering - Manufacturer of the world's leading non contact torque sensors for motorsport
NGK Spark Plugs UK - The world's number one spark plug manufacturer
Pär Willen - Master webmeister and proprietor of HarleyDrags.com
Scott Perri Trucking - Logistics solutions par excellence
Portable Shade - The best custom branded collapsible canopies available
Pro Alloy Motorsport - UK's leader in fabrication of alloy racing tanks, intercoolers and radiators
The UK's largest importer and stockist of Thule RV products -
Trim-Tex - The premier manufacturer of vinyl drywall beads and accessories
Tryka LED - The UK's cutting edge LED lighting manufacturer
Van Es mobility - The leading manufacturer of telematic products for management of moving objects
Vanson Leathers - The most iconic brand in motorsport leather goods
Web Camshafts Inc - Simply the company for Top Fuel Bike camshafts
Worldwide Bearings - The world's leading supplier of ceramic bearings for racing
Zodiac - Europe's largest supplier of performance and aftermarket HD parts

Swift snippets.
16th November: Next with a 2019 calendar are AF Photography whose first run has sold out but who would be willing to print a second batch if demand was sufficient. The calendar is A3 and contains forty five images of Volkswagen Drag Racing Club race cars. It sells for £8 plus £2.95 P+P and you can order by E-Mailing missfitracing@gmail.com.



After four years of testing with Swamp Rat 37 and reaching an electrc dragster World Record of 185.60 mph in 7.25 Seconds, Don Garlits has decided that it will take a lighter Swamp Rat to reach the magic 200 mph. The new Swamp Rat will weigh in at least eight hundred pounds lighter than the old car. Built entirely in the Garlits facility by Chris Bumpus under the direction of Big Daddy himself, the new car resembles one of Garlits' earlier Swamp Rats. Don said "Why do I need a chassis that harnesses ten thousand horsepower when I only have a thousand?". Testing begins today.

Our good buddy Remco Scheelings has started a series of Features on the 2018 European and EDRS Champions on the Drag Racing Europe Blog. So far you can catch up with FIA European Pro Stock Champion Bengt Ljungdahl, EDRS Pro Nordic MC Top Fuel Motorcycle Champion Thomas Pettersson, and FIA European Pro Modified Champion Jimmy Ålund.

VP Racing Fuels win at SEMA.
16th November: Eurodragster.com sponsor VP Racing Fuels' Stay Frosty Race Ready Coolant was one of fourteen new products voted best by SEMA's panel of international media in Las Vegas recently.


"VP is recognised around the world as the leader in liquid technology and we're accustomed to helping competitors win races, Championships, and extend engine life" said Alan Cerwick, VP Racing Fuels President and CEO. "In receiving this prestigious award it shows consumers and resellers that we continue to be on the forefront of developing products the market needs. Our R&D team worked hard all year, as they always do, and this award is not just for Stay Frosty but for them as well."

Overheating an automotive or motorcycle engine will not only ruin an outing but can cause significant, costly damage. The technology employed in Stay Frosty High Performance and Stay Frosty Race Ready Coolant is aimed at helping engines stay healthy, and in race engines can reduce temperatures by as much as 100°F. An added bonus - since there's no glycol, means track surfaces won't get slippery if there's a spill or leak.

"VP has an unrelenting desire to improve, to make something better" said Bruce Hendel, VP's Vice President, North America Sales – Race Fuels & Consumer Products. "Our new Stay Frosty and Classic Lubricant lines are just a few of the many new products customers can count on to power and protect their passions."

For more information about VP and its products for racers, enthusiasts, and general consumers visit www.vpracingfuels.com.

Stardust chassis stolen from Santa Pod.
14th November: The chassis of the Don Schumacher's iconic Stardust Funny Car, which raced at Santa Pod in the 1970s, has been stolen from Santa Pod Raceway. The chassis was on display with the Stardust body at Dragstalgia this summer prior to a complete restoration by top Swedish restorer Janne Johansson, due to start this year.


Trakbak Racing CEO Keith Bartlett commented "It's a devastating blow, at Dragstalgia I announced the fact that we were sending the car to Sweden for a full restoration at huge expense by the best in the business, for the sole reason of bringing this piece of Santa Pod history back to life."

The chassis was kept in a storage unit and was replaced after Dragstalgia, the thieves passed over several more saleable items and targeted the chassis specifically. "I'm sorry to say that I believe that the culprit comes from within the sport, which is the part that sickens me!", continued Keith. "It has affected all my staff at SPR as it will many fans. I had planned for Stardust to take pride of place in our future museum development but now the anticipation has fallen flat. We cannot continue with the restoration if the heart of the car has gone."

Keith has posted a reward of £5,000 for information leading to the whereabouts or safe return of the chassis. "My prime concern now is to get the chassis back so we can continue with the restoration", he says. "I hope that by posting a reward, information will be forthcoming. Drag racing is a fairly small community and someone knows."

Anyone with information should contact Santa Pod directly at info@santapod.com or call Bedfordshire Police on 101 quoting crime reference 40/37089/18.

A tricky season.
12th November: 2018 UK National Pro ET Champion Paul Brown says that the 2018 season has not been easy for the whole of the Paul Brown Motorsports team:


This is the toughest season we've had to date to claim the National Championship and our third title, including one in Super Comp, in seven years. In 2016, after losing my Shorty dragster in a top end crash, I found myself back in a normal-sized dragster. Last winter a lot of time, effort and money was invested into the dragster to give us a chance of running an eight-second pass and a more consistent car to run a full National Championship.

With Easter weekend being a write off due to the weather and only four qualifying meetings left we knew that we could not afford to make many mistakes. There was always someone very close behind chasing us in the points. We knew we had to qualify well and go rounds. The standard of racing was tough to beat. This was shown through incredible lights in the other lane that I had to fight my way past throughout the season.

At the FIA/FIM Main Event the weather finally held off for me to qualify well and go through the rounds. I met last year's Champions early on and managed to take the win, losing to my nemesis Keith Herbert in the final. We were double-classing this year and were over the moon when I ran 8.86 for a PB in in Super Pro ET.

The SPRC Summernationals was a solid performance both in qualifying and eliminations, going out to Leigh Morris in the last eight. Work pressures were taking their toll on me mentally but after grabbing voluntary redundancy I was lucky to find a new and better job within a few days. My head was back in the game and I went back into the racing season with renewed confidence and was ready for the challenge.

At the FIA/FIM European Finals with the weather and ever-improving track the car just wanted to run eight-second passes so it proved to be a challenge to get the car dialled in on the 9.00 Pro ET index. But at the fifth time of asking and with a lot of luck, a lift and coasting, I found myself in the number one spot which I held onto. Just before eliminations started, we sprung a water leak in the warm up. The weather gods were on our side, which allowed us enough time to fix it. We made it all the way to the semi-finals where we faced Lee Huxley. This was a key race for both of us and Lee hit a perfect light and took the win plus the event. Meanwhile in Super Pro EY I took the Eurodragster.com/Bad Habit Taving Perfect Light Award with a 0.0000 RT.


At the UK National Finals we opted out of Super Pro ET, in which we had made some very respectable and consistent runs in the eights in previous events, to concentrate on the Pro ET Championship. We ran at the Test Day to get some much-needed data on the dragster and were happy with the runs. On the Saturday the fuel pump packed up but thanks to Mike Lacey and Karen Stevens for lending me a spare so that I could continue the weekend. With the rain taking out qualifying, I just needed two win lights but only managed the one when Ben Newsome smashed a 0.007 light to my own respectable light. Then we had the long, gruelling wait to see how the rest of the event panned out. At this time, two out of three people in with a chance were already out and it was down to Dave Cherrett's win in a very close race to confirm that the Championship was ours with only 210 points to spare. People around us in the grandstand, where we were watching, thought we looked very odd cheering at the race, but they didn't understand what that race meant for us.

A special thank you goes to my dad Dave Brown. During the last nine years he has been a key feature in our quest to get the maximum performance and consistency out of the three dragsters which I have owned. He is also famous for his paper laptop on which he spends hours juggling the numbers and dialling me in so close for every run that I can confidently concentrate on the racing side of things when I get on the start line. I am lucky to have such a great team: Lee Stapleton with his calm and efficient manner especially when all around him are losing their heads, Super Gas racer Andy Harrison who has solved a number of head-scratching problems over the years, Zoe Sparrow and the Harrison family for their support, Lesley Brown for the catering, and last but not least our rookie crew member Ruaridh Hart who has been a dedicated and enthusiastic member of the team all season. Ruaridh also impressed us at a recent Run What You Brung when I taught him to drive the dragster and he gained his Pro ET licence with confidence and ability.

My Championship-winning dragster is for sale, please see the Swap Meet for details. This is a fantastic car for anyone starting out in drag racing. My team would be happy to assist at the track for a couple of race meetings and if needed I would be willing to give some coaching and help the new owner to obtain their race licence.

Swift snippets.
12th November: Photo-journalist Keith Lee got in touch to let us to let us know that he is now in possession of the first run (Won't be the last - Ed) of his book Mister Six: The Story of Drag Racing Legend Dennis Priddle which has its official launch at this Saturday's (17th) British Drag Racing Hall of Fame Bench Race. You can order your copy at www.mistersix.co.uk or of course turn up at the Bench Race at 12:00 midday this Saturday at the Oatlands Park Hotel in Weybridge.



Job Heezen tells us that he and all the usual suspects of the FIM Europe Drag Racing Commission (above right) met at the weekend to discuss rules, dates and other matters pertaining to the 2019 FIM Europe Drag Bike Championships. Job has promised us a report which we shall post as soon as we receive it.

2018 ACU UK Funny Bike Champion Lorcan Parnell says that the official web site of The Storm Drag Bike team has been updated with reports, pictures and videos of the 2019 season. You can take a look at www.stormdragbike.com.

Our good friend, photo-journalist Steve Moxley has had FIA/FIM European Finals reports posted on the ACU web site at www.acu.org.uk and on the Eat My Ink web site at www.eatmyink.com.

No news update yesterday so we were unable to say a big Happy Birthday to Tog's niece Jennipher Rogers Knight, once the world's coolest two-, three- and four-year-old and still not doing too badly at twenty six. Hope you had a lovely day Jenn. A big Happy Birthday for today (Monday) to Adam Bentley of SPRC's timing crew. Have a great day Adam.

On the subject of birthdays, a big Thank You from Tog for all of the E-Mails, phone calls and postings on his birthday last Wednesday and for the cheering-on during Saturday's Birthday Day Trip to Pizzeria Torino in Tierp.

Editor's note: You weren't imagining it, there was a news item about Don Garlits here on Eurodragster.com News on Saturday (10th) but, for reasons which we still do not entirely understand, we were asked to remove it. See News FAQ 15.

Shaking it on the salt.
12th November: If you were tuned in to Eurodragster.com News in August you will remember that Geoff Stilwell, CEO and Managing Director of Beech Underwriting Agencies Ltd, drove his supercharged and injected 492 ci Modified Rear Engine Roadster to a new land speed record of 258.679 mph, achieving a top speed of 265.626 mph at Speed Week at the Bonneville Salt Flats:


With daytime temperatures in the sun exceeding 120&edg; F this was an extraordinary feat. The Salt Shaker team had not even started the specially-built engine prior to arriving at Speed Week. Unforeseen minor problems meant that the team had to work right up to putting the race car in the trailer before the nine hundred-mile journey from Los Angeles to Wendover, the nearest town to the Bonneville Salt Flats. The engine, prepared by noted engine builders Bill Schultz and Spark Perry, sounded amazing when it was started up prior to the first run down the salt.

At 3:00 pm the day before the car ran over 251 mph average between the second and third mile markers which was enough to qualify to attempt the record and put it in the pound ready for the back-up run the following morning. With the car in the pound the team had just four hours to service it and make it ready for the following day.

The whole team had to be with the car at 5:30 am to make the final preparations for the run. At 6.15 am the engine roared into life and was thoroughly warmed through. With the clock ticking at precisely 7:00 am the car was taken to the start line with all the other vehicles attempting various records. The 7707 Salt Shaker Team were the last to run. At 8.08 am the car, with Geoff driving, entered the record books with an astonishing speed average of 265.626 mph between the second and third mile giving an overall average speed of 258.679 mph and a new world record for the class.


Geoff Stilwell said "This could not have happened without my fantastic team of Bill Schultz, Sparky Perry, Bob (AKA Floyd Lippencotte) and Sharon Muravez, Tony Betts, Al Teague and Carl Olson. My thanks go to all the volunteers of the Southern Californian Timing Association, the tech crews and the medics for making this a wonderful sport to be involved in. In addition I need to thank Lucas Oil Products for supporting this project with their products and Ed Iskenderian of Isky Cams for his support, guidance, and providing me with many engine components enabling me to pursue this class record. There are so many people who have given their time to assist the 7707 team and that includes Clay Millican, Doug and Whitney Stringer, Joe and Gigi Schubeck, Steve and Gloria Gibbs, Marvin and Patricia Graham, Butch at S&S Engineering of Irwindale, Los Angeles, Eric Hansen of Stage V Engine Components, Hilborn Fuel Injection and Allan Bridges of Simpson Safety Equipment. A huge thank you goes to Sharon Muravez (team mum) for all her time and patience with all of the team and for co-ordinating this project which has taken up so much time.

"Finally, finally another huge thank you goes to out to Bobby Tuggey at Dial a Flight (01732 593050) for handling all my flight arrangements and those of various members of the team over the past few years.

"The last thank you goes to everyone in the UK and the USA for all their support. The number of Brits who turned up at Bonneville was incredible with more and more coming each day to say hello. Thanks for making the journey.

"The target for 2019 is 300 mph, see you on the salt."

Ray Iddings is making a documentary about Geoff's exploits and we will bring you the link to that when it is released.

Kuhns honoured by Lucas Oil Award.
7th November: SFI Foundation President Arnie Kuhns says that he is proud and honored that the British Drag Racing Hall of Fame have decided to present SFI Foundation Inc with this year's Lucas Oil Global Achievement Award at the Gala on Saturday week (17th).

"Our Foundation has similar awards from many USA-based sanctioning bodies, but this represents the first from a non-domestic source", says Arnie. "Thanks for the fine honour and I trust that you will have a good evening."

Unfortunately Arnie will be unable to attend due to health (Get well soon Arnie - Ed) but Jennifer Faye, to whom the SFI Foundation are currently turning over duties, will attend to accept the Award on the Foundation's behalf. "Jen has been to Santa Pod many times and is very active within the FIA Drag Racing Commission so is well-versed with the requirements of international drag racing", says Arnie.

The British Drag Racing Hall of Fame Gala Dinner and Presentation takes place at the Oatlands Park Hotel in Weybridge. The Gala Dinner itself is fully-booked, but the midday Bench Race and launch of Keith Lee's book Mister Six: The Story of Drag Racing Legend Dennis Priddle are open to all with seats available on a first-come first-served basis.

Swift snippets.
7th November: Kirstie, Julian and Simon would like to wish Eurodragster.com News Editor, Race Reporter and Photographer Tog a very Happy Birthday for today (Wednesday). Have a great day buddy, and many happy returns.

Classic drag racing this weekend.
6th November: Drag racing will be well-representd at this weekend's Lancaster Insurance Classic Motor Show at the NEC in Birmingham.

Santa Pod Raceway will again be co-sharing a stand with Lucas Oil Products UK. The stand will feature the Roarin' Rat Gasser and the FireForce 5 Jet Dragster. Martin, Richard and Julian of the FireForce team will be on hand to talk to visitors together with the Santa Pod team who will also be on hand with 2019 calendars and event flyers. You will be able to find Santa Pod Raceway's stand at 2-660 in Hall 2.

Drag racing will also be represented by the Outlaw Anglias who are in their second year at the Classic. Last year's display featured race cars and video footage and drew a lot of interest, and you will be able to find this year's exhibition on stand 5-130.

The Lancaster Insurance Classic Motor Show takes place at the NEC from Friday to Sunday (9th-11th).

Feature: SEMA Show gallery II.

4th November: The latest in our occasional series of Features presented in association with Lucas Oil Products is a second gallery of pictures from last week's SEMA Show kindly sent to us by our good friend Lena Perés.

You can check out Lena's SEMA Show pictures by clicking here or by clicking on the Features, Interviews, Tributes link on the left-hand side of any Eurodragster.com page.

Web site updates.
4th November: The Mad Welshman has updated his Flickr site with pictures from the NSRA Hot Rod Drags at Santa Pod Raceway. You can take a look at www.flickr.com/photos/the_madwelshman.

Will Ven recognise his bike?
2nd November: 2018 ACU UK Super Street Bike Champion Steve Venables is packing his suitcase ready to head to Valdosta to compete in two races over four days: the DME All Star Shootout race and the Man Cup Finals:


The bike is already at DME's headquarters in North Carolina, thanks to Chris Johnson of Spectrum Cargo, and is having a couple of up dates and new paintwork - even I don't know what is going to look like!

The plan is to test on the Wednesday to get the bike set up for the first qualifier of the DME Shootout on the Thursday afternoon. The competition is going to be tough with riders now in the 6.6s and over 226 mph. My goal is to try to get in to the 6.8s.

This trip would not have been possible without the help and assistance of DME Racing and the support I've had from Dimey and Andy of DME Racing, Lee of Owen Developments, Mark of Horsepower Factory, Marvic Wheels, Protec Fuel Systems, Cometic Gaskets, Nimbus Motorsport, Suzuki GB, ARP Fasteners and Arrow Precision.

Helzapoppin' for the Med.

2nd November: If you were tuned in to Eurodragster.com News on 27th September you will recall that we posted a spy picture with no words, although if you had looked closely with your spy glass, part of the iconic car's name was on the Whengparts blower belt guard. Ian Merryweather has been in touch to i.d. the car as the returning Helzapoppin' of Sue and Dave Coles renown.

The car, owned by Peter Astel-Burt, has been rebuilt by Ian and long time buddy Steven 'Jack' Russell. Roy Wilding built the new chassis, EDA built the 1050hp Hilborn injected 6-71 blown Donovan and Andy Frost put together a Powerglide. Ian writes:

The build began February this year when the chassis arrived on the Isle of Man with the intention of making a deadline of 30th October. Why, you may ask? Well that's "When the boat comes in"... sorry, it's my ex-pat Durham links kicking in. The boat in question is Malta-bound for the MDRA November Finals at Hal Far Raceway on 22nd-25th November where the Manx Drag Racing Association is taking on the Malta Drag Racing Association. To be honest we are just running exhibition runs as there are no other Supercharged Outlaw altereds of similar stature on Malta.

The car was completed on 14th October ready to be tested as soon as driver Roy Wilding returned from Bakersfield. On 24th October Roy and Kenny Coleman of EDA arrived on the Isle of Man for a one-day test session originally booked for Jurby Dragstrip. However due to a minor issue the local private industrial estate was instead treated to some sweet-smelling methanol and burning rubber. A couple of niggly issues were resolved, with a few other small mods to be sorted and taken over to Malta to fit to the car when the circus arrives in town. These consist of longer linkage on the throttle, small wiring loom alteration, larger breathers on the puke tank and modification to the shifter reverse lock-out due to Roy's capacious crotch getting in the way! After the brief test the group were happy with what was achieved, so the car was loaded into the trailer ready for its first trip off-island.

As well as completing the Helzapoppin' build, the 392 in my Banzai Topolino has been freshened after a small crack was detected at the Hot Rod Drags. Thanks to Andy Mapes for the excellent, speedy block work. After sailing over to Heysham on 26th October Helzapoppin and Banzai were taken to Kidds Transport to be loaded into the container bound for Malta. The cars will arrive on 14th November with the group flying out on 16th November.



So as pointed out by Colin Millar we are now watching the container's progress via their web site! We are looking forward to two weeks of Maltese sunshine with four days of drag racing to break up the relaxation!



We'll keep you posted.

ATD Champions, looking to 2019.
1st November: Many thanks to Elodie Dubois for passing us a report of the end of the Association Trophée Dragster season in France:



The race is held every two years at Vichy Airport and is organised by ATD together with the RCS bike Championship. The weather was brillant, with sunshine, and racing from 09:00 to 21:00. Racers had the opportunity to make nine qualifying runs all day Saturday and Sunday morning and we then moved to eliminations. Lots of spectators showed up to watch the racing and a great time was had by all.



Most importantly we would like to thank the racers, spectators and everybody who helped us to organise this event.

The results were as follow:

Junior Dragster
Winner: H Lajoux
Finalist: L McDonald
Semi-finalist: L Billault

Street Run ET
Winner: F Peeters
Finalist: J Jacot
Semi-finalist: E Goldet

Pro ET
Winner: D Billault
Finalist  P Jouis
Semi-finalists: O Mounier, S Caruso

Super Pro ET
Winner: G Lacombe
Finalist: S Jacquot
Semi-finalists: F Dubois, P Dubois

At the same time we held our ATD trophy presentation. The ATD Champions are:

Junior Dragster
Champion: H Lajoux
Runner-up: L McDonald
3rd: M Rygol

Street Run ET
Champion: S West
Runner-up: J Jacot
3rd: A.Mancusi

Pro ET
Champion: B Isnel
Runner-up: M Weikum
3rd: S.Caruso

Super Pro ET
Champion: M Steinneger
Runner-up: F.Dubois
3rd: F Aschenbrenner

We would also like to congratulate our Driver of the Year, who won the most, B Isnel (Pro ET).

Our 2019 calendar at Clastres Dragway is as follows:

22nd-23rd June: 8th European Dragster
27th-28th July: 9th European Dragster
14th-15th September: 10th European Dragster

Feature: SEMA Show gallery.

1st November: The latest in our occasional series of Features presented in association with Lucas Oil Products, and the last stop on his Western Swing, is Simon's gallery from the SEMA Show in Las Vegas.

You can check out Simon's SEMA Show pictures by clicking here or by clicking on the Features, Interviews, Tributes link on the left-hand side of any Eurodragster.com page.


Earlier news