Tributes to Sammy Miller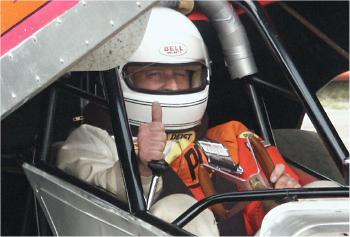 Legendary rocket car pilot Slammin' Sammy Miller was killed in an accident on Tuesday 29th October 2002 whilst working in the Texas oilfields for his company Applied Force. The incident was unrelated to any of his own work.
Sammy's career was one of superlatives. He raced Funny Cars of the Fuel variety before switching to rockets in 1976. His Spirit of '76 was the first Rocket Funny Car and it very quickly smashed track records across the USA. Sammy's next rocket FC was the first Vanishing Point, a Vega-bodied car in which he recorded the first ever three-second pass in Florida in 1979, and in which he first broke the 300 mph barrier in Europe, at Santa Pod in July of the same year. A number of Vanishing Point FCs, the Oxygen Rocket Dragster, and a Jet Dragster followed, all of which still hold ET and speed records. He also set a world ice speed record when he put skis on the Oxygen dragster and recorded 247 mph at Lake George. Sammy also arranged the first ever rocket races, which were against Al Eierdam and which were also contested at Santa Pod.
In 1984 Sammy recorded a pass of 3.58 at Santa Pod Raceway which still stands as the absolute ET record anywhere on the planet.
We last saw Sammy in action at the Speedfreaks Ball at Santa Pod Raceway in May of this year, starting a comeback in typically spectacular fashion with a low five-second pass before putting Vanishing Point into the field, and then working with overnight with his close friend Antony Billinton to ensure that his fans saw him run again on the Sunday.
Sammy was the ultimate showman and was hugely popular with the fans, thousands of whom turned out to see his return at the Speedfreaks Ball. Off the track he was always friendly and approachable to fans and media alike and could very easily have made an alternative living as a comedian or professional practical joker. His death leaves a massive gap in the sport and in the hearts of his thousands of fans.
Sammy is survived by his wife Edith and his five children. To Edith and to his children, and to all of Sammy's family and friends, we send our very deepest sympathies.
We have received the following tributes to Sammy. If you would like to send a tribute please E-Mail webmaster@eurodragster.com.
---
Sammy Miller's obituary on the Vander May Funeral Home web site
The Draglist.com Sammy Miller Tribute Page
Trakbyte's Hall of Fame entry for Sammy Miller

A recording of Sammy's first 300 mph pass at Santa Pod Raceway, in July 1979 (.wav format, 781 Kb, stereo) ©Pete Roberts
---
The name Sammy Miller brings me back to my teenage years in the mid to late 70s, and I remember a man whom I thought was the coolest guy on the planet. Sammy was the kind of guy that you could easily befriend and he would take the time to talk and listen to you. I used to hang around with him and the crew at the Hollywood Florida Sportatorium Race facility and in the garage shop in Fort Lauderdale in the late 70s. I was there the night that he made the fastest pass. I remember that they aired it on the radio for a couple of weeks before the race and when the day came they were told he couldn't attempt the pass at those speeds, something about the track being to short for stopping, or to that effect. I asked him before he got in the car if he was going to do it anyway and he said, no, I donít want to make trouble, you had to know him... Three seconds later it was over and he set another record, it may be the fastest still to date? When he got back to the trailer he came out and handed me a chrome decal that said "3 second Club", I still have it to this day. Once he took me quickly to the back of the rig and gave me the scientific theory of 90%+ Hydrogen Peroxide. He said, Tony come here and watch this. He put about 1" in the bottom of a paper cup and quickly placed in the grass behind the trailer and said, before I can explain how and why it reacts it will react. He started and within maybe 20 seconds the cup quickly burst into flames. At that point you have the attention of a sixteen year old kid and science was cool! The years have passed and often I think back of those days and remember one cool down to Earth dude. I think that he was one of my inspirations that helped me do the things I have done in my career as a designer and manufacturer. A customer called me the other day and we got talking about speed and jet engines and I brought up the name Slammin' Sammy Miller. He told me he knew of him and that he had died in a plane crash or something a couple of years ago and that hit me pretty hard. I was quite pleased to see all the respect that Sammy has earned by all of the postings on the internet when I Googled his name, he deserves every one of them. I would like to pay my respect to Sammy, his wife and children, and tell them that I am greatfull and I appreciate how he had touched my life as well. God bless Sammy Miller, the fastest man in Heaven.
Tony Castronovo, President, Warehouse Hobbies Inc
---
I feel honored to say, that Sammy Miller was my friend, also honored to say his wife and children are also my friends. Not only was he my neighbor, he was my mentor, any problem I ever had he was always there...We had alot of laughs together, and I don't think I've ever respected and cared for someone the same way I do for Sammy, he was without a doubt....my hero. There is a big hole in my universe without him...
JAH512@aol.com, fan
---
I have been a big fan of Sammy since first seeing him in the late seventies. He was one of the nicest people I have ever met and he always had time to talk to people and explain how his rocket worked. I remember some of the outstanding runs like the 3.17sec at 380mph and the time he lit the Oxygen which created a huge circle of flash flame as he left the start line which in turn blew 28 windows out of the control tower. He cycled back to the start line to rapturous applause. There was also the time when he had a go in Alan Herridge's Gladiator Funny Car and Sammy is still the only one who I have seen do a burnout whilst reversing back to the line. Time after time he put in some fantastic times and speeds, many of which would see him end up in the field at the end of the track. I also remember when he brought his jet over and gave it max on the first run and in the dark. He was the ultimate crowd pleaser. How he managed to stand the G Forces (including the negative G's on the chutes opening) I have no idea. He was one very exceptional person, my hero and one who I have looked up to and admired for over 20 years, so much so that I named my son, Samuel Arthur Moult (born 29/07/92) after Sammy. And, after meeting Sammy at the Speedfreaks Ball for the first time in 2002, Sam was so proud to have been named after such a legend and hero. We will all miss your smile, great humour and outstanding shows of courage, speed and sheer professionalism. You are a huge loss to drag racing and the world. But, now you are somewhere else (and yes, it does exist) I look forward to meeting you again when my time comes too! Love you, miss you!
Bruce Moult, fan
---
I personally met Sammy at his last appearance the Speedfreaks Ball at Santa Pod in May 2002. I was named after Sammy because he is a true hero and legend. I have only seen him race twice and on one occasion he went so fast he went off the end of the track. When he came back to the pits I spoke to him and got his autograph and told him I was named after him, he was really pleased. He was happy and not at all concerned about the damage done to his car. I will really miss him but I am glad I was named after him and had the chance to meet him.
Samuel Arthur Moult, fan
---
As I have just learned about Sammy's passing, I am deeply saddened. I lived only a few houses away from Sammy in Wayne N.J. when he was just starting out in racing. I started working with Sammy when I was fourteen years old cleaning his race car which was a wedge shaped top fuel dragster. I also worked with his construction company with Sammy and his Dad. I worked with Sam until I was about eighteen and we were just starting with rockets. I learned a great deal from Sammy, including how to talk like Donald Duck. He taught me how to work hard and play hard. I haven't seen much of Sammy in the last twenty five years, but I tell Sammy stories all the time. Sammy was the kind of guy that no matter how busy he was or how far out of his way he had to go he he would alway help anyone that he could. This type of person should live forever and taken from us too soon as was the case. I'm deeply sorry and wish his family well.
Charles Dyak
---
My fondest memories of Slammin' Sammy Miller are from the far end of the strip when my brother and I worked with the timing crew writing the timing tickets. We recorded the times on tape so that we could watch the run and then play the tape back to write the ticket. We couldn't believe that 300 mph could ever be beaten yet when handed the ticket Sammy would shrug and say "Can go much quicker if only the chutes didn't keep breaking or popping". He was the ultimate showman and he paid the ultimate price. He will always be remembered as the first in the UK to go under five seconds and over 300 mph. God bless Sammy, we'll all see you again soon.
Ron McNeil
---
I've only been to Santa Pod a couple of times although I'd have loved to go more. I've always thought the sport was the most outrageous thing you could do on wheels...and wished I could find the time to get into it even just a little bit.
So, I've never known a lot about it, but if you asked me to describe the most awesome thing I'd ever seen, it would have been Vanishing Point. It was totally and utterly, madly brilliant. THAT car, above all others, stuck in my mind and made my jaw drop. In fact, somewhere at my parents' house, is a drawing I did of it when I guess I must have seen the 300mph pass on the news. I was twelve at the time. I can remember that picture now.
What sad news. Rest in peace.
Tony, "Awestruck twelve-year-old a long time ago"
---
I was shocked to read of the death of Sammy Miller.
Having heard the stories for years, I finally got the chance in May this year to witness the fastest car in the world. When I arrived at Santa Pod there was no sign of Sammy and Vanishing Point. Having convinced some friends to come and witness this event, we stood there hoping we wouldn't get let down...then we saw a small white pick up pulling an open trailer with Vanishing Point on the back of it! No fancy lorries, no huge awnings, just the car and a box of tools.
Sammy was kind enough to talk to anyone that wanted to ask him a question, and didn't mind us all wandering around inspecting the car in the paddock. I didn't get to talk to him much, really only to ask if he was alright after going onto the grass on the second run he did on Saturday.
Suffice to say that he was one of the bravest people I have ever met. And the fastest.
RIP mate...
Chris Jenkins, racer
---
I was informed of Sammyís untimely passing many days after the event whilst at the SEMA show and blissfully unaware, it was a great shock as Iím sure it was to everyone. Now in reflection, I have many memories of Sammy, many great, some fond and others humourous. The way, when interviewed about his awesome feats, he was always quick to pass any praise to all the other race classes that appeared alongside his showmanship. The fuss he used to make of my child whenever he passed my car in the pits. But my first impression of him was my personal favourite. On his first visit to Santa Pod with the Vanishing Point Rocket Funny Car, none of the regular track crew or us photographers had any real idea what to expect and the records he would break, and in the almost expectant hush whilst he was strapped into his machine on the start line, he came out with the phrase I still use in jest, as he did, even to this day. A comic squeaky voiced "Let me outta here" came from the depths of his helmet within the roll cage.
I, along with many others, will miss SlamĎn Sammy Miller.
Roger Gorringe, Photo-Journalist
---
I don't remember a lot about Sammy Miller other than he knew me well! I grew up at the Pod. There have been pictures of him holding me when I was younger and I know I have sat in one of the machines he used to race. It is a great loss to know he will no longer race as is he is the only name I can ever remember. He was a great man and long may his memory be around. I know he used to have a soft spot for me and I remember he smiled lots! Long time since I last saw him though!
May he rest in peace.
Sara Gorringe, fan
---
I only saw Sammy run from the mid nineties, but as soon as I heard that he would be running at the Speedfreaks ball I knew I had to go. Santa Pod is a three hour drive from my house and had it not been for him I would not have made the trip back in May. It might have been a six hour round trip, and meant hanging around while the world and his dog had a go on their streetbike but Sammy made it worth it. Even if he had not run on the Sunday because of the slight crash on the Saturday, he would have still been worth the price of admission alone. Talking with him in the pits he had me in stitches, and as my friend put it "if you met him in the pub you'd think he was making this stuff up, BUT he actually does it."
John Force may be the wise cracking fat old truck driver with a story for every occasion, but Sammy had him licked at his own game.
So long Sammy, gone but never to be forgotten, a truly amazing showman.
Rob Cook, fan
---
In 1994 at Santa Pod, waiting to go to the start line, someone patted me on the back! He said "Good luck Andy, have a good run", I turned around it was the one and only Sammy Miller. We chatted for a while, old times and things, and had a laugh. Greatest respect for a great man, love to his family.
Andy Folberth and the Hellraiser Funny Bike team
---
Words cannot express how I felt when I heard the news. I find it ironic that someone who achieved what he did and also have the amount of incidents that he had should pass in this way. I remember when Sammy crashed at the inaugural meeting at Hockenheim in 1986 he described how he would have a controlled accident if he thought things would turn out worse if he tried to save the car, as always he was amusing with his chosen words but they showed the consummate professional that he was...RIP Sammy
Jim Broome, British Nitro Funny Car Championship co-ordinator
---
I only met Sammy at this years Speedfreaks Ball meeting at Santa Pod, but I had heard from my father (Doug Bond) about him and when I met him, it was all true.
Down to earth, always enthusiastic, and a very kind person. I have no doubts in that you are very proud to have him in your family memories.
Ever since I first heard about Sammy through my parents he had been a idol of mine in my drag racing career and although I may only be a Junior driver but I have been round racing since I have barely been able to walk, and his record will always be a milestone in my memories as well as all racers around the world.
Jonathan Bond, Junior Dragster racer
---
I was very saddened to hear via your excellent site of the death of Sammy Miller. I, and I'm sure all drag racing fans who were lucky enough to witness him in action, will never forget him and the incredible sight of seeing Sammy and the Vanishing Point car flash down the strip.
Simon Eldridge, fan
---
Having met Sammy only once in my early teens, it was so easy to know that he was one of the nicest blokes you could have ever met. Always smiling, laughing and joking. I'm sure I speak for everyone when I say his death was a massive shock to all his fans and a terrible tragedy. Being only 19 now, I speak for all the young drag fans; Sammy, you will be greatly missed, and most of all, never forgotten.
Chris Booker, fan
---
I saw Sammy make lots of runs and I still can't forget them twenty years on. That's more excitement than when I was married! That's got to say something about him and his cars. He is sadly missed by me, and I feel for his family. When I see a bolt of lightning I'll be thinking of Sammy...even if it's slower than he was.
Dojo, fan
---
Sammy Miller was well known for being the 'Rocket Man', and my brother and I remember watching him race the Vanishing Point in Florida and meeting him at a gas station in Florida, in the late 1970s/early 1980s. It was very hard to forget the extreme power from that car. Then one day I was paving at the Landfill in Staten Island and I saw Sammy walking over to me. He heard that we were putting a Funny Car together and he was looking for a ride. But we had already hired Al Segrini. So he said "OK, can you use a good operator or construction foreman?". I said "You can start right now!". Since that day Sammy stood as my right hand man and friend through many big construction jobs. He had worked through out the 1990s with my brother and I (Petrosa Bros). When we moved upstate and started doing construction Sammy came up on the weekends and worked with us on a large excavation project at Belleayre Ski Mtn, in New York. I can't tell you how enjoyable it was to meet on the jobs we have done at 6:00 in the morning and have coffee together and just listen to his stories and see what prank we were in for that day. He was one of the most upbeat kind of guys I have ever met. I can never remember Sammy ever having a bad day. He was a very special and intelligent guy, who always thought of his family and always tried to make a better life for them.
It was an honor to be Sammy's friend and I will always have him in my thoughts.
Mike Petrosa, True Friend
---
I was shocked to hear about Slammin' Sammy Miller. What an amazing guy. The times I tried in vain to photograph him in Vanishing Point, just too fast. My heart goes out to his family, I won't forget him.
Tony Willstrop, fan
---
I first got to know Sammy in the early seventies. I saw him at the races and got hooked up with him through a mutual friend. He was building a radical wedge-looking Top Fuel car and was looking for some help. We ran that car with some sucess but he felt a Funny Car was the way to go. Time went by and we hooked up with the Terenzio Brothers. Some blood, sweat and tears and countless trips to Conn. and we finally had a Funny Car. Because a Fuel car needed a ton of money we needed another way to go fast. A few rides in the Pollution Packer and a little more time and the Spirit of 76 Rocket Funny Car was born.As time went by, Sammy kept racing and I did my thing. People would often ask, have you seen Sammy? I would say maybe a year ago but he's still around. We were together at the Funny Car Reunion at E-Town with his sons Sammy and Nick. It was GREAT. I would like to end this by thanking him for all the wonderful people I have met through him. My sympathy to Honey and her children, Ann and young Sam and Mrs. Miller, Sam's mom. I cannot thank him enough for enrichening my life. GOD BLESS YOU BUDDY
John and Corry Pollara, friends
---
I had met Sammy a couple of times before at Santa Pod, but one of the very best memories I have of him was in '82 when he was racing the Oxygen rocket car at Zandvoort in The Netherlands. Together with Allan Herridge (who ran the Vanishing Point) we really hit it off and had a lot of fun that weekend! Next to being hero's both these guys were such fun to be around!

I remember that the Zandvoort circuit hired a bunch of models from a Modelling Agency to "hang around" him all weekend for promotion purposes and as much as he loved girls, he hated this! They were constantly in his way and even as he was going into stage they were hanging around the car and waving at him (!?)

At the end of the weekend he was honoured in front of the crowd and when he got flowers, he walked straight past all these models and gave the flowers to... me! (I was 15 at the time, so at that age this really does wonders for your self confidence I can tell you). And although I was very impressed with his 2.82 E.T., the flowers really made him my hero.

We met numerous times after that and sometimes he would send a post card telling about his escapades with Vanishing Point (both "on" and "off" the track) . The last time I spoke to him was at Hockenheim (in '96 I believe).

I couldn't make it to the Speed freaks ball, for which I'm now very sorry. He asked my brother Vincent to give me his business card with his Email address. We had just started exchanging emails when I read the news on Eurodragster.com... it's very very sad indeed!

Sincere condolences to his family and friends.

Monique Pels, crew member of Zodiac Racing
---
Having had the privilege to meet Sammy at both ends of his career in the UK, I fully remember when Sammy first ran his rocket cars at Santa Pod Raceway. We were running the Kerbdozer model B 5 window coupe senior altered running 10 flat against people like the Page brothers Panic and the fastest top fuel cars were least 2 seconds and 100 mph slower. What a sensation it was to see the rocket shoot down the track....and the NOISE!
Even then, Sammy was superb with the crowd and was very happy to talk to all of us even if we were asking the same stupid questions. He smiled and made us smile. I also had the privilege to interview Sammy on his last outing at Santa Pod Raceway and you know, he was still smiling and still had that wild appearance. What a gentleman and great showman he was and it is with great sadness that he has now departed. Sam, it was a pleasure to have known you.
Mike Kason, racer, fan and friend
---
I will always remember Sammy's first run at Santa Pod. The hardened fans on the stands were not expecting too much, especially after the Blonde Bombshell disapointment. The car was brought up to the line and the countdown began, 5-4-3-2-1 then for an instant nothing - just long enough for a slight groan from the crowd then he was gone, he was at the other end of the strip with the chute out! There was stunned silence, then someone shouted and the whole place erupted.
I have tried to explain the excitement of that run to many people over the years but you really had to be there, thanks Sammy.
Dave Smith, fan
---
What can I add to the thoughts of the rest? Is there anything I can say that they haven't already? Only this. Many have remembered Sammy's love of kids, and the love that he inspired in them, not by his racing but just by being Sammy. Way back when, one day at the Pod, my little girl came to look in wonder at the car she'd been completely overwhelmed by the day before. She wasn't very big then. Sammy asked her if she'd like to have a drive...with big round eyes, she very shyly said 'No thank you'. No-one understood why. Much later, she told us in a whisper that she would love to drive his car, but she didn't have a Comp licence. Sammy, you taught us all that we can do pretty much anything that the laws of physics allow (and a few things that looked a bit doubtful to me!) if we just want to enough...you just have to make your dreams happen. And you came as near to inventing time travel as anyone has - at least, watching Vanishing Point gave us the term 'Instant somewhere-elseness'. Wherever it is we go after here, I hope that you and Bootsie will have got the racing sorted by the time I get there. My heart goes out to your family.
Janey, fan
---
The passing of Sammy has been a real shock to me. I first met Sam some thirty years ago through my late brother Keith. They had become friends because of their love of Funny Cars. I saw Sam as a fun loving kind of guy ,who always made you laugh in some way. We saw Sam a lot after we opened up our speed shop (Garden State Speed) in Wayne NJ in 1972. Keith and Sam loved their Funny Cars and assisted each other many times.
This past summer I was lucky enough to see and speak to Sam at the Funny Car reunion in Englishtown NJ. He was just as I had remembered him thirty years ago. I had my three sons there and they got to meet Sammy also and he did something I will never forget he spent time with them telling stories of times he spent with their late uncle. Sam had said to me how he had wished that he and Keith would grow old together and be telling racing stories in a old age home. I can only hope that they meet again in the after life R.I.P. Sam you will be missed.
Jerry Smith, friend
---
As a child I used to beg to be allowed to go to the 'Pod with people just so I could see the rocket car, I barely knew anything about the man behind it being only about 5 or 6, just a few worshipping glances and loud requests to go for a ride! But the memories of the air quivering, the smell of nitro in the air and the cheers as in a blink of an eye the rocket car went past. I am 25 now with my own children and was waiting for the day when I could show them this wonder. It won't be the same now...My deepest sympathies to Sammy's family, he was an amazing man who touched so many peoples hearts and will be missed. I sometimes wonder if all the thunder lately is Sammy shaking the heavens in his rocket car, forever my hero...
Janine Hilton, fan
---
I first encountered Sammy Miller on a cold, wet November Saturday in 1979. My sister and brother in law had dragged me what seemed an immense distance down the M6 and M1 to attend my first drag race. Being an inquisitive twelve year old, I was keen to know what it was all about before I got there, and had spent some time reading up, and asking questions before the event. The principle was explained, the routine and unwritten rules of the place were explained, even the ritual of taping a blanket to the stands to secure the best viewing position, (a ritual which usually involved me having to get up at 5.30 am most mornings of the big events for many years to come...). When my questions turned to this car I had seen before on the TV called Vanishing Point, and would it be there, the tone would become more reverential, almost hushed "...Now, that IS something special!"
So, when I was finally being led around the pits by Dave, Jane and Alan, and the silver nose of a funny car appeared around the back of a trailer, I almost felt scared. It looked different to the other funny cars, somehow. Lower, darker, more menacing. I stood, almost trembling, as the trailer door opened. A guy appeared, looked around, and in what is now rightly recognized as the finest Donald Duck vocalization since the original, exclaimed, "If this weather lifts, we can really haul ass today!".
Later in the day, the weather did lift, and amongst all the other cars, Sammy did, indeed, haul ass. I had been given all the usual warnings, "Don't blink or you will miss it". As a precaution against the barn roof being blown off (again), an old tipper lorry had had the bucket removed and welded on backwards, to form a rudimentary deflector shield. The story went that, as the ratchet had gone on the handbrake of the truck, The Top Fuel and Funny Car drivers had to draw straws before each of Sammy's runs to see who had to sit in the truck holding the handbrake on. I don't know if that story is true or not, but it was a good story, and all part of the legend of the man.
On his last pass of the weekend, something went wrong, and we all feared the worst. Ten minutes later we were all straining to hear the great man informing the commentator "well, all good racers know that it is good to take your car apart from time to time, maybe I just picked the wrong time"
I was hooked.
Over the next few years, more and more of my family came to delight in the man. My late father described Sammy as "The most outstanding thing I have ever seen". My young niece was introduced to the sport, and the man, at a very early age, and of course, the Donald Duck impression came to the fore again. My biggest regret is that I never had the chance for my own kids to be as delighted and enchanted by the man as I was.
Superlatives abound about the on track performances, as well as the personality of the man. An absolute legend, in every sense of the world, but also a friend. I wasn't on his Christmas card list, I doubt he knew my name, but, like every single person who met him over the years, I came away from talking to him feeling like a friend.
To Sammy's Family, my love and thanks. Thank you for sharing him with us, and allowing him to share his insane ideas about racing cars with us.
Jon Crawford, "Disciple and fan"
---
I gasped in disbelief when I heard this tragic news. I first saw Sammy run Vanishing Point at the Pod in 1978, and can honestly say that to this day, I have yet to witness anything more dramatic than the sight and sound of that car leaving the start line. I feel privileged to be able to say that it still is, and probably will be, the fastest quarter mile I and many others will ever see in their lifetimes. He was an instant hero. I even managed to have a brief chat with Sammy during that weekend, and a nicer guy you couldn't meet. My thoughts go out to his family. Thank you Sammy.
Chris Orthodoxou, Super Comp racer and long time drag racing fan
---
Sammy, you were the best of the best, a TRUE life long friend who will be missed more then imaginable. We love you and will always hold you close in our hearts.
Honey Bun, Natalie, and children, Wayne and I share in your loss, we all lost the most wonderful friend anyone could ever hope to have throughout their life.
Love
Wayne, Patti, Tommy and Tricia, friends for many many years.
---
After seeing Sammy at the Speedfreaks Ball earlier in the year it was with much sadness that I read of his tragic accident. I have now been an avid follower of all forms of motorsport for over forty years and if I had to recall my most memorable moments it would have to be standing at the top end at Santa Pod when Sammy was making his epic runs in the 80s. The impression I got was of a car being fired from a gun and a feeling that I was unsure whether its wheels were actually in contact with the ground as it came hurtling down the track at unbelievable speed. It was a spectacle involving incredible bravery that I feel honoured to have been witness to those runs. Unfortunately the unavailability of high quality fuel prevented Sammy from repeating those performances in later years. Although today's drag racing vehicles provide one of the most awesome spectacles in motorsport, what Sammy was doing was something apart. He will be long remembered.
Pete Roberts, fan
---
Dear Sammy , I hope you can see this message where you are in the sky. I'll never forget you, you were the best for ultimate acceleration. Now you can never give me your help again with my rocket programme. I can picture when you came to see us in France and my eyes water when I see it because it's such a good memory. Sammy, I promise you, every time before I make a run with the rocket bike, I will take a minute to think of you.
Eric Teboul, Rocket Bike and Top Fuel Bike racer
---
Sammy Miller was the absolute showman. I was addicted the first time I saw him in the 80s, my son was also addicted when he saw his troubled runs in the 90s. I think it was not just because of his on-track exploits, he achieved more records than anyone before him, and no one has bettered his times since. But the guy was an absolute gentlemen off of the tarmac. I was there, along with many others listening in awe of the gentleman, his trials and tribulations of his career. My son was given a brief chat from the man, called 'Tiger' as a four year old, which has lived with him for the eight years since. The guy was an absolute professional, he did what he did for the fans, they were his number one priority. His memories will live with us all! As has been said previously by others..."Play it again Sam!"
RIP Samuel Arthur Miller.
Mark Coles, fan
---
Trish and I were very upset to hear the news about Sammy Miller.
Though it's many years since I last saw him or spoke with him, I have always been very fond of The Slammer. Not just because of his open nature and colourful personality, or his courage and resilience. But because in allowing me to drive Vanishing Point and insisting that I did so with maximum power he enabled me to fulfil one of my life ambitions and to learn things I needed to know about myself.
When I think of him I always remember a blazing hot day at Santa Pod, the calm before the raging storm of speed, and a laconic voice drawling in my ear, "You want a really good kick, don't you?" A hand reaching into the cockpit to twiddle the nitrogen pressure regulator to the maximum setting so that I would enjoy the experience of being propelled into the wide blue yonder with the same neck-crushing 6000 lbs of thrust that he used himself with no more thought for it than we would have for the grunt of our road cars.
Now I'll remember again his easy charm, the way that he was one of those guys with whom you formed an instant friendship. The nonchalant manner in which he laughed at the suggestion that hydrogen peroxide was some sort of TNT substitute and calmly dipped a hand into a churn of it (98% proof, too) and held it there before even more calmly extracting it and washing it in water without any apparent concern for the fact that it was beginning to go a worryingly pale shade.
Trish liked Sammy as much as I did because he was a charmer, but also because he let her drive his TransAm and told her not to worry about the chances of her husband auguring in. Five years later we named our second son after him. As anyone with kids will appreciate, esteem doesn't come higher than that.
He was a dude, the real deal. An out and out racer. Up there in the grand cojones league with Andy Green and Steve Curtis.
And by missing him, we'll remember him.
David Tremayne, journalist and Land Speed Record authority
---
I have been going drag racing for 13 years and I am deeply sorry to hear that Sammy has passed on. All my deepest sympathies.
Camilla Roberts, fan
---
I remember going to Santa Pod in the early eighties, aged about 18. I'd never been racing before, didn't know what to expect. The weather was great, loads of funny cars, Al's Gasser in grey primer, then Sammy Miller's Vanishing Point - WOW - what was that ! Blink and you'd missed it ! I was hooked. Thanks for the memory Sammy, rest in Rocket Ridin' Heaven.
Ritchi Smith, racer
---
Like most people I first saw Sammy run at Santa Pod and was blown away by the spectacle. Some years later I was fortunate to be asked to crew on Martin Hill's Jet Car with my brother Bob at Hockenheim. After a very long drive we finally got to the track some time late on Saturday. The first person to greet us was Sammy Miller. Big smile, shaking hands and flirting with the girls. What a nice guy. We will miss him greatly. Our sport benefited from characters like Sammy Miller.
Brian Nixon, racer
---
Sammy Miller literally changed my life. I grew up very poor, very fat and very sad. This is many, many years ago. I used to badger and bother Sammy all the time at his home. I was some goofy 12 year old fan. He always had time for me, always. We had Career Day at my Junior High School and Sammy came all the way down with his Funny Car in tow. He was the hit of Career Day and needless to say I suddenly became very popular in school. It made me "somebody" instead of the kid they all laughed at. Sammy didn't have to do that for me, but he did. It truly changed my life. You can't imagine what they was like for me. I am 44 now and wildly successful beyond my dreams. Had it not been for that day and the subsequent days Sammy made me feel good about myself, I not sure where I would be. God Bless him and his family. I am very saddened but wanted to share a glimpse of Sammy Miller the person and not just the racer.

Jack Ponti, USA
---
I also met Sammy at Santa Pod in the 1980s, when he recorded that amazing run 3.58! I also saw him run at 360mph! What a guy. He was a true motorsport hero, always a nice guy, I have his autograph which he was only too pleased to give, along with his time, I loved Funny Cars but Sammy's rocket car just blew me away. It will always be the most awesome car I have/will ever see. He will be sadly missed.
Mark, fan
---
My first drag meeting was in Santa Pod in 1984. Two friends my, godson and myself had just bought ice creams and were heading back to the embankment. The crowd were getting rather more excited than on earlier runs. It then became evident that this was due to Sammy Miller starting to fire up a rocket car. Not knowing what to expect the four of us carried on eating are ice creams whilst all around us were cheering and inserting fingers cotton wool and other objects into their ears. It also became apparent to us that the was no one to the rear of the strip. The barn was empty.
Ice creams were thrown to the ground fingers inserted in to ears as the crowd started to count down. Upon reaching zero there was what I can only remember as an explosion as this vehicle disappeared from view.
In the eighteen years I have been coming to Santa Pod and the thirty plus years I have followed motor sport I have never witnessed anything so spectacular.
3.58 seconds and one name, four people will never forget.
Steve G, Steve P, Los and Pete, fans
---
In December, 1976 (before Sammy ever drove a rocket car) his antics with nitro-powered race cars were the stuff of legends up and down the East coast of the US. A group of us were in Puerto Rico for the "NHRA Puerto Rico Nationals", administered by the NHRA's Division 1 (the Land of NED) crew, with selected race cars shipped to the island for exhibition runs.
We were all at dinner after the first day of racing, making small talk before the meals were served, and the subject of crazy drivers and wild race cars came up. Division 1 Director Darwin Doll proclaimed that "Jim Wemett has to be the craziest fuel-car driver in the eastern US" (this was well before Wemett hooked up with Tom Anderson and landed serious sponsorship dollars in Funny Car). Sitting around the table were Walt and Scott Weney (S&W Race Cars), Pee-Wee Wallace (The Virginian F/C), Larry Bucher and Mike Hennessey (the Poachers T/F dragster), the Rapp Brothers (T/AD), as well as Larry Clayton (at that time manager of Budd's Creek Dragway, later MIR), and Neil Britt (editor, Drag Racing USA magazine). We all looked at each other in amazement, then replied to Darwin almost in unison and with no prompting "Oh no, that's GOTTA be Sammy Miller!"
When we realized that we had all spontaneously blurted out the same name (Sammy), the entire table burst out in laughter. Of course, when I saw Sammy the following spring (I think it was at Englishtown, NJ), I related the whole story and he had a good laugh about it, too. He was a great guy with a super sense of humor. When he subsequently came out with the rocket cars, he elevated his celebrity to new heights. He will be missed.
Now. if I can only find my photo of his Top Fueler (yes, that's right!) from the 1973 Indy Nationals....
Clay Taylor, former track photographer, Connecticut Dragway
---
My first encounter with Sammy was back in the early 70s when we use to match race against him with his Nitro Funny Car. Growing up in the local area where Sammy lived was always an adventure until one day he got the idea to go Rocket racing. I followed Sammy during this time still match racing our Funny Car and flying down the 1/4 mile in his rocket ! Still kept in touch with Sammy alot during his Rocket runs in the UK until one day I was looking for a new house and went to his for a open house. What a surprise he was still Rocketing around the world and showed me one of his new toys...a Rocket powered Camaro for the street. Sammy was a good friend and will be missed by all the the racing community.You may be gone now but I will never forgot the joy you brought to me. THANK YOU SAMMY for everything.
Al Liebmann, USA
---
I took my young children to the Sunday of Speedfreaks Ball, hoping the car would be repaired in time so they could experience something so unique. We happened to be walking past the Vanishing Point pits when the team arrived back with the repaired car. The team were rushing around unloading the car so as to prepare for the run before the meeting finished. Sammy, although busy, came over and said hello to my four year old girl and three year old boy before carrying on work. This action, like his runs, I will never forget. Thank you Sammy and sincere condolences to your family.
Keith Griffiths, fan
---
Before his days as a rocket car driver, Slammin' Sammy toured up and down the US East coast in a nitro Funny Car. Although he never was a contender to win a National Event, he was always an excellent showman, and very competitive at match races. One of my favorite drag races of all time was in the mid 1970s in Englishtown, NJ at a benefit race for fellow funny car racer Arne Swensen, who was injured in a fire. The final funny car pairing was "Slammin' Sammy" against "Jungle Jim" Liberman. Sammy won in an extremely close race with the cars literally side-by-side the entire run. I had seen Sammy several years later while he was displaying the Vanishing Point at the New York car show. When I mentioned that race, he recounted the run, including elapsed times and speeds for both cars, and which pistons he burned on the run! At the time I asked him if he would ever return to nitro racing. He quickly responded that he would not, because he didn't want to slow down. I saw him race the rocket cars before the ban by NHRA, the best time being a 4.14 in the quarter mile, again at Englishtown. The rocket cars were given strict elapsed time and speed limits back then, which the drivers routinely ignored. The funny part was the track announcers would always announce the allowed times and speeds, not the actual times on the scoreboard. Sammy also campaigned a radical rear engine Top Fuel car for a short time, with the drivers position very far forward. Unfortunately, Sammy's passing did not receive much recognition here in the States, but if you went to a match race in the 70s or early 80s, everyone knew Slammin' Sammy.
Jim Prezlock, fan
---
Being an automotive engineering student I have the greatest respect for Sammy Miller's ingenuity. Unfortunately I have never experienced one of his amazing runs other than video footage. I only wish I had gone to the Speedfreaks Ball. Reading the tributes makes me realise how much of a hero he was both on and off the track. Peace and respect to Sammy, and sincere condolences to his family.
Elliott Jones, Dreamcatcher Racing
---
As a young boy my brother introduced me to Sammy and to me he was just like any one else I had met, but about an hour later all that changed when I saw him run. When we went back to see him later I just stood there in awe like an idiot with my mouth open collecting flies. I remember him asking me if I enjoyed that and I just nodded with a big cheesy grin on my face. I saw him run many times after and he never failed to bring that grin back to my face. I wonder if he holds the record for the slowest race when he and Simon Bates had the push bike race, which Sammy won of course. In my eyes he was amazing and he always will be. He may be gone now but I will never forgot the joy he brought to me. THANK YOU SAMMY.
Ian Lee, racer
---
I haven't seen Sammy since like 1996. But I have a unique story to tell. I grew up in a racing family, watching Sammy make exibition runs at places on the East coast like Englishtown and Maple Grove. I guess at the time I was maybe 10 or 12. I watched him make runs in the low 4s and high 3s. When the car left the line it was sitting there...then at 1/2 track, and you never really saw it get there, not to mention it was very "quiet." It was also never really run the end of the 1/4 mile.
In 1991 while I was not working for my dad I went to help out a team in New York, the Petosa Brothers a "new" Funny Car team, where Sammy had been working for a while and he got his Nitro Funny Car licence. He made a few half track runs at Englishtown one day, and told us all that he was "impressed" with the car about how it felt leaving the line. While the whole driving deal with the Petosas never really worked out for Sammy, he and I stayed in touch for some time. Sammy went to several races, he told me lots of stories about going so quick. He said he experienced about 12 or 13 Gs in the beginning of the run, and that at times he almost passed out. He talked about running his rocket go-cart at New York National, and running off the side of the track. He also told me the truth about the Nitro Funny Car license runs: they felt like they were in slow-motion compared to what he was used to, but he didn't want to hurt anybody's feelings.
The last time I saw Sammy was in Dallas while I was working for Dick LaHaie on the Scott Kalitta driven Top Fueler. I think it was 1995 or 1996 and Sammy was still nuts, he had some photos of a rocket-powered street Camaro which he had built and had driven on the streets in Dallas. He said it would probably run in the mid 4s in the 1/4 mile if he went all out but he was content just running people from light to light. Even though his cars were not able to run in the States any more...anybody whoever got to know Sammy Miller or saw Sammy Miller make a run in the Vanishing Point will never forget him, he truly had No Fear.
Nick Boninfante Jr., USA
---
My wife and I first met Sammy when he was best man at our son Todd Dunham's wedding in 1992. Todd, who raced motorcycles on the Englishtown drag strips, idolised him. Sammy was as personable as he was famous. He was a man of many talents and probably could have been anything he wanted to be. What a loss. We extend our sympathy to his family. He will be missed and mouned by us as well as many.
Russ, Dee and Todd Dunham, USA
---
I first saw, head and felt the blast of a Sammy Miller pass in the late 70s at Santa Pod, and I've not forgotten them. My sincere condolences to Sammy's widow and family - he was one on drag racing's greatest!
Brian Fawcus, fan
---
My first introduction to Sammy Miller was on the way back home after attending my first drag race and reading Santa Pod's advertisement on the back of the event programme for the next big meeting. Headlining the event was Sammy and his rocket car Vanishing Point, the advert read 360 mph in 3.94 seconds, this was 1979. I did not make that meeting, being only 14 years old money was tight, plus living 100 miles away from the Pod did not help. But I did get to see Sammy make many passes, in the Vanishing point Vega, and later models, including the Oxygen rail, right through the 1980s to the mid 90s and this year's Speedfreaks ball. What an incredible feeling, to see that car go. I have many great memories of Sammy and Vanishing Point. Sammy will be missed but never forgotten.
Andrew Bamford, fan
---
In my mind I can still remember the day in 1978 when Sammy ran at Santa Pod. Nothing comes close. We mourn the passing of a legend, condolences to all his family at this sad time. Their loss is greater than ours. Bye and thanks.
Steve Hiatt, fan
---
Iíve never seen Sammy race and now I never will be able to. I was begging my Dad (Smax) to take me to see him but as usual he always has an excuse that he's too busy, if you know my Dad. I really wanted to go and see Sammy race because I have read so much about him and his achievements. My Dad said that Sammy was his hero and he is really ashamed now that we didnít go to the Speedfreaks Ball. It's not everyday you can just go and see a three-second rocket car, can you now, and I really wish I'd had the honour to.
Sympathy to his Family and Friends.
Aidan Heatley-Smith, Junior Dragster racer
---
I was lucky enough to see Sammy run several times in the 80s, and again more recently. I feel sure I will never see anything that awesome again. When I told Sammy that he had inspired me to build a model Rocket FC he seemed pleased. Unfortunately, I never got to show him the model, though most people who have seen it run say something like "Oh, like Sammy Miller!". I feel honoured to have met such a larger-than-life man.
Andy Faithfull, fan
---
I watched very many of Sammy's runs but I will never forget the 3.58. Although this was getting on for 20 years ago and no one's even come close to beating it very little is made of it these days.
It was a great joy to meet Sammy again back in May of this year. He hadn't changed a bit. We talked about that run in 1984 and with his usual humour he told me his biggest worry was whether he'd ever get the car stopped.
What a great guy. What a loss.
Mark Jordan, fan
---
While I only met Sammy for a brief period at the Speedfreaks Ball I thought he was one of the nicest guys I have ever met, and although I was kind of awestruck with meeting a true drag racing legend, the quickest and fastest man in the world, he was just another guy with time for everyone, and I was truly amazed at his fitness, and his attitude. Even when he went backwards into the field he had the sense to spin the car and go in backwards, and then worked flat out to get the car back out on the track, from the kind of damage that would put anyone else on the trailer for the rest of the weekend, although he was not even in competition. As I also had the privilege to stand next to the crash barrier with the rest of the Press, I watched him methodolically prepare himself and the car for a run, I could not believe the pure bravery that this guy had, if not from the run, from just being strapped to a vehicle with a 15 foot blast radius. Myself and the rest of the Fireforce, Dragtorque and Speedfreaks Ball web team would like to pass on our condolences to his family, and hope that people will remember this man for the legend he was, The quickest and fastest man in the world. The ultimate drag racer.
Dave Nelson, webmaster and fan
---
I was very sad to hear of the untimely death of Slammin' Sammy Miller. What a great showman! The hairs still stand up on the back of my neck when I think about the time I saw him run 4.2/307 at the Pod some years ago. Thanks for the memories, Sammy! Much sympathy to all his family and friends.
'Crazy' Chris Hartnell, Wild Bunch racer
---
What a shock to hear of Sam's accident. Back in his days at the Pod I had the pleasure of helping fuel the Vanishing Point car. Having previously seen the Blonde Bombshell crew fuelling the car complete with white anti-contamination suits and face masks, Sammy was a refreshing change. After pumping the fuel into the tank, the little siphon pump he used was promptly rinsed in the nearest puddle. Carrying fuel round from the garage Sammy quickly instructed us to 'Keep the cans upright, they sometimes leak'. Needless to say they were carried very carefully from that point. As to performance, this was the only car to make my knees collapse when I saw it run!
Sammy's achievements in our sport will always be remembered, but his humour and skill as a children's entertainer probably outshone even his track performances. Just ask any racer who took their kids to the track. Sammy was like a magnet to them. Sincere condolences to Sammy's family, he won't be forgotten.
Alan Grimes, crew member
---
Out of all the American racers that visited Santa Pod, Sammy didn't come just to race, he came and got into our hearts. He was a complete professional and his generous friendly appeal to spectators, track crew and fellow racers was so engaging because it was heartfelt and very real. Having been close to Sammy through the late seventies and early eighties when he and Allan Herridge drove side by side rocket car racing I can tell you he was an absolute diamond who loved his sport, loved his friends and loved racing. As John said to me earlier today to console my aching heart: he was never meant to grow old. Hope you and Allan are having a ball, Sammy - rocket racing in heaven.
Lesley Wright, Wildside Inc Top Fuel Dragster team
---
I logged on this morning as usual, and saw Sammy Miller's name on the home page index. For a second my heart missed a beat, as I wondered for a moment if he was going to make a surprise appearance at the Flame and Thunder event. As I clicked onto the news item, my heart didn't miss any further beats, it just sank.
I first saw Sammy at my second ever meeting at Santa Pod in 1979. Today's drag fans, many of whom will possibly have never heard of him, are only just getting used to seeing 300 mph runs from the Top Fuel cars. They cannot possibly imagine the sensation that Sammy caused in the Vanishing Point and Oxygen cars. At a time when nitro cars were not running much above 200 mph, and methanol cars were still running sevens, to see someone so effortlessly pull four-second 300 mph runs was simply astonishing. I vividly remember seeing Sammy run the first 300 on British soil in July 1979. At that time Santa Pod didn't have timing boards on the gantry and all times and speeds had to be given out by the commentator. After Sammy pulled his record setting run, the crowd waited for a few seconds with intense anticipation. When the speed was read out over the PA, the crowd went beserk.
Maybe time has distorted my memory, but in all the dozens of meetings I have attended since then, I honestly don't think I can recall an equivalent crowd response. I have many other happy memories of Sammy Miller. Watching him from the top end race Al Eierdam in the Oxygen car, one late September night under the Santa Pod lights. Listening to the eerie Tangerine Dream music prior to each run. The complete silence as the cars sat on the start line, waiting to launch. The 5-4-3-2-1 countdown shouted out by the crowd, and especially Sammy's amazing fan-interaction in the pits. I once gave him a framed photo that I had taken at a previous meeting. I have no idea whether he kept it, but I figured it was the least I could for the amazing times he gave me and so many other drag fans.
I had long harboured hopes that Sammy might return to England with a competitive car, in the hope that I could see him one more time. Now, I will simply have to rely on my glorious memories. Sammy was unique, a master showman with guts and skill to burn. I doubt I will ever see anything again in my life as amazing.
Neil Marks, fan
---
What a shock! Sammy Miller was the one who really got my attention to drag racing. I will never forget his runs with Vanishing Point at Mantorp Park in the seventies. He literally blew me off the spectator stands and into the pits. The sight when he showed me his marks from the belts after the deceleration, wow. I'm so sad that all these guys have passed away - Hazze Z, Christer and now Sammy. Respect to these fine guys.
Magnus Cato, AC Delco Racing Pro Stock team
---
How shocked I was to read about the death of Sammy Miller.I never met him but he was a Drag Racing legend to me and thousands of others. Can you pass on my deepest sympathy to his family? I'm sure that he will be remembered for all time as one of the bravest men ever to get in a quarter mile machine.
Andy Frost, Custom Car Street Eliminator racer



---
Eurodragster.com aims to bring you links to all the best European Drag Racing web sites. To add your site to Eurodragster's listings, simply email links@eurodragster.com with your URL and a little information about your site and we'll do the rest. When you update your site, drop us a line at news@eurodragster.com and we'll feature your site in our "What's New" section.
Eurodragster.com is a non-profit-making organisation run by a small group of Drag Racing enthusiasts for the sole purpose of promoting European Drag Racing. If you can help us to meet the modest cost of hosting this web site by advertising here, please email webmaster@eurodragster.com. We're sure you'll find our rates extremely competitive.