Exclusive interview with Pat and Stephen Talbot
UK husband and wife team Pat and Stephen Talbot started drag racing at Run What You Brungs before entering formal competition in Modified ET in 1995. After three races, they gave up on Modified ET as too slow for their liking and decided to move up to Super Pro ET, a bracket which in the UK covers cars which run the quarter mile in between 6.30 and 8.90 seconds.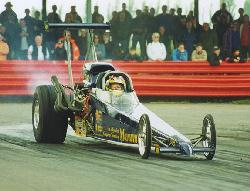 A Hauser Race Cars dragster, powered by a 471 Koffel motor, was purchased in 1996 and ran for the first time at the 1997 Cannonball at Santa Pod Raceway. With Pat at the wheel, the dragster has achieved times in the 7.8s in 1998. Stephen turns the wrenches.

Pat finished second in the 1998 Santa Pod Racers Club Super Pro ET Championship, in what was Talbot Racing's first full season.

Eurodragster interviewed Pat and Stephen via E-Mail in late December 1998. We are very grateful to them for agreeing to be interviewed, and for giving us such a fascinating insight into the life of the Sportsman racer.

Eurodragster: Firstly, Pat, please reassure us that you are recovered from your run-in with a towing hook at the Finals?

Pat: Fully recovered thanks! We will make sure in the future that we have the proper connecting bits to ensure that it doesn't happen again. Getting injured in the pit lane was a bit of an embarrassment.

Stephen: Yes, there is no major change to the stuff in the helmet - is this a good thing ?

Eurodragster: You must be very pleased with the season you had. The car is going faster and faster and the consistency is pretty good, and you finished well up in the Championship.

Pat and Stephen: Yes, we have been very happy with how things worked out. As we were new to all this, it seemed a good idea to start with a consistent package. We thought the driver would be pretty erratic. We have to thank Geof, Jon and the guys at Hauser Racing for excellent advice. They delivered on their promise of a competitive car straight out of the trailer.

Stephen: Personally I found it a mind blowing challenge to go from what were, in effect, street times to a dragster running sevens, and I didn't have to drive the thing. I can only admire the way Pat's skills have improved over the year. But then I am biased.

Eurodragster: Do you prefer racing to a dial-in, or are you both heads-up, flat out racers at heart?

Pat and Stephen: One of the good things about bracket racing is that your dial-in can reflect a flat-out time. This is pretty much the way we compete. Pat's not very good at the "lifting" scene. We would both like to race heads up, but we think this is about as close as we'll get in the short term - unless any of you guys out there have a few hundred thousand pounds which you don't need!

Eurodragster: Pat, tell us something about driving to a dial-in. For example, do you have a good idea of how much time has elapsed as you go down the track? At 160 mph, do you really have much time to think about that sort of thing?

Pat: Because of the way we set up the dial-in, I drive the car pretty much flat out; so I don't even try to make judgments involving hundredths of a second. I am reaching that point where I know if I'm way out. The other racers in Super Pro are pretty hot on this sort of thing - I'm still guessing.

Pat and Stephen: The great thing about Super Pro is that all the cars are different - Alcohol, Carbs Injection, Supercharged etc. etc. - and each driver has a different style plus years of experience - a challenge to say the least.

Eurodragster: Stephen, tell us something about deciding upon a dial-in and then setting up the car to run consistently?

Stephen: I am a great believer in asking loads of questions - I am definitely in no position to be too proud(!). The hardest bit is trying not to fiddle with the car but to make changes between races, rather than at the track. Once we have the car benchmarked after a change, it's a matter of reading the 60ft times. At the moment these are, for us, the main indicator of the track conditions.

Eurodragster: Have you any changes planned to the car or team during the off-season?

Stephen: Just a few changes. An automatic shifter system - the footage we got from TV at last year's Avon Park meeting showed just how far Pat's hands were traveling around the cockpit in the first few seconds. A new transmission line and minor chassis changes, and I have to get a plug in and say "No new major Mopar parts" - they don't seem to break!

Pat and Stephen: We aim to run mid to high sevens next year.

Eurodragster: Are you doing exactly what you want to do in drag racing or do you harbour secret desires to go to Top Alcohol or another class?

Pat and Stephen: At the moment we are very much where we want to be. We have found Super Pro to be a very friendly yet competitive bunch of people. We would like to go faster - doesn't everyone? - and our bracket gives us plenty of scope to do this. This is another good thing about bracket racing. Eventually we would like to run a two car team - but this is a way off yet.

Eurodragster: Sum up the lot of the sportsman racer in 1998?

Pat and Stephen: It's been an exciting year for us, but for all sportsman racers there has been plenty of confusion and uncertainty. However, we get the feeling that this is pretty much the norm for drag racing. We don't get too involved in politics and have tried hard to support both Santa Pod and Avon Park this year. The developments at Avon Park care of Terry Gibbs added an optimistic element to 1998.

Eurodragster: Sum up the lot of the sportsman racer in 1999?

Pat and Stephen: We're looking forward to 1999 - if the National Championship occurs (it looks hopeful) it will provide racers with something to go for.

Eurodragster: Any New Year messages?

Pat and Stephen: We would like to thank all of the people who have supported us over the last 18 months. Everyone at Hauser Racing, our friends at Santa Pod, at Avon Park, and at home. We'd also like to thank every Super Pro racer out there. Hope all your cars are coming together for 1999.

A big Thank You to the spectators and drag racing fans. We have had great support particularly from the ladies on the banking!!

Plus all of the people who make drag racing an event who don't actually drive the cars: Marshals, Startline crew, and of course the photographers and web site hosts!

Happy New Year - it's not many weeks now...

Interview ©Eurodragster.com

Talbot Racing web site


---
Features and Interviews index
Back to News page
---
Eurodragster.com aims to bring you links to all the best European Drag Racing web sites. To add your site to Eurodragster's listings, simply email links@eurodragster.com with your URL and a little information about your site and we'll do the rest. When you update your site, drop us a line at news@eurodragster.com and we'll feature your site in our "What's New" section.
Eurodragster.com is a non-profit-making organisation run by a small group of Drag Racing enthusiasts for the sole purpose of promoting European Drag Racing. If you can help us to meet the modest cost of hosting this web site by advertising here, please email webmaster@eurodragster.com. We're sure you'll find our rates extremely competitive.