General
Home Page
Add a web site
Jeff Bull Swap Meet
Send a News Item
Site Search by Hauser Racing
2021 FIA/FIM Championships schedule
News, Coverage, Features
Latest News
John Woolfe Racing Event Coverage
OCS Paint Points Standings
Features, Interviews, Tributes
Racer Blogs
LA Racing Parts Links
Racers' web sites
Associations, Clubs
Race calendars
Results, Reports, Info
Pictures, Video
Performance Parts, Merchandise
Sponsors
Tracks, Shows
Information
Timing Data
European and UK Bests
Champions' Champions
Editor's Diary archive




















Challenge on for Pro and Super Pro.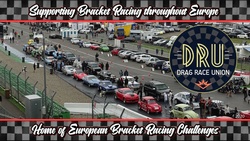 28th February: Our good buddy Markus Münch wrotes that the Drag Race Union are running Super Pro ET and Pro ET Challenges in 2020:

You can register till March 31st. 2020. The registration fee is 100€, included is a personalised shirt for the driver.

Four races count towards the the overall Championship. You can race principally where those classes are officially run, but no more than two results from any single track count for the overall points. From the variety of races at Santa Pod Raceway, you have to determine three races at which you want to collect Challenge points before the season starts, but the "Maximum of two results per race track" rule also applies.

End of season prizes are trophies for the top three drivers, and prize money which is made up roughly of entry fees and money from our sponsors.

At the moment we have around twenty entries in Super Pro ET and fifteen in Pro ET, from all over Europe. If you are interested then you can contact us via our Facebook pages www.facebook.com/groups/suproet and www.facebook.com/dragraceunion, or E-Mail Johnny for Pro ET at info(at)dragraceunion.eu and myself for Super Pro ET at info(at)dragstripper.de.

US Automotive sponsor Fuel Altereds.
28th February: Eurodragster.com sponsor US Automotive are excited to announce that they will be sponsoring the 2020 Dragstalgia Cannonball featuring the Rat Trap and Havoc AA/Fuel Altereds.

Chairman of US Automotive, Stewart Bassett, said "USAutomotive has been involved with Ron Hope's Rat Trap and Nick Davies' Havoc for a number of years now and to be instrumental in bringing them together at Santa Pod Raceway for Dragstalgia is an once-in-a-lifetime opportunity. It might well be the last time these two cars race side by side."

"This year will be the tenth Anniversary of Dragstalgia", said organiser James Forster. "Each year, Dragstalgia has grown until it is now Europe's premier nostalgia drag racing event attracting more than 300 vintage race cars and thousands of spectators."

The rivalry between these two legendary, nitro-powered AA/Fuel Altereds began at Santa Pod in 2016. The action then moved to the US where Havoc driver Nick Davies went on to win the Championship at the California Hot Rod Reunion. Dragstalgia will be the first time Nick and Ron have faced each other since then and this might be the last time as Havoc is being retired so that Nick can concentrate on the US Automotive-sponsored Pontiac Pro Mod. "It's a race, well, four races actually, not to be missed" concluded Stewart.

In conjunction with the event sponsorship, US Automotive will be hosting competitions and give-aways so be sure to visit their Facebook page under USAutomotiveUK.

Swift snippets.
28th February: We would like to say a big Happy Birthday to two good friends; have a great day Nitro FM Producer Julian Parsons, and Santa Pod Raceway Track Announcer Luke Stevenson.

Swift snippets.
27th February: With yesterday's sad news it was only proper to hold the Happy Birthdays, so birthday wishes for yesterday to our good friend and Honorary Eurodragster.com Staff Member Darren Prentice of Santa Pod Raceway, to UK Fuel Funny Car racer Kevin Kent, and to former safety crew member Geoff Quaife. Hope you had a good day guys. On to today and a big Happy Birthday to another good friend, Darren Krauesslar of SPRC's safety crew. Have a great day Darren.

Back to yesterday which was the 22nd birthday of Eurodragster.com. A big Thank You to the racers, fans, officials and management everywhere for their support.

Peter Schöfer.
26th February: We were very sorry to hear of the death of Top Methanol racer and Champion Peter Schöfer:

Er war ein Motorsportler mit Herz und Seele. Der "Pat", so wie ihn seine Freunde und alle anderen nannten, hat in seinem viel zu kurzem Leben dennoch viel erreicht. Er war mehrfacher Europameister im Motorrad- und Dragsterrennsport.

Viele harte Kämpfe hat er dabei auf der Rennstrecke gewonnen, aber seinen letzten Kampf hat er leider verloren. Sein Gegner war der Schei... Krebs. Kein Wunder, denn dieser kämpft meistens mit unfairen Mitteln.

Wir alle hoffen, dass er dort, wo er jetzt ist, schöne Rennstrecken und faire Gegner findet. Wir werden dich nie vergessen und ehren was du aufgebaut hast.

In ewiger geliebter Erinnerung.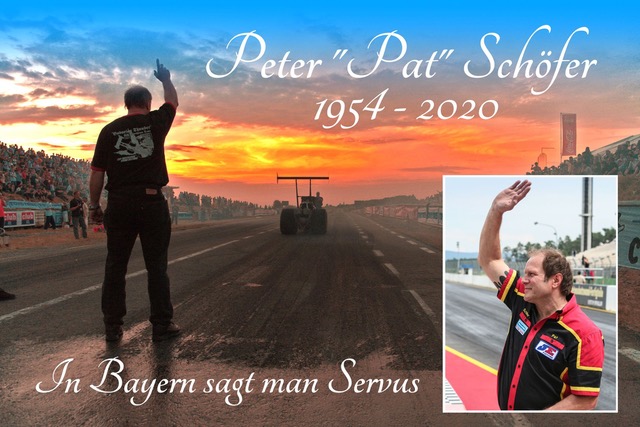 He was a motor athlete with body and soul. The "Pat", as his friends and everyone called him, achieved a lot in his far too short life. He was a multiple European Champion in motorcycle and drag racing.

He won many tough fights on the racetrack, but unfortunately he lost his last fight. His opponent was the f... cancer. No wonder, because it fights unfair.

We all hope that where he is now he will find beautiful race tracks and fair opponents. We will never forget you and honour what you have built.

In eternal beloved memory,

Moni, Luna, Sinah und Nicolai
Rudi, Wolfgang und Christina
Rebecca, Leoni und Thomas
Alexander

Our deepest sympathies to Peter's family and friends.

Event entry update.
25th February: Santa Pod Racers Club Secretary Ian Marshall has been in touch to ask us to inform racers that entry forms and on-line entry for Permit events at Santa Pod Raceway will be available from next Monday, 2nd March.

Cause to celebrate.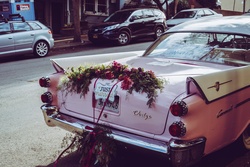 23rd February: Many of you will know the UK's Dave Gibbons for his Rough Diamond Competition Altered, which he built and has campaigned on and off for the last forty years. During that time he has also been assembling motors, fabricating components and assisting racers in a variety of motorsport disciplines. But now Dave has added another string to his bow unconnected with the automotive world.

Calling upon other skills gathered over the years Dave has taken a bit of a swerve and qualified as an independent family celebrant. Working as Gibb the Kent Celebrant, and trained by the Fellowship of Independent Celebrants, he now offers a service to write and conduct bespoke ceremonies and celebrations. Weddings, vow renewals, baby naming and adoption ceremonies, and funerals.

Made popular in America (where else!) and rapidly gaining popularity in the UK, celebrant-led weddings and partnership ceremonies are the most frequent service provided.


Should a couple share a passion other than that for each other, and the idea of a registry wedding sound a bit ho-hum or religion might not be your thing (although a religious element can be included), why not demonstrate this passion with a tailor-made celebration reflecting that individuality at a venue that means something to you, with your most important friends and family around you?

Celebrant-led ceremonies can be held at any venue or location - with permission of the owner - and offer you the ceremony you want, your way, tailored exactly to your requirements, without the restrictions imposed by a traditional registry office or religious ceremony, although the legal bit has to be done at another time. So a drag racing-themed wedding at a venue of your choice is not out of the question!

We've all been to a wedding and come away with thinking "Well, that was nice" but everyone deserves better than "that was nice". The only limitation is your imagination. You're an individual, so why not reflect that in your celebration?

So if you're thinking about a celebration or ceremony then get in touch with Dave on 07973 663457 or E-Mail gibb@kentcelebrant.co.uk. More information can be found on his web site at www.kentcelebrant.co.uk or search gibbthekentcelebrant on Facebook. Whilst Dave is based in Kent, distance is no object.

Rough Diamond Racing will continue to provide fabrication and engine building services, functioning as normal alongside this new venture.

Swift snippets.
23rd February: Thanks to Mike Collins for sending us the usual preview of his column in the latest issue of Street Machine magazine, including bonus material exclusively for Eurodragster.com readers. You can check it out by clicking on the images below.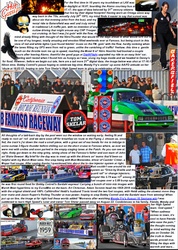 It came too late for yesterday's update so a slightly belated Happy Birthday for yesterday (Saturday) to Nitro FM presenter and heavily-defeated former Lunar Landing conspiracist Paul Wright. Hope you had a great day Oz.

Welcome Nitro Revival.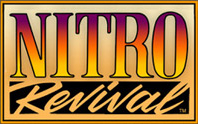 22nd February: We are very pleased to welcome Nitro Revival as a sponsor of Eurodragster.com. Geoff Stilwell writes:

For all the racers and spectators in the UK that may be travelling to California, USA during May this is an event not to be missed and one of the best social events of the year.

Steve and Cindy Gibbs will be celebrating the 4th annual Nitro Revival at the iconic Irwindale Raceway, Los Angeles on Friday May 15th and Saturday May 16th. It will be a huge gathering of Cacklecars with dozens of the older Top Fuel Dragsters, Funny cars plus Fuel Altereds cackling and some even driving down the famous Irwindale race track. My 7707 Lucas Oil Landspeed Car plus other Landspeed racers will be there, as well as many Street Rods.

This is an event not to be missed with many of the famous names we know from racing in the UK and at the British Drag Racing Hall of Fame's Bench Racing sessions attending. Ed Iskenderian, TV Tommy Ivo, Marvin Graham, Joe Schubeck, Steve Gibbs, Marvin "Who" Graham, Harry Hibler, Tom Hoover, Roland Leong, Floyd Lippencotte, Ed "The Ace" McCulloch, Paula Murphy, Carl Olson, Herm Petersen, and many, many more. For full information click on the banner at the right or go to Nitro Revival's Facebook page.

Many thanks to Geoff Stilwell for his support.

Changes at Eurodragster.com.
22nd February: We're now announcing the changes to Eurodragster.com's staff following Tog's retirement on 1 March.

Simon will be news editor and race reporter. He will be joined by new staff member Kieran Jenkins who will be blog and features editor, points and links co-ordinator, swap meet administrator and social media updater. Kieran is well known as owner of Youtube channel Mk1Kieran which features many drag racing videos and has over 27,000 subscribers and 22m views to date. Eurodragster.com will link to Mk1Kieran's video and photographic content.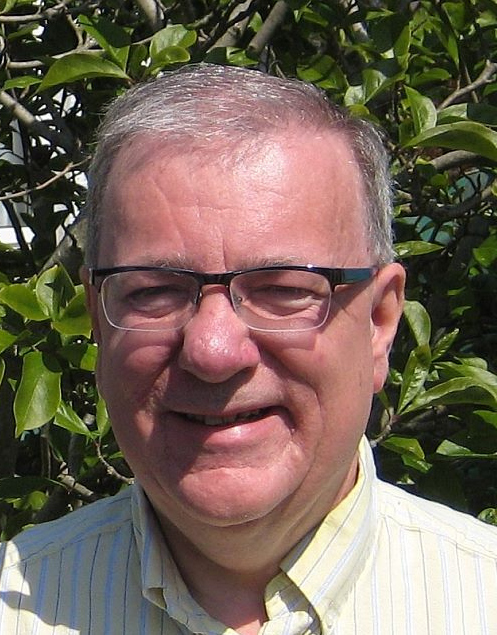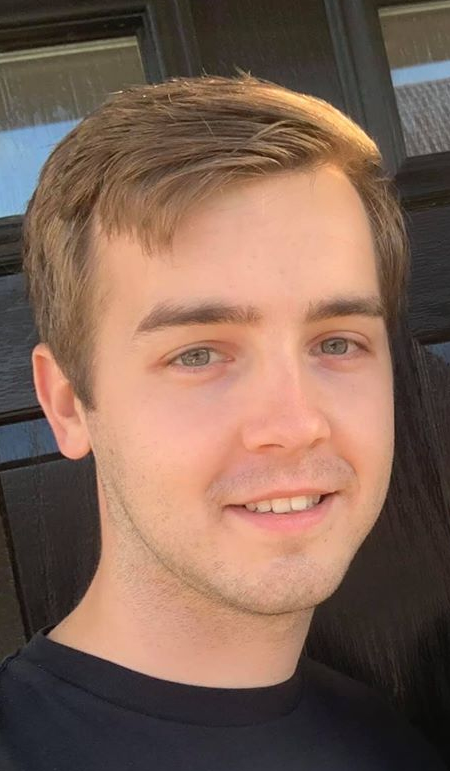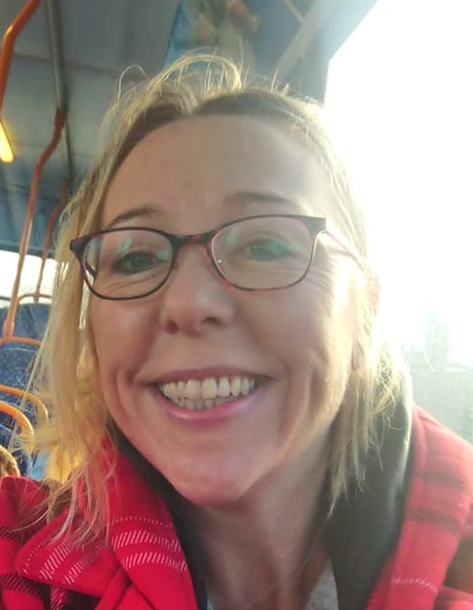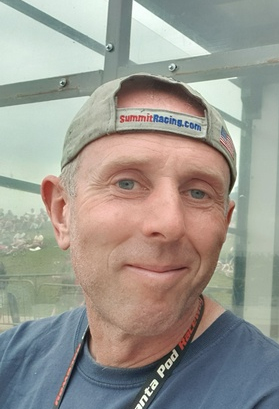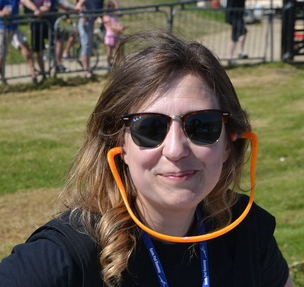 The other new staff member is pit reporter is Diana Macrae, who will also continue to be pitside photographer, and will contribute 'bits from the pits' which we will include on race report pages.

The roster of photographers will remain the same, with Julian Hunt as lead photographer and Kirstie Tramm joining us when her racing commitments allow. Kieran will also contribute to our galleries, and we look forward to other contributing photographers supplying images as before.

Our current list of planned event coverage has been posted. As before, this is provisional and may be added to as the season develops. Thanks to Dave Jones at Santa Pod Raceway for supplying a schedule of their streaming video coverage. To pre-empt queries, Eurodragster.com won't be producing streaming video coverage in future.

From 1 March, please send your news items to news@eurodragster.com with a copy to simon@eurodragster.com if you have large image file sizes. Other email addresses will be confirmed after 1 March.

Redzone back.
22nd February: Many thanks to Richard Foster-Turner of Trakbak Racing for letting us know some important developments in drag racing betting:

Santa Pod Raceway are very pleased to announce that Redzone will be back at Doorslammers 2020. If you haven't already joined go to www.redzone.bet/santapod. Odds will go up shortly!

In the meantime, once you've joined check out the odds for the NHRA Mello Yello Top Fuel Dragster Championship and for the NHRA Arizona Nationals in Phoenix this coming weekend.

We understand more classes and event outcomes will be added as the season progresses.

Atomizer Racing Injectors now in UK.
22nd February: Jason Weir has been in touch with news about Atomizer Racing Injectors now becoming available in the UK: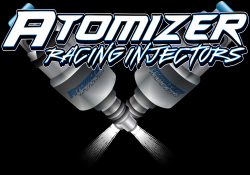 Flow X Injectors, Injector diagnostics & Test Specialists are proud to have become the UK dealer for Atomizer Racing Injectors. Not only do we now offer a full range of Atomizer 3 Racing Injectors (100PPH - 850PPH) and the outstanding new Atomizer 4 Injectors (800PPH - 1500PPH per injector), but we also can also refresh your existing Atomizer Racing Injectors. Custom sizes are available as well as accessories.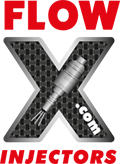 Atomizer Fuel Components - the world's fastest racing injectors - are proudly made in the USA and fuel more wins and championships than any other racing injector on the market. Atomizer is the key to taking your racing programme to the next level, through direct racer input, and utilizing the continuous improvement approach, Atomizer injectors continue to dominate in every facet of racing year after year.

Atomizer manufacture the highest quality purpose-built (and 100% rebuildable) racing injectors in the industry, for racers by racers.

Customers will soon be able to order the injectors direct at www.flowxinjectors.com, but in the meantime, for any orders or information, please contact Jason on 07769346964 or enquiries@flowxinjectors.co.uk.

Green Light Nationals returns.
20th February: Many thanks to Santa Pod Raceway Events Manager James Forster for sending us details of an exciting summer event:

Returning to the Santa Pod calendar for 2020 is the Green Light Nationals event on the 22nd-23rd August 2020. Once again, the event hosts championship rounds for a selection of car classes including Nostalgia Superstock, Outlaw Anglia, Sportsman ET and more plus new for 2020 is the addition of Comp Eliminator. The ACU bike classes will be returning in force with another "double header" weekend meaning there will be 2 championship rounds rolled into 1 event. The bikes will be running a complete championship round of qualifying and eliminations on the Saturday and another on Sunday meaning there's a huge haul of points available.

This year the Green Light Nats hosts not one, but two 'one-off' classes offering extra track time and competition for those that want it.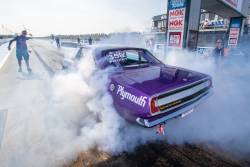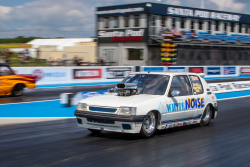 The first one off class is one that debuted in 2019 – Green Light Pro. Green Light Pro is a heads up class aimed at some of the quicker vehicles in the UK and beyond – anything with 4 wheels that runs quicker than 7.50 to be precise. This broad ruling means that we could see Funny cars vs. Pro mods, Slingshots vs. Rear Engined Dragsters, Nitro vs. Methanol, Turbos vs. Blowers and many other unique match ups. Last year saw Nick Good triumph in his trusty rear engined dragster but the entry list saw the combination of doorslammers, funny cars and dragsters that we'd all hoped for.

The second one off class is a new one for 2020 and probably best described as a bracket and index racers free for all. The Green Light Big Bracket is for racers to dial in from 7.50-11.99 and aside from GSR's, pretty much anything goes. This leaves the door open to vehicles from Super Pro, Pro ET, Super Gas, Super Comp, Street Eliminator and anything else that fits the bill whether they're dragsters, doorslammers, altered's or any other 4 wheeled machines. If you can run the numbers and fancy adding another race meeting to your calendar – get the dates in your diary!

As one off events, there are no points on offer for Green Light Pro or the Big Bracket but that doesn't mean the glory of a hard fought event win tastes any less sweet.

Please note that all entries to this event will be scrutineered and therefore must be comply with the General Safety Regulations.

Images courtesy and © Dave Jones

Melbourne fund passes 75%.
20th February: Trevor Duckworth has been in touch with an update on the mission to revive drag racing at Melbourne Raceway:

With the fund hitting the three quarter mark of £75,000, we now need help for the final push to get over the line and make it happen.

We have many auctions running at the moment to help raise the funding, some of these being "money cannot buy" items. Just go to the Melbourne raceway Facebook page to see what's on offer. We also have limited edition T shirts, sweat shirts and zoodies for sale, with all proceeds going to the fund.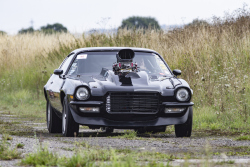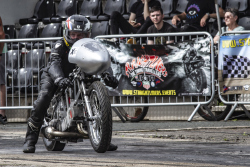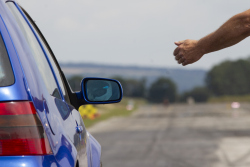 Our aim is to have a new track with two six metre lanes, and for the track to be 500 metres in length. We will start with eighth mile racing and have ample braking on the same surface as the race track. When funds become available we will extend the braking area so we can then run full two lane quarter mile events.

Work is scheduled to start in March with the removal of the old spectator banking and the planing of the old surface, so we can complete any repairs needed to the sub-structure before the new racing surface is laid.

Our aim is to have the first event by August 2020, but we can only do that if we get the funding in place to carry out the work. Please give what you can if you wish to see a second Drag Race facility in the UK. There are sponsorship and funding packages available for companies interested in getting involved, just email trevor@straightliners.co.uk.

Funny six pack.
20th February: Santa Pod Raceway has announced details of the European Funny Car Series with six cars competing to qualify for a four car field at 2020's four rounds:

Festival of Power – 10th - 12th April
FIA Main Event – 23rd - 25th May
Bug Jam – 24th - 25th July
FIA Euro Finals – 11th - 13th September

New to the series is former Top Fuel Dragster racer Shelley Pearson who was last in competition in 2011. Shelley will be driving the SPR liveried Dodge Stratus with John Spuffard overseeing the operation. Shelley's partner Kevin Kent has acquired a Chevrolet Monte Carlo previously campaigned in the NHRA by Blake Alexander and retains the services of John 'Bodie' Smith as crew chief.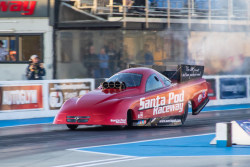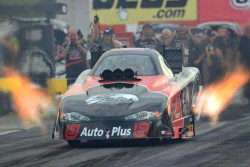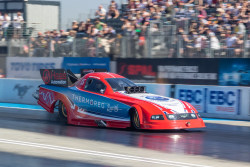 2019 series champion Kevin Chapman continues racing his Thermoreg Ford Mustang, and welcomes NHRA fuel racer Terry Haddock as tuner, as well as other new crew members. Steve Ashdown in the Shockwave Racing Stratus will again be tuned by Dave Bryant , and Jason Phelps is in his second year with Mark and Jackie Hawkins' Gladiator Stratus.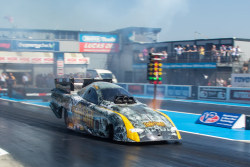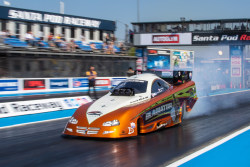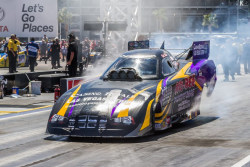 Swedish competitor Patrik Pers will be driving a Stratus previously campaigned by Bob Bode. Ex-pat Brit Dave Fletcher, currently Track Specialist at Don Schumacher Racing, will be advising on tuning, joining Patrik's regular crew.

Images courtesy and © Dave Jones

Dowdy goes Renegade.
20th February: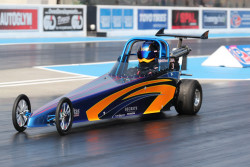 Matthew Dowdy Racing is pleased to announce the support of Jeff and Alex at Renegade Racing Fuels UK for the forthcoming racing season, beginning at the Festival of Power. Matthew will be running exclusively on Renegade's Pro Methanol, which is refined especially for racing engines.

Matthew said: 'This is great news for all Junior Dragster racers, as Jeff and Alex are happy to supply all competitors in the class at extremely competitive sponsored prices - Renegade Pro Methanol will be available all season at half price. Just speak to them on 07407 807576 or email their Master Distributor Track Stuff sales@trackstuff.co.uk'. You can of course speak with Matthew at the track who will give you all of the details.

'Renegade provides a full range of the highest quality racing fuels suitable for all engines. Just give them a call and they will be able to help you out'.

Appointment for Hall of Fame.
20th February: Following the announcement on 4th February that News Editor and Race Reporter Tog will be leaving the Eurodragster.com staff at the start of next month, and the running of the site is being taken over by Simon, a vacancy arose within the British Drag Racing Hall of Fame for Press and Member Liaison.

With immediate effect the BDRHoF is delighted to welcome respected British nostalgia drag racing enthusiast and former Shakespeare County Raceway Promotions Manager Jeremy Cookson to the board of directors to assume this responsibility.

Jeremy, better known to the drag racing community as Jerry, has a varied past in the sport dating back to the early 1960s, after his father Gerald [Gerry] had visited several ground-breaking festivals, notably the 1965 Drag Festival at Blackbushe when Jerry was five years old. Following that, Jerry helped support his father's racing career in what was then classed as Junior Dragster with a supercharged BMC slingshot dragster, The Joker, followed by a late-1950s Berkeley Sports Car, an MG Midget and back again to the Berkeley Super Joker.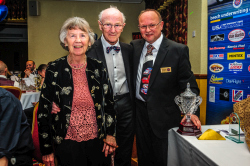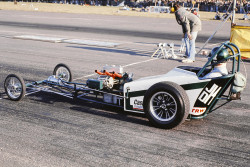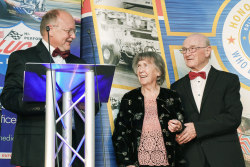 Since that time Jerry has written and produced features and articles for well-known high street publications as well as taken on the role of editor of Fire Up and European Dragster magazines. Jerry later became more actively involved with Avon Park Raceway, which later morphed into Shakespeare County Raceway in the late 1990s, providing the voice of the raceway as racetrack announcer/commentator.

In 2006 Jerry officially joined the team at Shakespeare County Raceway in a full-time capacity as Promotions Manager, supporting many roles at Long Marston Airfield, where the race track was located, as well as writing a regular column for Street Machine magazine and serving for two years as starter until the raceway's closure at the end of 2017 to make way for the inevitable Garden Village project.

Jerry said: 'I am delighted to further my involvement with the British Drag Racing Hall of Fame,' says Jerry. 'After serving on the Panel of Selectors since the BDRHoF's inception in 2006, and after my family's name was inducted in 2018, I can think of no better way to put more back into the sport which has given our family so much pleasure since those ground-breaking days of the sixties. Drag racing has had its ups and downs but it's still alive and kicking in many varied forms from grass roots right up to anyone's ultimate goal – becoming a professional racer. The BDRHoF is an important medium honouring those who have built the sport to where it stands today and I'm happy to be involved on this scale.'

Images courtesy and © Mike Burrowes and Keith Lee.

Snapped with success.
20th February: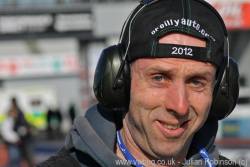 Jerry Cookson writes about a new associate sponsor of the British Drag Racing Hall of Fame:

What is drag racing without photography? And most important of all, what is photography without drag racing? For one of motorsport's most diverse, colourful and totally addictive pastimes is required to have its moments captured on film for posterity. Julian Hunt is a photographer who has that passion for drag racing, with a keen eye to make that magic moment stand out from the rest, and in 2020 we are delighted to announce that Julian is joining us as an associate sponsor.

From an early age Julian enjoyed a keen interest in all types of cars and would visit Brands Hatch, his local racing circuit, whenever he could convince someone to drive him there. In 1990 Julian managed to talk a buddy into driving him to Santa Pod Raceway where he got his first taste (and smell) of drag racing. It was then that he knew this was the sport for him. Drag racing was now his favourite motorsport and he would attend as many race meetings as possible, always hoping for a whiff of Nitro!

With his own transport issues resolved in the form of a screaming two-stroke motorcycle, Julian then moved on to four wheels, owning several vintage Volkswagens and a classic Porsche. His career followed a similar path on which he spent 20 years working in the air-cooled Volkswagen and classic Porsche restoration business.

In 2007 Julian was inspired by another drag racing photographer's work. He decided that, instead of keeping his camera on auto, he would learn how it functioned and try to improve his own work. His ultimate aim was to match the quality of the photographer who had inspired him and he spent many hours trawling through hundreds of instructive articles on the internet.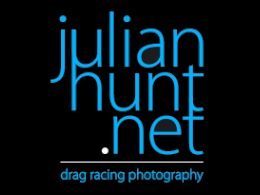 Thirteen years later and it's still all about the drag racing. Julian and his trusty Canons attend many race meetings throughout the season in the UK and in Europe. His work can be seen across many websites, primarily Eurodragster.com, and he has had regular commissions published in automotive magazines such as Volksworld and Custom Car as well as contributions to the BDRHoF's HoFTalk on-line magazine.

In 2016 a panel of judges recognised Julian's talents with the presentation of the BDRHoF Sydney Allard Media Award for Photo Journalism sponsored by Mintex, a former supporter of the 1964 Drag Fest and of Sydney's original Allard Dragster. From the entries received the panel eventually chose Julian's fire burnout photograph of Bob Hawkins' stunningly quick, blown methanol-injected, Chevrolet-powered slingshot dragster called Time Traveller, which Julian had captured in full flame at Santa Pod Raceway's 2016 Dragstalgia meeting. Julian's choice of camera that day to create this magnificent image was a Canon EOS-1D x with a Canon Lens EF100-400mm. F/4.5-5.6L IS II USM.

Julian Hunt now adds Julianhunt.net to an illustrious group of associate BDRHoF sponsors for 2020 including: Beech Underwriting Agencies, BUA Motorsport, US Automotive, Santa Pod Racers Club, DialAFlight, Institute of Professional Drivers, Atlantic Fluid Tech, Rat Trap Racing, Mopar Muscle Association, Jeff Bull Racing Engines, Eurodragster.com, Straightliners, Kelsey Media, Chair Office, Fiat Chrysler Automobiles (Mopar) Shakespeare County Relics, National Street Rod Association. The British Drag Racing Hall of Fame wishes to thank all sponsors for their most valued support and practical help. Without them the British Drag Racing Hall of Fame could not exist.

Swift snippets.
20th February: British drag racing nostalgia enthusiast Jerry Cookson is looking for a video copy of eighties film 'Quarter Milers - The Inside Story'.

'Marketed through Street Machine magazine, the film was a behind the scenes look at British drag racing, and was written and co-produced by Dick Griffiths of Stirling Video and Street Machine's features editor and former racer Tony Beadle,' says Jerry.

'The film compares a 200 mph Top Alcohol Dragster with a 10 second self-built C/Dragster and featured racers John Dowse, Clive Napier, Brian Huxley and Paula Atkin. The sixty minute production also looked at the Rover V8 series as well as the Street Racer Championships at York with in-car footage, workshop visits, pre-race preparation and fire burnouts.'

If you have such a copy in your video collection and you're prepared to let Jerry borrow it, or you can get it re-recorded, then get in touch at quartermilenewsmakers@yahoo.co.uk.

Slicks sought for SPR track prep.
18th February: Santa Pod Racers Club Secretary Ian Marshall writes that used drag slicks are sought to help with track prep at Santa Pod Raceway:

As ever we are happy to arrange to collect the tyres from your location. But if you are coming to the Riders' and Drivers' Meeting on 1st March and can bring your slicks with you then please get in touch so that I can arrange a van for collection. There is also the option of dropping slicks off at the SFI Day on 9th March. Alternately, if you have several sets of slicks to collect, then please contact me and we can arrange a date to come and collect them from you. Many thanks in advance.

If you have used slicks to donate for track prep then please get in touch with Ian at ir.marshall@btconnect.com or call 01933 313625.

Dates for your diary.
18th February: This Friday (21st) is the deadline for items for the agenda of the UK Riders' and Drivers' Meeting which takes place in Northampton on Sunday 1st March. Please note that if you wish to have your agenda item discussed then you must attend the meeting. You can E-Mail your agenda items to Ian Marshall at SPRC at ir.marshall@btconnect.com. You can read full details about the Riders' and Drivers' Meeting in our news update of 21st January.

A reminder that this year's European SFI Recertification Tour is fast approaching and will take place at the following locations:

Thursday 5th March: The Netherlands
Hotel Ibis Amsterdam Schiphol
Schipholweg 181
Bedhoevedorp 1171PK

Inspections 08:00-12:00

Friday 6th March: Finland
FHRA Office
Helsinki-Malmin Lentoasema
Helsinki 00700

Inspections 08:00-12:00

Saturday 7th March: Sweden
Persåkers Speed Shop
Solbergavagen 28, Åkers Styckebruck

Inspections 12:00-17:00

Monday 9th March: UK
Hospitality Suite
Santa Pod Raceway
Airfield Road
Podington NN29 7XA

Inspections 10:00-16:00

For full details, including what can and cannot be inspected, please see our news update of 17th January.

UK Super Gas named for 2020.
17th February: The UK's Super Gas class will carry the official title of the Dave Grady Super Gas Shootout after the late, legendary originator of the Super Gas Drag Racers Association ended with a commanding lead in a vote held here on Eurodragster.com.

When submitting his vote Mark Flavell, who was himself involved in the SGDRA, commented "There were lots of people who had a lot of very valuable input but Dave was the glue that bonded us all together" whilst Wayne Jackson added that Dave was "The nicest man you could meet in drag racing and in life" and Andy Flavell said that Dave was a "True legend of British Drag Racing and frankly no one has had more influence than he has".

Many thanks to Brett Featherstone for asking us to host the vote and to all of those who voted.

Champion Jackson sits out 2020.
15th February: 2019 UK National Super Pro ET Champion Brad Jackson is to sit out the 2020 season. Dad Wayne Jackson writes:

Brad has been on a sabbatical, he has been to Japan and Australia and is now in New Zealand. We had planned to enter as a team with me driving the Festival of Power and Brad driving the rest of the year, but he has taken a job working in a water sports centre on the South Island and has no plans to return just yet, so I won't be driving the dragster! I am going back to circuit racing this year in the EnduroKA endurance series.

I would like to thank everyone who has sponsored and helped Brad over the last decade but especially Nick Good, Cristiann Carlo, Dave Catton and Lucas Oil. We have always worked as a team and everyone played a part in Brad's success.

Swift snippets.
15th February: The latest spy picture to arrive at the offices of Eurodragster.com (below left) came with the words "Something Funny?". If you know more, or if you would like to send your own spy picture, then drop us a line at editor@eurodragster.com.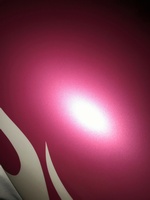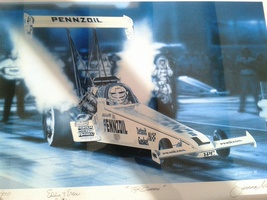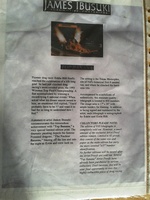 Brian Huxley is auctioning a limited-edition autographed print of US Top Fuel legend Eddie Hill to raise funds for Melbourne Raceway. The James Ibusuki print is numbered 560 of 850 and is sized at 31" x 23". The picture is signed by Eddie and Ercie Hill and celebrates Eddie's 1993 Winston Top Fuel Championship after winning six National events and recording the first four-second pass in history. A certificate of authenticity is included (above right). "I've enjoyed this picture for twenty years, now it's time for someone else to enjoy", says Brian. "Please give generously, let's save this track". Bidding closes next Wednesday (19th) and you can contact Brian at econoline1@btinternet.com.

Meanwhile a Gofundme has been set up for the Huxleys themselves who lost some vehicles, motors, parts, trophies and memorabilia in a garage fire last week. Over three thousand pounds has already been raised of the five thousand pound target; you can donate at www.gofundme.com/f/help-for-the-huxleys.

Vegter's new moniker.
15th February: Our good buddy Remco Scheelings writes that The Netherlands' David Vegter will this year be racing under the banner of Vegter Pro Mod Racing: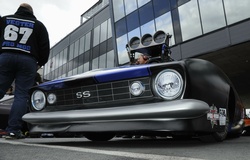 David will once again compete in the FIA European Pro Modified Championship, the Championship in which he has been so successful in recent years. "The crew will be the same and we are updating the Camaro at the moment", says David. "We're going for it with renewed energy and we are going to make it a great season."

As reported a few weeks ago, the partnership between David Vegter and sponsor PTTM has come to an end. One of the consequences is, that the Dutch drag racing team will go back to their familiar name Vegter Pro Mod Racing. As the driver of the Vegter Pro Mod Racing ''67 Chevrolet Camaro, David has garnered an impressive list of honours in the FIA European Pro Modified Championship in recent years. He claimed third position in the 2017 Championship, his best result so far, and finished in fourth position in 2019. With his personal bests of 5.804 seconds at 398.8 kmh, David is one of the quickest and fastest Pro Modified drivers in Europe. He is also the track record holder at Alastaro and Kauhava, the two Finnish FIA European Drag Racing Championship tracks.

The newest chapter in the eleven-year history of his Pro Modified team also means a fresh restart for David, and a situation which creates new opportunities. After 1.0 and 2.0, Vegter Pro Mod Racing now step up to 3.0. All team members are extra motivated to accelerate the upward trend from recent years and to make it a great 2020 season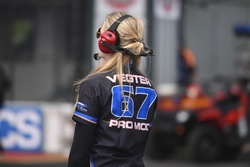 David will enter the 2020 FIA European Championship with the familiar '67 Chevrolet Camaro. The car was stripped after the last race of 2019 and will be rebuilt and updated in the next few weeks. David can once again rely on the same experienced crew that have supported him for many years. The 2020 FIA European Championship kicks off with the FIA/FIM Main Event at Santa Pod Raceway in May, then after two races in Sweden and one in Germany the Championship returns to Santa Pod for the FIA/FIM European Finals. Vegter Pro Mod Racing will start their season with The Doorslammers to prepare for the opening round of the FIA European Championship, one week later at the same track.

2020 FIA European Pro Modified Championship calendar
22nd-25th May: FIA/FIM Main Event, Santa Pod Raceway, England
4th-7th June: Tierp Internationals, Tierp Arena, Sweden
13th-16th August: Summit Racing Equipment Internationals, Tierp Arena, Sweden
28th-30th August: NitrOlympX, HockenheimRing, Germany
10th-13th September: FIA/FIM European Finals, Santa Pod Raceway, England

Vegter Pro Mod Racing partners HKR Techniek and De Vries Classic Cars have extended their partnership with the team for the 2020 season. At this moment Vegter Pro Mod Racing are talking to other partners who are interested in supporting the team. More news about this will be published in the near future. If you are interested in becoming a partner of Vegter Pro Mod Racing, or if you would like to support the team in another way, please contact David Vegter at vegter3@hotmail.com.

FIM Championship registration open.
14th February: Thanks to Darren Prentice for letting us know that registration opens today (Friday 14th) for the 2020 FIM Europe Drag Bike Championships.

To register, visit the Track Group Europe web site at www.tgeurope.eu and click on the Registration link.

Swift snippets.
14th February: Due to the imminent Storm Dennis, Santa Pod Raceway have postponed tomorrow's sold-out Stunt Fest until next Saturday, 22nd. You can read more, including what to do if you can't make it next week, at www.santapod.com.

Riotous assembly.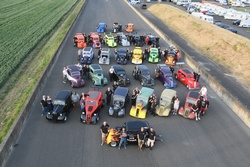 13th February: This Saturday the UK's Outlaw Anglias and Supercharged Outlaws are holding their joint Christmas party and trophy presentation more than 140 attending. Colin Millar writes that this is proof that the two classes are going from strength to strength:

Outlaw Anglia is now in its twenty eighth year and the Supercharged Outlaws in their thirteenth. Interest from new parties have never been so strong with new cars and old cars being reborn coming out to play in 2020 and 2021.

I think it's true to say that both classes have probably had the best year of drag racing to date with ETs and speeds which were only a dream a few years back. The need for speed has never been so strong with improvements pushing other teams to keep up with the leading cars.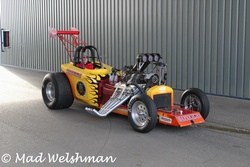 In Supercharged Outlaws we've seen Andy Fadster improve year on year from 7.63 to a roaring 7.54/180.25 with Joel Kerr making headway form 7.59 to 7.35/186 unfortunately with a few breakages along the way and some deep pockets. Jeff Hawksworth moving forward from an 11.8 to a 10.01/146 so close to that nine-second pass but by far the biggest jump has been made by Tony Underhill starting the season on a 14.03 pass and ending up on a  huge ET of 7.23/189, huge congratulations to Tony and fingers crossed he can get over the damage caused last year.

In Outlaw Anglia Simon Barlow with his Orange Pop Racing Fordson van OA81 won the battle at 7.08 with a huge speed of 194 mph as well as dealing with some major damage along the way, myself pushing hard to catch up with 7.2/190.6 and Scotty Crookston and Paul Hensher both on 7.41, fingers crossed for Jeff Meads to get that seven-second pass in 2020 he so deserves it as with everyone else who races in this superb class.

In the past we have all harped on about running that elusive six-second pass and if I'm honest I thought it was pretty impossible especially when in 2018 we were still upwards of 7.5 seconds passes but for 2020 I have to say I truly do think history will be made in the class of Outlaw Anglia, watch closely everyone!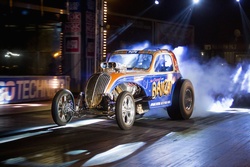 Supercharged Outlaws should have some six-second contenders, those expected to be in the zone are Tony Underhill and Joel Kerr with numerous upgrades, but with the addition of some new teams including Mick Moore with his altered and the Gleadow family with Motor Psycho, the six-second zone should be well-populated and some exciting runs for the fans to cheer along.

Back to party business: getting this lot organised and sat down for 7:00 pm will be the hardest part of the night in fact probably the hardest thing we've done all year, the big characters are the worst - you know who you are! The presentation of the trophies will take precedence as it's a fabulous reward for all the hard work, sacrifice, determination but also success by the team the driver and everyone associated with the winning categories. Once this is under our belt some well-earned food and let the party begin. I love everyone coming down the stairs in their best attire only to see the devastation at the end of the night, let's hope that Scotty Crookston can actually keep a hold of his trophy this time and not lose it again!

From the Supercharged Outlaws the Outlaw Anglias and our small team, I wish everyone the very best for the season ahead. See you all real soon at a track near you.

Valentine date for Super Gas Shootout.
11th February: This Friday (14th) is the deadline to submit your vote for the name of this year's UK Super Gas Shootout. Last year's Shootout was named for former racer Jon Morton and there are seven candidates this year:
Tim Adam
Jeff Bull
Dave Grady
Tony Gransden
Brian Pateman
Frank Mason
Conrad Stanley
If Super Gas racers and other Eurodragster.com readers would like to vote for any of the above then please send an E-Mail to editor@eurodragster.com and we'll pass the results on to organiser Brett Featherstone.

Ride of a lifetime!
11th February: Supercharged Outlaws Chair and Eurodragster.com sponsor Andy Hadfield, aka Fadster, is auctioning what must be one of the most desirable passenger rides in the whole of drag racing to raise funds for Melbourne Raceway:

Believe me when I say this is a once-in-a-lifetime chance: a passenger ride up the track in Twister, arguably one of the most exciting cars on the track. The ride will take place on the Friday at either the NSRA Nostalgia Nationals, Dragstalgia, or the NSRA Hot Rod Drags.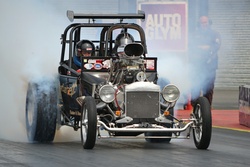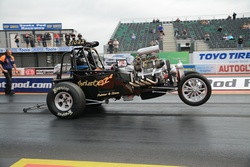 You know the score with this, I cannot exceed 130 mph over the finish line, but anything in between is fine. Last time I did this, a long time ago, we ran 9.2/127, by mid-track we were doing 160.

Bidding has to start at £500 for this and the auction will run until this Friday night. A T-Shirt will be thrown in to help you to remember the experience, and perhaps one of our track photographers will take some snaps of the event for you!

Get bidding - you can find the auction on Facebook.

New year, old Nostalgia.
11th February: With a new season underway, thoughts turn to the year's first major Nostalgia event at Santa Pod Raceway: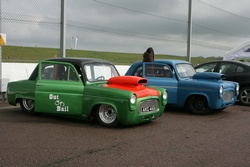 Hosted in association with the National Street Rod Association, the Nostalgia Nationals on 8th-10th May promises three full days of RWYB track action, the focus, as always, being on pre-1973 Hot Rods and Street Machines, with a generous helping of period race cars adding to the mix.

Following on from their successful first season in 2019, the modified Ford 100E challenge looks set to reach new heights, with huge interest from the owners of Dagenham's finest, all eager to put the pedal to the metal this year. Not to be outdone, the Bow Tie Brigade will be back to put their cars to the test and settle old scores in the Tri-Chevy Shootout. Making sure the staging lanes are never empty will be the ever-popular Wild Bunch contingent, proving that nostalgia never really goes out of style.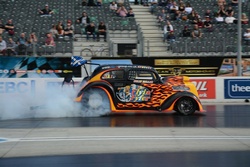 Of course it wouldn't be the Nostalgia Nationals without a generous helping of extra race classes, getting their annual championships under way.

If one class captures the spirit of the Nostalgia Nationals, it has to be Outlaw Anglia. They will have had a presence at each and every one of the twenty seven years of the Nostalgia Nationals, not to mention the Hot Rod Drags before that. This quintessentially British Hot Rod, the Ford Pop and all its variants, has become an integral part of the nostalgia drag racing scene, and rightly so. What will 2020 bring? Who can guess? One thing's for sure, it will be a show not to miss.

The Nostalgia Super Stock racers will be joining us for the second year and the Gasser Circus will also be coming to town. Another class that seems to be growing year-on-year is the Supercharged Outlaws and you can expect some blistering runs from them over the weekend. Just for good measure there will be some Jet Funny Car action to round things off.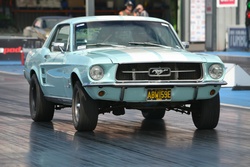 Of course if you feel the need for some retail therapy, you can visit the Pod Shop, take a wander around the trade village and don't forget to drop by and say hello at the Nostalgia Nationals merchandise stall and pick up a T-Shirt or two. The free courtesy bus will be running to Rushden Lakes all day on Saturday as well.

Come evening, it will be time to make for the Fuelers Bar, where DJ Grant Pinney will keep you entertained. But that's not all. It goes without saying that there will be live entertainment on both Friday and Saturday nights.

What are you waiting for? We'll see you at the track.

Book tickets or find out more at www.nostalgianationals.com.

2020 Top Gas calendar.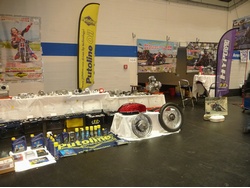 9th February: Thanks to Herman Jolink for letting us know that the 2020 European Top Gas Series calendar was set at a meeting of racers on 1st February. Herman himself was not present as he was promotimg drag racing and Ducati at the Bremen Classic Motor Show.

1st-3rd May: Malmö Raceway, Sweden (eighth mile)
16th-17th May: Zerbt, Germany (quarter mile)
12th-14th June: Gardermoen, Norway (quarter mile)
27th-28th June: Clastres, France (quarter mile)
23rd-26th July: Mantorp Park, Sweden (quarter mile)
4th-5th September: Mosten Race Days, Denmark (eighth mile sprint)

Reserve date: 19th-20th September at Clastres

Swift snippets.
9th February: Erin Marrs, daughter of our good buddy, timing and stats supremo Andy Marrs, is making a parachute jump in June to raise money to fight modern slavery. If you would like to sponsor Erin to chuck herself out of an aircraft then take a look at www.justgiving.com/fundraising/erin-marrs.

Heaven, Hell and England.
9th February: Having had a season of heaven and hell in Sweden in 2019, Carla Pittau and Rick McCann of Team Heaven and Hell are looking to support the Stock/Super Stock events at Santa Pod Raceway this year. Carla writes:


My 1970 Camaro started the season going better and better, which culminated in going 1.10 seconds under index at Sundsvall Raceway, where I earned the Swedish Championship title in July. Soon after that things turned pretty much to hell, when the transmission literally exploded on the second run at Kauhava Raceway, Finland. The planetary gear assembly span off the sun gear and one of the planets exited the sunshell. The aluminium shavings got into everything and even came out of the breather tube catch can, sprinkling the surroundings with sparkly sequins.

The spare gearbox went in, after a modification to add clean neutral, sadly with a weak snap ring which I couldn't replace but I hoped that it would hold at least a couple of races. It worked well at Gardermoen Raceway, but the rear axle broke. One half shaft snapped into two shapeless stumps. We somehow managed to get a new spool, new half shafts and to set up the new axle just in time for the meeting at Tierp Arena in August. So at Tierp the snap ring let go in the transmission. I gave a first-round bye to someone three meetings in a row... our motto proving true once again: because racing is heaven, and sometimes it's hell.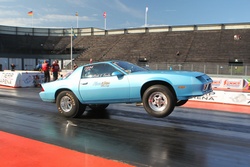 Rick's season was another account of near misses, bad luck and problems with brakes which made the staging erratic and inconsistent and the launch unpredictable. So no trophies for the '84 then. A bit of an anti-climax after he won the EDRS Pro Championship two years running, but hey ho...

We started to rebuild over winter. The Pro Trans which I used for the first season is still languishing on the bench, totally disassembled, waiting for parts. They are all made on the premises by the guys at Pro Trans and therefore not immediately available, but they promised that they would supply them, so I wait and hope. I rebuilt the TH350 adding a few trick parts and installed two Spirolox clips in place of the old snap rings. Nothing should destroy those, so I'll find out later which is the next weak part I guess. But it's ready to go in the car as soon as I get a new trans shield or re-certify the old one. I installed new brakes with double calipers, and this should help me to hold the car on the two-step at a higher RPM, or so I hope. Rick is having new heads on his John Gulius block, the promise is maybe about 27 horsepower, I don't want to think of how much that costs per HP... which brings me to finances.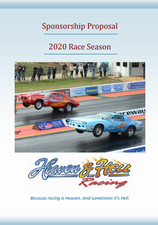 We must find the money to travel to Santa Pod to race in Stock/Super Stock. This is the class which literally made us move to Sweden and we feel that we must support it at Santa Pod for the first season at the very least. The venue was our home from home for over twenty five years and we feel passionate both about the track and about supporting the series by attending both races. However our budget is limited and we can ill afford the travelling expenses for the two meetings in England, which is why, for the first time in our history, we are seeking sponsorship partners to bring the Heaven & Hell cars home. We are freshening up one of our engines which is not legal for Stock/Super Stock, and will offer it for sale with dyno sheets. But even that will not pay for all of our travel expenses.

If you would be interested in supporting us then please take a look at the sponsorship proposal (click on image at left). The class is guaranteed coverage; you only have to look at all the wheelie shots on Eurodragster.com's live galleries. Your logo could be there.

You can contact us via Facebook or at heavenhellracing@icloud.com.

7707 on show.
9th February: Geoff Stilwell's updated 7707 Lucas Oil Land Speed racer made its 2020 début at the Grand National Roadster Show, one of the largest car shows in the USA if not the world, at the world-famous Pomona County Fairgrounds in Los Angeles in mid-January. Geoff writes:

The build of 7707 was headed up by award-winning Mick Jenkins at the famous Mick's Paint and Landspeed Workshops in Los Angeles, with most of the design work created by fellow Landspeed Racer Kiwi Steve Davies. Since August 2019 the car has received a few updates and one very important piece of equipment – a new carbon fibre Spitzer rear wing intended to help the 5000 bhp supercharged and injected nitro-burning V8 race car stay straight when Geoff is charging down the Bonneville Salt Flats this August, when the aim is to set a new class record at over 300 mph.

The team exclusively uses Lucas Oil Products. When you are building a car which can exceed 300 mph, you need to be able to rely on everything working properly. So we use as many of the top Lucas Oil products as we can. From cleaner to engine oil, assembly lube and transmission oil to spray polish and the penetrating oil, especially as this protects all the Heim joints from the ravages of the salt.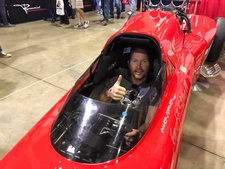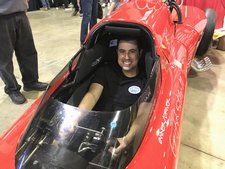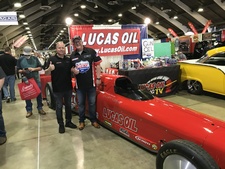 During the show many famous names from the world of motor racing called by to see the Lucas Oil Land Speed car including NHRA Champion Drag Racer 'Fast' Jack Beckman, 200 mph Land Speed Club member Donny Cummins, Tom Bognor from Lucas Oil and many other guests including SEMA Hall of Fame members Joe Schubeck and Gigi Carlson and not forgetting Bob and Sharon Muravez, Bob Floyd Lippencotte.

The car has now returned to the workshops to be readied for its next outing at the Nitro Revival which is staged at the legendary Irwindale Raceway, Los Angeles, in May and then it will be Speedweek in August. You can follow this project on Facebook by searching Saltflat Racer.

Ian Demaine
6th February: Mike Collins writes: being told by his son Jan that longtime drag racer Ian Demaine had passed away brought a feeling of sadness; with the added word "peacefully" making me feel a tad better about things.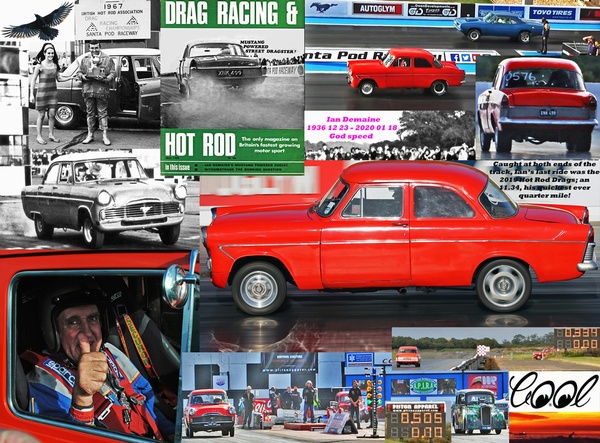 "Longtime drag racer" indeed; like many, Ian had his fires lit when Santa Pod opened and shortly later his 1956 Zodiac, probably the first Mustang-powered Z Car on the planet, was out blazing a trail to fame! Starting 1967 with a 17.62 at 76.28 mph, he improved rapidly to a best of 14.2 at 98 mph and became the BHRA British Drag Racing Champion in Competition Eliminator - in a road-going car!

Early in '68 Ian set a new backed-up track record of 14.88 that lasted through the season, but soon hung up his driving shoes to take care of his business and family; they all still thrive to this day! In 1997 Ian's son Jan began a City & Guilds Mechanic's course; reason enough to suggest they get the ol' Pony express back on the trail so Jan might gain some different type of mechanical skills and Ian could renew his desire to get back on the drag strip, and maybe celebrate the thirtieth anniversary of his record-setting Championship...

As any drag racer will tell you, anything works in dreams and on paper, but when you take it to the track things you're gonna take a tad longer; to put it mildly! However in November 1999 Ian ran a personal best of 13.63, and at the Hot Rod Drags 2009 they'd stepped up to an impressive 12.99 at 116 mph when I met the father and son team for the first time; and they've been racing together though the past twenty years or so going consistently quicker an' faster than before. Their last race was the 2019 Hot Rod Drags where Ian thrilled himself and his Jan by improving their personal best three times in a row with a pair of 11s, the first with Ian's fastest ever speed and a win light; better yet the Mustang-powered Z Car was not only in road-going trim, but these runs were made on street tyres!

During the off season Ian spent hours searching for ways of getting into the tens; checking out using electronic gizmos to aid power and under-car aerodynamics to maybe chop off a couple tenths at the top end. At the age of 83 he still had an enormous enthusiasm for drag racing that kept him young, hopeful and driven to the point where, shortly before he passed away, although not feeling very well, Ian was under the car fitting a new drive shaft; in fact he'd got the car all fitted back together, ready to run and Jan told me later, "I am so proud of him", and I know Ian was tremendously proud of his son 'cos he told me so when our friendship was reborn twenty years ago!

It was the evening of 31st January when Jan first told me of his great loss; in the five days since we've spent more time talking on the 'phone than ever spent together, although we've both been unwell and Jan has obviously been busy taking care of business with the celebration of Ian's life set for the Amersham crematorium at 4.00 pm this Friday, 7th February.

Jan has also helped provide entertaining information from their time together as a racing team as I'm dedicating a special Hot Gossip "Wild Rides edition" to Ian's memory in the March issue of Street Machine; happily I've helped keep his spirits up with a few tales of my own. Jan also spoke of fans that were always stopping for a chat and that Ian just loved how close the Nostalgia racers were; in fact they were both lucky as few people I've met had such a close, rewarding time as the Demaine's since Ian became a re-born racer thirty years after his début.

Sadly that all came to a sudden and unexpected end on the evening of Friday 17th; Ian went down to his taxi office just to say hello, sat in his office chair, chatting with his controller and some customers whom he hss known for years. Sometime later, he peacefully slipped into unconsciousness; "Just like falling asleep", said Jan. An ambulance was called, Ian's time of passing logged shortly after midnight.

The ever-smiling Demaines have been a fixture amongst Nostalgia racers for a couple decades, with one of the longest-running Mustang Zodiacs on the horsepower trail and they'll be truly missed. It seems that the Mustang is also moving on due to circumstances beyond control; Jan has to return soon to an island of tranquillity in the Orkneys where he works full-time as a diver; although he did suggest a hot rod might be in his future...

Either way my condolences go to Ian's family, friends, fellow racers and of course the many fans who made him feel so cool with their visits; and he was, always and forever, a real cool cowboy. Rest in peace my friend...


Togxit.
4th February: Founder member, News Editor and Race Reporter Tog will be leaving the Eurodragster.com staff at the start of next month. Tog writes:

The reasons for my departure are primarily health, and day job commitments. As some of you know I have a few health issues and the result of the latest of my regular blood tests was a bit crap. There is one other, personal reason for my departure which is best kept personal for the time being but please be assured that (a) it's not matrimonial, and that (b) no-one on the team has fallen out.

Simon is taking over the running of Eurodragster.com; we have been discussing handover since before Christmas and Simon has done a thoroughly professional job of it from the get-go, not least his patience with my glacial pace in answering some of his queries. Our ace photographers Kirstie, Julian and Diana continue, and Simon has recruited a new team member whose identity he will reveal in due course.

My last official duty for Eurodragster.com will be the UK Riders' and Drivers' Meeting on 1st March.

I will write a proper valete on my departure but right now I would like to thank everyone for their support since 1997.




Feature: Track Prep Q&A.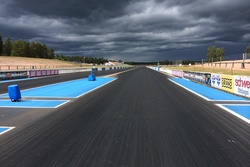 3rd February: The latest in our occasional series of Features presented in association with Lucas Oil Products is a Track Prep Q&A with Lee Child of Eurodragster.com sponsor Lee Child International Track Prep Services.

If you want to know where you start on prepping a runway, or if you want to know what you should actually be looking for when walking the start line before eliminations, then check out our Track Prep Q&A which you can check out by clicking here or by clicking on the Features, Interviews, Tributes link on the left-hand side of any Eurodragster.com page.

SPRC Trophy Presentation pictures.
3rd February: The official Trophy Presentation pictures are now available from Saturday evening's SPRC Dinner Dance. The gallery, which is presented in association with Lucas Oil Products, can be checked out by clicking here or by clicking on the Features, Interviews, Tributes link on the left-hand side of any Eurodragster.com page.

High-resolution copies of any picture, which will print up to A0 or larger, are free and can be obtained by E-Mailing tog@eurodragster.com with the image number.

Many thanks to photographer Julian for his hard work on Saturday night.

The evening turned Ugly.
3rd February: Six-second reigning Topspeed Automotive Street Eliminator Champion Andy Bond says that things got U6ly (sic) at the SPRC Dinner Dance and Trophy Presentation:

As well as the Championship Cup we were honoured to receive the Terry Gibbs Obsession Motorsports Sportsman of the Year shield and finally a very special Performance of the Decade award which incorporated a slice of concrete from the original 1939 Santa Pod runway.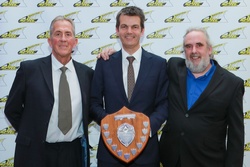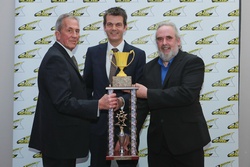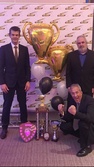 I was very proud to accept these awards on behalf of the Ugly team. Obviously it's been a huge team effort and I'd like to thank the other Uglies: Paul our quiet pit man, Dave our not-so-quiet front man, and the genius that is Martin Kerr, our Crew Chief, whose vision, patience and immense skill set has enabled us to get where we are in such a short time and of course to my wife Deb, for her endless support - I really couldn't do it without her. Credit to Nick and Rob over at ICE Automotive for the design and build of an incredible engine, and obviously thanks to Keith for investing so heavily his energies and money into drag racing and giving us the best drag strip in Europe.

We've always been a team with a strategy, on a mission, working towards targets, testing, testing, testing. We arrive at every meeting knowing what we want to achieve; it doesn't always go according to plan but you learn from every pass - always onward.

There's more to come from Ugly, we have a power dial which is currently on 5 so a few clicks to go! There are some speeds and times we want to achieve, also there are a few guys with multiple Championships we want to chase down. Further afield Sweden has Speed Week and the Stockholm Open, both look interesting, and obviously America has a decent street race scene with Drag Week, all the No Prep stuff and Rocky Mountain, all that's definitely on our radar. We'd like to race at any of these places and show 'em all that Ugly really is the new cool!

Swift snippets.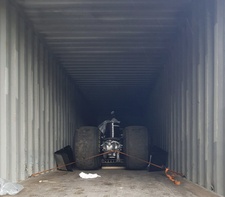 3rd February: Staying with the SPRC Dinner Dance, Outlaw Anglia Champion Scott Crookston's trophy disappeared from his table on Saturday evening. If you know where it went then please get in touch with Scott or drop us a line at editor@eurodragster.com.

The latest spy picture to arrive at the offices of Eurodragster.com (right) came with the words "A European car headed overseas to a European face!". If you know more, or if you would like to send your own spy picture, then drop us a line at editor@eurodragster.com.

SPRC Perpetual Awards winners.
2nd February: The winners and runners-up in the 2019 UK National Championships, MSA British Drag Racing Championship, and Santa Pod Racers Club Championships were presented with their trophies at the SPRC Dinner Dance and Trophy Presentation in Milton Keynes last night (Saturday). The winners of SPRC's Perpetual Awards, for whom Eurodragster.com readers had the chance to vote, were also presented with their trophies.

Congratulations to the SPRC Perpetual Award winners:

Most Promising Newcomer: Ronnie Mercer (Modurstang Pro ET)
Best Appearing Car: Kev Jenkins (Secret Worx Comp Eliminator)
Best Appearing Bike: Steve Wood (Taylor's Trophy Super Street Bike)
Most Professional Appearing Team: Sticky Situation Racing (Secret Worx Comp Eliminator)
James Edgar Memorial Trophy: Anthony Higgs (Topspeed Automotive Street Eliminator)
Alex Brachtvogel Memorial Trophy: Alison Hackney (SPRC marshal)

John Ledster Memorial Trophy: Stu and Bev Bradbury (British Drag Racing Hall of Fame)
Obsession Motorsports Sportsman of the Year Trophy: Andy Bond (Topspeed Automotive Street Eliminator)
Trakbak Racing Ltd Spirit of Santa Pod Trophy: Luke Stevenson

A new Performance of the Decade Trophy was also awarded to Andy Bond and the Ugly Sister team, for the first six-second pass in Street Eliminator.

A big Thank You to everyone who submitted votes for the SPRC Perpetual Awards.

The Trophy Presentation gallery will be available here on Eurodragster.com very shortly.

Photos for Melbourne.
2nd February: AF Photography have been in touch to let us know that the proceeds of all photography sales until 1st May will be donated to the fund to reopen Melbourne Raceway (formerly York Raceway). Alice Fairhead writes: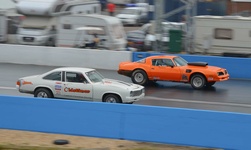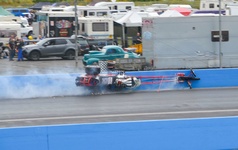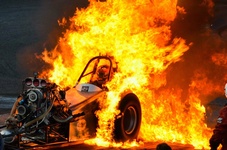 This will include digital copies of photos, prints created, personal shoots (being limited to Norfolk/Suffolk region or at Santa Pod) or stickers sold. I don't mind if you want a shoot done but it's not convenient at the moment - I am more than happy to arrange it for later in the year when it suits you. My stickers are £2 posted Royal Mail 1st class.

All of my photos can be found on my Facebook page AF Photography or my Instagram af_photo_graphyy. You can contact me on 07413 088768 or E-Mail afphotographyalice@gmail.com to arrange something. I am hoping to be at the Festival of Power if anyone is after a shoot or wants some on-track photos from the weekend.

2020 British Hall of Fame Gala.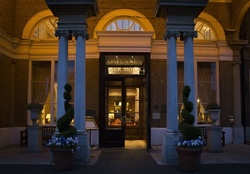 2nd February: The British Drag Racing Hall of Fame will for the fourth year running hold its Annual Gala Awards Dinner at the luxurious four-star Oatlands Park Hotel in Weybridge, Surrey. The Gala takes place on Saturday 21st November.

Oatlands Park's magnificent grounds were originally the site of a grand Tudor palace built for Anne of Cleves by Henry VIII in 1538. Other monarchs including Elizabeth I, James I and Charles I also resided here during their reigns. Oatlands Park opened as a hotel in 1856 and has hosted world-famous guests including writer Emile Zola, novelist Anthony Trollope and artist and poet Edward Lear. Added to its royal and literary assemblage, the hotel has welcomed a modern guest list of American drag racing luminaries. Connie Kalitta, Roland Leong, Ed 'The Ace' McCulloch, Steve Gibbs, Doug Herbert, Clay Millican, Jeff Lutz, Jim Oberhofer, Marvin Graham, Dan Richins, Tom Hoover, Dale Emery, Waterbed Fred Miller, Bob Muravez, Gentleman Joe Schubeck, Rich Pure Hell Guasco, Ron Rat Trap Hope and broadcaster Bob Beck have all rested their heads in Oatlands Park's comfortable bedrooms and dined in its elegant restaurant.

Stu Bradbury, Chairman of the British Drag Racing Hall of Fame Limited, said "It is difficult to find a venue which is convenient, that can take our numbers and enables us to pay tribute to our pioneers in a fitting yet affordable style. Oatlands Park Hotel can handle all the activities we hold during the day and, most importantly, has a properly British character and sense of style. We like to place our event in an environment where guests can socialise with old friends they haven't seen for years and to have time to mingle with the celebrity guests. Oatlands and its associated history certainly achieves that with the added convenience of offering local interest for those who might like to make a weekend of it. With easy access from Junction 11 on the M25, the hotel is only a few minutes' drive from the world-famous Brooklands Motorsport and Aviation Museum and its collection of historic aircraft and cars, including one of the few Concordes in existence and the fabulous 24-litre Napier Railton which set many records on the Brooklands circuit in the 1930s.

"On the same Brooklands site you can find Mercedes-Benz World where you can test your driving skills on the Handling Circuit in a range of Mercedes-Benz vehicles – or let the Silver Arrows Display Team show you how it's done. There are many Mercedes vehicles on static display too. Also nearby you can find Hampton Court, Windsor Great Park, Legoland, Windsor Castle and lots more. Trains from Weybridge station can take you to Waterloo Station in London so Oatlands Park has all angles covered. We are always trying to improve the event, particularly the social environment for visitors to mingle with old friends and celebrity guests."

The main part of the Gala Awards Dinner evening is of course devoted to introducing and inducting the class of 2020 British Drag Racing Hall of Fame members and these will be announced at Dragstalgia at Santa Pod Raceway on 10th-12th July.

We are now taking reservations for the 2020 Gala Awards Dinner by E-Mail at stuart@britishdragracinghof.co.uk or telephone 01933 279102. Payment can be made via bank transfer, cheque, cash or PayPal. This year the tickets are priced competitively at £75. The event always sells out well in advance, so if you would like to join us for the occasion we suggest you make your reservation sooner rather than later. On receipt of your reservation, we shall give you the procedure to book rooms at the negotiated room rate of single occupancy £96, double £119, which includes breakfast and VAT, use of the hotel facilities and parking.


Earlier news