VW Breakout results.
31st May: Congratulations to the winners at the weekend's VW Breakout at Santa Pod Raceway:



NEM Plant Nostalgia Super Stock: Dave Billadeau (9.90) 9.8871/136.84 Rob Tyrell (10.23) 10.1006/130.98 red
VWDRC Heads Up: Dave Lea 11.9983/112.93 def. Richie Webb, broke
Gasser Circus: Nick Barnett (11.40) 11.4286/108.04 def. Graham Barton (10.70) 10.739/124.84
Renegade Outlaw Anglia: Mick Taylor 7.8345/174.38 def. Colin Millar 11.6900/69.60
Supercharged Outlaws low ET: Robbie Grabham 7.0 (see Supercharged Outlaws report below)

Congratulations to winners of the Renegade Outlaw Anglia special awards:

Best Reaction Time(1st round) - Jon Webster
Most Consistent ET - Barry Woodford
Bracket Race Winner - Rob Nixon

As well as the classes above there was a great Run What Ya Brung contingent including VWs, Wild Bunch and Outlaw Street which we will cover in tomorrow's race report. If you have a story to tell about your racing weekend, send it to editor@eurodragster.com and we will publish it.

Congratulations to the show and shine winners whose vehicles you can see at Santa Pod Raceway's Facebook post.

Our good friend Callum Pudge has posted a bumper 518 photos at his Pudgey's Pictures Facebook page. You cana also see 77 minutes of video additional to that from the Santa Pod stream posted by drag racing historian Nick Pettitt from Saturday of the event at his Youtube channel.

You can check out our John Woolfe Racing-sponsored VW Breakout reports, results and galleries by clicking here or clicking on the Event Coverage link in the main menu above.



What a tiring but utterly awesome weekend!
31st May: Many thanks to Jedd Guy of Eurodragster.com sponsor Shorty's Fabrication Shop for sending us a report of his weekend, not without problems, but with some great PB runs:

Our weekend was almost over before it even started with our tow truck deciding its engine didn't want to stay in one piece on Thursday night.

A huge heartfelt thank you goes out to Jeff Bull for stepping up and towing our race car to the track. Not only has he built us a killer race engine but also for all his help this weekend as it may not have happened without him.

We ran a string of PBs on Saturday. Starting the day running the engine normally aspirated netting in a 7.51/176mph. It was very apparent from the Racepak data without the nitrous the torque converter was just too tight and not allowing the motor to work in its correct rpm window.

In the last two qualifiers it was time to see what turning on the nitrous would do. The first nitrous run the full throttle switch broke so in reality was just another N/A pass. With the switch fixed it was on to the last qualifier. Being the first pair in Outlaw Anglia I pulled round to the burnout box I could hear a banging coming from the gearbox. Having heard this before I knew the converter had come loose. I shut off not wanting to damage anything and accepted the day was done.

As it turned out the last pair of cars in front of us had left oil on the track. This gave us time to tow back to the pits, tighten the converter and re-join the back of the class before the qualifying session had even restarted.

And as luck would have it I was paired next to Jon Webster but with all the rushing getting back to the lanes I forgot to turn the burnout limiter off after the burnout (I will be kicking myself and getting grief from the likes of Scotty Crookston for ages for that!) Even with the engine limited to 6700rpm, where we would normally shift in the high 7000s. We managed a 7.41/177mph, a run of if onlys but still 1 hell of a race to end the day.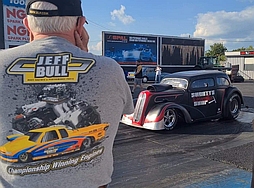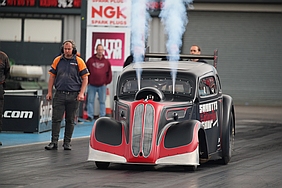 On to eliminations the next morning and with trying a few different things with the tune to try avoid the dreaded tyre shake that we were all suffering. It didn't quite work as it still shook but we got the win with a 8.0.

Back in the pits, fluid was found coming from the boot. With all the tyre shake going on, it had pierced the battery, unfortunately with it being a 16volt battery we couldn't find another before the next round of racing started. Our weekend ended with a little disappointment but we had an awesome weekend and we got some promising runs with it going in the right direction and the car feeling more stable at speed than ever!

Big thanks also goes to my crew/family, Andrea (Mum), Ray (Dad) and my wife Jemma. On to the next race at Festival of Power to see if we can keep chipping away at it.

Supercharged Outlaws at VW Breakout.
31st May: Eurodragster.com Perfect ET sponsor and class co-ordinator Andy "Fadster" Hadfield has summarised the fortunes at VW Breakout of the large field of Supercharged Outlaws, supported by Good Vibrations Motorsports.

An awesome weekend for the Supercharged Outlaws UK at Santa Pod Raceway for VW Breakout. Many PB's, notably from Mick Checkett with a mind blowing 7.2 from his Shy Talker slingshot. I'm sure this is a PB for the car too. Robbie Grabham ran an amazing 7.0 PB and was so well deserved, such a hard working team!

David McCallan broke into the 8's after his winter completely reworking the pickup and weight loss programme on the chassis and components. Lots more to come from that team. It was great to see Doug Bond in the record setting Nuthin' Fancy slingshot. Roy Wilding had some fairly wild rides in Chariots of Fire but held on and showed real promise for the coming events. Paul Dale showed real promise with the Acute Angle but decided to back off on the Sunday with slicks that were just not gripping...although there were some real "trouser" moments along the way. Gary Parkes strolled straight into the 7's from previous seasons 8's with a storming 7.80 and this was promptly backed up by even more 7 second passes until some minor engine trouble for early resignation from the event.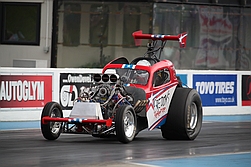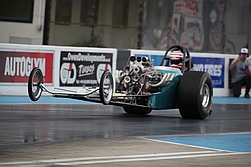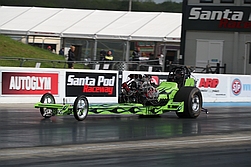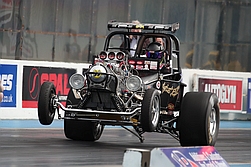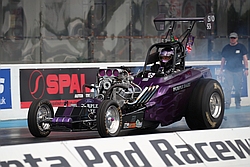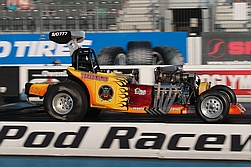 Pictures by Julian (left to right): Robbie Grabham, Mick Checkett, Roy Wilding; Andy 'Fadster' Hadfield, Gary Parkes, Des Taylor.

Keith Freeman stormed along in El Loco until his LSD clutches failed. Keith repaired the damage with help from his team and parts from friends then hit the track with a 9.7 straight after he had finished the repairs, well done that team! Andy Park just proved the Twin Screw You Model Y's reliability with repeat performance in the mid 9's time after time. Des Taylor and the Thundergod team chipped away over the weekend and continued to improve despite ignition gremlins with a 7.94!. Paul and Luke Watts had mechanical issues on both their cars and worked hard to get back on track. Steve Wright had fun with the Pacer but had to retire with minor engine leaks. Simon Boot had a brilliant weekend until engine problems caused his retirement on the Sunday. Commiserations to him and I hope he can get the rebuild sorted soon. Andy Fadster had a successful Saturday netting a 7.6 from his new set up but had to retire with blower trouble. Minor set back but should be back on track soon.

Next event is the Retro Show at Santa Pod in three weeks!

Swift snippets.
31st May: A very Happy 75th Birthday to British dragster racer for over 45 years Steve Johnson. Have a great day Steve.

The Mad Welshman has updated his Flickr site with pictures from Sunday of the recent Melbourne Raceway Round 1 on 23rd May. Mad said "it felt good to be finally back at a track, we're also looking forward to getting back to Santa Pod for VW Breakout on Saturday". You can check out Mad's pictures at this link to his Flickr site.

Drag racing historian Nick Pettitt has uploaded more UK drag racing videos to his Youtube channel; this time it's six parts of the Drag Power North Weald Test and Tune 2001 introduced by the legendary John Price who conducts several interviews during the episodes, and originally broadcast on the long-lost Men and Motors channel. You can see all six parts at Nick's Youtube channel.

Event entry update.
27th May: Many thanks to Santa Pod Racers Club Secretary Ian Marshall for letting us know of the continuing requirement to complete the additional Motorsport UK form for the next championship round:

Drivers (not riders) entering the Festival of Power, it was hoped that as the event is after 21st June that the additional Motorsport UK form completed for the Springspeed Nationals would no longer be required, however that may not be the case, so could all car drivers please complete the Motorsport UK form below the Entry Form you have completed, or are about to complete, for the Festival of Power, we just need to cover all avenues, as it is not clear at present if they will be required or not. Please also note that your correct race licence number must be filled in when completing the form. Thank you in advance.

Version 3 of the Festival of Power entry list is also now available and teams are reminded that entry at standard fees closes next Friday, 4th June.

VW Breakout event preview.
27th May: This weekend VW Breakout takes place at Santa Pod Raceway. With a strong field of cars, the event is looking good. We've analysed Santa Pod Raceway's entry list and posted an easy-to-print "unofficial" list based on class entries, and a short list of what we've heard will be running in Run What Ya Brung.

There will be several features which will enhance the 'festival' feeling of VW Breakout, and we're not going to discuss the weather either…
Full day RWYB on Friday from 09:30 to 17:00;
Five qualifying sessions on Saturday for classes entered, racing until 19:00, plus four RWYB sessions;
Exhibition runs from FireForce Jet Funny Car and Nitro Bug Nostalgia Funny Car on Saturday and Sunday; and
Autoglym Show & Shine on Sunday for VW entries with winners announced at 14:00; and
Santa Pod Pub Garden (from 11:00) with funfair open too.
The classes involved are Outlaw Anglia, Supercharged Outlaws, Gasser Circus (see preview below), Nostalgia Super Stock and VW Heads Up. RWYB will include as well as VWs, around 17 Wild Bunch racers, who will be running a round of their championship, and Outlaw Street UK who have reached a landmark membership of over 100.

We reviewed Outlaw Anglia yesterday. Supercharged Outlaws, sponsored by Good Vibrations Motorsports, will have a field of 16 cars, with Roy Wilding (below left) in his Chariots of Fire slingshot with many updates including a new engine and supercharger, Andy 'Fadster' Hadfield in Twister with a new 600ci engine, David McCallan with a rebuilt truck with a new chassis and driveline from Steve and Babs Saunders' Hi-Speed Gas car, Steve Wright with his unique AMC Pacer with new engine, and Doug Bond in son Joe's slingshot (below right), returning to the cockpit at the tender age of 71, having last raced in his 20+ year career in 2003 with a best of 5.94. Also racing will be Andy Park, Rob Grabham, Paul Watts, Gary Parkes, Luke Watts, Aaron Windridge, Mick Checkett, Paul Dale, Keith Freeman, Simon Boot and Des Taylor.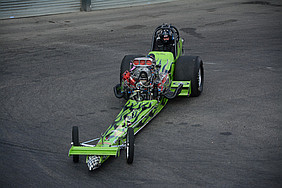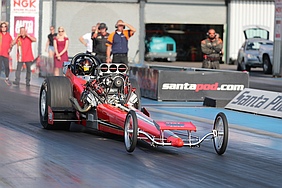 There is a Gasser Circus field of 17 cars, Nostalgia Super Stock have 34 cars with several class debuts, and VW Heads up has a 26 car entry.

To attend as spectators you need to apply in advance using the Santa Pod ticket shop. Santa Pod Raceway are limiting the number of tickets available on a first-come, first served basis. Social distancing, hygiene and safety measures will be in place as described in the SPR ticket shop.

Racers should note that the track gates will be open only between 14:00 and 20:00 on Thursday.

Our coverage will include live race reports and photo galleries from Julian and Diana on all three days. You can go to our coverage page by clicking here or going via the event coverage list in the main menu. Santa Pod Raceway will also be streaming the event (no Nitro FM which re-starts at the Festival of Power Unlocked).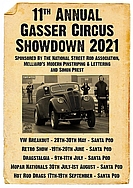 Gasser Circus preview.
27th May: Many thanks to Nick Brooke-Langham for providing a preview of Gasser Circus for this weekend, also looking at the dates for the 2021 season.

Round 1 of the Gasser Circus Showdown kicks off this weekend at VW Breakout, held at Santa Pod. With 17 Gassers entered it looks set to be an exciting way to start the season. Amongst the Gassers there are various upgrades, with a few new engines built, installed and ready to not so much be run in, but more along the lines of ready to do battle.

The Ringmasters are delighted to welcome back 15 of the last cohort, along with two new drivers and their cars. Billy Jones (below left) racing his Willys Coupe, seen most recently in the Willys Wars and the duo of Tom Margesson and John Gumble (below right), who will campaigning their Ford Pop 'The Tinseltown Hustler'. After our enforced lay off, it will be an extra special feeling turning into Airfield Road on Friday, unloading in the pits and hitting the strip. It's been a long time coming.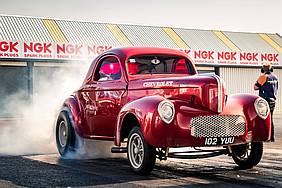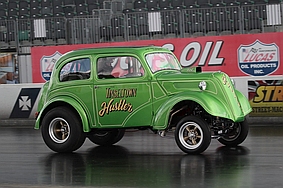 The Gasser Circus looks forward to the coming five rounds of racing, and always welcome visitors in our pit, so make sure you drop by for a flavour of the mid-60s Gasser scene. Gasser Circus – Racing the Dream.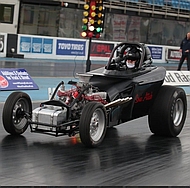 Sonic Attack's historic altered.
27th May: Many thanks to Vinnie Killington, crew chief/mechanic for the Sonic Attack Wild Bunch team for introducing the new team with their car which has quite a history:

"The car is a altered Model T, now known as Sonic Attack, originally built in 1978 by Stormin' Norm Wheeldon, and has been previously named Quiet Riot, Dazed & Confused and Plumb Tuckered. The car was last run by Lee Hartnell from the Wild Bunch many years ago and has changed hands quite a few times since then. We are running a Rover 3.9l V8 with a Holley 390 carb, VW 65 autobox with Westminster axle, Leyland 200 gears and half shafts, and Spitfire rear brakes.

"Our race number is WB1066 as we come from Hastings in East Sussex. Steve Garlant is team owner driver and my daughter Poppy Vincent is crew chef and tea maker!

"Please stop by at the pits and we will be more than happy to have a chat. Looking forward to the weekend!"

Polish season kicks off.
27th May: The first race in the Polish GP for ¼ Mile took place on 23rd May at Pila Airport. Results of qualifying been posted to the club's web site at grandprix.scsclub.pl, we have found pictures of the event and show some of the cars and bikes on the club's Facebook page.



You can see a video of highlights by clicking here. Photographer Wiktor Hajnas has posted a Facebook gallery of 206 photos.

Outlaw Anglia VW Breakout preview.
26th May: Many thanks to Renegade Outlaw Anglia class co-ordinator Colin Millar for sending a preview of the class at VW Breakout: It's that time again to get all the Outlaw Anglias back out to where they belong - at the track. It seems an age with all that went before us with Covid and self-isolation, but in reality we are only really a few weeks out of sync from a "normal" year as we did all run at Hot Rod Drags in September.

Nineteen teams are confirmed, which I think is a strong field of cars when you look not that far back on the uncertainty around us; we are however getting back to some normality and, fingers crossed, we keep going in the right direction.

Some teams are up on Thursday, I think just to get back at the Pod and feel the wind and freedom, with others arriving Friday. With Friday being a RWYB test day (starting at 0930) were hoping for better weather than the guys and girls were given last weekend at the STP Spring Nationals, I really felt for them, nature still has a big hand to play in our sport unfortunately.

Rob Stone has had a big thrash the last three weeks and look like its all come together for him, good man Rob, Rob Nixon's chomping at the bit and for sure he will be looking for that new PB, Ted Booth back out again double classing in Gasser Circus, Mark Bracking ready to rock and roll but he has the opportunity to drive the car on the street as well, Luke Hoskins is coming out to play in Dave Pearce's car and not a bit of red lead to be seen with a new tidy paint job.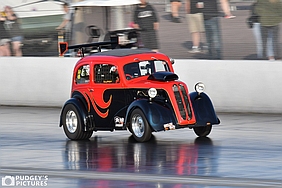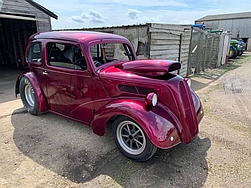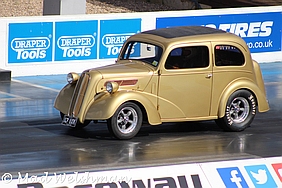 Barry Woodford (above left) is like a coiled spring desperate to get back down the track no doubt with the family looking on, Gary Bird and family will be in tow and as ever that right foot rarely gets lifted unless he's REALLY out of shape lol, Adam Cuthbertson is back out after a period of absence, he will be looking to get a full pass in with the new set up as I watched him at York on the 1/8 and the car was flying, Garry Hill will be there - I wonder who is on the back up duties this year? - Jed Guy is ready to rock and roll after a very successful test day with in April, watch this space..

I for one am as keen as ever and so glad to get back down to my second home, Mick Taylor is also ready and I'm sure he is hoping to dive straight back into that 7.7 area, Kim Harrison (above centre) is debuting her lovely new paint for Ruby in Ruby red, Spencer Tidswell is back out and I'm very sure a bit of NOS will be sneaked in to get those numbers up, Peter Butler (above right) is back and will be looking for that win again after his success at last years Hot Rod Drags, Jon Webster although having a busy time with Pro Mod already has his Anglia ready for the off, watch this space.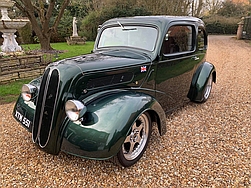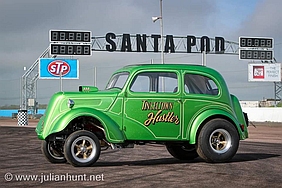 Douglas McClure (above left) is out for the very first time in OA and I'm sure he will have a ball, make sure you pop round to his pits and say a socially distanced hello. Ben Kennedy is all set for the off in his second year in OA and we wish him the very best, Tom Margesson (above right) is another first timer out in OA after just completing one test day with a brand new car, hope all the wee niggles have gone Tom, and you can get the times and speeds up.

That makes up the 19 teams and from me I wish everyone the very best weekend in Outlaw Anglia and although it will be reduced numbers for spectators it will be fantastic to have them back where they belong, it was so so strange racing at the Pod with nobody cheering the class on, with that we will as always put on a great show for everyone who loves the class for what it is. Will there be any records set? Who knows, but there is one thing for sure, there will be plenty of smiling faces for sure.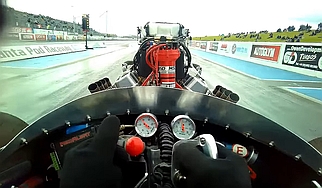 Time Traveller video, report.
26th May: Bob Hawkins and Team Time Traveller were absolutely delighted to finally be back on track at the Springspeed Nationals:

'After almost two years away we finally got to run our latest nitro burning combo with two good check out passes.

We've collected a lot of very useful data and feel we are now in a strong position to ramp up the tune in readiness for Dragstalgia's Slingshot Showdown. The video is of our second pass of the weekend and is completely uncut from fire up road to shutdown. Buckle up, turn the volume up and enjoy a ride in our AA/FD 500ci Big Block Chevy powered FED'.

Bob's next SPR outing with Team Time Traveller will be at Dragstalgia, 9th-11th July.

Snake Eyes returns.
26th May: Many thanks to Wild Bunch racer Andy Clifford for sending us an account of his first event back at Santa Pod Raceway since Greenlight Nationals 2019.

After gaining my license in 2019 with the new Snake Eyes car we decided to semi-retire dad's Ratcatcher Resurrection after the National Finals in 2019 to concentrate on Snake Eyes for 2020. Anyway, skip forward over a year and Snake Eyes now has the whole bottom end from the Ratcatcher car along with the methanol injection. We attended the RWYB on 1st May with a plan to fire the car, go through the gears and make a few passes down the track to get comfortable again. Well, the car never made it off the axle stands as no matter what we tried we could not get the car to keep running. Fettling with the fuel system, timing, ignition, checking, double checking and triple checking everything gave us no improvement so we disappointingly packed up at the end of the day and headed home – I must say thanks to the Marras and John Tebenham for coming over offering support and tools!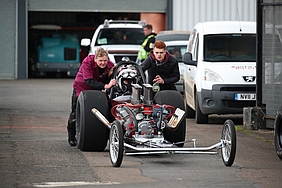 With a plan to run the test day last Friday we were back at Santa Pod for Springspeed. Well, we know how Friday turned out. By mid-morning Saturday we were ready to try again. No luck. The car was firing but dying almost immediately. Many checks of all systems performed again and with advice from a good number of the Wild Bunch members we decided that the next step was to just throw more fuel in with a fully closed throttle gradually drip feeding through the trumpets until the engine pulled the methanol through. Success! Sighs of relief all round. Although by now the starter motor was extremely tired and literally cranky!

So, one-shot qualifier Sunday morning. Warm up was great, car sounded good albeit a little lumpy but running at least. Looking forward to running against the cars builder Steve Field and the starter motor is just spinning and spinning. Cue, the tow of shame back to the pit where we fixed the starter motor, loaded up the trailer and reflected on a DNQ as the rain lashed down.

Despite the setbacks I must say massive thanks to my dad Terry Clifford, my son James, my patient wife Rach and all the Wild Bunch teams for their support, advice and encouragement. It would be so easy to throw in the towel without them. That's the definition of the drag racing family right there. On to the next event, the Festival of Power Unlocked in June. As a little extra note, I was so gutted not to make a run in remembrance of Dave Rowlands so Dave, I promise to get the car down the track at the next event with that silver ribbon flying in your memory.

Dave Rowlands' funeral tomorrow.
26th May: Angie Woods, partner of the late Dave Rowlands has announced details for the webcast for Dave's funeral on Thursday 27th May at 3pm. "The details are to go to obitus.com and when prompted, enter the username tezo3515 and password 434959 for the live webcast. "Donations can be made to funeral directors A. Abbott and Sons, Bedford Road, Rushden, NN10 0LZ c/o Dave Rowlands, who will collect them and present to Santa Pod Raceway.

Tony Morris Carburetors and Rough Diamond Racing support OA.
26th May: Tony Morris and Dave Gibbons are pleased to announce that Tony Morris Carburetors LLC and Rough Diamond Racing will be bringing support to the Outlaw Anglia series for the remainder of the 2021 season! The support comes in the form of two awards and a racer discount.

The primary award will be the 'TMC Tight End Trophy'. A trophy and £150 will be awarded to the loser of the closest race (win-lose margin) during eliminations between now and the end of the season – this means any OA racer has a chance to win the award irrespective of the cars performance. The trophy itself is yet to be commissioned and will be revealed at a later date.

An additional award will be the 'TMC Grand Job' personal achievement award. A trophy and £50 will be presented to the Outlaw Anglia racer who - in the opinion of the OA committee - has achieved the most with the least, or exceeded a personal goal during the season.

Finally, Tony Morris Carburetors LLC at Rough Diamond Racing will now offer Outlaw Anglia racers a 10% discount on all parts and labour for carb service on current OA race cars, or cars in build.

Dave added, "We would have liked to do more, and who knows, in future we may well do so! The UK operation is a small affair, but we like to keep our labour cost and margins low so every racer can benefit from our service". He continued, "Both Tony and I are extremely pleased to be 'dipping our toes in the water' with Outlaw Anglia".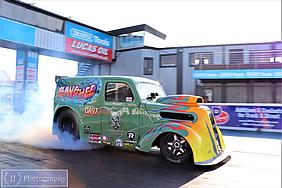 Thanks go to Outlaw Anglia member and TMC customer Mick Taylor (above right) for his help in arranging this support package.

As always, specialising in 4500 and 4150 style carbs of any make, Tony Morris Carbs at Rough Diamond Racing exist for the racer, and are happy to help with advice and support. Most service parts are held in stock here in the UK, and service, rebuilds, upgrades, conversions (e.g. gas to alky) and re-calibration, are offered with a quick turnaround. New bespoke TMC carbs are built to order.

Rough Diamond Racing is the sole UK agent of Florida based Tony Morris Carburetors LLC. Tony's unparalleled experience makes Tony Morris Carburetors the carb of choice for many leading sportsman racers in the USA - that wealth of knowledge is available here in the UK.

To get in touch with TMC at RDR, in the first instance either e-mail Dave Gibbons on TMC@roughdiamondracing.com or use Messenger on the Rough Diamond Racing Facebook page @roughdiamondracing, you can also follow #thecarbfellas on Instagram.

Swift snippets.
26th May: Thanks to Stephen Billings for notifying us of a change in the road works on the A509. "The signs have been changed, they now read that the closure is still from 09:30 am to 03:30 pm, over 28th-30th May, or ALL of VW Breakout".

Springspeed prize fund carried forward.
25th May: Many thanks to Santa Pod Racers Club Secretary Ian Marshall for forwarding announcements regarding the prize fund for the Springspeed Nationals, and contingency sponsorship obligations:

Following the rain out of the STP Springspeed Nationals, Santa Pod Racers Club will be carrying over the unpaid prize fund, this will be carried over to the Festival of Power for all Sportsman classes that attended the Springspeed Nationals, Wild Bunch will carry over to the Summer Nationals and Nostalgia Super Stock to the Green Light Nationals in August.

Contingency Sponsorship for Comp Eliminator and Junior Drag Bike will also carry over to the Festival of Power, Racers are reminded that to receive the Contingency awards, you must carry the Sponsors decals on both sides of your vehicle, in short, no stickers no pay out, if you don't have stickers, please contact the SPRC office and we will get them to you.

Hustler's weekend.
25th May: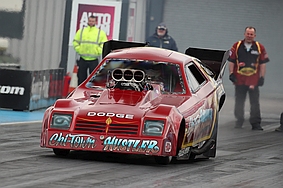 Many thanks to Chi-Town Hustler crew chief Herb Andrews for updating us on his and owner/driver Paul Harris's weekend:

The positive that came out of Covid restrictions is that it's given us the time to go through the car, assess what improvements should be made and get on with implementing them. Fast forward to the Springspeed meet and I was apprehensive if the changes I'd made to the clutch would work, as the finger weight and radius has an impact on performance off the start line. Hats off to Bob Molinari for his advice and parts as it worked great!

Along with many other changes the whole fuel system has recently been on Dave Wilson's flow bench and the improvements from doing that have been significant. Dave's wealth of racing and engineering knowledge is outstanding.

Between the heavy rain and wind, we got two runs in over the weekend which may not sound much but given the various changes and our cautious approach suited us.

Saturday's run saw a 1.044 60 ft and 2.72 330 ft time, which is a huge improvement. Paul was off it before the 330' timers as planned, and ahead of Tim Garlick, the short numbers indicating Paul was on a 6.1 run if he wasn't 'under orders' to lift, which bodes well for friendly competition in the future. We were held before we ran, as it was lightly raining at the top end. Hats off to Santa Pod's track crew who didn't give up then or over the weekend to give us a safe track to run on.

When we fired it Sunday in the pits, we encountered an extremely rich idle. Mick Sharpe adjusted the barrel valve but it made no difference. We knew how to fix it but ran out of time plus didn't have the right equipment with us to make an accurate adjustment. The run netted a 1.19 60 ft as the clutch counter weight had been reduced. Paul shut off at 1000' as planned.

We came away from the weekend with data and an intact nitro motor so it's a good result. Next meeting is Dragstalgia where we will be running the Monza body, painted as a tribute to the late Dennis Priddle, who ran Olavi Knuutinen's black car in 1977. It's coming round.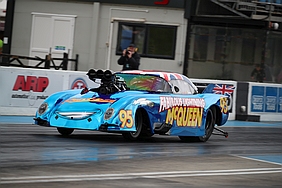 JT's V6 Pro Mod.
25th May: Many thanks to regular contributor John Tebenham who had a busy weekend driving the Fabulous Lightning McQueen '53 Corvette Pro Mod and the Super Pro Crew Killer Pop.

Driving two cars has never been a problem, but when you haven't driven the Pro Mod for quite a bit, as we didn't run it last year, caused a couple of problems. On the first run I didn't have enough brake pressure and rolled it straight into two yellows. I saw the second gear shift light at 9600 revs and changed straight into third which was great. But when we got back, we found a broken rocker and on the other side, one plug never lit. So really it was a V6.

The second run was better but couldn't stop it drifting left and the shift light came on when I was right on the centre line - so lots of pedal. I've never pedalled it before, so was pumped about that even if we only went 6.9. I really think we could have won the meeting as everyone else were having their own problems. Ours was just the nut behind the wheel.

Nigel, one of my crew, was absolutely standout this weekend. Oh yeah, and the gearbox in the crew Killer broke.

STP Springspeed Nationals racer notes.
25th May: Racers were generally happy just to get back to the track at the Springspeed Nationals and mingle (socially distanced of course). Although truncated due to the weather, there were two qualifying sessions across Saturday and Sunday which enabled racers to try their vehicles on Santa Pod Raceway's quarter mile. Here are some of the highlights (and occasional lowlight) mentioned by racers in social media posts:

There were two Nostalgia funny cars present, Apache with Tim Garlick (below left), and Chi Town Hustler with Paul Harris driving (see Herb Andrews' account above). Both sounded magnificent and gave fans their first nitro experience in at least nine months. The cars ran twice, Apache cleanly on both occasions to a 6.2915/229.34 and 6.2823/222.21 and Chi-Town Hustler scoring its best 60ft time of 1.0442.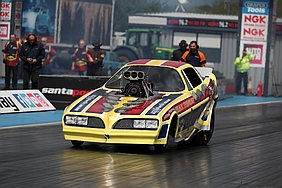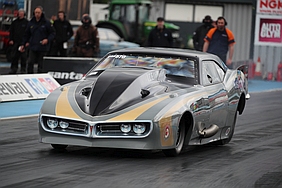 In Pro Modified the numbers entered dwindled, as Matt Peters withdrew. At the track but experiencing problems was Wayne Nicholson whose Lucky Devil Corvette suffered magneto issues and a niggling fuel leak. The quickest run was Kev Slyfield's 6.614/224.49, both his runs being affected by tyre shake causing the car to make a move around his lane, expertly corrected. Nick Davies (above right) got into the sixes on Sunday, the team bedding in a new Rossler automatic transmission based on a TH400 unit, with a Neal Chance torque converter, the many other changes made, plus a year out making things difficult on Saturday, but overcome rapidly. Nick wrote: "After an 18 month hiatus, a drivetrain revision comprising new transmission and converter, an extensive re-wire and some suspension changes, the weather refused to play ball. A 6.99 may not seem like it, but we made huge progress and consider ourselves in good shape for the next meeting in a month's time".

Competition Eliminator benefitted from the inclusion of Stock/Super Stock to create a larger all-NHRA legal category. Robin Orthodoxou (below left) with a new front fairing bearing the word 'Incoming' ran with a lot of new parts on the Chaos Bros A/A including different clutch discs which allowed the car to go down the track to a 7.2259/188.08 to go no.1. Numbers 2 and 3 were the Super Stock entries of Dan Williams and Nic Williams. Elaine Hancock ran with a supercharger on Lethal Zephyr for the first time, the car making a great launch and sounding the business.

Super Pro ET had a remarkable session on Sunday when the lead changed hands four times, finally ending up in the hands of former champion and Eurodragster.com sponsor Scott Hauser. Nick Good debuted a new black look on the Lucas Oil sponsored dragster, also racing a dragster is newcomer Kieran Astley who impressed by qualifying seventh in his first race with a 8.451 on a 8.38 dial. A competition debut also for former Micke Kågered crew member Mark Turner in his Toyota Supra, qualifying 16th with a 9.472 on a 8.75 dial, more to come there.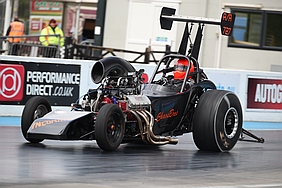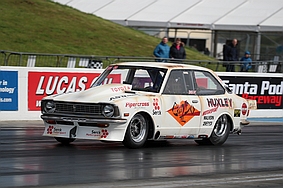 Pro ET had three members of the Huxley family racing in the class for the first time, with each having their own car (Brian the Mustang, Lee the white Nova and Marc with the copy of their first race car, a Corolla (above right)). The top of the qualifying standings went to Amy Watkins and Tom Watkins, Tom driving Dad Neill's Dodge Ram pickup as his own engine for his Charger won't be ready until the Festival of Power. Among the new faces, Alfie Wratten qualified sixth with a 9.492 on a 9.46 dial, John Bean in his smart Mustang qualified eighth with 10.063 on a 9.98 dial and Allan Schofield in a ex-Conrad Stanley dragster qualified 15th with a 8.989 on a 8.85 dial.

In Hutchinson & Dibley Sportsman ET the new award sponsored by Cath and Tig Napier's Bad Habit Racing, drawn out of the hat by Kirstie, went to #1 qualifier off the trailer Felicity Gibbs, who maintained the position in the second session. Dan Holloway, entered in his Truck Norris Chevy S10 SS, suffered suspected bearing failure in his rear axle. He said "On the upside the community of drag racing never fails, and I was fortunate enough to receive various offers of a replacement car to at least get qualified and carry on racing! Ben Newsome came to my rescue with loan of his tow vehicle, his rather pokey BMW 335D". Newcomers welcomed to the class were Steve Mellors (Mazda MX5 - see story below), Troy Attree (Camaro Z28) and Chris Winn (Alfa Mito turbo).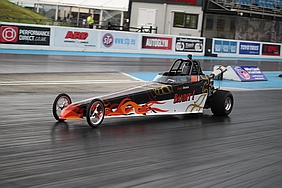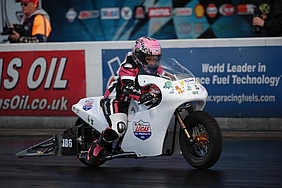 (above left - Harley Coulsell's Bandit 1)

We also welcomed several new racers into Lucas Oil Junior Dragster, Jessica Bishop qualifying fifth with a RT of 0.0341. Jake Cooper, Jack Taylor, Max Taylor and Daniel Todd also qualified, welcome to them all. No.1 qualifier was Katie Ellis with a 0.0086 RT. Similarly in Eurodragster.com Junior Drag Bike we welcomed Hollie King who qualified no.2 in her first race, and newly licensed Lyra Humber (above right).

The full field of bikes topped by four Banks Night Club Top Fuel Bikes. Quickest in the two sessions held was Neil Midgley who ran an early shut off 6.7716/155.75 on the Cannon Engineering/Lucas Oils machine. Second was Al Smith on the PBR Rocket 3 who was the most consistent running two low sevens and getting furthest up the track; Allan Davies suffered engine misfiring woes from what we heard…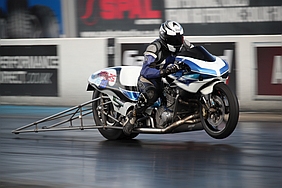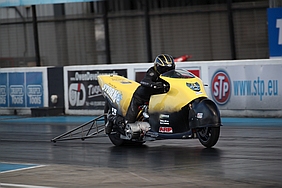 Leeks Landscape Funny Bike produced the bike run of the event, a 6.667/205.17 from Stuart Crane showing that his new setup has huge potential. New to Funny Bike was Tony Clark (above left) riding the Phil Crossley machine with no little determination. Lorcan Parnell (above right) had some new pieces on the Storm bike, including an aerodynamic front wheel fairing, and achieved a fantastic 45psi boost on the launch, Lorcan lifting to a 7.97.


Louis Davies did a great job in Suzukiperformancespares.co.uk Comp Bike as he ran a new PB of 7.2347/178.54 on a straight pass, great riding. Blade King, Roger Moore and Liam Holgate made their Blood Cancer UK ET Bike competition debuts, Roger making a full licensing pass of 7.6816/136.02 before eventually heading to Funny Bike.

A moving tribute took place on Sunday when the Santa Pod Raceway track crew assembled on the start line, and announcer Colin Theobald spoke from the heart to convey the grief the Santa Pod marshals and whole racing community felt at the recent untimely loss of marshal and racer Dave Rowlands, followed by a minutes silence for him.

We look forward to the next Championship round at the Festival of Power Unlocked on 25th-27th June.

All pictures © Julian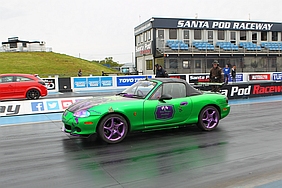 Hulk MX5 makes competition debut.
25th May: Many thanks to Travis Smith of United Modified Cruisers Show Club & Racing Team for sending an account of Hutchinson & Dibley Sportsman ET racer Steve Mellors' competition debut at Santa Pod:

Well what a weekend that was, Friday we rolled into the pairing lanes ready to test. The track crew were prepping the track and - boom, it rained. Saturday we got up bright and early, got the car prepped to run, you guessed it - it rained, it stopped, the track reopened, every other class ran, Sportsman ET was called, Hulk MX5 was mere feet away from the starting line, you guessed it, it rained again and they called it a day.

Sunday, we dialed in a safe 16.01 expecting to break out and ran a 16.37 due to a awful launch, Q2 came around, we dialed in at 16.10 and ran a 16.69. We had nothing but issues on that run, slept on the light followed by a crap launch and lost traction in 3rd.

Hopefully the Festival of Power will bring good things. We are sure going to be testing like mad the day before, dialling absolutely everything we possibly can. A massive shout out to everyone who helped us out this weekend, onwards and upwards. We look forward to seeing everyone at the next event.

You can follow United Modified Cruisers Show Club on their Facebook page.

STP Springspeed Nationals rained off.
24th May: Following persistent downpours during both Saturday and Sunday, the STP Springspeed Nationals was declared a rain-off by track officials on Sunday afternoon. The track crew at Santa Pod Raceway had worked tirelessly to bring the track to racing standard with two rounds of qualifying being possible, one on Saturday and the other on Sunday morning. However after three pairs had gone down the track in the first round of Modurstang Pro ET eliminations, another torrent of water put paid to the event.

The UK drag racing community was just pleased to get together again after an extended break, and to try their vehicles down the track. We'll assemble comments from racers; if you have your own snippets to send to us at news@eurodragster.com we'd be grateful.

The Eurodragster.com/Bad Habit Racing Perfect Light Award and the Eurodragster.com Perfect ET Award supported by Andy 'Fadster' Hadfield and the Twister Race Team went unclaimed, as did Bob's Photo Finish Award in view of the small number of elimination pairs. The Perfect Light Award and Perfect ET Award will each be rolled over to the Festival of Power Unlocked on 25th-27th June to pay cash of £75, and there will be two Photo Finish Awards, one for Junior racers and the other for Senior classes, both paying £50 to each of the competitors involved.

You can check out our John Woolfe Racing-sponsored STP Springspeed Nationals reports, results and galleries by clicking here or by clicking on the Event Coverage link in the main menu above. A big Thank You from Simon to photographers Julian and DD for their hard work and good humour in the unpleasant conditions.

We have posted the official timing data from Santa Pod Raceway to our Timing Data page which you can also access via the Data link in the main menu above. You can view the final official results by going to santapodresults.com.

A509 closed on 29th May.
24th May: Many thanks to regular reader Stephen Billings for writing to tell us that on Saturday 29th May, the A509 will be closed from the roundabout at Tesco's near Wellingborough, to the roundabout near Wollaston.

The closure times are from 9:30am to 3:30pm, which could affect those coming to VW Breakout on Saturday.

New salt bike, new clothes.
24th May: Former Funny Bike racer and Land Speed bike racer Steve French has been in touch to tell us of changes to his bike and his plans for 2021:

The latest version of the land speed bike with dual intercooled compound supercharger and turbocharger has now got some long awaited bodywork.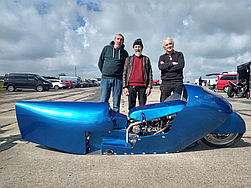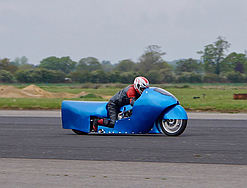 Its first outing at Elvington with its clothes on was disappointingly slow but mistakes are how you learn, and we think we may have this time. We are back on the 21st June to try and get that elusive 200mph, which for a pushrod 750 twin is rather quick.

On-track image courtesy of Andy Lincoln-Smith. Pit image with Baz, Dave & Steve by Harvey Brewster.

Pioneers series 2 progressing.
24th May: Many thanks to John Hunt for continuing to contact pioneers of UK drag racing who want to add their stories to those that we've published this year. The next series will be published in Spring 2022. John has also had feedback from pioneers whose stories we've published:

Dragster racer Derek Metcalfwrote: "As as result of John Hunt contacting us, our recollections of the early days of UK drag racing were put down on paper, John visited us and was a great help; his memory for detailed corrections was a great assistance and it was very rewarding to see our experiences on screen with photographs. It made us realise that we did actually participate in those early days; if he had not been so helpful and accommodating we would not have had those memories rekindled".

Crewman and mechanic John Smith wrote: "Just a quick note to thank you for all your time and effort in getting the 'Drag Racing Pioneers' stories put together and published on Eurodragster.com. I had no idea that anyone would be interested after all this time until you phoned me.

I am glad that all the magazines that I had hoarded since the 60's have now found a good home and thanks for returning all the photo's and slides so promptly. Nick Pettitt has done a brilliant job in reproducing these for the article together with all the notations.

Putting details of the short time that I was involved down on paper certainly brought back a lot of fond and some forgotten memories not only of the Drag Racing at 'The Pod' but also great times spent with Bill, Keith and Richard and also Derek and Pam and Tony".

Swift snippets.
24th May: Drag racing historian Nick Pettitt has updated his British Drag Racing & Hot Rodding Archive again, this time with John Hunt's photos, news cuttings, rule books, timing tickets and other memorabilia from the 70s and 80s, enough for 12 new galleries. As always updates can be found towards the top of the page.

Sharron Collier has been in touch to remind Junior Drag Bike racers that if they wish to partake of the £750 prize fund posted by Projoint Fabrications (Sharron and Jerry Collier) and Nitro Junkie (Lizz and Kev Charman) announced on 2nd April, decals for these two firms should be carried, and be clearly visible, for this year's racing rounds.

Methanol now legal for SSB.
21st May: Many thanks to Santa Pod Racers Club Secretary Ian Marshall for letting us know about a rule change for Super Street Bike: Following negotiations between the ACU and Santa Pod Racers Club, methanol fuel has been added to the list of accepted fuels in ACU Super Street Bike. Methanol becomes legal commencing the weekend of the Springspeed Nationals 22nd-23rd May 2021; all current legal fuels in SSB will remain legal within the regulations.

Methanol must follow the purity requirements listed in GSR 1:8 METHANOL as stated in the 2021 Drag Race Rule Book (page 30).

Melbourne opening event, appeal extended.
21st May: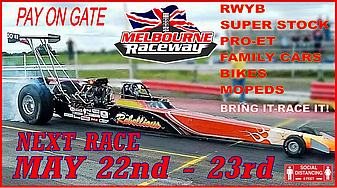 Melbourne Raceway will be holding its first event of the 2021 season this weekend, 22nd-23rd May. Racers and spectators will be able to book online, which will be the only means of obtaining tickets. Racers can arrive after 6pm on Friday 21st and camp out. The £120 weekend race entry includes 2 crew members and you can either race in run what ya brung, or enter a class and bag points, you can even enter multiple classes for an extra few pounds if you wish. Single day racer entry is £70, and spectator entry is £15 per day (specatator camping is sold out due to Covid restrictions).

Straightliners organiser Trevor Duckworth said "The drag-racing community, their friends and family, came together and saved this historic racing venue in Melbourne, Yorkshire. But the project continues and the fundraising must be maintained to build on this incredible venue ensuring it's future, we have a track to race on but the site requires a lot more work. The project continues in 2021.

Last year was an amazing year for Melbourne raceway and it's community. Despite all the difficulties and sadness, we still raced and had some great weekends. So, here's the plan for this year...

The next phase of fundraising at Melbourne is to extend the braking area and tarmac the other side of the pits. You will have seen on social media that work hasn't stopped and we are now looking to raise £45,000 to complete the next phase.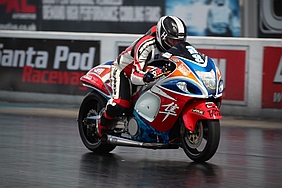 CW Motorsport's last-minute sponsorship.
21st May: Congratulations to 9.50 Bike racer Craig Wright who has secured sponsorship at the 11th hour to enable him to race at the Springspeed Nationals:

The day before we're due to travel to Round 1 of the UK/National Championship at Santa Pod Raceway and the likelihood of us actually going was slim due to us losing our previous sponsor; we were very close to pulling the plug on this season. Then a chance phone call from a good team friend has put us back on track for this year!

Up steps Banks Nightclub - Maidstone, Kent. They will onboard be with us for Round 1 this weekend. A massive thanks goes to Steve Ashdown. He has been a very good friend of ours for a few years now and this is very much appreciated by us as a team. We also have on board Hendrix BarberCo again this year. Lewi from there is a very close friend to the team away from the track, so a huge thanks to him and his team as well. We have a mega team this year. We hope to do them proud.

Also, last week saw us at the Santa Pod RWYB on Sunday 16th May where we had our first few runs for 2021. After Jake at JKE did some upgrades on the bike over the winter, we were rewarded with a 9.39sec pass at 143mph. A big PB in ET for us! After a little fettle we backed it off to a 9.53 sec pass which we were more than happy with and then after a little minor adjustment to the bike and rider we bagged a 9.508sec pass, Mega! This puts us in great shape for this weekends Round 1.

A few thankyous ahead of this season:
Banks Nightclub - Maidstone, Kent
Hendrix BarberCo
JKE Raceworks
Straightline Installations
Also cheers to Callum Pudge for his continued support and of course Craig's Parents, Eileen and Graham who help as and when they can. Round 1 is this weekend, see you there and stay safe everyone!

Free Life in Spain.
21st May: Spanish drag racing promoter Fuerza Libre Competicion (Free Life Competition) has organised a race at Matilla Airfield this weekend that is attracting some cars from across Europe. Although the event will be behind closed doors due to the alert level in the Community of Castiles and León, drivers and teams that have pre-booked will be able to participate. The event is planned to be streamed and you can see runs from previous events at the Fuerza Libre Competicion Youtube channel.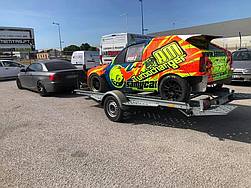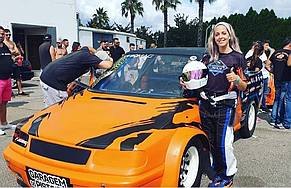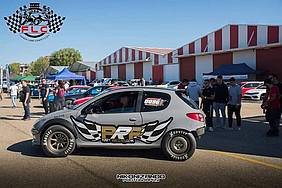 Among the racers entered from the European FWD league are Jose Realista with his 9 second TDI Polo (above left), Vanessa Ruas Piloto with her 9 second TDI Skoda Pickup (above centre), Romain Lauret from France in a Peugeot 206 (above right), and Ricardo Florencio's 700hp Citroen Saxo.

SPR fuel supply.
20th May: Many thanks to Santa Pod Raceway Track Manager Darren Prentice for alerting us to a fuel supply issue:

Just a note to inform you that Santa Pod Raceway is experiencing a supply issue with two lines of VP Racing Fuel; yet another result of the disruption caused by the Covid situation and unfortunately and totally out of our hands!

MS109 is currently out of stock. Also affected is C12, however we have been able to access a limited stock of this line but this will need to be decanted from the larger 45 gallon barrels. Consequently, once this has gone, the alternative will be C14 which fortunately we have plenty of in stock! We are reassured that this is a temporary issue and more is on the way very shortly!

STP Springspeed Nationals coverage.
20th May: Eurodragster.com will be reporting from the STP Springspeed Nationals including tomorrow's test day. Julian will be taking photos mainly trackside and Diana will be travelling around the pits to gain pictures and gossip. Your editor Simon will be in the tower and will try to make his way around the pits after racing finishes. To go direct to our coverage page click on this link.

Santa Pod Raceway will be providing a live stream on Saturday and Sunday only, with commentary from Colin Theobald and this can be seen at their Facebook page or via Youtube.

Swift snippets.
20th May: We received the spy picture shown below left with the caption "Our two favourite things, Lucas Oils and Carbon Fibre, see you at the Pod this weekend". If you know more, or have your own spy picture to send to us, contact us at editor@eurodragster.com.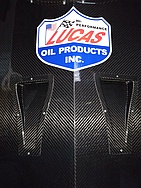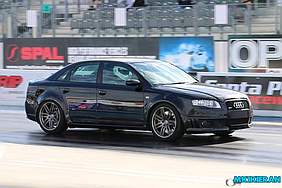 Sportsman ET racer Rob Creswell has put his street and strip car up for sale. He says "my Audi RS4 nicknamed "The Beast" is now for sale. If anyone is interested in buying the car then come around to the VW Sportsman/Sportsman ET pits for a socially distanced chat at this weekends Springspeed Nationals. As well as the above picture, you can see a Youtube video of the car in action by clicking here.

STP Springspeed Nationals perfect awards.
19th May: £200 is up for grabs at this weekend's STP Springspeed Nationals courtesy of Eurodragster.com and our sponsors.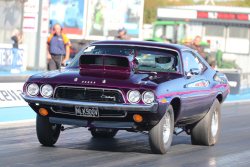 This weekend's Eurodragster.com/Bad Habit Racing Perfect Light Award has been reset at the commencement of the season to £50. The money will be paid to the first racer at the event to record a Reaction Time of 0.000 seconds. The Perfect Light Award is available in all classes during both qualifying and eliminations, but will only be awarded for the first Perfect Light of the event. The Perfect Light Award is presented in association with Cath and Tig Napier of Modurstang Pro ET team Bad Habit Racing.

Decals are not mandatory for the Perfect Light Award but we would appreciate it if Eurodragster.com decals are carried. Eurodragster.com decals are available in Signing On or from Eurodragster.com staff.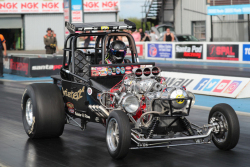 The Eurodragster.com Perfect ET Award supported by Andy Hadfield and the Twister Race Team has been reset at the commencement of the season to £50. The money will be paid to the first racer at the event to run +0.000 on index or dial-in. The Perfect ET Award is available in Peter Nee Super Pro ET, Modurstang Pro ET, Hutchinson & Dibley Sportsman ET, B Fast R Super Comp, Dave Grady Super Gas Shootout, Lucas Oil Junior Dragster (eliminations only), Springbridge Direct Wild Bunch, VW Pro, VW Sportsman, NEM Plant Nostalgia Super Stock, JKE Race Works 8.50 Bike, Atlantic Fluid Tech 9.50 Bike, Blood Cancer UK ET Bike, and Eurodragster Junior Drag Bike. but will only be awarded for the first Perfect ET of the weekend. The Perfect ET Award is presented in association with Andy 'Fadster' Hadfield of the Twister Race Team.

Decals are not mandatory for the Perfect ET Award but we would appreciate it if Eurodragster.com decals are carried. Eurodragster.com decals are available in Signing On or from Eurodragster.com staff.

Bob's Photo Finish Award, which is presented in association with Eurodragster.com sponsor Bob Roberts, will award £50 each to the racers involved in the closest race of eliminations at this weekend's event.

The closest race will be decided upon distance rather than time since, for example, 0.001 seconds at 230 mph is further than 0.002 seconds at 110 mph. For this reason the official timing data will need to be consulted so the winners will be announced here on Eurodragster.com as soon as possible after the event and the winners will then be contacted for their preferred method of payment.

Bob's Photo Finish Award is open to all classes during eliminations only and although Eurodragster.com decals are not mandatory we would appreciate if it they are carried. Eurodragster.com decals are available in Signing On.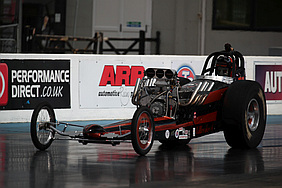 Thanks from Crusher.
19th May: Limited Funz Racing member Lynne Coulsell has been in touch to thank a new sponsor:

Limited Funz Racing would like to say a big thank you to Keith Crampton, of Wiz Training and Development Ltd, for sponsoring BallBreaker at Springspeed Nationals.

This was a kind gesture for the hard work that Steve and Anna Cassisi of Piston Rings & Things has put into Keith's new Methanol engine for the Soul Town Shaker, and help from Mark and Lynne with some parts from the team.

The Shaker will be 'Singing a New Groove' and coming to a race track near you soon! Thanks Crusher!


New OSCAR member.
19th May: Fuel Altered and Pro Modified racer Nick Davies writes that the newly formed 'Old School Classic Altered Racers' club (OSCAR 'for short') have a new founder member.

"The legend that is Bryan Whitfield has decided he can't resist the temptation and is planning an American Austin-based altered with a similar body to the famous Gabby Bleeker's 60s car (see image).

"Bryan joins Martin Baldwin, Nick Davies, Tim Garlick, Rob Loaring and Jon Webster in the planning and build process. 2023 is a way off but it's getting better and better...."

If any other racers wish to bring a car along, targets for the parameters have been initially agreed on as:
Maximum wheelbase: 110"
Maximum engine setback: 25% to forwardmost spark plug
Minimum weight: 4.5lbs per cubic inch engine capacity
Minimum crankshaft height: 13" to crank centre line
Maximum blower size: 8-71
No wings (unless accurate recreation of historic race car)
Maximum wheelie bar length: 36"
Clutch - Mandatory
For further updates go to the No Quarter AAFA page on Facebook.

Festival of Power entry list.
18th May: Thanks to Santa Pod Racers Club Secretary Ian Marshall for letting us know that version one of the entry list for the Festival of Power to be held on 25th-27th June at Santa Pod Raceway has been posted. The event is the second round of the 2021 SPRC National Championship.

Racers that are members of Santa Pod Racers Club who want to sign up for the Festival of Power should sign up on the on-line entry system at this link. The closing date for standard-fee entry is 4th June.

The latest entry list can be seen at this link on the Santa Pod Racers Club web site.

Rule changes.
18th May: SPRC secretary Ian Marshall has been in touch to announce the following rule changes with reference to 2021 Drag Racing Rule Book, page 50, regulation 4.10:

General Construction Practices:
In the construction of all roll bars and roll cages the main hoop must be one-piece.

The Roll cage, including the main hoop and forward of the main hoop shall follow the contours of the body as closely as possible and be symmetrical with regard to distances from the cage to the body.

All butt welds require visible reinforcement or an interior sleeve, 6" (15.2cm) long, minimum 3" (7.6cm) either side of the joint centre line with visible rosette welds. The rosette welds shall be within ½" (12.7cm) from the ends of the interior sleeve and be a minimum of ¼" (0.64cm) in diameter.

Repairs:
No repairs shall be carried out to tubing above the height of the seat bar in a Door Car, or above the shoulder rail on a Dragster & Altered. (Replacement of the complete component required).

Eurodragster.com's new menu.
18th May: After your news editor realised that he could no longer read the side menu clearly, he decided it was time for a revision, which conveniently avoided the need to see an optician. The only problem was he is completely unskilled in the necessary programming.

After contacting Top Fuel Dragster racer Tethys, to whom many thanks, a new drop-down menu has been placed at the top of each page. Thanks also to Julian for comments on the layout.

STP Springspeed Nationals racer update.
17th May: Thanks to Santa Pod Racers Club Secretary Ian Marshall for passing to us details of the arrangements for this weekend's STP Springspeed Nationals:

The provisional running orders are now available and can be checked out by clicking here or by clicking on the John Woolfe Racing-sponsored Event Coverage link in the main menu above. Sportsman ET racers please note that the qualifying rounds has been updated from the version posted to you as there was a round missing.

The following is a list of restrictions and requirements for the coming weekend, due to Covid protocols and regulations that Santa Pod Raceway and Santa Pod Racers Club must follow to conduct the meeting within current regulations, but more importantly for everyone's safety at the event.

Scrutineering for race cars will not take place, however you may well be asked to visit Scrutineering following a run, or you may be visited by either the Scrutineers or Tech crew, this will be purely on a random basis, unless an issue has been brought to their attention, Pro Modified and Comp Eliminator Racers please note that you will still be required to visit the scales as per normal.

Scrutineering for all motorcycles will take place; however, the Scrutineers will visit your pit bay, please do not go to the Scrutineering building unless specifically requested by an Official to do so.

Signing on: Race car drivers and crew members do not need to sign on and are not required to show their licences to a member of the Secretarial team, again, unless specifically requested.

All bike riders in ACU and SPRC Sportsman bike classes must still sign on as normal, where you will need to show your ACU Race licence; crew members do not need to sign on.

Please note that any person visiting Signing on must use the 2 meter rule and must also wear a mask or face covering before entering the office.

Racer crew members do not need to sign on; your crew passes are within your entry envelopes, and are specific to your class of entry. Please make sure you keep them visible when entering the collection and startline area; also please note that the usual age restrictions apply. It is your responsibility to make sure there are no crew members below the age of 17 are given access or passes for any restricted area.

Ticket collection: If you are collecting tickets or have had your tickets posted to you, when entering Santa Pod Raceway, you may be asked for additional information, this will just be a contact number, and is to maintain Government requirements for events that require track and trace details for all persons entering the venue. This information will not be used for any other purpose.

RWYB gallery.
17th May: Thanks to Julian, we have posted a gallery of 140 photos from yesterday's Run What Ya Brung. Held on the final weekend before the season proper kicks off next weekend with the STP Springspeed Nationals, the RWYB was attended by a good number of racers and those with quick street cars.

You can see our gallery at this link or via the event coverage index which includes details of all events we plan to cover in 2021.

Matthew Dowdy Racing renews with Renegade.
17th May: Matthew Dowdy Racing is pleased to announce that once again Jeff and Alex at Renegade Racing Fuels UK will be supporting Junior dragster for this season starting with the forthcoming Springspeed Nationals. Renegade's Pro Methanol is refined especially for racing engines and was used exclusively by Matthew last year with great results.

This is great news for all junior racers as Jeff and Alex are happy to supply all competitors in the Junior Dragsters at extremely competitive sponsored prices - just speak to them on 07407 807576 or email sales@trackstuff.co.uk. All they ask in return is that two Renegade decals are displayed on your car. You can of course speak with Matthew at the track who will give you all of the details. Renegade do not just supply race quality methanol, they provide a full range of the highest quality racing fuels suitable for all engines. Please do give them a call and they will be able to help you out.

As the Eagle eyed Eurodragster viewers may have noticed Matthew is not entered in Junior Dragster this year, and whilst still staying on four wheels and in a dragster, you could say we have Haya expectations...

Swift snippets.
17th May: Well done to Travis Harwood who has just produced an excellent short film about Santa Pod as part of his course studying photo journalism at Falmouth University. Speakers in the production are drag racing historian Nick Pettitt, Pro Mod champion, car constructor and Eurodragster.com sponsor Andy Robinson and Santa Pod Racers Club secretary Ian Marshall, and there are plenty of memorable video clips.

We wish a very Happy Birthday to Eurodragster.com brother-in-law and Super Pro ET racer Tom Atkinson. Also celebrating birthdays today are dragster racer Nick Mugridge, Super Street Bike racer Mark Hope and, from Sweden, long time racer, journalist and Fawlty Towers superfan Anders Bostic Envall. Have a great day all.

Dave Rowlands tribute, funeral arrangements.
16th May: Thanks to Angie Woods who has been in touch to let us know about a tribute to her late partner Dave Rowlands, to take place at the STP Springspeed Nationals, and the funeral arrangements for Dave.

On Sunday 23rd May, Santa Pod Raceway will be holding a tribute to Dave. Both Dave's son Warren and Angie will be there to thank as many people as they can. Rob Brown and Hayley Fyfe have suggested that at the next couple of SPR events, cars and people could run silver ribbons in memory of Dave, so please do join in with this tribute to him where you can.

Dave's funeral will be on Thursday 27th May at 3pm at Nene Valley Crematorium, 305 Doddington Rd, Wellingborough, NN8 2NX. There will be a live link for those that can't make it. The wake will be held at Santa Pod Raceway. Dress code is race/team kit or comfy wear. Unfortunately with Covid still around, there is a limited number of guests, but there will be big screen TVs and a PA system outside, so we won't turn anyone away from attending. Flowers and donations, for Santa Pod Raceway, should be sent to A. Abbott & Sons, Bedford Road, Rushden, Northants NN10 0LZ.

JT doubles up.
16th May: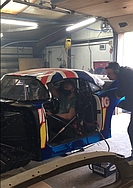 Pro Modified and Super Pro ET racer John Tebenham has been in touch about what should be a busy STP Springspeed Nationals for him and his team:

"Two cars at Springspeed, can't wait. The Pop is ready; oh yeah, I have a Pro Mod as well. Running two really fast cars is tough. But I have the greatest crew. I have a new technician on the team, Clint (make my day...), with loads of skills. Both cars are keen and ready to race, everybody is saying Kev is going to win Pro Mod, not so fast, we have the team and we want to win.

"I also have a video of us starting the Pro Mod in a workshop yesterday (click on link.). I was obeying Covid-19 rules as I had my mask on…

"Can't wait to meet people again who come and see us in the pits, it seems like a long time time ago. Massive thanks to Keith and the SPR team.

"Dave Rowlands was a great guy with a massive love for the sport . When you come trucking back from the burnouts your future is their hands, you have to go into stage being confident with the track team. Going to miss you Dave."

A trio of new builds.
16th May: Whilst browsing social media pages, three new builds came to our attention which show that racers have been busy building during the lockdown and will soon have their new vehicles out on track.

Pictured left is Andy Hill's slingshot which we saw on its wheels for the first time yesterday. He's building a the car with a blown alky hemi for Supercharged Outlaws using a Roy Wilding chassis. Andy used to run a Top Alcohol dragster back in the early to mid-90s; we will have a story soon about his return to racing(photo: Alan Scot).

In the centre we have Marc Manning's '34 coupe, more a complete rebuild than a new build as Marc came off the track at York Dragway (now Melbourne Raceway) over the finish line, and went into the corn field backwards at 130mph which twisted the old chassis. The '34, named named Pokies '34 Coupe, has a new 7.50 tagged chassis with push rod inboard rear suspension, a 468 Big Block Chevy and 2 speed Powerglide. Marc, proprietor of Pokies Paintshop, hopes to run the '34 Coupe under the in Super Pro. He will be bringing it out at Melbourne Raceway next weekend for their opening meeting of the season, and will be making the journey to Santa Pod later in the year.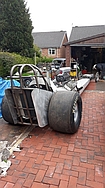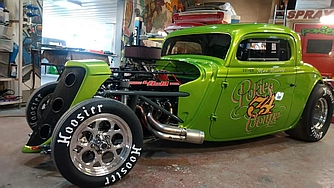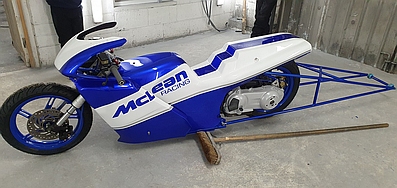 Our third new build, to the right, is the Junior Drag Bike of John 'Spud' McLean who we will be seeing licensing in June, possibly at Japshow, and racing at Santa Pod Raceway later in the year. Jim Cross claims he is the "First man in history to paint three drag bikes for three different people called John Mclean in the same colour scheme". We don't doubt this claim.

Gerasimos Filippatos.
15th May: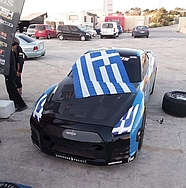 We were shocked and saddened to hear of the death yesterday (Friday) of Greece-based racer Gerasimos Filippatos in an incident at Agrinio in Greece.

Gerasimos was making a test pass at the first round of the Greek Drag Racing Championship at Agrinio airport in his Nissan GT-R, one of the quickest such cars in Europe. At half-track the car made a hard turn to the right, exited the track and flipped multiple times. Tragically Gerasimos passed away at the track.

The event organised by main Greek promoter Proaction Racing was suspended.

Gerasimos raced in the All Wheel Drive category from 2016-17 in a Mitshbishi Lancer, then since 2018 in his Nissan GT-R competing mainly in Greece and also at Hal Far, Malta.

We send our deepest condolences to the family and friends of Gerasimos and to the whole drag racing community in Greece.

More RWYB coverage to come.
15th May: Tomorrow (Sunday) is the final Run What Ya Brung at Santa Pod Raceway prior to the pre-STP Springspeed Nationals test day, and Julian will be at the track to take photos in the pits and on-track of cars and bikes. We will post the gallery with a link on Monday.

Swift snippets.
15th May: We have several birthdays to celebrate today. Our good friend and photojournalist Remco Scheelings is celebrating, as are Daimler powered fuel dragster exponent and BDRHoF member Robin Read, Outlaw Anglia racer Paul Hensher, and retired Top Fuel dragster racer and multi-time European Champion Mikael Kågered. Have a Happy Birthday and many happy returns from all of us at Eurodragster.com.

Dennis Priddle's funeral.
14th May: Sandra and Nicola Priddle thank everyone for the kind wishes and sharing their memories and pictures of Dennis; they have been a great comfort during a difficult time.

Dennis's funeral will be on Monday 17th May at 11:20am at Yeovil Crematorium; unfortunately due to Covid-19 restrictions, the service is strictly restricted to 30 family members and a few close friends. If you would like to see it online, the details are to go to www.obitus.com and log in with username jego9412 and password 122569.

Cards can be sent and donations to the Yeovil Hospital ICU unit can be made via the funeral directors of AJ Wakely and Sons, 33 Sparrow Road, Yeovil, BA21 4BT, telephone 01935 479913. Likewise, if you prefer to send a floral tribute these can be sent direct to AJ Wakely.

Kunmadaras welcomes spectators.
14th May: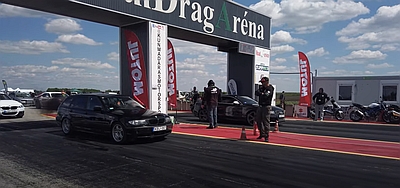 Kunmadaras Motorsport (Hungarian Drag Arena) held its first race open to spectators on 8th May, after a closed round on 17th April. A large field of street cars and bikes to to the well-prepared Kunmadaras track for the second round in the Motul Cup Hungary Drag Bike National Championships, MAMS Drag Bike Championship, and the Hungarian National Youth Junior Drag Bike Championship with the Toyota RoadService Cup for cars.

In addition to racing activities, the latest model Suzuki Hayabusa received its Hungarian show debut in front of the crowd. You can see video highlights courtesy of Audi Ingolstadt on Youtube and there is a Facebook gallery of 354 pictures thanks to Vidék Ma.

The next race at Kunmadaras is on 19th June.

Tributes to Dave Rowlands.
13th May: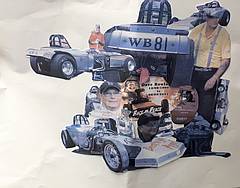 Thanks to Mikey Durbridge who has created a collage of photos of the late Dave Rowlands who passed away last week.

Former Shakespeare County Raceway track manager Jerry Cookson writes:

I got to know more about Dave after accepting the role of track prep manager for Shakespeare County Raceway. Dave, as a racer, took the wheel of the Wild Bunch 23T Altered Destiny's Angel in the early 2000s. He was a man with great knowledge for his chosen pastime in making his race car go quickly and efficiently. Whenever he wasn't racing Dave became more involved with the track's safety crew as a FAST response driver and fire marshal.

Dave was and always had time to help anyone who needed it, especially when it came to Shakespeare County Raceway and the safety of the track. When SCR closed, Dave took up a position at Santa Pod, first as a driver for the track's fire truck and later as a regular face the racers could trust covering the start line as fire marshal. Our deepest condolences go to partner Angie, son Warren as well as his family and friends. We're sure going to miss you buddy, now Race in Peace.

Wild Bunch co-ordinator Claire Meaddows writes:

Dave was a longstanding, likeable and well-respected member of the Wild Bunch for many years, and crewed for several teams before joining in with the racing in his 'Destiny's Angel' altered, making his racing debut with the car in June of 2007. Dave had great success with the car, and so much so that he won our Don Garlits 'Spirit of Drag Racing' Shield in 2009. Here is the tribute that was read out at the Wild Bunch Prize Presentation when he won the Shield, and it is still so fitting now:

"This year's amiable winner is a quietly enthusiastic member of the Wild Bunch and is very committed to his racing, and always one of the first to arrive at the track. He has attended shows, promoting the Wild Bunch, and always offers to help fellow racers. He copes with any disappointment in a typically modest, sporting manner. He works hard to ensure the car is presentable and well-maintained, and has achieved success: winning an event, and finishing in the Top 4 a further five times, including making 3 Finals. He has steadily improved his performance this season, progressing to a PB of 9.402 at 146 mph. He took part in all 10 events, running both MSA and RWYB format, and made great progress in only his second event at York Raceway, running down into the 9.6s, with quite a wild ride! He finished in 4th place in the Wild Bunch Series, 3rd place in Real Steel, and Runner-up in the Roy Wilding Series. He shows great commitment to the Wild Bunch and is a valued member of the Bunch!"

Dave also worked for many years on the fire and track crews at Shakey, for the benefit of so many racers, and absolutely worked his socks off day and night! He put in many a long day on the track at Shakey and then worked in Kenny's on the night, getting up early to work all day the following day. He really enjoyed helping people and would do anything for anyone, always with that cheerful smile! In more recent years, he also worked hard on the crew and startline as Santa Pod where his experience and work ethic were invaluable, and always much appreciated by officials and racers alike.

He was a real gentleman and a real ambassador for the sport of Drag Racing, so easy going, humble, and so helpful and encouraging. He will be hugely missed by his family, his many friends and all his co-workers at the track. Dave will be fondly remembered by all who knew him. At the next couple of events, Rob and Hayley have suggested that cars and people could run silver ribbons in memory of Dave, which is a lovely idea, so please do join in with this tribute to him where you can. Dave, we salute you and thank you for all you have done for the club and the sport. Race in Peace, Dave.

SO Perfect Light Challenge.
12th May: Chairman of Supercharged Outlaws and sponsor of the Eurodragster.com Perfect ET award Andy 'Fadster' Hadfield has announced a special award for the blown race car category:

The Supercharged Outlaws have a sponsor for a new trophy. This new trophy will be for the Perfect Light Challenge and is being backed by Dave 'Twolanes' Armstrong and Sally Mears Southcott.

Dave and Sally previously sponsored a round in memory of their great friend Pete Thomas but wanted to do something that everyone could compete for regardless of how powerful your car is.

We have put our heads together and come up with this challenge and it's simple. During the course of this season, whoever gets closest to a perfect light wins! If 2 drivers get identical lights then we look back at their next fastest reaction.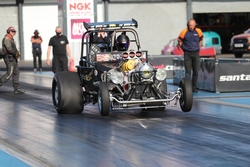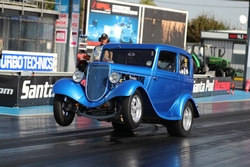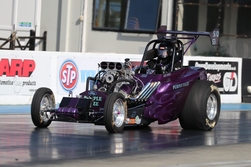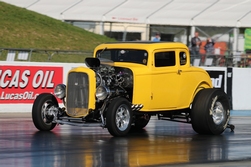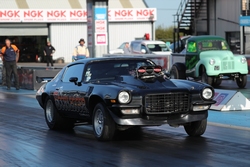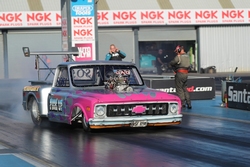 Pictures of Supercharged Outlaws racers, all from Friday at 2020 NSRA Hot Rod Drags: top row, Andy 'Fadster' Hadfield, Andy Park, Gary Parkes; bottom row, Keith Freeman, Simon Boot, Paul/Luke Watts.

Dave and Sally have kindly offered a £100 cash donation to the winner and a memorial trophy to be kept by the winning team until the end of the following season.

I don't need to tell you about the bragging rights of being the fastest on the draw so let the fun commence - thanks again to Dave and Sally, what a brilliant idea!

You can see the Supercharged Outlaws, sponsored by Good Vibrations Motorsports, in action at their 2021 race dates (all at Santa Pod Raceway apart from final round):
28th-30th May - VW Breakout
19th-20th June - Retro Show
09th-11th July - Dragstalgia
23rd-25th July - Bug Jam
4th-5th September - VW Action
17th-19th September - Hot Rod Drags
9th-10th October - Final round - Melbourne Raceway
Reymond's Top Doorslammer.
11th May: Some of our more mature readers will recall Kim Reymond, Top Fuel racer who in a three year period 2001-3, tuned by British Drag Racing Hall of Fame members Carsten Andersen and Per Andersen ran some of the quickest ever ETs over the quarter mile in Europe. Kim's son Mike Reymond, now CEO of Reymond's US Speed Shop in Årslev, Denmark, started a Top Doorslammer drag racing career in 2019 and after a few setbacks, is now keen to be racing once again:

"We bought the car in 2018, and we only had a few test runs that year. The car was built in the US by All-In Race Cars with a 2007 Ford Mustang fiberglass body, a Sonnys 864cui 4-stage nitrous engine, Mark Micke M&M Transmissions 3-speed TH400 transmission and converter.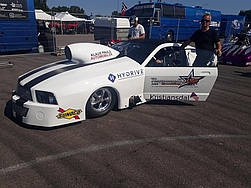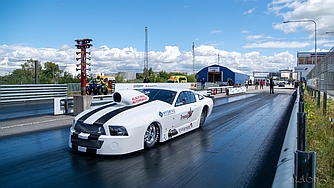 Above left: Mike with car at Mantorp 2019; right: testing at Malmö in July 2020.

2019 was our first real race season, and we started with a few test weekends at Malmö Raceway. In June 2019 we raced at Mantorp Park, and we ran a new PB of 4.248/276.30kph. We won the first round of eliminations, and were set to compete against Matthias Wulcan in the next round. We decided to add another stage of nitrous (until then we had only been running a single stage), because Matthias is very fast. The result was a meeting with the left lane wall after the tires lost traction, and the car turned left into the wall.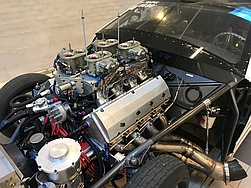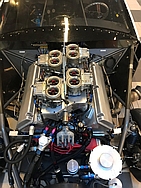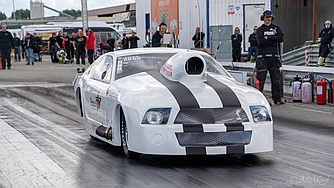 Above left and centre: the nitrous engine setup; right: testing at Malmö in July 2020.

"I was ok, but the whole left side of the car was destroyed. We sat out the rest of the 2019 season and the first 3 months of 2020 rebuilding the car. But then the coronavirus shut down most of our 2020 season. We only had two test weekends, and they didn't go as planned. We have had a lot of electrical problems, but they should be fixed now. If the coronavirus lets us, we will probably be back at Mantorp in July, and we will in take all the Races at Malmö Raceway also. Hopefully we will also attend and run the car at Mosten Raceway here in Denmark. We may also attend other races, but it all comes down to this corona situation.

"We have the following sponsors for this year:
Sunrocs - Oil and Fuel
Klaus Pauls Auto - Autoshop & Mechanic
Hydrive - Engine Cleaner
Reymonds US Speed Shop - Parts for US cars & engines
Kristiansdal - Rental Houses
Faelgrenovering.dk - Wheel Repair; and
KRJ Ejendomme - Rental Houses.
Mike's first race in 2021 was due to be the first round of the Doorslammer tour at Malmo Raceway last weekend, however due to continuing restrictions, the event was cancelled, to be replaced with a private test session.

Time Travel updated.
11th May: Drag racing historian Nick Pettitt has updated his British Drag Racing & Hot Rodding Archive site with new historic photo collection and posted on his Time Travel Video page a revised index of his eponymous video productions, originally released on VHS, then DVD and now free to view on Youtube.

Nick says "I have uploaded over 100 colour slides taken by Brian Sutton from 1965-1969. I used these slides along with Brian's cine film in my first Time Travel Video back in 1995.

"I've also listed at Time Travel Videos all my productions with descriptions and links to each one on Youtube. All new updates can be found at the top of the page".

Walton's Savoy build.
10th May: The 2021 UK Nostalgia Superstock season is getting off to a cracking start with 15 entries for the STP Springspeed Nationals on 22nd-23rd May and 25 for VW Breakout on 28th-30th May. News has reached us of a car being built for the 2022 season by class stalwart Pete Walton. He writes:

"I have owned this '64 Plymouth Savoy for many years, however life has got in the way of the car being built for NSS until now. But with help from Robinson Race Cars and others the car is almost ready for paint.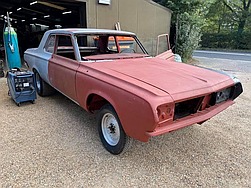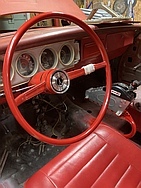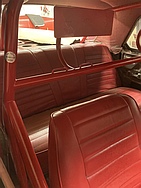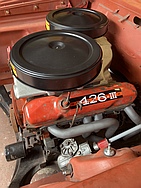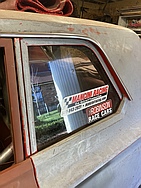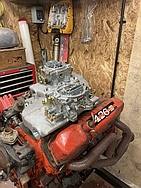 "The car has an original 426 Street Wedge engine with the factory Hurst 4-speed option. The clutch pedal is still in the car, but I will be running a TorqueFlite 727 box in racing trim for reliability, but do not discount a four speed going back in at some stage."

Pete thanks Swedish Superstock racer Fredrik Frisberg who has been "a great inspiration and a endless supply of help and info".

Geoff's new Lucas deal.
10th May: Nitro Revival Eurodragster.com sponsor Geoff Stilwell has signed a new sponsorship contract with Lucas, which will result in additional exposure for the brand, and for Geoff's Land Speed Racing roadster 7707 which will be racing at Bonneville Raceway in August in Geoff's quest to run a 300mph record.

Geoff said "Lucas has increased its presence in racing with Brandon Bernstein being hired as head of Lucas Racing, and research director Tom Bognor has developed a range of oils for nitro applications including a 70 Plus blend specially created for Bonneville racers, whose nitro engines run for much longer than quarter mile nitro racers.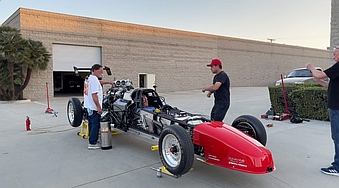 "As well as generously supporting my Bonneville record attempt this year, Lucas Oil will be sponsoring George Poteet's Speed Demon streamliner which plans to be the first wheel driven vehicle to hit 500mph.

"Conditions at Bonneville, which can vary greatly with the wind moving rainfall on the racing surface, are considered exceptional. "Brine has been pumped in to keep the surface solid, and it is now as hard as concrete".

Lucas have contracted video producer Nestor Cabrera to make a video advert for the new range of oils and you can see the result, with specially written music on Vimeo at this link. A video of the roadster's fire up from last week was posted by Tony Thacker which can be seen here.

Meanwhile Geoff's trailer is being worked on, which will be revealed in a future posting.

Saunders: Focus re-emerges.
9th May: Back in the very early days of Eurodragster.com, former photo editor Sharkman was invited to a specially-held private test day at Santa Pod Raceway. The subject of the test was a brand new Ford Focus, commissioned by Ford and built in the UK to be raced in the US by UK racer Wayne Saunders. After a few years racing successfully in the NHRA Import series in other hands, the car apparently disappeared - until now.

We were contacted by former UK racer Shaun Saunders (no relation), who last raced in the UK in 1999 but is now resident in Scottsdale Arizona. Shaun brought us up to date on what had become of the briefly famous Focus that Wayne first demonstrated in the US at the 1999 NHRA World Finals:

"The famous Focus will wear the Saunders name again, as I have just purchased it. Built by Jon Webster in 1999 for Wayne to race with Ford USA; the build quality and engineering is outstanding. I race the world's fastest Mazda MX5 with its original engine, currently its best is 8.20 at 163 (see photo below right). I will be fitting one of my 4 cylinder Mazda turbo engines into the Focus for it to run low 7 sec passes again.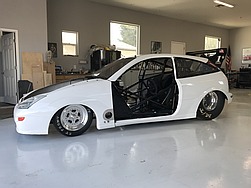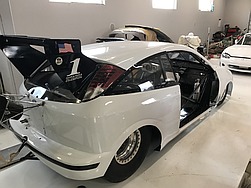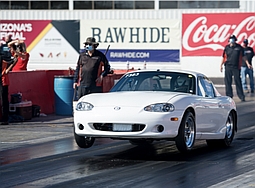 "After Wayne sold the car in 2000 it was raced by Ford for two years, winning the Pro Import championship, then it was parked in the Petersen Automotive Museum in Los Angeles until 2014. Upon its release, it was owned by a fellow in San Diego who fitted a blown Ford V8 which is how I purchased it. I removed and sold the V8 to refit a 4 cylinder turbo engine, although a Mazda instead of the original Cosworth.

"I have been in contact with Jon Webster who is trying to get another set of the carbon panels made as the moulds still exist. I am planning on replacing the fibreglass roof and quarter panels with steel panels as Jon built it. I thought I would send you the info as it's such an interesting car with great history. And yes, the weather here is gorgeous most of the year - but our racing season ends in May because of the heat. My last time out, until we resume in October, is 15th May".

EDRS calendar amended.
9th May: The Covid-19 pandemic continues to have an impact on drag racing calendars at all levels of the sport. We heard in the last few days that the Gardermoen Spring Nationals has been moved from 8th-9th May to 12th-13th June. The Gardermoen web site stated that registrations and rules for the Spring Nationals will be automatically moved to the later event. The revised date means that Gardermoen is hosting events on two consecutive weekends, the Scandinavian Bike Festival taking place on 19th-20th June. Organisers stated that motorcycle racers wanting to leave their crew in the area between the races will be aided by the track.

EDRS events cancelled are the Kauhava, Finland race planned for 15th-16th May and Tallhed, Sweden planned for 22nd-23rd May. The revised calendar is at this link; we will publish any further changes as soon as we hear.

Dave Rowlands.
7th May: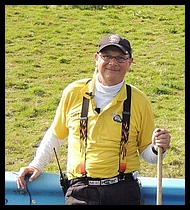 We were shocked and saddened to hear of the sudden passing of track marshal and former Wild Bunch racer Dave Rowlands on Thursday morning.

Dave was keen on many aspects of the sport and ran an altered Destinys Angel in The Wild Bunch from 2007-11, coming runner up in the Wild Bunch Series and Real Steel Series in 2010 and also in the Roy Wilding Nostalgia Race Cars Series in 2009. In 2011 Dave shared the drive with son Warren, the model T altered being a regular nine second runner, Andrew Willcox also driving the car at one race and Tom Margesson also getting the experience.

When he decided to stop racing, Dave went on the crew at Shakespeare County Raceway where he met partner Angie Woods. They worked together on the SCR crew, Angie organising the Ladies That Launch event, until Shakey closed at the end of 2017. Dave nursed Angie after she suffered a broken leg in the staging lanes in 2014.

After the closure of Shakey, Dave, with Angie, worked at Santa Pod Raceway. Dave was described as "a great guy", "a true gentleman", a "fantastic track guy who was always alert when it came to racers safety" and "another good guy gone that loved doing what he did".

We send our deepest condolences to Angie and Warren, and all Dave and Angie's family and friends.

VW Breakout class entry closes next Friday.
7th May: With the season proper getting under way, and racer entry by ticket being mandatory for lifestyle events at Santa Pod Raceway, we remind class racers planning to attend VW Breakout on 28th-30th May that entry for the event closes next Friday, 14th May. Santa Pod Raceway's online racer ticket page states: "The closing date for entries is strictly Friday 14th May 2021 at 5pm, any entries received after this point may not be accepted".

The classes running at VW Breakout are VWDRC Heads Up, Outlaw Anglia, Supercharged Outlaws, Gasser Circus and UK Nostalgia Superstock with RWYB for these classes available on Friday too. You can see the current class entry list at this link.

Volkswagen Audi Group RWYB (and Wild Bunch) track sign on tickets are available at this link and should be purchased on-line prior to the event.

Swift snippets.
7th May: Donna Johnson Marits has written wishing a "Happy Birthday to Bob Jarrett, the love of my life". We would like to join Donna in wishing Competition Altered and Funny Car owner, tuner and driver Bob the happiest of birthdays, have a great day Bob.

The latest update to the Trakbytes web site at www.trakbytes.co.uk has just been uploaded by webmaster Chris Dossett. Chris says "This time we have 38 new entries, and the addition of around 80 new programme covers. New additions start in 1963 and end in 1999. Check the "What's New" page of the site for details. Thank you all for your contributions and continued support."

We were pleased to see a new blog on British Drag Racing, reminiscing on the glory days of drag racing and hot rodding culture from 21-year old Niamh Frances Smith. In her first two posts, Niamh writes about Celebrating the life of a British Drag Racing Legend: Dennis Priddle and The Isle of Thanet's Forgotten Drag Strip: Screamin' Alley Raceway. To read Niamh's well-written and illustrated site, the web address to go to is racewayhussy.blog.

Pro ET bash in July.
6th May: Lee Huxley has announced that the Pro ET bash is booked for Saturday 3rd July at the Fownes Hotel, Worcester WR1 2AP. Tickets should be available at the Springspeed Nationals for £15 each and the price includes a buffet and disco.

Tickets bought at or before the Springspeed Nationals 22nd-23rd May will be entered into a draw for a free room or equivalent. Rooms need booking before the 7th June at £65 for a double or a twin. There are limited numbers so be quick. All will be welcome, and money returned if COVID restrictions return.

An Accidental Polymath.
6th May: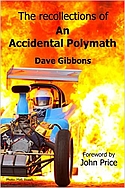 Racer, automotive enthusiast and celebrant Dave Gibbons has published his autobiography, titled The Recollections Of An Accidental Polymath, in which he recounts the story of his life and how he accumulated a wide variety of skills over the years. Dave told us:

I wrote the book as a record of things I thought that our son Scott (and hopefully future generations) might like to know – I never had any thoughts of publication. However, having written 66,000 words, I thought it might be nice to be able to give the work to Scott, friends, and family in the form of a tangible book. So in order to do so I decided to self-publish as the most cost effective means to do so. This of course means that it became available to the general public - but it also meant some serious editing, to remove the contentious detail and offensive language that would get me into trouble!

John Price was kind enough to write a foreword, and Russ Smith helped with some of the editing, and I hope the book presents itself well.

While drag racing and motorsport has been a big part of my live, this book doesn't dwell on that aspect – I don't want to appear that big-headed that I think I'm someone important enough to boast about their drag racing prowess – I'm not. As you will read, it really is a book of recollections (I hesitate to call it an autobiography as that feels to grand) encompassing pretty much everything – from the birth of my son, to some of the girls I went out with, and how I've managed to make a living without having a proper job.

Oh, and this is not a money making project – I get 13p from the sale of each book. Enjoy!

We read a copy of the book and found it well written, engaging and above all an honest account of the highs and lows of Dave's family and racing life, combined with his passion and drive to work in auto mechanics and also to entertain the punters.

You can order a copy of The Recollections Of An Accidental Polymath by going to this link on Amazon.

Snake wins in Mexico.
6th May: With thanks to contributor and Nitro Revival Eurodragster.com sponsor Geoff Stilwell, congratulations to drag racing legend and former Santa Pod competitor Don "The Snake" Prudhomme who, at the tender age of 80, has won his class in the NORRA Mexican 1000 across the Baja peninsula. You can see an account of Snake's first race win in 28 years at Autoweek.com.

VWDRC gallery, racer notes.
5th May: You can see our gallery of photos from the VW Drag Racing Club private test day at this link or via our event coverage index. The day suffered from intermittent rain in the morning which the ever-hard-working Santa Pod Raceway track crew made great efforts to dry out, and then a full track oil down in the afternoon which brought proceedings to a premature conclusion. Whilst running was possible there was a difficult head wind and cold track making PBs a rarity. We made notes of a number of club racers and others who took part: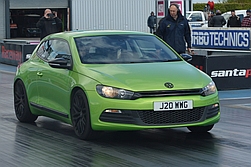 New to VWDRC, Junior Dragster graduate Jack Gooding (see picture, right) brought his VW Sportsman Scirocco, the car running consistently in the 16.6-16.9s range all at 80mph, a solid start to his fresh career in the class. Steve Metcalf of Blue Steel Racing is also new to the championship, in which he will be competing in his VW Sportsman Audi TT as a new engine is engine being built for his Baja Bug.

VW Pro Covid Cup winner James Hodson brought his rapid FWD Golf out running a 10.379/136.51 for a new PB.

VW Sportsman racer Justin Foley of Team Bubble Racing, tested his spare Audi TT bought from Lee Cordery to 14.97/89 as the engine in his Red Dwarf Golf is being upgraded to a VR6 turbo.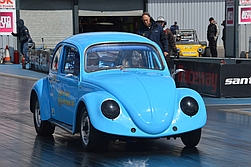 Also testing from those competing last year were VW Pro racers James Gould of Team Mulisha running a pair of low 11s, and Carl Goldsmith who ran a mid 11. Adrian Solly has had a new intercooler fitted by EST Performance which has resulted in higher boost in his Audi A3 engine, however his runs in the headwind were bests of 11.573 and 128.77 compared to his PBs of 10.50/141.

We saw returning VWDRC racers who had taken 2020 off, with VW Pro racer Abi Tether taking her VW Golf R Mk7 to a new PB of 12.775/105.01, VW Pro racer Ian Dale (see picture, left) in his Strip Burner Beetle was also testing.

Graeme Freeman ran his Sick Bubblegum Beetle in 2020 after a top end rebuild, however the car suffered a broken CV joint after his launch today and was out for the rest of day.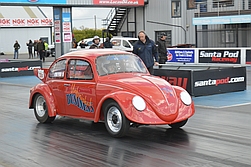 John Brewster (see picture, right) who ran his previous Street Lethal Beetle in Super Street in the mid 90s brought his Unfinished Business along. This rebuilt Beetle, originally built for shows by Matt Dolby, first seeing the track in 2020's Drag Days, has a John Sleath tuned 2276cc engine with race-spec internals, a new gearbox with Rhino case and FTC gears, and a Quaife diff. On his first run he experienced gear shift problems, and he lifted early on the second pass.

In the non-VWDRC contingent James Willday in his Mazda RX8 tried to improve on his 8s run at the Scott Lewry Private Test day, however the rotary engine struggled to get to the high launch revs it needs to leave the line. James said 'I plan to run the car in Comp Eliminator and it should fit in a class where we can run under the index'. You can see James talking about his unique car at Youtube link.

Best time of the day went to Craig Evans with his Corsa FTD, 9.9507/145.74, run by his Raggy Conversions firm.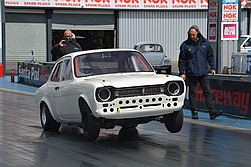 Other non-VWDRC cars included Clive and Jane Mccready's Ben's Van, returning to the Sportsman ET championship after a break in 2020. Topspeed Automotive Street Eliminator racer Al Williamson was there, but conditions weren't considered suitable for making a pass; Al mentioned that components had been re-mounted ahead of the rear axle to avoid the wheelies the car was experiencing regularly in 2019.

Ben Kennedy's Outlaw Anglia made a pass with new Centerline wheels. We also saw FWD racer Ahmed Jamshaid, who ran a 10.2926/136.42 in his roadgoing Civic with K24 engine (he also has a race-built K20 engined Civic tuned by Liam Garratt of Street racers rolling road tuning & remapping). Mark Moseley (see picture, left) brought out an injected Pinto-engined Escort Mk1. Matthew Wright had a turbocharged V8 Escort Mk2 with a single 105mm turbo, another addition to his fleet of race cars, the twin turbo Rolls in the process of having a 14-71 supercharger blown into by the turbos, so it can run in Supercharged Outlaws.

Thanks go to VWDRC Chair Luke Stevenson who organised the day and supplied streaming video whilst running took place, and the Santa Pod Raceway crew who worked hard in difficult conditions to put the track into a condition that cars were able to run on.

Dennis Priddle tributes.
3rd May: Thanks to all those who supplied tributes to the late Dennis Priddle, who passed away just a week ago. A number of unseen photos came to light and some have been collected by regular contributor Mike Collins who has provided his own unique tribute to Dennis incorporating the themes of reflection and Essence of NitroFire from #8 cylinder with some unpublished pictures (Click image for pdf):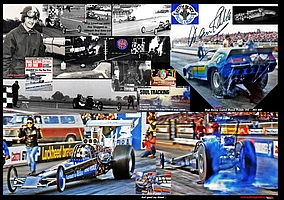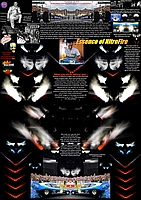 To see all the tributes we collected, click here or go via the Features, Interviews, Tributes index.

Saturday Night Special video.
3rd May: Thanks to Kieran spending a high proportion of yesterday at his editing suite, his video of the 1st May Saturday Night Special RWYB at Santa Pod Raceway is available to view on his Mk1Kieran Youtube channel. You'll see most of the cars and bikes taking part in Kieran's 46 minute production.

Zerbst season begins.
3rd May: The shortened racing season in Germany commenced this last weekend with a Test & Tune at Zerbst Airfield organised by AMC Dessau. The event, held only with pre-registration and without spectators, attracted a wide range of vehicles.

The German FWD Shootout is establishing a league of quickest quarter mile times from eligible cars in 2021, the first being Dirk Radzanowski's Honda CRX 1.6 L 16 V Turbo (12.222/201.809kph) and Maik Benndorf's VW Lupo 1.4 L TDI (13.018/168.308 km/h).

Personal best times less than 10.0s also came from three in other categories:

AWD - Nils Orlamünde - Audi 80 2.0 L 16 V Turbo Quattro (9.453/249.48kph)
RWD - Daniel Schien - BMW E30 2.5 L M50 Turbo (9.443/250.465kph)
FWD - Marcus Schmidt - VW Golf 3 VR6 Turbo (9.462/252.965kph)

Whilst weather on Sunday precluded any running, there was testing on Saturday by the cars and bikes present. Harald and Clarissa Czekalla, usually photographers brought out their ex-Brian Gandy altered with new Chevy power and assisted by Gerd Habermann. Christian Jäger was testing his Super Twin Top Fuel bike, which he managed to keep in the groove by some adept handling. Also seen were the new Camaro doorslammer of Walle Strobel and the Volkswankel Jetta which is headed for Super Comp action.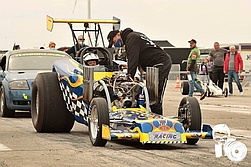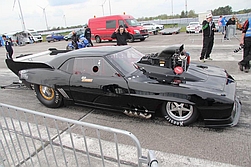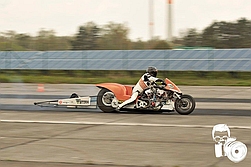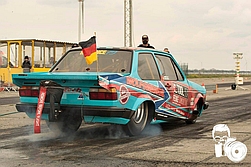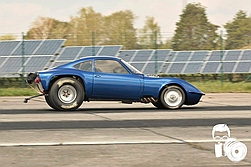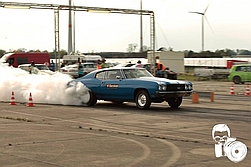 A full set of 228 photos of the event was posted on Facebook by Picture by Bob (Thomas Poppe). A selection is shown above.

The next planned event at Zerbst is the German FWD Shootout with Test & Tune 26th-27th June 2021. Support for Zerbst's 2021 season is from EM-Racing, high-quality racing and tuning parts for engines.

Pioneer stories – Series 2.
3rd May: John Hunt has announced that he will be embarking shortly on interviewing racers from the 1960s in the next batch of pioneer stories.

John said "Simon, Nick and I enjoyed working together on the first series of seven stories and we've got a process that plays to our strengths which produces great content. If anyone has feedback on the first series, we'd be delighted to hear from readers".

John had feedback from two contributors. Bill Haynes wrote "This has been fabulous having my story told . It has been done so well and I donated all my items but know that all would have been returned if required. It has been done with great responsibility and honesty. I am proud to have been connected with it."

Keith Stacey also wrote: "I was a bit sceptical about it at first,especially trying to remember what I was doing 45 to 50 years ago. As it happens I am more than pleased with the end result and both Lyn and myself are looking forward to meeting the other guys again. I had no problem lending the slides out to you and the nice thing is they are now on my computer."

John continued "The second series of stories of up to twelve racers who started racing in the 1960s will cover car classes and we hope motorcycles.. The planned publication date is between January and March 2022. We would be particularly interested in any accompanying photographs, negatives, slides, newspaper cuttings and other memorabilia, team shirts, jackets, hats etc for scanning or photographing.

"We would very much welcome any programmes or magazines no longer required. These would be passed around the group of drag racing historians to add to their own collections. They will be valuable to the research of all areas in the sport. Memorabilia no longer required will be kept together in its own collection labeled and safely stored. We are always very keen to know of others who you are still in contact with ; your help with any introduction would be most appreciated to then be followed up".

Interested parties who started racing in the 1960s should contact John or e-mail editor@eurodragster.com.

Swift snippets.
3rd May: Fire fighter and junior drag racing Dad Andrew Willcox has been in touch after the Collier family suffered a bad fire at their house on Friday after an electrical fire started in Scott Collier's room. Despite trying to put the fire out, the family had to get out of their home and are all safe, but devastated - Scott has lost all his trophies. Andrew said "I'm calling on the racing community to come together once again please at this distressing time for a much loved drag racing family, who will help anyone out when possible, and were the founders of junior drag bike. After helping at the house today and seeing the damage caused I have decided to set up a Go Fund Me page to help the Colliers get back into their family home asap." Contributions will be passed directly to the Colliers.

Eurodragster.com will be covering the private test organised by the VW Drag Racing Club tomorrow, 4th May at Santa Pod Raceway. The plan is for editor Simon to take trackside photos and collect racer notes.

Saturday Night Special gallery, notes.
2nd May: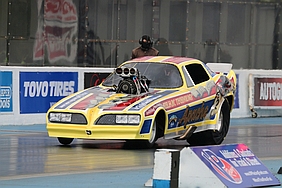 With thanks to Kieran and sponsors John Woolfe Racing, we have posted a gallery of pictures from yesterday's Santa Pod Saturday Night Special RWYB with running to just before 8pm.

We noted some of the times and comments from the racers who attended.

Nostalgia Funny Car racer Tim Garlick (pictured right) brought his Pontiac Firebird out for a couple of test runs. Tuner Rob Loaring said "the new clutch looks to be a good step forward. We made two short runs, the second on the throttle to around 400ft. It was a bit of a slug to 60' but the 330' was only 8/100's off Tim's best". The team's next outing will be at the STP Springspeed Nationals, where they will be joined by the completely rebuilt Venom of Tony Betts and Chi Town Hustler of Paul Harris.

The Top Fuel Bike of Phil Baimbridge was again piloted by Al Smith and you can see Phil's comprehensive write up with video at the PBR TFB Facebook page. The pair of launches resulted in a broken drive belt and damaged blower belt on the second attempt, following a 1.034s to 60ft on the first.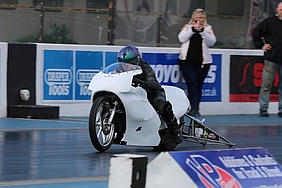 Hollie King completed her licencing runs on her Junior Drag Bike on her second outing. Brother Blade King (pictured left) got to see his new ride, supplied in white with help from Allan, Clair and Louis Davies moving up for the first time from junior bike. Blade made couple of nice gentle passes to get used to the bike and power, then last run of the day going for a launch with a fair bit of spin off the line, but keeping straight and still putting down a 140mph over the stripe. Also on a Junior Bike was Meg Talbot of Rise Racing aided by Kerryanne Frazier and Simon and Jake from sponsor Bod's Custom Cycles. Meg made eight runs, loads of random issues meant the last two runs were two new PB's 9.06 and Meg's last run of the day a 9.02.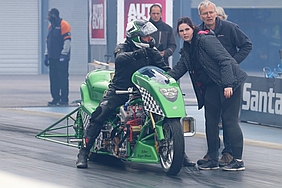 Former Pro Mod racer Roger Moore (pictured right) brought his renamed and repainted Box of Frogs Racing bike back with team Lucy Moore, Dave Moore, Gary and Bob Brooks. The team reported that the burst panel went on the end of the first run and pneumatic issues pestered for the rest of the day with the pressure regulator being the source of failure. The team worked tirelessly trying to repair the regulator but sadly to no avail.

Super Pro ET and Pro Modified racer John Tebenham with the Crew Killer Pop ran a 9.0027/148.65, once again frustratingly short of his 150mph target.

Bike racer James Cross ran new PBs of 9.1010 and 142.48 on his Suzuki GSXR. European FWD racer Ahmed Jamshaid ran new PBs in his Honda Civic of 9.1897/154.67.

Also appearing was Chris Bates's rare Mitsubishi Airtrek Turbo-R (pictured left), headed towards Topspeed Automotive Street Eliminator. The Airtrek has a Pro-charged 434ci SBC put together by Dan Williams at Williams Bros Racing. The car was bought from Belfast as an unfinished project and delivered to Jon Webster at Eurodragster.com sponsors Webster Race Engineering.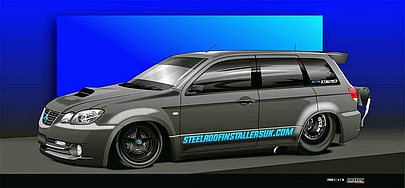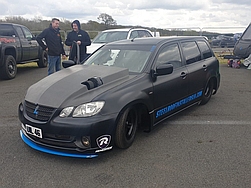 After some hold ups and the pandemic fiasco, the car was completed in November 2020. Chris thanks all involved to date, Webster Race Engineering, Williams Bros Racing, Dave Rowe at EPS and Darren West at Power Race Graphics for the original render.

It was good to have back at the track again the ex-Rob Smallworth '55 Chevy now in the hands of Iain Shurey with wife Jill and Dave Cunningham as crew.

You can see Kieran's gallery at this link or via the event coverage index from the main menu.

HOFtalk 11 published.
1st May: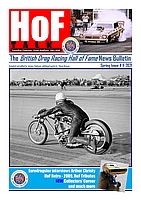 The Spring 2021 edition of HOFTalk, the magazine of the British Drag Racing Hall of Fame, has been published by compiler, UK Nostalgia enthusiast, and BDRHoF director Jerry Cookson.

This latest issue was finalised before the recent sad news of the death of Dennis Priddle. The next edition will be a Dennis Priddle Tribute issue, dedicated to his tremendous contribution to British Drag Racing.

In it, you can read about activities of BDRHoF members, tributes to those members who have passed away, and a retrospective look at the 2009 BDRHoF inductee presentations.

There is an article by Tony Thacker on Merek Chertkow who, as a 19-year-old driver of the Moonshot AA/FD, visited Britain's Drag Fest in 1965, and an interview by Eurodragster.com editor Simon Groves with South African fuel dragster pioneer Arthur Christy who made the long journey to compete at Santa Pod Raceway's 1971 International Meeting.

Also there's a new feature on drag racing collectibles, Collectors' Corner, which features models of several iconic British Drag Racing vehicles. To read the latest packed 35-page edition of HOFtalk (in PDF format, file size 45MB) you may download it direct from this fast link, or click on the Lucas Oils-sponsored Features, Interviews and Tributes link on any Eurodragster.com page.

Nick's video feast.
1st May: Drag racing historian Nick Pettitt has uploaded another feast of UK and European drag racing videos to his Youtube channel. We've listed them below - most are broadcast quality productions: We're grateful to Nick for tracking down and transferring all this historical footage, which would otherwise have been lost.

Swedish Doorslammer Tour 2021.
1st May:

With the cancellation of international racing leaving a vacuum in European drag racing calendars, a collaboration between four Swedish tracks, Kjula, Malmö, Mantorp and HMK Hudiksvall has established a new series the Doorslammer Tour and Bike Battle, a points competition that will take place during this summer with all class entries welcome.

Classes will comprise Pro Xtreme (aka Top Doorslammer with 3.66 index to the eighth), Super Pro Xtreme (4.40 index to the eighth) and Street (8.60/5.20 index), Pro Street (7.60/4.80 index), ET Pro (dial-in 8.50 to 15.0 or 5.10-9.60 in the quarter), Four To Six Pro (6.00 or 3.66 index to the eighth), Real Street (10.10/6.50 index) in cars. Bike classes are Pro Comp Bike (7.50 index), Super Comp Bike (8.50 index), and Super Gas Bike (9.50 index).

The race dates for the Doorslammer Tour and Bike Battle are:
7th-9th May, Malmö (including Super Pro Xtreme and Pro Xtreme)
12th-13th June Kjula Dragway
2nd-4th July, Huddik (including Super Pro Xtreme and Pro Xtreme)
29th July-1st August Mantorp Park
27th-29th August Malmö (final for Super Pro Xtreme and Pro Xtreme); and
18th-19th September Kjula Dragway (finals for all other classes)
The series has its own rules which you can check out at www.doorslammertour.se, with car and bike rules available separately in Swedish.

We'll supply summary reports and links to the detail and media.


Earlier news