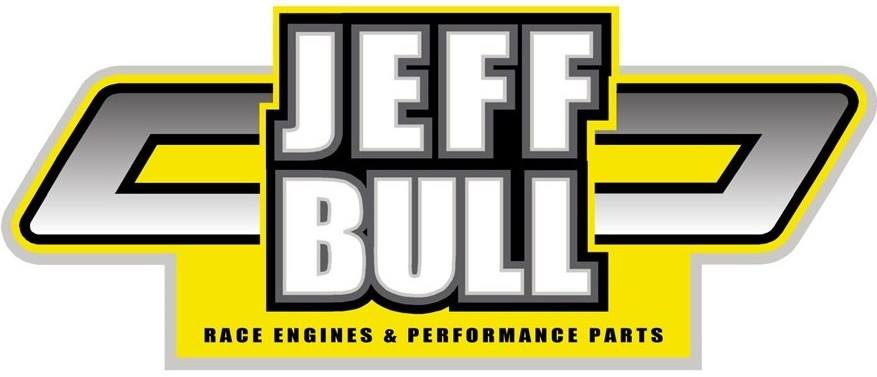 Santa Pod Raceway's main 2022 dates.
30th September: Santa Pod have announced the following provisional 2022 major dates as published in the event programmes for the Euro Finals Shootout and STP UK National Finals:
Festival of Power: 15th-17th April
Doorslammers: 20th-22nd May
The Main Event: 26th-29th May
Dragstalgia: 8th-10th July
Bug Jam: 22nd-24th July
Ultimate Street Car: 5th-7th August
European Finals: 8th-11th September
Flame & Thunder: 29th October
British Junior Dragster Club awards.
30th September: As reported in the news last Thursday, the annual Junior Dragster awards from the British Junior Dragster Club, run by Edel McDonald, with the help of husband Graham and son Liam, were presented by Eurodragster.com editor Simon in the JD pits. Edel wrote after the event:

"Thanks to Simon Groves and Eurodragster for their help at the Junior Dragster prize giving in Santa pod at the National Finals (you're welcome - Editor).

"Well done to all the racers and crew that competed this year and we hope to see you all next year. Thanks to PWHouse Rushden with his help with the Trophies, to Ian Marshall for bringing the cups up, also to Jan Mugridge and family for setting up the prize giving and obtaining the Voucher for me."

The following were rewarded:


Best Junior Stock:
Teddy Sullivan
Junior Stock Sportsman:
Jake Cooper
Most Improved Junior Stock:
Lola-Belle Kent
Rising Star Junior Stock:
Daniel Todd
Junior Stock Sportswoman Award:
Ada Cassisi
Junior Stock Newcomer Award:
Max Taylor
Best Junior Modified:
Freddie Taylor
Junior Modified Sportsman Award:
Jack Taylor
Junior Modified Most Improved:
Kai Cooper
Junior Modified Rising Star:
Damian Redshaw
Junior Modified Future Star:
Chevrolet Checkett
Best Junior Modified Advance:
Harry Redshaw
JMA Sportsman Award:
Luke Mugridge
JMA Most Improved:
Katie Ellis
JMA Rising Star Sportsman:
Luke Fulton
JMA Rising Star sportswoman:
Jacqueline Bartlett and Purdie Hadfield
JMA Sportswoman Award:
Frankie Taylor
JMA Most Consistent:
Caitlin Wilson
JMA Most Enthusiastic sportsman:
Max Love and George Oliver
JMA Most Enthusiastic sportswoman:
Ellie Brown
JMA Best Newcomer:
Jessica Bishop
JMA Future Star Sportsman award:
Thomas Cook Abbot and Harley Coulsell
JMA Future Star Sportswoman award:
Lara Bartlett
JMA Best reaction time:
Harley-Jay Darby
JMA most motivated sportsman:
Dan Weir
JMA most motivated sportswoman:
Kimmy Willcox
Best Crew Chief:
Andy Fensome
Half Scale Cup:
Luke Mugridge and Max Love
Anita Board Cup:
Ada Cassisi
Rising star:
Daniel Todd and Jessica Bishop
Tog's Trophy:
Thomas and Charlotte Cook Abbot
Well done to Harry Redshaw who won the SPRC National Championship and Thomas Cook Abbot who came runner-up.

Best Crew Chief winner Andy Fensome said "I'm very sorry I missed the awards ceremony, I would like to say a massive thank you for everyone that voted for me for the Best Crew Chief, it's a pleasure to help you all and truly a honour to receive this trophy. I heard the cheering and chanting which was so rewarding in its self, a great class with a lot of future stars keeping the sport going."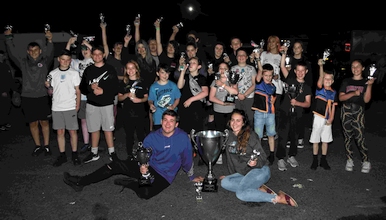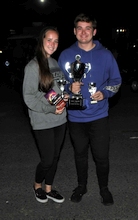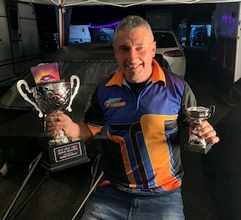 Tog's Trophy, presented to those that the former Eurodragster.com editor considers set a fine example in the sport, was awarded to Thomas and Charlotte Cook-Abbott. Tog commented: "It is a great honour and privilege to have a trophy presented in my name to Junior Dragster racers. When I was leading Eurodragster.com I was not allowed to have favourite classes, in public anyway, but I don't think that it has ever been any secret that I was and am a big fan of Junior Dragster, especially the qualifying sessions most of which kept me very busy typing.

"The first Tog Trophy is awarded to Thomas and Charlotte Cook-Abbott. Thomas has had a long Junior Dragster career during which he has conducted himself with good humour and in a sporting manner, and Charlotte has always been there beside or behind the car supporting her brother. Junior Dragster is the class in which the family aspect is most important and certainly the most visible and Thomas and Charlotte have over the years set a fine example both to fellow racers and to the fans.

"Thomas didn't remember this when I mentioned it to him but he should also get a trophy for sheer cheek because during his licencing weekend he approached me whilst I was eating lunch to ask for sponsorship – he got it, too - whilst Charlotte deserves a trophy for tolerating Thomas' outrageous insults on Facebook.

"It is great to see Thomas and Charlotte already preparing for the future crewing with other teams and setting themselves up for what I am sure will be years of contribution to the sport. But for now they are very worthy winners of the Tog Trophy.

"I cannot be there to present the trophy in person but I am grateful to my good friend Simon for standing in. Thanks also to Graham and the McDonald family for the honour which they have shown me."

Many thanks to Edel, Graham and Liam for organising the trophy celebration and we hope to see them back at the track in 2022.

Photo courtesy and © Andy Willsheer.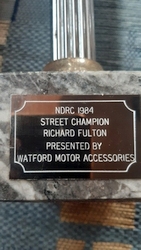 The generation game, part two.
30th September: In our news back on 31st August, we said that the Hope family are the first in British Drag Racing in our knowledge to have three generations of event winners, although three generations of the Coulsell and Fulton families have also competed.

Many thanks to Nici Fulton for writing in and confirming, with a photo of his trophy, that dad Richard Fulton as well as sons Dave and Simon, and grandson Luke, have each been not just event champions, but overall championship winners.

Nici wrote: "I've been on at the old man to jog his memory about his winnings...I know there were some, as I was the kid at school who was 'different' and brought in drag racing trophies for show and tell when I was 8 years old!

"Dad actually won a whole championship back in 1984 in his blue Firebird, the NDRC Street championship. So I'm guessing we could be the only family where three generations have won a championship?"


JT's end of season report.
30th September: Sometimes the best laid plans or years don't work out. Man, we tried hard, but oil problems beat the blue car up all year (Nigel, Frank and Ricky were incredible).

The white car is strange, it only loves the cold air. Luke Robinson was amazing, especially at the last two meetings trying to run two pro mods. On the Euro Finals Friday, we broke a con rod past the finish line, in the bumps. The strange thing is a year ago, to the Friday, we threw the rods in the Pop. Con Rod Friday.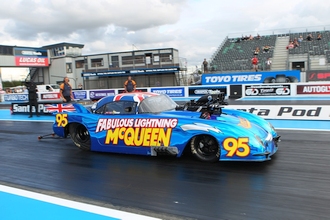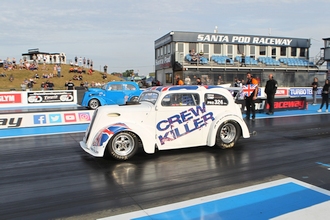 Still, not to be deterred, I am still planning on two new cars. A massive thanks to Keith and the whole Santa Pod team, they are amazing. Easter for a test, and then I am already counting the days to the Door Slammers. A very quick shout to ICE , Kev Slyfield, Kath who scares me in the signing on, Simon Eurodragster an amazing job (you're welcome - Editor). And Tracy Island, with tarn, popped up for a return they stuck with me through all those rain offs. Be safe, JT.

Swift snippets.
30th September: Today we wish a Happy Birthday to several racers around the world. Starting with the UK, Many Happy Returns to VW Sportsman racer Morgan Wilson, to Funny Bike owner and Top Fuel Bike racer-in-waiting Phil Crossley, then across to Sweden with Grattis to Anders Magnusson and lastly to South Africa to greet former AA/FD pilot and pioneer in the sport in that country Arthur Christy. Have a great day folks!

Photojournalist Steve Moxley's report on the senior ACU bike classes at the Euro Finals Shootout is posted on the ACU web site and is well worth a read for Steve's usual insight into the racing and great photos.

The Junior Drag Bike Club has launched a great new web site giving profiles of current riders, the roles of those running the class, and contact details. The site address is juniordragbikeclub.com.

The Mad Welshman has updated his Flickr page with photos rom the Doorslammers, alongside a smaller VW Action Show N Shine album, and also a large album from the Hot Rod Drags. Mad says "We're hoping to get to Melbourne next weekend for what may be our last drag racing event of the year, although I have seen that they may be adding one final event there at the end of October too!"

Comments on Hal Far development.
29th September: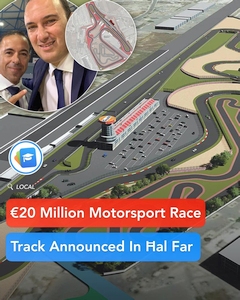 Many thanks to Malta Motorsport Federation President and 2017 FIA Top Fuel Champion Duncan Micallef for his exclusive comments for Eurodragster.com on the planned £17 million development of Hal Far Raceway in Malta, including a major upgrade of the drag racing facility:

"It has been a hard working 10 months since I was elected as a President of the Malta Motorsport Federation.

I wasn't prepared to give all this amount of time to this project, but once I saw a ray of light and what has happened after 50 years of waiting, I gave it all that it needed.

"I never knew this would happen. It wasn't an easy task. Asking for that amount of land on this Island is like entering a bank and asking to steal it. I knew the limits of the government and in February I gave my proposal which in my opinion was now or never.

"From that day onwards the government worked hand in hand with us to make this work.

"I with my other members of the committee, Oliver Attard, William England, Jonathan Bruno and Rueben Galea are very proud to have this project accepted by the government putting motorsports into the next level which I presume to be the highest level possible. From here I will be working with all the clubs to have the first European championship karting race here.

"I wish to send another message to the drag guys: I didn't quit, I will be racing in November at Hal Far and will prepare for 2022!"

Jean Todt, president of FIA, commented by video: "Today we celebrate the inauguration of the Malta Motorsport Park in Hal Far. I would like to thank the Maltese Government with special mention to Prime Minister Robert Albila and Parliamentary Secretary for Sport Clifton Grima. Thank you also to Duncan Micallef, the President of the Malta Motorsport Federation and his team for their long-term effort and his achievement, that is a great day.

Malta's drivers will have the facilities to train and improve their performance. More athletes will just venture into the international scene. You can count on the support of the FIA for the next phases of your project especially in the homologation process of three venues, circuit, drag strip and karting track. I wish this park a long and happy life and look forward to international motorsport visiting Malta in the future. That's what we all need and we have all been working for that and the day has come. Thank you and congratulations."

Image: Freehour Malta Facebook page.

Bike class racer comments from UK National Finals.
29th September: We present below comments (in some cases edited for length) from bike class racers following their successes at the STP UK National Finals:

In Top Fuel Bike, the win and the championship went to the legendary Steve Woollatt (below left). It's British Drag Racing Hall of Fame member Steve's 31st championship overall and congratulations to him. In the final Steve who ran opposed when opposition Al Smith (below right) red lit.

Al's performance had a big boost at the National Finals. PBR Rocket owner and engineer Phil Baimbridge wrote in his excellent Facebook page:

"With the cylinder head repaired and the Rocket rebuilt the PBR team headed to the UK National Finals, our last event of 2021. The weather forecast was surprisingly good for late September in the UK. The TFB national championship was up for grabs with all three entrants in with a shout of winning the #1 plate.

"The team for this event were Al & Joo Smith, Neill Curtis, Andy Kirk and I. We weren't sure if the cylinder head repair would work and we needed track time, so we elected to enter the pre-event test day."

Phil described the run as "a bit sedate" (shut down at 5 seconds and an ET 6.89s). The control air valve had closed itself just after the launch and with the much lower fuel flow throughout the pass the cylinders had started misfiring before half track. The team removed the control air shut off valve from the system and the bike ran a 6.45, better but not as good as expected as the misfire had returned.

Overnight. the team tore down the engine, measured leakdown, changed a rod and replaced the big end shells. The team also installed a 1 tooth smaller blower pulley and a 90 degree inlet that Al had fabricated, increasing the fuel flow as well. The result in Q1 was immense, Al enacting the "if you're going quicker than you ever have, keep it open" clause and keeping the throttle open all the way to the finish to post 6.012/228.9, which was below the existing ACU record and also with no damage. With an identical setup and shifted only 0.2s earlier Al ran 6.09/225.9mph in Q2, however not enough to back up the time for a new record.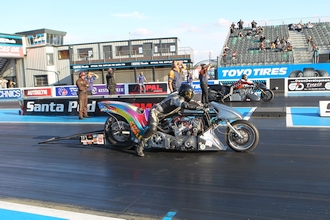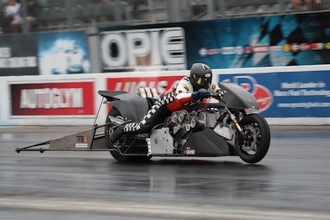 On Saturday night, with one bent rod and another suspect, the team changed both and installed a fresh block and pistons. On the bye in round one of eliminations the team decided to just launch, shift and shut down in E1 and save the motor for the final. (Al did exactly this and even with the throttle only fully open for 0.7s the Rocket still ran a 1.03s 60'!).

The Rocket was set the same as Q1 for the final against good friend Steve Woollatt, whose PBR "4 banger" had been running consistent 6.1s or 6.2s. "We had to win the final or set the UK national record for et or terminal speed to take the #1 plate. In the event Al "cherried" and we lost the race. We didn't get a time, but looking at the Racepak Data I would guess a low "teen" if Al had run the whole quarter. Congratulations to Steve and the Woollatt Racing team for their UK national championship."

Phil admitted he was "Really pleased with the progress", proven the concept and design/engineering, found a set up which avoids the motor badly hurting itself. The 6.01 puts the Al and the Rocket #18 on the all time "quickest" list or 15th if the bikes that appear twice with different pilots are discounted...and it was built in a wooden shed in rural Herefordshire!

Upgrades are planned to the ignition system (we still use points type magnetos that are around half the spark energy of a ProMag44) and fuel flow control (the AMS2000 isn't quite up to the task) for next season.

Phil thanks the regular team of Al & Joo Smith, Neill Curtis and Andy Kirk, sponsors Burlow Engineering, FIE, APE and B&J Racing transmissions and other racers who have helped out this year, Santa Pod/SPRC for providing such an excellent venue to run at, Banks Night Club for sponsoring the UK TFB championship and all of the Rocket's supporters at the track, on Facebook and other forums.

In Funny Bike you can read the Intwined blog posted on behalf of Warpspeed Racing to see the story behind 2021 ACU Champion Stuart Crane and Mark Smith's event:

"Round 1 of the qualifiers, Stuart Crane and Mark Smith (below left, Mike Kraaij picture) aka Smithy, were up against each other. It was an all round good race with no breakages. Smithy had shift issues but nothing major. Stuart took the win with an impressive 6.62 seconds at 196.19 mph. Smithy wasn't far behind running a 7.21 second run at 178.52 mph. Both bikes were in one piece and after normal maintenance they were ready for the round two qualifiers.

"Round two unfortunately went a little 'Pete Tong'. Stuart ran a bye but broke at about 100ft out, resulting in a broken clutch basket gear, which exploded through the engine casing and the carbon body, hitting Stuart in the chest. Thank goodness he was fine, the bike not so and the end of the meet for him unfortunately.

"Smithy's launch was ok but the bike pulled left. He then had transmission issues which resulted in him shutting off the throttle and rolling through. He ran a 7.92seconds at 145.34mph. After checking over the bike, the shift shaft, shift forks and the gear input shaft were all damaged, resulting in our fantastic team spending the rest of the day, right round to 4am mending the bike and fitting the new "Warpspeed Racing" billet hurricane head. They worked their socks off so Smithy could get out for the first eliminations.

"Smithy was up against Roger Moore. As you can see below Roger had a good reaction time of 0.2900. Smithy was a tad slower off the line, with a reaction time of 0.52. The bike shifted left again. Smithy pulled it back and took the win with 7.45seconds at 154mph. However the exhaust fell off about half track, thankfully no damage was done. With a quick turn around, the Warpspeed Racing team, headed to the semifinals. Smithy was up against Tony Clark.

I'm gutted to say that the bike died on the line and the meet was over. As the season came to an end, we look back with mixed emotions. It's been an up and down season, that's for sure. Lots was learnt, money was spent, new personal bests were made and records were broken (well done Stuart).

"Even with more breakages than we would like, it's still been an awesome season racing, where memories were made with the best of friends.

"The Warpspeed Racing team has come on leaps and bounds over the last few years and we will be back next year, stronger and faster than ever. We also welcome back teammate, Dale Leeks, making Warpspeed Racing a three bike team once again. Welcome back Dale, we are looking forward to seeing what you pull out the hat also seeing your new swanky race truck.

"We would like to say Thank you to all our sponsors and continued support at the track. A huge thank you to Stuart Crane proprietor of Warpspeed Racing, for your sponsorship and going above and beyond to make the season as successful as possible. We really appreciate everything you have done this season."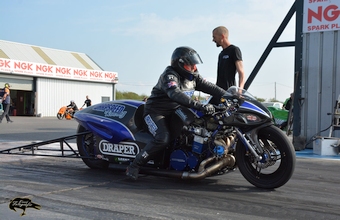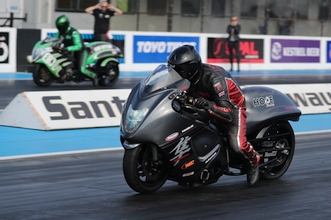 Super Street Bike was once again dominated by 2021 Champion Steve Venables who confirmed his champion with a #1 qualifying position, but then went and completed the deal by winning the event against Alan Morrison Jnr who was runner up in the championship.

In qualifying Alex Hope ran his best ever times of 7.011/204 and Mark Hope (above right) also qualified strongly with a 7.186/205 and Mark wrote after the event:

"The final race of the year was a bit of a roller coaster! We managed to qualify 6th with a 7.18 at 205mph (never thought I'd be disappointed running those numbers) but it was becoming frustrating not being able to progress and chip the ET down.

"So we made some changes, resulting in a few good high speed wheelies, as we searched for the limits. We sure didn't struggle for traction this weekend! In the last qualifying session Alex ran a stunning 7.01 to overcome all the issues and bad luck him and his crew have suffered this year, those runs, are what make all the effort worthwhile.

"E1 saw us face off against Alex, who unfortunately had a clutch switch failure, pulling him through the tree to hand me the win. E2 the bike left clean and felt like it was on a good pass with good short numbers but didn't want to shift into 3rd. I ran 7.37 to Alan Morrison Junior's 7.31 with a close race at the top end.

"We're still tying to figure this thing out, but I feel closer now than ever! Thanks to the following guys for their continued support: Nimbus Motorsport, WSC-Performance, Ramair Filters NGK Spark Plugs (UK), RPS Manufacturing (the new shock is working a treat, and offers a lot of adjustability!), and Steve Nichols - Maxx ECU."

In Comp Bike, Jeff Kenway wrote about son Jordan Kenway (below left) who came fourth in the championship in his first race season in the class: "It has been one of the hardest but most rewarding since we started racing. The goal was to get Jordan's license to complete in comp bike and run an eight he certainly did that got into two finals and came so close to running a seven. It's a shame we did quite a bit of damage to the bike at the last meeting, a plan is already in place to fix the bike and make it stronger for next year. I would like to thank the usual suspects Jake Mechaell, Stuart Crane, Mark Hope and Simon Holgate for all their help, NGK spark plugs UK who have supported us since he started racing at thirteen and Alex Clark from Renegade for meeting me at stupid o'clock at motorway services so we had enough race fuel finally HEL performance when you go quick you have to be able to stop their brake lines are the best. I would like to also thank all the Santa Pod crew who give up their time so we can race in safety hopefully we will see you all next year."

In 9.50 Bike, Craig Wright (below right) wrote after becoming championship runner up: "It just wasn't meant to be this year. We finished 2021 as 9.50 Bike UK/National runners up, a tough one to swallow after leading it all year right up until tonight's Final, but Richard Sawatzki bought his absolute A game today and bagged his 9th Championship. He REALLY is the man, massive congrats to him, and an honour to shake that fella's hand after our scrap. Cheers all, your messages of support have been mega, thanks so much. What next....we shall see."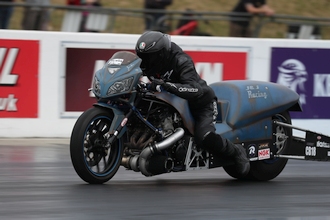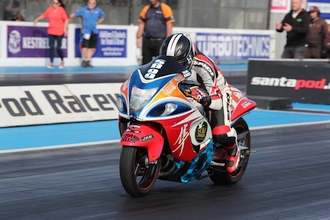 9.50 Bike racer Brad Head wrote: "2021 season done and dusted! Another great weekend had at the national finals! The weekend started well for my self taking the number 1 qualifier in round 1 then running a 9.508 in qualifier number 2 my first 9.50! Unfortunately Martin Hallett snatched the number 1 away from me in the last qualifier and took the bye in first round! Which left me to face Richard Sawatzki in round one, a very close race which Rich won by .03 at the stripe he was in a different league on race day this weekend! Congratulations on your 9th championship Rich been great racing with u this year ! Very happy with how this year went it was all about regaining some confidence and getting track time all of which we did so very excited to have my own bike out in 8.50 next year ! Thanks to everyone that has helped me get to this point and most importantly to Andy Head for the use of his bike it really is a great bike to ride hopefully he can put it to use next year! bring on next year!"

ET Bike had the 2021 Champion Phil Pratt and Runner-Up Paul Adams (below left) face off in the Final. Suze Morris wrote:

"The No.1 and No.2 side by side with, purely by chance, identical dial-ins. An entertaining race, with Phil spinning all the way through 1st gear and Paul rolling the throttle after a cheeky peek over his shoulder! Congratulations to Paul on the event win and to EVERYONE on a fantastic 2021 season! So... who's up for doing it all over again in 2022?"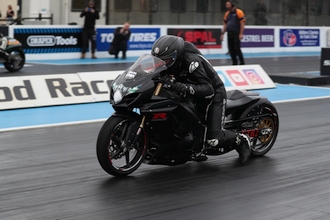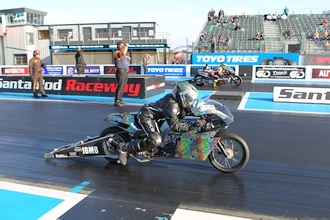 Junior Drag Bike champion Hollie King (above right) had "an absolute blinder of a weekend" as described by brother Blade.

Hollie wrote: "My first season as a junior drag bike racer is done and I won the ACU and Santa Pod championships. I've had the best time racing and loved racing against everyone. I can't wait for next year with some new juniors joining and riding my new bike. Thanks to Jack Shook for giving me the bike.

"I'd like to say a massive thank you to Simon Holgate of Holgate engineering for building my bike, rukus customs for the most amazing body work. Bill, Kye, Blade, Nan and Grandad for being my pit, crew and most importantly my mum and dad for supporting me to race.

"Also to everyone who sponsored the juniors with prize money, it's very much appreciated. Thank you to everyone for your support it means a lot."

For a selection of media posted after the events please head towards the following links as well as our coverage: Gredzinski progresses with 80s book.
29th September: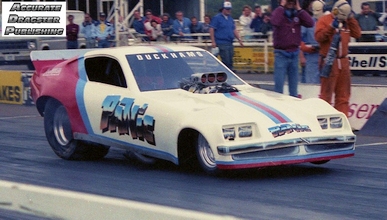 Photojournalist Mark Gredzinski of Accurate Dragster Publishing says that work continues to progress on his photographic account of 1980s UK and European drag racing:

"Just finished scanning around 5000 photos from negatives/slides and am wielding the scythe of quality, to slash them down to around 250 images to realistically put in the book. Too many is a crowd! Editing is enjoyable but leaving stuff out is hard. I always imagine their will be a fictitious volume 2 the remainder go in, so I don't feel so bad!

"The contents of the book will cover the period 1980 to 1989 in drag racing terms. The decade was actually unrepresented in many ways and was largely ingnored by the media. Much of what happened was not well documented and many of the cars/bikes forgotten about. My approach to the book is to do it much as I did when writing my well received photographic truck book, Midnight Movers. That is to say it will have a personal narrative which will highlight my journey from being a humble fan to being involved in the sport.

"This covered journalism, photography, design work, and crewing on a blown methanol dragster, Top Fuel and Funny cars. There are plenty of insider photos and pics of people. Stories that have not been illustrated before. Pictures from the Pod, Long Marston, Bitteswell, Valencia. Blackbushe, Zandvoort and North Weald and various garages!. I'm hoping to have it out by Christmas and it will be available from my secure website. Enclosed is a shot of consideration but it won't make the final edit, since I have better.

"It won't be all Funny Cars. That will have to wait for my planned Funny Car book but that is a year away. There is another truck book to do in the meantime. Some of the pictures will be surprising and 99 percent of them have never been seen before."

£17m investment for Hal Far motorsport.
28th September: When we reported that a meeting of the Malta Drag Racing Association with Clifton Grima, Parliamentary Secretary for Youth Sports and Voluntary Organisations in Malta, was to take place last Friday, we sensed a major announcement was in the offing.

Yesterday morning it was announced in The Times of Malta that the government is to build a long-awaited racetrack in Ħal Far.

In a press conference on Monday morning, Malta Prime Minister Robert Abela said the €20 million (£17m) project would be built around similar, existing facilities in Ħal Far and would not take up any ODZ (Outside Development Zone) land.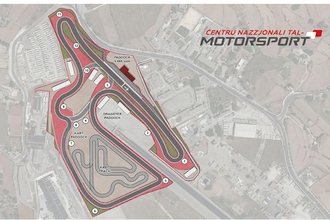 "The racing sport has waited for long enough, and it is time to deliver on our promise," Abela said. "We have the plans and money for it, and designs will be published soon." He said the track has been designed by German professionals and will be built away from residential areas in Birzebbuġa.

It will be funded through the sale of Maltese passports to wealthy investors, with the money required to be build it being provided by the National Development and Social Fund. The NDSF is tasked with investing a portion of money earned through passport sales.

Malta Motorsport Federation president Duncan Micallef teared up at the announcement, saying the news was like a dream come true. "I had to look at my watch to make sure I'm not sleeping and dreaming," he told the prime minister and Sports junior minister Clifton Grima. "Thank you so much for making our dream come true."

Grima said that the plan is to upgrade existing drag racing and karting facilities while also building a racetrack close to them. He also hinted that an international racing event has already been committed to Malta. The federation has been lobbying for the racetrack for a long time and a track was one of Labour's electoral promises ahead of the 2017 election. But motoring enthusiasts' plans appeared to have been dashed in 2019, when their proposal for such a track was shot down by the government.

In a reaction, (PN) Nationalist Party leader Bernard Grech said the project was revived on the eve of a general election after having been shelved for years by the present government. He spoke on the need for the project a few days ago. He said the PN was committed to building such a track and would not deceive motorsport enthusiasts.

With acknowledgements to Mark Laurence Zammit and The Times of Malta.

Editor's comment: despite the party political wranglings in connection with such announcements, this is the most positive indication we can remember that major development of the Hal Far facility will take place – and 2017 FIA Top Fuel Champion Duncan Micallef, the 'Maltese Lion' is the ideal person to ensure the plans for an international standard track become reality.

Vince Shaw.
28th September: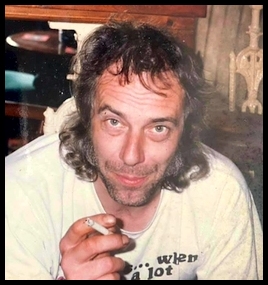 We are sad to report the death of UK drag racer, crewman and engineer Vince Shaw, who worked for several teams but was known to many at Shakespeare County and Santa Pod Raceway.

Vince worked at Toolcraft in the 1970s making tooling for Jet clamps but also producing items such as throttle linkages, clutch components and other parts. The teams he supplied parts for were legion: Gleadow Bros, Dorset Horn, Fire Injun, Doug Bond with Martyn Hannis and Jim Seward were included on his customer list.

He was involved in running several cars over the years. Vince ran Mexico Mouse which was previously Rick Fielding's Imagination 6, with John Gibbons and Pete Ward. He then acquired Alkymist (the former Tudor Rose, co-owned with John Gibbons replaced by a rear engined car of the same name in 1979, utilising an injected 5 litre SBC with a rare set of Pete Jackson injectors). He was a member of the Midland Drag Racing Club and was 1977 Midland Champion with John. After Alkymist, Vince and John ran a Rover engined T bodied altered.

Latterly he worked with Norm Wheeldon on his cars, including the Two Much twin engined slingshot, and Nick Stephenson's Corvette which ran infrequently but usually very quickly, at Avon Park/SCR. His hands-on approach was reflected in his oft-quoted saying "You don't sort a car by running past it with a new set of spanners".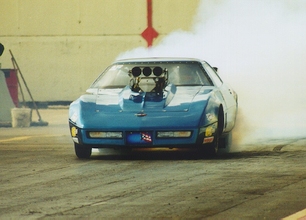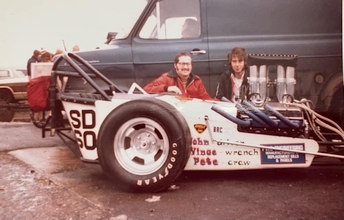 As well as racing, Vince was into model boats, showing an interest in the engineering side as well as running them. Suffering from cancer, in his final few days Vince watched live streams of Santa Pod Raceway from his hospital bed before he slipped away. We send our deepest condolences to Vince's daughter Sam Whitehall, his family, friends and team-mates.

Nick Stephenson photo © Tog.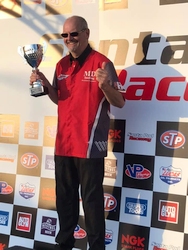 Car class racer comments from UK National Finals.
28th September: We present below comments (in some cases edited for length) from car class racers following their successes at the STP UK National Finals:

Eurodragster.com sponsors Robinson Race Cars, whilst still in testing mode with their Anger Management 2.0 Camaro, showed delight at the Robinson-built Blown Bird team and driver Kev Slyfield (pictured left) regaining the Motorsport UK Pro Modified championship he had last won in 2015, and winning the event: "A huge well done to Kev Slyfield and the Blown Bird Drag Racing team for winning the Motorsport UK championship which went right down to the semi finals of the event! Also well done to all the other Motorsport UK Pro Mod competitors, everyone did great this weekend, and put on an amazing show."

"This weekend we achieved a lot, we made 2 full passes, a 6.12 and a 6.23, and also recorded a great speed of 237 mph. This bodes really well as the data shows that our engine and fuel system combination is in the ballpark. We have a good baseline to work from to start our 2022 season."

Harrison Brown made his class debut in the Thatadoo Super Pro ET Camaro, formerly raced in Pro Modified by Gordon Appleton, which he said he once sat in as a nipper:

"After breaking the car in the burnout on my 2nd test pass during Friday's test day, then thinking that our season for this year was just set out to be cursed with breakages, we decided we weren't going to give up. So we set about finding the issue and cracked on till the early hours to get the car ready for qualifying on Saturday. With amazing efforts from all the team we managed to get it up and running again. I am eternally grateful to my team for all their hard work, as it was the next pass I made that I ran my first 7".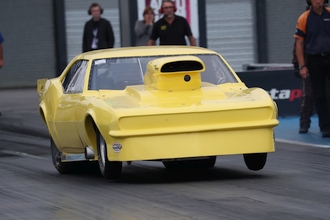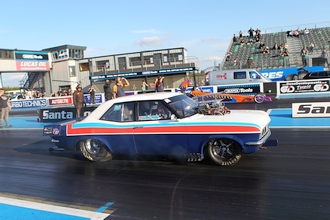 Super crew Jim Massey started on Mark Bailey's Super Pro ET team, Mark running a new PB 8.67, but changed teams when Mark suffered a first round loss: "What a great weekend, had a brilliant time with Mark Bailey, Jane and Paul, who I crewed for, thanks for your hospitality after Mark went out In the first round, I jumped ship to Billy Gane to do the dial-ins to free up Alex Gordon, Alex had done a brilliant job qualifying Bill in 3rd and all season been on top of his game.

"The only chance Bill had to win the championship was for Giles and Hartley and Ron Bartlett to go out early, which they both did, and for us to win the final. Well we managed to get to the final against Alan Didwell in a very close race ,both drivers pulling 0.02 lights and both 2 hundreds off their index, but we lost by 13 thousands. Great race, well done Alan.

"Bit gutted especially for Bill who has driven brilliantly all season. Finally just like to say thanks to Bill and Dave Gane, Alex, Dion Hartley, Alfie Wratten, Terry Wratten and Felicity Gibbs for all the laughs and help and for letting me help in my mind the best Super Pro and bracket team there is (apart from the Herbs of course). Great end to the season ,but watch out next year because we will be back to have another crack at it."

Pro ET Champion Lee Huxley, winning his first individual championship, previous championships being under the Dark Horse Racing banner said: "Ok my turn for some Drag Racing spam. I only went and won the championship!. What an amazing season and a great finale with a completely different car than I'm used to. I have so many people to thank so here goes:

"Firstly I thank my wife and kids for always being supportive To the rest of my family for their encouragement and kind words. Thanks especially to my dad for towing the Nova to and from every race meeting. To Neil Bell for trusting me with his beautiful 66 Chevrolet Nova with its awesome Jeff Bull Race Engines power plant. Crew chief Richard Bell for the technical support and to all our other crew members. They know who they are. To all our very loyal sponsors for 2021 season and many previous years support.

"Thanks to all the Santa Pod staff for all their hard work especially Darren Prentice for all your help and Angie Daly for always being there at the end with a smile and a clap. Thanks to all in Pro ET! Toppo's Tenners, Bad Habit awards and to everyone's posts of congratulations! Loved 2021. Roll on 2022. Watch this space."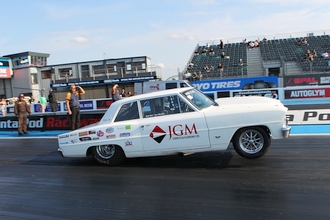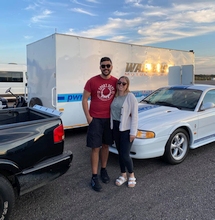 Sportsman ET double champion Dan Holloway hinted that after two SPRC National Championships it is time for him to step up:

"Back to back National Champion in Sportsman ET! Made a few mistakes this year, learnt more than I ever have, came out a more experienced racer for it. No expectations coming into the National Finals, but just managed to do enough on the day Also one proud boyfriend of Holley for making her second final in as many events Sportsman better watch out next year!

"Truck Norris will be semi retiring from the race track for now, will get some TLC and well earned rest! He threw me a few curveballs this year, but ultimately did me proud when it counted. What a cracking little truck. As for me, my current plans are to step up a class or two next year, providing all goes to plan over the winter.

Super Comp champion Leah Kellett was typically enthusiastic about her victory in the race and her second SPRC National championship:

"What a great end to a fantastic season! After a collaboration of red lights and a break out in the last three event finals, I was determined to give it my absolute best I could this weekend, to end the season on a high and boy did I!

"I managed to seal the championship, have a heads up race with my bro for the first time, and have that green light final I had hoped for, the bonus of that was then followed by taking the event win too! I was absolutely over the moon!

"So chuffed to bits for Steven Hudson taking the runner up in the championship and meeting me in the final this weekend! What a bloody awesome race that was! Well done Steve! #nothrottlestop.

"Got to say a massive thank you to SPRC, Keith, all the marshals, All the awesome track crew, Ian Marshall and David Warren for all the hard work and dedication this year, for managing to give us a terrific full season, starting half way through the year due to the pandemic! Absolutely outstanding guys thank you so much!

"Thank you to my absolute Dream Team making all of this happen, Pete Kellett - The Chief, for our awesome rides, the transporting and all the prepping etc that goes with it, Billy Everitt Co-Crew chief for absolutely nailing the lot! Spencer Tramm for all the continued support and help as always smashing it! My stand in crew men, John Prz and Jordan Wilson for being absolutely fabulous. To the awesome Jeff Bull @ Jeff Bull Race Engines and Belinda Bull for all the continued support for me and bro as always, believing in us and giving us one hell of some cool rides! To my girl power pal Laura Grace Turburville-Wilson for the absolute best support as always, for my card and gifts of achievement this weekend making it that extra special, and just always being there.

"Thank you to my amazing class mates for all their help and support as always! So lucky to race with such lovely people willing to help even though we become opponents on the track, its all about helping one another get us there! Loved having the Wild Bunch guys with us! So awesome to race you guys! And great to have newbie Scud (Allan Schofield) and crew with us too! Lets keep Super Comp alive and kicking and having fun!

"Last but not least, thank you to everyone for all the support given all year and to the photographers for capturing all the amazing moments.

"Well done to my bro for smashing it this weekend! And to everyone who gave it their all to fight for their championships and put on a great show! Well done to all on your wins! Have a lovely winter, and look forward to seeing you all again next year! Lots of love – Dolly.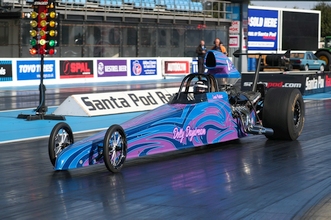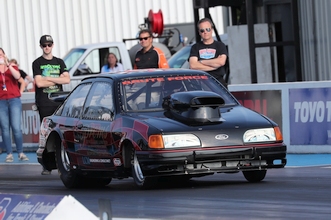 Super Gas champion Andy Harrison won not just the championship but also the Perfect Light Award:

"I've had an amazing year but couldn't have done it without my fantastic crew, this was most defiantly a team win. Crew chief and Mr Numbers Ian Hart, chute girl, videographer and definitely the better looking member of the team Zoe Sparrow, motivator, mentor and towing services Paul Brown, evening banter and general entertainment Ruaridh Hart, and my family Rachel Harrison, Emily Harrison, Bethany Harrison, for all the love and support. You guys and indeed all the Super Gas family, you all mean the world to me and I love you all. Santa Pod you and all the staff have been amazing and I thank you so much".

Despite the disappointment of an uncontested final when Mark Coulsell had a rare stage foul on a semi final bye, Wild Bunch racer Pete Brown was delighted at doubling up his Roy Wilding Championship with the SPRC Club Championship run at MSUK permit events: "Would just like to say THANK YOU! to each of you for the messages of congratulations after the weekends event, it's still in the "did it really happen" stage.

"Although the final was lop sided (just me) I would like to congratulate all the other teams who were in the running, each tried just as hard as the other and each was a formidable opponent and great competitor with laughs along the way. Well done to all in the Wild Bunch too, what a great season with ups and downs but thankfully more ups!! Well done to you all!

"All the staff and crews at Santa Pod a well done and thank you for all the hard work that has been done and being done, a great crew. VW Pro Champion James Hodson said " I won my first round which means I am VW Pro Champion for the 7th time. Thanks to Jason Noel for crewing and to the rest of the VWDRC. Commiserations to Adrian Solly, a fine competitor".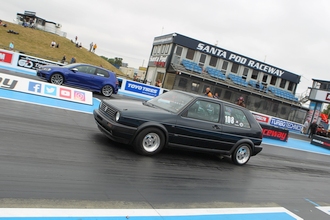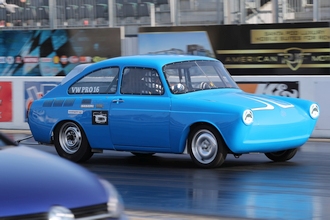 VW Pro racer Graham Fairhead had some issues over the season, however finished third in the standings: We still had gear change issues but massive thanks to Jim Bowen for delivering fresh parts Sunday morning and with issues still, Graham managed to get to the semi finals and ended the year in 3rd place. Given our range of issues this year and not doing all the rounds we're well happy with that result, now planning has started for next season.

VW Pro racer Paul Jackson drove his Il Pirätä Lupo to the car's first nine and wanted to thank those who helped him: "Another PB 9.881 @ 143.88. Il Pirata is the quickest and fastest Loopy Loop in the UK. Huge thanks to Chris and Sambo for all the help/effort/encouragement/p*ss taking, couldn't have done it without you guys. And as always, thank you to everyone in the VWDRC and at Volks Workshop and Pro-Race Engineering."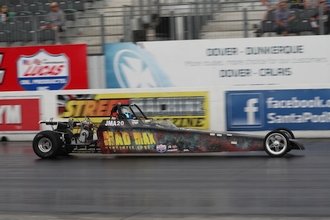 Junior Dragster racer Mackenzie Love had a ball at the event as well and gave a great description of his thoughts through his race weekend: "Well what can I say! What a weekend. Quite literally. The car has just been top form this weekend and coming home all in 1 piece. She got me qualified 5th with my first double 0 reaction time in about a year and since I've had lots of new things done to the race car. 0.0098. Then I move on to Sunday eliminations day and, wow, the match ups throughout the day were probably the best match ups I've ever seen since been in juniors for 3 years. It was just great!

"We had Lola-Belle Kent round 1 and we dial in a nice 8.36 and go 8.46 with a decent lift. And we take the win. Round 2 we had Jake Cooper, another junior stock. I had to wait on the startline and get chasing, we dialled in an 8.30 on the dot as the sun was shining and heat was getting to the track and the wind was slowly going away. So we knew we were gonna go fast. I pull a safe 0.10 and another decent lift and go 8.41 on an 8.30. And we take the round 2 win and proceed once again to our 2nd quarter final of the year, the 5th one in total.

"Coming back from round 2, I instantly hear I have Mr Cook Abbott. Not gonna lie, my heart sunk to my ass. As I know, Tom is a good racer and is not an easy get around. Tom dials 8.14 and is on the money with a nice 0.0750 light. But it gets better... Out of nowhere I pull a 0.0014 light on the tree, and was 8.34 on a 8.31. (slight feather on the throttle). So it was all down to reaction times as we were decent on our dial in's. Obviously I had the advantage by a mile and I take the win. Obviously I felt really bad taking out Tom to a short ish weekend as it was his last meeting in juniors. I jumped out the race car at the top end and we congratulated each other and had a good chat.

"Then I'm going down into the pairing lanes for my first ever semi finals after 3 years of nothing but problems with the race car! At this point I wasn't bothered what was going to be the result as making the semi final was an achievement in itself. I still gave it all I had to try and get a spot in the final but it just wasn't meant to be on that run. Luke Fulton was dead on the money 8.33 on a 8.33 dial and a sharp 0.040 light to my 0.046. 8.31 dial for me again and a slight feather resulted a 8.37.

"If only I had cut a better light and not feathered it I would have won the race with a tight win margin, gone through to the final and faced Caitlin Wilson where she broke out and I would have taken my first event win but hey! There's always next time.

"Now to look forward to Flame and Thunder and doing some winter upgrades and getting ready for next season. Massive thankyou to Colin Theobald for great commentary all weekend and to all the Santa Pod track crew for making us have the best prepped racetrack to race on for our last championship points round of the year. Amazing weekend over all and I will catch you all soon.

Also coming home with 2 awards, Most enthusiastic sportsman in JMA, and the Half Scale Cup trophy with an additional $100 to spend with Half Scale. Also coming home with am immense pb reaction time of 0.0014. That triple 0 is soon coming.

Finally a farewell to those leaving the Junior Dragster class at the end of the season. Mark Cook Abbott, dad of Thomas, wrote: "It's farewell to Team Tominator as they leave Junior Dragster, this weekend was their swan song. 10 years in Junior Dragster came to an end on Sunday. They will be moving into a new class in the 2022 season and we'll announce more information later." Farewell from the class also to Caitlin Wilson, Harley Jay Darby and Frankie Taylor who left after two rounds and has a new Pro ET car in the works.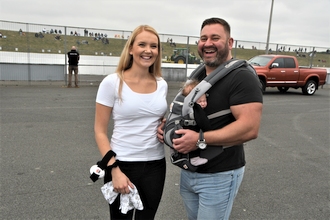 Starting 'em young.
28th September: Many thanks to photojournalist Andy Willsheer who snapped this photo of a pair of Top Fuel racers and their new offspring:

Among vistors to the Pod at the weekend were Top Fuel standouts Liam Jones and Norwegian partner Maja Udtian, along with four-week-old daughter Matilda. The two drivers from the straight-line sport's premier class were cruising the pits and enjoying a a laid-back Saturday with their newest addition to the ranks of future Jr. Dragster pilots. Liam said that there are currently no plans for the pair to return to competition in 2022, but may well have something in mind for the 2023 season. Watch this space...


Mr D Slot Drag Racing restarts.
28th September: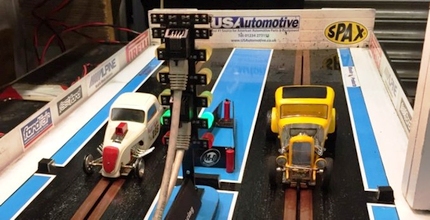 Steven Dudley (MrD), owner and manager of the MrD Slot Drag Racing track, a 1/24th scale 1000ft, fully timed slot racing facility says he plans to reopen his facility during the off season in the UK.

"I run 2 meetings a month over the winter season. I've recently asked locally if someone could come along and video (livestream maybe) and take pit photos. "The first race meeting is this Friday 1st October at Cathedral Primary School, Victoria Road, Chelmsford, Essex, CM1 1PA. The entrance to the school is just opposite where the Royal Mail Sorting Office used to be on Victoria Road, near Riverside Ice and Leisure. There is a small car park in the school grounds, please park carefully as it is very narrow. If full please park in side road opposite the school.

"I have loan cars for anyone wanting to try out this exciting form of slot car racing. We run Elimination races during the evening, for added tension, as well as the Gasser Circus Championship, see the MrD Slot Drag Racing Facebook page for full details. Race fee is the usual £5 for the evening, with accompanied under 16's free.

It's great fun, come and have a go, the track opens at around 7.30pm, with Elimination races starting at 8.15pm. Hope to see you there.

If you can't make this Friday, there will be a full length (6 hours) event on Sunday 10th October 2021, at Brentwood RC Raceway Unit K1 Frieze Hall Farm Coxtie Green Road Brentwood Essex CM14 5RE. Action will include MrD Crazy Horse and Outlaw Elimination races as well as the MrD Gasser Circus and starts at 11am with the first race around midday.

A sample of the action can be seen at this link.

2022 SPRC Dinner Dance.
27th September: Santa Pod Racers Club are pleased to announce that their 2022 Dinner Dance Trophy Presentation Evening, to congratulate the 2021 season winners and runners up, will take place at the Mercure Centre Hotel Bedford, 2 St Mary's Street, Bedford, MK42 0AR (for map click here) on Saturday, 29 January 2022.

The arrangements are as follows:

Please be seated by 18.45. Proceedings will start prompt at 19.00 pm with presentations for the SPRC Bike and Car Championships followed by dinner at 19.15.

After dinner, the 2021 UK National Champions and runners-up will be presented with their trophies, followed by the 2021 MSUK British Drag Racing Championship top three and finally the 2021 SPRC Perpetual Award Winners.

Tickets for the Dinner Dance are £40 per adult and £20 for 12's and under, which includes a three course set meal plus tea/coffee and mints. The children's menu will be Chicken nuggets and chips followed by ice cream. If you have any special dietary requirements then please contact Yvonne at yvonnetramm235@gmail.com. Please do not approach the hotel with requests. Numbers are limited to 300 and will be available until Friday, 14 January, so get your applications in early.

To order tickets please click here and complete the online form. You can pay by card (Note: we are unable to take payment using American Express), BACS or by cheque. Bookings will be confirmed by email once completed.

SPRC have negotiated a preferential rate for rooms in the hotel - £65 for a single or £75 for a double room including breakfast. To book a room please call the Mercure on 01234 799988, ask for Reservations and mention that you are attending the SPRC Dinner on 29th January 2022. However, we have only managed to confirm an allocation of 70 rooms, which will be available until 31 December, after which date any rooms not taken up will be put into general availability and the preferential rate will cease.

Should our allocation be taken up the Swan Hotel, across the river from the Mercure, has rooms available at a special rate to us. This link will take you to the bedrooms available for you to book, or alternatively if you prefer to book via telephone call: 01234 346565 quoting code GA000997. The fixed discount that we have managed to arrange is off the public price so please note that this rate may change over time depending whether their public rates change. A credit/debit card is required to guarantee the room with payment taken at the time of the stay. Please check their cancellation policy on their website www.bedfordswanhotel.co.uk.

2021 UK Champions.
27th September: Congratulations to the 2021 National, Club and ACU Champions in the UK:

Motorsport UK Pro Modified: Kev Slyfield
Track Worx Comp Eliminator: Nic Williams
Fast R Super Comp: Leah Kellett
Dave Grady Super Gas Shootout: Andy Harrison
Peter Nee Super Pro ET: Team Giles & Hartley
Modurstang Pro ET: Lee Huxley
Hutchinson & Dibley Sportsman ET: Dan Holloway
Topspeed Automotive Street Eliminator: Andy Bond
Lucas Oil Junior Dragster: Harry Redshaw
NEM Plant Nostalgia Super Stock: Dave Billadeau
VW Sportsman: Rob Creswell
VW Pro: James Hodson
Outlaw Flat Four: James Wotton
Renegade Outlaw Anglia: Jedd Guy
Wild Bunch: Team Rebel (Pete and Rob Brown)
ACU Banks Night Club Top Fuel Bike: Steve Woollatt
ACU Taylors Trophy Super Street Bike: Steve Venables
ACU Leeks Landscapes Funny Bike: Stuart Crane
ACU Suzukiperformancespares.co.uk Comp Bike: Louis Davies
ACU Eurodragster.com Junior Drag Bike: Hollie King
JKE Race Works 8.50 Bike: Jay Roe
Atlantic Fluid Tech 9.50 Bike: Rick Sawatzki
Blood Cancer UK ET Bike: Phil Pratt

The champions are subject to official ratification. The SPRC Club champions for Top Fuel Bike, Super Street Bike, Funny Bike, Comp Bike and Junior Drag Bike will be announced separately.

STP UK National Finals results.
27th September: Congratulations to the winners of the STP UK National Finals held over the weekend at Santa Pod Raceway:

Motorsport UK Pro Modified: Kev Slyfield 5.9750/236.22 def. Jean Dulamon 6.3041/218.24
Track Worx Comp Eliminator: Jordan Payne 21.4995/47.11 def. Robin Orthodoxou no-show
Fast R Super Comp: Leah Kellett 8.9189/163.06 def. Steve Hudson 8.9206/143.51
Dave Grady Super Gas Shootout: Simon Fulton 9.9224/138.59 def. Tim Moore 9.9246/142.15
Peter Nee Super Pro ET: Alan Didwell 7.7423/168.52 (7.72) def. Billy Gane 8.5977/157.92 (8.57)
Modurstang Pro ET: Leigh Morris 10.2675/126.26 (10.14) def. Andy Garnett 11.1205/114.35 (11.06)
Hutchinson & Dibley Sportsman ET: Rob Creswell 13.8694/96.30 (13.80) def. Holley Walters 15.8362/87.50 (15.84)
Topspeed Automotive Street Eliminator: Andy Bond 6.8485/210.92 def. Mark Todd 7.2240/204.41
Lucas Oil Junior Dragster: Luke Fulton 8.3418/77.46 (8.32) def. Caitlin Wilson 8.1781/76.55 (8.20)
NEM Plant Nostalgia Super Stock: James Oliver 9.5062/126.84 (9.36) def. Guy King 9.5062/126.84 (10.05)
VW Sportsman: Steve Stone 16.7338/76.31 (16.70) def. Connor Jones 16.7686/77.19 (16.70)
VW Pro: Dave Crowhurst 9.6918 140.68 (9.63) def. Abi Tether 12.9207 105.16 (12.85)
Outlaw Flat Four: Paul Bate 11.6325/123.07 def. Darren Shepherd 11.9828/113.36
Wild Bunch: Pete Brown 8.60, unopposed

Banks Night Club Top Fuel Bike: Steve Woollatt 6.2694/217.89 def. Al Smith, NTR stage foul
Taylors Trophy Super Street Bike: Steve Venables 7.1274/180.69 def. Alan Morrison Jnr 7.1572/198.81
Leeks Landscapes Funny Bike: Dave Peters 7.4451/173.70 def. Tony Clark 7.7252/164.85
Suzukiperformancespares.co.uk Comp Bike: Chris Neary 7.5814/182.06 def. Louis Davies (no-show)
JKE Race Works 8.50 Bike: Ian Chrichlow 8.5033/156.29 def. Alan Morrison 8.4964/140.69
Atlantic Fluid Tech 9.50 Bike: Rick Sawatzki 9.5156/129.41 def. Martin Hallett 9.8454 127.75
Blood Cancer UK ET Bike: Paul Adams 9.4075 137.27 (9.12) def. Phil Pratt 9.9780 145.26 (9.12)
Eurodragster.com Junior Drag Bike: Hollie King 11.5518/53.91 (11.40) def. Casey Holgate 11.1431/52.21 (10.00)

Subject to official ratification the following records were set:

Topspeed Automotive Street Eliminator ET: 6.805, Andy Bond
Topspeed Automotive Street Eliminator Speed: 213.09, Andy Bond

The following Santa Pod Raceway track record was set:

Topspeed Automotive Street Eliminator ET: 6.8052, Andy Bond

Congratulations to Dave Grady Super Gas racer Andy Harrison and VW Pro racer Carl Goldsmith who won the two Eurodragster.com/Bad Habit Racing Perfect Light Awards of £50 apiece supported by Cath and Tig Napier, and to Pro ET racer James Oliver who won the Eurodragster.com/Twister Racing Award of £50 supported by Andy 'Fadster' Hadfield.

Congratulations also to Lucas Oil Junior Dragster racers Purdie Hadfield and Luke Fulton who won the Bob's Photo Finish Award of £50 each posted by sponsor and longtime Eurodragster.com supporter Bob Roberts. Purdie and Luke's finish line margin was 0.0051 seconds or 6.95 inches.

Thanks to David Anniwell of the Santa Pod Timing Crew for sending us detailed timing data, including run what ya brung results, which we have posted to our timing data area which you can see by clicking on Data, then Timing Data at the top of any Eurodragster.com page. Official results can be seen at Santa Pod's Official Results Site.

You can check out our John Woolfe Racing-sponsored STP National Finals reports, results and galleries by clicking here or by clicking on the Event Coverage link at the top of any Eurodragster.com page. Please join Simon in thanking Julian and Diana for their hard work over the race weekend, and well done to the Santa Pod Raceway track crew for maintaining a great racing surface.

We look forward to publishing racer comments on the event tomorrow.

ACU drag bike points updated.
24th September: Many thanks to Ian King for updating us on the latest ACU/UK Championship positions on the King Racing web site.

ACU Championship Co-ordinator Ian King would like to congratulate all the winners especially Mark Smith who took his first Funnybike Class win running his first six in the process, Jake Mecheall for taking his first class win in SSB, and Steve Venables for setting a new ACU Championship speed record in SSB.

It was also the first time in my memory that the Funnybike class boasted an 8 bike field of runners who all qualified in the 7 second zone - well done all!

Snake Eyes' season ends.
24th September: Many thanks to Wild Bunch racer Andrew Clifford who has sent in a brief review of his season after it ended prematurely last weekend at the NSRA Hot Rod Drags:

Firstly before I indulge in writing about myself I'd just like to say massive congrats to Jedd Guy and the whole team for throwing down that first OA 6 second pass and then a couple more just for luck! Gutted I missed that first one as we were in the pairing lanes. I've loved the OA's since the very beginning when I went to Avon Park as a wee lad!

I think it's fair to say that our team have had a love/hate relationship with racing this year. Full of ups and downs, frustrations, the odd argument and ultimately some compromises along the way.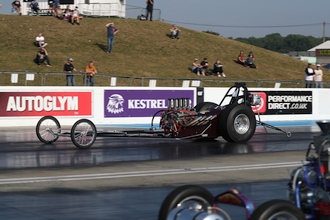 Unfortunately our season came to a premature end at the Hot Rod Drags last weekend with a stripped spark plug thread in the head spotted on the Sunday morning. With no time this week to fix it we had to call it a day for this year. However, we managed to go out with a bit of show at the Saturday night "Cracklefest". Thoroughly enjoyable from my front row seat in the car watching the header flames firing into the dark for the last time this season.

It's always tough to focus on the positives as the negatives often weigh on your mind much more. However, to come out with a new car and run PBs of 8.94 and 154mph in our first full season is an achievement we should be proud of. If we can cure our starting problems and work out what the car likes then there is definitely more to come from the big old Ford in 2022. I'm already looking forward to it.

Overall it's been a really fun season experiencing my first full year in the driver's seat. Certainly a bit of a change compared to crewing for Dad.

So to finalise I would just like to say thank you to a few people for everything they have done this year. Mum and Dad; car owners, storage and transportation (hopefully now the towing laws have been relaxed I can tow my own car to the track next year!!). My son James for his invaluable technical and tuning knowledge. He never gives up! My wife Rach for ensuring I keep a level head after I've lost faith or confidence. She's been the driving force behind our team this year.

Steve and Lesley Field (Fieldcraft Fabrication) – thanks for building me an 8 second slingshot! Huge thanks and big love to everyone in the Wild Bunch and Super Comp pits for all their help, advice and support. I'm really sorry to everyone I held up at the head of the paring lanes whenever we had starting issues.

Thanks to the Santa Pod top end turnout crew for pushing me round the corner after almost every run this year. I WILL keep it running one day. Thanks to Ian and co. at the Pod for keeping me safe and giving us a fantastic track to run on and thank you to Eurodragster.com for continuing to provide THE BEST coverage of not just European drag racing but globally too (you're welcome - Editor).

I'll be at the National Finals on Saturday as a spectator for once, cheering everyone on. Can't keep away from the action! See you all next year.

Swift snippets.
24th September: A big Happy Birthday to our good friend and sometime pit photographer Paul Lanyon and to 2021 Outlaw Anglia champion Jedd Guy. Have a great day guys from all of us at Eurodragster.com.

Claire Meaddows of the Wild Bunch has published her report from the Hot Rod Drags to the class's web site at www.the-wild-bunch.co.uk and announced the winners of the Roy Wilding Nostalgia Race Cars Series, Pete and Rob Brown in Rebel, closely followed by Phil James in Rampage. Congratulations to them and thanks to Claire for her tremendous efforts in running the class.

BBC to film Dakota race.
24th September: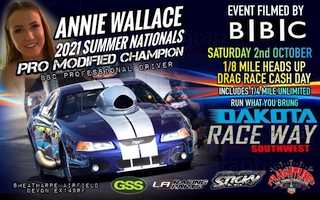 The next 1/8 mile heads up drag race cash day at Dakota Raceway on Saturday 2nd October will have a guest star and be filmed by the BBC, says promoter Lee Child.

Lee said "The BBC are filming the race and will have about 15 cars with them. Their professional driver and adviser will be 2021 Summer Nationals Pro Modified champion Annie Wallace. So racers should get entered to win, get richer and maybe famous".

The categories of competition are:

Pro AWD: Modified, competition tyres, interior removed
Street AWD: Factory appearance, full interior
Pro Rear Wheel Drive: Modified, competition tyres, interior removed
Street Rear Wheel Drive: Factory appearance, full interior
Pro Front Wheel Drive: Modified, competition tyres, interior removed
Street Front Wheel Drive: Factory appearance, full interior

Based on a 16 car field the winner gets £400 in each category. In the event of numbers in each category not being fulfilled, there will be a reduced prize fund, for example in a 4 car category £150 and 8 car category £200. In event of the category exceeding 16 cars, the prize will go up from £400. However Lee is looking for sponsor input to increase the prize funds "so be aware things are subject to change".

Entry fees: Entry to the 1/8 mile heads up drag race cash day with 1/4 mile test and tune entry is now open costing £100, including one crew ticket. Racers should enter online as there is pre entry only, no entry on the day. If you get eliminated from the 1/8 mile no time drag race, you then can do timed 1/4 mile test runs at no extra charge. Passengers have an additional charge, and the entry cost on the gate for spectators is £10 per person kids go free.

Click to enter at this link.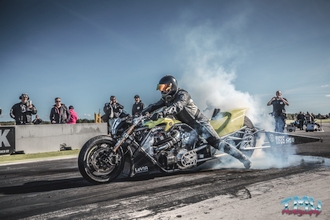 Lipponen wins Fueltech Nitrobike Showdown series.
24th September: Super Twin racer Vesa Lipponen was declared winner of the 2021 Fueltech Nitrobike Showdown series after the final race at Kauhava was rained off. Qualifying positions after two sessions were:
Mikko Rajaniemi (Sirpa TFB) 6.527
Marko Lantto (Reckless Racing 196ci) 6.878
Lasse Leponiemi (Team ST60 160ci) 6.936
Torsti Kettula (Gruff drag racing team 168ci) 7.184/324.51kph
Harri Piensalmi (Viaber Racing 176ci) 7.245
Juha Hintukainen (JPH Racing 186ci) 7.706/284.63
Vesa Lipponen (Team Detonation 168ci) 21.377
Jaska Salakari (Fuel Express Race Team 1699cc) 23.005
Marko Lantto's time was a PB for him on a bike, whilst brother Åke Lantto suffered an engine explosion. That was all she wrote as rain set in on Sunday and the race was eventually called at 13:30.

You can see videos of some of the runs at Baldie's VooDoo Racing Youtube channel, and a gallery of photos have been uploaded to Facebook by TMu Photography.

It wasn't an easy first season for the Fueltech Nitrobike Showdown, with weather severely affecting three races, another two races cancelled due to environmental protest, and only one (Mantorp) completed. However 18 competing racers gave the series their full support in the face of these problems, and we can only hope to see similarly large fields of nitro bikes racing across Europe in 2022.

British Junior Dragster Club awards.
23rd September: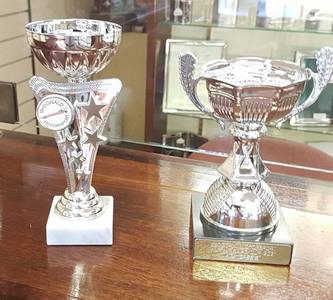 After qualifying finishes on Saturday at the National Finals, the annual Junior Dragster awards from the British Junior Dragster Club, run by Edel McDonald, with the help of husband Graham and son Liam, will be presented by Eurodragster.com editor Simon in the JD pits:

Edel said "Even though we can't come over from Ireland, we don't want to let the Junior Dragster racers down. We give many cups out, from best light in JS and JM and JMA , to sportsman or woman. All awards have a positive inscription to give encouragement. Many thanks to Jan Mugridge for collecting the cups and organising the table.

"The special voted-for cups are headed up by the Junior Stock Cup, named the Anita Board cup in memory of the young Australian girl who sadly died in her Junior Stock dragster, and comes with a £50 gift voucher. The Halfscale cup is given to the Junior Dragster racer who the other Juniors think is outstanding and comes with a voucher for $100 from Half Scale Dragsters in the USA.

"Other cups are given to the outstanding Junior Dragster crew chief (with a £50 gift voucher for the Pod Shop), rising stars in Junior Dragster (two awards, each with a £25 voucher) and the race family that stands out. New for this year is the Tog trophy, awarded by the former editor of Eurodragster.com to those he considers set a fine example to other racers and to the fans of the class.

"Liam hopes to return next year with a new car from America which was delayed in its journey this summer. He had planned to race in the US for three months but was unable to due to lockdown and misses his friends in England.

"If anyone would like to get involved in any way to promote Junior Dragster racing in England, to help to promote the racers to bigger and better things in the future, they will hopefully represent England further afield in 2022 and are the future of our sport. "Thanks to Eurodragster and everyone that has helped in the class. Anyone interested in starting Junior drag racing, contact Santa Pod Raceway to rent a junior dragster".

Swift snippets.
23rd September: A very Happy Birthday to our keeper of records, and former member of the Santa Pod Raceway timekeeping crew Andy Marrs. Have a great day Marrs, from all of us at Eurodragster.com.

ATD Champions crowned.
23rd September: The 16th European Dragster championship race organised by Association Trophee Dragster took place at Clastres Raceway on 4th-5th September. Here is a summary of the results of the final 2021 race in the series:

With 5 points difference between the top 3 in Super Pro ET, the final pitted Fabien Dubois (below left) and and Franck Romer from Germany in his Chevrolet Camaro. After an Franck was eliminated by a red light for Franck the outcome for Fabien seemed certain. However a fuel supply problem caused Fabien's dragster to halt 300m down track. As ATD rules dictated that the winner must pass the 400m to win, Fabien had no choice but to get out of his rail and push it for the remaining 100m under a blazing sun and the encouragement of Custom Gang Racing. After pushing it for more than 2 minutes, Fabien won the final and the 2021 Super Pro Championship of ATD and congratulations to him.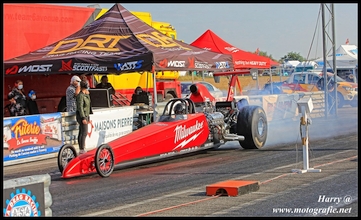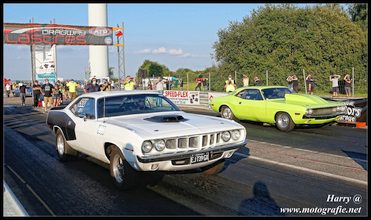 The final in Pro ET was between Didier Billault in his '70 Dodge Challenger and Peter Soursas in his Plymouth Barracuda '71 (above right). Peter had the better start to defeat Didier and win the 2021 Pro ET Championship. Didier finished in 3rd place in the Championship behind Sophie Zaninetti and his '64 Plymouth Belvedere.

Coming into in the race, the Street Run category had a tie in the standings between Amandine Arnaud in his Camaro and Laurent Arnoult in his '67 Chevrolet Chevelle. Against expectations, the final was 100% Swiss, between Marc Steinegger in his sublime Buick GSX and Jean-Luc Jacot in his Pontiac Trans Am (below left). Jean-Luc wins the final and the 2021 Trophy. He was closely followed by Laurent Arnoult and Amandine Arnaud who moves up to the Super Pro ET category in 2022.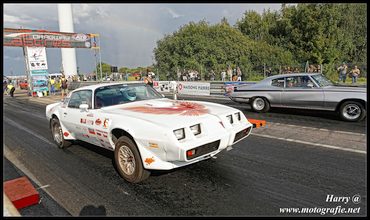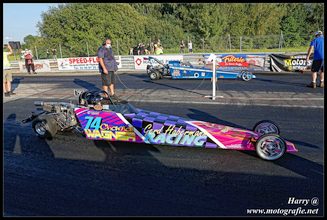 Finally in the Junior category, there was an international and 100% female final between the German Chantal Wagner and the Dutch Cheyenne Visser (above right, far lane). Cheyenne won the final and the 2021 Trophy. His compatriot Sam Timmers finished in second place in the Trophy followed by Chantal. The select 200MPH Club at Clastres has a new member in the person of Patrick Dubois from Custom Gang Racing and his Pontiac GXP with a run at 323 km / h (200.7 MPH).

Dates for the Association Trophée Dragster's 2022 series have been announced as 4th-5th June, 2nd-3rd July and 30th-31st July, all races taking place at Clastres Dragway. For further details see the ATD website and Facebook page.

Media from the race can be seen at the following links:

With acknowledgements to Oliver Houllier, photos courtesy Motorgraphie

Spot prize picker.
23rd September: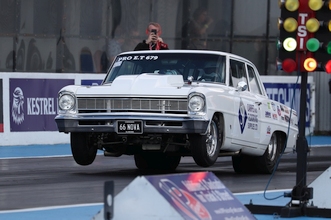 Many thanks to Lee Huxley crewman Rich Bell for coming up with a random selector program for elements of bracket racing:

After a twenty-year hiatus from any serious involvement in drag racing (you never really lose the bug do you? Especially when your dad buys a Nova and Lee Huxley gets behind the wheel for a season). I've put together a little spot prize website/app that will randomly select a spot prize. Who knows if it is of any use or not, but it should work for anyone that wants to mix things up a little or maybe set up a random grudge race – you can use it however you want.

As well as a random prize, it will give you a random dial in/reaction/random qualifying position and based on number qualified and number of qualifiers will give you a round that the prize should be awarded. Any feedback welcome/ideas for spot prizes (I've tried to keep these simple without needing to enter lots of data). How some prizes are figured out would need to be decided i.e. closest to dial in is that without breaking out.

Readers may remember my "Pieboy" days (but more likely not) as teenager which involved me putting together drag racing sites for fun and taking out of focus blurry photos. So I guess drag racing has a lot to ask for in terms of where I have ended up career-wise (Maple Rock Design web development company - Editor). Massive thank you to Tog who was a massive help when I was starting out all those years ago.

Anyway, enough rambling, I've recently scanned and uploaded a selection of my photos from 1999/early 2000s to UK & European drag racing photos on Facebook in two galleries Part 1 and Part 2) if anyone is interested.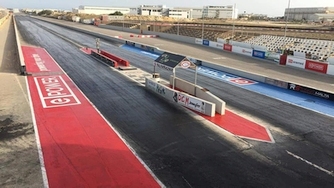 Malta update.
23rd September: After the MDRA members' meeting on 25th August including presentation of the cups from the race meeting held on 29th-31st July, preparations have been made for the next event on the MDRA calendar.

Scheduled for 1st-3rd October, the pre-race what ya brung was held on 18th September. Videos taken by Konrad D'Anastasi at the RWYB can be seen on a Youtube playlist at this link.

A further meeting of members will take place tomorrow to be attended by Clifton Grima, Parliamentary Secretary for Youth Sports and Voluntary Organisations in Malta.

STP National Finals racer update.
22nd September: Many thanks to to Santa Pod Racers Club Secretary Ian Marshall for sending us details of track opening and signing on at this weekend's STP National Finals, 25th-26th September, including scrutineering times.

Junior Dragsters will have to sign on and scrutineer for this event, but those are the only car classes that are required to scrutineer.

If you have entered the test day on Friday 24th September you will be allowed access to the track on Thursday 23rd from 8am. The main gates to the track will open at 08.00 on Friday, 24th September.

Friday, 24th September:
10.00 Signing on office opens
10.00-18.00 Scrutineering for bikes
15.00-19.00 Scrutineering for Junior Dragster only

Saturday 25th September:
07.00 Signing on open and scrutineering for bikes/Junior Dragster.
09.30 Track open for qualifying.

Sunday 26th September:
07.30 Signing on and scrutineering open.
09.30 Track open for qualifying/eliminations.

The detailed running orders and printable entry list can be seen in our event coverage page.

2021 championship outcomes.
22nd September: In 2021 the SPRC National and Club Drag Racing championships have returned to some degree of normality following the pandemic and resultant cancellation of 2020's official series. Including the National Finals, there will have been six rounds of racing for each class, and all rounds have been able to be completed apart from the Springspeed Nationals. As in past years, some championships are finely poised at this point, others have already been decided. In one class, Renegade Outlaw Anglia, the final round of the SPRC Club Championship was held last weekend at the Hot Rod Drags and congratulations to Jedd Guy on the title, as well as being the first into the sixes in the class as described in his article yesterday.

In Motorsport UK Pro Modified, Nick Davies has a lead of only ten points over Kev Slyfield. Round wins bring 20 points, so the championship can turn if one racer goes a round of eliminations further than the other. Qualifying and 5 bonus points for low ET could also make a difference.

Track Worx Competition Eliminator is led by Nic Williams, who has attended every round, winning 200 bonus points, which the next three in the points table will not have the benefit of. Jordan Payne is in second position and, being 530 points behind Nic, will need to win the event and qualify at the top with Nic going out in round one, to secure the title. Jordan will also need to stay a round ahead of Dan Williams in third place to defend his position.

With a lead of 630 points and only 590 available, Leah Kellett has secured the championship in Super Comp and congratulations to her. Second position is closely contested between Steven Hudson and Paul Hudson (not related we believe). These two will be making sure they go further than the other in eliminations.

Dave Grady Super Gas has 750 points available; Andy Harrison is 570 points ahead of second placed Blitzkrieg (Tim Adam and Jon Giles, Tim racing this weekend). Andy will need to win two rounds or qualify at the top and win one round to secure the championship, Tim will need to qualify at the top, win the event, with Andy going out early to take it away from him.

In Peter Nee Super Pro ET, neither leaders Giles & Hartley (Barry driving this event) and Ron Bartlett attended all events, whereas Billy Gane has the 200 point bonus and is thus 390 points behind. With 920 points available, Barry will need to qualify well and reach the semi-finals to secure his second championship since 2010. Billy and Ron need to get as far, and Barry go out early, with Ron going further than Billy for him to win the championship.

Lee Huxley has a generous lead in Modurstang Pro ET over Amy Watkins, however second to fourth in this most competitive class are separated by less than one round of elimination wins. So look for more wafer thin qualifying margins and close racing involving them with Simon Innes, Tom Watkins and Ronnie Mercer.

The top three in Hutchinson & Dibley Sportsman ET are separated by less than a round of racing, Dan Holloway, Felicity Gibbs and Gary Lake all having done well. As well as elimination points, qualifying points can make a difference, and it's possible that fourth or fifth placed Rob Creswell or Gill Medley could make a move up the standings.

With an entry of eight, Topspeed Automotive Street Eliminator has 620 points available and with Andy Bond leading by 1470, he has secured the championship and congratulations to him and the U6ly team. Second place is held by Al McSweeney, with Mark Todd a further 510 points back. Al will just need to qualify above bottom place and take the green light in the first round to secure runner up position.

In Lucas Oil Junior Dragster Harry Redshaw is 670 points ahead of second place with 1010 points available. Getting two round wins and qualifying more than five positions from bottom will secure Harry the championship. Numbers two to seven in the points, Purdie Hadfield, Thomas Cook-Abbot, Freddie Taylor, Katie Ellis and Jessica Bishop could all achieve second position by qualifying better and going further in eliminations than the others.

NEM Plant Nostalgia Super Stock has a great 18 car entry. The championship is led by Dave Billadeau who has already been declared champion in 'lifestyle' events. However with a lead of 220 points and 920 available, there is all to play for. Stuart 'Kiwi' Thompson needs to go three qualifying positions and two rounds further than Dave to secure the championship, whereas if Dave and Kiwi both go out early there is group of Jim Chandler, Adrian Portelli, James Oliver, Simon Rickwood Don Scott, Chris Goodale, Vic Parsons and Spencer Tramm who will be battling it out for honours.

In Wild Bunch, the title will go between Mark Coulsell, Pete Brown, and Phil James who are close in the points. VW Pro is between James Hodson and Adrian Solly, both of whom are way ahead of the rest of the field, with only 50 points between them. VW Sportsman is led by Rob Creswell with Jon Crawford 480 points behind. 940 points are available meaning that Jon will have to rely on Rob qualifying worse and going out early, and get to the semi finals to retain his championship.

In Outlaw Flat Four the leader, Dave Wheatley, is unable to attend and the title is heading in the direction of James Wotton who will be the only racer in contention to get the all rounds bonus, and also has a 360 point advantage over Jonny Marriage who is next in the standings. With 500 points available, one round win will secure James the championship.

BDRHoF member Steve Woollatt went to the top of the ACU Banks Night Club Top Fuel Bike standings at the Euro Finals Shootout and with a quick and reliable combination is looking better for the title, however never count out the determination of Al Smith with Phil Baimbridge Racing, and Neil Midgley with Lucas Oil Cannon Engineering entry, both of which are less than one round of racing behind Steve.

In ACU Leeks Landscapes Funny Bike competition, congratulations to Stuart Crane who has amassed sufficient points to win the Championship. At the Euro Finals Shootout, the game plan for Stuart's Warpspeed Racing team became clear when, after suffering gearbox problems, Stuart helped see to it that his engine combination in team mate Mark Smith's bike got him the win, low ET and top speed bonus, and a move up the points. With Mark fourth in points and Tony Clark nursing a bent crankshaft in Phil Crossley's bike, Warpspeed have the chance to get Mark into second position by keeping Tony and Dave Peters out of the final, and Stuart and Mark into it.

ACU Suzukiperformancespares.co.uk Comp Bike has a repeat winner from 2019 in Louis Davies and congratulations to him on his second Comp Bike championship and fourth overall. Chris Neary and Sean Mills will be fighting it out for runner up spot.

To win the ACU Taylors Trophy Super Street Bike championship Steve Venables needs to qualify #1 or have one round win to secure the championship, second placed Alan Morrison Jnr needs to defend his position from Stephen Mead in third position. Stephen could gain second, but would need to go two rounds further than Alan and get a big advantage in qualifying as well.

JKE Race Works 8.50 Bike is Jay Roe's providing he stays ahead of Joe Elliott in eliminations. Atlantic Fluid Tech 9.50 bike is closer, and if leader Craig Wright and second placed Richard Sawatzki shadow one another during the event the championship could go down to the final round.

In Blood Cancer UK ET Bike Phil Pratt has amassed sufficient points to be Champion and congratulations to him. Second place is between Paul Adams, Gary Hester and Dave Grundy and with an entry of 16 bikes there will be some great match-ups involving these three. ACU Eurodragster.com Junior Drag Bike has Casey Holgate in the lead with Hollie King close behind, and either of these two could become champion.

So those are the possibilities. What is certain is that you can witness all the drama first-hand if you go to santapodtickets.com and buy tickets to attend the event. You can also see the current points by going to our points page.

National Finals perfect awards.
22nd September: £250 is up for grabs at this weekend's STP National Finals courtesy of Eurodragster.com and our sponsors.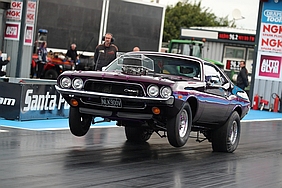 This weekend's Eurodragster.com/Bad Habit Racing Perfect Light Award has been reset to £50 after it was won by Pro ET racer Mason Griffiths at the Euro Finals Shootout. The money will be paid to the first racer at the event to record a Reaction Time of 0.000 seconds. The Perfect Light Award is available in all classes during both qualifying and eliminations, but will only be awarded for the first Perfect Light of the day. Yes, day, because sponsors Cath and Tig Napier have kindly increased the award to £50 per day for the National Finals only. If the award isn't won on Saturday, it rolls over to Sunday and the winner gets £100.

The Perfect Light Award is presented in association with Cath and Tig of Modurstang Pro ET team Bad Habit Racing (racing this weekend in Hutchinson & Dibley Sportsman ET). A special decal produced by Cath and Tig, and designed by Peter Walters, will be presented to the winner.

Decals are not mandatory for the Perfect Light Award but we would appreciate it if Eurodragster.com decals are carried. Eurodragster.com decals are available in Signing On or from Eurodragster.com staff.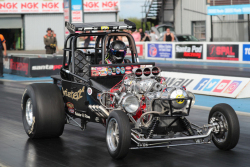 The Eurodragster.com Perfect ET Award supported by Andy Hadfield and the Twister Race Team has been reset to £50 after it was won by Super Pro ET racer Mick Howling at the Euro Finals Shootout. The money will be paid to the first racer at the event to run +0.000 on index or dial-in. The Perfect ET Award is available in Peter Nee Super Pro ET, Modurstang Pro ET, Hutchinson & Dibley Sportsman ET, B Fast R Super Comp, Dave Grady Super Gas Shootout, Nostalgia Super Stock, VW Sportsman, VW Pro, Wild Bunch, Lucas Oil Junior Dragster (eliminations only), JKE Race Works 8.50 Bike, Atlantic Fluid Tech 9.50 Bike, Blood Cancer UK ET Bike, and Eurodragster Junior Drag Bike. but will only be awarded for the first Perfect ET of the weekend. The Perfect ET Award is presented in association with Andy 'Fadster' Hadfield of the Twister Race Team.

Decals are not mandatory for the Perfect ET Award but we would appreciate it if Eurodragster.com decals are carried. Eurodragster.com decals are available in Signing On or from Eurodragster.com staff.

Bob's Photo Finish Award, which is presented in association with Eurodragster.com sponsor Bob Roberts, will award £50 each to the racers involved in the closest race of eliminations at this weekend's event.

The closest race will be decided upon distance rather than time since, for example, 0.001 seconds at 230 mph is further than 0.002 seconds at 110 mph. For this reason the official timing data will need to be consulted so the winners will be announced here on Eurodragster.com as soon as possible after the event and the winners will then be contacted for their preferred method of payment.

Bob's Photo Finish Award is open to all classes during eliminations only and although Eurodragster.com decals are not mandatory we would appreciate if it they are carried. Eurodragster.com decals are available in Signing On.

Earl's Raceway Hot Rod and Gasser Nats at Goodwood Revival.
22nd September: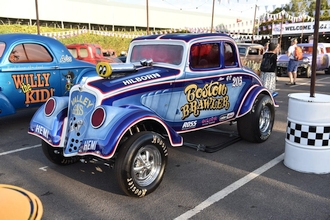 Our latest photo feature covers the special display of hot rods and gassers at the Goodwood Revival meeting held 17th-19th September at Goodwood Circuit in West Sussex. Photographer Dave Dick kindly supplied photos and an article about the origins of the event.

Dave said "The event was a celebration to mark seventy years since the forming of the NHRA in the USA. There were so many great cars in the celebration and it drew crowds all day long at Goodwood. Each day's proceedings were opened with a parade of the hot rods around the circuit, I can't think of a better way to start a great day's enjoyment.

As well as some great rods from the UK there were a contingent of US Hot Rods from the Rolling Bones Hot Rod Shop in New York. There were a lot of great stand out cars but one that stood out for me was the Boston Brawler of Blaise Lewis, rebuilt by the original builders at Valley Gas Speedshop with a blown 392ci Hemi engine.

You can see our latest feature, sponsored by Lucas Oil by clicking on this link or going to the list of features and interviews in the main menu. Many thanks to Dave Dick for his coverage.

Single garage to 6 seconds.
21st September: Many thanks to Outlaw Anglia racer and Eurodragster.com sponsor Jedd Guy for sending his thoughts on an incredible meeting last weekend:

As the dust begins to clear on the most amazing weekend of racing me and my team have had, my mind goes back 8 years to one day where an ill fated run put me into the wall and saw the end of the Shorty's Hotrod of the time.

However a plan/dream started to form as I lay in pain, unable to sleep. A dream to build a new car to be truly competitive even if at the time I didnt know if I'd ever be able to fund such a car.

After a short recovery as a 22 year old, with a RSJ donated from a building site to be used as a jig and a single garage, I set about turning a bunch of tubes and a fibre glass body into what it is today.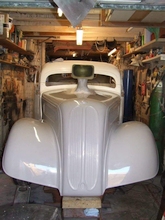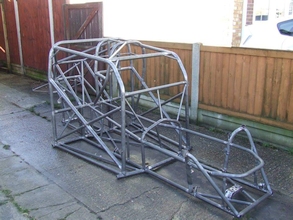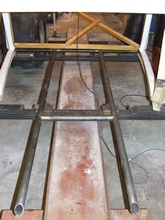 And what is it today?.... It is the first UK Outlaw Anglia to run a 6! With the fastest passes ever seen in Outlaw Anglia competition.

If you had told the 22 year old me you'd be in the race for the first 6 in the UK, I would have probably laughed at you. But that didn't put me off spending every penny I had and spending every spare hour in that single garage I could, to build a car that I thought would be able to handle any power I could throw at it.

The car proved itself on the track with multiple event wins but unfortunately never managed to net us a championship win. And in 2018 things in Outlaw Anglia saw a drastic change with teams stepping up. Running high 7s wasn't gonna cut in any more. To keep up, more nitrous was introduced to the engine seeing an increase in ET to 7.65 but spelt the end to the faithful 498ci big block Chevy we had campaigned for so many years.

2019 saw the doors of Shorty's Fabrication Shop open... my very own business! Racing was put on the back burner to focus on making what I love doing (making cars go stupidly fast) into a strong business. It hasn't been easy with the entire world going into lockdown, but a huge thank you to my customers, we managed our way through.

Now to late 2020 after helping with tuning, Colin Millar reset the OA et record into the 7.1s. The itch to get back racing was becoming hard to ignore. A phone call from a man who, without his help, advice and what's turned into a great friendship I wouldn't have managed to do any of the things I have managed to do, a man who is a engine building master and a man who's knowledge of drag racing seems almost limitless...Jeff Bull. He teased me by saying he had a motor in his shop that would be perfect for my little Pop.

The motor in question was the 735ci nitrous engine out of Roger Moore's Pro Mod Viper. First thoughts were that it was out of my price range. Of all people to convince me to go for it, it was my wife Jemma. I know, shocking right, your partner is normally the one who moans about how much money we spend to go racing. I definitely picked a good one there!


The off season period between 2020 and 2021 was busy getting the new motor to fit, which went into the hole surprising easy considering the new motor was bigger in every way. Then it was off for a new paint job. Thanks to the boys at Przym Paint. Andy, Paul and John did a fantastic job!

The buzz around Outlaw Anglia leading up to 2021 is like nothing I have seen before. Colin Millar had gone 7.04 at the last meeting in 2020, Simon Barlow had already gone 7.08, upgrading in power for the season to come, Jon webster had brought out a new car out proving to run very quick in its first meeting with some incredible 60ft times and the news of what I was planning. The race for the 6 was well and truly on!

The start of the season was a nervous time for the team. Having not driven for 3 years and such a large increase in power luckily, as soon as I put on my racesuit, it was like I had never stopped and the car handled better than ever. Now feeling confident with the car it was time to turn it up.

Tyre shake... the dreaded tyre shake!!! The mid season was full of it. There wasn't a single race where I went to the start line without changes to try and rectify the problem. Slowly making it better run after run then at Dragstalgia we made great strides, running 7.01 in qualifying, with a 7.06 in eliminations to back it up and take the OA class ET record.

We were then stuck in the 7.0s for two more meetings, to the point where myself and crew were getting fed up of running 7.0...it seems mad to be saying that, but we were so close we could almost touch it.

The 2021 NSRA Hot Rod Drags is a meeting that will go down in Outlaw Anglia history, being held on the week of the 8th anniversary of the crash at Shakey. The last meeting of the Outlaw Anglia championship, and with a commanding lead in the championship, I sure as hell was going to give it everything I had to break into the 6s.

The first qualifier didn't go to plan it moved around the lane so I lifted to a 7.4. The second qualifier Colin Millar, ever the showman, says "let's be first pair out and put on a show for the crowd". Boy did we do that!

The best race ever in Outlaw Anglia! Neck and neck the whole way. Two of the fastest cars this class has ever seen with only two metres in it at the finish line. The quickest side by side pass so far.

Travelling down the shut down area seems to take an eternity when you're desperate to know "did I do it, was that the one". I felt a misfire on the run but I knew it was fast but was it just going to be another 7.0?

The next few minutes after hearing Jemma screaming down the radio "6.97!" are a bit of a blur. All I know is there was lots of shouting, jumping and crying. We had f***ing well done it! Taken a car built in a single garage to being the first UK 6 second Outlaw Anglia!

Not only did we run just one six second pass, we managed to run three with a best of 6.88. We won the meeting against Colin Millar in the fastest ever final, my 6.93 to his 7.06 and we reset the mph record to 194.52. This is the most amazing way to finish an amazing season.

Years of blood, sweat and tears have been put into this once in a lifetime achievement, and I thank from the bottom of my heart everyone who has helped us along the way.

There are so many people to thank, there are just a few I'd like to mention, as without them this wouldn't have been possible.

My wife Jemma, she never fails to support me and help me through the difficult times. My parents Ray and Andrea, they have taught me so much and always helped me follow my dreams. Jeff Bull, not only has he build me a record setting engine. His continued support in my business and racing are out of this world.

Our team is small, so these people's contributions are massive, and it's just as much their achievement.

Hot Rod Drags racer comments.
21st September: The Hot Rod Drags was a fascinating mixture of a diverse run what ya brung event including cars of almost every description, and tough racing in the four invited classes. Two classes had traditional racing, Outlaw Anglia heads-up and Gasser Circus a bracket competition, whilst two had a average closest to index/dial which produced a great deal of personal bests as well as right-on passes. Below are selected social media comments from racers in each category:

Outlaw Anglia was the standout class in that the six second barrier was broken and the final was wonderfully close, which wasn't just for show, the outcome of the championship depended on who won. In the end Jedd Guy was the victor, and he had run three six second passes in order to achieve that (see Jedd's account above).

Jedd and his team were almost speechless after the victory. They posted "Hot Rod Drags Winner, Outlaw Anglia 2021 Championship Winner, ET Record Holder, MPH Record Holder, AND we ran three 6 second passes! Over the moon! Thank you all so much for the support!". Wife Jemma added "So proud of my hubby! Aimed to run a 6 before he turned 30 and today he made his dream come true! No words to describe how incredible this weekend has been! Amazing times with amazing friends!"

A more reflective post was from Rees Adams, who summarised: "OA family, a big thank you from the fans. You have put on the best OA weekend ever. All the new PBs, ET stickers earned and the hard working crews for making it all possible for us to watch. You are all stars. Have a great, but probably expensive off season and we'll see you at the track next year."

As well as congratulating Jedd, class organiser Colin Millar gave tribute to Spencer Tidswell (below left) on his first nine in Outlaw Anglia: "Massive well done to Spencer Tidswell on jumping well into the 9s with a stomping 9.63 well done to you and the team".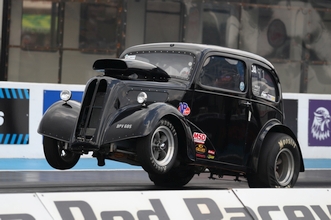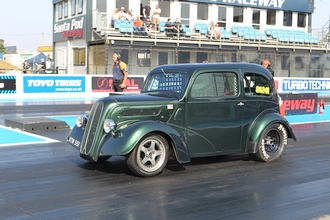 The weekend was not all plain sailing for class members though. Doug McClure (above right) posted after several troubled runs: "I'm pleased to say no real damage at the weekend, two bent push rods and two smashed rockers. Also discovered head gasket gone too. Apart from that what a weekend for the Anglia guys and girls".

In the Supercharged Outlaws, there were several PBs but on two of the cars, the need for speed led to wild wheelies. Tony Underhill (below left, image courtesy Pudgey's Pictures) wrote: So what a weekend, new PB 7.05, think to yourself I can do better that that let's give it another go and then…. Car's fine apart from some superficial damage, I'm fine apart from a bent ego, want to say thanks to my whole team for looking after me and giving me a badass race car, back bigger and stronger with James Woody Woodsford next year.

Andy 'Fadster' Hadfield (below right, image courtesy AF Photography) suffered an axle bending wheelie when carrying some of the ashes of Dave Rowlands in his parachute (plans have been hatched for the task to be completed at the Flame & Thunder show on 30th October). New team member (and 9.50 Bike racer) Bradley Head wrote: "Another amazing weekend away at the Hot Rod Drags! Really enjoyed my first time crewing for Team Twister, thank you Andy Fadster for allowing me to be a part of the team! Shame it ended like it did but we know there is plenty more to come!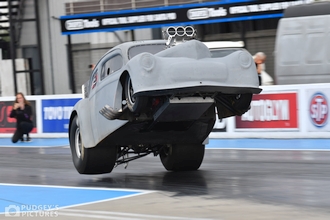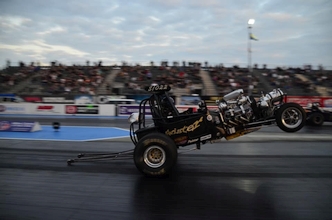 "Also great to help out Tony Underhill again although you never found the six and once again it didn't end how we would have liked, you and the car have come such a long way in the past couple of weekends and to come out with a 7.05 PB is nothing to be upset about well done mate! Finally unfortunately circumstances left Jedd Guy with no one to back him up ! Was an absolute pleasure to be there to watch you win your first OA championship and take both ends of the record in OA so proud of you brother! Thanks also for all the birthday wishes I was well and truly spoiled.

Also running in Supercharged Outlaws was Robbie Grabham with the Freddie's Revenge with Austin A35 body on, who posted: "We had some query transmission issues yesterday on the first and second run, but still managed a 7.75 with two gears! The car was stripped and checked with no faults found. We've also made some changes to the slicks air pressure to play with the stability of the car whilst the A35 body is on. On the third run it was lovely and strong with a super straight pass, all 3 gears (and a theory on the minor issue) and a 7.49 at 162mph! The A35 is a much heavier body and the transmission wasn't 100% - but that's only 4 tenths of a second off Robbie's PB! Brilliant stuff! Rain unfortunately stopped Supercharged Outlaws competition on Sunday morning and the team were homeward bound, Robbie's dad Dave getting a lot of love from his fans and friends as he continues his recovery from a stroke.

Wayne Allman (below left) returned to the track after three years and posted: what a weekend! Back in the saddle after 3 years!

First 330ft -ish test pass with the new blower / ignition set up went well , plugs looked like they were burning evenly but on the safe side so onto test 2 which was to be an 1/8th mile pass. We got pushed back after the burnout with a small fuel leak , a -6 fitting had cracked! Luckily I had one. Test 3 , well this should have been the 1/8th mile pass but it felt good so i kept with it , i was drifting right towards the wall but the steering wasn't doing anything so i had to lift , back on the throttle then had to lift again , back on again and over the line resulting in a 7.26 @ 188mph!

This is our second fastest run at Santa Pod ever and only 3/100s slower than our fastest , on a test pass and getting off the throttle twice ! he reason i had to lift is the front wheels weren't on the ground. Overall I'm really pleased with how it's going , I've got to address the wheelieing prob but it's a great start to getting and aerodynamically challenged truck to run a 6.

Thanks to my crew as always , Helen, Marcus, James, Joa , Chris and Brandon for towing and photography duties , couldn't do it without you. And thanks to everyone that stopped by to say hello Oh and Gavin the nodding dog's head comes off when both parachutes are deployed.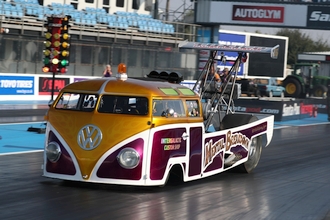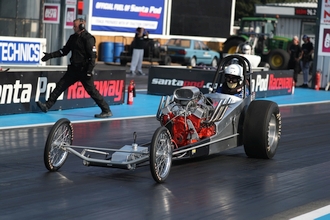 In Wild Bunch, newcomer Rich Butcher (above right) was delighted to be able to run in the class: "Thanks to you lot ....and I mean all of you... This stupid old bastard has just had one of the best weekends of his whole life. Ken's (Cooper) little 4orth dimension slingshot that we just threw together, wonky wheel and all, well exceeded all our wildest expectations. We were surrounded by seriously fast proper pieces of kit on all sides, you gang couldn't have been kinder to me and my family... Just magic... Don't really do emotional,but I am now. Humbled to be amongst you all. Roll on next year.

NSRA applauds Hot Rod Drags racers.
20th September: The National Street Road Association has once again awarded trophies for its 'Dirty Dozen', described as "Recipients don't have to be the shiniest, don't have to have the most chrome or the best upholstery. They don't have to be the quickest or fastest; the only criterion for eligibility is that the vehicle has entered into the spirit of the event and has been put through its paces on the quarter mile. Each year members of the NSRA Committee are enlisted to select what takes their fancy." The winners were a very eclectic selection of cars as detailed in the list below:
Richard Tunstall in his 27 T Roadster, certainly an incredibly different car!
Kenzie Taylor in the 100e Prefect, a 16 year old completing his MSA qualifying runs, can't get much more in the spirit than that!
Laurence MacGillivray in his 351 Cleveland powered Pop, don't often see a Ford in a Ford and this one was certainly moving.
Lauren Moules in her Willys Coupe, very deserving winner and certainly the most enthusiastic we had.
Colin Wood junior in his Hillman Husky, very quick car in a very small package.
Jacqui Kowalewsky in her Fiat Topolino, certainly wasn't afraid to get going with the big V8s and a lovely little rod.
Hayden Mommery in his 56 Chrysler Windsor, this car was only finished this year and debuted at the Supernationals, lovely car and a pre 29' owner.
Harley Peters in his Model A Coupe, rods don't come much more classic than this one!
Danny Wilson in his MK1 Zephyr, a proper British icon this one.
Sally Woolner in her 67 Camaro, very British through to very American, pro street and then some!
Johnny Best in his 34 Roadster, stunning little car with whitewalls, what's not to like?
Steve Taylor in his 61 MK2 Consul, once again another very British one here, mean and lean.
Kenzie's debut.
21st September: Many thanks to Nigel Taylor of Unusual Car Sales UK for telling us about his NSRA Hot Rod Drags in which his son Kenzie made quite an impact on the racing community:

"My 16 year old Kenzie Taylor achieved his MSA License at the Hot Rod Drags in the 2.9i V6 100e, and what a superb meeting to do it at. Kenzie also won an NSRA Dirty Dozen award for his efforts So we have one happy boy.

We would like to say a massive Thankyou to Ian Marshall for all the pestering questions he answered and the loan of an approved helmet, Ben and Cadie Smith for taking Kenzie for the weekend, and the loan of a race jacket and trousers, thanks to Steve Summer, Tom Mitty (crewing), the NSRA for a superb event, all the other racers for the company including Tony Underhill, Kev Slyfield, Rob Brown, Hayley Fyfe, Purdie Hadfield and crew, Callum Pudge, and everyone else that made him welcome.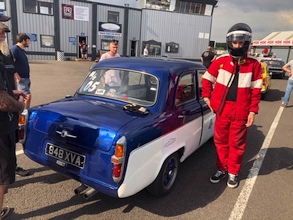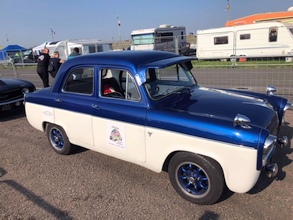 We would like to say a big Thankyou to all the Modified 100e crew for their support and encouragement as well as our other family Paul, Steve, Pam and Somer Dale.

Massive thanks to everyone that stopped and spoke about Unusual Car Sales UK , I was absolutely overwhelmed by all the great comments especially by the commentator Colin Theobald, Thankyou! Means a lot.

Well done Jedd Guy, just out of this world, Robin Read - just superb and so good to see our old mate Dave 'Splidgers' Grabham back in the pairing lanes with his team.

Thank you to our sponsors Mike Gates and all the Hayling Garage crew and thankyou to Andy Bond, Chloe Wilkins, Marc Huxley and all the others that offered equipment! A great bunch you all are, roll on 2022 season.

Swift snippets.
21st September: We'd like to say Happy Birthday for today to expat Stock/Super Stock racer Carla Pittau, former jet dragster pilot and SPR timing guru Steve Horn, Outlaw Anglia racer Dave Sidaway and in the US, Draglist.com web master Bill Pratt. Have a great day guys.

Drag racing historian Nick Pettitt has uploaded to his Youtube page several drag racing videos from years past and current. Two hours of video from the 2001 NSRA Hot Rod Drags at Shakespeare County Raceway are included and Nick has also uploaded just under two hours from the 2021 edition of the NSRA Hot Rod Drags at Santa Pod Raceway. You can also catch over 60 Hot Rods and Gassers at the 2021 Goodwood Revival, including the Rolling Bones from New York celebrating the 70th anniversary of the National Hot Rod Association. More on this Goodwood event tomorrow with a gallery and report from contributing photographer Dave Dick.

Under a change in the law designed to relieve the HGV driver shortage, car drivers will no longer need a licence to tow trailers or caravans and the towing test is being abolished. You can read more by this link, thanks to Darren Middleton for bringing it to our attention.

Lucas Oil Cannon Motorsports Euros report.
21st September: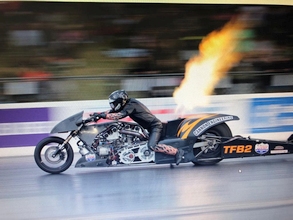 Many thanks to Chris Hannam for sending us a report of the Lucas Oil Cannon Motorsports Top Fuel Bike team with rider Neil Midgley at the Euro Finals Shootout:

First and foremost we have to report the sad passing of Dale Edmonds. To say that the team was shocked is an understatement. It was just at the last round in July that Dale was planning a new carbon setup for the bike so this was going to be a subdued meeting.

Neil had made more upgrades between events, this included work on the blower drive and moving the MSD pick-up to the opposite side to get a more direct and accurate drive. On top of this the bike was taken up to Al Smith for him to create some 3" diameter exhaust to get the motor to breathe better down the last half of the track as we now know this has been holding the bike back.

At this point I would of course like to thank Al for a great job in a short space of time. A top job indeed.

The meeting was good and fairly trouble free as it goes, we pretty much had a bracket bike. Consistent that is, we ran elapsed times of 6.5, 6.5, 6.4 and 6.4. But all through the weekend we were trying to get back to our 6.2 second performance as both Steve Woollatt and Al Smith were stepping it up and finding their form. Consistency is fine but we would need to bring more to the table as it's no good to show up at a gunfight with a penknife. We of course wanted to win this event, not only to keep our ACU Top Fuel Bike championship points lead but also for Dale.

The semi-final had us up against Al Smith on the rapid triple. After we had an AMS failure, Neil had rigged up a mechanical fuel system. We had also put more ignition into the bike and more boost to try and get past our opponents. It was a fantastic race, both bikes having issues but Al taking a 6.33 win over our 6.41. We lost a tight race which is never good but we can take it as we gave it our all and came up short.

Unfortunately a blower pipe had popped off at about 900 feet which basically made for losing all power but on checking the data we found that the bike had been on its quickest pass ever. However, we don't race on ifs and buts but we're optimistic about what the data will lead to. What was worrying was that we had a small amount of oil out of the catch can which on checking turned out to be that we had forgotten to drain it. Apologies to the excellent Santa Pod track crew for that, we were not quite with it this weekend.

On the full engine tear down we found no major issues. There was a small amount of leak past the rings which is filed under "regular wear and tear".

The bike is now in the workshop having new valve guides made and fitted and the motor being rebuilt to get ready for our last round of the year, the STP National Finals at Santa Pod Raceway on 25th-26th September.

As always thanks go to Lucas Oil, Cannon Engineering, MRE, & Par Pippi Willen for their support of our team.

2021 BDRHoF Gala details and booking form now available.
20th September: The Directors of the British Drag Racing Hall of Fame are pleased to announce that the 2021 Gala will take place on Saturday 20th November at its familiar location, the Oatlands Park Hotel in Weybridge, Surrey. It will be the first Gala celebration since 2019, following last year's Covid-induced cancellation. Pandemic concerns also delayed arrangements for this year. The occasion is supported by US Automotive as primary sponsors, with Santa Pod Racers Club.

The black-tie evening will begin at 5.30pm with a Drinks Reception presented by Santa Pod Raceway followed by Dinner at 7.00pm. The celebration will focus on the induction of our new Hall of Fame members, who have been waiting patiently since nomination early last year:

Jeff Byne – Top Fuel/Competition Bike;
Nick Davies – Pro Modified / Fuel Altered;
Ian King – Top Fuel Bike;
Pelle Lindelöw & Gunnar Elmqvist (P&G Racing, Sweden) – Top Fuel Dragster;
John Price – commentary / broadcasting; and
Dave Wilson – Top Alcohol Dragster.

The Junior Dragster and Junior Drag Bike champions of the past two seasons will also be honoured.

Full event details are available on the Gala booking form which may be downloaded at this link. The form includes the menu and meal options and instructions for reserving overnight rooms at the hotel. Payment can be made through the BDRHoF Shop Page at this link. Early booking is advised – guest numbers are limited.

NSRA Hot Rod Drags results.
20th September: Congratulations to the winners at the weekend's NSRA Hot Rod Drags held at Santa Pod Raceway:

Outlaw Anglia: Jedd Guy 6.9379/194.52 def. Colin Millar 7.0668/192.23
Gasser Circus: Graham Barton 10.7980/118.03 (10.79) def. Ray Irish 10.2408/129.02 (10.19)
Supercharged Outlaws: Mike Couch average variance +0.0693 (4 runs), runner up Mick Checkett +0.2062 (4 runs)
Wild Bunch: Pete Brown (Rebel) average variance +0.0303 (2 runs), runner up Alan Lloyd +0.0460

The event will be remembered in history as the breaking of the six second barrier for Outlaw Anglia in the UK, with Jedd Guy running the first six, a 6.9742/193.76 in the second qualifying session, improving to 6.8864/193.88 in the second round of eliminations, and then 6.9379/194.52 in the final against Colin Millar. The 6.8864 becomes the new Santa Pod Raceway track record ET.

Congratulations also to Robin Read who with the Spirit of Le Patron Daimler engined dragster ran 6.6579/201.65 on Friday for the quickest Friday ET trophy from the NSA, improving his times to 6.5215/206.26 and 6.5314/209.02 on Saturday. The NSRA also awarded a trophy for the most runs made on Friday, and congratulations to Andrew Jackson who took his Triumph Herald Coupe to ten runs despite the pairing lanes being packed for the whole day.

Thanks to David Anniwell of the Santa Pod Timing Crew for sending us detailed timing data, including run what ya brung results, which we have posted to our timing data area which you can see by clicking on Data, then Timing Data at the top of any Eurodragster.com page. Official results can be seen at Santa Pod's Official Results Site.

You can check out our John Woolfe Racing-sponsored NSRA Hot Rod Drags reports, results and galleries by clicking here or by clicking on the Event Coverage link at the top of any Eurodragster.com page. Please join Simon in thanking Julian and Diana for their hard work over the race weekend, and well done to the Santa Pod Raceway track crew for providing a great racing surface for all .

We look forward to publishing racer comments on the event tomorrow, and to revealing the winners of the NSRA Dirty Dozen trophies. As well as our galleries and Santa Pod's streaming video, you can see media of the Hot Rod Drags at the following links: Post-Euro Finals Shootout Nationals points posted.
2nd September: Many thanks to Yvonne Tramm for forwarding the latest points standings in the UK National Drag Racing Championhips and SPRC Club Championships after the Euro Finals Shootout. You can check out the UK and SPRC points on our points standing pages by clicking here, or by clicking the Points Standings link under News in the main menu above.

We will be publishing our annual piece on championship outcomes on Wednesday.

Melbourne Round 5 coverage.
20th September: Thanks to former editor Tog for covering the Melbourne Round 5 race at the weekend including Straightliners Championship, NSCC and Duck All Prep competitions. You can see Tog's on- and off-track pictures together with results for the competitions held plus best times Saturday and Sunday, all courtesy of Martyn Greathead of Straightlines, by going to our Melbourne Round 5 coverage page.

David Vegter up to speed at Tierp Arena and Santa Pod Raceway.
20th September: Many thanks to our good friend Remco Scheelings for sending a report on racing activities of Netherlands Pro Mod racer David Vegter over the last month:

At Tierp Arena and Santa Pod Raceway David Vegter once again proved that he is a force to be reckoned with. The Dutchman and his new coloured Vegter Pro Mod Racing '67 Chevrolet Camaro recorded quick elapsed times at both tracks. At Santa Pod's Euro Finals Shootout Vegter claimed the number one qualifying position with 5.87 seconds, to advance to the final with 5.86 and 5.85 second elapsed times. In the final the Dutch driver was in the lead when the flexplate broke and he had to sit by and watch Bruno Bader pass him and take the win. Scoring a runner-up position and looking at the numbers, Vegter once again proved to be one of the frontrunners of the European Pro Modified category.

When the coronavirus pandemic caused the cancellation of the FIA European Drag Racing Championship for the second consecutive year, David Vegter and his team Vegter Pro Mod Racing seized the opportunity to enter the Summit Racing Scandinavian Nationals at Tierp Arena, mid-August. With 17 entrants from five countries and counting for the EDRS Pro Series, EDRS Bilsport Pro Mod Series and the Swedish Pro Modified Championship, the race at Tierp Arena promised to be a great meeting. After a 2-year break, it was immediately loud and clear that Vegter and his team were well prepared for the meeting. On his second run the Dutch driver and his '67 Camaro recorded a great 5.941 seconds. Among the Swedish Pro Mod home favourites, that was good enough to claim the number six qualifying position.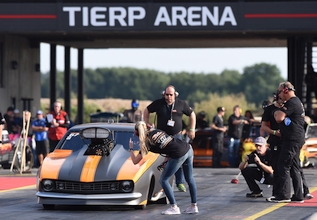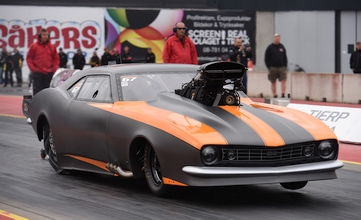 In the first round of eliminations Vegter improved to a great 5.92 seconds, defeated the French driver Jean Dulamon and advanced to the quarter finals, where he had to face multiple FIA European champion Michael Gullqvist. In the quarter finals it was the notorious 2-dollar part that ruined Vegter's chances. A small part that hardly ever breaks, broke down in the burn out, causing the oil pressure to drop. To prevent further damage, Vegter turned off the engine of the Camaro. Although he was very disappointed, it was the right decision because making the run would have caused severe and probably fatal engine damage.

In the second weekend of September Vegter Pro Mod Racing travelled to Santa Pod Raceway for the Euro Finals Shootout. This race for the Motorsport UK Championship was not only a good opportunity to face the British competition, but also Jean Dulamon from France and Swiss Pro Mod veteran Bruno Bader. On his third qualifying pass Vegter immediately shook up the competition by recording 5.87 seconds and claiming the number one qualifying position. In the eliminations the Dutch driver proved that he could improve on this performance by coming close to his 5.804 second personal best.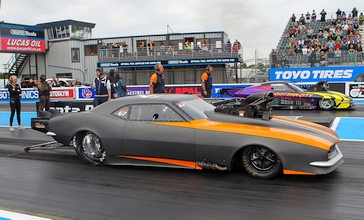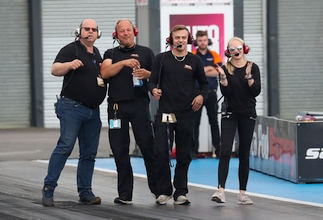 In the first round of eliminations Vegter improved to 5.86 seconds to defeat Jon Webster. On another great semi-final run against Kevin Slyfield, Vegter improved to 5.85 seconds, putting the second British driver on the trailer. In the final the Dutchman had to face Bader as the Swiss driver advanced to the final after recording two personal bests in the quarter and semi-finals. With a reaction time of 0.017 seconds for Bader and 0.018 seconds for Vegter, the two drivers left the line almost at the same time. After a few meters Vegter pulled away and it looked like he would claim the win. But 100 meters before the finish line the flexplate, the connection between the motor and the converter, of Vegter's Camaro broke. The Camaro immediately lost speed and Bader was able to pass the Dutchman just before they crossed the finish line, claiming the win with 5.91 seconds against 5.95 seconds for Vegter. The top speed of the Camaro showed the problem as that was 226 mph (363 km/h) in the final, while Vegter used to cross the finish line in 243 mph (391 km/h). Vegter was of course very disappointed, but claiming the runner-up position and looking at the numbers they recorded, the team could still be satisfied.

But the major blow came after the event. Where Vegter was afraid for became reality as the broken flexplate had caused severe damage. The blower had come loose from the engine and the flexplate parts had damaged several other parts, including a tube of the chassis. The team will send the blower back to the United States for a check and there is lot of work to be done by the team in the next couple of weeks.

But once again, Vegter and his team proved that even after a 2 year coronavirus pandemic break, they are ready to face the European frontrunners. When the lights turn green for the first round of the FIA European Pro Modified Championship in May 2022, they all know that Vegter Pro Mod Racing are a force to be reckoned with.

Vegter Pro Mod Racing are also on Instagram as vegterpromodracing and Facebook as Vegter Pro Mod Racing.

Photos © Julian Hunt.

Swift snippets.
20th September: Thanks to former photo editor Roger Gorringe for letting us know his report on the Euro Finals Shootout written for DragRaceCanada.com, for which Roger is European Drag Racing correspondent, can be seen online by clicking on this link.

M&Ms at Euros.
20th September: Many thanks to Dave Turner of M&M Racing for sending a report on brother Mark's race at the Euro Finals Shootout in his and Michelle's Super Pro ET Toyota Supra: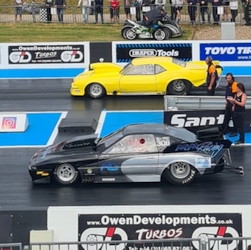 So, it's been a little while since we updated the goings on at M&M racing. After the STP Summer Nationals, we set about making a plan to get some consistency in the combination. To this end, as we now met the 8.99 or quicker criteria for Super Pro ET, we wanted to focus on getting the crew and driver dialled in. At the STP Green light Nationals, Saturday was disappointingly wet, so we only got one qualifying run, but a solid 8.75 netted us 9th position. This pitted us against Ashley Bell in his ex-Scandinavian Pro stock Pontiac. Unfortunately, a red light put pay to our weekend and after packing everything away ready for the ride home, we started thinking about how to get Mark dialled into the tree! After some head scratching and research, a new trans-brake button was purchased and fitted to the car in time for the Euro Finals Shootout.

What a great meeting this was, Friday dawned wet, and we couldn't get all the scheduled runs in but, thanks to the efforts of the amazing crew at Santa pod, we were able to run 2 qualifiers. The first of was disqualified due to yours truly touching the car after the blue line (Oops). We spent Friday evening attempting to dial in the new trans-brake button to see if we could slow down the release and gain fractions of a second on the reaction, we needed some advice… a fellow racer perhaps? This led us to talk with Ian Brown and his crew. This had us hatching a plan with Ian and his team to run a Saturday morning qualifier against Ian in his car, us in our ex-Burt Englefield Supra and Ian alongside in the ex-Gordon Appleton Camaro. This was as a little nod to history as both cars were originally campaigned in the early/mid 90's Pro Modified championships (well spotted Darryl).


At the end of Saturday's qualifying, we were sitting 14th out of 25 and a first-round pairing against Mick Howling's dragster, with everyone knowing exactly what they had to do we pulled round for our race Mark performed a great burnout and was backed up into his tyre tracks just right. I pulled him into stage (keeping my hands well out of the way of the car) and Mark edged forwards ready for the run. The lights ran down, and we had another cherry left on the tree. We also ran 0.04 under our dial in, recording our fastest run of the weekend with an 8.69! We drove down to the shutdown area to pick the car up after the run only to find Mark was walking back beating himself up about the red-light situation.

Once back in the pit we started to discuss what was going to happen as this was supposed to have been our last meeting of the year. The decision was made to leave the car and trailer at the track and come back down for the STP National Finals. So, this is where we are Mark and Michelle are going to travel down to the track on Friday morning to run the Supra at the Friday test session to get Mark some more seat time and get him dialled into the tree. See if he can work out the Yips and not have the cherry blues over the long winter.

Mark and Michelle wanted to say thanks to all the team who helping at the Euro Finals Shootout Dave, Kieran B and Tom Pawski, also to all the drivers and teams for all their help and support just proving what a great sport drag racing is.

Pictures courtesy of George Martin and Trevor Owens.

Dale Edmonds.
16th September: We were sorry to hear from Chris Hannam of Cannon Engineering of the death of team member Dale Edmonds:

"We have been asked by the family of Dale Edmonds of DRE Carbon Composites to sadly announce that Dale passed away peacefully in the early hours of Monday 13th September at Sobell House Hospice, Oxford. For over 30 years, Dale ran DRE and in that time he has contributed his skills to many drag racing cars and bikes, from street driven vehicles to Pro Mod cars, and many historic circuit racing cars from the UK, Europe and USA. He also spent time helping out cars on race weekends, to name a few Nigel Payne, Paul Mander, Ray Turner and recently being part of the Cannon Motorsports team of Neil Midgley.

"Dale was a brilliant and loving Son, Dad, and Grampy, that we know will be sadly missed by all". We at Eurodragster.com send our deepest condolences to Dale and his team mates, friends and family.

Hot Rod Drags Gasser Circus preview.
16th September: Many thanks to Nick Brooke Langham for sending us a preview of the Gasser Circus's entry for the NSRA Hot Rod Drags this weekend:

The fast approaching weekend of the NSRA Hot Rod Drags marks the conclusion of the 2021 Gasser Circus Showdown, it is the weekend that will see the new Champion crowned. The championship like previous years is finely poised with several drivers still in contention, with Nick Barnett in his B&G Racing Ford Falcon heading the standings. Nick only needs to progress a few rounds to secure the overall win, but we all know drag racing is never that simple or straightforward, especially when there are another 19 Gassers trying to beat you. Included in the 19 is the debut of Adam Kruczynski in his 'Not So Mellow Yellow' 55 Chevy.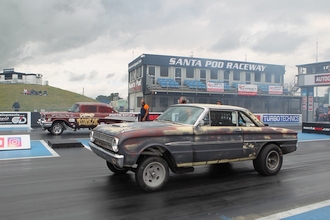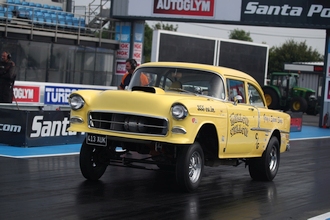 It looks set to be another enthralling and exciting weekend of nose high racing, with 20 Gassers chasing one of the 16 places available in eliminations. Hosting this weekend is a great achievement for all involved. As it was only a few months ago when none of us knew if we would be able to race this year, let alone be able to conclude a season of Drag Racing.

All Drag Racers are so grateful for the determination of the team at Santa Pod and the Gasser Circus will salute you all the best way possible, by racing hard and putting on a performance worthy of the 'Big Top'.

Make sure you visit us in the pits and get up close to the cars that pay tribute to the mid-60s Gasser Wars.

Gasser Circus – Racing the Dream.

Look out tomorrow for Eurodragster.com's coverage of the NSRA Hot Rod Drags at this link.

EDRS Champions crowned.
16th September: In a triptych of season ending races in the last two weeks, the final points were fought over by racers in the Summit Racing EDRS series.

In Haapsalu Dragway, Estonia about 60 teams gathered at Haapsalu Raceway on 4th-5th September to end Estonia's drag racing season. Two days of fantastic racing with teams from Finland, Latvia and of course Estonia. You can read a report by our good friend Lena Perés on the event at this link.

Last weekend 10th-12th September the Finland Finals took place at Kauhava Raceway. Only one qualifying round was able to be completed on a very slippery and damp track so qualifying points only were awarded. The EDRS web site contains pictures and a report at this link.

Likewise at Gardermoen Raceway in Norway the weather was not on racers' or organisers' side and the race was called to a halt after Hans Olav Olstad's accident. Lena reported at this link that "It was certainly not the best ending of a shortened season, but things happen and the weather is something that no-one can do anything about.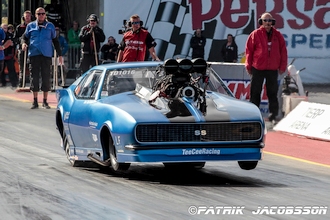 The track crew did whatever they could to offer racers and spectators some great racing during the weekend, Friday did show some good qualifying rounds and in total there was 140 drivers and riders who produced 649 timeslips.

Congratulations to the 2021 EDRS and EDRS Pro Champions, for which you can see detailed points for at this link:

Pro Modified (EDRS Pro): Michael Gullqvist (Swe)
Top Doorslammer: Stefan Carlsson (Swe) (pictured right, top)
Competition Eliminator (EDRS Pro): Niklas Heikkilä
Pro Street: Seppo Raussi (Fin) (pictured right)
Pro Street (EDRS Pro): Michael Maderer (Ger)
Street: Lars Erik Persson (Swe)
Stock/Super Stock: Theodor Brandt (Swe)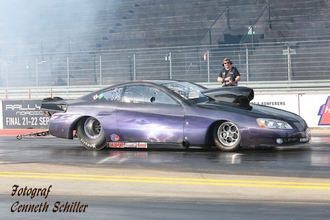 Stock/Super Stock (EDRS Pro): Thomas Strand (Swe)
Super Comp: Mikael Nilsson (Swe)
Super Gas: Håkan Mattsson (Swe)
Super Street: Åke Törnqvist (Swe)
Super Pro ET: Mikael Nilsson (Swe)
Pro ET: John Thidé (Swe)
Junior Dragster: Victor Barstad (Nor)
Super Comp Bike: Peter Östlund (Swe)
Super Gas Bike: Mikkel Jensen (Dk)
Street Bike: Otto Eralahde (Fin)
Junior Drag Bike: Riku Polla (Fin)

Doorslammer Tour Finals.
16th September: The Doorslammer Tour series, conducted at Hudiksvall Raceway and Malmö Raceway in Sweden, had an entry of 68 cars in its finals at Hudiksvall last weekend, however the excellent traction was an incentive for quicker cars to enter with eight in Top Doorslammer, four in Super Pro Street and a sizeable number in Test & Tune. This report will concentrate on three of the classes, however you can see full results at this link by clicking on Doorslammer Tour Finals 2021: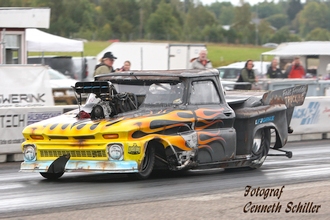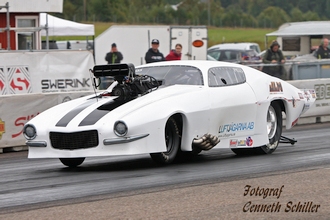 Qualifying in Top Doorslammer went as follows:
Anders Edh (supercharged '70 Camaro) 3.9291/302.18 kph
Fredrik Lundh (supercharged '69 Chevelle) 3.9481/306.12
Åke Persson (supercharged '70 Camaro, above right) 4.0238/257,02
Fredrik Fagerström (supercharged Chevrolet pickup, above left ) 4.2049/261.75
Henrik Brink (turbo '97 Camaro) 4.2218/258.25
Jonas Andersson (turbo Ford 34 pickup, below right) 4.3579/250.00
Jonas Boberg (supercharged 2007 Pontiac GTO) 5,1488/175.50
Stefan Jansson (supercharged Chevrolet Bel Air) 7,1468/140.15
The class winner was Fast Freddy, who was up against Henrik Brink in round 1 and won 4.228/248.5 to 4.990/157.3, with a much quicker reaction from Henrik. In the semi final Freddy met up with #1 qualifier Anders Edh and won 4.046/292.8 (his quickest of the event) to 5.009/161.1 for Anders. The final was Freddy against Åke Persson who had run the two quickest times of race day and looked sure to be a close race, but he slowed to 6.775/118.4 and Freddy went on to run 4.179/273.0 for the win.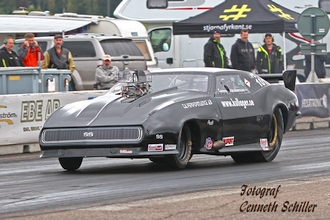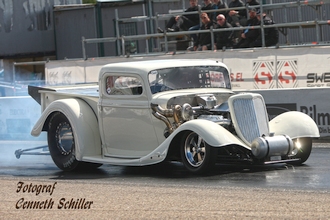 Tommy Abrahamsson (above left) dominated Super Pro Street by qualifying #1 with a 4.4599/251.98kph pass in his '67 Camaro. He went on to defeat Lars-åke Söderlund ('55 Chevy) in round 1 of eliminations, and Johan Hedman (Pontiac Trans Am) in the final, Tommy running a 4.412/254 to Johan's 4.706/241.

In Stock/Super Stock expat Brit Carla Pittau qualified #2 with a -0,8450 but lost to Åke Hedberg in round one. Eventual winner was Jonas Bengtsson.

Photos courtesy and © Cenneth Schiller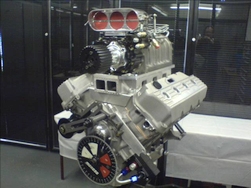 Apache A is retiring.
16th September: Tim Garlick has confirmed the information we relayed about Apache's long serving 'A' engine which has been retired after the Euro Finals Shootout:

"Just a simple thank you to Rob and Nick at I.C.E. for building this bullet and educating both myself and the team to run it for almost 8 years, completely unscathed!

"It still has the original Bryant crank which we believe is approaching 100 passes. A string of low sixes and a couple of fives. Amazing engine, amazing crew.

"For simplicity we call this engine "A", engine "B" is built and engine "C" is on its way, but that's another story…"

Euro Finals Shootout bike class racer comments.
15th September: Many thanks to all those who posted their thoughts to us or on social media, we have collected those or commented on all the bike classes:

Banks Night Club Top Fuel Bike was as so many times before dominated by Steve Woollatt (below left), three faultless runs in qualifying and then, after winning the semi final following Allan Davies red lighting, ran low ET of the meeting for TFB in the final, 6.182/223.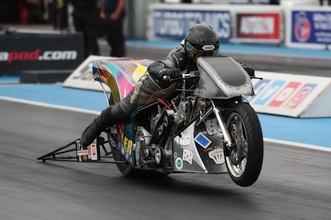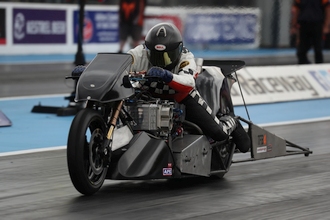 Engineer and bike owner for Al Smith (above right), Phil Baimbridge wrote "The Euro Finals Shootout TFB field epitomised why fuel bike racing is my passion. The four bike field included an in-line 4 (Steve Woollatt), the Rocket, an OHC V twin (Neil Midgley) and a "staggered" push rod parallel twin (Allan Davies).

"The PBR team (Al Smith, Joo Smith, Neill Curtis, Andy Kirk and I) entered the pre-event test day as well as the race meeting. Stopping the motor hurting itself had cost us a lot of HP which we had to retrieve – so the plan was to step up (ignition and percentage) and adjust the fuel system to try and keep the motor firing through the second half – for which we needed as many passes as possible".

In testing Al ran 6.942/145mph and 6.68s with a misfire. However for qualifying the team raised the nitro percentage from 83% to 88% resulting in a harder leave but tyre spin in Q1, and after gearing and clutch adjustment, went into tyre shake but achieved a 1.02 60ft time, the quickest of the event for the class. The last qualifier was effectively lost to a lack of compressed air. Work on the engine to regrind valve seats caused the team to have a late Saturday night.

In the first round of eliminations the new setup worked on throughout qualifying paid off with a 6.335/201.7mph, Al getting off the line quicker than Neil Midgley and beating his 6.41/186. However the team was unable to make the final after a dropped valve seat insert – a disappointing conclusion for the team but with distinct progress on power. You can read more at Phil's Facebook page and his web site. The team thank their sponsors (Burlow Engineering, FIE, APE & B&J) for their support and their thoughts are with Hans-Olav Olstad and his family, following his accident at Gardermoen (he came through his operation well and is now at the start of a long convalescence - Editor).

After a major engine rebuild Allan Davies was in test mode but reported that by the end of the meeting the team had cured the off line misfire on his fuel bike that had slowed it to 8.1s.

Taylors Trophy Super Street Bike was a fairy tale weekend for two riders. Jake Mechaell on his self built machine (below left) had impressed on its debut, and with a new engine and chassis tweaks for this event, he took the performance to a new level running running his first six in the final qualifying session and winning the event over defending champion and 2021 points leader Steve Venables.

Donna Anderson wrote: Wow...what a weekend! Jake only went and won the Euro Finals! He made great progress on his self made Super Street Bike joining the 200mph club and 6 second club. He qualified 2nd yesterday, then got through eliminations today leading to the final against Steve Venables. There may have been a few screams and tears when he won the final, and we are all very proud of him. What an achievement in your first SSB season!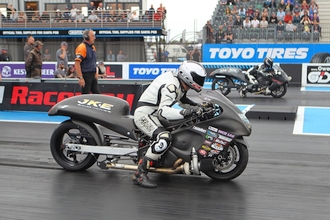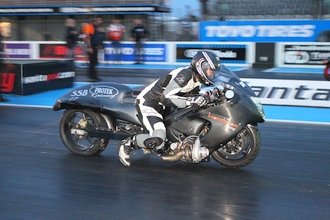 The other fairy tale is Alan Morrison Jnr (above right) who was second with a 6.98/210 until the fifth session but came off the bike. The incident and his subsequent appearance in the final qualifying session has been posted on Youtube by Santa Pod. Craig Wright wrote: "Some boy Alan Morrison Jnr, we had our hearts in our throats watching on bro, but you just brushed it off like it was nothing, in his words "Well, it was just an inconvenience. What A Guy."

Cudos must go to Matte Bohlin, the sole racer from Sweden who braved the travel restrictions and ran an out of the trailer 7.045/211 to top the standings in session 1 but wasn't able to improve on it.

Garry Bowe was back on track after two years and got back to his performance bests, at 6.959/203, just short of his PBs and going one round before being defeated by Steve Venables, 6.833/218.97 (a new ACU record for speed) to 7.095/175. Steve said of his defeat to Jake (7.069/206 to Jake's 7.009/208) "I carried the front through first and second, was equal with Jake but hit the rev limiter in fourth which lost me the race by 0.03 of a second".

Leeks Landscape Funny Bike had the addition of two Pro Stock Bikes of Maurice Bertrand from France and Martin Bishop who was running for the first time in two years. Maurice went to the top of the standings in Q1 and then Tony Clark ran a 7.19/185 on the Phil Crossley machine (below right) to go #1 for the rest of qualifying improving to the bike's best of 7.096 in session 4.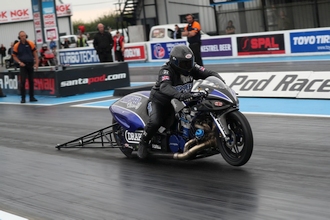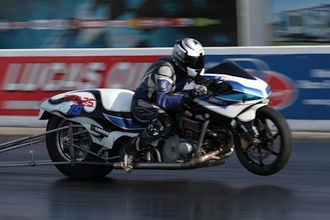 Stu Crane ran at the start of qualifying but was not able to come back, and Warpspeed Racing focused on Mark Smith who was on a new turbo machine (above left) following some bad damage at the Summer Nationals. Mark defeated Martin Bishop with a 7.15/185 in round one, had a bye in round two after Tony Clark's engine had let go and ran a fantastic 6.971/191 in the final after Maurice couldn't start. An account of Mark's great weekend is at blog page.

Roger Moore had qualified with his best on a Funny Bike of 7.675/168. Lucy Moore wrote: "Our first competitive event in Funny bike was halted when we broke on the test day back at the Summer nationals. This meant the euro finals was an important event for us to get some track time and qualify for the event. After 2 runs on Friday and 3 on Saturday we finished qualifying in 6th and without any damage (hooray!). One of the runs was very close to a PB! "Unfortunately a technical mishap meant the bike had already shifted into top gear before the launch in the first round of eliminations. However I don't think we could have matched the storming run by Light Speed Drag Racing anyway!

"It was a fantastic weekend and a lot has been learnt. Thanks to all the friendly faces in the bike pits for your continued encouragement and laughs. We look forward to sharing some drinks with you all. Fingers crossed for some even better runs at the National finals in 2 weeks A big Thankyou to Bob & Debs as always for their continued support."

Lorcan Parnell and the Storm Drag Bike team suffered loss of boost, you can read the account of their trials and tribulations at their excellent blog page.

Suzukiperformancespares.co.uk Comp Bike racer Louis Davies (below left) was no. 1 qualifier with 7.164/178 and won Comp bike with a 7.001 PB to Jordan Kenway's 8.094/163, also a PB and with two ex junior bikers meeting in the final.. Jeff Kenway wrote " I can't believe we got to another final and ran a PB we can't wait for the next round well done Louis Davies on the win, it's well deserved. Thanks to some great people for helping us get down the track Mark Hope, Stuart Crane, Jake Mechaell and Mark Smith for helping us with our clutch setup. After trying to ride the bike up to scrutineering on Thursday and giving up after twenty feet I am even more in awe of how Jordan can ride".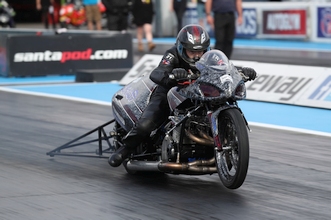 Chis Neary (above right) had run a PB in Friday qualifying of 7.646/181 and in round 1 defeated John McLean Snr who ran a PB of 8.0881/157.41 in Saturday qualifying. There was attrition in the class however, John McLean Jnr's engine was in pieces after his final qualifying run, having run a PB of 7.8204/169.82 on Friday, Paul Hambidge had gearbox issues and Sean Mills also didn't show for round 1.

JKE Race Works 8.50 Bike winner Joe Elliott (below left) who crewed for SSB racer Steve Mead as well as riding his own bike "Had a awesome weekend at the biggest drag racing event of the year which 8.50 bike doesn't normally compete at so probably a one off experience with a personal best time, a wheelie, winning the event and helping out in between in the best class Super Street Bike which had all time low bump spot to get in the show.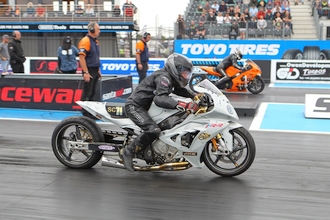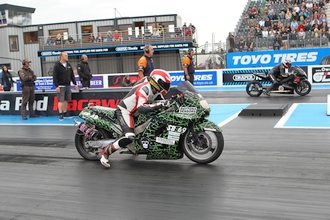 Atlantic Fluid Tech 9.50 Bike racer Phil Harrison (above right) sent us his thoughts on his first ever event win in 9.50 bike:

"Friday was a slow start, a 9.88 was OK, but well off our previous best times of 9.55 and 9.59. Saturday started better, after Q2 we were in third with a decent 9.58. We were battling with Martin Hallett for third place in the championship, and before the final run (and our first ever night run) he stated that he didn't want #3 in qualifying, due to #4 getting an effective bye against Brett Cordelle who had destroyed his clutch and was not going to make eliminations. Well, Martin went right ahead to take #3 with a 9.56 giving us the bye in E1.

"To ensure we had enough nitrous should the impossible happen and we went all the way to the finals, we decided to make our bye in E1 a no nitrous pass with the intention of just doing a launch to get our hand in, but the launch felt good do I stayed with it for a nice clean 9.89 - a PB for a no nitrous pass. In E2 we were up against one of the two big dogs, Craig Wright. Craig is a merciless competitor, so we knew our day was about to end... Except it didn't. We got off the line well and ran strong all the way, with Craig breaking out by the tiniest margin, losing to our 9.56. I simply couldn't believe it when I saw the win light in our lane - I was screaming through the whole shut down area. We were ecstatic, we were in the finals, and guaranteed our first trophy, but we were against Martin, boy was he making us work for the third place in the championship!

"The finals came around and I was telling myself in the staging lanes that we were just choosing the size of the trophy. The lights dropped and off we went. Just after the 1/8th Martin slowed and our win light came on. The impossible had happened - knowing that the gap he had to ride into was quite small if we were on a good pass had meant Martin had pulled a cherry...

"The job was done, we had taken our first event win. I simply can't describe how I felt, we had taken the ZZR from the junk yard to victory lane. We had a big dose of luck, but we were there. With Craig Wright and Richard Sawatzki both going out early this means the championship has closed right up. While it's a long shot, the top four go into the national finals with a shot at the championship... That meant us too!

"Anyone who knows me knows I'm never lost for words, yet here I am... Lost for words. I'm humbled by the support we have received, especially from our competitors who were so pleased for us. For me, a particular highlight was Craig's son Harrison coming over to congratulate us. What a class, what a sport, Team special K are proud to be a part of it, and will give it our all in two weeks."

Thanks to Blood Cancer ET Bike co-ordinator Suze Morris and crew for winner Phil Pratt (below left) for her report on the class at the event:

"European Finals, not an event ET Bike would normally run at, but as one round of our 'double header' rounds at Greenlight Nationals had been dropped we found ourselves pitted alongside the track fence right on the 1000ft marker, and we had absolutely no complaints about that!

Qualifying on Friday was very much affected by rain, with only three of the scheduled five happening, with one of those being at the end of the day pulling into the burnout box in the dark (at which point Phil spotted a livestream camera being turned in his direction and went straight into "Flame & Thunder" mode, with a massive show-off, rolling burnout and then wondered why he ran his worst 60ft in years!

"At the end of Day 1, Phil and "Satan's Lady" were on the top of the pile. Saturday saw another 3 qualifying sessions on a hot and sunny day, Gary Hester taking over the top spot, and Paul Adams bumping us back down to 3rd. To be perfectly honest, we'd been all over the place during qualifying, but were happy to be in the top half of the field for eliminations.

"Sunday, RaceDay, and a tough first round pairing with Robbie Dobbie, and it was double breakouts, thankfully the win light coming on for us, despite running a 9.06 on a 9.10 dial-in (oops).

"Another tough one for round2 where Dave Grundy awaited, but gear issues for Dave meant another win light for "Satan's Lady".

After 'lucking' our way through the first two rounds, things came good for the semi final with Gary Hester... a 0.05 RT for Phil made the difference at the top end, with Gary breaking out trying to get past, and so it was that "Satan's Lady" found herself being refuelled ready for the most important mission of the day.... a Final against Michael Gooding.

"That Final round was "Mission Accomplished", with a best ever 0.0093 reaction time, a win light, and another trophy for the cabinet.

As always we'd like to say a massive thank you to all of the SPRC track crew and marshals who worked so hard over the 3 days, to the Boxlane Team, commentators and photographers for the awesome livestream and great pics. But the biggest thank you has to go to our classmates, I know I always say it, but the camaraderie in the ET Bike pits is second to none... you guys totally rock!

"So we head back in a little under 2 weeks time to do it all over again at the National Finals, with a huge field in the class for this final round, and, oh boy, that is going to be fun! We hope to see some of you there, thank you again for the support!"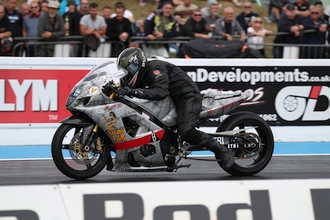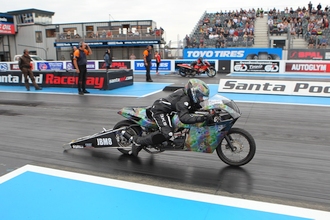 Ollie King, Eurodragster.com Junior Drag Bike winner Hollie King's father wrote: "So the weekend's, done Hollie (above right) took the win in junior drag bike, a sharp learning curve for a first season, seeing as she's only just learnt to ride a bike this year. We are now where she can do a burnout, how to roll off if she needs to look for another racer, how to show true sportsmanship and, most importantly, win or lose, to have fun and enjoy it. It's not a opportunity everyone gets, and she's loving every second, not only on the track, but what racing and racers are truly about.

All the junior drag bike racers were on point this weekend, here's a insight to how close the qualifying numbers were over dial: 0.01, 0.03, 0.07, 0.09 and 0.15 for the five qualifiers. All of these kids are absolutely amazing a great weekend, well done to you all. And the crew at Santa Pod, as always, completely top of the game without them we couldn't all do what we love."

Swift snippets.
15th September: Happy Birthday and many happy returns to ten times FIM Top Fuel Bike champion as a rider, twice as a team owner, and ACU Championship Co-ordinator Ian King. Have a great day Ian, and see you soon at the 2021 British Drag Racing Hall of Fame Gala on 20th November.

Kieran has posted videos from Doorslammers to his Youtube channel. You will be able to see videos of the Pro Doorslammer, Street and Front Wheel Drive classes, and individual racer videos of Paweł Pietrzak (FWD), Al McSweeney (Street), Tom Atkinson, Billy Gane, Marc Huxley, Nic Williams (all Big Bracket), Darren Peart (Pro Doorslammer) and Richard Prydden (4 Cylinder). A video, with in-car footage, of Kieran's dad Kevin's Fraudster C20LET engined Mk1 Escort running its new PB of 7.66 has also been posted.

Veedubracing videographer Simon Letkey has been posting video of recent events, some incorporating interviews to his Youtube channel. Included are a Bug Jam walkabout, interviews with Alex 'Jesus' Leiserach about his 'Second Coming' VW Single Cab, Buzz Pattar with his Lamborghini Huracan, also footage of Mike Whittaker's V6 24v R32 powered VW Mk1 Caddy, the 1.9 TDI Seat Ibiza of Helder Pereira and highlights from Saturday at the 2021 Doorslammers.

Euro Finals Shootout car class racer comments.
14th September: Many thanks to all those who posted their thoughts to us or on social media, we have collected those or commented on all the car classes:

In the G2E Motorsports-sponsored Top Fuel, Ida Zetterström wowed us all with a 3.86 licensing pass, going on to defeat Susanne Callin in the final, 4.020/222 to 4.161/216.

She said on Facebook "A great ending to a great weekend, we got the license and won the Top Fuel shootout tonight after qualifying first on that killer 3.86 run and ended up taking home the win tonight in the final. We're now on our way to the airport hotel to fly home to Åland tomorrow morning, gonna miss this team until next season - can't wait to run a full FIA season with you guys next year!

"Major thanks to my great partners for backing me up and continuing to believe in me as I step into this new world of Top Fuel: Eklunds Bygg / Mstrand.ax, Cinderella Sverige, Lackcenter, Mekonomen Åland, TiAL Sport, Hansen Racing / Autoracing, and Klipphus 3".

Séan Bowe remarked "If only that blower belt had stayed intact...0.01 seconds quicker (3.03) and 4mph faster (282mph) to the 660ft markers than what Maja Udtian was on her 3.80 European Record run 2 years ago at the same event, in the same car. Big shame that the blower belt came off just past half track, otherwise we could have witnessed Europe's first 3.7-second run!" Ida will be one to watch in 2022 as she takes on the FIA Championship.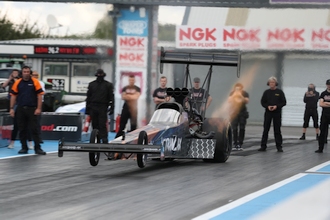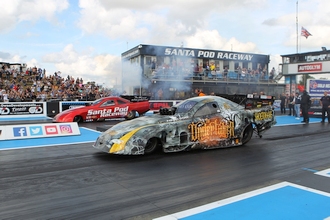 In Fuel Funny Car, also sponsored by G2E Motorsports Steve Ashdown was the winner despite traction issues with his car, issues shared by other racers in the class. Steve's low ET of the event in qualifying of 5.3114 was just ten thousandths of a second below Kevin Kent's round 1 time of 5.3115, these two being by far the quickest runs.

Shockwave team member Lee Webb wrote: It's been a long 'off season' and acknowledged team members Dave Bryant, Marie Mills, Tim Parker, Tyler Arron Ashdown, Steve Brookman, Grace Roaf, Jeff Bosworth, Big John and of course Steve Ashdown. One big expenditure during the off season was a new rear axle and the John Force Racing-manufactured part was up to the awesome power from the nitro fuelled engine.

After taking home £3500 with a holeshot win over Kev Slyfield at the Doorslammers the previous week, Bruno Bader had sky high confidence going into the Euro Finals in Motorsport UK Pro Modified. He ran a qualifying pass of 6.097/227 to go straight to the top in session 1 and improved with a 6.065/228 in session 2. The rest of the field were at least a tenth behind, and many were suffering mechanical woes. It was only session three that eventual runner up David Vegter showed his performance potential with 5.876/243 and in the last session Nick Davies found form to go to a new PB ET of 5.944/246 leaving Bruno in third position despite improving to 5.957/233, close to his 2016 PB.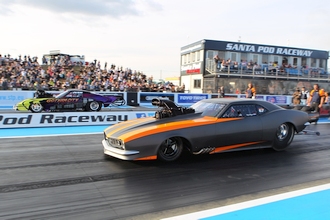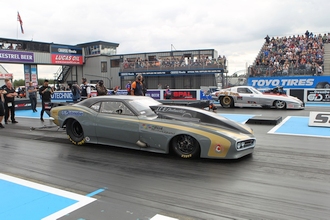 In round 1 of eliminations Bruno ran a new PB of 5.931/231 with a big lead over Jean Dulamon who had a wretched RT. Then in round 2 Bruno improved his PB to 5.920/236 to score a holeshot win over Nick Davies who himself had recorded a 5.885/245 PB. Then to complete his dream racing day, in the final Bruno ran his third PB in a row, 5.914/237 to defeat David Vegter, whose team had been desperate to win a trophy to look at during their upcoming quarantine and were close with a 5.951/226. Their reaction times were 0.0178 for Bruno and 0.183 for David. An outstanding final to cap a great elimination.

Nostalgia Funny Car had the pairing of Tim Garlick and Tony Betts who, with their team, worked hard on their cars to bring us a great show by going down the track five times each. Despite Tim winning all the matchups the cars were well matched performance-wise, the final being 6.11/229 to 6.22/236 in favour of Tim. After the event engine suppliers I.C.E. Automotive posted "Tim Garlick and the Apache team had some great match races with Tony Betts 'Venom' Funny Car. The last run on Sunday which was not only the best of the lot, but also the last pass for the team's trusty KB. Tim had us assemble an identical spare engine in 2018 and this will replace the original for 2022. After seven years in the car the original engine will now see service in the team's AA/FA project."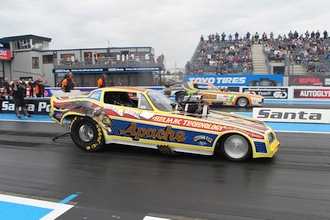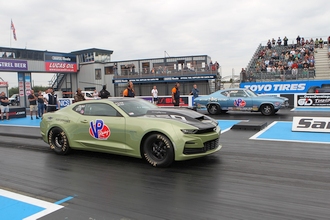 In Track Worx Competition Eliminator Williams Bros Racing had a hold on the whole field. Their racing operation is of such quality they are attracting ink from across the Pond, as an article in Race Pages Digital shows. 12 qualified cars made for a 16 car ladder and four rounds of racing. As Nic's new COPO Camaro ran a 8.47 in testing, officials had suggested his 9.40 FS/AA index from the NHRA was too soft and so an pre-event adjustment to 9.30 was agreed. Nic ran a 0.6984 under this new index in qualifying to go #1. Meanwhile brother Dan was scarcely less under his 10.70 index (NHRA index is 11.00) and was #2 with his Chevelle at -0.6269. Jordan Payne (SM/A) and Robin Orthodoxou (A/A) defended the traditional Comp Eliminator classes with -0.5381 and -0.4775 below their respective indexes of 7.99 and 7.45. Kev Jenkins suffered from a DD/AT index of 7.58 (same as NHRA) but, as you will see below, had personal satisfaction and the admiration of all who saw it at the end of qualifying.

In eliminations, Nic ran 8.6597, as this was 0.6403 below his index it got adjusted to 9.16. Nic can expect his index to be 9.26 in future as the -0.6403 prompts a permanent change to the index of 0.04. After receiving a red light against Dan in the final, Nic had the foresight not to run the COPO Camaro out the back door, as any more reduction in index would be a disadvantage in future and not just for the final race in 2021 where he has to defend his championship prospects from Jordan Payne .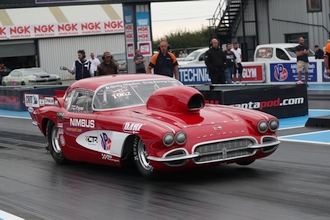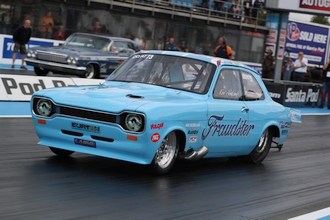 Kev Jenkins, without the luxury of being able to run under the index, concentrated on his car's impressive performance. The consistency he displayed in Doorslammers (five consecutive 7.9s runs with a turbo four cylinder engine) was outstanding. He said "At Doorslammers we achieved consistency but for Euros the plan was to beat our PB of 7.86 at 173 mph. Well we blew the boost pipe off on one run and suffered with tyre shake in 2 runs but it all came together on the final qualifier with a new PB at every point of the run and a 7.66 at 175 mph!

"We qualified 8th out of 12 competitors but eliminations is always going to be a hard battle for us with our index being 7.58. For Round 1 drew No.2 Qualifier Dan Williams who can go 6 tenths under index so it was a very big ask! Anyway we went red but run a 7.82 at 172 mph and Dan went on to take the event win (Well Done Dan!)".

No doubt about it, the addition of Stock Super Stock has spiced up Competition Eliminator and has made racers more index-aware.

Ron Bartlett who is having a great year with his 105e Anglia in Peter Nee Super Pro ET, gave us some insight into the competitiveness in the championship: "Well what a weekend, top 3 in the championship all through to the semi finals. I felt I missed a chance not to get through but well done to Pel Norman and team with the awesome Shogun Capri. Pel said it was a long time coming and I know how that feels.

"Giles and Hartley have been unstoppable this year and Billy Gane on a charge puts me in 3rd place. Testing in the left lane Thursday to get my reaction time up to speed certainly done the trick on race day. 0.08, 0.003 and a 0.013. One quarter final, two semi finals and one event win so far this year has been awesome and couldn't do it with out my crew. The last two rounds with Hollie and Simon Eykyn working together to get car sorted, fantastic. Thanks to everyone for the encouragement, and the amount of well wishers from spectators was brill. Thanks to Callum for the Pictures. Tom Atkinson - did I mention the tyres?" (they're in the post - editor).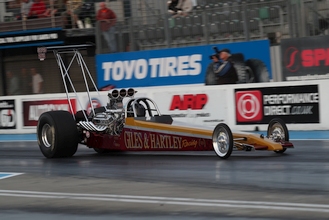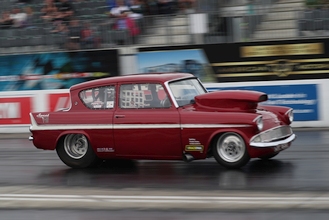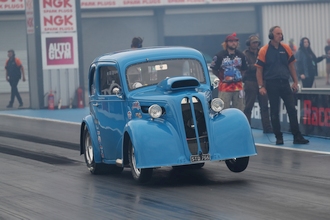 Ronnie Mercer's first win in Modurstang Pro ET followed a barrage of 10 runs in the 8.82-8.92 region, amazing consistency for a Ford Pop with nitrous. He was given many congratulations from his Pro ET and Outlaw Anglia peers for his achievements. Ronnie's 0.0097 light in the final was the main factor in the win over Lee Huxley. Team Annie crew member Jordan Amps said "What a great weekend it turned out to be for us! Through to the final against lee what an awesome race ! Well done to everyone in the pro ET class, think we can all safely say it's been a great weekend for racing, track was great too!

Fast R Super Comp was won by Martin Curbishley, supported by Fix Auto of Martin's home Penzance in Cornwall who crewed for him and transported the car to Santa Pod. Martin had great lights in qualifying although struggled to remain over the class 8.90 index. In eliminations, the great lights continued, Martin stayed ahead of the competition on track, and his last two opponents Paul Hudson and Leah Kellett both broke out.

Carburettor supplier Tony Morris posted "Congratulations goes out to TMC/RDR team mate Martin Curbishley who took the win today in Super Comp at Santa Pod in the UK! Martin had Dave Gibbons of Rough Diamond Racing in the UK, our UK TMC representative, go through his Twin Blade Carburettor and rebuild it and prepared it for him for this weekend races!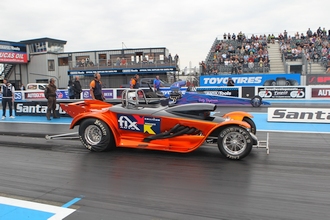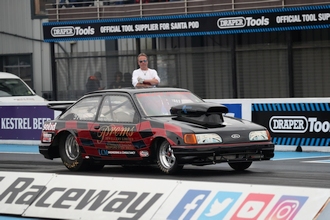 You could have seen Andy Harrison's win in Dave Grady Super Gas coming in qualifying when he ran five consecutive 9.9s times in the Sierra, ending up in second place to Tim Adam. The class was at full strength with four past champions competing. In eliminations, Andy had three 0.0 RTs and in the final with Andy Dibley also cutting a great 0.06 light to Andy H's 0.02, he lifted the throttle at just the right time to get the double breakout win by 0.04s or half a car length.

Topspeed Automotive Street Eliminator had some pre-race attrition. Joe Stevens had suffered a blown turbo, Al Williamson's truck needing repair following a coming together with the wall, and several others with mechanical woes left six cars to compete. Mark Todd was the first to dial into the track with a 6.906 and 6.833, followed in the final session by Andy Bond to 6.859 alongside Mark.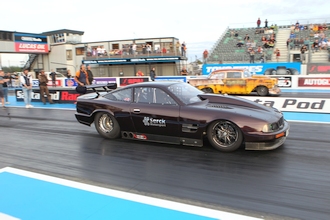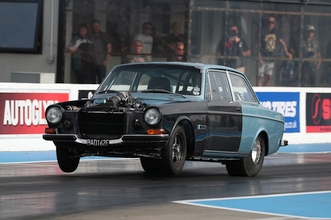 Both of these six second 200+mph runners ran conservatively in round one, then Andy turned it back on in the semi against Al McSweeney, who himself ran a new PB of 7.73/179 but was defeated by Andy's 6.88/207 with a slower 60ft, as Mark, with a bye, found the limits after a quickest-of-all 1.10 60ft. The final had no burndown, but much anticipation of the first side by side SE six second pairing, however Mark's car broke traction early on and Andy went on to record a new class ET record of 6.826 with a jaw-dropping 212 terminal speed. Well done to Andy and crew chief Martin Kerr.

Purdie Hadfield in Lucas Oil Junior Dragster, showed the value of testing after going to the Friday of VW Action/Doorslammers. She posted on Facebook "How do you sum up a weekend as great as this (you can't)? Started the weekend off with a rainy Friday! Ended the day qualified with an 0.06 light (playing it safe) but on Saturday I decided that wasn't enough and pushed myself to pull a 0.004 light on the last qualifier(brave)! I was absolutely delighted that this put me in no.1 qualifier which I celebrated with quite a few rides on the waltzer.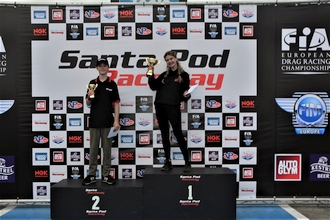 "Moving onto Sunday, elimination day, I had Luke Mugridge first round and we both went red luckily for me he went red first, so I got the win! As I was no.1 qualifier that mean I got a bye second round meaning I went straight into the quarters where I raced Lola-Belle Kent, she red lit so I played it safe pulling a 0.2 reaction (see, I do know how to play it safe) then moving onto the dreaded semis Harley Darby and I had a really close race, with me winning on a hole shot anyway, I realised I had the current champion in the final, Harry Redshaw - how daunting! I decided I would be happy no matter what, but it didn't stop there, Harry ended up handing me the win with a red light and both me and my car were excited and ended up running a 7.97 (where did that come from?).

"Anyway, the smile on my face could not be wiped off from the moment I saw that win light to the moment I'm writing this… I could not be happier with what I've achieved this weekend and I am so thankful for all the support of friends but mainly my Mum and Dad!! Seriously couldn't do it without you And well done to Thomas Cook-Abbott for getting through to the semis… proud girlfriend

"Thank you so much Geoff Stilwell for sponsoring the juniors at this event, very generous. Anyway to wrap up this autobiography I've had such a good weekend and have a trophy to add to my shelf Thank you to all the Santa Pod Santa Pod Raceway crew and everyone there who made this weekend so enjoyable".

We were also touched by the appearance of two of the sport's personalities who suffered ill-health but undoubtedly view being at the track a big help to their recovery, blown altered racer Dave Grabham and radio broadcaster Nigel Fitzmaurice.

We'll be covering the bike classes tomorrow, come back then for more racer comments.

Euro Finals Shootout media.
14th September: As well as our own galleries by Julian and Diana which you can see in our Euro Finals Shootout coverage page you can see photo galleries of the race at the following links: Second Coming apparel available.
14th September: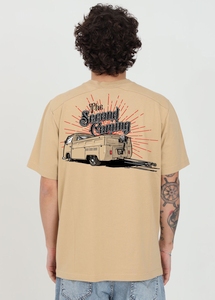 Many thanks to Outlaw Flat Four racer Alex 'Jesus' Leiserach for an update on his unique VW bay window pickup:

I was at Doorslammers and on the Saturday, Second Coming Single Cab took its first full passes down the track. It has been a five year build so it was pretty monumental to do a pass under full power.

The first pass was 11.01 @ 129mph, this was a big surprise to me, but not to Richie from RJ Volks Performance who has been tuning it. Second pass was an 11.2 but @ 142mph. I made an error after the burnout and left the line in second gear. The mph was very promising though. Third pass was 10.37 @ 136mph. Sadly we saw the fuel pressure drop by 25-30psi on the 2nd to 3rd gear shift way before the 1/8th mile. So to run such a number with it wounded was great. Sadly as I pulled off the track at the top end the missing methanol ignited.

The Fire Crew and marshals were amazing and I can't thank them enough for all they did, including offering me advice on how to make things easier in the future. The fire caused a fair bit of damage, which is pretty gutting considering I have only done three full passes on a brand new build. The main damage is the entire wiring loom and all the hoses and fittings need replacing.

To try to help fund the repairs, I am selling Tee's, Hoodies and Stickers which you can get from my on-line shop. As always I am documenting the rebuild on Facebook under 'Second Coming Single Cab' and an Instagram account @secondcomingsinglecab.

I am desperately trying to get it all fixed up before the end of the season, even just to do a test to know its all working before the winter. We are currently only running 16psi of boost and have over double that available to us. Our best 60ft so far is only a 1.7 as we are still getting to grips with the clutch management system. There is a lot more potential in the Single Cab and we look forward to racing a full season next year!

Euro Finals Shootout results.
13th September: Congratulations to the winners of the weekend's Euro Finals Shootout at Santa Pod Raceway held over the weekend 10th-12th September:

Top Fuel Dragster: Ida Zetterström 4.0205/222.35 def. Susanne Callin 4.1617/216.52
Fuel Funny Car: Steve Ashdown 10.6541/66.67 def. Kevin Kent 10.8732/57.32
Motorsport UK Pro Modified: Bruno Bader 5.9148/237.78 def. David Vegter 5.9511/226.78
Nostalgia Funny Car: Tim Garlick 6.1184/229.07 def. Tony Betts 6.2247/236.54
Track Worx Comp Eliminator: Dan Williams 11.0389/88.73 (10.46) Nic Williams 8.9639/118.63 (9.16) red
Fast R Super Comp: Martin Curbishley 9.1366/122.88 def. Leah Kellett 8.8951/154.21
Dave Grady Super Gas Shootout: Andy Harrison 9.8736/138.55 def. Andy Dibley 9.8710/146.73
Peter Nee Super Pro ET: Daniel Giles 7.4903/164.23 (7.36) def. Pel Norman 7.7372/176.39 (7.69)
Modurstang Pro ET: Ronnie Mercer 8.9274/142.46 (8.84) def.Lee Huxley 9.3063/139.06 (9.28)
Topspeed Automotive Street Eliminator: Andy Bond 6.8269/212.90 def. Mark Todd 15.3573/53.46
Lucas Oil Junior Dragster: Purdie Hadfield 7.9771/80.93 (8.07) def. Harry Redshaw 8.4682/76.80 (8.45)

Banks Night Club Top Fuel Bike: Steve Woollatt 6.1823/223.41 def. Al Smith, no-show
Taylors Trophy Super Street Bike: Jake Mechaell 7.0091/208.17 def. Steve Venables 7.0699/206.14
Leeks Landscapes Funny Bike: Mark Smith 6.9716/191.31 def. Bertrand Maurice, broke
Suzukiperformancespares.co.uk Comp Bike: Louis Davies 7.0015/186.66 def. Jordan Kenway 8.0948/163.10
JKE Race Works 8.50 Bike: Joe Elliott 8.5827/153.21 def. Alan Morrison 8.4938/146.68
Atlantic Fluid Tech 9.50 Bike: Phil Harrison 9.6148/146.27 def. Martin Hallett 10.8750/85.06 red
Blood Cancer UK ET Bike: Phil Pratt 9.0839/143.82 def. Michael Gooding 9.2776/147.69
Eurodragster.com Junior Drag Bike: Hollie King 11.5379/48.53 (11.20) def. Meg Talbot 9.7818/66.62 (9.10)

Although two sessions of qualifying were lost to Friday morning rain, the remainder of the event was held under clear and sometimes sunny skies with temperatures conducive to personal bests and records. In particular it was great to see fuel classes represented and a larger field of Pro Modifieds, particularly European visitors, some of whom have had to quarantine on their return. We are truly grateful to them for visiting.

Subject to official ratification the following records were set. Congratulations to:

Motorsport UK Street Eliminator ET: Andy Bond 6.826
ACU Super Street Bike speed: Steve Venables 218.97

The following Santa Pod Raceway track records were set:
Street Eliminator ET: Andy Bond 6.8269
Super Street Bike speed: Steve Venables 218.97
Comp Bike ET: Louis Davies 7.0015

Many thanks to Andy Marrs who has updated his table of UK and European bests which you can check out by clicking here or clicking on Data, then UK European Bests at the top of any Eurodragster.com page.

Congratulations also to Super Pro ET racer Mick Howling who won the Eurodragster.com/Team Twister Perfect ET Award supported by Andy 'Fadster' Hadfield of £75, and Pro ET racer Mason Griffiths who was the winner of the Eurodragster.com/Bad Habit Racing Perfect Light Award supported by Cath and Tig Napier, who received £50. Both awards have been reset to £50, and are next available at the STP National Finals.

Bob's Photo Finish Award of £50 each goes to the competitors in the closest race by distance, thanks to sponsor Bob Roberts for posting the award. Congratulations go to Pro ET racers Simon Fulton and Jon Giles who had a margin of 3 inches in round one (margin of victory 0.0013). We will be in touch with the winners in due course.

We were also proud to have presented cash awards, along with Lucas Oil Landspeed Racing Team 7707 t-shirts, to the winners and runners-up in Lucas Oil Junior Dragster and Eurodragster.com Junior Drag Bike courtesy of sponsor Geoff Stilwell.

Thanks to David Anniwell of the Santa Pod Timing Crew for sending us detailed timing data which we have posted to our timing data area which you can see by clicking on Data, then Timing Data at the top of any Eurodragster.com page. Official results can be seen at Santa Pod's Official Results Site.

You can check out our John Woolfe Racing-sponsored Festival of Power reports, results and galleries by clicking here or by clicking on the Event Coverage link at the top of any Eurodragster.com page. Please join Simon in thanking Julian and Diana for their hard work over the race weekend, and well done to the Santa Pod Raceway track crew for doing their usual fantastic job in providing a top-notch racing surface.

We look forward to publishing racer comments on the event tomorrow.

Melbourne Raceway's Duck All prep 18th and 19th September.
13th September: Sponsor Lee Child of LA Racing Parts writes that this weekend's Melbourne Raceway Duck All prep heads up cash weekend race has had some event updates since our last Eurodragster item:

We have increased the categories for the competition by two more:

Pro Small Tyre Rear Wheel Drive: Modified, competition tyres, maximum height 30 inches, maximum tread width 11 inches, interior removed.
Super Pro Comp: Pure competition vehicles, altereds, rear engine dragsters, front engine dragsters and funny cars, where the driver is seated in a central position in the vehicle.

The original categories still remain:

Pro AWD: Modified, competition tyres, interior removed
Street AWD: Factory appearance, full interior
Pro Rear Wheel Drive: Modified, competition tyres, interior removed
Street Rear Wheel Drive: Factory appearance, full interior
Pro Front Wheel Drive: Modified, competition tyres, interior removed
Street Front Wheel Drive: Factory appearance, full interior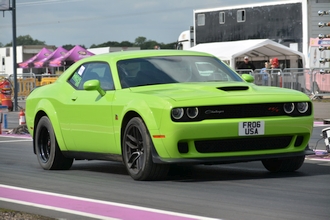 The prize fund has also increased with the support of VP Racing Fuels placing over £1000 worth of products shared to all the winners over both days which we really appreciate. Also Renegade Race Fuels will be awarding merchandise to all winners on both days.

With two days of separate eliminations, one on Saturday and another on Sunday , giving a driver a chance of winning £800 over the weekend, if they choose to run the whole weekend.

Based on a 16 car field the winner gets £400 in each category. In the event of numbers in each category not being fulfilled, there will be a reduced prize fund, for example in a 4 car category £150 and 8 car category £200. In event of the category exceeding 16 cars, the prize will go up from £400. Entry fees: Fees include driver entry to the duck all prep race with Run what you brung included, plus two crew tickets and free camping For the best deal, pre- enter, as entry will cost more on the day. Driver entry on Saturday 18th or Sunday 19th only is £115, weekend entry for both Saturday 18th and Sunday 19th is £200 Click to enter at this link. All there is now to do is to get entered! On Saturday night we have a live band and bar to make it a great weekend. Supporting this event will take the venue another step forward. Follow Duck all prep drag race competition Melbourne Raceway on Facebook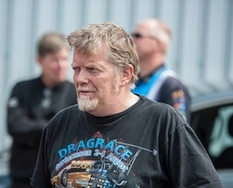 Hans Olav Olstad injured.
13th September: With thanks to his partner Maggis Margrethe Winther Nilsen for updating us, we have a report that Norwegian Super Twin racer Hans Olav Olstad was involved yesterday in an engine explosion at Gardermoen Raceway, Norway, yesterday from which he suffered severe injuries.

Hans Olav was flown to the Hospital with injuries to his face, chest and damage to one lung. He will undergo surgery today and know all of our readers will wish him well for a speedy recovery.



Stuart Bradbury elected to International Drag Racing Hall of Fame.
11th September: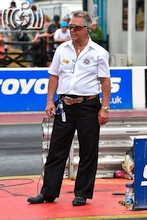 The Directors of the British Drag Racing Hall of Fame are delighted to announce that the late Stuart Bradbury, our founding chairman, has been elected to membership of the International Drag Racing Hall of Fame, based at the Don Garlits Museum of Drag Racing in Ocala, Florida.

'Stu', who died in July 2020, had been elected by general acclaim to membership of the British Hall of Fame in 2017. He becomes one of only five eminent individuals to hold membership of both British and International Halls of Fame, joining fellow dual members Sydney Allard and Dennis Priddle (UK) and Carl Olson and Don Garlits himself (USA).

Stu was appointed Chief Starter at Santa Pod Raceway in 1968 and served until the late 1980s. He joined several colleagues to establish the British Drag Racing Hall of Fame in 2006 and chaired the organisation until his death.

Stu's wife and daughter, Bev and Genna, have said that they are "bowled over to hear the news of Stuart's election into the International Hall of Fame. We feel very proud for him, and he would have been thrilled and honoured to receive this accolade. We're grateful to the Hall of Fame selectors for bestowing this most special honour."

Stuart's induction into the International Hall of Fame will take place at its annual banquet, scheduled for Thursday 10th March in Gainesville, Florida. His fellow inductees on the occasion will be:

Scotty Cannon;
Jack Ewell;
Jack Moss;
Tim Richards; and
Rick Stewart.

NSRA previews Hot Rod Drags.
10th September: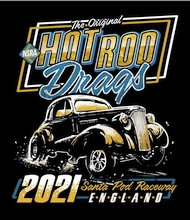 Many thanks to National Street Rod Association committee member Alan Martin for a preview of the NSRA Hot Rod Drags, now in its 33rd year:

Well, the countdown has begun. With only one week to go before the gates open on Friday 17th September for this year's thirty third Hot Rod Drags at Santa Pod Raceway, an action packed weekend is certainly on the cards.

With record numbers of participants, the on track action courtesy of event regulars Outlaw Anglia, Gasser Circus, Wild Bunch and Supercharged Outlaw looks set to keep everyone on the edge of their seats. Add in three full days of pre '73 RWYB action and regular exhibition runs from Julian Webb in the Split Second jet dragster, this promises to round off this year's hot rod season in style.

With restrictions now eased, we are pleased to announce the return of live bands, with Skabucks taking the stage on Friday night and Eastwood doing the honours on Saturday. Also back this year is the hourly courtesy bus service on Saturday to the Rushden Lakes Centre for those in need of some alternative retail therapy or the chance of leisurely lunch.

There will of course be dedicated 'show car' parking for all pre '73 vehicles, so don't forget to pick up your pit side parking sticker from the NSRA checkpoint if you want to power park. You can browse the offerings from a host of suppliers in the nostalgia trade village and be sure to grab a bite to eat from the caterers on site and get some liquid refreshment at one of the track bars.

Of course the NSRA team will be on hand to answer any questions, not to mention sell you some club merchandise, in between making the selection for the NSRA 'Dirty Dozen' trophy pick. You can even renew your club membership, or sign up for the first time. Just ask for details.

Official Hot Rod Drags merchandise, including T shirts, mugs, posters and stickers will be available, but numbers are limited. When they're gone, they're gone.

This year, all tickets must be pre booked through the Santa Pod website, so just visit www.hotroddrags.com and all the information will be there. If you plan on putting the pedal to the metal and take part in the RWYB action, you need to book that online too but available slots are limited.

Stay safe but above all, have fun. We'll see you at the track.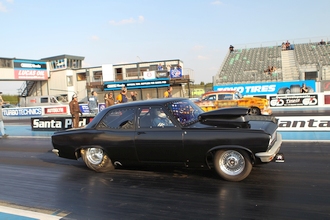 Mace win do.
10th September: Many thanks to Fast R Street winner Dave Mace for writing in with his account of his Doorslammers triumph, won last weekend after a personal best ET and a memorable final against Andy Bond:

"As the dust starts to settle after returning from Santa Pod's Doorslammer event, the enormity of our achievements has just begun to sink in. The weekend didn't start so well with a fueling issue slowing the car,the water pump then stopped working and a lost tyre pressure gauge, all in the first morning! Things improved,with the fueling issue resolved, a replacement fuse for the pump (phew!) and a kind soul had handed our gauge in to the ticket office(thank you!).

The elusive (for 5 years) 7 second pass finally came on Sunday in the semi's against our good friend Joe Stevens. To say it was emotional is an understatement and the monkey was finally off our back. The final and subsequent win against another good friend of ours,Mr Andy Bond will stay with us forever.Thats one each now, Andy!

I'd like to say a huge thankyou to: all of the Santa Pod crew, expecially Ian and Dave, we owe you some jelly tots! Andy, Luke and Kate Robinson, Nick and Rob at I.C.E, and finally my crew, Dan, my son, Joe Etridge and my beautiful lady, Pippa, without these guys none of this would be possible.

The whole meeting will take some beating, but Doorslammers 4 will be interesting, can't wait! In the meantime we hope to see you all at the Hot Rod Drags!

Apologies to Star Wars fans for the headline - editor.

Northern Spirit's lifted.
10th September: Many thanks to Northern Spirit Supercharged Outlaw racer Neil Townson who has confirmed the car, which had a torrid time at Dragstalgia, is being rebuilt: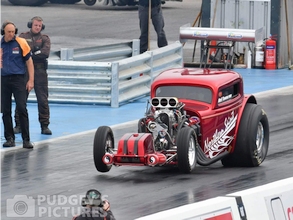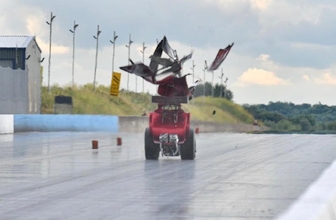 Just to give you all an update about our incident at Dragstalgia 2021. Due to the car not handling well in 2019 (even though we ran a PB of 7.3) we carried out extensive modifications to rectify this problem during 2020. We ran the car at the Retro Show at Santa Pod and was very happy with all the modifications. The car handled very well.

We then went to the Dragstalgia meeting with high hopes of some good close racing with all our Supercharged Outlaw family. The first run was nice and straight with no dramas.The second run didn't go as well. About half track the body lifted and destroyed itself as it hit the rear wing. Unfortunately the body was destroyed and the rear of the car sustained heavy damage. Santa Pod safety crew did a fantastic job and made sure that I was OK.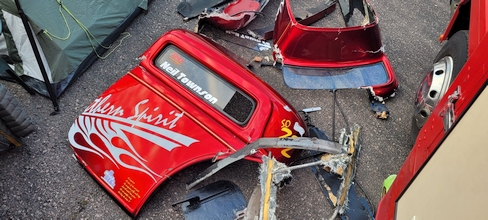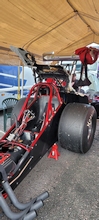 After many discussions with Tracy and my Girls we have decided to rebuild the car. Yes, it will have a 1932 Ford body on it. I would like to take this opportunity to thank my family / crew and everyone else for their concern and support. I'll keep you posted.

Thanks to Pudgeys pictures for photos.

VP Racing Fuels Powers Winners at Doorslammers 2021.
10th September: Two VP-powered cars finished in the winner's circle this past weekend at Doorslammers 2021 at Santa Pod Raceway.

Keith Herbert and Billy Gane both ran VP race fuel to claim OCS Group Big Bracket wins. Herbert 9.6131/124.50 (9.51) defeated Peter Lane on Saturday while Gane 8.5440/159.59 (8.52) held off Lee Huxley on Sunday. Huxley also runs on VP race fuel.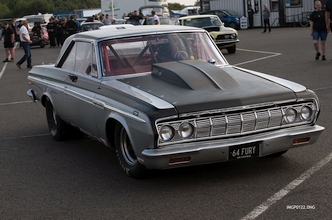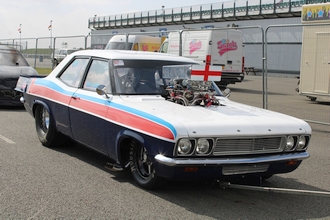 "It was great to be back supporting such a fantastic event," said Tom Davis, European Business Development Manager for VP Racing Fuels. "The venue was full and the racing was outstanding. It always adds an extra shine to proceedings when drivers running your product take the win."

VP was the headline sponsor of the event, which was postponed last year due to the Covid-19 pandemic.

Doorslammers 2021 featured two straight days of non-stop racing and produced some compelling head-to-head battles.

"It was great to see VP back here … again," said Santa Pod Commerical Manager, Caroline Holden. "We are proud to sell the very best products on-site … it was a pleasure hosting them throughout the weekend."

Keith Herbert image courtesy and © Bob Roberts.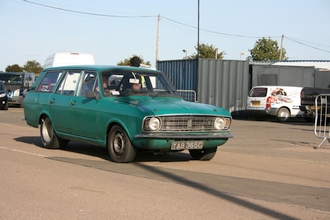 LS turbo into Cortina will go.
9th September: Many thanks to Topspeed Automotive Street Eliminator racer James Murray for letting us know some developments on his sleeper Cortina Mk2 Estate:

"I was supposed to be racing in Street Eliminator this weekend at the Euro Finals, but despite burning the midnight oil for the last weeks, the Cortina isn't ready for racing yet.

"I've been doing a turbo LS upgrade to try to at least catch up with the Hales. However, I only fitted the new engine and gearbox yesterday and there's still lots to do. I'm now aiming for the National Finals.

"A piece of good news, Kieran Astley bought some fuel pumps from me just a couple of weeks ago and was successful in his thrash to get his turbo LS up and racing."

Euro Finals Shootout racer update.
8th September: Many thanks to to Santa Pod Racers Club Secretary Ian Marshall for sending us details of track opening and signing on at this weekend's Euro Finals Shootout, 10th-12th September, including scrutineering times.

Pro cars and Junior Dragsters will have to sign on and scrutineer for this event, but those are the only car classes that are required to scrutineer.

If you have entered the test day on Thursday 9th September you will be allowed access to the track on Wednesday 8th within business hours 8am to 6pm. If you're going to arrive later, please contact the track.

The main gates to the track will open at 08.00 on Thursday, 9th September 2021.

Thursday 9th September:
08.00 Signing on office opens / scrutineering, please see the class specific listing below
09.00-18.00 Scrutineering for bikes at the Scrutineering Building.

Friday 10th September:
07.30 Signing on open and scrutineering for bikes/Junior Dragster.
09.30 Track open for qualifying.

Saturday 11th September:
08.00 Signing on and scrutineering open.
09.30 Track open for qualifying/eliminations.

Sunday 12th September:
09.30 Track open for eliminations.

The Pro Car Scrutineering will be as follows:

Thursday 9th September (test & tune day)
09.00-14.00 Pro classes - in pits, 4 cars per hour:
09.00-11.45 Pro Mod (12 cars).
11.45-12.00 noon - Break.
12:00-12.45 Top Fuel (3 cars).
12.45-13.15 Nostalgia Funny Car (2 cars).
13.15-14.00 Fuel Funny Car (4 cars).
14.00-15.00 Lunch.
15.00-19.00 Junior Dragsters - in scrutineering building.

The detailed running orders and printable entry list can be seen in our event coverage page. Ian says "Please note there has been a small change to the running order there is an additional to ET bike qualifying session on Friday.

"Also note for Comp Eliminator Drivers, the FS/AA index has been lowered from the European Finals onwards to 9.30 seconds following discussions between the SPRC and the Driver/vehicle owner concerned".

G2E Motorsport partners with Santa Pod for TF and FC Shootouts.
8th September: Santa Pod Raceway is delighted to announce a new partnership with G2E Motorsport, part of the Go2 Engineering Group, that will support the G2E Motorsport Top Fuel Dragster and Fuel Funny Car Shootouts at this coming weekend's major event, The Euro Finals Shootout.

G2E Motorsport is the culmination of bringing together the best and the brightest from the Go2 Engineering Group. As a partner of the group, G2E Motorsport develops, designs and manufactures high performance parts for a range of motorsports, developing everything from cylinder heads to differentials.

The Go2 Engineering Group is a one-stop engineering shop expanding by both acquisition and organic growth. It includes start-ups, such as G2E Motorsport, that specialise in specific sectors such as motorsports. The Group aims to be the 'Go2' destination for all engineering solutions from conceptual design through to production and testing.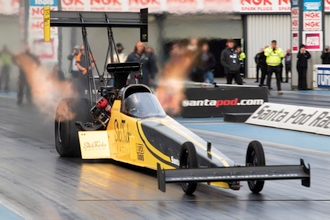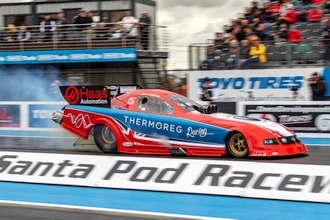 The Group currently consists of nine acquired Partner businesses that include precision engineering specialists Alman Engineering, Bradon Engineering, Green Precision and Seychell Engineering. CV Precision Engineering supports jigs, fixtures and specialist tooling and the latest acquisition partner is Uniform Tooling which specialises in the plastic injection-moulding modification and repair market. Tech Projects and 316 Engineering are the fabrication, conveyor and material-handling specialists, with NDT Equipment Supplies supporting the non-destructive testing and calibration block market.

The G2E Motorsport Top Fuel Dragster and Fuel Funny Car Shootouts are scheduled to begin at Santa Pod this Friday, 10th September, at 6.30pm, with further morning and afternoon sessions following on Saturday and Sunday. Both the Go2 Engineering Group and G2E Motorsport are based locally to Santa Pod, with their headquarters in Wellingborough, NN8 2QE.

The Euro Finals Shootout takes place at Santa Pod Raceway, near Wellingborough (NN29 7XA) from Friday 10th to Sunday 12th September, 2021.

Event information is available at this link and tickets may be booked online at www.santapodtickets.com or by telephoning the Box Office at 01234 782828.

Euro Finals Shootout perfect awards.
8th September: £225 is up for grabs at this weekend's Euro Finals Shootout courtesy of Eurodragster.com and our sponsors.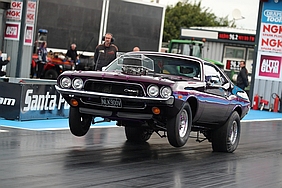 This weekend's Eurodragster.com/Bad Habit Racing Perfect Light Award has been reset to £50 after it was won by Topspeed Automotive Street Eliminator racer Nick Hale at the STP Greenlight Nationals. The money will be paid to the first racer at the event to record a Reaction Time of 0.000 seconds. The Perfect Light Award is available in all classes during both qualifying and eliminations, but will only be awarded for the first Perfect Light of the event. The Perfect Light Award is presented in association with Cath and Tig Napier of Modurstang Pro ET team Bad Habit Racing (racing this weekend in Hutchinson & Dibley Sportsman ET). A special decal produced by Cath and Tig, and designed by Peter Walters, will be presented to the winner.

Decals are not mandatory for the Perfect Light Award but we would appreciate it if Eurodragster.com decals are carried. Eurodragster.com decals are available in Signing On or from Eurodragster.com staff.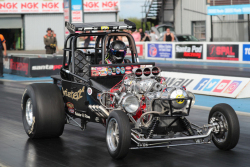 The Eurodragster.com Perfect ET Award supported by Andy Hadfield and the Twister Race Team has increased to £75 after it went unclaimed at the STP Greenlight Nationals. The money will be paid to the first racer at the event to run +0.000 on index or dial-in. The Perfect ET Award is available in Peter Nee Super Pro ET, Modurstang Pro ET, Hutchinson & Dibley Sportsman ET, B Fast R Super Comp, Dave Grady Super Gas Shootout, Lucas Oil Junior Dragster (eliminations only), JKE Race Works 8.50 Bike, Atlantic Fluid Tech 9.50 Bike, Blood Cancer UK ET Bike, and Eurodragster Junior Drag Bike. but will only be awarded for the first Perfect ET of the weekend. The Perfect ET Award is presented in association with Andy 'Fadster' Hadfield of the Twister Race Team.

Decals are not mandatory for the Perfect ET Award but we would appreciate it if Eurodragster.com decals are carried. Eurodragster.com decals are available in Signing On or from Eurodragster.com staff.

Bob's Photo Finish Award, which is presented in association with Eurodragster.com sponsor Bob Roberts, will award £50 each to the racers involved in the closest race of eliminations at this weekend's event.

The closest race will be decided upon distance rather than time since, for example, 0.001 seconds at 230 mph is further than 0.002 seconds at 110 mph. For this reason the official timing data will need to be consulted so the winners will be announced here on Eurodragster.com as soon as possible after the event and the winners will then be contacted for their preferred method of payment.

Bob's Photo Finish Award is open to all classes during eliminations only and although Eurodragster.com decals are not mandatory we would appreciate if it they are carried. Eurodragster.com decals are available in Signing On.


Furyous thanks.
8th September: Thanks to Saturday OCS Group Big Bracket winner Keith Herbert who said "Mr Furyous would like to thank Santa Pod and all involved, including sponsors Williams Brothers Racing, for hosting a fantastic meeting.

Huge thanks to my awesome crew Jim, Anna Kyliegh, with guest appearances by Paulie, Dan and Paul 2, and of course my Fury who didn't miss a beat all weekend, can't wait for next year, thankyou.

Mosten Rock n' Race report.
8th September: Mosten Raceway in Denmark hosted its famed Race Day under a new name last weekend on 3rd-5th September. To reflect the reduction in racing activities in 2021 the event was renamed Rock n' Race. The superb weather and huge crowd compensated partly for the lower number of racers, and the track which had been relaid and well prepped was able to take some very quick times over the single-lane eighth mile. Our motorcycle pit reporter Mike Kraaij was able to attend and send us some notes and pictures:

Rikard Gustafsson on his immaculate Puma engined Top Fuel Bike (below left) was crowned King of Mosten again and ran a great 3.997/307.87KMH (190mph), the only drag bike that make a 3 second run at the event. Rikard holds the motorcycle track record at 3.96.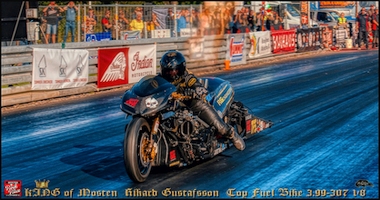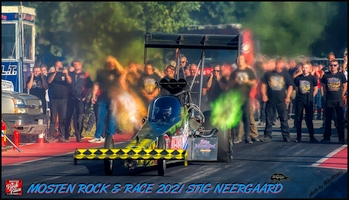 Stig Neergaard ran a 3.31/316.16 (196mph) in his top fueler (above right) - for a video of the pass by Kennet Christensen, click here. Mike said "It was a awesome run to witness close by, as he is storming by and just standing a few feet away at 330 on the grass, the earthquake rumble is unheard of".

Kars van den Belt won in Funny Bike with his turbocharged Honda (below left) and ran 4.72/250.46. Yannick Richard from France competed in Funny Bike with his Suzuki Hayabusa Turbocharged Super Street Bike (below right). Yannick managed a 5.338@222.68KMH with big wheelies, looking for a good set-up. Dad Eric Richard and a couple of Pro Stock Bikes completed the field.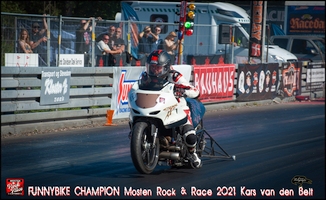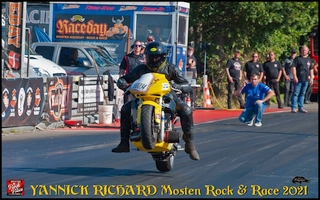 Marc van den Boer from Belgium brought his beautiful 120 CI nitro injected Super Twin (below left). He has changed his fuel injection setup and also has a new rear wheel with some other small changes. He was going great guns here before he dropped a cylinder at around 330", but still managed a best of 5.416@181.94 with incrementals showing the bike rolled out of stage at the start of the run. Before this run he was still looking to go straight, as the rear wheel set-up made him pull to the right, and he had to click off early every run before this one It was a shame that he dropped the cylinder, because the start looked promising.

The good thing is that he and the team have more data to work with, he had track time on a good track and the team made progress, A great father and son team, Jimmy is always there by Marc's side and is an very skilled welder and mechanic, the same as dad Marc. The van den Boers love to race at Mosten Rock n' Race and will be back for sure in 2022.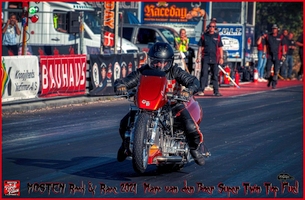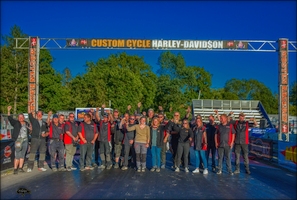 From Sweden in Top Fuel Bike Peter Ström ran on his immaculate inline 4 Supercharged Top Fuel Bike. Unfortunately Peter hit the barrier before the run photographed and although it did not look too good, he was fine. The only damage to the bike was the pulley holder and bracket which got scraped. Peter and his crew could fortunately repair the damage and he came back with an awesome run that same day. It was with great applause that all the spectators and crew cheered for him! What an great run he made, straight as an arrow. Well done to all involved and Peter for his awesome dragracing skills, it takes a lot to tame these powerfull beast of Dragbikes!

Super Twin Top Gas Racer Anders Jensen from Denmark brought his mighty Supercharged V-Twin and managed an 5.154@214.63KMH.

Mike thanks the Mosten crew for track prep and took a photo of Mosten Crew with their chief Hans Hitz after the race (above right). All above pictures courtesy and & copy; Mike Kraaij at Kraaijmotorsportfotografie.

As well as Mike's write-ups and you can see photo galleries from Mosten Rock n' Race at these links: Shark Attack to the north.
8th September: Thanks to Top Fuel Bike racer René van den Berg whose team Shark Attack Drag Racing attended both the Malmö Winter Nats at the end of August with Mosten's Rock n' Race a week later, and sent us this report:

"On the weekend of August 28 there was an opportunity for us to race at Malmö Raceway in Sweden. Shark Attack therefore left the Netherlands for the north.

"René and Aswin le Noble were able to run here again after a year. It was a very good feeling to be on the track again! Both René and Aswin were able to make several passes. It was very nice to get the feeling of and being at one with your motorcycle again. This of course makes you want more and more!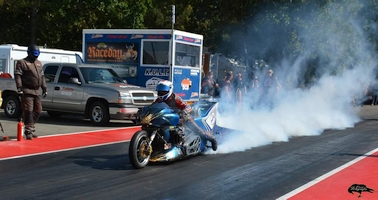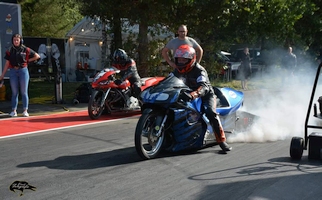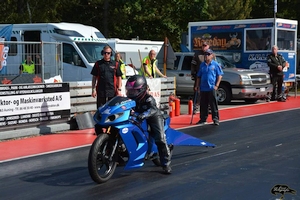 "We the the crossing to Denmark from Malmö where to attend Mosten Rock n' Race in the weekend of 3 September. The team arrived there on Wednesday and Thursday was used to get the motorcycles ready again make to race for two days.

On Thursday evening, the team made preparations for Anouk Burgering to ride her Junior Drag Bike for the weekend. On Friday morning after the drivers' meeting, Anouk was the first to hit the track. This went very well after not driving for a year.

Aswin had some teething problems at times but other than that the runs went very well. René's runs (see video at this link) also went very well. All in all, we look back on two instructive weeks and many great experiences!

Special thanks to Viep Bloemen, Eurol Lubricants, Tijger Leathers and Do you see me.

Invitation to Flame & Thunder.
7th September: Many thanks to Santa Pod Raceway Events Manager James Forster for letting us know that SPR are now accepting applications by e-mail to this years Flame & Thunder Show:

Santa Pod Raceway are pleased to announce that we are now accepting applications to the end of season celebration event; Flame & Thunder on Saturday 30th October. We're looking for a variety of cars proven to have ran 11.99 or quicker, and bikes that have ran 9.99 or quicker. This is an exhibition event so the quicker, louder, and the brighter the vehicle, the better! Big burnouts and wheels up launches are always a plus too in what is one of few opportunities to race under the lights. Spaces are limited so please be aware that we can't accept every application, we have a limited number of spaces for each class to maximize variety!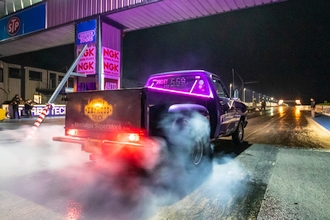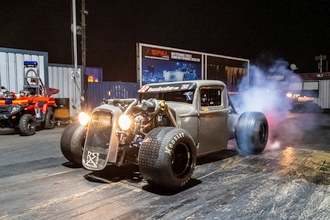 To apply, please contact James on james@santapod.com or 01234 782828 with details on your car, current PB if it's new to us, with an image.

VP Racing Fuels Doorslammers racer quotes, timing data, media.
7th September: Many thanks to those racers who have written in with their comments on the VP Racing Fuels Doorslammers or posted remarks on social media: Winner of the VP Racing Fuels Pro Doorslammer class Bruno Bader from Switzerland, returning to competition after rebuilding his Corvette following a 2018 accident at Alastaro, said "I'm happy to be back after three years, I hope we can make it a little bit faster for next week. I hope we will be at the Doorslammers next year and again for the next twenty or thirty years!"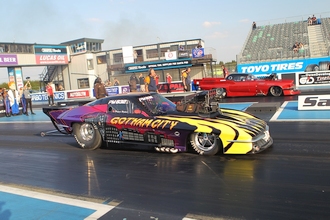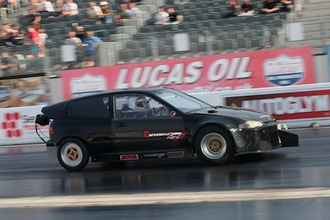 Winner of the Front Wheel Drive class Andy Nicholls had a new Civic to dial in, with testing completed at a test day in July, and leaving his nine second Integra at home:

"What a great weekend, we only went and won it, get in! Doorslammers 2021, the best event there is in this country. I can't thank my son Matt Nicholls enough for the help over the weekend, we are slowly getting this new car dialed in with a pb of 9.2523/154.21 and without banging a lot of boost in, just enough to go round after round and running consistent mid nines.

"Paul Bargate said it could be my event and how right you was mate, thanks for the support and somewhere to sleep. Luke Stevenson, thanks to you and the Pod team for putting on a great weekend, it was amazing and I'm already looking forward to Doorslammers 2022. I need to get this Civic on some proper fuel and tyres, Chris Backshell, thanks for looking at the launch strategy with Matt. Kirsty Nicholls, thanks for the support and letting me do this even if its only to get the telly to yourself lol.

"Also thanks to Matt Hurlbut at Speed Factory, Luke at 4 Piston cylinder heads, James at IPG and thanks for the parts fcsrace.com, thanks Frank Rehak for the best driveshafts period, Lee Owen for the turbo although we will need to make it better for 2022 please. James Howarth for the turbo manifold top work as always, Dave Gammon for the PPG gear kit, is that better for you, Doorslammers FWD winner. Adam Buckley thanks for helping out when you're not playing with the big boys. Motec M800 still going strong Mark Harrison, 10 years now. Karl Hart, Lynn Chamberlain still using your bottom end and flywheel carbon clutch assembly, Kiel Priestman, thanks for the chassis, man, it's coming together.

"Anyway, finally nothing can take away missing dad and bro so this win is dedicated to them and I hope you enjoyed the win up there, jumping around."

Kev Jenkins, twice winner of the 4 Cylinder class of the Doorslammers, was delighted with the Fraudster's consistent and dominant performance over the course of the event, the Vauxhall powered Escort Mk1 a full second ahead of its competitors:

"The car performed faultlessly all weekend running more consistent then ever with five 7.9 second passes in a row. We had the unfortunate draw of facing our Crew Chief (and tuner!) Chris Todd in the first round but random pairings are what makes Doorslammers so great.

"We'd like to thank our sponsors who help us go racing - Vulcan Engineering, Burton Power, FCP Engineering, Ralloy Engineering, LA Racing Fuels, Kent Cams, Mk1Kieran, Pro-S-Fittings UK, Melliard's Modern Custom Paint & Ladmu Chassis.

"Also a big thank you to the crew Chris Todd, Neil Melliard, Jo Peters, Alison Jenkins & Kieran Jenkins.

"We look forward to this weekends Euro Finals where we will start to turn it up a little bit!"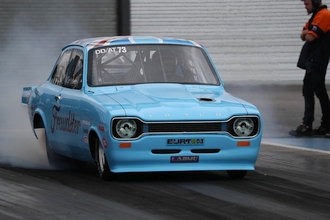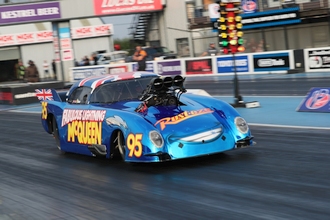 Semi finalist of Pro Doorslammer and Big Bracket participant John Tebenham was as enthusiastic as ever: "A whole lotta shaken going on, Elvis, my man. A great weekend, we just didn't bring enough, I took a guess against Kev and I still stand by that as some times that tree runs so fast. With Kev who is an amazing racer, you have to do enough to win. In hindsight, we should have had a 6.2 car which is strange to say but quite easy to drive. Well done to Bruno, I always said he was going to win. We still have two cars in one piece so come and cheer us on at the Euros, hopefully we will leave Ronnie Redlight at home". The Crew Killer Pop was better behaved as well, after its antics at the Green Light Nationals. You can see an interview with John at Santa Pod's Motor Mouth FB channel.

Outlaw Street racer Owen Forrest summed up excellently what it's like to be a racer after following the sport as a fan: "When I was a kid, I had posters on my wall of cars doing this sort of stuff. I never dreamed I'd be able to it. I love to think events like Doorslammers at Santa Pod Raceway inspire those young kids now. We ARE the show. Thank you all the racers and Santa Pod for the event, and providing me with turning what I used to dream about into experiences".

Thanks to David Anniwell of the Santa Pod Timing Crew for sending us detailed timing data which we have posted to our timing data area which you can see by clicking on Data, then Timing Data at the top of any Eurodragster.com page. Official results can be seen at Santa Pod's Official Results Site.

More media from the Doorslammers has been posted. As well as our event galleries you can see images at the following links: The Burndown.
7th September: The final round burndown Fast R Street between Dave Mace and Andy Bond has been a big talking point with a range of opinions from rule-setting to great entertainment value (ask the drivers about that). We've had mails and posts describing previous Santa Pod staging duels:

Pro Doorslammer racer Chris Orthodoxou wrote to say: "I wish I'd been there. It was a great meeting in 2019, when I got through to the last four in Pro Doorslammer with the Viper. Congrats to all the winners, I was watching the live Youtube stream all day Sunday from out in Kazakhstan where I'm working.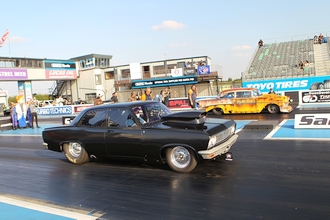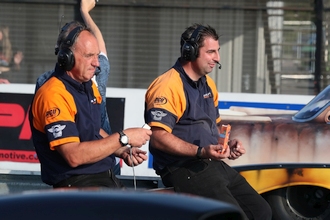 "Got to say, the pre-stage burn down in the final of Street car was a truly superb spectacle. I was on the edge of my seat, as I knew exactly what was going through the minds of Dave and Andy - having been there before myself. Many years ago, Pete Austin (pink Plymouth 'Cuda) & I (blue Dodge Dart), got b*ll*cked by Ian Marshall for doing the exact same thing when we were in a semi-final in Pro ET. Great stuff!

"The burn-down is an exciting experience. The secret is to stay cool, never look across at the opponent and simply wait for his full stage bulb to glow. Then give it even another 10 or 15 seconds to go in yourself. But you need to be on the ball and ready to react very quickly, coz Ian will either hit the 'go' knob instantly or wait a few seconds himself as a little 'punishment' heheheheheee, so if you're on a transbrake, you need to have your wits about you and have a heart rate monitor wired into the RacePak!"

Other burn downs remembered include Lex Joon and Leif Andreasson in 1998, remembered by Matthew Seamarks who asked if they were the last two people that Ian Marshall had to shut down for there burndown? You can see this burndown at this link.

More recently, there was a Top Methanol staging duel between Sandro Bellio (TMFC) and Manty Bugeja (TMD) at the 2019 FIA European Finals which you can see video of at this link. It didn't result in the car's being pushed back, but it was memorable as it was Manty's last race in the Mr Whippy team car before ceding the drive to Matthew Carrabott - and Manty came out on top in the relatively brief staging duel.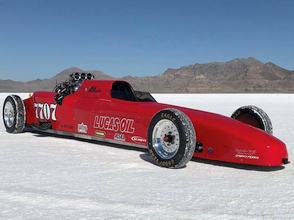 Special prize for Euro Finals Juniors.
7th September: With thanks to our sponsor Land Speed Racer and former Pro Stock Bike racer Geoff Stilwell of the Lucas Oil 7707 Land Speed Team, we are proud to announce the Eurodragster.com/BUA Motorsport special cash prize for Junior racers at the European Finals.

The winner of the race in each of Lucas Oil Junior Dragster and Eurodragster.com Junior Drag Bike will receive £150 cash in prize money, and the runner-up in each of these categories will receive £100 cash.

Eurodragster.com is very grateful to Geoff for funding the cash prize. Geoff said "The junior classes are the future of the sport and it's a pleasure to be able to give them a cash prize at a time of life when they are not yet earning a wage. Both categories are well supported by racers and their parents, and this prize is by way of a thank you, and well done, to all participants for their efforts".

Prize money will be handed out in cash at the conclusion of the meeting. If rain prevents finals being run, the cash prize will be held over to the next championship event when eliminations are able to be run to their completion.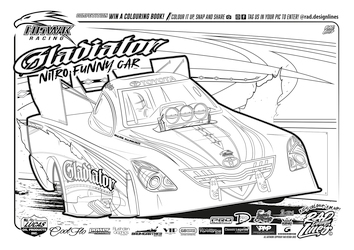 Gladiator Colouring Competition.
7th September: Darren West of Power Race Graphics writes with details of a new colouring competition:

"Our colouring book brand RAD Design Lines is back with an exclusive FREE A3 colouring sheet featuring the Hawk Racing Toyota Gladiator funny car - available at this weekend's Euro Finals Shootout at Santa Pod Raceway!

"These colouring sheets are only available at this event from the Hawk Racing pit and in limited number! So drop by the Gladiator team and pick one up before they are gone! For the chance to win a colouring book and a special prize from the Hawk Racing Gladiator team - just take them away, design and colour them up and post a picture on our RAD Design Lines social media pages on Facebook at this link and Instagram at @rad.designlines.

"We can't wait to see your amazing work! Car owners Mark and Jackie Hawkins and driver Jason Phelps will pick the best 3 entries with RAD Design Lines 'Doorslammers' colouring books going to all three and a special prize for the winner from Hawk Racing. Winners will be announced at the end of September and contacted.

"Stay tuned in to the RAD Design Lines pages on social media for news of the next drag racing themed colouring book release which will be launched in time for Christmas!"

ACU report and preview.
7th September: Many thanks to photojournalist Steve Moxley for letting us know that his report on the STP Greenlight Nationals and preview for the European Finals Shootout can be seen at the highlighted links.

Whilst Steve is unable to attend the European Finals Shootout, he will be posting a report of the event from his contacts with riders.

Dick Cruse.
6th September: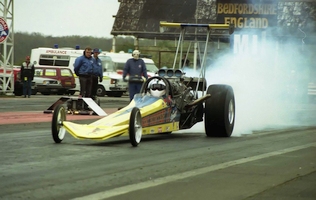 We were sorry to hear of the death of Dick Cruse, former Stones crew member, driver of their Hemi Hunter II and III and Starliner Top Alcohol Dragsters in the mid 1980s.

Andrea Morris writes: "It is with great sadness and disbelief that I am having to type this message to our drag racing friends both here and overseas.

"Sadly I have to announce that our old friend Dick Cruse passed away in a hospital in Cannes, South of France on Saturday 4th September 21. I had been in daily contact with the British Consulate in Marseille and on Friday it was decided by the doctors that there wasn't any hope. Dick had suffered a huge stroke following a series of events and his brain was far too damaged to save him.

"He had lived the past 20 plus years in his happy place in the South of France and that is where he will remain. Dick was a big part of the drag racing world and spent many happy years/decades with the Stones team, amongst others. Both crewing and driving for them and loving it. He also spent many years working at Santa Pod and loved his drag racing life.

"Thank you to Allan Bates for keeping this information private with me until I was ready to share. I managed to speak with Dick (phone held to his ear) giving him comfort as he was leaving this world. He passed peacefully two minutes after I said Goodbye. I am hoping that Dick has met up once more with his old buddy Stu Bradbury, drinking some Jack Daniels and remembering old times at the drag strip."

We send our deepest condolences to Dick's family and friends.

Picture courtesy and © Colin Donisthorpe

VP Racing Fuels Doorslammer results.
6th September: Congratulations to the winners of the VP Racing Fuels Doorslammers held at the weekend in conjunction with VW Action:

VP Racing Fuels Pro Doorslammer: Bruno Bader 6.0639/232.59 def. Kev Slyfield 6.0445/237.64
Fast R Street: Dave Mace 8.0702/165.52 def. Andy Bond NTR, stage foul.
Front Wheel Drive: Andy Nicholls 9.6777/153.12 def. Stephen Ray 10.4298/134.92
A-Plan Insurance 4 Cylinder:Kev Jenkins 7.9379/170.46 def. Andy Hughes 9.2044/153.72
Six Cylinder: Gary Gooding 7.9584/170.43 def. Jeff Ludgate 9.5322/135.22
OCS Group Big Bracket (Sunday): Billy Gane 8.5440/159.59 (8.52) def. Lee Huxley 9.6471/137.68 (9.60)
OCS Group Big Bracket (Saturday): Keith Herbert 9.6131/124.50 (9.51) RT 0.0370 def. Peter Lane 11.9059/110.71(11.80)

In the Fast R Street final, a four minute staging duel took place, starters Ian Marshall and Dave Warren eventually sending the cars back for them and their drivers to cool down. On the second attempt Dave went straight in, whilst Andy bumped over stage. To see the drama unfold go to this link from Santa Pod's live stream.

During the weekend there were many personal bests set, after some review of the race report, we found no less than 50 racers scored PBs. You can get the list (pdf format) at this link and congratulations to all those who improved on their previous PBs. There were no major incidents, but we commiserate with racers who suffered mechanical damage.

You can check out our John Woolfe Racing-sponsored VP Racing Fuels Doorslammers reports, results and galleries by clicking here or by clicking on the Event Coverage link at the top of any Eurodragster.com page. Please join Simon in thanking Julian and Diana for their hard work over the race weekend, and many thanks to those who gave feedback on our coverage. You can see photos posted by Callum Pudge at this Facebook gallery,

Mark Windridge's tribute to Kevin Mortimer.
6th September: Thanks to Mark Windridge for letting us know about a special tribute to his close friend Kevin Mortimer at the NSRA Hot Rod Drags. "The next meeting for the Supercharged Outlaws is the Hot Rod Drags. I lost a very dear friend who was like an older brother to me during Covid, Kevin Mortimer from the Shy Talker team (a blown slingshot the ones who started fire burnouts again in the UK).

I have been asked by his wife Janet to spread some of his ashes at the track. Santa pod have given me permission to do this and I feel greatly honoured to do this. My son Aaron will be driving our car. If anyone wishes to pay their respects to Kev, then please watch our last run on Saturday.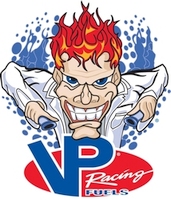 Spitfire Raceway Drag and Drift this Saturday.
6th September: Spitfire Raceway in Perranporth, Cornwall, are proud to announce that VP Racing Fuels have increased the prize fund for this Saturday's Drag and Drift for the top 16 quickest runners on the 1/4 mile drag strip. All top 16 quickest riders and drivers will receive a VP Racing Fuels 20 litre jug and delux filler hose, VP Racing Fuels goody bag, and a bottle of VP Racing Fuels cool down.

Spitfire Raceway promoter Lee Child commented "We appreciate VP Racing Fuels' support and thank everyone involved in making this happen. VP Racing Fuels Madditives will also be on sale at the signing on office. There is £500 cash up for grabs for the quickest car on the 1/4 mile plus £250 for the runner up. Another £250 is up for grabs for the quickest stick shift car this Saturday 11th September".

You can see all the details for the Spitfire Raceway Drag and Drift with media links by going to our story on 19th August.

Swift snippets.
6th September: A very Happy Birthday to former Top Fuel and Super Twin Bike racer Roel Koedam who reaches the landmark age of 65 today. Have a great day Roel from all of us at Eurodragster.com.

For those who want to know the origins of the widely-used GMC 6-71 and what those numbers mean, we direct you towards a fascinating article at Mac's Motor City Garage.

Post-Greenlight Nationals points posted.
2nd September: Many thanks to Yvonne Tramm for forwarding the latest points standings in the UK National Drag Racing Championhips and SPRC Club Championships after the STP Greenlight Nationals. You can check out the UK and SPRC points on our points standing pages by clicking here, or by clicking the Points Standings link under News in the main menu above.

VW Action/VP Racing Fuels Doorslammers preview.
2nd September: This weekend, the traditional VW Action combines with VP Racing Fuels Doorslammers for an action packed race that is likely to spring a number of surprises. As before, Santa Pod have a formula for Doorslammer classes which enables a wide range of participants. Also, Friday will be very busy with not just open Doorslammers qualifying, but also the VW Run What Ya Brung which in the past has been the staple of VW Action, plus Outlaw Street action towards Round 4 of their championship. The Fireforce 3 Jet Funny Car of Martin Hill will be making passes down the SPR quarter mile on Saturday and Sunday.

The main action will be in Doorslammers though. With several qualifying sessions planned it will be a great opportunity for drivers to dial their cars into the track. Let's have a look at the classes and see which cars are the quickest and which are dark horses and new entries.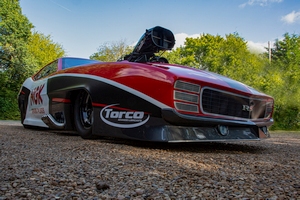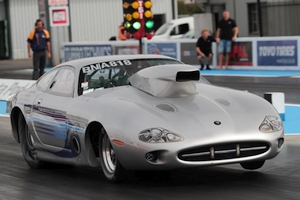 In VP Racing Fuels Pro Doorslammer, headlines will be made by Eurodragster.com sponsor Andy Robinson's Anger Management 2.0 Pro Mod Camaro (above left). A complete new build, Andy will be using the race as a test session to run the car with its tried and tested powerplant before the Euro Finals Shootout, where he will face the toughest UK Pro Mod field of the season. Of the other racers in the class, Kev Slyfield in the Blown Bird PM is the most experience runner having continued throughout the truncated 2020 season and can run low sixes almost at will.

Bruno Bader is a most welcome returnee having sat out the 2018-20 seasons and coming back at the Scandinavian Nationals at Tierp last month where he ran a best of 6.103. John Tebenham has hit the fives and promises he will "try to change the world of drag racing" in the next two events, but has a new crew chief and fewer crew as revealed in his most recent news item.

Other Pro Doorslammer runners will be entertaining and PBs will undoubtedly be run; a new car/driver combination we are looking forward to is Dave Smith who will be racing the ex-Jens Zimmerman Jaguar XKR for the first time (above right). This US car has run a best of 7.3 with its previous owner and we wouldn't be surprised to see it sorted and running the numbers very quickly.

In the FastR Street class, sponsored by FastR, supplier of bespoke teamwear apparel, there are three runners from Street Eliminator who will bring racing experience as well as quick cars to the event. Andy Bond has been running his Ugly Sister Chevy 210 (below left) with relatively soft launches this year which has improved consistency, whereas Al McSweeney has just hit the seven second bracket with his Volvo 162 and Joe Stevens has been in the sevens before too. These three are joined by multi championship winner Brian Pateman (who raced in the 1980s editions of Doorslammers) who is the possessor of a seven second time slip and has been using nitrous on recent runs. New drivers and cars to competition are Asim Hussain's Porsche 911 Turbo and Buzz Pattar's Lampoorghini (below right) which show an expansion of the sport to supercar enthusiats, and Chris Prendergast's new build late model Camaro SS.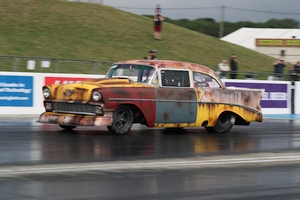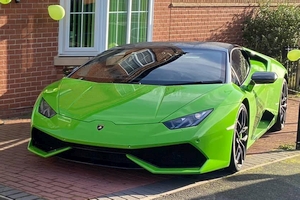 The Front Wheel Drive class has a large field with several nine second runners. Ahmed Jamshaid's Civic (below left) ran 9.189/154 at the start of May. Allan Duthie's Corsa has been in the 9.4s and Andy Nicholls' Honda Integra hit the 9.5s in July, also Raggy Conversions' Craig Evans's (below right) chances are fancied by his test day peers. But as seen in the past mechanical stress and FWD traction issues can create huge upsets in this class, we remember Nicolas Hackiere in his Citroen AX in 2019 qualifying with a mid-ten and then really getting to grips with the track to run a succession of nines and get the win on Sunday.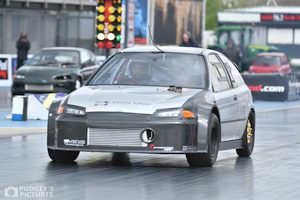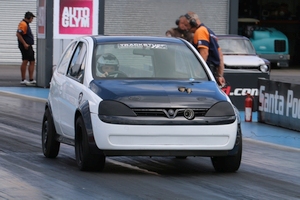 The A-Plan Insurance 4 cylinder class at 31 entries is the largest class of the event. Kev Jenkins' Fraudster Escort Mk1 (below left) is the quickest runner and another racer whose recent runs have shown consistency as well as speed. Lee Connor's Lotus Elise has run in the eights, pro ET racer Gino Bernadine is a regular low nine second runner, whilst previous winner Chris Todd ran a 9.17/148 in June. Five others have been in the mid nines as well. Along with the FWD class, 4 cylinder can easily produce an upset winner.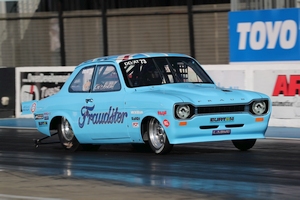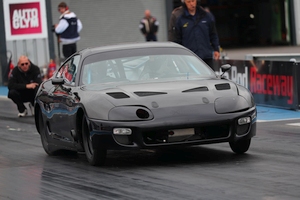 The Six cylinder class is the province of Nissan GTRs, Toyota Supras and Golf VR6s which exclusively occupy the entry. Gary Gooding's Supra (above right) has a great performance pedigree having run in Street Eliminator and capable of mid sevens. Ian Cleminshaw's GTR R35 has run 8.2s at Elvington and he is hoping for a seven on the prepared surface at SPR. Jeff Ludgate and Mark Moseley are mid eight second runners, but the Sonic GTR of Mohammed Ali intrigues us, it has a stated power output of over 2000hp and could be a surprise if he can get it tuned into the track conditions.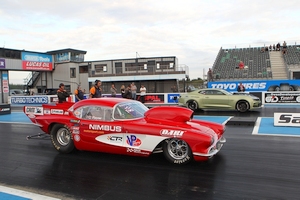 The Williams Bros Big Bracket, being run separately on Saturday and Sunday, contains racers from a variety of classes with a few run what ya brung racers wanting to hone their racing skills. David Swift's AMX will be making its UK racing event debut, and we notice Jordan Payne has entered the Sticky Situation Corvette sponsored by VP Racing Fuels, to run in the bracket.

Jordan said "Bracket racing is something a bit different for us with the Corvette. The last time I took part in any form of bracket racing was in 2018 with my Junior Dragster! However with big money up for grabs this weekend we thought it'd be worth a shot.

We completed the standard between round maintenance, dropping the diaper to check the oil, completing a leakdown test etc, as well as treating the car to some polish and making a few setup changes in preparation for the weekend. These changes included adding and moving ballast around the car, installing a larger gurney flap to the rear wing, and also loading a softer tune into the MSD to put less stress on the motor. These changes will all likely slow the car down a little but should greatly benefit the cars consistency which is key at this upcoming event". You can't rule out Jordan's chances to win his sponsor VP Racing Fuels' bracket event.

Eurodragster.com will be present on each day of VW Action/VP Racing Fuels Doorslammers and you can follow all the action by going to our event coverage page.

Prize fund for Spitfire Raceway.
2nd September: Eurodragster.com sponsor Lee Child has announced that the Spitfire Raceway Drag and Drift event to be held on 11th September at Perranporth Airfield will have cash prizes for the quickest car on the drag strip (£500), the second quickest (£250) and the quickest stick shift car (£250).

Camping for racers is only £10 per night per head and kids go free, you can pre enter the drag racing or drifting online at this link first, then book your camping by calling 01872 552856. Any roll over credits from cancelled event please email Kevin@perranporthairfield.com.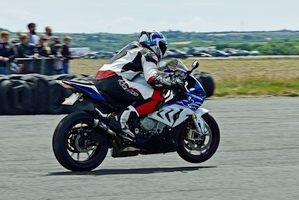 Pictures © Andrew Johnson Photography A Show & Shine will be held with no charge after admission, and spectators can enter £10 per person under 16s go free, drag racing is from £10 after admission with crash helmet and full driving licence required.

All vehicles are welcome at Spitfire Raceway, Perranporth Airfield, Cornwall TR5 0XS. Gates open at 8am and track action, after a safety check and drag strip riders and drivers meeting at race control 10.45am, will be from 11am to 3pm.

For further details and media links go to our story on 19th August.

National Finals entry closes Friday.
1st September: Thanks to Santa Pod Racers Club Secretary Ian Marshall for reminding us that the closing date for the STP National Finals to be held at Santa Pod Raceway closes this Friday, 3rd September. Entries received after this date will incur a surcharge.

The STP National Finals is the final round of the 2021 SPRC National Championship for Pro Modified, Competition Eliminator, Super Comp, Super Gas, Super Pro ET, Pro ET, Sportsman ET, Street Eliminator, Junior Dragster, Nostalgia Super Stock, Wild Bunch, VW Sportsman, VW Pro, Outlaw Flat Four, Top Fuel Bike, Pro Stock Bike, Super Street Bike, Funny Bike, Comp Bike, 8.50 Bike, 9.50 Bike, Supertwin Top Gas, ET Bike and Junior Drag Bike.

You can enter the event by going to this link. The current entry list is at this link.

ACU points updated.
1st September: The latest ACU/UK Championship positions have been updated on the King Racing web site.

ACU Championship Co-ordinator Ian King would like to congratulate all the winners especially Junior Drag Bike rookie Samuel Hope who not only qualified in P1 position but also won his first ever event at the first attempt.

Ian believes that he also made further history in joining his father Alex and grandfather Chris by becoming the first 3rd generation family of drag bike racers to have each won an event in ACU/UK Championship history. Congratulations Samuel!

Carla and Rick at the Mid Sweden Nats.
1st September: Many thanks to expat UK Stock/Super Stock racer now resident in Sweden Carla Pittau and partner and crew Rick McCann for a report on their successful race at Sundsvall last weekend. Carla describes their race as Hell, Hell and Heaven, or our Trials and Tribulations (but there is always a bit of heaven!).

The season started late for the Heaven & Hell team, as we preferred to wait until we were both vaccinated before socialising freely, but with so many meetings here in Sweden from which to choose, we still managed to enter five races between July and August, and had good hopes to put on a good show and have fun with our fellow racers in Stock/Super Stock.

After the Drag Racing Tour at Hudik Raceway at the beginning of July (see previous report on Eurodragster.com) all seemed to be ok with our engines, the numbers were slightly down but no cause for concern, so we did only a few mods on the '70, mainly to try and better distribute the weight and improve the suspension reaction on the launch. We fitted a light weight lithium battery on advice from Peter Lindberg at PPM, then added the saved weight back in the trunk and decided to tune the front shocks at the track, hoping for better weight transfer and better grip.

The '84 was a little sluggish, but we didn't expect too much out of a "temporary" combination, while we wait to solve carburettor issues in the new combo, so we decided to continue on the quest by trying different carbs with different settings to see if we could pinpoint the best compromise on the air-fuel delivery.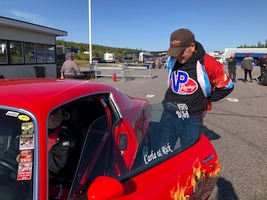 So on the 22nd of July we showed up at the Mid Sweden Nats at Sundsvall Raceway, one of our favourite tracks in Sweden, where we have always been warmly welcomed. The track used to be a secret Air Force base during the cold war, and it is located on the top of a very steep hill (the famous transmission killer for many a towing vehicle!) and was then purchased by a group of drag racing enthusiasts and ran on a no-profit basis, who ran the meetings virtually on a break-even formula, just for the love of the sport! This obviously carries the danger of income not matching expenses, but somehow the guys and gals who look after the place manage to put up a good show every time, and be cheerful, helpful and fair to all. A real pleasure to race there. However things did not get off to a good start when the engine in '70 would not turn over at all, the starter motor just stuttering and stopping. Of course the new battery was initially blamed (but was innocent!) and when we removed one of the plugs we saw what the problem was: water in cylinder no. 4… we removed all of the plugs and span the engine over, and water came out of virtually all cylinders… We took the heads off and inspected the gaskets, which did not show any signs of blowing, so we suspected the heads or the intake, or that, worst of all, the block could have developed some cracks. The '70 was out of the race before she could even pass tech inspection, so we concentrated on the '84. Regrettably the car did not seem to want to treat us, or the audience, to its spectacular launches, hesitating on the line and running slow.

With a flurry of suggestions (some good, some silly) from bystanders, we swapped carbs, checked valve lash, chased phantom ignition and fuel problems, but the car did not respond to any tuning, before finally revealing that the valve that Rick had to adjust was out again, and this was due to a broken roller on the lifter, which may have been sticking at first but broke and was duly ground to a paste during the following passes, damaging the camshaft and the block. Not exactly what we set out to achieve at this meeting: a no show in the first round and a no show at tech inspection!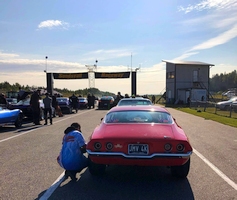 We returned home with two broken cars, and to finish in style we suffered a blown tyre on the motorhome, (as always the inside one on the twin axle) and afterwards even ended up in one of the rare Swedish traffic jams, just to put the cherry on the cake. A real downer on our hopes, the Hell part of Heaven & Hell… No choice but to cancel both of our entries for the Drag Revival at Mantorp, which was to take place only 3 days after the end of the Mid Sweden Nats, a meeting in which the Swedish Championship in Stock Super Stock was going to be contested, and in which Carla would have had a chance to defend the title she earned in 2019 as the 2020 championship was cancelled due to the pandemic. Nothing to be done, except roll up our sleeves and get to work to repair the motors!

We stripped Rick's engine, then Carla's, and with some help from Mikael Lind and Raymond Karlsson with parts and pressure testing the heads, we proceeded to put Carla's engine back together after lightly honing the block, having found no damage in heads, block, or intake. We couldn't get the correct head gaskets, so we used the closest possible, which would very slightly reduce the compression, and managed to get it back in the '70 with two days to spare before the Summit Racing Scandinavian Nationals.

Full of hope and some fear (!) we fired it up and it sounded great, crisp, responsive. We were going racing!

The '70 wasn't finished with the scares, though. On arrival at the track we tried to start the engine to go to tech inspection and it wouldn't turn over, exactly as it had done at Sundsvall. We took no. 4 plug out with some trepidation, and water appeared to come out of the cylinder. At this point the clouds of despair were heaviest on the team: what did we miss, where was the damage we didn't find, what the hell is going on… when Mikael Lind, appearing like a knight in shining armour, went "Sniff… sniff… it smells like fuel to me!" We checked the float bowls on the carb and the rear was empty! The needle and seat assembly must have stuck open at some point and the fuel siphoned off into the intake and found its way into cylinder no. 4 via an open intake valve… just to scare us!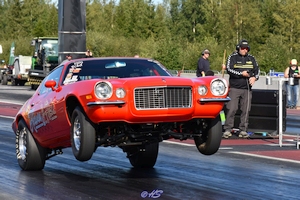 We took all plugs off, span the engine to get all the fuel out, let it dry, put the plugs back in, made sure the needle and seat in the secondaries bowl was free, and got the car inspected. Phew!

Both Carla and the car performed well at this meeting, and we liked our chances when she qualified no. 10 with a 10.60 and went past Jimmy Arvidsson in the black '66 Fairlane in the first round, then Lars Nyberg's silver GT500 in the second with a 0.015 reaction to a -0.014. We really looked forward to the third round against Marcus Svensson, but the weather gods put an end to our hopes, and everyone else's… the meeting was rained off, and we headed for home.

In the rainy days that followed we decided to reinstall the Pro Trans in Carla's car, to see if we could find a little ET and better launches. The rain continued, on and off, and the day we were to leave for the Mid Sweden Finals at Sundsvall Raceway was wet, dark, and miserable. We loaded up and Carla insisted that we tow the trailer with the Suburban, so that the motorhome would not be too heavy going up the transmission killer hill, and that decision proved to be a very wise one, as during the journey the old trusty Winnebago started to miss and refuse to accelerate, and we stopped at the rest area off the E4 just outside Tierp. The curse seemed to be still in full swing… It sounded like ignition, so we inspected the plug leads, which looked fine, so before we resistance-tested them, we looked at the distributor cap, hoping we could just file off some corrosion and WD40 our way back to locomotion… As Rick removed it from the distributor, however, the spring on the coil contact inside the cap fell out in three pieces, the plastic housing around it more or less disintegrated under our eyes and the contact itself just fell out. No gaffer tape or WD40 was going to fix this one! But where on earth (well, in Uppsala län, anyway) could we find an HEI distributor cap for a 1997 big block Chevy?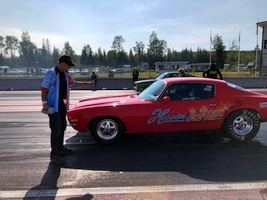 We called good friend Erik Jansson, Super Gas racer who runs a workshop and auto parts shop in Östervåla, and although he didn't have one he suggested we try Proffs Bildelar in Gävle, only about 50 km from where we stopped. We called Nisse at "Den lilla butiken med det stora sortimentet", and sure enough, he had one. Had we not had the Suburban with us, it would have been a lot harder to organise, but as it was, (Carla is always right, even for the wrong reasons) we could just abandon the motorhome there, drive up to Gävle, get the cap, drive back, stick it on and drive back up the E4 again towards Sundsvall!

All went well, and as we drove north the road got drier and drier, the clouds disappeared, and a glorious sunshine finally accompanied the team in their drag racing quest. We were glad of our good fortune, but there must have been some Greek Gods fighting for our success and some fighting against it, as when we finally reached the famous Sundsvall Raceway hill in convoy, suddenly a shout from Rick came through the walkie talkie, which sounded more or less like "@#*CK/!!!"

Carla shouted back on the two-way, but there was no answer, so she stopped the rig and ran back to see what had happened, and her heart stopped when she saw the motorhome at 45 degrees in the ditch, with Rick desperately trying to get out. She recalled a small truck towing a horse box which had passed her like a train going in the opposite direction, without so much as slowing down to allow enough space in the very narrow dirt road, and knew what must have happened. It looked near impossible for Rick to get out of there, and Carla started pushing the Winnebago in pure desperation, while Rick attempted once again, in reverse, to get out of trouble. Trying to reverse out of it proved to be a better strategy, as little by little the motorhome managed to get back on the road. A quick inspection showed virtually no damage to the parts of the body that had literally embedded themselves in the dirt and weeds, and looking at the soft edge of the road revealed that the gravel and soil must have literally sank under the weight of the motorhome, maybe because of the copious rain in the previous days. We guessed that Athena, or Apollo, must have won against Zeus, Poseidon, or whoever wanted our demise on Mount Olympus…

Our heroes arrived at the track too late for the tech inspection, but so happy to have made it there, that it seemed that racing would be easy and relaxing by comparison!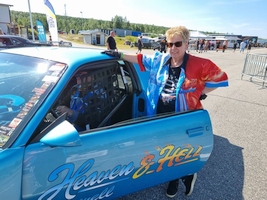 It was lovely to see the track officials and our fellow racers at the track, the evening was sunny and clear, and all was well.

The qualifying started with a 10.56, a good improvement but not enough of a difference, but as Carla shifted a little late first to second, we hoped there would be more. Sure enough, the second run produced a 10.52, then a 10.50… Carla was number 1 qualifier! 1.04 seconds under index, but Thomas Strand in his gold '72 LeMans and Theodor Brandt in the white Nova were breathing down her neck, though, with a 1.03 and 1.00 respectively under index and Thomas made this perfectly clear in a humorous way in the fire up road, miming "I'm watching you" with a menacing stare. This friendly rivalry is part of the fun in drag racing, especially as Thomas and his crew chief Magnus "Mankan" Lindahl have given us much good advice and help over the last couple of seasons, including during this meeting!

After each run the car has to be weighed to ensure that it complies with minimum weight, 1478 kg, and unfortunately it was found to be a kg short after the first one, despite adding weight. We had forgotten that the Pro Trans is lighter than an ordinary TH350! However, we added some more weight and were ok after that, although this didn't stop the tech guys playing a prank on Carla by giving her a ticket that said 1464kg, and only turning it around to reveal the actual weight, 1483kg, after laughing at the dismayed expression on her face!!!

The fourth run got us a 10.48, over 1.06 seconds under index, and the number 1 this time was there to stay. Yay! A little bit of heaven! On race day all worked like clockwork, Carla was focused, cut good lights, and found herself in the final against Theodor Brandt. This young man is a much respected racer and is known for his consistent and fast reactions, so it was with some trepidation that Carla approached the staging lanes. We dialled 10.50 to Theodor's 10.99, a 0.49 wait. The trepidation disappeared almost completely by attending to the routine checks on the car, putting on the safety equipment, and sitting quietly in the car, but panic ensued when the car would not start just when called forward by the track crew. A few frantic seconds pushing the ignition button, then the light came on and the starter motor came back to life, and the Camaro reached the burnout box.

In Carla's words, this is the race that follows: "A quick burnout just to clean the tyres, all seems well, panic over, crawl to pre-stage, pump the brakes, bump it into stage… make sure the 2 step warning light is on… floor the throttle, stare at the bottom bulb… NOW! Let go of the brake and the rest of the world becomes invisible, the universe is enclosed in the cockpit of the rocket starting towards the sky, a nice wheelie, the shift light shines like an exploding tiny red firework, second gear, the engine sings, roars, tiny firework again, third gear, foot through the floor, the finish line approaches, I pass Theodor, I'm almost at the line, I tap the brakes, I know I definitely crossed the line first, I shift into neutral and switch off, coast to the end of the track, then just before the exit I switch back on, restart the engine and cruise to the scales. I don't know if I won or not, if I broke out or not… only that I got there first, so I hope I didn't run under 10.50…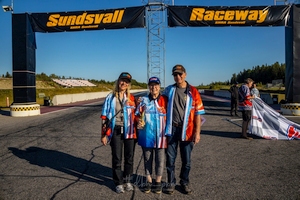 At the scales they don't know who has won, so we both get weighed and we are both legal, Theodor restarts and drives to the pits, I press the button… but nothing happens. The cut off switch is faulty, or broken, or the battery is gone, but there is no power… The chief tech inspector helps me check the most common causes, then we give up, he tells me that I can leave the car there and he gives me a lift back to the pits, where Rick has been waiting for me and has just got on the bike to see what the problem is. "Did I win?????" I shout as soon as I see him. "YEAH!" he shouts back. Sweet."

What a stroke of luck… the battery only died completely after the win! We killed it by putting the hold down strap over the re-start button, but whatever god or goddess was routing for us made sure it would last just long enough for us to collect our trophy.

The weekend ended on a high, and all the tribulations were forgotten, the heaven part of Heaven & Hell prevailed. We couldn't have got to this victory without all of the people who supported us, on and off the track, and we would like to especially thank all the officials at Sundsvall Raceway, who went over and above the call of duty to make us feel at home and gave us an excellent track to race on, our fellow racers for being such fun, so friendly and so fair, in particular team Strand, for their friendship and advice (and for not taking the white Firebird to Sundsvall, which would doubtless have qualified number 1 instead of Carla's Camaro…!) Mikael Lind, Raymond Karlsson, Erik Jansson, and finally our new part time crew members: Elisabeth Jonsson Viklund who crewed for us at the first Sundsvall meeting and cruised the pits looking for parts to try to solve Rick's engine problems, and Susanna Sundberg, who joined the team for the Scandinavian Nationals at Tierp in her very first drag race meeting and took to it like a fish to water, learning about all aspects of racing with great enthusiasm and good humour, and then put up with the trials and tribulations on our way to the Mid Sweden Finals without panicking!

Photos courtesy and copyright of Hans Eriksson, Håkke Sjöström, Sanna Sundberg, Elisabeth Jonsson Viklund and Carla Pittau.

Swift snippets.
1st September: Kieran has updated his Mk1Kieran Youtube channel with 38 minutes of footage from last Sunday's Ford Show. Kieran says "Highlights for me were seeing the ex-Team Extreme Racing Ford Escort Cosworth back in action, this is a car that is fully street legal and has previously been down into the low 8s powered by a Twin Turbo SBC. It was also good to see Darren Peart and his Mk3 Cortina getting some test runs in before Doorslammers next week where he's entered in the Pro Doorslammer class!". You can see Kieran's video at this link.

Drag racing historian Nick Pettitt has updated his Youtube channel with three uploads of film produced by Dave Derry, Steve Clifton and Jerry Cookson of action at Long Marston Raceway in 1980 and 1981. The 1980 production includes Clive Mechaell's Corvette crash, Top Bike, Pro Comp action, Malcolm Olley's Jet, the Entertainer Capri Funny, Tina Page, Dennis Priddle and Trevor Young in Top Fuel. In the first 1981 production there is Street and Modified action including the Hot Tomato C-Cab of the Clifton Bros, and Gerry Cookson's Berkeley, Dave Warne's Vega Panel Van, Steve Hales, Graham Barrs, Andy Robinson, Sylvia Hauser, and in the second production from 1981 we have Top Fuel, Funny Car and Trans Atlantic Drag Bike action at Long Marston including Tony Boden, Jim Read, Trevor Young, Dave Wilson, Andy Craddock, Ronnie Picardo, Dennis Priddle and from the USA Bo O'Brochta.

Happy Birthday for today to Super Street Bike racer Steve Venables and to Outlaw Anglia racer Mick Taylor. Have a great day guys from all of us at Eurodragster.com.


Earlier news