Kunmadaras FIM-E round cancelled.
28th February: Job Heezen of the FIM-Europe Drag Commission, has announced that, due to the ongoing Covid-19 situation and additional governamental restrictions for the next 90 days, the SSB championship's event at Kunmadaras has had to be cancelled. He adds "Kunmadaras Motorsport has released a statement that they will prepare for a next round in Hungary, committed as they are to the European Championship". Other planned FIM-Europe rounds at Tierp Arena on 10th-13th June and Kauhava, Finland, 8th-10th July, have been removed from the FIM-E calendar whilst official decisions are awaited.

Swift snippets.
28th February: We have several birthdays to celebrate today. Julian Parsons, producer for Nitro FM, proprietor of AMP Audio Solutions and general technical wizard, reaches 65 today. VWDRC Chair, Santa Pod Raceway commentator and sometime VW dragster racer Luke Stevenson reaches the big four-oh. ACU bike scrutineer and Supertwin Top Gas racer Les Harris also reaches 65. And in Germany, NitrOlympX supremo Jerry Lackey also celebrates his birthday today. Have a great day guys, and we'll see you at the track soon.

Gullqvist looks forward.
26th February: The 2021 FIA European Drag Racing Championship kicks off with The Main Event at Santa Pod Raceway. As everyone knows, the 2020 edition had to be cancelled due to the corona pandemic, and although we still live in uncertain times, it's looking much better for the 2021 season. The drivers and teams can't wait to see the fans again and the fans are eager to meet their favourites in the pits and see them race down the quarter mile. Our good buddy Remco Scheelings caught up with some of the European drivers, starting with Michael Gullqvist.

You were the runner up in the 2018 and 2019 FIA Championships, but before that you won back to back championships for a number of years. What are your thoughts on this?

"The competition has gotten stronger, that's for sure. With six events on the tour, the room for mistakes or failures is getting very slim. You better be on your game at every event, otherwise you have to trust the other guys make mistakes. For a number of years, we could go out there and win championships without putting 100% focus on the details, because we had a performance advantage over the other guys. Not so anymore. In 2018 and we had some electrical issues during the season that we found on our last run of the season. In 2019 we had changed to a converter drive after running a clutch for 20 years. I think we still ran pretty well while figuring it out. We had the points lead going into the 2019 European Finals, but we couldn't get down the track a single time, so that was that. We found a major problem with one of the rear tires, which was the reason for our poor performance."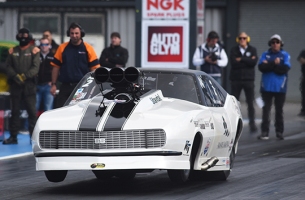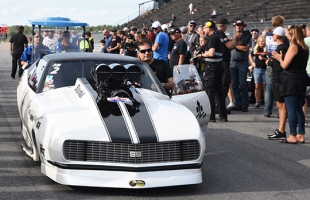 How was 2020?

"Like all racers running FIA European Drag Racing, it was all about doing other things. We worked on the car and made a lot of changes, then went out and tested in August and September at Hudiksvall, a small track 3 hours north of Stockholm. In the end of our testing sessions, things started to work pretty well and we felt like we're getting close to something good."

What's new for 2021?

"Hopefully that we can go racing, that would be something new! It looks like the two first events might be in trouble because of the corona restrictions. I think decisions about the first two events will come in March. After that it looks better, but who knows……Anyways we miss all our friends on the tour and we are looking forward to go out and kick their buts whenever possible!"

Words and pictures © and courtesy Remco Scheelings.

Caroline Strand's new car.
26th February: A well-known figure in Top Doorslammer and Pro Xtreme since 2016, Caroline Strand from Ystad in Sweden has sold the Corvette C6 car she has competed with since she started in the class. Now she is investing in a completely new car. The aim is to get out in 2021 and start sorting out the car, but as there will be so much racing in the new season, this may not be realistic.

"In the best of worlds, of course, everything is ready by the first event. But before there is a finished race car in the pits, warmed up and ready to drive in the first qualifying round, there is an enormous amount of work to do. We are working on it and hope to come out sometime during the season", she says. The old car went its quickest over the quarter mile at 5.87 during 2019 at Santa Pod Raceway when Caroline won Top Doorslammer in 2019. Now it has gone to Norway, but the existing 526ci BAE engine and gearbox will be utilised in the new build. The new chassis consists It is a pre-bent tube from Vanishing Point Race Cars in Maryland, USA, which has subsequently been welded together by Torben at TSS Race Cars in Veberöd, Skåne."

"The chassis is adapted to a Corvette C7 body, which itself will be an update from the previous car."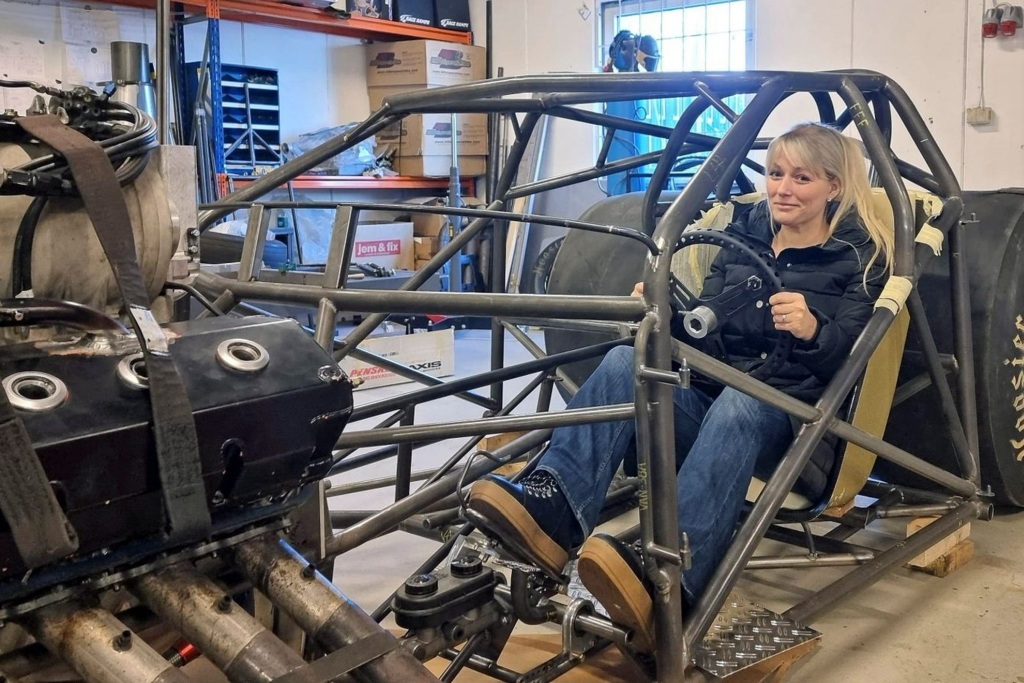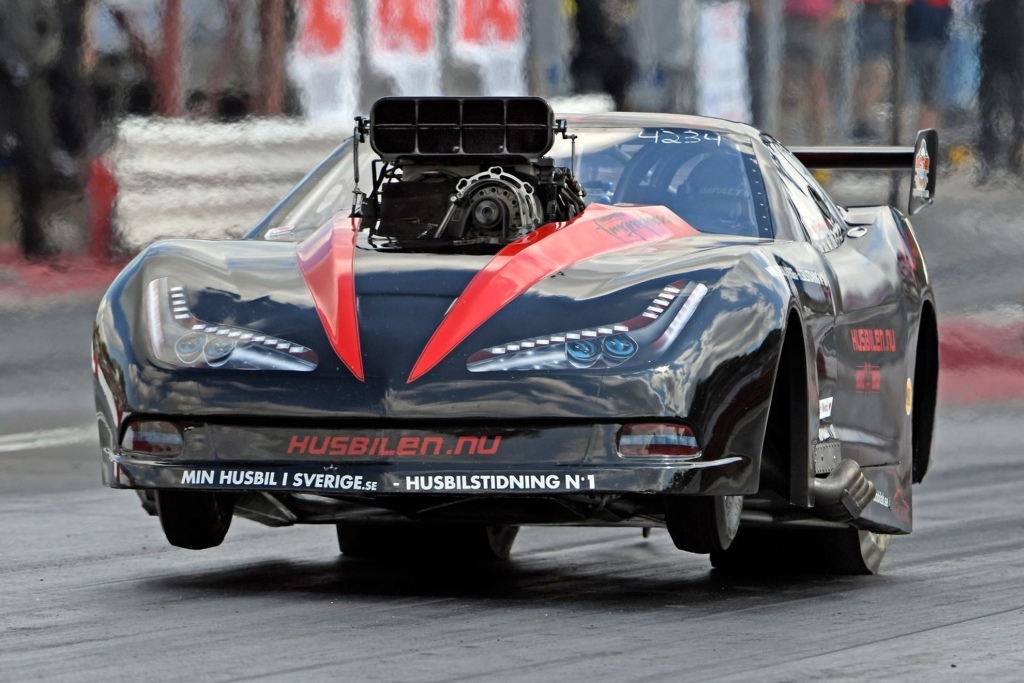 "The big news for us and the main reason behind the decision to change cars is to get a chassis that can handle the 4000hp power we have available. It will also be better suited to run at competitions where we race over the classic quarter mile, as we did at Santa Pod. There is an appeal in competing over 1/8 mile as well, the usual competition distance for Top Doorslammer and one does not exclude the other. It was really fun at Santa Pod, a completely different sense of speed, and there are plans for more quarter mile races in Europe in the future. So we want to be able to do this."

In addition to Caroline herself, the team behind the car consists of her husband Michel Strand, Tommy Jonsson and Robin Clausen. Then there is Adam Flamholc as an adviser in the background where he assists with knowledge and tuning.

Text courtesy Stefan Boman for Bilsport.se; photos © Stefan Boman and Robin Clausen (workshop).

Swift snippets.
26th February: We'd like to wish a big Happy Birthday to Santa Pod Raceway's Track & Race Operations Manager Darren Prentice. Have a great day Darren from all of us at Eurodragster.com.

Drag racing historian Nick Pettitt has uploaded another drag racing video from his Time Travel series to his Youtube channel, Time Travel 71 featuring Phil Herrick and Jim Whiting's cine film from Santa Pod, Long Marston, Blackbushe and Wroughton including shots of their own cars. Nick has also uploaded footage by announcer Graham Beckwith of the Top Alcohol action from a VW meet at Santa Pod 16th July 1995 which you can see by clicking on this link.

Ollie Burn.
24th February: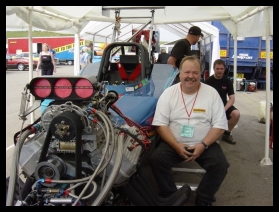 We regret to report that Ollie Burn, who had an involvement in British drag racing stretching back almost 50 years, passed away on Saturday.

Ollie Burn first became involved in drag racing in the early 1970s, travelling with then wife Liz from their farm in Knightcote, Warwickshire to Santa Pod.

Ollie Burn ran Ollie's Folly in 1974, an Avenger econo FC which in a later life became Oblivion. Liz, whose book Drag Racing: Through the Eyes of a Woman documents their time racing together, gained a taste for the sport. Later that year they bought Age Machine, built by Allan Herridge for Pete Bennett, from its previous owner Roz Prior. Liz ran the big block engined car in Top Dragster. Later in 1974 Ollie and Liz bought Clive Skilton's Revolution 4 then, a few hours after paying for it, Clive suffered a burst front tyre, the car going off the track and into the guardrail in the shut down area of Santa Pod. Dennis Priddle repaired the car and it returned as Liz & Ollie in 1975 running as The Lizard in Top Fuel. The car was short-lived in Liz's hands as a missed chute release at Snetterton in May 1975 resulted in Liz hitting Dennis Priddle from behind, taking both into the field. The Liz & Ollie car was a write off.

By 1976 Ollie and Liz returned with another rear engined dragster, also named the Lizard which ran in Pro Comp in 1976,1977 and 1978, winning the Gauloise Pro Comp Championship in 1978. Ollie first driving the dragster and an altered called Liz & Ollie in 1976, which became the first Mr. Big, owned by Vic Hammond. Ollie got back in the driver's seat in 1978 with the ex-Dennis Priddle Avenger Funny car, rebodied with a Vega body, running on methanol and renamed Komodo Dragon. This car was then sold to John Spuffard and was John's first funny car. During this period, Ollie and his crew were responsible for helping many Midland racers: Bazz Young and Mickey Moore had a huge amount of assistance in putting together their Pro Comp FED Desperado and Doug Bond and Martyn Hannis built their first rear engine car at "the farm" with material supplied by Ollie. The list goes on and on, including the second Vic Hammond car, Cockney Rebel, which became The Mob car.

Also, along with others, Ollie financially supported the MDRA at a time when the club was struggling to put on race meetings at Long Marston.

Running The Mob Fuel altered, with Mickey Moore, who originally bought the car from Vic Hammond, was Ollie's main racing focus in the 1990s and 2000s. He would run it and often insist that his appearance money was given to another racer so that he could have someone to run alongside. In 2000 he converted the altered from methanol to nitro but it was always run safe and Ollie made sure his drivers put on a great show of burnouts, dry hops and full-on runs every time.

Ollie displayed such enthusiasm drive and dedication in running The Mob but when offered sponsorship for The Mob he declined the offer and persuaded the late Lawrie Gatehouse to use that money to form the Nostalgia Fuel Altered Association. In recognition of this, Ollie was presented with a special trophy at the class's trophy presentation.

When Lawrie debuted Chaos in 2006, Ollie became responsible for Crew Chief duties alongside The Mob, whilst other crew were being recruited. Although the engine and drivetrain combination of the two cars was planned to be interchangeable in reality there were two very different setups to tune.

Ollie ran The Mob with Mickey Moore as driver, later Jim Usher and Terri-Anne White, the car going as quick as 6.781. In 2016 Ollie sold The Mob, the drivetrain going to the Motor Psycho Team of Adam Gleadow and the rolling chassis passing to the late Ady Randle.

We send our deepest condolences to Ollie's family, to Liz, his sons Jeremy and Richard who spent time at the track helping their Dad, and all his friends that were close to him in the sport.

If you would like to share your memories of Ollie please send them to simon@eurodragster.com.

Photo of Ollie © and courtesy Lesley Wright.

The Black Pearl.
24th February: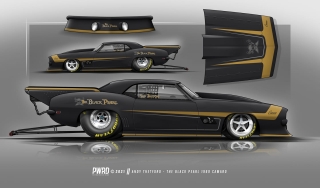 Former Pro ET racer Andy Thetford of Insanity Racing is stepping up to Super Pro ET with his new car with a name highly appropriate for the cool colour scheme. Andy writes:

Last weekend was the long awaited reveal of the Insanity Racing '69 Camaro, 'The Black Pearl', which we will be campaigning in Super Pro, thank you to everyone for their lovely comments on FB.

The upgrade was a bit of a shock as I only intended to build a normally aspirated 7.50 TAG Camaro, but after going to see The Finals in Malta I got the turbo bug, and things changed. Firstly it became apparent that it would be cheaper to buy a finished chassis instead of building up the one we had. And so, after getting a pair of turbos and a gearbox from Dave Murdoch and completely rebuilding my 540cui BBC to meet turbo needs, the search was on for a chassis. And as if by magic, Tina Moore put the Obsession Motorsport Camaro up for sale as a roller; job done! Thank you Tina.

So now we have a 540cui, twin turbo fuel injected methanol race car using Fueltech software, in a twin rail Camaro, to say that this has been an easy build (I kept changing my mind), far from it, me being 6'3" was the main issue, the car not being built for someone that tall, but with only a few things to do, the finished car should wake me up.

We hope to be testing in the first half of the year (covid allowing), so please come and say hello.

I would like to thank a few people, Comanche Race Cars, Trevor Hirst, Robinson Race Cars, Webster Race Engineering, Chris Isaacs and Al Mac for all their help and advice (sorry for all the phone calls) and last but not least to Pete Walters of PWRD for an amazing design, worth every penny, cheers Pete. Keep safe everyone and see you all at the track.

Swift snippets.
24th February: We would like to say a very Happy Birthday to UK Nostalgia Super Stock class organiser Don Scott on behalf of his wife Brigitte. Have a wonderful Birthday Don.

Perfect Light sponsor Cath Napier of the Bad Habit Pro ET team has launched an appeal to raise funds for fellow Pro ET (and Super Gas) racer Jon Turner of Greenfish Racing who suffered a huge fire at his storage unit on 7th February. Cath says "As many of you will have seen, Jon's Sprinter, trailer, track equipment, and all of his spares were completely destroyed. The van was insured, everything else wasn't. Fortunately, the racecar wasn't stored at the unit. Even if you can just spare a fiver or a tenner, please, stick it in the pot as it all adds up. The wonderful drag racing community has always pulled together for one of our own, let's do it again." To donate to Jon please click on this link.

Carnet Zoom this Friday.
23rd February: Thanks to Santa Pod Racers Club Secretary Ian Marshall for providing an update on the proposed Zoom meeting that we included in Friday's update.

The Zoom meeting for those wishing to talk to the Company dealing with European and indeed worldwide Motorsport Carnets, will take place at 6pm UK time on Friday 26th February; again anyone wishing to take part in the meeting please email me so I can add them to the list of participants.

Sammy memories.
23rd February: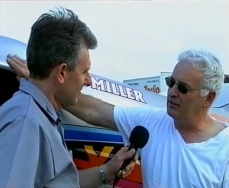 Former Santa Pod commentator Paul Venners has written to tell us some details from his knowledge of Sammy Miller's final runs at the 2002 Speed Freaks Ball which he was commentator for, and video of which (by Bob Valder) we posted a link to on Sunday's update.

"It's a real treasure trove of quality recordings Bob has there. They captured the era perfectly. After posting Bob's link on Sammy's fan page on FB and on a jet and rocket page, the answers confirm Bob's order is correct, the last run with no commentary was a test at the end of the meet with all the safety crew still in place. I announced a few runs that Sammy did at that event; If I remember rightly at this stage he was running at lifestyle events rather than MSA ones".

We're also grateful to hear from G-Max Fuels director Antony Billinton, supplier of fuel to Sammy, who recalls that the runs, Sammy's first in eight years, were in test mode: "We were experimenting with different percentages of fuel, however the composition was still H202, as always; it's chemically identical however it is produced, although there are three main ways of doing this. We had also refreshed the internals of the engine. Regarding the steam coming out of the back of the car, that was not at all dangerous, just oxygen and water.

"The additional run after the spectators had departed was to test different preheat and pressure settings; it was very convenient while the safety crew were kindly still prepared to hang around for us. We did in fact refuel and test again later that day after the test shown on the video, but that was when I drove the car to enable Sammy to observe from the outside what was going on. We finally found the gremlin, and figured out the solution. Unfortunately for obvious reasons we were not able to run the next year. So, effectively by the end of 2002 the car was sat at my place ready to thunder again".

Coincidentally, there has been other footage posted today of the event on the FireForce Jet Funny Cars Facebook page. This footage is edited from the official Speed Freaks Ball 2002 event VHS video, the remainder of which can be seen on the same page. Included is Sammy's last ever interview in typical form, always wanting to go faster, and signed off with his trademark Donald Duck impression.

FireForce jet funny car and dragster racer Martin Hill wrote: "I first met Sammy in the early 80's when I was just setting out with my jet dragsters. Then in the late 80's, early 90's our paths crossed many times as I started to run more frequently with the FireForce 1 Jet Car.

"When myself and Paul Bailey (Horace) had the idea to put on Speed Freaks, a discussion was had with Sammy's lifelong friend Antony Billinton, about how great it would be to get Sammy to the event. It was an absolute honour when Sammy said he would attend the show as it had been a good few years since Sammy was last at the track with his car.

"After the success of the first Speed Freaks Ball, Sammy was already booked to return to the show in 2003 but as we all now know, this was not to happen. "We were all shocked and saddened to hear of Sammy's passing later that same year from an incident unrelated to his cars. We can only thank Sammy for being a friend and a true inspiration".

Swift snippets.
23rd February: We have another special Birthday to celebrate today. Pro ET racer and back-up girl to various drivers Georgina Smith reaches 50 today and husband Mike Smith wishes her a very Happy Birthday, as do the rest of us at Eurodragster.com, have a special day Georgina.

Other birthdays we wish to mark today are Slingshot Showdown racer Mark Bishop, rocket bike pilot Eric Teboul and Super Pro ET racer Billy Gane. Have a great day all.

For some unaccountable reason we missed the Birthday yesterday of Nitro FM DJ Paul 'Oz' Wright, so a belated Happy Birthday to Oz and we hope you had a grand day.


Happy 60th Dez!
22nd February: We join Iris Krivan who has written from Switzerland to send 60th birthday wishes to her husband and former Top Methanol Funny Car racer Dez Krivan for today (22nd February).

Iris writes "I am very happy that Dez celebrates his birthday in good condition today after his stroke 7 years ago. Dez misses being active in drag racing with his Methanol Funny Car and especially the Santa Pod race track and all our fans.". Have a very Happy Birthday Dez and enjoy your day.

Pioneers' stories - Derek Metcalf, part 3
22nd February: The latest update in our weekly Pioneers of UK drag racing series, told in the original words of the racers, and accompanied by photos and images from their collections, covers the period 1968 and 1969 for Surrey dragster racer Derek Metcalf.

The story covers racing in the wet, a cylinder head engineering innovation and Derek and Pam's second and final car, Strip Star which he campaigned in 1968 and 1969, . You can see the second part of Derek's story by going to this link, or via the new index page for the pioneers' stories, which shows links to the UK drag racing history web sites that provide the wider story and context for the story of the sport. Eurodragster.com thanks racers for providing their stories, and John Hunt and drag racing historian Nick Pettitt for help with editing and proof reading the feature and making archive images available.

Sammy's last run.
21st February: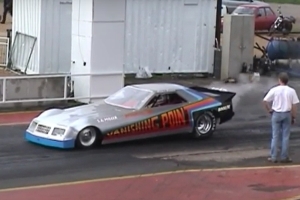 Between 2000 and 2004 husband and wife photography team and long time drag fans Bob and Anni Valder ran a web site with the evocative title feel-the-noise.com displaying photos and video clips of drag racing. Bob and Anni attended many events during the period, travelling up from the South coast to do so. They then decided to go to pastures new, involving amongst other things several trips to the US, and their web site closed.

Fast forward some 17 years, and Bob has been at work on video he recorded at the time but was unable to post with the broadband limitations existing in those days. Bob has now created a new Youtube channel and posted many hi-def videos going back to 2002 and 2003.

Videos cover Shakespeare County Raceway and Santa Pod Raceway and most classes with a concentration on FIA championship classes, jets and rockets. Included is rare footage of rocket legend Sammy Miller's last ever pass on 12th May 2002 at the Speed Freaks' Ball event at SPR. The pass was only five months before he passed away on 29th October that year.

By way of context the Speed Freaks' Ball was organised by jet guru Martin Hill and Paul Bailey as a bikes-plus-thrust vehicles event with a Junior Dragster exhibition. To have Sammy over for his first runs anywhere since 1994 was a big coup for SPR. Despite having gone into the field on the right hand side of the shutdown area the previous day following a 5.429 pass (3.325/230.98 to the eighth), his team worked hard in the evening to get the holes in the car repaired and front wheel straightened for Sunday action. His last pass was 6.258/182.52, shown at the start of the clip before a later checkout after fans had departed, not a full pass but, as recorded by Bob Valder, a testament to Sammy's grit and determination to keep the show on the road. You can see Bob's Drag Racing Archive at this link.

Carnet Zoom meeting planned.
19th February: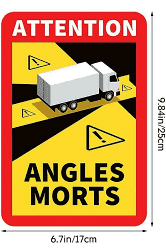 Many thanks to Santa Pod Racers Club Secretary Ian Marshall for providing an opportunity to racers to ask about carnet arrangements for travelling to the EU:

Following the earlier update regarding Carnets and insurances for EU travel to race meetings, we are now in a position to put together a Zoom meeting to allow Riders & Drivers the opportunity to ask questions of a professional in this field. There are many rumours and misunderstandings about costs and so forth going around the drag racing community, and we would like the chance for anyone looking to travel outside of the UK to ask questions directly to the company who have been dealing with motorsport carnets for many years. Any misunderstandings regarding costs, frequency of visits etc can all be covered and put to bed.

Interested parties please email me at ir.marshall@btconnect.com so that I can get a list and date sorted out for the Zoom meeting (this will be on one evening), hopefully it should only take half an hour of your time, however if you cannot attend a meeting please send me any questions you may have and I will ask the questions in advance of the meeting where they can be discussed, and details forwarded.

We at the SPRC are continuing to research the regulations and will continue to keep you informed as best we can. The Zoom meeting will also be accessible to any of our European Racers; the detailed elements of what will be discussed may not all be relevant to you, but they will be a help in some areas.

On discussing travel into the EU, please note that from the 1st April (not an April fool joke) any vehicle weighing over 3500kg must have 'blind spot' stickers on their vehicle to travel through France, they are known as Angles Morts Stickers and are available from Ebay etc, and look like the above example.

Modurstang Mustang days.
19th February: Pro ET racer and owner of Mustang specialist Modurstang Mike Lacey has released details of a dedicated event for Mustang owners that will take place at Santa Pod Raceway in June:

We are all looking forward to the 2021 race season starting as soon as possible. This year, myself and some of my Mustang owner friends and clubs have rented the track for two days, Thursday and Friday 24th-25th June. This is a Mustang-only event and we will have upwards of 200 cars attending.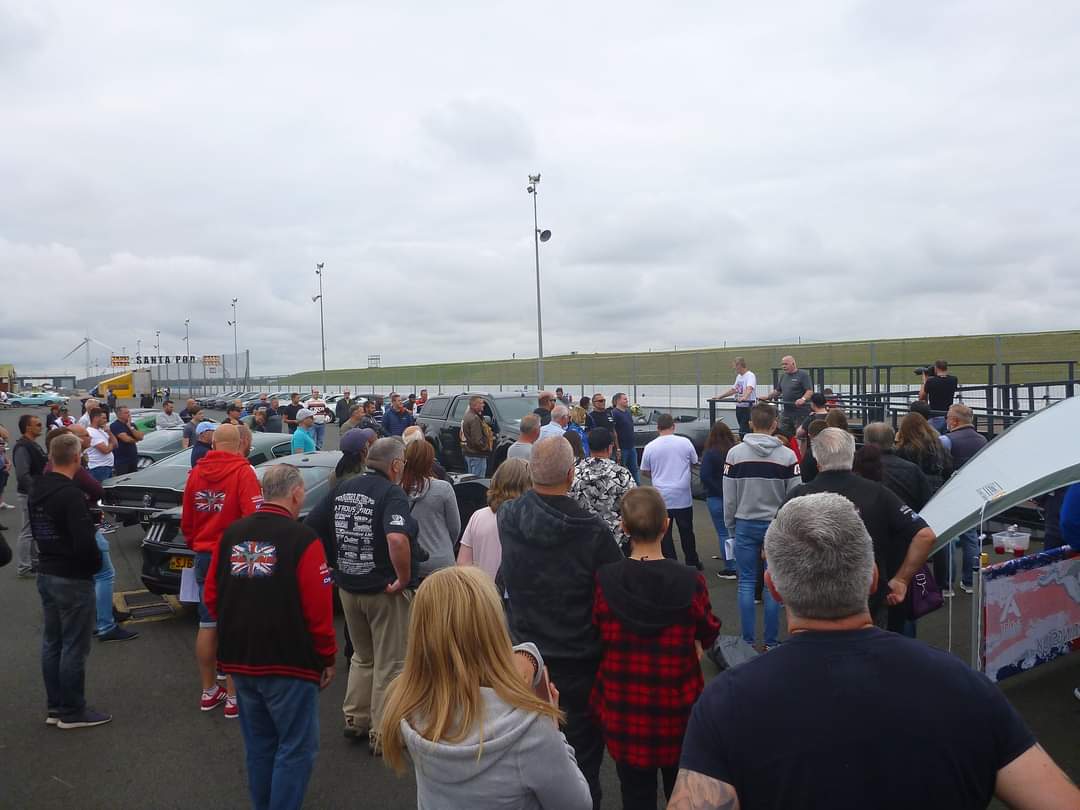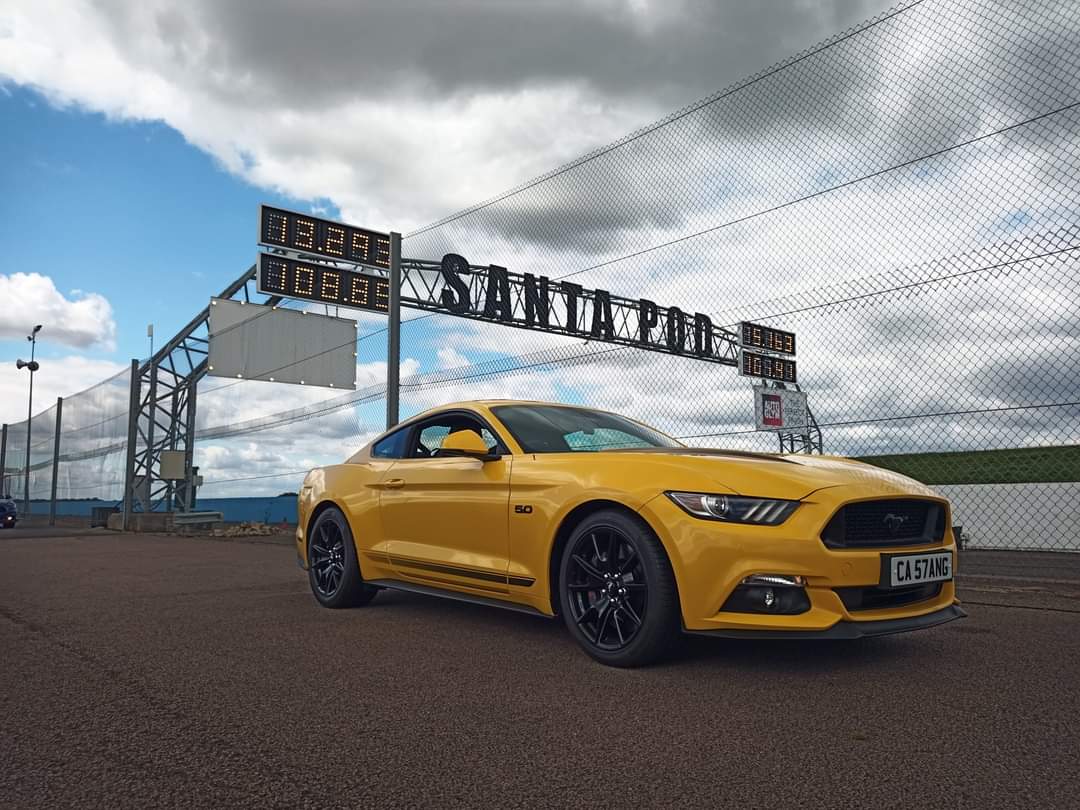 I'm hoping some of my race car friends with Mustangs will possibly be able to attend for display and exhibition runs. There will be a heads-up race car class on Friday but this depends on attendance and numbers. The track will be prepped and so you will be able to run your cars. Jon Webster brought his Pro Mod last year for display so hopefully I might be able to convince him to attend again.

Anyone interested in bringing their Mustang race car, please contact me at modurstang@yahoo.co.uk or phone me on my mobile 07774 712000.

Swift snippets.
19th February: Thanks to announcer and British Drag Racing Hall of Fame inductee John Price for sending a Youtube video that he has discovered of a cycle tour of an abandoned Shakespeare County Raceway, filmed back in 2018 when most of the infrastructure and even equipment was still there. John says 'So many memories'; alternatively our comment is 'Warning - may cause distress'.

Drag racing historian Nick Pettitt has uploaded two more drag racing videos from his Time Travel series to his Youtube channel. Both use Kenny and Bev Coleman's betamax video. Time Travel 66 is from York Raceway in 1990-1991 and Silverstone in 1990. Time Travel 67 is from the Big Yank at Long Marston in 1985, then Gary's Doorslammer Nationals and Internationals at Santa Pod from 1985-1989.

UK Riders' and Drivers' meeting report.
18th February: As mentioned in our update on 21st January, the virtual SPRC riders' and drivers' meeting is available for viewing on Youtube at this link. Below is a summary of the items covered in the video, thanks to SPRC club secretary Ian Marshall for providing details:

UK CHAMPIONSHIPS

The dates and classes of this year's ACU UK and UK National Drag Racing Championship rounds are listed below, together with a table of other non-National classes running at Championship events. You may download and print the full tables in pdf format, including all FIA/FIM-E classes, by going to the links for car classes (2 pages) and bike classes.


Cars
Motorsport UK
Pro Modified
Comp
Eliminator
Super Pro
ET
Pro ET
Sportsman
ET
Super
Comp
Super
Gas
Junior
Dragster
Street
Eliminator
Festival of Power
Santa Pod Raceway
2nd-4th April
✔
✔
✔
✔
✔
✔
✔
✔
✔
STP Springspeed Nationals
Santa Pod Raceway
24th-25th April
✔
✔
✔
✔
✔
✔
✔
FIA/FIM Main Event
Santa Pod Raceway
28th-31st May
✔
FIA & MS-UK
✔
✔
✔
✔
✔
✔
✔
STP Summernationals
Santa Pod Raceway
17th-18th July
✔
✔
✔
✔
✔
✔
✔
✔
✔
Bug Jam
Santa Pod Raceway
23rd-25th July
✔
✔
Non-
Championship
✔
Mopar Euronationals
Santa Pod Raceway
30th July-1st August
✔
STP Green Light Nationals
Santa Pod Raceway
21st-22nd August
✔
✔
FIA/FIM European Finals
Santa Pod Raceway
9th-12th September
✔
FIA & MS-UK
✔
✔
✔
✔
✔
✔
✔
STP UK National Finals
Santa Pod Raceway
25th-26th September
✔
✔
✔
✔
✔
✔
✔
✔
✔
Bikes
Top Fuel
Bike
Pro Stock
Bike
Funny
Bike
Super Street
Bike
Comp
Bike
8.50
Bike
9.50
Bike
Supertwin
Top Gas
ET Bike
Junior Drag
Bike
Festival of Power
Santa Pod Raceway
2nd-4th April
✔
✔
✔
✔
✔
✔
✔
✔
✔
✔
Springspeed Nationals
Santa Pod Raceway
24th-25th April
✔
✔
✔
✔
✔
✔
✔
✔
✔
✔
FIA/FIM Main Event
Santa Pod Raceway
28th-31st May
✔
FIM
✔
FIM
✔
FIM
✔
FIM
STP Summernationals
Santa Pod Raceway
17th-18th July
✔
✔
✔
✔
✔
✔
✔
✔
✔
✔
STP Green Light Nationals
Santa Pod Raceway
21st-22nd August
✔
Double
header
✔
Double
header
✔
Double
header
✔
Double
header
✔
Double
header
✔
Double
header
✔
Double
header
✔
Double
header
✔
Double
header
FIA/FIM European Finals
Santa Pod Raceway
9th-12th September
✔
FIM
✔
FIM
✔
FIM
✔
FIM
UK National Finals
Santa Pod Raceway
25h-26th September
✔
✔
✔
✔
✔
✔
✔
✔
✔
✔
Other classes at
Championship events
Fuel
Funny Car
Nostalgia
Funny Car
Wild
Bunch
Outlaw
Anglia
Outlaw
Flat Four
VW Pro
VW
Sportsman
Nostalgia
Super Stock
Supercharged
Outlaws
Stock/Super
Stock
Festival of Power
Santa Pod Raceway
2nd-4th April
✔
✔
✔
✔
STP Springspeed Nationals
Santa Pod Raceway
24th-25th April
✔
✔
✔
✔
✔
✔
FIA/FIM Main Event
Santa Pod Raceway
28th-31st May
✔
✔
STP Summernationals
Santa Pod Raceway
17th-18th July
✔
✔
✔
✔
Bug Jam
Santa Pod Raceway
23rd-25th July
✔
✔
✔
✔
✔
STP Green Light Nationals
Santa Pod Raceway
21st-22nd August
✔
✔
✔
✔
✔
✔
FIA/FIM European Finals
Santa Pod Raceway
9th-12th September
✔
✔
✔
STP UK National Finals
Santa Pod Raceway
25th-26th September
✔
✔
✔
✔
✔
✔
---

All classes for both car and bike will run at the same events as 2019, the one exception being Comp Eliminator, which this year will run at the Green Light Nationals.

The Green Light Nationals will again be a double header event for the bike classes.


EVENT ENTRY

Entry Fees for the 2021 season will remain as per 2019 (see table below), unless we have to race under a NON PERMIT race, then the entry fees will be the same as 2020.




Class
Two-day event
Three-day event
Four-day event
Motorsport UK British Pro Modified; Top Fuel Dragster; Fuel Funny Car; Nostalgia Funny Car
£165
£175
£200

NB FIA classes pay FIA fees for FIA European Championship events
ET classes; Super classes; Junior Dragster; Comp Eliminator; Street Eliminator; VW classes; Outlaw Flat Four; Wild Bunch; Outlaw Anglia; Nostalgia Super Stock; other Sportsman car classes
£135
£150
£175
ACU Top Fuel Bike
£170
£175
n/a

NB FIM classes pay FIM fees for FIM European Championship events
ACU Funny Bike; ACU Pro Stock Bike; ACU Comp Bike; ACU Super Street Bike; 9.50 Bike; 8.50 Bike; ACU Supertwin Gas; NAST Supertwin Gas; ET Bike; Junior Drag Bike
£140
£155
n/a

NB FIM classes pay FIM fees for FIM European Championship events
Jet Car
£160
£175
TBC
Exhibition
£170
£175
TBC
---

PITSIDE POWER AT SANTA POD RACEWAY

The electric fees will also remain as per 2019 (see table below).


| Event duration | Single phase | Three phase |
| --- | --- | --- |
| 2 days | £50 | £155 |
| 3 days | £60 | £165 |
| 4 days | £75 | £180 |
---

The prize fund that would normally rise by 2% each year, for this year will remain as per the 2020 season.

Once we are able to run under permit, all 2019 Champions will be able to use their 2020 free entry status, this is for 2019 Champions in all Sportsman classes only; there will be no free entries for the Covid Cup Series winners.

Stock/Super Stock will be combined in to Comp Eliminator in 2021, with indexes being discussed at present, there will be a minimum ET entry that will allow only cars that can dial below 12.00 we will pass on details of what classes they will be soon. During the Main Event and European Finals Stock/Super Stock will split from Comp and run as their own class with Stock/Super Stock indexes; please note any racer looking to get involved must have an NHRA legal car in order to compete; we will be issuing further information in terms of regulations soon.

The entry system at this link has once again been updated, and now features just one entry form for all race classes, car & Bike, hopefully this will simplify entries to Santa Pod even further.

Pro ET will continue with the new lower class index of 8.50; during the limited time in 2020 it was found to work well, we will continue to use the same index in 2021 with a view to taking input from racers at the end of the season.

Technical regulation changes for 2021:-

All vehicles utilising a full harness must now have a head and neck restraint system; if you race in sportsman ET and don't have a full harness you can continue as you are for the foreseeable future without the head and neck restraint, however should you wish to use one please go ahead, as they are now considered the safer option.

The decibel level for Junior Dragster, Sportsman ET and VW Sportsman has been reduced from 113db to 110 db if you have a muffler or silencer already fitted, you should meet the new requirements, however the Tech crew will be checking later this year to check conformity.

Pro Modified have a new SFI 54.1 flame retardant coating that must be applied to the inner front end body parts (non-metallic) forward of the firewall, additional details can be found in the SPRC/Motorsport UK white book, now available on the SPRC website.

At present we are not sure how the race season will begin, Santa Pod Raceway will be keeping us informed as when we can begin the racing season, and how it will be conducted, whether under permit or non-permit we will have to wait for the Government announcements in order to make decisions as to when and how we begin the season, and what restrictions (if any) are placed upon the track and Racers.

Junior Dragster entries will have an additional child's ticket allocated for 2021, as Santa Pod have had to add a small fee to the under 16 admission cost, hopefully this will only be temporary; to cover this we will add an under 16 ticket to all Junior entries so that the drivers are not having to pay an additional fee.

As mentioned in the video congratulations to the following winners of Perpetual Trophies for 2020:

Most Promising Newcomer: Morgan Wilson (VW Sportsman)
Best appearing Bike: Mark Smith (Funny Bike)
Best Appearing Car: Bobby Wallace Pro Modified
Best Appearing Crew: Ron Bartlett
James Edgar trophy: Phil Baimbridge
Obsession Motorsport trophy: Santa Pod Raceway Staff, for completing the Covid Series under extreme pressure from many sources
Alex Brachtvogel trophy: Julian Parsons, for Nitro FM and many other duties around Santa Pod
John Ledster trophy: Andy Robinson for services to drag racing, SFI, and Drag Race sub committee
Spirit of Santa Pod award: Jon Giles, For all of his help and support to Drag Racing and Santa Pod Raceway

Could all trophy winners please send Ian Marshall a picture of you and perhaps your team (if available) with your trophy, as we would like to put a rogues' gallery together on the SPRC website please.

Mike Key tribute.
17th February: Jon Spoard's site UK Drag Racing News and Nostalgia has been updated with a tribute by Nick Brooke-Langham to late photographer and writer Mike Key, who sadly passed away on Monday.

To read Nick's moving tribute, and view superb photos taken by Mike and Nick (the latter of Mike's three window 1932 Model B hot rod), click on this link.

Custom Car Spring edition.
17th February: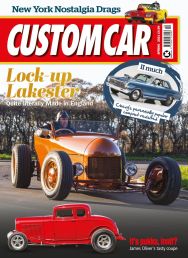 The UK's own drag racing, hot rodding and car culture mag Custom Car has a special Spring edition on sale on 19th February and we can reveal several fascinating drag racing features in it:

An eight page feature documents the history of the Chevy II, later known as Chevy Nova, with its development through to the final 1978 model year. Included are photos of many Stateside drag racing examples (UK drag racing versions of the Nova are also available), along with many facts about the marque. The peak of the Nova were the Yenko models, one with a 425hp 427ci engine, the other with a 370hp LT1 350ci enginebuilt by the eponymous dealer based in Pennsylvania.

There is news of Loaded Gunn Racing, based in Chippenham, who are planning an assault on the Bonneville Blown Fuel Lakester I speed record at Bonneville in 2022, with pictures of the construction of their vehicle and contact details. Tony Thacker went to the SCTA race at El Mirage in November, blessed by good weather and a gathering of almost 100 mostly nostalgia racers, a lot of which are shown in his photo report.

Race coverage is of the Dover Drag Strip Nostalgia Drags from Lebanon Valley Dragway, a great nostalgia event incorporating the Mohegan Sun Funny Car Shootout, sponsored by a Connecticut-based casino.

From drag racing roots is the gorgeous 5-window '32 Ford of James Oliver, built by Williams Bros Racing and incorporating chrome, red paint and a 570hp SBC (with more planned). If James can give it a run at a nostalgia meeting instead of his UKNSS Firebird, that would be fine by us. To order a subscription to Custom Car, go to shop.kelsey.co.uk/subscription/CCA. Single copies are available at shop.kelsey.co.uk/issue/CCA. Availability is world-wide.

1989 UK Pro Modified memories.
16th February: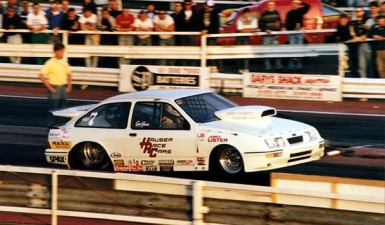 Thanks to readers who have expressed appreciation for our features on the history of UK Pro Modified. One particular thanks, with a never-before-published story attached, is from Eurodragster.com sponsor, 1989 Champion and first into the sevens Geof Hauser:

Reading the history of UK Pro Mod part 2 brought back many memories from those hectic seasons in 1988/89. As you can read, it all ended well for me and was without doubt my finest year. More drama to be revealed in part 3 but there is an interesting back story regarding what happened at the SPR World Finals in 1989.

I was on cloud nine after the success of the Summernationals in August where I ran a string of seven second passes and won the event, I decided that a little strategy was required during qualifying for the World Finals at Santa Pod.

In those days the elimination ladder was structured differently and #1 qualifier would meet #5 after four bye runs in the 1st round! At the time, there were five quick cars in Pro Mod and I figured it would be better not to have to meet one too soon in eliminations.

So, on my first qualifying run I got to about 1200 feet, backed off the throttle and de-clutched then heard a strange noise which took me totally by surprise. It was actually the motor free-wheeling against the 8600 rpm rev limiter. The throttle had stuck open (the only time it ever did) and it just completely threw me. As soon as I realised what was happening and killed the ignition, one of the con rods decided that it didn't want to play anymore and came out of the side of the block. We had still qualified #3 with an 8.06.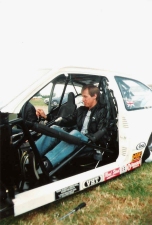 As we were chasing points and the championship was still within reach, John Everitt (who was crewing with me after crashing his own car the previous year) and I took the car straight back home to fit the old Mopar 440 Super Gas engine. We were back at the track by the end of the day ready for eliminations and to try and salvage some points.

The old 440 wasn't going to get us very far, but having enjoyed a bye in the first round, we had some luck in the second when Trevor Hirst damaged his trans on the startline when his nitrous activated with the transbrake, and we had got to the semi's. Our day ended there but the car didn't embarrass itself and still ran a couple of 8.60s with a totally mis-matched setup.

Immediately after the event I got another block, got it machined, got rods, pistons, some valves and got the original 500" engine rebuilt for the Fireworks meeting, where we were back in the sevens. I managed to re-use the crank, cam and most of the engine parts, and felt incredibly lucky that I managed to turn off the free-revving engine the split second before it grenaded.

Looking back at my old race notes it has reminded me how much work was done between every race, and also how much energy I must have had then! Good days though.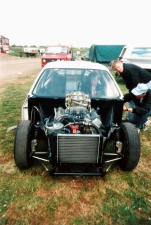 Thanks also to drag racing historian and British Drag Racing Hall of Fame director Jerry Cookson for locating an article on Geof's Sierra Cosworth by Tony Beadle which was published in Street Machine August 1988, only a few months after its debut.

Built to replace the pink Sierra XR4i which crashed at Santa Pod Raceway in July 1986 and from which Geof was only able to salvage the engine and transmission, it was built between November 1986 and August 1987. Geof, funding the build himself, used TIG-welded chrome moly tubing with ideas having been obtained from US builders such as Don Ness and Gateway Race Cars of Illinois.

Although the Cosworth bodyshell was donated by Ford Geof made glass fibre copies of much of it with only the roof, side and rear three quarters being steel panels. This contributed to the light 2150lb weight.

The Mopar based engine displaced 500ci through a 426 Hemi crank stroked by 0.4 inches. Venolia pistons gave a 12:1 compression ratio, and other internals were state of the art such as the Crane cam which gave a 0.690 inch lift (a 0.8 inch lift one was also planned). Koffel cylinder heads were fed by 1150 Holley carburettors with MSD ignition. The headers and sump were made by Geof and oil circulation was through aircraft spec stainless steel hoses.

A Torqueflite gearbox was replaced by a Lenco unit in 1989 with a Hays clutch replacing the previous torque convertor. Power went to a Dana 60 rear axle with Strange Engineering half shafts.

Geof was able to break into the sevens with this naturally aspirated setup and win the 1989 Championship, however 1990 proved not to be as successful as we will see in Part 3.

Photos courtesy Jon Spoard (top) and Jerry Cookson (middle and bottom).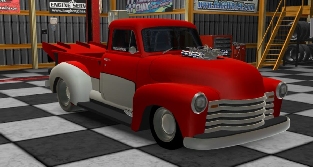 Mad Welshman wins.
16th February: Congratulations to Paul Evans, also known as the Flickr-posting Mad Welshman, for winning the 2nd Annual RRRC Supernationals, the third event in the Winter series of online drag racing organised by the Rip Rap Racers Club co-ordinator and honorary Eurodragster.com member Spencer Tramm.

It was Paul's first RRRC win. He drove a '53 Chevrolet pickup to defeat Mark Bishop in the final round, having beaten Luke Mugridge in the semi finals; Mark had defeated Jon Crawford in other semi. Watch out for details about the RRRC on Eurodragster.com or the series' Facebook page.

Engagement congratulations.
16th February: Big congratulations and very best wishes to our Kieran who has announced his engagement yesterday to Ellie Feltham.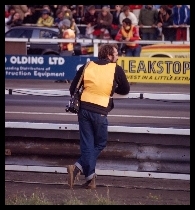 Mike Key.
15th February: We were greatly saddened to hear the news that Mike Key, photographer for Hot Rod and Custom Car magazines and hot rodder, passed away last night.

Mike worked at National Drag Racer and Hot Car in the mid 1970s. From then until the early 2000s he was a contributing photographer to Custom Car, Street Machine and several other magazines around the drag racing and hot rodding scene in the UK. He provided some outstanding cover photos for National Drag Racer, three of which we display below. He was also involved in the National Street Rod Association. As well as photographing dragsters, hot rods and customs, he spent much time building his Ford Model B called 'Honky Chateau,' which was featured in the June 1976 edition of Hot Car, being subject to a full road test by Assistant Editor Ian Penberthy.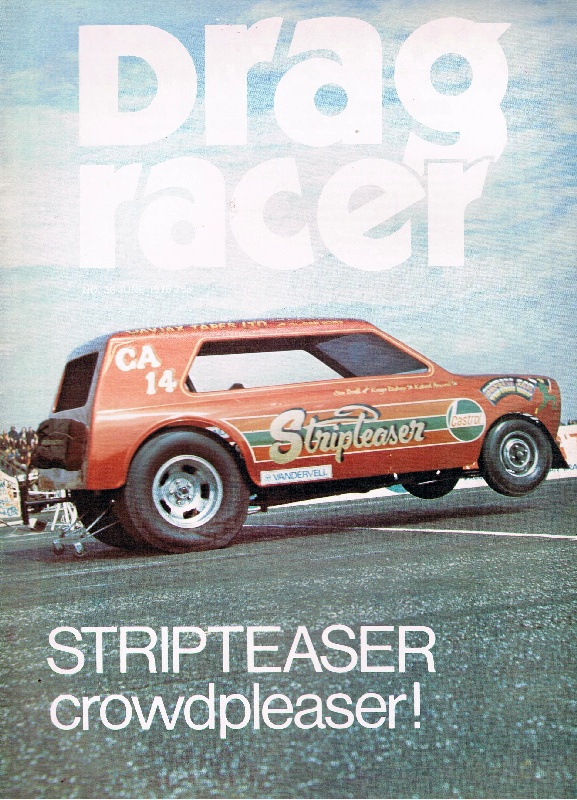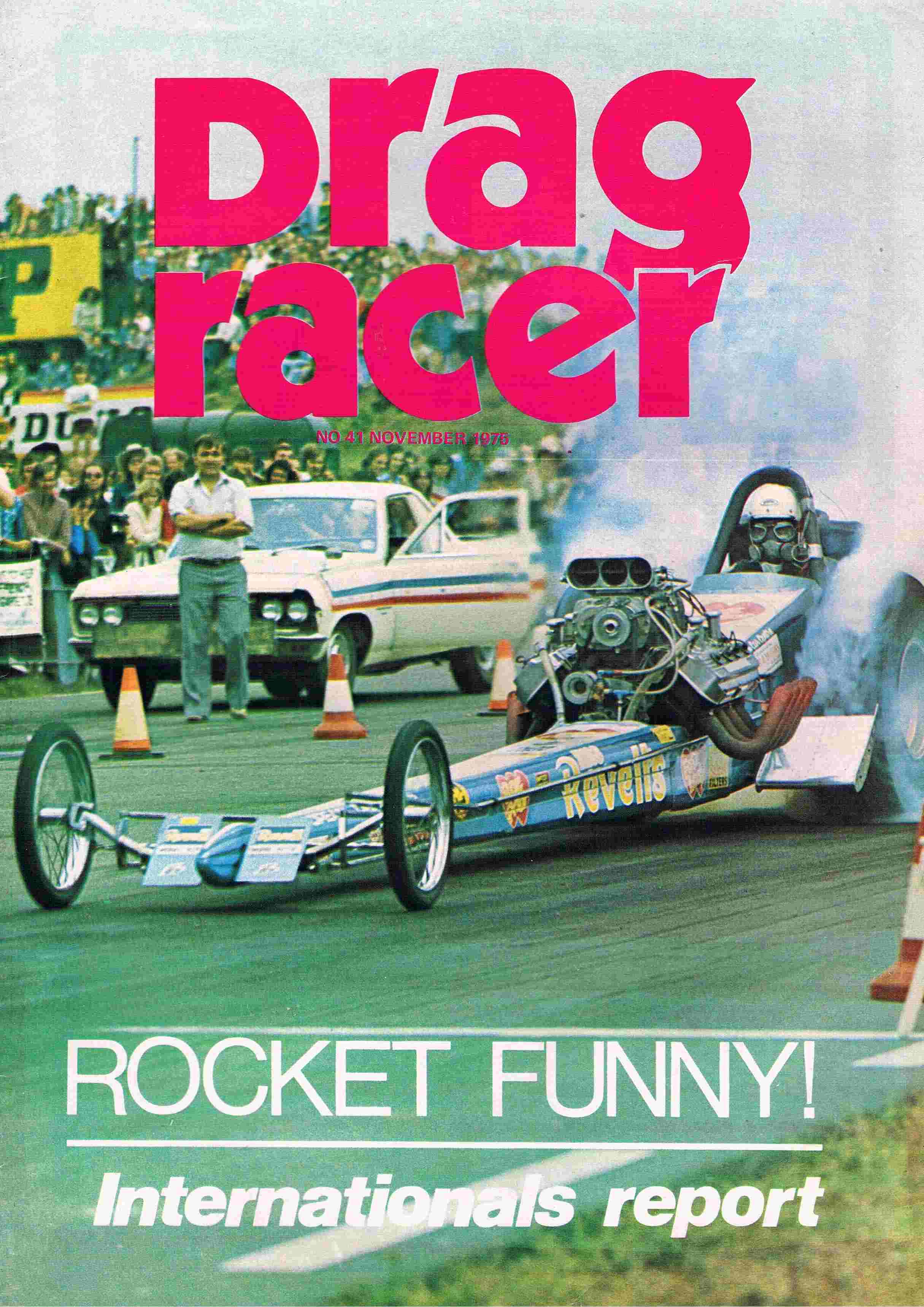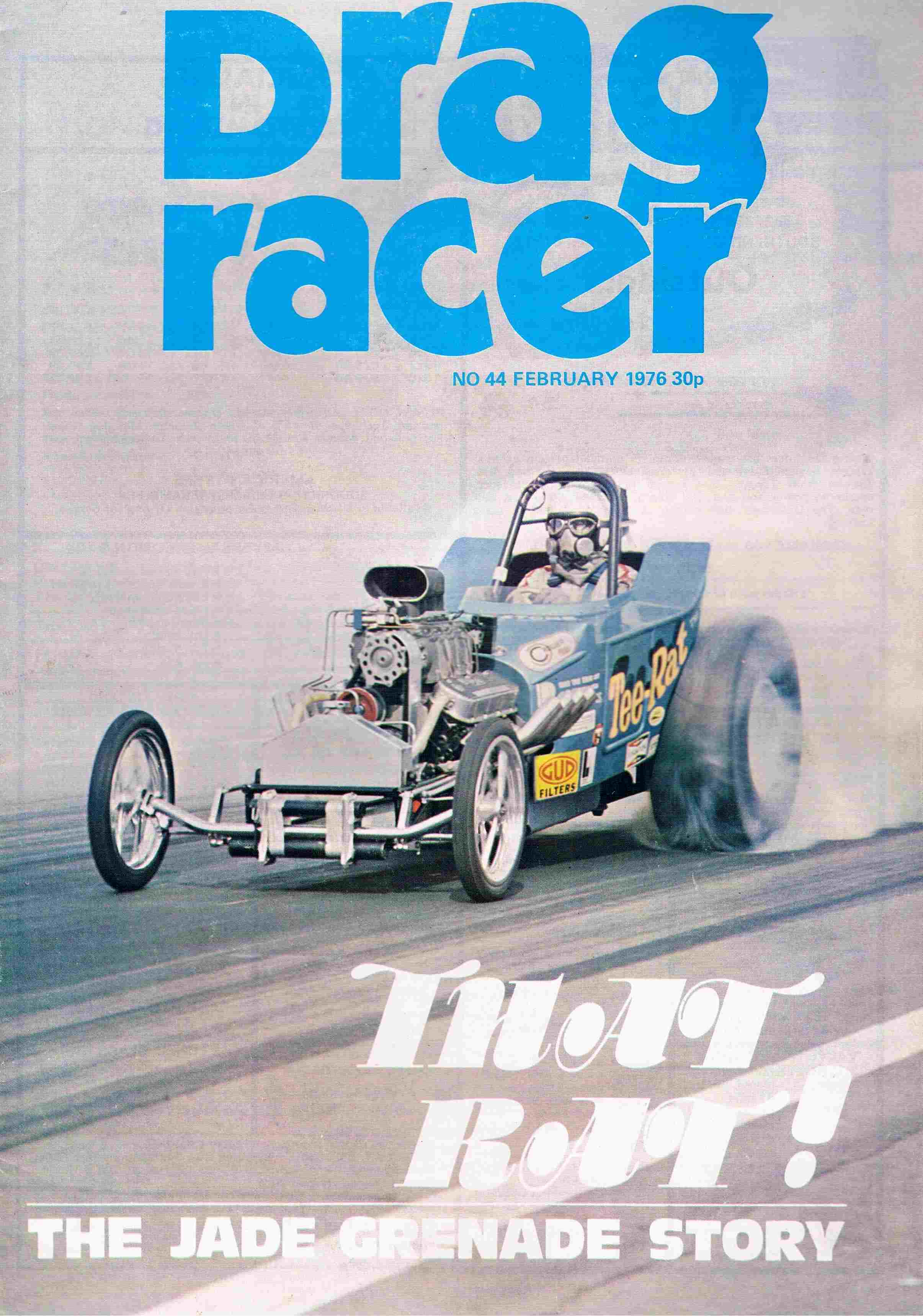 Amongst the books he authored or co-authored are Fins & the Fifties - The Cars, The Chrome, The Culture; Corvette: The All-American Sports Car (both with Tony Thacker); Street Action - Style and Power on Main Street USA (with David Jacobs and Andrew Morland) and Wild Lead Sleds.

Our thoughts and deepest condolences go to his wife June, the rest of his family and friends.

Picture of Mike at 1981 Santa Pod World Finals courtesy and © Bob Roberts.

Pioneers' stories - Derek Metcalf, part 2.
15th February: The latest update in our Pioneers of UK drag racing series, told in the original words of the racers, and accompanied by photos and images from their collections, covers the period 1964 to 1967 for Surrey dragster racer Derek Metcalf.

The story covers the 1964 Drag Fest event at Blackbushe on 4th October, when Derek's Wombat dragster made its debut, and goes to the car's final year of competition in 1967. You can see the second part of Derek's story by going to this link, or via the new index page for the pioneers' stories, which shows links to the UK drag racing history web sites that provide the wider story and context for the story of the sport. Eurodragster.com thanks racers for providing their stories, and John Hunt and drag racing historian Nick Pettitt for help with editing and proof reading the feature and making archive images available.

Acceleration Archive's tribute to Lawrie.
14th February: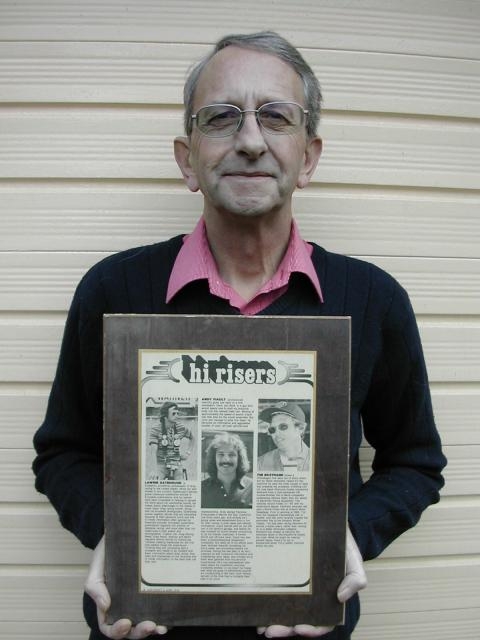 Many thanks to Alan Currans of the excellent Acceleration Archive site, which he tells us has been updated in tribute to Lawrie Gatehouse, with material from the Chaos AA/FA web site which Alan updated regularly until the car was retired at the National Finals in 2015:

Eurodragster.com readers will be aware of the sad passing of Lawrie Gatehouse last year. I had the pleasure of knowing Lawrie and working with him, initially by publishing a collection of his pictures and magazine articles on The Acceleration Archive. It seemed only natural when he decided to go racing with his double A Fuel Altered Chaos that I should create and maintain the team's website which I did between 2007 and 2015 when the car was retired. The website was taken off line not long afterwards and the files have resided on my computer ever since. I recently decided that it would be a fitting gesture to commemorate Lawrie's huge contribution to the sport for the site to be made available for viewing once again.

If you are interested in learning about this low six second machine and the people who made it all possible there is a link on the What's New page.

Swift snippets.
14th February: Hayley Fyfe asked us to join with her in wishing a very Happy Birthday to Rob and Pete Brown (Marra 1 and Marra 2) who turn 32 today. She added 'Another year in the fast lane. We will celebrate in true Marra style when we can! Best wishes and Love from all of the Rebel team'. Have a great day Rob and Pete.

Drag racing historian Nick Pettitt has uploaded two more drag racing videos from his Time Travel series to his Youtube channel. Both use Kenny and Bev Coleman's betamax video. Time Travel 64 is from Long Marston Raceway in 1989 and in 1990 when it was renamed Avon Park, including Fuel Altered and Pro Mod footage. Time Travel 65 is from York Raceway in 1989, including Top Alcohol and Super Gas highlights.

Steve Foreman uncovered a posting of an important Castrol colour film of the 1964 Drag Fest at Blackbushe to Youtube. Not only is the film quality excellent, complete with period commentary, but there is footage of Sidney Allard interviewing "TV" Tommy Ivo between his Top Fuel Dragster passes. Action includes Ivo vs Garlits, "Ohio" George Montgomery, K.S. Pittman, Tony Nancy, Ronnie Sox and the Allard Chrysler dragster defeating Dante Duce in 'Moonbeam' sports car.

Feature: The history of UK Pro Modified - part 2.
13th February: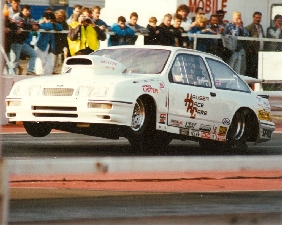 Our latest historical feature, supported by Lucas Oil Products focuses on the Pro Modified class in 1988 and 1989, following our previous feature. We describe the start of the Pro Modified Racers Association, commencement of an official championship, and races at both Santa Pod Raceway and Long Marston/Avon Park Raceway. The feature includes over 115 photographs of the cars, stories of races and results for those years, together with car details from the period.

Thanks go to drag racing historian and British Drag Racing Hall of Fame director Jerry Cookson and PMRA founder Mick Harle for for supplying archive material and memories back in the day. You can see our feature by clicking here or by clicking the features, interviews, tributes link from the main menu.

Photo © Martin Bradley.

Request for 1989 APR programme.
13th February: Jerry Cookson has been in touch, looking for a copy or scans of a programme for the 1989 Euro Serie/ACU Championship round held at Avon Park Raceway on 24th-25th June. Jerry says 'I have a lot of my own photos, which will get published soon, and reports from the events but no programmes. Even any advertising flyers or magazine ads would be handy to have. In fact, I have very little in the way of Avon Park programmes from 1989 and would be interested in copies from the ACU Finals on 1st-2nd September too, as all I have is a copy of the video produced by DD Productions. If anyone can help please get in touch at quartermilenewsmakers@yahoo.co.uk or by Facebook.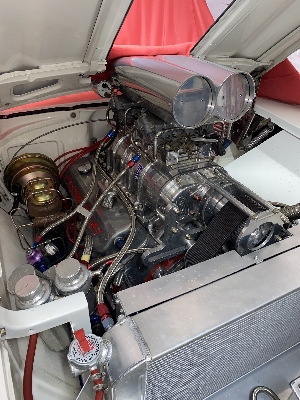 Urgent BBC sale required.
13th February: Reader Dean Scicluna has a 540 ci Big Block Chevy engine for sale which he needs to have off his hands in four weeks' time. He says "It's got a 8-71 BDS Supercharger and outputs 800+hp. Condition is hardly used, in absolutely mint condition, done hardly any miles.

Detailed specs are shown on our Jeff Bull Race Engines-sponsored Swap Meet and we have posted a gallery of photos supplied by Dean. The price of £8999 is negotiable and you can contact Dean on chevydean@gmail.com.

ATA Carnet requirements.
12th February: Following on for SPRC's travel advice in our news update on 8th January, thanks to Ian King who has prepared a document explaining the ATA Carnet requirements, costs and how to apply.

A Carnet de Passages en Douane (CPD) is basically a government document you complete that has vehicle and goods details of what you are taking out of the country outlined within it; a voucher is then stamped when leaving the UK and then stamped again when returning to the UK. Ian says 'This applies to any person wishing to participate in shows, exhibitions and races of all disciplines. It will be useful for the drag racing community to see it as it applies equally to those racers who wish to travel outside the UK with their race vehicles.

Ian's document, which corresponds with advice issued by Motorsport UK, can be found by clicking here.

Benito to Pro Mod.
12th February: UK racer Benito Chiarella plans to enter the Motorsport UK Pro Modified wars with a car bought from the late Swedish Pro Mod racer Johan Westberg's family.

Benito said: 'It's been a lifelong dream of mine to race Pro Mod, so last September my wife Aimee, son Enzo and I did a 3,000 mile round trip to Sweden to collect the car. Thanks to Michael Westberg, Ingela Bjälvik Westberg and their lovely family for their help. We hope Johan, who was taken from us far too young, approves and we will not let you down. We plan to run the car with a turbocharged Hemi engine and will be building the engine from Alan Johnson parts. We are also building our own intake and exhaust system. The transmission will be Bruno Lenco'.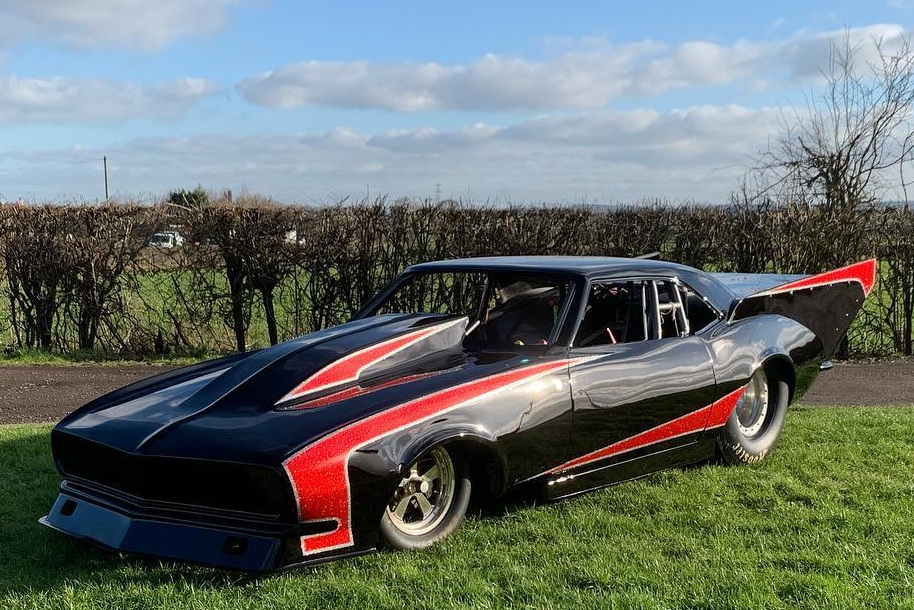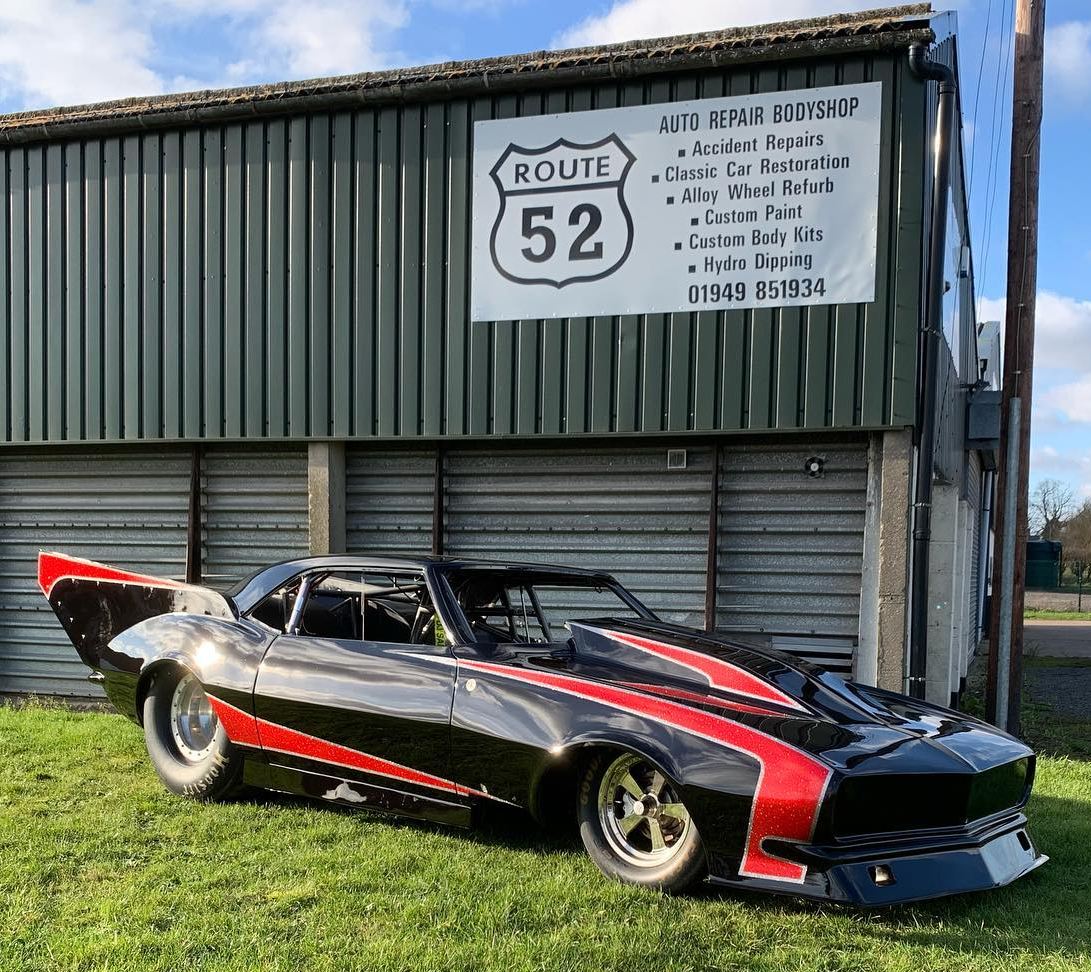 The car, originally built in the US by Ty Baumgartner, has work on the chassis and body and been at Route 52 Auto Repair Bodyshop for paint with pictures released in the last few days. 'We're 90 percent there with the bodywork now thanks to Route 52 for pulling night shifts painting the Camaro'. Other work will be done by Benito's company Straight To The Point Racing, based in Whatton, Notts, which supplies Precision Turbos, ECUs as well as undertaking race car and engine builds.

Benito hopes to give the car a debut at Santa Pod Raceway this year, following which licensing runs will take place; a test run in Dad George Chiarella's Straight To The Point '37 Ford Coupe produced a 8.35/153 ET slip last year, and his own Mustang has a best of 9.00/157.

Post & Dros MSD and Racepak advice.
12th February:

Thanks to Remco Scheelings for providing an update of interest to anyone wanting advice on MSD and Racepak products from Dick Koster:

Despite Dick starting a new job on January 1st 2021, he will still remain connected to Post & Dros Performance Parts and he will still be able to support European racers and teams in their need for MSD and Racepak systems and parts.

Post & Dros Performance Parts, based in Dronten, The Netherlands, are the European distributor for many leading engine parts and motorsport brands. As a Post & Dros employee, Dick Koster was responsible for the MSD and Racepak brands in the shop and in recent years he attended almost all FIA European Championship races and tractor pulling events for trackside support service to teams, crew chiefs and drivers.

Dick will remain connected to Post & Dros Performance Parts for MSD and Racepak products, parts and support. He will concentrate on MSD and Racepak work one day a week, and some evenings. He will also attend most of the FIA European Championship races and some tractor pulling events to continue his highly appreciated trackside support. It will no longer be possible to use the 'old' Facebook messenger account or mobile phone and WhatsApp number. So for all quotations, orders, questions and queries, please use the email address below. Please be aware that it will no longer be possible for him to reply immediately, so please allow plenty of time with your orders or questions for support.

Dick's new contact details are dickkoster@post-en-dros.nl, and on mobile phone and WhatsApp number +31 618 574 836.

SPRC team information request.
10th February: SPRC race official Yvonne Tramm has been in touch with a request for team information to assist in race organisation and points scoring.

She said "I am putting together a list of all teams intending to field more than one driver or rider for the same vehicle for 2021. I need name of your team, your race number, plus the names of the drivers or riders. I would be grateful if teams can e-mail me on yvonnetramm235@gmail.com with your details. Many thanks for your response".

Pioneer stories.
8th February: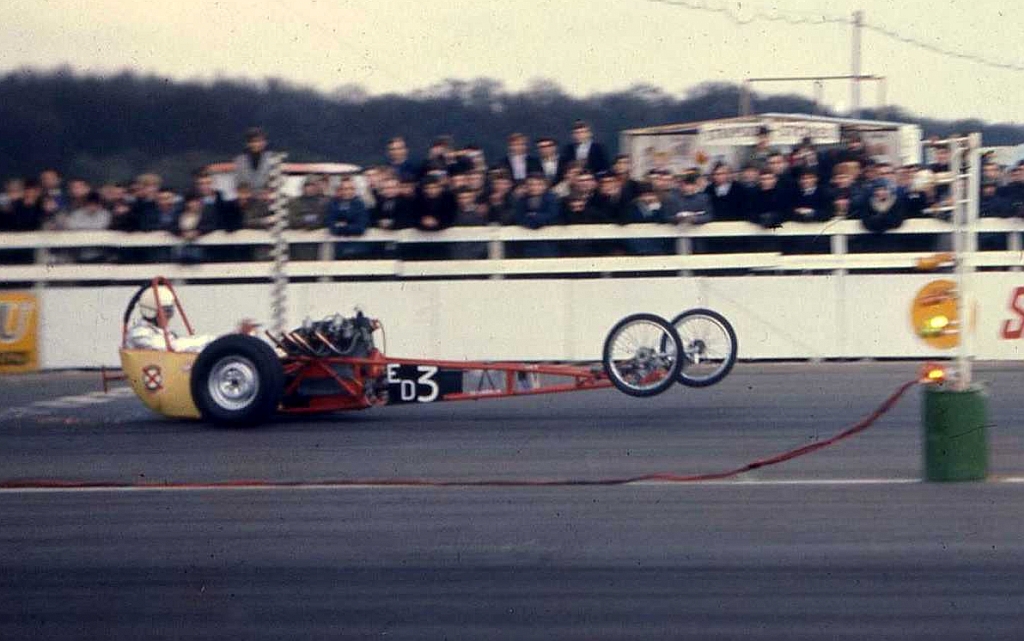 Today we start a new weekly series of stories of Pioneers of UK drag racing.

Former drag racer and event organiser John Hunt has contacted the pioneers, acquired their stories and transcribed them for Eurodragster.com to publish with original photos. The inspiration for people to become involved was the visits of U.S. racers Dante Duce and Mickey Thompson in 1963 and the Drag Fests in 1964 and 1965. The accounts are exclusive to Eurodragster.com, told in the original words of the racers, and have been accompanied by photos and images from their collections. Eurodragster.com thanks racers for providing their stories, and John Hunt and drag racing historian Nick Pettitt for help with editing and proof reading the feature and making archive images available.

Our first storyteller is Surrey dragster racer Derek Metcalf who, with wife Pam, discovered drag racing at a visit to the Brighton Speed Trials in 1963 where he saw the dragsters of Dean Moon and Mickey Thompson. He soon starting to build his own car based on his own chassis design, working out all the engineering problems himself, assisted closely by Pam. The car was ready by the final 1964 Drag Fest event at Blackbushe on 4th October. You can see the first part of Derek's story by going to this link, or via the new index page for the pioneers' stories, which shows links to the UK drag racing history web sites that provide the wider story and context for the story of the sport.

Swift snippets.
8th February: Drag racing historian Nick Pettitt has uploaded five more drag racing videos from his Time Travel series to his Youtube site. All use Kenny and Bev Coleman's betamax video from events in the 1980s and 1990: Co-incidentally after Nigel Taylor's wishes to Kelvin "Flathead" Helsdown yesterday, Nigel's son Kenzie has asked us to relay 51st birthday wishes to his Dad: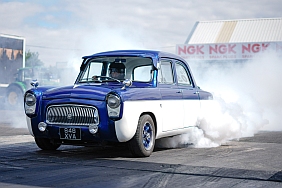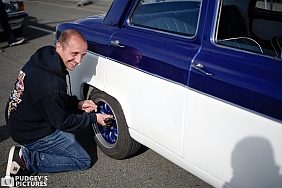 "I want to wish my Dad, Nigel, a very Happy Birthday! He's one of the most supportive people in the drag racing scene and has helped so many people with race cars over the years and also helps many people sell their cars each month with his Facebook group "unusual car sales uk". I hope you'll all join me in wishing him a fantastic day. We can't wait to see you all at the track again!"

Photos courtesy of Callum Pudge

Nitro bike opportunity.
7th February: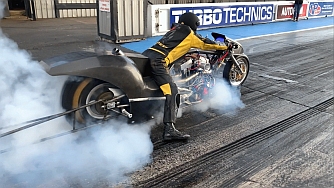 Thanks to Nick Saunders for passing on an appeal for crew members for a nitro twin motorcycle team:

Shawn Rodman's new nitro twin built by Al Smith has been ready to debut for the past year or so, and with the hope of track time and racing resuming in the near future, Shawn is looking for a new crew member or members. Previous experience with injected nitro systems would be of benefit but isn't essential. As with any team position, commitment and willingness to turn up and muck in are the key traits. Please can interested parties contact Shawn at shamus2600@gmail.com.

Flamholc trying out no-prep.
7th February: Ex-pat Swedish Pro Mod racer Adam Flamholc's 2021 season has already got under way thanks to being based in Cape Coral, Florida with races being held during the winter months. At at Orlando Speed World Dragway at the World Street Nationals last November, Adam had brought out his trusty '63 Corvette which had ran a 5.82 with a Whipple supercharger. At Orlando he qualified 8th and went to the second round where he was defeated by Todd Tutterow in a close race.

Heading up to Bradenton Motorsports Park on 26th January for testing before the US Street Nationals, alongside around 50 Pro Mod cars, Adam ran 3.652/205.57 on the eighth mile track. Then in qualifying he carded a 3.670/203.89, but suffered neck pain to the extent that he withdrew from the event as a driver, handing the driving over to Steve Wiley. With only one qualifying session left, Steve ran 6.481 which was short of the 3.967 to make the 32 car field. The team then headed out for Adam to get some medical advice, the event also having been marred by the accidental death of track marshal Dan Stone in a top end incident.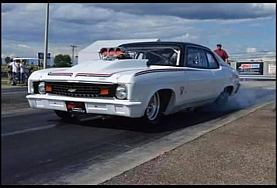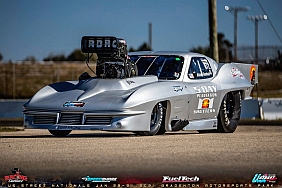 Over the next couple of weeks Adam will be putting the finishing touches to a no-prep racing Nova that has been at Chris Duncan Racecars in Illinois for chassis upgrades before a screw blower engine built by Adam is to be installed. Testing will commence mid-February. Two young crewmembers with Adam, William Serler and Thomas Monsenego have created a Youtube channel, to be updated regularly with what's going on here at Adam's shop, at the racetracks, and on his travels in US, Europe and Russia.

Corvette photo by Racing Outlawz.

Flathead birthday.
7th February: Nigel Taylor from the Unusual Car Sales UK Facebook group has written with a birthday wish including a new car build snippet:

"Can I wish a very Happy Birthday to my good mate Kelvin "Flathead" Helsdown who will be 56 today. Kelvin is well known for his flathead car collection, VHRA racing, hill climbs and drag racing as well as having a few nice cars, and will be debuting his gorgeous 50's Oldsmobile this year being built at Valley Gas Speedshop With a 9.5 litre Procharged motor (originally in the Boston Brawler before the Procharger was added).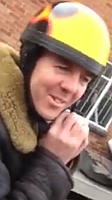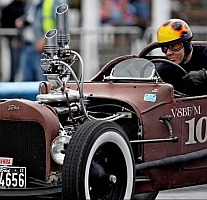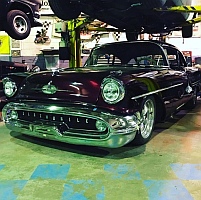 "Thanks Kelvin for getting me back from the pub in all them drunken times, for the friendship and laughs over the years and support you have given me and the Detroit Spinner racing team when needed". Have a great day Kelvin from all of us at Eurodragster.com.

Oxford Builder resurrection.
6th February: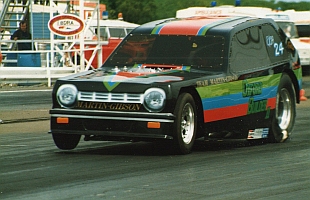 Thanks to UK Tech Crew member Clive McCready for an update on a restoration of a well known Jaguar engined altered from the 1980s and early 90s:

Many people will know Geoff Martin as the founder and former head of the UK Tech Crew and the very first FIA Technical Delegate for drag racing in Europe. Many older hands will remember Geoff also campaigned the 9 second Oxford Builder II, a Jaguar powered flip-up Reliant Kitten bodied Altered, back in the 80's and 90's where he competed alongside other legendary Jaguar powered cars such as Stripteaser and Paranoia to name but two.

Geoff retired from racing at the end of 1992 having competed in around 125 meetings and winning numerous trophies, including the Drag Racing News Best Prepared Car. At the time the car was fitted with a nitrous equipped 300bhp engine which was sold separately from the rest of the car.

We're not entirely sure where the original engine ended up but the car passed through several hands and was the subject of many rumours over the years before it was tracked down in Leeds by UK Tech Crew member Dave Cumbridge in early 2017 and a plan was hatched to acquire the car and restore it back to somewhere near its former glory.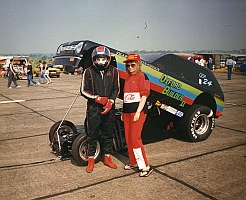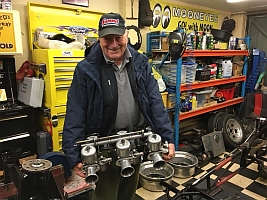 Dave and Clive McCready (another member of the UK Tech Crew and author of this piece) bought the car as a joint venture in April 2017 and have been chipping away at it ever since. At some point it had been fitted with a water cooled Ford V8 running on petrol, along with oversize slicks which fouled the body, it'd also been sitting outside for a while and was in a very sorry state overall, but reasonably complete - luckily it was still fitted with the original Compomotive wheels and Mark Williams rear axle.

Jaguar straight six engines are nowhere near as plentiful as they were back in the day, but we tracked one down, rebuilt it and it's now installed in the car exactly as the original, albeit now with an auto 'box rather than the original Clutchflite transmission setup as the car will never race in competition again (the chassis is too old and although we could replace the chassis with a new one, it wouldn't be the same car of course), we also won't be running nitrous for the same reason but it will run on methanol just like the original.

Geoff has been involved in the resurrection as much as possible including sourcing and rebuilding a head and set of carbs to run on methanol, he's also had a sit in the car (yes, he still fits - just) and a reminisce about the good ol' days. He may not have seen the car for decades until recently, but he remembers every detail and has been an invaluable source of information over the past couple of years.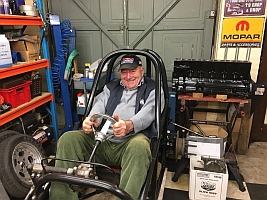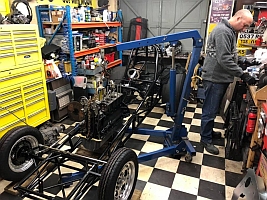 The aim is to have the car ready for Dragstalgia this year (pandemic permitting) but we are short of a few parts. We've picked up a few generous sponsors including Nick Curtis of AJS Bodyworks in Bournemouth who's very kindly offered to paint the body in the original colour scheme, along with Tim Read (another member of the UK Tech Crew and one of the original sponsors back in the day) and Steve Young who ran Autocat way back when. Plus help and advice from others including Mark Norton who succeeded Geoff as Head of the UK Tech Crew.

So here comes the begging bit: we are seeking help from the drag racing community with a few other items - if anyone has an out of date transmission blanket and/or parachute they'd consider donating (either for free or for a small fee) we'd be very grateful, along with any other surplus Jaguar straight six components and maybe a Methanol fuel pump. Remember the car won't be running in competition so we don't necessarily need in-tag items, we just want to get the car safely back on the track where it belongs for Geoff and his wife (and glamorous former back-up girl) Pauline.

You can contact Dave and Clive via the Facebook page entitled The Oxford Builder Resurrection - any help getting this iconic car back on track will be most appreciated. Thank you one and all.

Skye moving up to VWDRC.
6th February: Sharron, Jerry and Scott Collier have been in touch to wish daughter and sister Skye Collier a very Happy Birthday today (6th February).

"Skye will be 16, she's been working so hard with online learning, obviously can't see her friends or go anywhere for her birthday so we are trying to make it a bit special regardless. She is out of juniors now and will be racing in VWDRC this season, she can't wait". Sharron adds how proud the family are of Skye and they love her very much. Have a great day Skye from all of us at Eurodragster.com.

A trophy for Big Keith.
1st February: Many thanks to No Prep series organiser Paul Marston for an update on 2021 plans:

The 2021 No Prep season kicks off at Melbourne Raceway with No Prep Nationals 4 19th-20th June 2021. No Prep is 1/8th Mile, heads up, doorslammer racing, a non prepped surface, featuring two classes, Big Tyre and Small Tyre (10 ½ inch Tread width max). Other than safety, there are no rules, run what ya brung and hope you brung enough! Big cash prize money is at stake with a lot of prestige for the winners.

As reported last week on Eurodragster.com, we lost one of our own Keith Alder-Barber, co-owner of Big Tyre car the Heavy Chevy with Dave Caruso. Known to all of us, Keith was a lovely man. Not a finer human being and all out racer you could ever wish to meet. Things are still very raw and we remain in shock at the loss of this friend to so many. We wanted to do something to remember Keith by, so, with permission from the Alder-Barber family, Dave Caruso has stepped up and will be having a special trophy commissioned. A perpetual trophy will be presented at No Prep Nationals 4, known as the Keith Alder-Barber Memorial Trophy. When Dave came to us with this idea, it seemed the perfect way to honour Keith and we look forward to seeing who will be the first name engraved on it.

The entry is open and there has been a steady stream of who's who in the UK No Prep drag racing world entering. Our FB page No Prep Drag Racing has been posting pictures on entries as they come in.

Last week we had our first international entry, we have been asked not to disclose the car until it has arrived safely from Las Vegas but its scheduled be here in time for No Prep Nats 4. Its a paid up entry and the car will be driven by none other than Nigel Hull, who is a pretty big name is certain circles. If you know him, you should have a pretty good idea what it will be based on.

As you read this there are still entries available, so don't delay and enter today, you can secure your spot with a deposit, or pay the full amount. Simply email pmdragracing@gmail.com or call/text Paul on 07831 650230 or message us on our No Prep Drag Racing Facebook Page. Like or follow the page to be kept up to date on the teams entered.

Once again our thanks to Trevor Duckworth and the Straightliners organisation for hosting us. All the race teams entered and the fans who support us, lastly but by no means least Eurodragster.com for keeping everyone informed during these difficult times we find ourselves in (Ed: Thanks and stay safe!).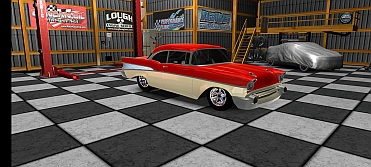 Gooding wins in RRRC.
1st February: Congratulations to Jack Gooding for winning the 2nd Annual RRRC Springnationals, the second event in the Winter series of online drag racing organised by the Rip Rap Racers Club co-ordinator and honorary Eurodragster.com member Spencer Tramm.

It was Jack's first RRRC win. He drove a '57 Chevy two-door hard top to defeat our own Kieran in the final round, having beaten Eurodragster.com sponsor Peter Walters in Peter's second straight semi final; Kieran had defeated Cal Ellswood in other semi. Watch out for details about the RRRC on Eurodragster.com or the series' Facebook page.

Event coverage plans.
1st February: Eurodragsterholics and other followers will be pleased to see our John Woolfe Racing-sponsored coverage plans for 2021 which have been posted on our event coverage page. Our plans include all UK National SPRC Championship rounds, nostalgia events, lifestyle events and five FIA rounds. We also plan to cover the No Prep Nationals and, if our energy and budget allows, the North vs South Shootout at Melbourne Raceway.

As before, event coverage plans are subject to change based on Covid restrictions at the time, travel requirements moving in our favour (not being a fan of staying in an airport hotel for two weeks and consequently missing later events) and unforseen technical limitations. See you at the track!


Earlier news