Nostalgia Drags bulletin.
31st July: Thanks to Jake Wray of Santa Pod Raceway for sending the following bulletin regarding this weekend's Nostalgia Drags:

I hope everyone is well and ready for the Nostalgia Drags. Whether you are racing, crewing or spectating, let's make the first nostalgia event of 2020 one to remember!

The gates will open to all at 5pm on Friday and close at midnight. They will then re-open at 8am on Saturday morning. Site will not open before 5pm on Friday so please DO NOT arrive at the venue earlier.

The Signing On office will be open from 8am Saturday morning to collect your wristband for the weekend if you are in a race class. RWYB racers will have to attend signing on at the beginning of each relevant day that they are booked for. Don't forget that although the signing on procedure has changed, racers and RWYB'ers will still need to produce their driving or race licence at the sign on office.

The track will be open from 9:30am until 5pm on Saturday. Sunday hours will be 9:30am until 5pm. There will be scheduled runs for each race class including RWYB. Please refer to the timetable in the programme for times. The racers' pits will be sectioned for each race class. Please pit with social distancing in mind. Ventilation is a key message and therefore awnings, if used, should remain as open as possible as often as possible, for example the roof section could be used but the side and front should be open with the exception of the side that may border on to another team's pit area. If this is not possible, social distancing and PPE should be used. Also, physical barriers should be used between each pit bay to retain distancing. Barriers could be motorhomes, trailers or even support vehicles that will remain in place for the whole weekend.


Mike Collins' tribute to Stu.
30th July: Many thanks to Mike Collins for providing an exclusive mix for Eurodragster.com readers, courtesy Street Machine, of his six page tribute to the late Stu Bradbury, which you can see by clicking on any of the images below (pdf format, 8MB):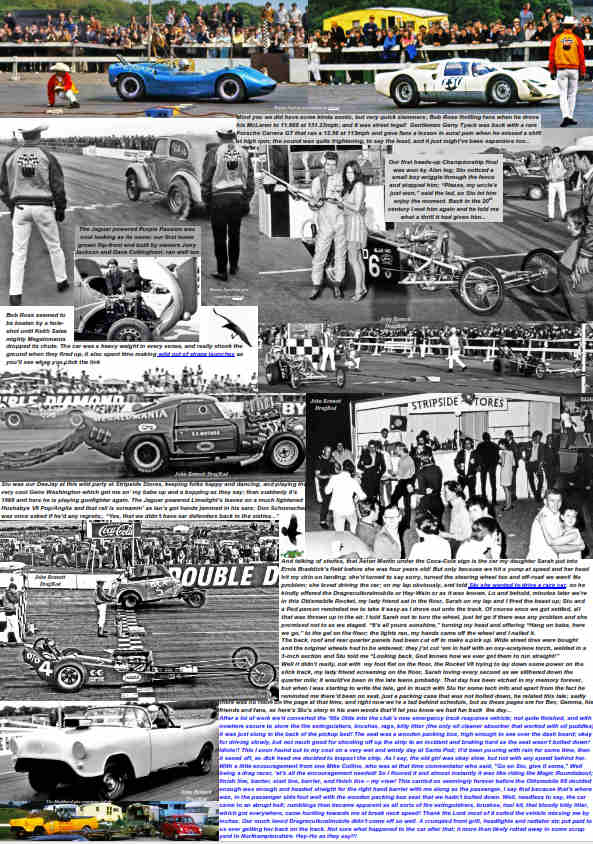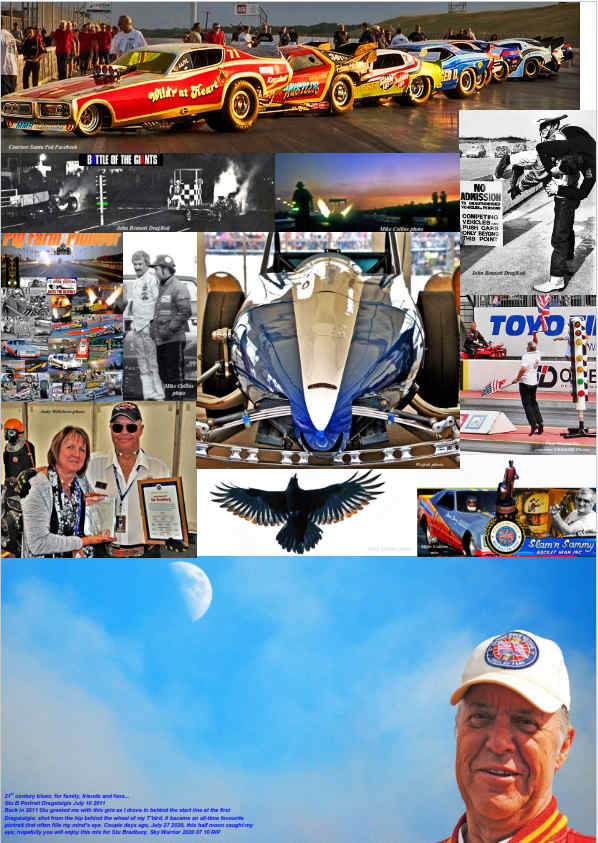 Mike says: 'Sadly, Stu, a warm and loveable dude, left us on the 10th of July; it's been moving to read the tributes posted on Eurodragster. Maybe I've led a sheltered life, but can't think of anyone ever saying a bad word about him. My thoughts and prayers are with Bev and Genna, his many friends and thousands of fans. We had a rapport from the start, and I truly enjoyed every minute spent in his company during the past half-century or so; God speed my friend'.

Outlaw Anglia preview.
30th July: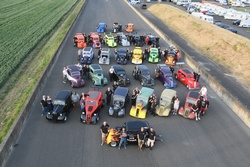 Thanks to Jemma Bromley for a preview of Outlaw Anglia at this weekend's Nostalgia Drags at Santa Pod Raceway: The Outlaw Anglias are back and it was such fantastic news when we heard the year was not a write off and found out Santa Pod Raceway was putting on the Nostalgia Drags on the 1st and 2nd of August. This was music to our ears and not only that, we were told that we were getting at least three events to run in this year with the Hot Rod Drags being one of them and the other is still to be confirmed. The fact that spectators are now being allowed in as well will make such a difference to the atmosphere of Santa Pod.

With the news only coming to us recently, it did catch some of us on the hop thinking the year was done and some major modifications being started has stopped some of the more regular OA teams from coming out to play, however as always we will make sure we put on a show for the spectators and anyone interested in the Outlaw Anglias.

At the moment we have a confirmed class of 16 cars which includes a few surprises for the forthcoming event, with a new member Ben Kennedy coming out to play with us for the first time after getting it ready to run last year then having an unfortunate accident meaning it had to go to Jedd Guy for some fixing before it was ready to finally get on track with OA! Phil 'Ginner' Middleton is making a star appearance after being missing from last year's fun, also the great news that Dave Pearce is coming out with his car which many of us have owned and loved over the years, great to see it back in his capable hands, he ran a 9.71@142 in 1991 and he's now back at it 29 years later, he's got OA in the blood!

The Flyin' squad will be in full attendance with 3 cars and a lot of new upgrades to test out and see if they all work, Spencer Tidswell will be out showing off his latest Ford Anglia (knew he couldn't stay away, but great to have him back as well).

Gary Bird is entered with Lucky Penny as well as Gary's son Shane Bird in attendance, Gary's youngest son Aaron is also making great progress in his building of another Outlaw Anglia, watch this space as its coming soon.

Garry Hill will be out with Hoppin Poppin, supported by Kelly Mobbs and although Danny Wilson isn't out this year I'm sure he won't be far from Garry to help him out.

Ted Booth who usually runs in both OA and Gasser Circus has had to make the hard decision as he can only run in one class this weekend, so we're really glad he has chosen to run with us! Mick Taylor is chasing his tail but promises me he will be there as he is presently putting a rocket up Rob Chilton's backside to make sure lol.

Peter Jones is chomping at the bit with a big engine upgrade and a dyno sheet that he's keeping to himself, so that means were going to see great improvements. Ronnie Mercer will be back out with Annie and we're sure his car hasn't sat still during the lockdown! Rob Nixon will be out looking to better the 9.98 he managed to get out of OA48 back at last years Hot Rod Drags, Phil Drewitt is gutted he can't attend due to a broken foot, get well soon Phil!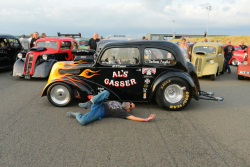 The icing on the cake, however, or certainly it is for us, as I'm sure you will all agree, is the Professor Al O'Connor is coming out to play "with a little help from our friends" and if Ginner has anything to do with it, the socially distanced banter will be in full flow.

There's not going to be an actual Outlaw Anglia Championship this year so we can all just have a laugh with no pressure but we will make sure the show goes on and we will be having a bit of fun with the class by running our own Most Consistent ET trophy calculated as a percentage over the 4 most consistent runs!

The Outlaw Anglia class wish everyone the very best during these strange times and please look after everyone around you, we will of course align ourselves with the required COVID 19 regulations and special measures that will need to be adhered to at Santa Pod Raceway and we hope you can all do the same, see you all at the track.

VP Signs with MaxG Apparel.
30th July: VP Racing Fuels, Inc., a global leader in performance fuels, lubricants, and additives, today announced the signing of MAXG Apparel to produce the brand's very popular racer-fan merchandise line in England, for distribution in the UK and across the continent.

"There has long been a demand for VP merchandise across the Atlantic," said Eric Bishop, VP's International Sales Manager. "This deal means that an ever-expanding range of VP-branded goods can be supplied and sold at good prices, with high quality and low lead times. We are grateful to MAXG Apparel for their investment of time and resources to make this happen."

From July, VP distributors, dealers, retailers, and end-users will be able to buy a range of official VP merchandise and have orders fulfilled within days. Products include eye-catching VP Mad Scientist® t-shirts, VP jackets, hoodies, shirts, caps, and drinkware, all produced to VP's high-quality standards.

"MAXG Apparel are delighted to be working with VP Racing Fuels on this exciting opportunity to bring VP branded apparel to Europe," added MAXG owner Mark Gardner. "Just like their fuels, the VP apparel will be made with the same passion and high-quality materials using the very latest technology and produced in the UK. We have a special launch offer of free postage on any order and can't wait to get started!"

To review and order from the extensive line of merchandise now available in Europe visit www.maxgapparel.com and take advantage of the free shipping offer during the special launch. Just enter the code "FREESHIP100" at checkout.

Ida sets more marks.
29th July: Super Street Bike racer Ida Zetterström, from the Åland Islands of Finland, became the first female Finn, and first European female, into the sixes riding this class when on Sunday she ran 6.985/205mph at the LSK Business Park Open at Kauhava Airport. She said 'A massive thank you to my team and our partners for making it possible, together we did it'. With that performance it is no surprise that Ida won the event, which had non-championship status with the cancellation of EDRS Pro Motorcycle Championship for 2020.

The Finnish fan favourite Ida had planned to race the FIM Championship this year but Covid-19 put paid to that. Nevertheless, running a six was one of her stated objectives for 2020 and she achieved that in her first competitive 2020 outing on her turbo Suzuki Hayabusa. In 2019 she had became the first female to win an EDRS Pro race and to become an EDRS Pro Champion.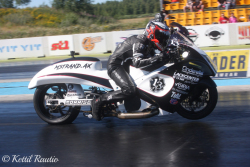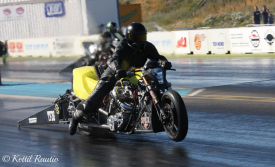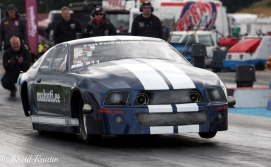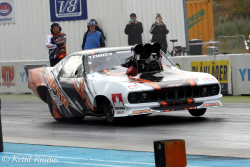 Pictured (clockwise): Ida Zetterström, Vesa Lipponen, Jaakko Lauhasmaa (Top Doorslammer), Andres Arnover. Pictures © Kettil Rautio.

There was some nitro bike action including Top Fuel Bike rider Mikko Rajaniemi on the former Sverre Dahl/Norbert Kutzera/Kai Selkamaa Puma Yamaha and Samu Kemppainen his V60 engined Super Twin. The performance star was Vesa Lipponen, riding with Jaska Salakari doing the tuning. Vesa ran a best of 5.921/217.75mph on the Saturday. Video of this run is at this link.

Also five Top Doorslammers were in attendance, winner Andres Arnover (from Estonia), Jaakko Lauhasmaa, Jarmo Nyberg, Jeri Rantaniemi and newcomer to the class Tomi Stamblewski.

You can see Kettil Rautio's extensive photo galleries by clicking on the respective links for Friday, Saturday and Sunday.

September at Santa Pod Raceway.
29th July: CEO of Santa Pod Raceway Keith Bartlett has announced further events for the month of September and plans for the traditional season end event in October.

As we made clear in our previous announcements, all events will of be held in keeping with all the current guidelines and restrictions around the COVID-19 virus. There have been changes and updates including the lifting of some restrictions since our last statement. From the middle of July, we have been able to invite spectator attendance along with camping.

Turning to the month of September the following events will be taking place:

The European Finals is to be cancelled in its current format (as there will now be no official FIA or FIM European Drag Racing Championship for 2020). We have therefore decided to replace this with our own event titled "NOT the European Finals"! This will be held on the same date (11th/12th/13th September). The event will still feature Nitro-burning Top Fuel Dragsters, Nitro Funny Cars, Nostalgia Funny Cars, Pro Modified cars from the UK and Europe plus the Jet cars and fields of all the other classes normally seen at the European Finals. The numbers of cars may be reduced from a normal European Finals but still for those of you who enjoy your fix of Nitro, Jet Cars and the awesome Pro Modified, there will be plenty of cars on show.

"NOT the European Finals" will form the middle event of the 3-race Drag Racing series for 2020 starting with the "STP Greenlight Nationals" (existing date of August 22nd/23rd) and the "STP National Finals" (existing date of Sept 26th/27th). We are delighted that we are now able to offer this series for both the racers and fans with a burst of Nitro action in 2020; and whilst it may "NOT" be the usual European Finals as such, it certainly WILL be a much missed dose of the top flight Nitro Drag Racing action that we all love, miss and deserve!

We can also confirm that the "Hot Rod Drags" event will still take place on Sept 18th/20th offering yet more exciting nostalgia drag racing action for those who had to forego our flagship "Dragstalgia" event this month.

So, with Santa Pod's recently announced "VW Breakout" weekend (Sept 4th-6th) replacing our partners' traditional "VW Action" weekend, September is looking really good and we hope you can continue to support us through the Autumn period. Your generous actions with regard to ticket credits and not refund requests has enabled us to get this far and see some light at the end of the tunnel.

As a point of note, we will be cancelling the Jap Show Finale on the 4th October as this is replaced with our Jap Show Lite on Sun August 16th. However, we are currently intending to go ahead with the 'Flame & Thunder' event at the end of October and Firework Frenzy the week after.

So, in closing, I am feeling a little more confident that Santa Pod may at last be getting back on track and can now offer events not only for our racers to compete at, but for our loyal fans and spectators to finally enjoy once again – safely.

New CEO for Speedgroup.
29th July: Speedgroup, Sweden's and Europe's largest series organizer for competitions in drag racing, has announced the appointment of a new CEO, Nils Lagerlöf. His stated goal is to make the world's fastest motorsport even more attractive to more people.

Nils said 'Our goal is for our competition series to include professional competitions with great entertainment value for the audience, as well as increased added value for competitors, event organizers and partners. We will work hard with our EDRS and EDRS PRO series and develop our collaboration with FIA'.

'Under the leadership of the former CEO, Åsa Kinnemar, Speedgroup has developed into a stable company with good values, skilled staff, and good partners. We are grateful that Åsa will continue to remain in the company. For several years, she has been an important part of Speedgroup's development and developed the concept on which the company works', said the company's chairperson Roger Lyrén.

'Speedgroup is now increasing the pace to make the sport even more attractive. The goal is to raise the level of our series even more through better marketing, increased collaboration with event organizers and partners, and thereby contribute to the development of the sport. Already today, the sport has good growth with juniors, but there is great potential to grow significantly'.

Nils, who will take over the CEO position during the summer, has a long professional experience in sales. Previous experience includes activities in the construction and real estate industry as a contractor, broker, and project manager. He has been a regular board member of Speedgroup since 2017 and is well acquainted with both the company's operations and the sport of drag racing in general.

Since the end of the 1990s, Nils competed in drag racing for motorcycles, as well as managed racing teams. He has in other words extensive experience in marketing as well as establishing and running business partnerships, something that is extremely important in motorsports.

Together with Speedgroup's board and task group, Nils has in recent years participated in the development of the company's concept.

Taking the step to be responsible for the daily operation of the company feels both challenging and exciting, says Nils, who since January 2020 has already worked part-time for Speedgroup within project management, focusing on sales and marketing.

'B Sting parked for 2020.
29th July: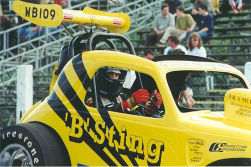 Wild Bunch altered 'B Sting team member Barry Bohannon says: 'Good luck from the 'B Sting boys and girls and stay safe, to all the 'bunchers running at the Nostalgia Drags this coming weekend, it looks like it's going to be a stellar meeting.

'Head Sting boy Paul Croston has asked me to let you all know why we're going to be parked for the rest of 2020. He had a chest infection some eight or so weeks ago and, when he went back to hospital with chest pains after his meds ran out, the doctor suspected he'd ruptured a cartilage in his chest due to the amount of coughing he'd been doing and sent him for a chest X ray. The staff spotted a mass on his lung and sent him for scans which confirmed their suspicions that he has lung cancer.

'Following a long, almost at times daily series of scans, blood tests and more scans and tests and more blood tests he was scheduled for surgery to remove the tumour, his consultant was confident about the procedure given that Paul has "the blood pressure and stamina of a man almost half his age" !! Fast forward to this past Wednesday and he was 'in the pairing lanes' waiting to go into surgery for an 09.30 start time. His surgical team removed part of his lung and a lymph gland and three hours and change later, he was back up on the ICU. Later that very day he was sat up in bed talking on the phone to his wife Lynne!

'The day after his op he was transferred to a regular surgical ward, much to the astonishment of the staff.

After six days in hospital he went home to the bungalow he and Lynne share in Rochdale yesterday and now begins the long trip back along the 'return road' to recovery. He's in good spirits and is looking forward to seeing you all on the Santa Pod TV YouTube broadcast this coming weekend from the Nostalgia Drags so he'll be with you all on every pass'.

We're sure that all readers will join us in wishing Paul a speedy recovery to full health.

Swift snippets.
29th July: In his latest instalment of his autobiographical blog, John Hunt reveals what occupied him during a break from drag racing, and how the charitable concept of Drag Racing Nuts, including figurine Norman, the Drag Racing Nut, came into being. You can read John's blog here or by clicking on Racer Blogs in the main menu.

We would like to wish a Happy Birthday to Swedish, and occasionally international, photojournalist for dragracingeurope.eu Lena Perés, we hope you've had a great day Lena.

Retro Show Lite gallery.
27th July: Our Kieran braved the somewhat variable weather to go trackside and take pictures of the varied machinery at yesterday's Retro Show Lite held at Santa Pod Raceway. You can check out Kieran's John Woolfe Racing-sponsored gallery of yesterday's action by clicking here or clicking on the John Woolfe Racing Event Coverage link on the main menu of any Eurodragster.com page.

Mantorp Drag Revival results, pictures.
27th July: Congratulations to the winners at the weekend's Mantorp Drag Revival meeting in Sweden, held 'behind closed doors' on 24th-26th July with acknowledgements to dragracing.eu for results:

Pro Xtreme (1/8 mile): Jan Ericsson 3.883/305kph def Matthias Wulcan 3.966/288.9kph
4to6 (1/8 mile): Mathias Stenström 4.042/288.8 def. Tobias Johansson 4.766/241.4
Pro Street Alexandra Wingård 7.661/272.10 def. Anna Knutes no-show
Super Pro ET Alexander Loffe Edlund 8.206/251.0 def. Lucas Karlsson 8.011/270.8 breakout
Stocksupertock Krister Fogelin 10.436/176.6 def. Åke Hedberg 10.201/204.3
Vintage A match race: Leif Andersson 8.72/227.1 def. Mats Thomasson 8.88/230.6
Vintage B match race: Ulf Axelsson 10.07/211.1 def. Robert Lund 9.96/214.8
Bracket-Hasse Nordström 12.430/163.5 def. Markus Eriksson 13.101/163.3
Junior_Dragster Emile Eriksson 9.825/108.6 def. Chris Callin 7.887/131.5
Pro Comp Bike (1/8 mile) Torbjörn Ström 5.657 def. Hans-Henrik Thomsen no-show
Super Comp Bike Peter Svensson 8.555/251.6 def. Thomas Nilsson 8.484/268.8 breakout

The meeting organised by SHRA Mantorp, attracted 147 entries. Stefan Sporre of SHRA Mantorp reported that almost all of Friday was lost to rain and yesterday it got 'a little exciting' when it started raining mid-way through eliminations. However all the finals were run.

In Pro Xtreme, there were many familiar names in the fourteen car ladder. 2019 FIA Pro Modified champion Jan Ericsson qualified no.1 with a 3.8511 from the 3.8525 of Mats Stefansson. Although Mattias Wulcan was in no.3 qualifying postion with a 3.8543, a 0.9225 60ft time (best of all) indicated he was able to launch hard. The second round of eliminations had a scary looking 180mph top end crash between the Mustangs of Mikael Lindahl and Michael Nord (see picture) from which both racers emerged a-ok.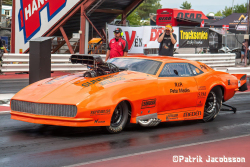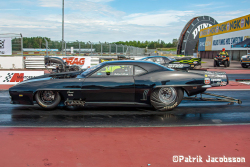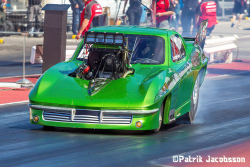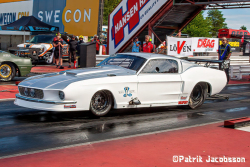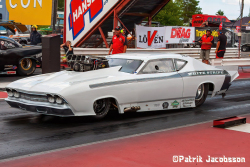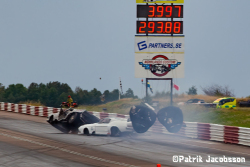 Pictured (clockwise): Jan Ericsson, Mattias Wulcan, Jonas Kant, Mikael Lindahl and Michael Nord top end crash, Johan Gustavsson, Mikael Lindahl. Pictures © Patrik Jacobsson.

Jan Ericsson got to the final by defeating the Old '51 driven by Jimmy Ålund 3.866/308.4 to 3.978/309.7 and, after a 3.911/307.3 bye in round two, he defeated Stefan Jansson in the semi-final 3.894/302.4 to 4.428/251.7. Matthias Wulcan defeated Per Magnusson (in the ex-Patrik Wikström car) in round one, 3.896/285.8 to 4.407/274.9 and then came up against Roger Johansson in round two, 3.962/258.0 to 5.688/135.4 for Roger. Mattias then had a bye run (3.958/289.7) to the final as a result of Mikael Lindahl's accident.

In a Nitro Test & Tune session, Jonny Lagg ran an eighth mile 3.6765/338.19, Torbjörn Jansson a 4.5353/232.41 and, Tony Bryntesson on his return after 25 years away from the track, unfortunately suffered a fireball.

We thank Patrik Jacobsson for permission to post a selection of his photos, which are in two galleries, one for Pro Xtreme and the other for sportsman classes.

RRC build gallery: Steve Hall's '55 Chevy.
27th July: One of the most admired new builds of the last decade was the '55 Chevy Pro Modified that Eurodragster.com sponsor Robinson Race Cars built for Steve Hall. In our latest build gallery, brought to us courtesy of new sponsor Bob Roberts, his photos show the construction of the car and the special features that were to be a part of Andy Robinson's own 'Anger Management' car a couple of years later You can see Bob's gallery in our feature in association with Lucas Oil Products here or go to our Features, Interviews, Tributes index via the main menu.

Event entry update.
27th July: Thanks to Santa Pod Racers Club Secretary Ian Marshall for sending us version 4 of the official entry list for the STP Green Light Nationals. You can check out the entry list by clicking here. Entry closes on Wednesday, 12th August, after which entry, if accepted may be subject to a late entry penalty. You can find the official on-line entry form via the Entry Forms page of the Santa Pod Racers Club web site here.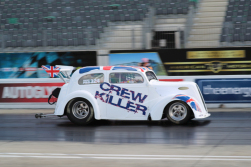 JT raises the bar.
26th July: Thanks to the inimitable John Tebenham for giving us an update on his prize fund for Pro ET: Championships need to be earned. I am going to stick to my backing of Pro ET as a sponsor with £2,000 to the winner and £1,000 to the runner-up. But as a racer you have to earn it. So these are my rules, if you don't agree, come see and, to be honest, tough, you put the money up. So, all three finals have to be run on the final day- no moving days. Any rain offs, that's it, no prize money. Earn it, win it and I will put this money forward as a tribute to my man Tim Mugridge who would always help anyone. I personally feel Pro ET is the most fun class to race in - and the toughest. Yeah, Pro Mod is fast but far too stressful. See you at the Green Light Nationals!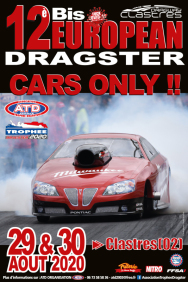 Clastres on for cars 29th-30th August.
26th July: Many thanks to Elodie Dubois of French organising club ATD (Association Trophée Dragster) for passing on details of the Clastres event to be held on 29th-30th August:

The race initially planned for the end of July has been postponed to the end of August. The race is only open to cars! Registration forms will be placed online at the end of this week in this link.

The event, traditionally known as European Dragster, is back for the 12th time in the north of France and will once again attract a big crowd after this unfortunate break due to Covid19!

This race, open to all European drivers, will welcome all car categories of the National Dragster Trophy 2020. The battle in each category will be tough and intense. It will be a real mechanical celebration of the 400 meters standing start sport, organized for 15 years by the Dragster Trophy Association!

Come and admire the teams and their 'diabolical' machines on the track as well as in the stands, open to the public.

Welcome aboard West End Racers.
26th July:

We are pleased to announce a new sponsor, West End Racers, otherwise known as our good friend Bob Roberts. As many will know, Bob has supported Eurodragster.com for some years. He has supplied galleries of photos from races and events that the Eurodragster.com team were unable to attend. During the lockdown, Bob assembled features from his photo library of fellow Eurodragster.com sponsor Robinson Race Cars' overseas races, and of some of the major car builds that RRC have carried out over a period of more than a decade.

He has since 2018 put up a cash prize for racers in Bob's Photo Finish Award, which we are delighted to announce will be available at the STP Green Light Nationals. A prize of £50 will be available to the closest race of eliminations by distance.

Now Bob has agreed to step up and support the site and the Eurodragster.com team's ongoing costs. You will see the West End Racers logo on our Home and News pages and are grateful to Bob for his support, as we are to all our sponsors.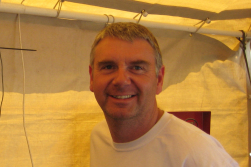 Swift snippets.
24th July: We would like to wish a very Happy Birthday to Kev Charman, twice ACU Drag Bike Champion from wife and fellow ACU Drag Bike Champion Lizz McCarthy-Charman and all at Nitrous Junkies HQ. Have a great day Kev.

Action in Europe and livestreamed today includes the Retro Show from Santa Pod Raceway (free), Mantorp Drag Revival (paid), and Finnish Hot Rod Association's Kauhava race (free). You pays your money (or not) and you takes your choice.

You can also catch up with the Hal Far Raceway action from last weekend at the Malta Drag Racing Association Night Event from last weekend.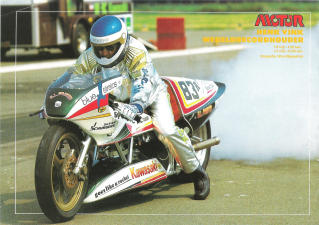 Feature: 1983 and 1984 Transatlantic Drag Bike Races.
24th July: Following the success of the 1981 Transatlantic Drag Bike Race which we reported on in a previous feature, a repeat meeting in 1982 never transpired. In 1983 an event took place and got as far as eliminations day - then the rains came. So by 1984 a great event was anticipated. National Drag Racing Club officials managed to get the quickest Top Fuel Bike rider in the world, Elmer Trett and he did not disappoint. And then there was Henk Vink's rocket bike (pictured right).

With the assistance of drag racing historian and director of the British Drag Racing Hall of Fame Jerry Cookson we have created in association with Lucas Oil Products our latest feature describing from archive sources the event with photographs and scanned programmes from both of these events.

To see any of our historic features, follow the link on the left hand side of this page to our features, interviews and tributes index page.

Swift snippets.
24th July: Many thanks to our Finnish correspondent Kai Plathan for bringing to our attention the free live stream of the Kauhava, Finland LSK Business Park Open 2020 scheduled for 25th-26th July. Other live streams are available...

We would like to wish Land Speed Racer, our sponsor for Nitro Revival and friend to the British Drag Racing Hall of Fame Geoff Stilwell a very Happy Birthday. We hope you've had a great day Geoff.

The American Hot Rod Foundation has brought out a new edition of its Rodcast and features US legend Roland Leong. 'Roland is well known to any drag racing fan. He is one of the winningest team owners in the history of drag racing and put in some time behind the wheel as well when he was starting out. Although Roland might be familiar to you we have a feeling his story will surprise you. It is worthy of a major motion picture'.

All racers: VWDRC Drag Days final places available.
23rd July: Thanks to Luke Stevenson and the VW Drag Racing Club committee for an update on their next event:

Like many the VWDRC are itching to get some track time so the plan was hatched for VWDRC Drag Days, two days of testing on the 6th-7th August for VWDRC members and an opportunity to raise some funds for Santa Pod Raceway.

We currently have 10 places left from the 100 available for the two days and are happy to open it up to racers not from the VWDRC. We are looking for people with full slicks (ideally with big tyres).

Here are the key facts:
Racer and crew tickets are available on-line only at this link;
£180 will get you two days racing and 4 crew tickets;
It will be a fully prepared track with two ambulances on site;
Camping is available for the Thursday to Friday night;
Testing for VWDRC members is on slicks and treads; and
There will be full live-streaming on www.santapod.tv so a good opportunity to get some coverage for your sponsors.
If you need any more information please contact info@vwdrc.com. If we fill the final places the donation to Santa Pod will increase!

Stuart Bradbury's funeral.
21st July: Thanks to Robin Jackson for advising us that the funeral of Stuart Bradbury will take place at 2.00pm next Wednesday, 29th July, at Wellingborough's Nene Valley Crematorium (305 Doddington Road, satnav postcode NN8 2NG). Pandemic rules allow only 30 mourners within the chapel precincts – inside and outside – so attendance will be limited to family and close friends, by invitation only.

Numbers are unrestricted, however, in outer areas such as car park and entrance road, so additional mourners will be welcome to attend there.

The funeral service will be broadcast live online at this link using Username: 41210 and Password: kkqegsea and will remain available to view for a week.

The family prefers that no flowers be sent. Instead, friends and associates who might wish to mark the occasion in Stuart's memory are invited to donate to two charitable organisations which served him in his final days, Marie Curie Cancer Care and the Cynthia Spencer Hospice at Northampton. A Just Giving page has been arranged at this link to accept contributions.

Event entry update.
21st July: Thanks to Santa Pod Racers Club Secretary Ian Marshall for sending us version 3 of the official entry list for the STP Green Light Nationals. You can check out the entry list by clicking here. Entry closes on Wednesday, 12th August, after which entry, if accepted may be subject to a late entry penalty. You can find the official on-line entry form via the Entry Forms page of the Santa Pod Racers Club web site here.

Melbourne Raceway tickets on sale.
21st July: Melbourne Raceway have announced their first event since the resurfacing of the eighth mile track: After a long year of fundraising and work, tickets are finally on sale for the first event at the new Melbourne Raceway on the 8th-9th August. Competitor day tickets are £70 or race for the weekend for £120. Spectator tickets are £12.50 and under 16's go free.

If you are joining us for the weekend, you can camp for free as long as you have tickets for both days.

It's really important that everyone reads the Covid-19 policy on the ticket form. We need everyone's help to stick to the rules which allow us to race and keep everyone safe. You can book tickets by going to this link and then clicking on the link for Race Entry or Spectator tickets for 8th or 9th August. Melbourne Raceway can be located with the satnav postcode YO42 4ST.

Torq Talk on front drive blowers and Prochargers.
21st July: The latest update by Tony Thacker in his Torq Talk blog is about the history of front driven superchargers leading up to ProCharger which won the 2018 SEMA Show's Best New Performance-Racing Product with their CrankDrive™ supercharger system that unlike most conventional belt-driven blowers is driven off the front of the crank. It's a fascinating read and you can see it by going to this link.

Hot Gossip tribute and update.
20th July: Many thanks to Mike Collins for sending us a teaser to his exclusive Hot Gossip tribute, called Start Line Stories, to the late Stuart Bradbury, with several pictures and stories including an encounter with legendary rocket funny car racer Slam'n Sammy Miller.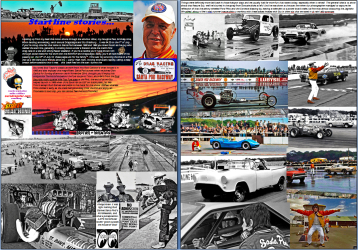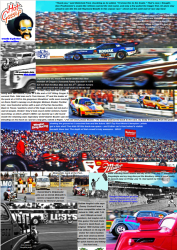 Also Mike has kindly sent his bonus material exclusively for Eurodragster.com readers which is a four page pdf read which you can check out by clicking the right-hand image above.

Nitro Bug at STP Green Light Nationals.
20th July: Nostalgia Funny Car racer Andy Raw has announced that he will be running the Nitro Bug at the STP Green Light Nationals in the Exhibition section. The team will also have Nitro Bug branded face masks and t-shirts for sale.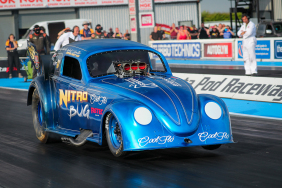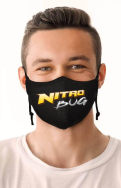 Andy said 'We dropped the Nitro Bug off with crew chief Karl Harrison just before the lockdown. He then stripped down the whole car, engine and transmission He then checked it all and completely rebuilt it again. It included setting up our ignition air retard/advance unit for the top end of the track. We then got the call to come to his workshop,to fire it up! Social distancing was strictly followed all times; I can't thank our crew ,and Karl Harrison enough for all the work he has done while we were in lockdown'. You can see footage of the fire up here.

Andy also thanks sponsors Cool Flo clothing, Fastec Racing Ltd (which made parts for NHS ventilators during the lockdown), and TSR Engine Conversions.

Happy Birthday Arthur!
20th July: Many thanks to Nigel Taylor for sending in this appreciation of Comp Altered racer from the 70s and 80s who made a happy comeback in the twenty teens:

'Happy 79th Birthday to the man who talks, walks, sleeps, drag racing, a legend in these parts, Arthur Bonner. Those of you that have met Arthur will know what a superb character he is, a very clever engineer and a superb welder in his day who taught us kids a few very important life lessons.

'Arthur purchased a 1949 Ford Prefect with no engine back in 1974 for £20 and installed a 400ci Pontiac motor as well as building a box section chassis to take the power; he called it The Detroit Spinner.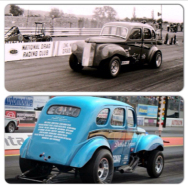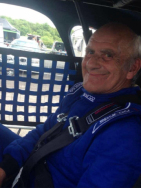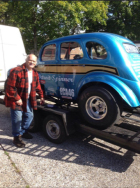 'He made his first run at Santa Pod Raceway in 1976 and competed for the first time in 1979 and met loads of good friends along the way including the Draper brothers , Stu Bradbury (RIP) , John Price, John Hobbs, Al O'Connor, Brian Huxley, Bob West, Bruno Sanderson-Brown and many more. ECA 46 was the race number the car always had, and Arthur campaigned the car for many years until a big roll over at Avon Park put his welding and safety to the test.

'Arthur came away fine, but had to rebuild the car again, tubing the rear end and back he came again . In 1994/95 Arthur stopped racing for a while but in 2014, along with a group of people and 55 sponsors, rebuilt the car and back he came again until 2018.

'As a group, we would like to thank Arthur Bonner for all his hard work, entertainment, determination, banter, enthusiasm and we all wish him a very Happy Birthday.

'The Detroit Spinner is now owned by Pep Xampro in Barcelona but will return to the Pod in 2021, where we will all do our best to get Arthur in the pits with his old car; in our eyes this man should be in the Hall of Fame'.

Photos, report from Thunder Valle EDRS event.
20th July: Thanks to Per Sønderby Pouls for posting several galleries comprising hundreds of photos from the EDRS race at Thunder Valle in Norway. You can see the full galleries at his Facebook page. Photos from Sunday will be uploaded over the next few days. Below are some highlights: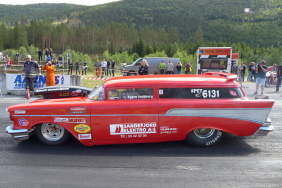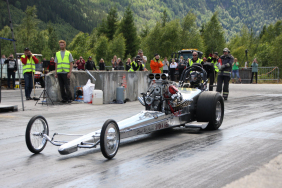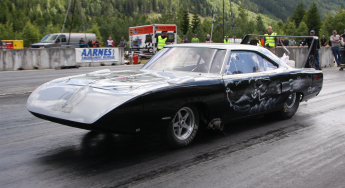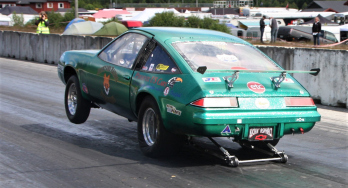 Pictured (clockwise): Bjørn Romøren-Hultberg, Fredrik Owrum, Per Eilertsen and Magnus Skår Hansen. All pictures shown with kind permission of Per Sønderby Pouls.

Our good friend Lena Peres has posted a report from the event at the Drag Racing Europe Blog.

Event entry update.
19th July: Many thanks to Santa Pod Racers Club Secretary Ian Marshall for sending us version 2 of the official entry list for the STP Green Light Nationals. You can check out the entry list by clicking here. Entry closes on Wednesday, 12th August, after which entry, if accepted may be subject to a late entry penalty. You can find the official on-line entry form via the Entry Forms page of the Santa Pod Racers Club web site here.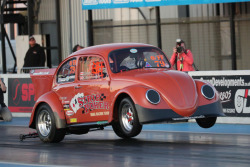 From Action to Breakout.
19th July: NAS Events, organisers of VW Action have made the following announcement in association with Santa Pod Raceway:

After much deliberation and soul-searching, we have decided that the VW Action event will not take place in 2020. This is not a decision we have taken lightly, but given the circumstances of the COVID-19 pandemic, we feel there is no way we could stage the event and do it justice. We waited as long as we could to give the show a chance of happening, but with so many restrictions still in place, there is no way we could safely include many of the attractions that help create that VW Action atmosphere.

We would prefer to return in 2021 and (hopefully) produce an event that will match or surpass previous VW Action events at Santa Pod. Despite suffering financially ourselves, we are also very, very aware that Santa Pod Raceway has been hit extremely hard financially this year and would prefer to hand over our dates/weekend to them, in the hope it may help them recoup some much-needed income in the final months of this season. To that end, Santa Pod Raceway are themselves, now staging a more laid-back/chilled (and 'socially-distancing') VW event - VW Breakout - over the weekend of 4th-6th September - please support this event if you can. It won't be 'VW Action' - but it should help give 'dubbers their 'fix' of VW Drag Racing, Show & Shine and Camping.

VW Breakout - 4th-6th September 2020 at Santa Pod - is back, offering VW fans a one-off unique event for this year; VW Breakout is a three-day relaxed weekend. With all the elements of the shows we all know and love – but scaled down! Quarter mile track action features VW Drag Racing and RWYB, alongside Show & Shine, Traders, Fun Fair and Bar meaning you can enjoy the last of those Summer evenings camping with friends!

VW Action Advance Ticket Holders - all of those who ordered VW Action advance tickets will receive an email from Santa Pod explaining how to claim your credit.

We realise many of you will be disappointed, but we hope you understand our decision and look forward to seeing you all at VW Action in 2021. Stay safe. Love to all.

Editor's note: We'll publish the link to VW Breakout tickets as soon as it is available.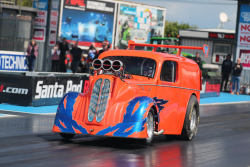 Swift snippets.
19th July: Happy birthday to Outlaw Anglia racer and the world's quickest and fastest man in a Ford Pop Simon Barlow. Have a great day Simon, love from all your crew at Orange Pop Racing.

Congratulations to Sebastian Lindau from Switzerland for correctly spotting the spy picture in our update last Wednesday was none other than Hockenheim track anouncer Benni Voss, living legend and walking drag race lexicon. Benni said 'Greetz from a slightly envious, jobless motormouth'. Readers, send photos of your own custom masks to editor@eurodragster.com and we'll publish a selection.

Drag racing historian Nick Pettitt has been busy posting new material on his Youtube site. This week's offerings are Jerry Cookson's videos of racing from Long Marston in 1983 and 1986, the latter a co-production with Steve Clifton from 1986. Also there is broadcast footage from the 1992 Springnationals from Motopark Raceway, Pieksämäki, Finland (in Finnish).

Our Kieran has posted footage from the Back On Track Street Day at Santa Pod Raceway to his Youtube site. Kieran says 'This video contains a mixture of everything that was there and shows the real variety of stuff we see on a regular at RWYB days'. There is also footage of Ian Oddie's Metro 6R4 which runs a Ford ST220 V6 putting out over 500hp.

Also posting footage of the Back On Track Street Day is the VeeDubRacing channel, also with a compilation video of the fastest cars filmed on the channel, with terminal speeds of 170mph to 190mph, and a couple of cool sleepers, David Lees's nine second RS3 powered Golf Mark 7 and Scott Anderson's 800hp Audi RS6. You can see VeeDubRacing's videos at this link.

On the photo front The Mad Welshman has posted a new Flickr gallery called 'Drag'ged Away From The Strip at this link which shows drag racing vehicles snapped away from the strip, either promoting the sport/track or enthusiastic owners just having fun.

If you're into indoor hot rod and drag racing shows, drag racing historian Jerry Cookson has set up a new page on Facebook entitled The Great Indoors British Custom Car shows. This includes photos of drag racing machinery and hot rods going back as far as 1965 with several contributors. You can see this page by clicking here.

Jim Rowat.
17th July: We were very sorry to hear of the death of former Pro Comp racer Jim Rowat from his son Jason. Jason said that his dad 'slipped through our fingers and took his own life' on 2nd June 2020; unfortunately Covid 19 was believed to be a contributing factor to his loss.

Jim Rowat and his older brother Martin successfully campaigned dragsters in the 1970s. Martin made his debut in November 1971 driving a supercharged Daimler-engined slingshot called Asterix the Gaul. Parts attrition in the form of three junked superchargers in three months with the Daimler engine in the following year forced a change of direction and inspired the name for their next car.

The new slingshot, brought out at the start of 1973, was named 'Double Or Quits' and, as the name implies, both the driving and costs were shared between Martin and Jim. The dragster utilised a rebuilt ex-Alan Wigmore small block Chevy that utilised a self-built injection system with Jim making aluminium castings and Martin machining them, and also a home-built clutch. This second car was more successful but got replaced by a more modern design after a year.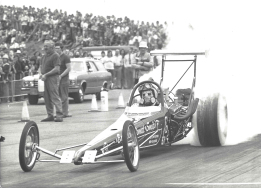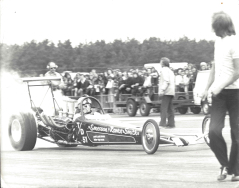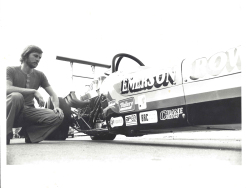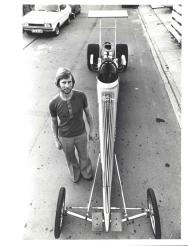 In the winter of 1973/4 Jim and Martin built a rear engine dragster for their small block Chevy which gained Donovan heads and had a two speed gearbox of the brothers' own manufacture. After running in Senior Dragster in 1974, it continued in Pro Comp which was introduced the following year. Using 85% nitro, Double Or Quits won several races with the brothers still driving in turns and running as quick as 8.03/174. Then in the summer of 1976 Martin left the team in order to further his studies at university and Jim took over the running of the team. In qualifying for the 1977 Easter Spring Nationals, a front wheel collapsed at over 100mph. The car rolled about six times and was virtually totalled.

Jason says 'My mother gave my Dad an ultimatum after that crash - 'me or the car'. Mum won. Whether Dad had regrets later on in life he couldn't express to his family, I guess we will never know, one thing I do know is that they would have gone far had they stayed in the sport. Jim, who was a successful computer programmer, only visited Santa Pod Raceway twice after the 1977 accident, once in 1998 to oversee a neighbour's Pontiac and then as a spectator with Jason in 2001.

As well as winning a Best Engineered Car award in 1974, Jim was 1973 and 1974 NDRC Senior Dragster Champion.

'Dad and Martin (who survives him) were quite modest characters despite them achieving so much during their time racing. They missed out on the Crazy Horses book as they didn't pipe up about themselves then. I'd like to showcase their history to the drag world as I'm now in possession of all of Dad's photos and memorabilia'.

STP Green Light Nationals reminder.
17th July: Thanks to Yvonne Tramm from Santa Pod Racers Club who has sent a reminder for all racers planning to run at the STP Green Light Nationals on 22nd-23rd August:

'Now that we have the opportunity to get back to racing could I please ask all those racers who intend to run at the STP Green Light Nationals, to check their membership end dates and if necessary to renew before the meeting using the online system at the SPRC website. Should you have any queries or cannot find your membership card you can email me for details at yvonnetramm235@gmail.com

SPR announce ticketing details for August events.
17th July: Santa Pod Raceway have made available spectator tickets, and racer ticketing for the 'Lite' series of events in August and Run What Ya Brungs. You may go to santapodtickets.com and complete the form and pay on-line. Due to Covid-19 restrictions, which are described in detail on the ticketing page, tickets are only available on-line and not at the gate. General regulations are at rwyb.co.uk/rules.php and on the specific site for each event.

Racers for the Nostalgia Drags to be held on 1st-2nd August (gates open 5pm on Friday 31st July) are able to register for their race class of choice by going to racers.santapodtickets.com. Again, there is only advanced booking allowed, and tickets will be posted out for all entries in before Monday 27th July. After that date, tickets will be handed out at the gate. Only racers affiliated to one of the following race classes may be allowed to apply:


Outlaw Anglia
Nostalgia Superstock
Wild Bunch
Supercharged Outlaws
Willys War On Tour
Nostalgia Pro Stock Bike
Slingshot Showdown
Gasser Circus
A current driving licence, helmet and fire suit are all compulsory at the Nostalgia Drags.

Event entry update.
15th July: Many thanks to Santa Pod Racers Club Secretary Ian Marshall for sending us version 1 of the official entry list for the STP Green Light Nationals. You can check out the entry list by clicking here. Entry closes on Wednesday, 12th August, after which entry, if accepted may be subject to a late entry penalty. You can find the official on-line entry form via the Entry Forms page of the Santa Pod Racers Club web site here.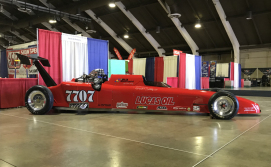 Stilwell withdraws from Bonneville.
15th July: Unfortunately, due to the continuing Covid 19 issues around the world and the fact that the travel embargo has not been lifted on Brits being allowed to enter the USA, Geoff Stilwell, Team Principal of the record setting Lucas Oil Landspeed Team and Eurodragster.com sponsor for Nitro Revival, has had to withdraw from this year's Bonneville Speedweek.

Geoff said, "This is all very frustrating in that the race car is already in the USA and ready to go. Sadly, the UK based team consisting of me, Nick Davies and Rob Loaring of ICE Automotive plus Scotty Barnes are stuck in the UK unable to travel. We are all extremely disappointed in that the Salt conditions are probably the best they have been for years. I want to thank all our Sponsors and friends who have helped the team this year namely, Lucas Oil, Simpson Safety Wear, Ron & Brian Hope of Rat Trap Racing, all the team at Mick's Paint, RCD, Vintage Hot Rods, Jesel, Schott Wheels, Circle City Hot Rods, Donny Cummins, Tony Thacker and especially the Volunteers, Marshalls and crew of the SCTA who have already put in so much work to make this incredible race week happen".

Geoff also went on to say, "if the situation changes in that the embargo is lifted and we can run later in the year we will be there". To follow this project on Facebook, just look up Geoff Stilwell.


How-to: NFC Hemi engine build.
15th July: Many thanks to our good friend Tony Thacker who has posted on his Torq Talk blog a story penned by new British Drag Racing Hall of Fame inductee Nick Davies about he and Rob Loaring (a.k.a ICE Automotive) who took a Keith Black 426ci Hemi engine and built it, with a few modifications along the way, so that it was able to power Tim Garlick's Apache Funny Car to a five second run.

The story gives the reader some idea about the expertise that is necessary to put together such an engine in a way that it produces the desired performance (in this case a five second timeslip) reliably. As Nick says 'Granted, it's not the cheapest way to go racing, but there is something about an all-new cast KB hemi that reminds us of what we dreamed of as kids'. You can read Nick's article on www.torqtalk.com.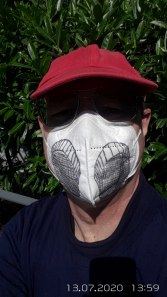 Spy picture.
15th July: We received this picture earlier today with the message 'I don´t know if anyone else had this idea already, but I turned my PPE mask into something more Drag Race looking, crude but you might get the theme'.

If you know the identity of this individual, or would like to send a photo of your own take on a drag racing-related PPE mask design, then drop us a line at editor@eurodragster.com.

STP Green Light Nationals entry page now live.
14th July: Many thanks to Santa Pod Racers Club Secretary Ian Marshall for letting us know the STP Green Light Nationals entry page is now live.

In addition, Ian has asked us to mention that posting out of racer tickets will not occur for the time being and they should be collected at the gate.

STP Green Light Nationals racer update.
14th July: Santa Pod Racers Club Secretary Ian Marshall has announced that, further to yesterday's STP Green Light Nationals event announcement, the following details can now be made clear.

The event will be held as a Non-National Championship and is organised as a Series with three rounds, the STP Green Light Nationals and two further events.

The free entry for 2019 National Championship winners will not count for these three events, but will however be carried over to the 2021 season; this means the current Champions will gain the full value of their prize next year.

Points will be awarded at all three events with a Series class winner in all of the usual sportsman categories. Some Pro classes are being contacted by Santa Pod to discuss their individual class options.

The points system will however change slightly; as there is no scrutineering, therefore no points can be allocated for this, also first round and all round points bonuses will be considered by SPRC, details of which will be passed on in due course.

The prize fund will be as per the National Championship prize fund and paid out as normal via BACS payment to your bank accounts. And, as usual, there will be trophies for the winner and runner up in each class.

There are some Riders and Drivers who have been in contact looking to either run as exhibition or on a testing basis. Those looking for an opportunity to do either must contact Darren Prentice at Santa Pod, his e-mail is darren@santapod.com"; please do not just try to enter the event in exhibition as there will be a protocol to follow in order to be accepted.

Finally all three of the events will also have a test day attached the day before racing commences, all entries for the test days must be through Santa Pod Raceway's website. Details can be found here.

Green Light Nationals racer callup.
13th July: Many thanks to Santa Pod Racers Club Secretary Ian Marshall for passing to us an announcement about classes and entry for the forthcoming STP Green Light Nationals.

Following Santa Pod Raceway's press release regarding a three Event Race Series, the first of which will be the STP Green Light Nationals on 22nd-23rd August 2020, the race classes competing at the Event will be as follows:

Car Classes
Comp Eliminator
Super Gas
Super Comp
Super Pro ET
Pro ET
Sportsman ET
Street Eliminator
VW Sportsman
VW Pro
Outlaw Flat Four (TBC)
Nostalgia Super Stock
Junior Dragster
Bike Classes
Pro Stock Bike
Funny Bike
Super Street Bike
Comp Bike
8.50 Bike
9.50 Bike
ET Bike
Super twin Top Gas
Junior Drag Bike
These Events will be run under a Non Permit sanction, and as such will not require any race licenses to be produced, the exception being that all Junior Classes must produce either a 2019 or 2020 Race License at signing on. All others will need to produce a DVLA license or 2020 Race License if you already have one.

Scrutineering will be on a self-certification basis, however Tech and Scrutineering staff will be on site to cover unforeseen circumstances.

On-line entry will be available from Thursday with a closing date of the 12th August, please note that when you complete the entry form, read the signing on declaration, as it has changed due to the current circumstances and it is important that it is read and understood.

Should there be any questions then of course call SPRC on 01933-313625 or email ir.marshall@btconnect.com. Please note that questions will not be answered through Facebook, as it is not regularly checked and not an official SPRC page.

There will be two further events, about which there will be more news shortly. We are just putting final details to some parts of the event, so please keep checking Eurodragster.com and the Santa Pod web site for updates.


Urgent request for slicks.
13th July: Santa Pod Racers Club Secretary Ian Marshall has asked us to announce that if anyone who has Race Slicks in the UK that they would like to donate to the ongoing track prep, please get in touch with him at SPRC on 01933 313625 or ir.marshall@btconnect.com. Ian says 'We will be very grateful to hear from you, we will then set up a road trip and come and collect the tyres from you at a convenient time and date, many thanks in advance.



First native six in Hungary.
13th July: Congratulations to Hungarian racer István Szentesi of the Fenster dragster team who recorded the first six second pass by a native of the country yesterday at Meidl Airport, Fertoszenmiklos, running a 6.97. You can see footage of his achievement by going to this link

We first met István when he raced in Super Pro ET at the 2019 NitrOlympX with his 396ci engined imported dragster. The Hungarian Drag Racing scene gets going in August and September with events in Hungary and Slovakia, details of which are at dragracing.hu (in English).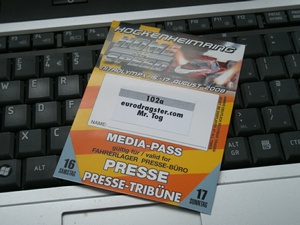 Tog's random memories.
13th July: Many thanks to our erstwhile Eurodragster.com colleague Tog who has supplied us with a hugely entertaining travelogue of sorts, entitled Random Eurodragster.com memories with Tog.

He says 'You spent more than twenty years looking at my racing photographs so I thought that I would share a random sample of mostly-unseen pictures from the other side of the laptop, camera and notebook illustrating tales of some of the fun I had'.

You can see Tog's Random Eurodragster.com memories by clicking on this link or via the Features, Interviews Tributes link in the main menu.

Swift snippets.
13th July: We would like to wish engineer, fuel tuner and Fuel Altered racer John Wright a very Happy 70th Birthday and Many Happy Returns.

We have completed our coverage of the Back On Track test days by posting a gallery of 105 photos from Saturday's Street Tyre day; thanks to Kieran for providing the photos. Quickest run of the day was David Lee's 5 cylinder Mk7 Golf which ran 9.75 at 153mph in street mode. You can see Kieran's gallery by clicking on this link. Our next live coverage will be from the Nostalgia Drags event at Santa Pod Raceway on 1st-2nd August.

Our Kieran has posted two Youtube videos in the past few days. The first is Simon Holmes' imported Datsun 280Z which has a 870hp 6.0L LS engine with a BorgWarner 80mm Billet Turbo. 'It was Simon's first time driving the car and into the 10s on it's 4th run in the UK isn't bad going at all', says Kieran. Kieran's video is at this link.

Kieran has also posted a 44 minute video of Classic Ford Show Highlights 2012–2018. He says 'Santa Pod Raceway was the venue for the Classic Ford Show for 14 years. Here's some of the 1/4 mile footage I caught between the years 2012 and it's final year in 2018'. You can see Kieran's video by clicking on this link.

Drag racing historian Nick Pettitt has been busy and you can see new uploads of drag racing at the Mantorp Park Sko Uno Festival in 1991, Long Marston Raceway from 1987 (filmed by Roy Wilding,) from the 1994 and 1995 Hot Rod Drags, also the 1994 Night of Fire at at Avon Park Raceway on Youtube.


Julian's special 2019 Dragstalgia Gallery.
12th July: We are all missing Dragstalgia which would have happened this weekend at Santa Pod Raceway. So thanks are due to our Julian for enabling us to present a gallery of his pictures from last year's event, complete with captions. You can see Julian's photos at their best, which means they are pretty special.

The 180 shots were taken over the course of the three day event last year, and we present the gallery in association with John Woolfe Racing. You can see Julian's special gallery here or via our 2019 Dragstalgia coverage page which you can access here.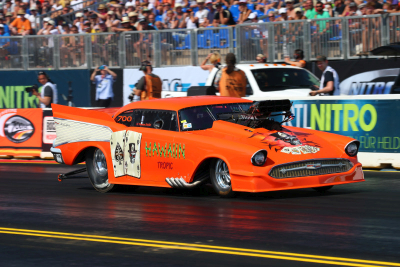 RRC build gallery: Thomas Stiefel.
30th June: The sixth of our series of features showing photographs by Bob Roberts of the builds carried out by Eurodragster.com sponsors Robinson Race Cars covers construction of Swiss Pro Modified racer Thomas Stiefel's '57 Chevy. The car was built in 2010, made its debut in 2011 and Thomas raced it until business commitments intervened, and the car now has a new owner.

You can see Bob's gallery in our feature in association with Lucas Oil Products here or go to our Features, Interviews, Tributes index via the main menu.


Stuart Bradbury.
11th July: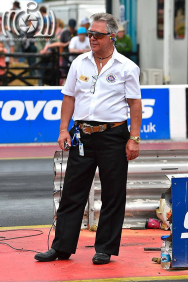 It is with profound sadness that the Directors of the British Drag Racing Hall of Fame must announce the death on Friday 10th July of our Founder and Honorary Chairman, Stuart D. Bradbury, after a long illness. A lifelong resident of Wellingborough, Stuart was able to spend his final days at home in the care of his wife, Bev, and daughter, Genna, and celebrated his recent 75th birthday with them.

Stuart had been associated with Santa Pod Raceway from its earliest days, having helped the crew labouring to prepare the track before the venue's opening in 1966. He served as Deputy Starter in 1967 then took over as Chief Starter the following year, a role he held through the 1980s. He was also involved in racing projects at Long Marston Raceway, near Stratford-upon-Avon, and Rockingham Motor Speedway near Corby, and assisted Top Fuel Dragster star Andy Carter.

Stuart spent most of his working life in the specialist motor trade, first with John Woolfe Racing, then with USAutomotive.

In 2005 Stuart convened the meeting of fellow enthusiasts that would result in the founding of the British Drag Racing Hall of Fame. He remained Honorary Chairman, and the fulcrum of its activities, for the rest of his life. In 2017, he was dumbfounded to find himself elected by general acclaim to membership in his own right, having always maintained an iron rule that no associate of the Hall of Fame's management or selection panel should be eligible. Members and supporters, however, decided secretly that it was appropriate to make a signal exception to that rule to recognise the extent of his contribution to the cause, a decision Stuart accepted with rueful good grace.

Funeral arrangements are being made, but will be subject to pandemic lockdown regulations.

Condolences and respects may be sent by E-Mail to tributes@eurodragster.com and we will include it on a Eurodragster.com tribute page established in Stuart's memory, which will be forwarded to Stuart's family.

Santa Pod Raceway announce new events.
10th July: Many thanks to Santa Pod Raceway CEO Keith Bartlett and his team for forwarding their latest announcement regarding upcoming events:

Following on from our recent statements, we are now delighted to be able to announce a forthcoming calendar of events at Santa Pod Raceway. These events will, of course, be held in keeping with all the current guidelines and restrictions around the covid-19 virus. As almost most of you will be aware over the last 7-10 days various restrictions have been lifted, which, in turn, will allow us to look at holding selected events in the coming weeks and months.

We have been busy over the past few weeks preparing both the site and the overall facility to be able to open and operate within the government guidelines and to also meet Health & Safety requirements under the Covid-19 virus.

Part of the restrictions that have been lifted is that we are now allowed to offer our camping facilities at Santa Pod for these planned events over the next 2-3 months. Additionally, we are now also allowed spectators, albeit with restriction on the total numbers on site.

Within the events planned for the next 2-3 months will be a 3-race Drag Racing Series, the first round being at the Green Light Nationals on the 22nd / 23rd August, followed by a further two rounds in September (details to be announced later next week) – so to all our racers, get your cars ready and prepared for full drag racing competition. There will be series winners in all the drag racing classes. Our Nostalgia Racers have even less notice as we have the "Nostalgia Drags" scheduled for the 1st-2nd August too. We are even proposing a title of the 'Covid Cup Series' or the like...

Below are the events that we are now planning to hold during the remainder of July and August 2020:

Saturday 25th July: RWYB
Sunday 26th July: Retro Show 'Lite' www.retroshow.co.uk
Saturday 1st/Sunday 2nd August: Nostalgia Drags (2-days)
Saturday 8th August: Saturday Night Special
Sunday 9th August: Ford Show 'Lite' www.fordshow.co.uk
Saturday 15th August: RWYB
Sunday 16th: Jap Show 'Lite' www.japshow.co.uk
Saturday 22nd/Sunday 23rd August: Green Light Nationals (2-days)

The events that are designated 'lite' because they are just that – with not so many additional attractions as the past events, such as music and stage restrictions etc. but we're at least offering an opportunity to get to a car show with your pride and joy.

In closing we are very pleased that Santa Pod is truly getting back on track and even with the current restrictions surrounding Covid-19, we are sure we can offer both our racers and fans a good weekend at the Pod. See you at the track!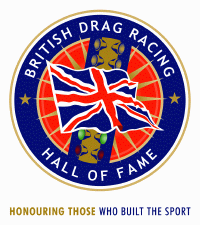 British Drag Racing Hall of Fame 2020.
10th July: The British Drag Racing Hall Of Fame continues into its fifteenth successful year and is pleased to announce the 2020 intake.

Nominees are eligible by dint of having raced, owned, designed, built, maintained, prepared, promoted, officiated, supported or taken part in British drag racing in any capacity, having been involved for at least twenty years, or having made a significant and recognisable contribution to the sport.

The 2020 inductees are: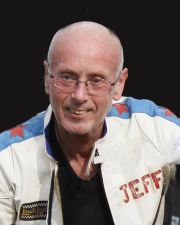 JEFF BYNE Profile by Keith Lee

Jeff Byne's drag bike career began in 1970, with a 650 Triumph. It was not long before he started modifying it; adding a supercharger helped move him up the ranks. The name Hurricane became familiar on the strips. By September 1972 he had dipped into the 9-second zone on a modest 40% nitro. In 1974 Jeff recorded the quickest time by a single-engined Triumph, 9.4sec, at the July International. It was a successful season – and also eventful. In August, Jeff clocked 9.38sec while shearing the rear-wheel spindle at over 120mph! He still came back out to win the event! A huge blowup at that season's end destroyed the motor and damaged the chassis, but plans were already afoot for a new machine which would confirm his reputation as a top competitor in this era.

In May 1976, a double-engined 1500cc Triumph was debuted. Two motors are never an easy proposition, but a 9.6sec pass first time out, while qualifying for Top Bike eliminator, showed his capabilities. By October that same year, Jeff had recorded 8.70sec on the orange machine, becoming only the fourth rider to dip below 9 seconds. He ended 1976 as the year's quickest double-engined racer.

The 1977 Jubilee meeting at Santa Pod was the first time that anyone had run eight-second passes through all three rounds of eliminations, as Jeff scored a memorable win.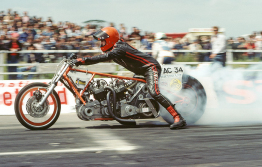 A frightening 175mph crash at Easter 1978 thankfully left Jeff virtually unscathed, but the bike was badly damaged. A new chassis was required, and the following year proved to be a classic one on two wheels. John Hobbs set the quickest-ever time by a European rider with 8.07sec in July, which was virtually matched by Jeff in August, before Jeff went on to run a new European best of 8.02sec the following month. This time would prove to be the quickest ever by a British rider in this golden era of twin-engined British bikes. To cap a successful season, Jeff won the ACU drag bike championship, also setting the fastest European terminal speed, at 181.8mph, during another elimination win in October.

Jeff was a determined rider on track, but was also ready and willing to help fellow competitors who had problems, even offering to pull the two-speed box out of his bike to help a rival at one meeting, which is no small job.

Hurricane continued racing into the early 1980s to good effect, but the era of the twins had run its course. Jeff kept his record-breaking machine and, over 30 years on, made a welcome return to the track in 2014 to take part in Dragstalgia, after so many years of not riding any type of bike. He has been a regular participant since, as he shows off one of the iconic machines of the era.

It is for his formidable contribution to motorcycle drag racing throughout the sport's formative years that Jeff Byne is hereby inducted into membership of the British Drag Racing Hall of Fame.

Pictures: Keith Lee


NICK DAVIES Profile by Robin Jackson

It was youthful spectator visits to the dragstrip that would spur on the engineer and businessman Nick Davies to distinguished participation and intercontinental success. Passive attendance became active involvement with a 1993 foray into Super Gas, followed by a step up to Pro Modified two years later. If his association with doorslammers has defined his engagement with drag racing, it has been Nick's ventures into more recondite regions that have fully stamped his prominence on the sport.

The foundations of Nick's success lie at a racing venue of a different kind. In 1997 he joined forces with another future Hall of Fame member, Rob Loaring, to acquire the parts company Rooster Racing Equipment, combining it with a near-bankrupt ICE Automotive Racing Engines and transferring the new business from a farm building to a 2,500 sq./ft. facility at Silverstone circuit, where it still resides.

In 1999, the partnership won its first UK National Pro Mod championship, with Nick at the wheel, and retained the title the following season. At the same time, they played a pivotal role in the development of Super Modified Eliminator, a lower-cost but highly competitive doorslammer class which would enjoy success for a decade and which forms the backbone of Competition Eliminator today.

In 2004, Nick began managing and tuning a Street Eliminator entry for Steve Nash which, four years later, would be the first turbocharged car to win the class championship. Meanwhile, 2005 began the venture beyond the doorslammer bounds into blown, open-wheel territory with the construction of Havoc, at first propelled by methanol, later by a tip of the nitro can. Over the next several years, Nick campaigned Havoc in the Nostalgia Fuel Altered Association series, setting the blown methanol speed record at 205mph in 2005, and later drove Lawrie Gatehouse's Chaos Altered, this time with nitro in the tank. In 2013 he managed the construction of Tim Garlick's Apache Funny Car, helping launch the Nostalgia Funny Car movement.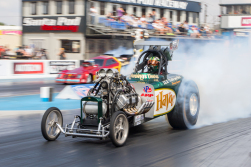 In 2015, following a famous Dragstalgia match race against Pure Hell, the legendary American Fuel Altered, Havoc switched to nitro. The upshot, two years later, was a four-race tour of America with Ron Hope's Rat Trap Racing, culminating in victory at Bakersfield's California Hot Rod Reunion, the only British blown nitro win achieved on US soil.

In 2011 Nick had managed, tuned and driven Britain's first turbocharged Pro Mod entry for car-owner Graham Ellis, earning a runner-up finish and the then-fastest speed by a UK Pro Mod, 239mph. This exercise would pave the way for ICE Automotive's own turbo Pro Mod venture. Unveiled in 2018 and still a work in progress, the Pontiac Firebird has already set a UK speed record of 249.05mph, the first British mark to top 400 kilometres per hour.

It is for his exemplary racing successes in two classes, and on two continents, and for his engineering achievements at the forefront of our sport, that Nick Davies is hereby inducted into membership of the British Drag Racing Hall of Fame.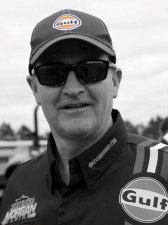 IAN KING Profile by Ian Messenger

Ian King is a record-breaking, multiple European drag racing champion. Ian has won twelve FIM European Championships – ten as rider, two as Team Principal – plus two ACU British and one MCUI Irish Championships and has broken various British and European records and an FIM World Land Speed Record. He is the eighth, and only British, member of the international MTC Engineering Top Fuel Bike 5-Second Club.

Ian built his first motorcycle at 13 and became a multi-award-winning constructor of custom bikes. He first encountered drag racing on a trip to Santa Pod with the Scouts. From 17 he raced his friends on their road bikes at `RWYB' weekends, beginning his `formal' racing career in the 1980s in the SuperBike-conceived Ultimate Streetbike series on his custom road-legal specials.

From Street classes he progressed to Funnybike in the UK's ACU series on a self-built turbo-methanol Suzuki before acquiring his first nitro project, a 2700cc nitro V8 Puma in 1997. However, before the unique project was completed, Ian received an offer he could not refuse for the unfinished machine and used the funds to acquire the Quarter Scorcher 5 Puma from Frank Brachtvogel in 1999.

Updates and improvements to the bike improved its performance over a decade into a state-of-art five-time FIM European Championship-winning machine. In 2010 Ian sold the bike and conceived an all-new, world-leading bike under the auspices of his company Puma Engineering. In 2012 the Gulf Oil-sponsored team secured the first of eight further FIM European Top Fuel Bike Championships to date.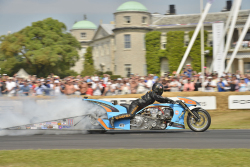 Demonstration passes took the team to unusual places across the world. In 2006 he became the first to ride a nitromethane-powered bike in the Middle East at the Bahrain F1 circuit. In 2011 he visited India to perform on behalf of Gulf Oil International. In 2013 Ian performed burnouts in front of over 100,000 people at the Goodwood Festival of Speed, earning that year's Goodwood Choice Award. Since then, the team has been invited back annually to the prestigious event.

In March 2014 Ian won the opening event of the USA Championship. In the final, his 5.878-second elapsed time conferred eighth and the coveted final place in the MTC Top Fuel Bike 5-Second Club.

In 2018, Greek rider Fil Papafilippou took over riding duties on the Gulf Oil machine for the season's FIM European Championship races. With Ian now serving as Team Principal, Fil has added two more FIM Championships to the team's tally. In 2018 and 2019 Ian raced twice more at the US Final events, making the final on both occasions.

Ian also co-owns the world-renowned Puma Engineering. The company offers parts to construct all combinations of nitromethane drag bikes. Puma engines power many championship-winning bikes and recently propelled multi-US champion Larry McBride to the quickest (5.507sec) and fastest (264.96mph/426.41km/h) Top Fuel Bike run in history.

It is for his exceptional range of two-wheeled achievements that Ian King is hereby inducted into membership of the British Drag Racing Hall of Fame.

JOHN PRICE Profile by Simon Groves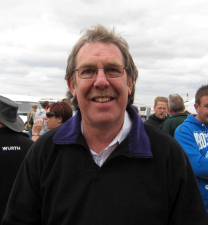 John Price first commentated at Santa Pod from 1981 to 1987. He then worked at York Raceway for five or six years but also resumed commentating at Santa Pod in 1990, continuing there, except for a year at Avon Park's Super Series events in 1997-8, until his retirement from drag racing in 2008.

John began DJ'ing aged just 21, and it was his musical activities which would bring him to drag racing's attention. He worked for Roger Squires, a mobile disco pioneer in the late 1960s/early '70s, presenting many gigs in his native London area, and then for a music management company whose clients included Alvin Stardust and the Rubettes.

At one of his gigs, John met Nick Shanley, then chairman of the National Association of Street Clubs. As a result, John was engaged to DJ at NASC Nationals events such as Knebworth and Bruntingthorpe, and at Gary's Picnic when it took place at Santa Pod Raceway. During one of these events he was introduced to Ron Clarke, promoter of custom car shows around the country.

At one of Ron's shows in Leeds (which was badly weather affected – perhaps an omen of things to come) John encountered a group from Santa Pod Raceway. Dave Prior, who organised Santa Pod's displays, asked John to host a Santa Pod show at Milton Keynes shopping centre. Santa Pod's owner, Roy Phelps, then interviewed him for the position of track commentator, recently vacated by Brian Taylor, and John started the job in March 1981.

Many followers of the sport at that time will recall John masquerading as Captain Chaos – on roller skates! – to promote Santa Pod's association with the film The Cannonball Run, the launchpad for the venue's famous series of 'Cannonball' race meetings.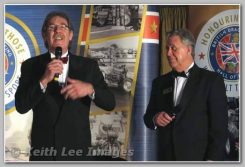 John's car show engagements continued. In 1982 he served as Show Host of the London Custom Car Show at Olympia, which entailed him working on the Radio One Roadshow stand. As a freelancer not employed by Radio One, he could not resist wearing a t-shirt inscribed with the motto 'I'm not famous', much to the Radio One producer's annoyance.

John's only venture on to the track was to drive a Radio Luxembourg-emblazoned Mustang in a grudge match against Radio One's Simon Bates – after which he promptly retired from racing.

John presented ITV Anglia's drag racing coverage in the late 1980s, along with European races for Sky. Thus by the 1990s he had become the face, and voice, of drag racing on TV. His Sky commentaries included many other motorsport disciplines too. Since retiring from the drag racing scene John has continued to inform and entertain the crowds at car shows just as he did from the commentary box at the dragstrip. It is for the quality and enthusiasm of his commentary contributions to UK drag racing, at the track and via television, media and car shows, that John Price is hereby inducted into membership of the British Drag Racing Hall of Fame.

Pictures: Simon Groves and Keith Lee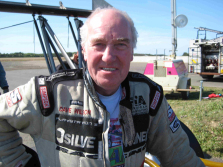 DAVE WILSON Profile by Simon Groves

Dave Wilson was involved in the Supercharged Methanol racing category throughout his career and five times became FIA European Top Methanol champion, adding several British championships and many race wins to his name.

His drag racing experience began with Rod George, whom Dave helped with his transmission. A chance to drive Rod's Creeper dragster hooked him on the sport. Creeper was replaced by the famous Stormbringer car, previously the first to run a five-second ET outside America. Renamed Krypton, the car crashed at York, injuring Dave seriously.

The team regrouped and Rod sold his share. Dave partnered with Steve Martyn and, helped by Dave Fletcher, built a new Krypton. Steve drove the car in 1981, qualified low at that year's World Finals and finished runner-up.

Dave resumed driving in 1982, racing Krypton successfully until 1986. Attending the US Nationals, he learned how to run the car much harder. Back home, the improved power produced severe breakage at his first race. It took three years to repair and update the parts needed to get the car back on track. Dave upgraded gradually and by 1997 could run as quickly as 6.009sec.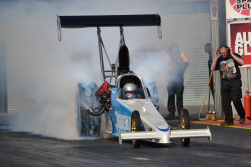 In 1999 Dave teamed up with the Redstone & Gleadow team who had imported a car named Nemesis from Finland. The team joined that season's FIA European tour and clocked fives, qualifying no.1 and winning an event. Such success attracted team sponsorship from Lucas Oil Products. In 2001 Dave bought the car from Barry Redstone and, sponsored by American Car Imports, Air Sea Logistics, Sony PlayStation and 76 Racing Fuels, formed a two-car team with Wendy Baker. Increased sponsorship from Antony Cohen (American Car Imports) enabled Dave to buy a complete Bob Meyer car in 2002. Following a US debut at Pomona, he set new ET and speed records in Europe while finishing FIA Championship runner-up. In 2003, driving a new Brad Hadman car, he became the first racer outside the USA to clock 5.50s, 5.40s, 5.30s and 5.20s and to exceed 260 and 270mph. This form delivered five consecutive FIA Championships from 2003 to 2007, a period of dominance producing 14 event wins, 49 round wins and 19 number one qualifiers. On another USA trip, Dave became the first European to win an NHRA "Wally". But did he rest on his laurels?

With Silverline Tools' backing, in 2008 Dave changed his engine combination from supercharged methanol to injected nitro, a major move in terms of engineering, parts and tuning. In only his second A/Fuel year he finished second in the FIA championship and set the European ET record twice, later achieving a career-best of 5.2605sec at Tierp in 2012. Dave's last event victory came at the 2015 Main Event.

Dave leads the all-time FIA Top Methanol table in championships (five), event wins (18), round wins (96) and low qualifiers (30). It is for his excellence in racing performance and for challenges overcome that Dave Wilson is hereby inducted into membership of the British Drag Racing Hall of Fame.

Pictures by Simon Groves and Tog

PELLE LINDELÖW and GUNNAR ELMQVIST Profile by Jerry Cookson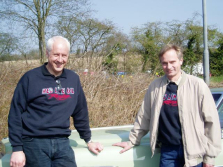 In a 25-year career, lifelong friends Pelle Lindelöw and Gunnar Elmqvist enjoyed one of the longest drag racing partnerships outside America. It began during the sport's earliest days in Scandinavia, with a chance meeting of old school friends in 1970 at Sweden's Mantorp Park. Pelle had never witnessed a drag race but was instantly hooked by the speed and power. Pelle, Gunnar and another friend, Janne Rosquist, found they shared a passion for the Renault 4CV. Having hot-rodded their little French cars with modified engines, they embarked on an inspirational road trip to England for Santa Pod's 1972 International meet.

Impressed by the smaller-capacity vehicles, Pelle and Gunnar decided to buy another 4CV and convert it into a race car with a modified R16 Arne Berg engine. Following its debut in 1974, the pair became the team to beat in the Competition Altered ranks, defeating every American machine in sight.

British fans first saw this amazing little car at Snetterton in 1975, but the pair hadn't bargained on the might of that staple of British Comp Altered teams, the trusty Jaguar, in particular the one campaigned by a certain Barry Sheavills, known as Stagecoach.

After a move to an injected 454ci A/Gas Dragster produced a nondescript couple of seasons in 1977 and '78, Lee Anders Hasselström convinced Pelle and Gunnar (P&G) to take the Top Fuel challenge.

A year later P&G were proud owners of a new Kjellin Brothers chassis powered by an ageing iron-block Chevy. After breaking into the 6-second, 200mph zone, driver Pelle rolled the car on the short Mantorp Park track. Armed with another Kjellin chassis the team were soon deep into the mid-sixes. 1983 was a significant year. The team secured its first major sponsorship from Clarion Car Stereo and began clocking regular low sixes, eventually dipping to a 5.95sec.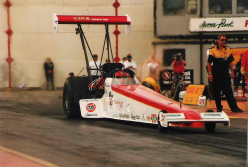 Helped by Jarmo Pulkkinen, Pelle purchased the ex-Dick LaHaie Miller Beer dragster, considered at the time the first 'real' Top Fuel Dragster in Scandinavia. With hired help from US Funny Car racer and tuner Gary Burgin, P&G Racing quickly became one of the European scene's most feared Top Fuel entries, leading the way with numerous national records and championships.

The tide turned again in 1991 with the acquisition of the ex-Kenny Bernstein Budweiser King dragster and came good in 1993 as Pelle dominated the class, winning four out of six races and the ETFA Challenge title. As reigning champions, the team was invited to Japan by the NHRA in 1994 and '95 to represent Europe against racers from America and Australia at Fuji, enjoying great success.

Over the next two years, however, further European success proved elusive and, with Pelle now suffering back problems, the pair reluctantly decided to retire the team.

It is for their achievements in rising from humble beginnings to the sport's highest international echelons, accomplished in a good-natured spirit throughout, that Pelle Lindelöw and Gunnar Elmqvist – P&G Racing – are hereby inducted into membership of the British Drag Racing Hall of Fame.

Pictures: Jerry Cookson collection

Warpspeed's engine offer.
9th July: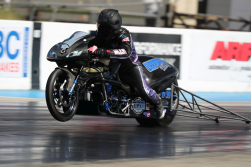 FIM Europe Top Fuel Bike racer Stuart Crane was testing a new turbo methanol engine combination from US engineer Dan Wagner at the Back on Track racer day on Sunday 5th July and kindly sent an account of the new setup and how he came to set quickest time and fatest speed of the weekend:

Warpspeed racing were testing the switch from a carburretored nitrous bike running a GSX EFE based engine to a methanol turbo set up with a 'new age' plain metal bearing engine platform, designed and manufactured by Warpspeed Racing. The complete engine was designed and manufactured and put together along with the turbo system and wiring all done in house. The injection system is also a one off set up all built in house . The bike utilises a Maxx ecu which is tuned and set up by Steve Nicols and Dan Wagner in the USA.

The bike has over gone a complete rebuild and had everything changed and to run 7.5 @ 189mph out of the trailer shows the quality of the build from the start. We later saw figures of 7.24/196mph into a major headwind on very soft set up, so we're hoping for some good results for the bike.

The complete engine packages are now for sale including turbo systems etc due to the testing going as well as it did . It was great to be back at santa pod, hopefully we will all be back to normal as soon as we can be. Many thanks goes to my sponsors MPM Oil and HEL Performance.

Davison upgrades Soper & Heck.
9th July: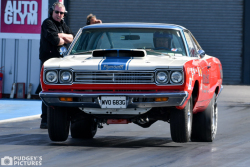 UK Nostalgia Superstock racer John Davison ran his Sox & Martin tribute-liveried Plymouth Roadrunner on Sunday at the Back on Track Racer day and it soon became clear he had upgraded the power train:

Since buying the car in 2015, I have run it in N/SS. Back then, there were only around 12-15 cars in the class, nowadays we have regular 32 car fields. Amazing...

I ran the car, until late last year, with a mild and very streetable 440. Best et with that was a 12.49, at the Hot Rod's last Sept. I'd been looking at going a little quicker (as you do...) and last winter installed a 589 mega-block wedge, new trans and a Dana 60 + Calvert suspension. The work was carried out, to a very high standard, by Dave Billadeau, although Tracey Rose painted the engine room and Tony Pearson built the cage.

Obviously, with the dreaded virus driving a coach and ten through the season, I was itching to see how the car went. On Sunday I finally got the opportunity, with the Pod's back on track weekend.

Having never driven anything faster than 12.49 in my life, I thought I'd ease myself into it. Went a couple of 11.3s, which felt quite comfy. On the third run I gave it a little more and a 10.74 was the result. Then had a bit of fun with Vic Parsons. I had Vic off the line but my old friend had me at the stripe (I went 10.64 to Vic's 10.33). Then a 10.56/125 to go home with. This, with a 40 mph headwind. Needless to say, I'm over the moon!

The car performed well, with no serious problems. I drive the car to the track (I only live in Rushden...) and run it through the mufflers.

I must say that it's all a little different from the late '60's, when I used to write the timing slips out at the ol' Pod. In those days, we used to get quite a number of USAF guys running these cars when they were brand new, albeit a little slower than today. Heaven.

Adams to return after spill.
9th July: It was good to see 8.50 Bike racer Paul Adams walk away from an unfortunate flip on Sunday at the Back on Track Racer day with his bike able to be pushed back across the startline. Paul has been in touch with his account of a weekend that didn't go quite to plan:

For the past 3 years, I've been competing in ET Bike with a PB of 8.75. This year I fancied having a crack at 8.50 bike, so fitted a nitrous kit over the Winter. Keen to try it out, I attended the Santa Pod Back on Track Days last Saturday and Sunday.

I made just one naturally aspirated run on Saturday and spent the of the day chasing niggles.

Sunday dawned and with a freshly filled bottle from the Pod Garage I headed for the line. Being a cautious sort of person, I'd lengthened the bike's wheelbase by an inch, taken a couple of teeth off the rear sprocket, added front ballast and resisted fitting the 100hp nitrous jets, instead taking 'just' the 40hp option. The light went green and the bike stood straight up, throwing me off. As I run a full slider and leave with a button, there was no chance of saving it. The bike set a new 60' PB with it's back wheel, with me following just behind. Luckily the bike was well gone by the time I landed face down on the track.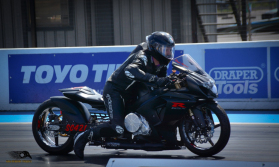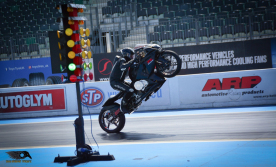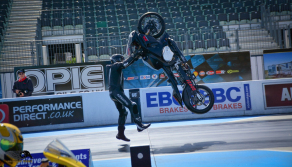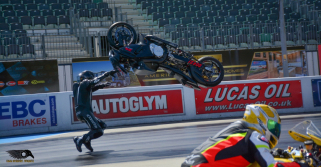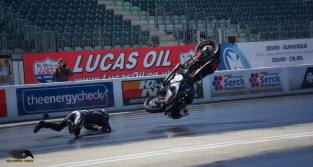 The start line crew were with me in seconds and the Medical and Rescue crews within 1 minute. After we'd established everything was still working, I stood up and walked to the Ambulance. Thanks to good leathers, I suffered just a bruised elbow and a stiff knee.

My thanks to the start line, Medical and Rescue crews for their help and everyone that sent messages. The bike suffer damage to fairings, handlebar, forks and the back wheel. I'm hoping to have it back together next month. Thanks to Mike Kraaij for capturing the superb photo sequence.

What have I learnt from the experience?
Santa Pod haven't forgotten how to prep a track
Their nitrous refills are quality;
Their track crews are even better; and
Progressive nitrous controllers are essential, not optional.
Cramo Nats live stream.
9th July: This weekend is the Cramo Nats at Malmö Raceway, Sweden's eighth mile facility. Whilst specatators are not permitted at the track, there will be a live stream of the event at srif.sewhich is also carrying footage from the No Prep Race held on 30th May 2020. Thanks to Luke Shakeshaft for bringing this stream to our notice.

Results will also be available at www.nitroz.se. Also, photos from Malmo's no-prep race are available at Nico Bremnes' Facebook page.

Norwegian update.
9th July: The picturesque Thunder Valle in Norway hosts an EDRS race on 11th-12th July organised by the Jæren Dragrace Club.

The EDRS series has now expanded to nine sportsman-only events in ten weeks, the EDRS Pro championship having been cancelled.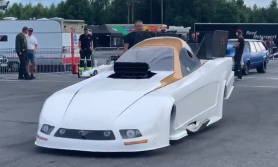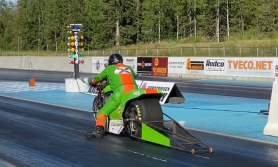 Meanwhile a test and tune session took place at Gardermoen on 4th-5th July. Celina Gran Hanssen (daughter of former FIA Top Methanol champion Fred Hanssen) ran her licensing passes in the Funny Car previously raced by Jason Phelps and Birgitte Bremnes, and now set up for Super Comp; you can see footage and photos from the weekend here. The link also contains footage of Jan Erik Norheim Klausen making licensing passes on his Super Twin bike. Thanks to Annelie Johnsen for posting footage

Swift snippets.
9th July: Our good friend Mike Kraaij was at Santa Pod Raceway shooting for Dutch Hot Rod Association and you can see his pictures on his Facebook page.

Our Kieran took some time out from crewing with Chris Todd, got on SPR's somewhat windswept bank on Saturday and took this video. He also caught some in-car footage of Chris's Subaru EJ20 powered Mk1 Fiesta. Kieran reported that 'Chris spent the day chasing problems with a misfire as well as trying to dial in the launch to get it to go straight. No new PBs this time (although close!), but still very valuable data was collected.

Friday's update due to be posted at noon will include a list of the 2020 British Drag Racing Hall of Fame inductees with full profiles. Be sure to catch up with the news of the inductees at Eurodragster.com.

JT's secret weapon unveiled.
7th July: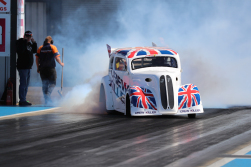 Super Pro ET racer John Tebenham, in his Crew Killer pop, says: Thanks for a great Sunday testing at the Pod. We all needed it and felt that much safer with all the Covid-19 safety measures in place. Well, as safe as you can feel in that wind in a little Pop! The track was awesome getting some of my best 60fts. Thanks to my secret weapon Paul Marston for his wealth of knowledge. We are coming after you Brian. I must say a sorry to the startline marshals as I kept on trying to run Bob over on the burnouts. If you're thinking of going this 11th July to the Back on Track Street Day I would if I was you as we had a blast.

JT adds he's after a powerful small block preferably Procharged as the current setup is not mad enough for him.

Storm Drag Bike's return to SPR.
7th July: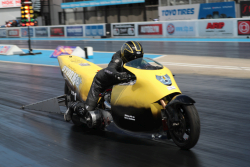 The Storm Drag bike team, headed by rider Lorcan Parnell and crew chief Mick Hand said: 'A successful day's testing for us yesterday at a very windy Santa Pod "Back on Track" day. It was good to see the team again and some of our fellow competitors, blinking in the sunlight as we gradually emerge from lockdown, and to get our first runs under our belts since October 2019.

A number of small issues were corrected during the day with the help of Mark Harrison from Horsepower Factory UK. First run was a launch and 2 seconds of power, the clutch pulled the bike through the beams for a red light and the turbo speeds were reading high. Second run the bike pulled through the beams again, left hardish with a little hesitation, 1.18 to 60' and shutoff at 2.5 seconds for a 3.05 at 330'. A hose had come off a wastegate causing a 50psi boost spike. The small turbo was saved by an rpm limiter we have installed to prevent it overspeeding. We fixed the hose and the turbo speed readings.

The third run was more controlled, another red light though, with a low (for us) 38psi launch and run shutoff at 1000' for a 7.27 @ 171mph, which was a the quickest run of the weekend at that point. Stu Crane later pipped us with 7.24/190mph on his new turbo bike being tuned remotely by someone in America, Donald Trump maybe? Who knows. Anyway, good work Stu!

We went to the startline one more time. It was completely empty but the bike would not start. Possibly a cam sensor failure or something simple but we called it a day.

Thanks to all the team that work so hard and to the Santa Pod crew for putting on the test days'.

Europeans in NHRA at Indy.
7th July: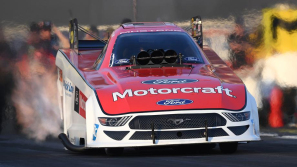 Nitro Funny Car driver Jonnie Lindberg returns to the driver's seat this week in Indianapolis behind the wheel of the Motorcraft/Quick Lane Ford Mustang Funny Car. This change follows driver and team owner Bob Tasca III's positive COVID-19 diagnosis.

Lindberg, 30, is a two-time NHRA Top Alcohol Funny Car Champion (2015-6) with six Top Alcohol Funny Car wins to his name, including at the U.S. Nationals in Indianapolis (2016). He is a regular in the nitro Funny Car ranks as well and is hungry for his first win in the elite category.

Tasca plans to return to the driver's seat after getting the go-ahead from his doctor. The NHRA Mello Yello Series continues this weekend, July 11th-12th, 2020, with the E3 Spark Plugs NHRA Nationals at Lucas Oil Raceway at Indianapolis.

Also entered for Indy is Lex Joon who will be racing his Strutmaster dragster in a field of 18 Top Fuelers, despite the non-entry for this event of John Force Racing. Based in Indianapolis, this is effectively Lex's home race. You can see a video interview with Lex here; Lex was also a guest on the WFO Radio Podcast and at Strutmasters with crew chief Lance Larsen. To see how our European heroes do at Indy go to Dragracecentral.com, or follow the race live on NHRA.tv (subscription required).

Want your own Funny Car?
7th July: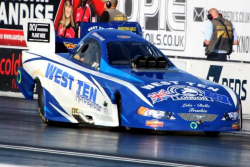 Kevin Kent's Funny Car is now on the Unusual Car Sales U.K. Facebook site for sale. Europe's quickest and fastest Funny Car is available as a roller for a bargain £20,000!

If you are interested in this superb opportunity then contact Keven Kent on 44(0)7496073855 or westten@mail.com or via the Unusual car sales U.K. page.

Also for sale as well as the usual variety of Hot rods, customs, yanks ,pick ups etc is Andy thetfords 67 Camaro ( roller -9k) ,Col laws outlaw Anglia ,Paul Watson's super comp Camaro , Mike Modurstang S Camaro and a gorgeous 41 willys coupe plus plenty more!

PBR TF Bike suffers breakage at test day.
7th July: Crew chief and engineer Phil Baimbridge explained the reason for the sudden stop and non-return of the PBR Top Fuel Bike and rider Al Smith on Sunday at the Back on Track Racer day. 'The cam belt broke at the hit (about 0.3 second after full throttle) on our first run attempt. Unfortunately we were running the original piston design with no valve cut outs, so we tickled the valves on #3 and mashed them on #2. Not repairable in the time we had available.

However everything turns and goes up and down as it should, the oil pressure was OK. The whole team travel from all over the country to run the Rocket, for which I'm very grateful - sorry for the disappointment. Thanks to Santa Pod for providing us with the opportunity to run and the track crew for making a great job of the track'.

Andy Frost record documentary.
7th July: From uTrack videos comes a 35 minute documentary on Andy Frost's record breaking runs at Bahrain last November.

Ever wondered how fast is the world's fastest street legal car and what it took to claim this record? Andy Frost, team principal at Red Victor Racing, is the man behind this world record. Five years ago, Andy decided to reclaim the record he once held. But to do that, he needed funding to achieve his dream.

With a goal in mind to break the five second barrier in the quarter mile in a street legal car and to reclaim the world record, the Red Victor 5 Second Club was created with over 500 members from all over the world. World-renowned race car tuner Shane T from USA joined the mission bringing his know-hows and experience to the table. With many failed attempts in the first couple of years, they finally managed to reach their goal in November 2019 by becoming the world's fastest street legal car in the quarter mile.

Malta back on track.
7th July: Konrad D'Anastasi of the Malta Drag Racing Association writes: Finally after the long 90 day break due to the Covid-19 pandemic situation, HAl Far Raceway has re-opened its doors. On 3rd July the third scheduled RWYB event for the MDRA 2020 calendar took place.

Konrad took videos of 102 runs and you can see a Youtube playlist of these at this link. The next action at Hal Far will be the rescheduled night race on 16th-18th July. Streaming coverage will be available on Facebook live and if all goes to plan, Luke Stevenson will be there commentating.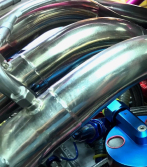 Spy picture.
7th July: This picture appeared in our e-mail box with the caption 'It's another thing for Dad but with slightly less wheels'.

If you know more, or if you would like to send your own spy picture, then drop us a line at editor@eurodragster.com.

Tower protocol at Back On Track days.
3rd July: As a result of government regulations regarding social distancing, there will be strict rules regarding who may enter the startline tower at Santa Pod Raceway at the Back On Track days to be held on 4th-5th July (Race Days) and 11th July (Street Day).

Apart from official timekeeping and safety staff, only two people will be allowed in the tower, announcer Luke Stevenson and Eurodragster.com editor Simon. Anyone wishing to talk to Luke or Simon should communicate with them electronically or arrange to meet at the foot of the tower stairs (spectator side). The track will be under scrutiny for its compliance with regulations, and breaches could affect future events.

Anyone wishing to read all the detail regarding the special rules in place to maintain everyone's health and safety at these events should review the Back on Track page.

Williams Bros locked and loaded.
3rd July: Many thanks to Williams Bros Racing and Eurodragster.com sponsor OCS Paint's promotional arm for an update on the team's representation at the Back On Track Racer Days this weekend:

Following on from our live reveal on Facebook a couple of months ago, this weekend sees the on-track debut of the latest creation from Williams Bros. Racing and OCS Paint. The final few little jobs have been completed and Keith Williams finally gets to see what his '55 Chevy can do on the 1/4 mile. From what was a field find (a barn find would have been in better condition) to the car you see here has been one heck of a journey but as all of the cars built in-house this car really does have to be seen to be believed.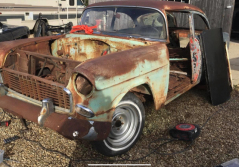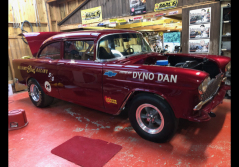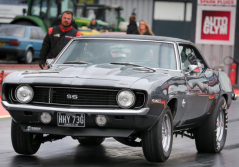 Nic will be doing the first few runs in the car then it will be Keith's turn to take to the famous Santa Pod strip. Engine is an in-house built 302 but Dan knows his stuff and has managed to get way over 500 horses out of the small block, so expect some very high revving and you never know, maybe a little wheelie or 2 but this car isn't set up to stand on its bumper. If you are at the track this weekend, please come and say hi and bring your camera...

Also back on track for the first time in three years is Colin Theobald with his 69 Camaro 'Bruce'. Another Williams Bros. Racing built and specified engine, this time a 454 built specifically for street and strip use but still punching out 615hp and 520ft/lb of torque. Bruce has had many upgrades over the years so we cannot wait to see how the car performs and can we improve on the current PB of 11.34.

We as a team are excited and extatic that we are back on track at last. It's been a long wait but we whole heartedly support Santa Pod Raceway, it's our home track and everyone there will always have our support. See you there.

Clarification.
3rd July: Following on from our story about John Tebenham's Pro Mod lightening work having been carried out over the lockdown, JT's secret weapon told us the weight loss related to JT himself rather than the car.

Whether the final result is an improvement or not can be decided by the reader looking at this image. We are thinking it looks a bit U6ly.

Crew killer back on track Sunday.
2nd July: Pro Modified and Super Pro ET racer John Tebenham has announced he will be testing on Sunday at Santa Pod Raceway's Back on Track Racer Day. JT commented "The best thing about having two cars is one is always ready to run.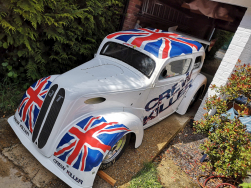 The blue Pro Mod car is having a complete engine rebuild so it's not quite ready. Luke (Robinson) said if we get weight out of it we can run 5.8s (maybe we've gone too far...) But the Pop is set for some mad burnouts. Thanks to Dan Goff and Luke Robinson for their work on the car. A massive thanks to Keith for being strong and keeping the Pod ready for us all to race again. See you all Sunday, it's been a while!

Eurodragster.com coverage for Back On Track days.
2nd July: Eurodragster.com will be covering both days of this weekend's Back On Track Racer Days on 4th-5th July. Simon will be brushing up his keyboard skills whilst Julian will be trackside and photographing for Custom Car magazine as well as for our galleries. Kieran will be present, albeit as a crew member with Chris Todd. Sadly Kirstie and Diana won't be able to be with us but we hope for a team return to the track when Covid-19 restrictions allow. In the meantime, you will be able to see our coverage which includes a live report and daily galleries by clicking here, or following the direct link on our home page.

FHRA testing, one-shot championship?
2nd July: Nitro bikes were testing at Finnish Hot Rod Association's Official Test & Tune weekend 26th-28th June at Kauhava, Finland. Covid-19 safety measures were utilised with a maximum of 100 teams allowed to take part and no more than 500 people per day at the event. Temperatures were baking hot with 31.5 degrees high temperature, 25% humidity and high barometric pressure.

Super Twin Top Fuel Bike Team Detonation with Vesa Lipponen riding and Jaska Salakari calling the tuning shots, ran 6.19 and 6.21 runs with nice 1/8 numbers at 3.94/ 194mph. Previously the team had been to Kauhava's test day on 23rd May where Vesa had a few nice runs and ended up with a stunning 6.01/216mph with half track times of 3.90/201mph.

Skull Racing's Samu Kemppainen with his V60 made five 6.7s runs in a row. Also, Mikko Rajaniemi got his Top Fuel Bike running well after a spill one month ago, with less aggressive clutch adjustment and more familiarisation being the priority.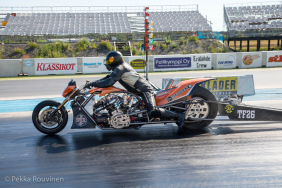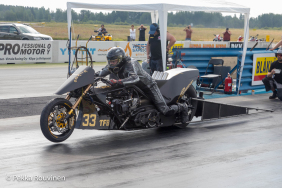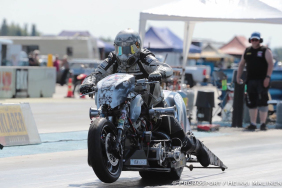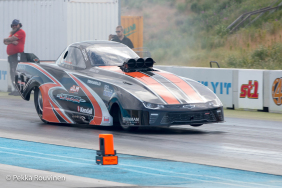 Clockwise, Vesa Lipponen, Mikko Rajaniemi, Johnny Oksa (all Pekka Rouvinen photos), Samu Kemppainen (Promosport/Heikki Malinen photo)

Also testing was the OK Racing Team Top Methanol Funny Car of Johnny Oksa with footage from our old friend Asko Määttä from Baldie's VooDoo Racing.

More video footage was posted courtesy of Power Speed Media. A number of photos were posted by Pekka Rouvinen and a 'cinematic cut' video was posted by Teemu Multisilta.

Three more races in Kauhava are planned to be held for general attendance on 24th-26th July, a FHRA Night race on 20th-21st August, and the FHRA Finals on 4th-5th September. All races are part of the EDRS series and it's hoped the Night Race will also include EDRS Pro classes as a 'one shot' championship race.

For 2021 the FHRA has consulted with its members and is considering some single day events over the eighth mile for street and nostalgia cars to reduce costs.

Refresh, renew, replace.
2nd July: During the shutdown due to Covid19 many people have taken the opportunity to refresh and renew their racing operation, ready to race again once the track opens. However, it also provided time for a rethink and complete change of direction for one racer. Martin Baldwin had his 1941 Willys ready to go this season, and had pencilled in meetings at which he hoped to get the Willys well into the 8's.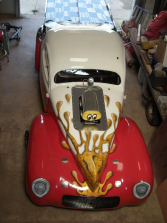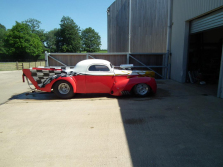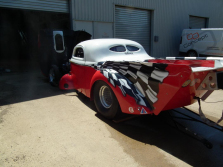 With all the spare time lockdown afforded, a cunning plan was hatched, and things set in motion to go faster and quicker than the Willys would allow. So the Willys is now up for sale, to allow for the new project to be completed in time to begin testing early next year. Details on the new project will follow soon, with a few pictures once sufficient progress has been made.

If you are interested in buying a great-looking 1941 Willys rolling shell for a very reasonable price, head to our Jeff Bull Race Engines-sponsored Swap Meet pages.

Swift snippets.
2nd July: We have a birthday on the team today. Many Happy Returns to Diana from Kirstie, Julian, Kieran and Simon, have a great day and we will see you soon!

Further to Tuesday's announcement about the cancellation of this year's British Drag Racing Hall of Fame Gala dinner, Director Robin Jackson has asked us to mention that any guests who happen to have requested room reservations could they please cancel them. As guests book rooms in their own names independently, BDRHoF is unable to cancel them on behalf of others.


Earlier news